I will own up to what happened the weekend before we rolled out the Sports Media MVP bracket. I don't mind acknowledging that I was shortsighted. JB and I had a list of 72 potential entrants that we needed to get down to 65. When he asked who should go, I said "Well, Michael Kay, no question."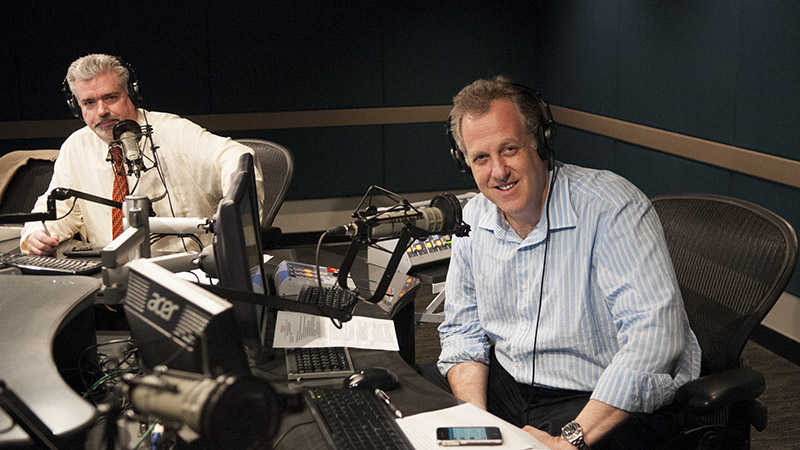 To my way of thinking, he was the voice of the Yankees on YES Network and he was leading the afternoon drive ratings in New York and those two things make him a star only in New York. It's not that he isn't well-known or that I don't put an added value on success in the country's largest media market. It is that his impact isn't the same the second you exit the Tri-State Area. That puts you squarely on the bubble and likely ends with a 1-seed in the Sports Media MVP NIT.
But look, I was wrong. Not about my thoughts on Kay. The truth is his star power nationally will never be what it is in New York. Where I was wrong was in how I thought about the Sports Media MVP bracket. Were we looking for the most valuable person in all of sports media? I mean, I guess so. Were we ever going to find him/her with a public poll on Twitter? Almost certainly not.
Michael Kay was in the Sports Media MVP bracket because the point of this whole exercise was to motivate media people to vote for the industry's most valuable, and give the personalities involved something to have fun with and rally their fanbases around. No one did that better than Kay and that is why he is your champion.
The #KArmy showed up big every single day. He told them that he wanted to win and they made it happen no matter who the opponent was, no matter how little sense it made that Kay would be deemed more valuable than that person. His wins over Mike Greenberg, Shannon Sharpe, Kevin Harlan, Rich Eisen, and Adam Schefter never produced nail biting moments due to Kay's army stepping up and leading him to 75-25 blowouts.
This is no different than a group of teenage girls on a social media platform banding together to make sure BTS won an online survey for greatest band of all time. And you know what? That is ok. It's proof of your value to your fans.
Value is such a subjective term. To me, the day Adrian Wojnarowski told a sitting Senator to f*** off and ESPN didn't even pretend like it was going to consider firing him gave me the answer to the question of "who is the most valuable person in all of sports media." And you have to admit, that makes him a lot cooler than anyone else in the field of 65. But if we all agreed that was the right way to measure value, there would be no need to do this exercise.
What is value? Simply put, in this business, value is the ability to cause a reaction. Michael Kay said "I'm in this, so vote for me" and his audience reacted. The idea of Kay as the most valuable person in the sports media may seem silly to some outside of New York, but Michael parlayed the passion of his followers in a way no one else did. Scoff all you want. There was a way to win, and Kay and his army cracked the code. They should be applauded for that.
We saw this last year when we did our SportsCenter bracket. Just like Kay this year, Matt Barrie came into that tournament as a double digit seed that barely made the field, but he worked every connection he had – the Morning Men on SiriusXM, various Arizona State Twitter pages, anywhere he could get love, and he rode that wave into the Final Four.
In the grand scheme of things, these polls mean nothing. We don't go into them with an idea of who we want to see win. We do our best to put together a field we think is a fair representation of the industry, and then we hope everyone involved has fun and creates their own content with it. Who occupies the 64 slots and where they get seeded is always a debate, but four weeks after the tournament starts, people usually look back and say 'that was fun'.
That is what Michael Kay did better than anyone. He had fun with the tournament, and brought his audience along for the ride. If value to an audience is judged on whether or not people enjoy interacting with you and your content, then Michael more than proved his worth over the last three weeks. In fact, he was better at it than 63 well recognized, and highly successful sports media people.