There was a time when walking to the ballpark meant seeing tailgaters, team stores and beer vendors. There were smells, sounds, sights and everything else that made walking to the ballpark such a special event. That's not exactly what fans are experiencing this season as people flood back into ballparks, but it already far more resembles what we're used to. Granted, you may be just as likely to see people getting COVID vaccines outside the ballpark than a group of guys playing catch and chugging beers, but seeing baseball revert back to a sense of normalcy has been incredibly therapeutic for many across the country.
This year is almost a perfect blend of what we remember and what has become normal. Yes, we're finally allowed to get back in the stadium and enjoy games, but at the same time, everything around you reminds you of the unprecedented time we're still in.
"Right now, our site is a FEMA site for giving vaccine shots," said Chris Townsend, host of A's Cast Live. "The federal government is here at The Colosseum on one side of the parking lot getting vaccine shots. They give over 6,000 shots a day. No parking on the south side of the stadium, I'm outside right now looking at it, and you have people in hazmat suits. It's really impressive the amount of vaccine shots they're doing on a daily basis."
Brad Thompson, host of the Fast Lane at 101 ESPN in St.Louis and Bally Sports Midwest is back in the booth at Busch Stadium. However, for road games, he's in the studio. It's a challenge, because you have to train yourself to watch games from two completely different viewpoints, yet still be able to give the same energy and analysis while in the studio as you do live from the ballpark.
"It's different and can be difficult in the studio," said Thompson. "I keep trying to remind myself that the people that are watching at home don't care where you're at, they just want you to do as good of a job as you possibly can. As much as you try to tell the story of what's going on, and it happened on Opening Day, we had a couple of plays that were cut a little bit differently. You just try your best to figure out that aspect and continue to bring the energy either way. The hardest part is seeing, even though there's a camera that shows the all-nine, where you can see where all the players are, it's not like watching a game on the field and seeing it develop requires reps."
It's different, but it's so much better than the alternative. That's true for everyone who's involved. But there were probably some broadcasters that were nervous about returning to the ballpark, after some took an entire year off. Although there may have been hesitation by some, it seems that's been replaced with enthusiasm and excitement.
"Oh my God it's so refreshing," said Townsend. "Where we are in the Bay Area, we were on such a lock down that our governor made our organization give a list of how many people can be in the ballpark. My boss actually asked me, he said, can you do all the games from home? I said yes I can treat it like a road game. My crew never entered the stadium last year. I was at my house, my producer was at his apartment and we put our engineer at Oracle Arena, where the Warriors used to play. Getting back to the ballpark was really one of the highlights of my career."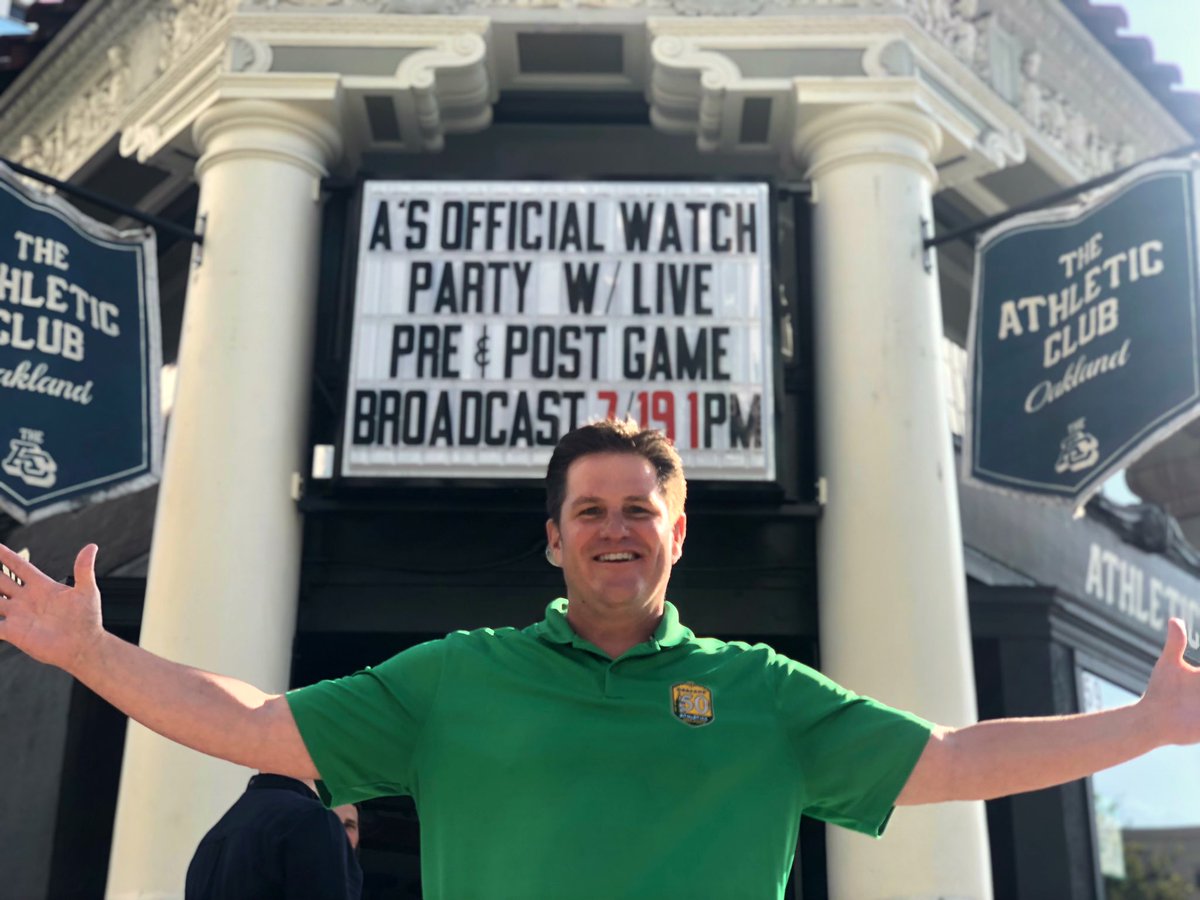 "We did the same exact setup last year," said Thompson. "It was eerie being in a ballpark with no fans and seeing the back of cardboard cutouts the whole time. The idea of being back in the ballpark, for me personally, is super exciting, because a lot of the energy you have to create within the studio, you don't have to create, because it's right there in front of you with the fans. For me, there's no worry about going back. it's all exciting."
Major League Baseball has found itself in uncharted waters as it tries to navigate through two key issues this season. One, the ongoing attempt to grow the brand nationally back to what it once was. Two, navigating political storylines after the league took the All-Star Game out of Atlanta last week.
It's tough to say which one will be the MLB's biggest priority, but the league has to figure out a way to tinker its product to become more appealing to sports fans across the country.
"I think action is the No. 1 thing," said Eric Byrnes of No Filter Network. "What I'm talking about is putting the ball in play. I think athleticism in the game today is at an all time high, but so are walks and strikeouts. To get the athleticism on display, we need to put the ball in play. One of the things discussed in moving the mound back,but if anything, before doing that, I would consider lowering the mound."
"The biggest one is more action," said Thompson. "You know, it used to be special when a guy struck out a team 15 times. Now, it means it's probably just a Tuesday. The average in 2019 was four minutes in between baseballs put in play. That's not aesthetically pleasing. If we can just figure out a way to create more action I think that would help. The frustrating thing is athletes now are bigger, faster, stronger and better than they've ever been before. Unfortunately we don't get a chance to see the athleticism because of how good the pitchers have gotten and how we really don't care about the strikeout. We just want to see power."
"Baseball has one major problem and it's the timing of the game," said Townsend. "If you go and look at Opening Day, 11 out of the 13 games went over three hours and three of them went over four hours. The average game time last year was three hours and four minutes. If you're trying to build a future fan base, you can't be playing 3 and a half to four hour games. It just doesn't work. This is the major crisis for Major League Baseball right now."
Maybe the answer is a trend to more of what Townsend is doing with A's Cast Live, which is a 24-hour streaming station on iHeartRadio, where the games are aired. Right now it's the only thing of it's kind in baseball. If this is the future for baseball, the MLB needs to know how to push the product to more fans across the country.
Politics and sports intertwining here to stay. Now that baseball has gotten into the mix, it will be one of the major storylines this year, just like it was in the NFL and NBA. Regardless of your stance on the MLB moving the All-Star Game, this will be an interesting summer to see how much, if at all, it affects ratings and attendance.
"I still think it's going to be a bigger storyline than it would have been had they kept it in Atlanta," said Byrnes. "As a baseball fan I prefer to have a separation between sports and politics. There's channels I can go to if I want to have political discussions or listen in on debates. I'm not asking baseball to be ignorant of what's going on and I have no problem if they want to make their opinion known, but I think sometimes it's better to not go public with your opinion, for fear of alienating your fanbase. I don't care what side of the aisle you stand on the issue, but I think the NFL and NBA would both tell you that it has hurt them."
"Players utilizing the platform, they should do that," said Thompson. "I am in full support of that. From the baseball standpoint, I like to be able to watch baseball and that's the focus. But I also understand that people have things they are passionate about. The two worlds are going to collide but the hope is that the game is so good it takes the attention away."
Amidst all that, there's good news. Not just that baseball is back, but also because teams are shooting for full capacity crowds by the end of the season. Even with all the political drama, baseball has a chance to be the first sport to showcase with full stands that the world is back to normal
"The big thing for us in California is how we keep switching tiers and more and more people are allowed to get back into the ballpark," said Townsend. "As the season goes and vaccines go, we're hoping to get to full capacity at some point."