Scott Masteller's Sports Radio Days Prepared Him For News Talk
"So many careers have been damaged by going down the road and taking the wrong turn. I think it's the job of a program director to be looking out for their talent and helping them navigate through all of these challenges that are taking place."
Scott Masteller has undoubtedly been one of the most fundamental and profound power players in the News Talk/Sports format during his significantly extraordinary career. Masteller has shaped talent, and influenced programming and implemented strategies nationwide while still maintaining pristine relationships within the business. One of his best qualities though goes beyond the actual radio X's and O's. It's his willingness find time to speak and offer advice to those who he'd crossed paths with during his broadcasting journey. Masteller's career has included a number of memorable stops. The latest one, which he's been at for the past six years, involves programming and leading Baltimore's historic heritage station WBAL. Scott and I caught up to reflect on his career and talk about some of the biggest challenges facing the radio business today.
———-
Chrissy Paradis: What convinced you to pursue a career in radio and broadcasting?
Scott Masteller: It started when I was in college. I met a guy who was involved in the college radio station. He invited me to come down and check out the station, and I pretty much fell in love with the whole idea of being on the radio. I was a jock playing music and the more I would do, the more I got interested in it. Then, I got my first on-air job at a small station in Williamsport, Pennsylvania and I was actually really happy there for a long time. As things evolved, other opportunities presented themselves and that started me on my journey traveling across the country to be more involved in broadcasting.
CP: And that saw you shift from playing music to working in two of the more challenging formats – sports and news talk. Those formats involve being on-mic for 40-50 minutes an hour. You chose to direct your focus behind the scenes, working in programming with a number of local stations. Eventually the call came though to move to Bristol, CT to serve as SVP of ESPN Radio where you'd have a hand in shaping the network's content and working with affiliates across the country. How did that opportunity manifest itself?
SM: I was on-air earlier in my career, and I modeled them. A lot of people don't know this, I did minor league baseball for five seasons, three of which, I was in Wichita, Kansas. I wasn't making any money and there was an opportunity to go to a station in Lexington, Kentucky where I became a host and play-by-play guy and the Program Director, so from that point on, everywhere I went, I was on air and the program director. From Kentucky, I went to Salt Lake City, from there I went to Portland, Oregon where I spent five years. About two years in, they felt that I could be more effective as a program director without an on-air role. At first I fought it, because I loved being on the air, but I had been doing more of the part-time stuff and focusing more on strategy and coaching—giving feedback, developing balance, and at the same time I was going to conferences, meeting people and networking. I became aware of an opportunity in Dallas, Texas. ESPN was putting an owned and operated station on the air, and I love challenges, especially building and fixing things. I was able to secure that position and so I went to Dallas. I ran ESPN 103.3 for five years, and we did some good stuff. Then after that run, I was asked to move to Bristol to become the Senior Director of Content, and oversee all the studio programming for the ESPN Radio Network.
I was there for quite a while, for about eight years. From there, it just kind of evolved. But through that process, I met a lot of people that I really respect. People that mentored me, gave me great feedback with my ideas, and helped me learn the business, so to speak. I've had a pretty good run, and been fortunate to find the next job when I wasn't looking. I just tried to do a good job where I was, and from that, other opportunities presented themselves.
CP: You mentioned having an opportunity to coach, work with and develop shows and talent who have pretty recognizable names in the industry. What was the most pivotal project that you worked on that you feel has played a significant role in developing your skill set?
SM: Well, the first big town I worked in was in Portland, Oregon, and before he became a network megastar Colin Cowherd was the midday host at the sports station I managed KFFX. I got to know him, and learn about him and he just was tremendous to work with. To work with such amazing talent even early on, helped me learn about what it's like managing high profile personalities.
When I went to Dallas, one of the best shows I was ever associated with was led by the longtime sports columnist and talk show host in the market, Randy Galloway. Randy was well known for his coverage of the Cowboys, very opinionated. We built the show around him, with some players to support him. I feel that's one of the best shows that I was ever part of. Randy was awesome at what he did. He's retired now, but I do stay in touch with him and found him to be tremendous.
Then when I went to Bristol—so many talent, but once again, Colin was there and I got to watch him, and the way he prepped and executed his show. His prep process is just so impressive. I walked in early in the morning, and he would be in there with his production team figuring out what he's going to do. The best talent, make it easy because they're so dedicated to being great.
And when I left ESPN, I decided to go a different direction. I went into news and news talk, where I'm at now at WBAL, which is a heritage radio station. In the last year, we put together a new morning show where we took two of our highest profile talent, Ben Clifford Mitchell IV ( he goes by C4) and Brian Nieman. It may be one of the top two or three shows I've ever worked with because they have incredible chemistry and they want to get better every day.
The great talent are always trying to make themselves better. They're never satisfied with where they're at and when you look at Mike and Mike and the success they had, they were always focused on getting better. They weren't waiting for feedback from somebody else to get better, they were focused on doing it themselves. That's really what makes the job for a programmer kind of easy, if you have those kinds of people to work with.
CP: There's definitely no shortage of opinion in spoken word whether it be news or sports. Some are very comfortable speaking their minds and not worrying about the potential consequences, and others may toe the line whether it's due to fear or not wanting to earn the wrath of the audience. The mic, as you know, can be a dangerous place sometimes. How do you handle that with your staff?
SM: It has proven to be even more dangerous in 2021 than anytime previously. We spend a lot of time with our talent every day, making sure that everybody has a smart game plan for what they're going to do on the air. You've seen so many careers damaged by going down the road and taking the wrong turn because of the scrutiny that everything is under right now. I think it's the job of a program director, to be looking out for their talent and helping them navigate through all of these challenges that are taking place. That allows them to go in and create great content that people will want to listen to. But, things you could do on the air, two years ago, you may not be able to do today, just because the landscape has changed.
CP: In terms of working in news-talk with WBAL—how did you feel the experience of working in sports prepared you for what felt like a natural, effortless transition? After working with these high profile hosts and covering national stories, how did that play a role in your evolution into becoming a news talk programmer?
SM: The one thing ESPN prepared me for that they had a paid strategy in terms of how they integrate news content with personality oriented content. The work that takes place there, in terms of the news division of ESPN, you have to have so many sources, to put a story out. You have to have a smart strategic plan for what you're going to do, and understand that there are certain times the story is bigger than anything that's going out over the air; that all plays into what takes place at a station like WBAL. The collaboration at our station between our news department and our programming department, I believe is the secret sauce that builds to the success of our radio station.
I meet every day with Jeff Wade, our news director, and we're always strategizing on what the big stories are, how many press conferences we're going to carry and then how we are going to react to those press conferences—it's a much different approach than you might see at some other radio stations, because of the fact that our company is committed to news content. Basically, we're part of a television company—that plays into all of our strategies on a regular basis.
I think that's one of the biggest strengths that we have, that we can react to the news stories, while still evolving and developing topics, which still, to this day, I believe for any talk show host, the topics are what will make or break you; you pick the right topic, you'll get quarter hours. You pick the wrong topic, you'll lose.
CP: There's one thing that you've been lucky enough to learn, it's that authenticity is essential. Having transparency on the air, it's palpable. And there's a strong bond that you can build with your listeners through it. What elements do you see as the most integral part of tackling topics on the air; the host's opinion, the passion, or the feeling of honestly connecting with the listeners?
SM: I think it's a combination of all those elements. One of the words I use a lot with talent is tone and how you present your ideas on the air. You have to be real. You can't be fake. The audience is so much smarter than some talent realize, so if you go down a path, and it's not real and genuine, the consumer will see right through that. Usually when that happens, they quit and go elsewhere. The consumer holds all the power now because there's such a saturation of platforms, devices, and content selections that your content has to stand out every day. The host cannot assume that the listener knows, you have to explain it to them.
I think that's a big part of the process.
The other thing, which has always been part of what I believed in is that you can't be mean spirited. You can be passionate, you can be opinionated—you can show that emotion on the air, but it's got to be real. Because if you're not real, they're not going to stay and listen.
CP: As you've developed your philosophy for managing and working with talent, what is the best advice you could give somebody that you've benefited from yourself? A tried and true Masteller-tested method.
SM: One, when a talent asks you, did you hear my segment on such and such today? Be honest with them. If you did hear it, tell them you heard it and tell them what you think. If you didn't hear it, say I'm sorry, I missed it. I'll pull the audio and then give you some feedback. But the more you can listen to what they're doing, that's what talent want feedback on and what do you think of that segment? They'll say 'was I okay in that interview? or 'was I over the top or where I need to be?' I think that's critical.
Also, the program director needs to be part of a support system for the talent. I've always had this thing ever since I was a program director—I don't like to go in the studio when somebody is on the air. I don't like to call the hotline to the studio unless I really, really have to. Why? Because when I was an on-air talent, there's nothing that I was more nervous about, then when a program director would come in and stand behind me while I'm doing my show. And I'd be thinking, 'you know, what, if you've got something to say, I'll listen to you and I want the feedback, but can you wait until I'm off the stage?'
I believe it's important that the talent knows you're in his or her corner, to help them get better and to succeed. Nothing gets me more excited than when I see a talent grow to the next level, get a great rating book, and are able to showcase their skills.
It's also important to know when to have the conversation with the talent and when to let them be and wait. Choosing wrong may impact them.
CP: 2020 has been such an unprecedented year and it's thrown a lot of curveballs to the industry, but especially the news talk format. What did you do to adjust your station to the dynamics at hand with coverage of the pandemic? Was it more about adapting and reacting or deliberately planning?
SM: From the beginning of the pandemic, we had numerous meetings on how we were going to maintain our quality and how we were going to take things to the next level. The thing about WBAL is we've got talk shows, we've got news, local news and we produce the Baltimore Ravens in the National Football League, and we actually oversee the production of the games; so we had to figure all that out.
It was kind of starting to come together as we would go because we've got really smart people, amazing people that know what's going on. We all worked collaboratively together and figured that out. Once we got to that place, where we were good, then it was about just continuing to produce content like we normally do. That's what we've really tried to do and even today, we're still working primarily remotely, but the listener gets the same quality product they've always got—that's what our goal is.
CP: What is your proudest moment (or one of the proudest moments) of your career thus far?
SM: One of my proudest moments was having the confidence to transition from sports to news talk, and being able to get the job at WBAL in Baltimore. It's a heritage radio station with a tremendous history and I respect the heritage of what that station is all about. While at the same time we've done some really good stuff to build it to a higher level. When I left ESPN, I thought I'd stay in sports forever, but this came up, and I saw how important this station is. I've had as much fun working for WBAL as anywhere I've ever been.
CP: You've been significantly helpful to me in helping me find my voice, encouraging me to pursue the career goals and aspirations I had for myself, understanding that they in fact were attainable, and recognizing how essential authenticity is in this industry. I feel very lucky to have learned this valuable information so early in my career and carry it with me as I venture forward. Which mentors/mentor helped shape you, and gave you that confidence to embark on the amazing journey that's been your career?
SM: I was fortunate that my one uncle, Bob Masteller, was an amazing mentor to me, because my dad passed early. He would always say, 'Scott, you need to have a board of directors!'
So, there were several people, some from the business, some from outside the business. My wife, Carol. And a couple of people in the industry, Bruce Gilbert at Cumulus, Rick Scott, the well known sports consultant and then different GM's that I've worked with that have really made an impact on me over the years.
It's a collection of all those voices, and we don't always agree, but that's healthy, and I continue to call on all of them today to help me navigate through different challenges. The more that you can have other people who you trust; that to me is a really good thing.
CP: What would be your advice for someone who is looking to begin their career or grow their career in the radio industry?
SM: It's just real simple: network, network, network. And then network some more! The more people you can meet, the more relationships you build. And then, when you find somebody you can trust, try to cement that relationship, so it becomes more than just somebody you can connect with on LinkedIn, someone you can reach out to when you have questions, thoughts or ideas.
Those relationships are the key to being able to be successful. The more you can get to know different people, and it may be someone you meet today, that may not do anything for you for five years, but at some point, you may cross paths and that person's aware of something.. It's just about meeting different people and that can help you find your voice.
Brett Kane Is Here To Kick Back & Make People Laugh
"They are so much like my group of friends that I hang out with, where, really, it's all about busting each other's balls."
Butt dials are almost always a super embarrassing situation. Sometimes it means accidentally dialing an ex, other times it may mean texting absolute gibberish to a contact you've made. Regardless, it's super embarrassing. Oh and I may or may not have experience with one or both of those. 
But there's at least one known instance where a pocket dial actually benefited someone. In fact, it actually helped create one of the best sports radio segments in Denver.
Brett Kane was hosting a show at 93.7 The Ticket, near his hometown in Nebraska. While listening to a podcast during a workout, he accidentally hit the speed button you can find at the bottom left hand corner on Apple Podcasts to make it to half-speed. He laughed hysterically, sure, but with that, also, sparked a brilliant idea for a new segment.
"I think I was listening to a Dan Le Batard Show podcast," said Kane. "Hearing Stugotz slowed down was the most hysterical thing in the world. I had to pause doing any sort of exercise, because I was dying laughing. I went to one of our podcasts at the time and said, what if I just did this to us? The same thing happened. Now it's become if you hear anything, and our producer Marty is so good at this, if you hear anything that could remotely sound like it's funny, mark it and try it and see if it will work. It really was an accident. But it's one of those things where I heard it and a lightbulb went off."
Drunk Takes has become one of the best segments on Moser, Lombardi and Kane. It works because it's both funny and unique content, but also because it fits perfectly with the theme of the show, which, simply, is three guys sitting around and busting each other's balls.
Brett Kane isn't exactly new in Denver, he's been there for over two years since getting the gig with Altitude Sports Radio. But compared to his two co-hosts, Marc Moser and Vic Lombardi, he might as well be wearing a fanny pack and holding a camera around his neck like a tourist. However, finding chemistry with two longtime Denver personalities wasn't as difficult as the native Nebraskan initially thought it would be. 
"They are so much like my group of friends that I hang out with, where, really, it's all about busting each other's balls," said Kane. "That's honestly what it is. I got in here and it literally took me a week, maybe two, to figure out it was going to be very, very simple. Our sense of humor is the same and they just want to kick back and make people laugh. Everyone's got their different quirks and you have to find out what makes people tick, but for a starting point, I feel like I was ahead an entire lap when this whole thing started."
It makes their show super relatable. Three guys sitting around and talking sports while making fun of each other sounds like every guy's group of friends. If the goal in sports radio is to make it seem like you're having a conversation in a bar, Moser, Lombardi and Kane accomplish that on a daily basis with their style and humor.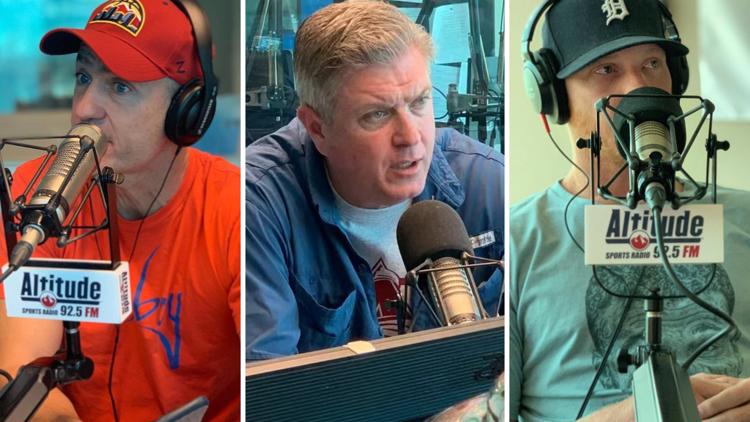 "It's funny because we usually get this from people who are new to the show, and if you listen to the show for a while you get it, but poor Moser," laughed Kane. "He probably gets it the worst out of anybody. We all get our turn on the hot seat, right, that's what we always say. At the end of it, we get people every once in a while saying something like, do you guys hate him? Why do you keep picking on him?
"It's almost like we have to explain to people the reason why we do this is because we genuinely like each other. You don't start crushing somebody you don't like to their face. That's not how it works."
One of the best things about getting hired at Altitude Sports Radio for Brett Kane, was the timeline that it happened. Dave Tepper, who's had success in multiple markets, was hired away from 1620 The Zone in Omaha to become the PD at Altitude. It was a huge help for Kane, seeing as his boss was also leaving Nebraska for a new market and near the same exact time as him. 
"It was almost like a buddy who you're on vacation with," Kane said. "Like, hey, have you checked the spot out yet? Have you visited here? It was a feeling that we were trying to figure this thing out together, because he was only here a few months before I was. You're trying to learn a new place, and I love it here, but I've lived in Nebraska for basically my entire life and it's different here.
"You're just trying to get a feel of what people want, especially coming from a market like I did in Nebraska, where it doesn't matter if it's in the middle of football season or in May, it's Husker football the whole time. You almost recalibrate because there's so much more here, as far as the sports landscape. Having someone else who had the same perspective as I did, and understood that you almost have to retrain your mind a little bit, was a massive help."
Altitude has a bit of a different approach to it's daily content than some of its competitors in town. Whereas some stations in town take the approach of always talking Broncos, Altitude likes the approach of including Rockies, Nuggets and Avalanche talk more than anyone else in the market.
Does Brett Kane miss talking about college football? Sure, but instead of talking about one team for 12 months, there are enough teams and interest in his new city to spread the wealth around. 
"I think it's been good," said Kane. "You almost have to-retrain an audience to a certain extent. Like, no, this is allowed too. You can do this and be successful at it. And I think there's an appetite for it. The most important part, and I'm not going to force feed anything, there is an appetite for the stuff and it came across pretty clearly. We know the Broncos are king and that's never going to change, so when you have teams that are as successful as the Nuggets and Avs are, it would almost feel like you're ignoring that certain segment of people that want that in their daily lives. It's kind of our way of branching out and being and a bit different."
With Dave Tepper at PD and the entertaining list of hosts the station has collected, Altitude has made monumental strides. They've even expanded their content to TV and Twitch, where listeners can watch each host's every move from a television, iphone or computer screen. But just because you can watch, it doesn't mean Brett Kane and his co-hosts are changing the way their radio show is done.
"If anything, what it does is give you an extra glimpse, like some of the faces Moser more will make or the body language these guys have, it's just adds another layer to it. So we can be the most successful Twitch show in the history of Twitch but if the radio staff isn't there, we're just placating to that audience. That's not how it works. We are a radio show and we make sure to say this even we went to television, this is a radio show on TV not a TV show on the radio. We always keep that perspective about it. The only thing that really matters now is don't pick your nose. That's kind of it."
Keep an eye on what Altitude does over the next couple of years. With strong  leadership and talent in place, one would think the station's best days are ahead. Especially as Moser, Lombardi and Kane continue to put out content that's relatable to guy's all over the market. Brett Kane is also further proof that outside talent can come into a new market and not only have success, but quick success. 
ABC, MSNBC Draw Most for Presidential Address to Congress
"ABC, MSNBC benefitted most from airing Joe Biden's presidential address."
President Biden's first official address to a Joint Session of Congress delivered a combined 26.94 million viewers across sixteen outlets, according to Nielsen Media Research. The amount factored in out-of-home viewing and those watching via connected TVs, which encompasses smart televisions, internet-connected devices, and gaming consoles. All but approximately 500,000 viewers tuned in to Biden on one of the ad-supported networks.
These days, a viewer figure like that is considered impressive, based on current trends of consumers venturing towards streaming services and away from linear platforms. In comparison to past Joint Sessions of Congress, however, Biden lagged far behind from years past. Donald Trump's address posted 47.74 million viewers on Feb. 28, 2017. Eight years prior, President Obama's Congress speech drew an even larger audience of 52.37 million. The all-time most-viewed presidential speech to Congress was President Clinton's (66.9 million) on Feb. 17, 1993 which was then televised on only four networks (ABC, CBS, NBC and CNN).
ABC, the usual leader among solely the broadcast networks in special news events coverage, not only topped NBC (3.66 million), CBS (3.44 million), and the Fox broadcast network (1.685 million) but with 4.185 million viewers, it was the top outlet on TV overall.
As another anomaly, MSNBC was the top cable news outlet covering Biden's speech in total viewers, having posted 4.12 million viewers. Although CNN — the regular cable news leader in special news coverage — was not far behind with 3.345 million viewers, the network was tops among the key adults 25-54 demographic with 930,000 within that age range. CNN research proclaimed CNN had registered the youngest median age across cable news, six years younger than Fox and seven years younger than MSNBC.
While Fox News trailed behind their cable news competition with 3 million total viewers, they were the most-watched cable news outlet in the hour prior to Biden's address ("Tucker Carlson Tonight" 3.34 million) as well as for the GOP response by Republican Sen. Tim Scott from South Carolina (3.33 million) following Biden's address to the Joint Session of Congrats. Yet again, though, CNN led in 25-54 with 663,000 viewers of that demo for Scott's speech.
In addition, CNN continued leading cable news among adults 25-54 (400,000 viewers) during the post Address coverage (10:45pm-12:00am ET).
Univision (1.15 million) was the lead Spanish-language network covering Biden's address on the night. Telemundo averaged 1.06 million viewers.
Here are the cable news averages for Apr. 26-May 2, 2021 — the total viewer figures were cable's three best marks for the week in total day:
Total Day (Apr. 26-May 2 @ 6 a.m.-5:59 a.m.)
Fox News Channel: 1.210 million viewers; 210,000 adults 25-54
MSNBC: 0.887 million viewers; 122,000 adults 25-54
CNN: 0.694 million viewers; 180,000 adults 25-54
Prime Time (Apr. 26-May 1 @ 8-11 p.m.; May 2 @ 7-11 p.m.)
Fox News Channel: 2.261 million viewers; 367,000 adults 25-54
MSNBC: 1.647 million viewers; 241,000 adults 25-54
CNN: 1.122 million viewers; 294,000 adults 25-54
Top 10 most-watched cable news programs in total viewers:
1. Presidential Address "Biden First Address To Congress 2021" (MSNBC, Wed. 4/28/2021 9:05 PM, 68 min.) 4.116 million viewers
2. MSNBC Special Coverage "Biden First Address Post Analysis 2021" (MSNBC, Wed. 4/28/2021 10:13 PM, 13 min.) 4.072 million viewers
3. Presidential Address To Congress "2021" (CNN, Wed. 4/28/2021 9:06 PM, 65 min.) 3.345 million viewers
4. Tucker Carlson Tonight (FOXNC, Wed. 4/28/2021 8:00 PM, 55 min.) 3.344 million viewers
5. Presidential Address/GOP Response (FOXNC, Wed. 4/28/2021 10:26 PM, 14 min.) 3.332 million viewers
6. Presidential Address/Analysis (FOXNC, Wed. 4/28/2021 10:11 PM, 15 min.) 3.177 million viewers
7. Presidential Address Coverage (FOXNC, Wed. 4/28/2021 8:55 PM, 11 min.) 3.156 million viewers
8. Tucker Carlson Tonight (FOXNC, Thu. 4/29/2021 8:00 PM, 60 min.) 3.034 million viewers
9. Biden Address To Congress (FOXNC, Wed. 4/28/2021 9:06 PM, 65 min.) 3.003 million viewers
10. Tucker Carlson Tonight (FOXNC, Mon. 4/26/2021 8:00 PM, 60 min.) 2.999 million viewers
Top 10 cable news programs among adults 25-54:
1. President Address To Congress "2021" (CNN, Wed. 4/28/2021 9:06 PM, 65 min.) 0.930 million adults 25-54
2. Presidential Address Post Analysis "2021" (CNN, Wed. 4/28/2021 10:11 PM, 15 min.) 0.813 million adults 25-54
3. Pre-Presidential Address "2021" (CNN, Wed. 4/28/2021 9:00 PM, 6 min.) 0.786 million adults 25-54
4. MSNBC Special Coverage "Biden First Address Post Analysis 2021" (MSNBC, Wed. 4/28/2021 10:13 PM, 13 min.) 0.717 million adults 25-54
5. Presidential Address "Biden First Address To Congress 2021" (MSNBC, Wed. 4/28/2021 9:05 PM, 68 min.) 0.709 million adults 25-54
6. Presidential Address GOP Response "2021" (CNN, Wed. 4/28/2021 10:26 PM, 14 min.) 0.663 million adults 25-54
7. Presidential Address Coverage (FOXNC, Wed. 4/28/2021 8:55 PM, 11 min.) 0.635 million adults 25-54
8. Biden Address To Congress (FOXNC, Wed. 4/28/2021 9:06 PM, 65 min.) 0.622 million adults 25-54
9. Tucker Carlson Tonight (FOXNC, Wed. 4/28/2021 8:00 PM, 55 min.) 0.605 million adults 25-54
10. Presidential Address Post Analysis "2021" (CNN, Wed. 4/28/2021 10:40 PM, 20 min.) 0.582 million adults 25-54
Source: Live+Same Day data, Nielsen Media Research
"Big Tent" or "Party Line": Where Does Talk Radio Go Next?
(Open browser)
(Search: "Ronald Reagan Big Tent")
(Laugh at the breadth of past articles and opinion pieces)
The reason that's funny to me is that the search and the outcome point up that discussions about the Republican Party's future and a perceived lack of diversity have been going on for almost as long as "Saint Ronnie" has been out of office. The current arguments over Wyoming Rep. Liz Cheney's viewpoints tied to former president Donald Trump and his claims related to the 2020 election are just another twist in the discussion.
My thought process for bringing up "The Big Tent", though, is more about where news/talk radio sits just beyond the 100 days mark for President Joe Biden's administration. The format's biggest voice is all but silenced, leaving behind a huge swath of the format's stations to deal with what appears to be a lack of planning for this day. The audience Rush Limbaugh commanded is likely going to be splintered multiple ways as stations lean on new-to-them national voices or possible revamping aimed at going local.
Those moves give the appearance of diversity, but the larger listen to the format–and the recent adventures of Fox News, NewsMax and One America News on TV–point up that the "Big Tent" is really becoming smaller by the day. There's a battle for who can be viewed as the most loyal and strident in presenting the party line, with a de-emphasis on diversity in conservative thought. It's why hosts like Charlie Sykes, Michael Medved and others have been marginalized while the voices of Sebastian Gorka, Dan Bongino and others have been ascendant.
Over time, the expectation that hosts maintain a specific "party line" has whittled away at the diversity of opinions on the air.
In 2020, the split of self-identified Republicans was under 30 percent of voters. I know that's not a full measure of the support Republican candidates and conservative politics have in the larger picture, but does it give us a full view of what the audience is for conservative-heavy talk? Chip away those who don't listen on a steady basis, those who may not have access any more to stations in certain markets as the AM band is taken off newer radio models and those who aren't into the strict line that draws the most loyalty and what do the numbers look like?
With the passing of Limbaugh, is there a chance for an overhaul of the format to return it to being more diverse, more local or are the most vocal listeners going to continue to push for that strict line?
This is biggest turning point in the format's existence since the rise of conservative talk keyed by Limbaugh, one that will have huge ramifications on everyone tied to the format, from individual stations and hosts to the major ownership groups.
It helps to remember that even "Maha Rushie" presented diversity in thought in his first 15 years. A "We move liberals to the front of the line" policy allowed him to poke away at their views and it made for good radio. It was entertaining but also enlightening. Heck, he also wasn't a supporter of Donald Trump as late as (checks notes) the first quarter of 2016. Those debates fell away as time and the demand that the strict "party line" be all that was presented took even further hold.
Is that hegemony the healthiest for the news/talk format?
It may be the biggest question for everyone involved since "Why would I carry a syndicated host in middays?"