Jared Stillman Was Ready For Company In Afternoon Drive
"When we decided to make the show more of a company, I didn't think we would get someone as talented as Caroline, but our producer Ian, he does a fantastic job on the air and off the air."
Jared Stillman didn't blink when he was asked to host solo in November. In fact, neither did anyone at ESPN 102.5 The Game in Nashville, even though the station knew it would have to undergo a search to find his next co-host. Floyd Reese, a former GM of the Houston Oilers and Tennessee Titans, announced his intentions late last year to resign as the co-host of Jared & The GM. Stillman had hosted solo before and it was an incredible luxury for the station, because there wasn't a mass panic to hurry and fill the spot. Instead, The Game took its time and carefully vetted each candidate to find the best partner for Stillman in afternoon drive.
"I've done solo shows before so doing them in November, December and at the beginning of the year wasn't that hard for me," said Stillman. "By being able to do a solo show it gave us the opportunity to take our time."
102.5 The Game being able to take its time with the search, meant the station discovered Caroline Fenton, a social media producer at ESPN in Bristol. Amidst tons of other applicants, the fit seemed natural from the beginning. 
"They interviewed a lot of people," Stillman said. "A lot of people wanted to be on an afternoon drive show in Nashville. I was able to get on a Zoom with her and I thought she was great. She came to Nashville and we got to really know her."
Things move fast in this industry. After spending a week behind the scenes learning all of the digital elements the station had to offer, she was soon making her debut as the new co-host on Stillman and Company. April 5th was her first full day on the show, just in time for the stretch run for the NFL Draft and smack dab in the middle of the Predators' regular season.
"I thought it was really well played out," Stillman said. "I definitely think it's probably better right now since we're in the middle of a hockey season and it looks like the Predators are going to make the playoffs. That's a big deal around here, because we're the flagship station for the Predators. We had a plan and because of that it's made the first week a lot easier. What we were doing, it wasn't like, hey, here's the mic, go. It was like, hey, here's the segment you're going to be a little bit more active and here's the segment where you're going to be a little less active. Or even, here's what we're going to want digitally. Caroline is really smart and she's really talented so those things weren't very difficult at all."
Stillman has every club in the bag you need as a sports radio host. He can host solo, he can host with the former player or coach and he can even host with someone who wants to share as many strong opinions as him. No matter the situation in the studio, not only can he handle it, but he has the confidence and the talent to turn it into really compelling radio. He's done different types of shows but this one will signal a very important step for the development of his career.
"It's kind of like different genres of movies," Stillman said. "Some guys are comedy actors, some guys are drama guys and some guys are action guys. Then you have someone like Ryan Reynolds who can do all of them. For me, this is a really important step for my development as a host. I try not to make it about me, or think that it's about me, but it's a really important step in my development. Floyd was a management guy, but it's all the same with the ex-coach, ex-GM, ex-player, it's kind of the same concept. I've done those shows and this is a little different.. This is like a Colin Cowherd show or a Bobby Bones show. It's not just one guy, there's a crew.
"When we decided to make the show more of a company, I didn't think we would get someone as talented as Caroline, but our producer Ian, he does a fantastic job on the air and off the air. For me it's a different experience, because it's a different kind of show, but that doesn't mean I don't think we're not able to get listeners what they want every day and entertain them, which is really what the whole point is anyway."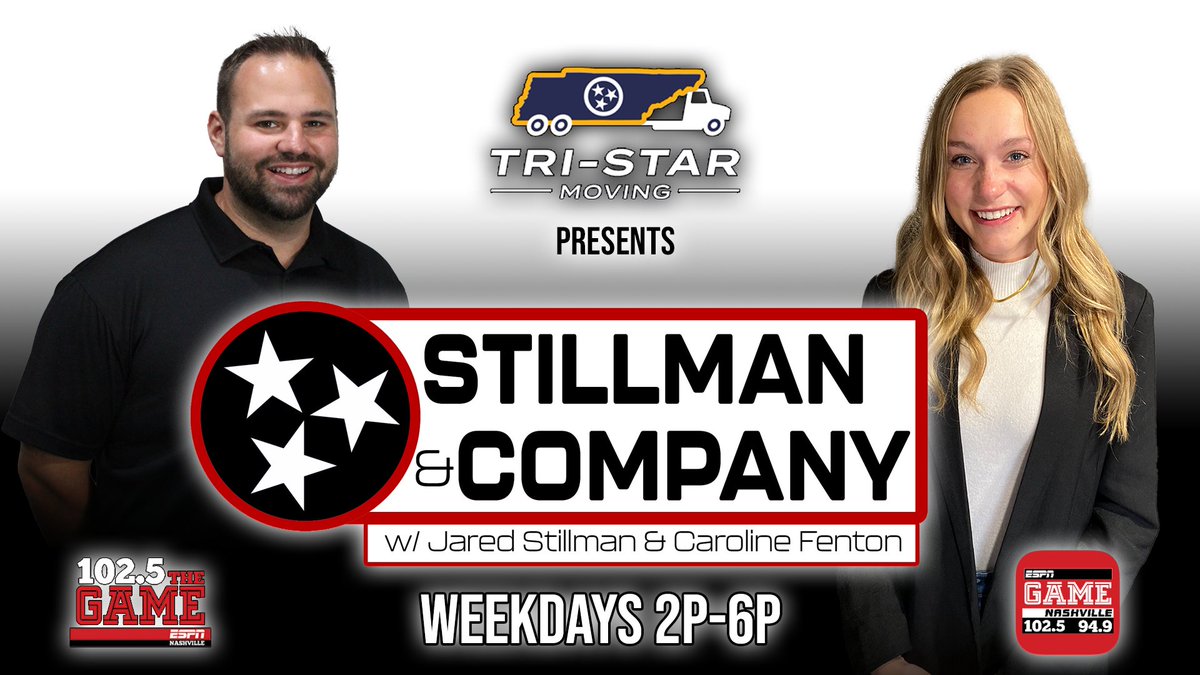 Nashville still has one of the newer franchises in the NHL, but it takes a backseat to nobody when it comes to passion within its fanbase. The state of Tennessee has long been labeled a football state, and that's still probably true, but you better know hockey if you're going to talk sports in the Nashville area. Fenton has quickly transitioned herself into daily hockey talk, but knowing exactly what's happening on the ice can be intimidating for someone that didn't grow up in a hockey market.
"Hockey is important because that's what the people here care about," said Stillman. "It's like when I worked in Louisville and it was all about college sports. It was all about Louisville and Kentucky. I think Caroline is like any new host when they go into a different city, where they have to feel it out. It doesn't mean they don't know what they're talking about or they're not knowledgeable but even I had to learn some things when I got here and I grew up here. I do think Caroline has worked really hard off the air to master it.
"I think too much in radio, and I think this is a much larger issue than Caroline, but we just put a microphone in someone's face and say go. There's not an education process. I've been in situations where someone stuck a microphone in my face and said go. I just don't think that's the best way to do this. Ryan Porth has been our program director for five years and he has the experience on how to bring somebody up."
Football always rates in every single market in the country, but when it comes to basketball, baseball, hockey or any other sport, it's pretty much a case-by-case basis. Nashville loves hockey but is it an easy sport to talk about? Is it difficult to make the game sound interesting on radio with so many regular season games?
"You may wear jeans and khakis every day but if you work at Lululemon, you better figure out how to sell yoga pants," Stillman said. "People care about the Predators, so, you've got to watch. Some of our strongest periods were when we did four hours on the Predators during their Stanley Cup run in 2017 and their Presidents Cup season in 2018. I would laugh because here's Floyd Reese, a 36-year NFL veteran and here he is talking about the power play. And the people loved it. I don't think it's any different from any other sport. The one thing you cannot do in sports talk radio right now, no matter the sport, if your audience cares, you can't look at the game and say, oh, today's game doesn't matter so forget about it. Every game matters. How much it matters is how much you think it matters.
"I use Felger and Mazz in Boston as an example. When I used their model, you listen to those guys and every Celtics game matters. Every time they lose they want to talk about blaming the coach. Those guys will go on rants about somebody's three at bats in a May 13th game with the Red Sox and they will literally drive an hour on someone going 0-3 with a walk and it's like 'what are we paying this guy for!'. It moves the needle and I think everyone in sports talk radio needs to adopt that with their own team. Local sports talk radio is not going away, because it's in live time. Podcasts aren't. Hosts have to look at what matters to the audience and if it matters to the audience for them to invest three hours of their life watching that game, then it should matter enough to you to watch it and it should matter enough to you to find ways to make discussing that game interesting."
Give a ton of kudos to 102.5 The Game and how they've made the transition as easy as possible for Fenton in the afternoons. Also, give the same amount of kudos to Fenton for buying into what she was being sold and working tirelessly to perfect it. Really, how the station handled this hiring should be a learning tool for others across the country. 
But though Stillman and Company seems to have hit the ground running and are hitting their stride, has the identity of the show already been completely formed?
"I try not to predict things like that too far in advance," Stillman said. "The show is pretty much what this show was built on way back in 2016, which was strong opinions with the Titans and the Predators and whatever else people in Nashville are talking about. I don't think that's going to change. We are an opinion show and I don't ever foresee that changing. I think Caroline is ready to bring her opinions."
The NFL Hopes You're Lazy Enough to Pay Them $5
"This app reportedly doesn't even have any original content of it's own. NFL Films produces content for ESPN+, HBO Max, Peacock, Tubi, Epix, Paramount Plus, and Prime Video. It has also reportedly had discussions about producing content for Netflix. Unless they plan to bring all of those shows in-house, what kind of shows could NFL Films produce for NFL Plus that you couldn't already find on all of those other apps?"
Corporate goodwill is a hard thing to ask for. It's not something that is a requirement for any entity to engage in. But it can go a long way in establishing a deeper bond for the future. According to Sports Business Journal, NFL owners are contemplating launching a streaming service for the league.
The app would feature podcasts, content created by teams and radio content. It's unknown where the podcast content will come from but one can assume it'll include the various podcasts the NFL produces with iHeartRadio. Team content that is expected to be featured could come from videos and audio that is already posted on team websites and social media platforms such as YouTube.
Various organizations across the league have expanded their YouTube efforts over the last couple of years as the Google-owned site has slowly set itself apart as a leading source for viewership. My hometown team, the Baltimore Ravens, for example promotes a talk show with cornerback Marlon Humphrey where he interviews players and other key figures from the team about their lives and careers and how they got to where they are today.
The most important part of this app will be NFL games itself. On Sunday afternoons, whatever games are airing in the specific location you're in while using the app, those are the games you have access to watch. If you're in Baltimore and a Ravens game is airing on CBS while the Commanders are on Fox, those are the games the app will offer. If you're in Boston and a Patriots game is on CBS while a Giants game is on Fox – you won't have access to the Ravens game airing on CBS in Baltimore or the Commanders game on Fox in Baltimore even if that's where you normally live. These games used to be a part of a deal with Yahoo Sports and Verizon – who distributed them on their apps for free.
JohnWallStreet of Sportico notes, "longer term, the existence of a league-owned streaming platform should help ensure broadcast rights continue to climb." But at the end of the day, how does this help the fan? The increase of broadcast rights is going to end up costing viewers in the long run through their cable bill.
ESPN costs almost $10 per cable customer. The app, as of now, isn't offering anything special and is an aggregation of podcasts, games and videos that fans can already get for free. If you want to listen to an NFL podcast – you can go to Spotify, Apple Podcasts and various other podcast hosting platforms. If you want to watch content from your favorite teams, you can go to their website or their social media platforms. And if you want to watch games, you can authenticate your cable subscriptions and watch them for free through your cable company's app or CBS' app or the Fox Sports app.
It's nothing more than a money grab. Games are already expensive to go to as it is. Gas prices have reached astronomical highs. Watching content has become extremely costly and it's debatable whether buying streaming services is cheaper or more expensive than the cable bundle. And now the NFL wants to add more stress and more expenses to their viewers who just desire an escape from the hardships of life through their love of a beautiful game? It seems wrong and a bit cruel to me.
The beauty of paying for content apps is that you're going to gain access to something that is original and unique from everything else in the ecosystem. When House of Cards first premiered on Netflix, it was marketed as a political thriller of the likes we had never seen and it lived up to its expectations for the most part. The critically-acclaimed series led viewers to explore other shows on the app that were similarly a more explicit and unique journey from what had been seen on television before.
This app reportedly doesn't even have any original content of it's own. NFL Films produces content for ESPN+, HBO Max, Peacock, Tubi, Epix, Paramount Plus, and Prime Video. It has also reportedly had discussions about producing content for Netflix. Unless they plan to bring all of those shows in-house, what kind of shows could NFL Films produce for NFL Plus that you couldn't already find on all of those other apps? Even YouTube has partnered with NFL Films to produce behind the scenes footage of games that is available for FREE.
If you're going to force viewers to pay $5 to watch games on their phone, the least you could do is give fans access to speak with players and analysts before and after the games. Take NFL Network over the top so that we can wake up with Good Morning Football. Offer a way for fans to chat while games are being watched on the app. The ability to watch an All-22 feed of live games. A raw audio options of games. The ability to screencast. Even a live look at the highly paid booths who are calling the games.
Five bucks may seem small in the grand scheme of things but it is a rip-off especially when the content is available for free with a few extra searches. Goodwill and establishing a person to person online relationship with fans could go a long way for the NFL. It's not going to work using these tactics though. And after facing such a long pandemic, offering it up for free just seems like the right thing to do.
Sports Talkers Podcast – Danny Parkins
Danny Parkins opens up to Stephen Strom about why he is so passionate about defending Chicago. He also gives his best career advice and explains why a best friend is more important sometimes than an agent.
Marc Hochman is The Lebron James of Miami Sports Radio
The Hochman and Crowder Show with Solana isn't like anything you'll hear in most major markets. But they wear that distinction with a badge of honor. They're not interested in breaking down why the offensive line can't get a push on short-yardage situations, they want to make you laugh, regardless if it's sports content or not. They're perfectly Miami sports radio. 
There's 30 minutes to go until Marc Hochman's summer vacation and he's suddenly overcome with emotion. Instead of staring at the clock, he's staring at an article from The Miami New Times, which has just named him Best Talk Radio Personality in its "Best of 2022" awards issue. It's an incredible honor in a city that has several worthy candidates, including the man sitting right next to him, Channing Crowder.
But it's not just the honor that's catching Hochman's eye, it's also the paragraph where the newspaper compares him to Lebron James. No, seriously. Compliments are nothing new for the Miami radio veteran, but being compared to one of the best basketball players of all-time is new territory. Part of the paragraph reads like this:
"His current domination of the afternoon drive simulcast on both WQAM and 790 The Ticket (WAXY) is akin to Lebron playing for the Lakers and Clippers simultaneously. Could he do it? Probably. Does Hochman do this daily? Yes. Advantage, Hochman."
Talk about incredibly high praise for a sports radio host. Especially one in Miami where there's still a lot of hard feelings towards Lebron. But the praise is accurate, because the Hochman and Crowder Show with Solana airs on two different Audacy stations every day. It's an interesting dynamic, especially for a market the size of Miami/Fort Lauderdale.
"We have a joke that if you don't like what you're hearing on 560, feel free to tune in on 790," laughed Hochman. "But it's fun and I think in some strange way it's increased our audience. As crazy as it is to say in 2022, there are people who listen to a particular radio station and don't ever change it. I do think being on both stations has expanded our audience. We have fun with it. The show is on for four hours on 560 WQAM and three hours on 790 The Ticket."
It's cool to see Hochman get this type of honor during his 10th year of being an afternoon host on 560 WQAM. Especially since he's originally from Chicago, but has carved out an incredible career in a city he's called home since the late 80s. It's funny to think Hochman had no interest in sports radio in 2004 when his college friend Dan Le Batard offered him a job as an executive producer at a startup station in Miami. Now, 18 years later, he's being voted as the best to do it in the city.
"Everybody likes to be recognized for what they do," said Hochman. "We get recognized all the time by the listeners, but when someone out of your orbits writes their opinion of what you're doing, and it's that glowing of an opinion, it's great. I've been compared to Lebron before, but it's always been my hairline. It was nice to be compared to him for another reason. That was super cool."
The best part about all of this is how Hochman will use this as a funny bit on the show, because, above anything else, he's instantly identified as someone who's incredibly gifted at making people laugh on the air. There's no doubt it will become a theme on the show, both with him and his co-hosts, Crowder and Solana.
"The award came out about 30 minutes before I was leaving for my summer vacation, so I had about 30 minutes on the air to respond to it," Hochman said. "So I'm sure it will become a bit on the show, I certainly will refer to myself as the Lebron James of sports talk radio in Miami. Although, there's still some hard feelings here towards him.
That was the one part that jumped out, obviously, to me, Crowder and to Solana. I don't think I'm Lebron James but Crowder said on the air that sometimes you have to acknowledge when you're playing with greatness, and he said "I used to play defense with Jason Taylor and Junior Seau, now I'm doing radio and I will acknowledge greatness."
With or without this honor, it's pretty evident Hochman is the happiest he's ever been in sports radio. He's surrounded with two talented co-hosts, but the sentiment is that Hochman does an incredible job of putting both Solano and Crowder in situations to be the best versions of themselves on the air. However, Hochman sees it differently.
"I think that's more on the people around you," he said. "If you have great teammates, they're great. Crowder and Solana, those dudes, if you want to make a basketball comparison, we have ourselves a Big Three.
Solana is the best at what he does, Crowder is the absolute best radio partner I've had in my career. He's so aware of what it takes to entertain but also has broadcast sensibilities at the same time. I actually think he's the one that makes us sound better than what we really are. He has a really incredible knack for entertaining but also informing."
The Hochman and Crowder Show with Solana isn't like anything you'll hear in most major markets. But they wear that distinction with a badge of honor. They're not interested in breaking down why the offensive line can't get a push on short-yardage situations, they want to make you laugh, regardless if it's sports content or not. They're perfectly Miami sports radio. 
"I would say Miami is the strangest sports radio market in the country," said Hochman. "I grew up in Chicago so I'm intimately familiar with Chicago sports talk. Miami sports talk, which is Le Batard, who redefined what works. In Miami, that's what it needed. It's more guy talk than sports talk. We certainly can't break down a third inning in a Marlins game and why a runner should have been running when he wasn't, the way that New York, Philadelphia or Boston radio could."
"That doesn't work here. When Crowder and I go on the air everyday, we've always said, our goal is we want to laugh the majority of our four hours on the air. If we're laughing, we assume the audience is laughing, as well. That's our personality. We both like to laugh and have fun. I like to do it, no matter what is going on. That translates to the radio. Luckily, Miami is a sports radio market that embraces that, because I don't think we could do a show any other way."