Is There Money In The NFT Fad For Sports Media Brands?
"Perhaps the windfall a media company can receive has less to do with generating income by selling NFTs and more to do with adjusting to the behavior of those participating in the trade."
The NBA has Top Shot. The NFL is reportedly looking into launching something similar. The sports world clearly understands that there is money to be made in non-fungible tokens.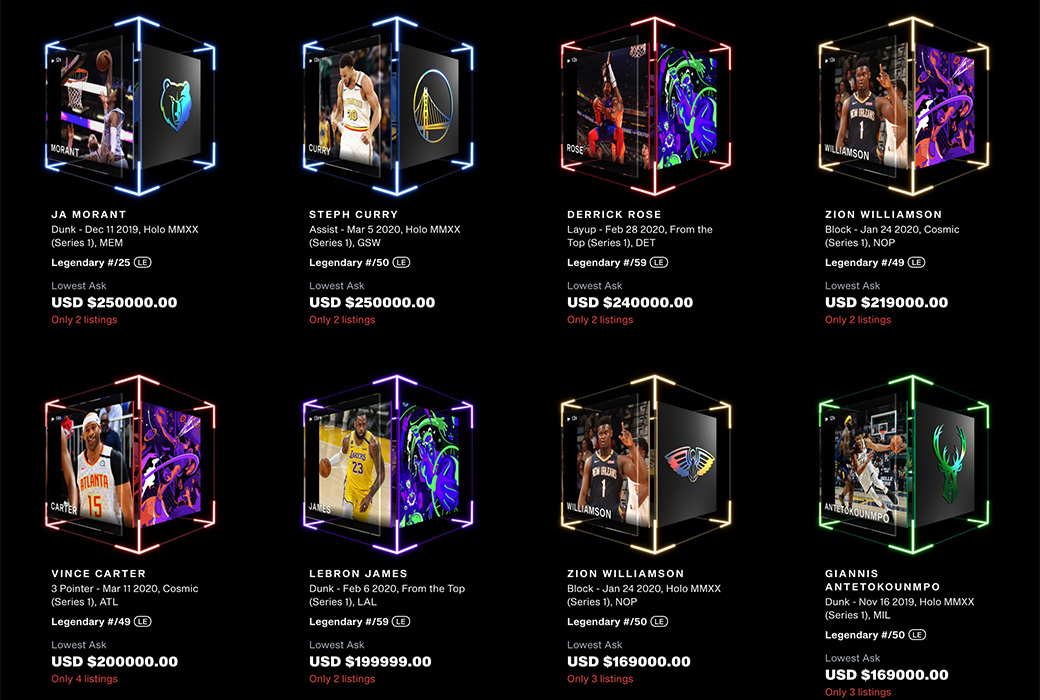 What are non-fungible tokens? Well, first of all, if you're cool, you call them NFTs. According to Coinbase, NFTs are "are a special kind of cryptoasset in which each token is unique".
Most of the cryptocurrencies we are familiar with offer a single thing for a single price. Bitcoin, for instance, was valued just under $60,200 when I started writing this. Before I hit publish though, the price plummeted by 10%. Fork over whatever the current amount is, and you get a single Bitcoin.
With NFTs, you are buying something specific. In the case of Top Shot, your investment gets you a particular highlight. That makes it possible to swing trades and make deals with NFTs in a way that is more akin to an NBA GM than a day trader.
Following so far?
Honestly, me neither, so let's just get to the question at hand.
Art is sold as NFTs. Albums are sold as NFTs. Any bit of code can be an NFT, so is there a way radio can make money off of the trend?
In order to figure out the answer to that question, I asked my friend Jordan Holberg for help. We went school together from third grade until the end of high school. Fun fact about Jordan: when we were in sixth grade, he once made me laugh so hard I peed my pants.
He was in AP and honors classes. I mostly didn't do homework. That meant I went to Alabama and he went to NYU. Now, I write about sports media for a living, and he has just started his own company that mints NFTs and cryptocurrency.
He is very smart. I am very dumb. A perfect example of that fact is that when we were exchanging messages and emails about this column and he referenced the SEC, he stopped to make sure I understood that he was talking about the Securities and Exchanges Commission and not the Southeastern Conference.
Full disclosure: I did not, but pretended I did.
Anyway, Jordan explained that the idea of non-fungible tokens is sort of the final evolution that futurists and the Cyberpunk genre had been envisioning for cryptocurrency all along. NFTs themselves are not a cryptocurrency. They are how you invest your cryptocurrency.
I told Jordan that between something like the NBA's Top Shot and a band like Kings of Leon releasing their latest album as an NFT, they seemed more like something you buy because you are a fan than a strategic investment. Jordan says that it helps to think back to when you were a kid collecting baseball cards.
"Was that about fandom or investing? I certainly remember going to card shows at the Howard Johnson and drooling over a Nolan Ryan rookie card, or placing value on cards with printed errors," he told me in an email. "Non-Fungible Tokens exist in this very fungible space at the intersection of gaming, social, and finance, and I think it's fascinating the Internet has facilitated the existence of this new type of entity."
Okay, so we're talking about a "you got chocolate in my peanut butter" kind of situation. Sure, NFTs are investments, but the desire to invest in a lot of cases is driven by fandom. That means that entering the NFT market may not be viable for everyone in the sports media industry, but iconic brands like ESPN or local institutions like KFAN in Minneapolis or WFAN in New York may be able to offer fans something in this space.
I asked Jordan what would be a reasonable NFT offer from a sports media brand. I was prepared to hear him mention something like a podcast or the ability to download a show that may not be available to own or have on any other platform. Instead, I was surprised by how familiar his suggestion seemed.
"The first thing that pops into my head is community," he answered. "It's dead-simple, at least in relative terms, to create a gated social community experience for NFT holders. It's like a virtual ticket that isn't forgeable, could be non-transferable, and has the potential to constantly make money for its issuer."
That sounds an awful lot like ESPN+ or Mike Francesa's ill-fated Mike's On app. I am not saying it is the wrong answer. I don't even know enough to know if there is a wrong answer. Maybe it speaks to the idea that an NFT can be anything.
The other thing to remember is that before any company can make a fortune on NFTs, it may have to invest a fortune. Take Jordan's exclusive community. Why is it different than something like an app or a subscription service? Jordan tells me that when NFTs are involved, consumers' concerns do not stop at status updates or memes. Their investment has them thinking about much more significant factors.
"When it comes to brands, big or small, lawyers have to get involved for sure. Again, NFTs are just digital property rights, but we aren't digital beings and the world doesn't exist only on the Internet. Intellectual Property, indemnification, terms of service, all that typical stuff still needs to be considered and isn't part of anything on the blockchain. That said, it's as complicated as you want it to be, but because NFTs are forever (if you code them that way), it's a lot to consider."
One advantage large, well-known sports media brands could have in the NFT space is the trust factor. I cannot help but think that is part of what has driven Top Shot's success. Sure, fans love the highlights and the players involved, but the NBA is a global entity. I would guess most NFT believers are more confident in its integrity than some other players in the space. At the very least, people dealing in NFTs can be confident that the NBA has too much to lose to openly run a scam.
Look, I'm not naive. The banking industry, Wall Street, insurance companies, government. I know there are plenty of well-known, long established entities that are perfectly capable of operating in ways that are designed to screw their customers. There is something about fandom though that makes us willing to take on some risk. We want to trust these things and people we have something invested in wouldn't screw us.
For instance, Jordan tells me that he believes that a large percentage of the NFT art market is being driven by money laundering. "Remember, this is a completely unregulated, brand new industry, and one should never underestimate the greed of others," he says.
He says that for consumers, the thing to remember is that an NFT is really just a contract. It says that the buyer is exchanging a certain amount of cryptocurrency for a digital entity of some sort.
"These contracts are little programs and each one has been coded by someone. There are contract standards, but it's up to the consumer to understand what they're getting into. There's nothing stopping a smart contract programmer from coding the NFT to say, 'after 30 days, destroy yourself'. That's an incredibly daunting task for anyone other than the most technical and hardcore blockchain user, so there's a certain amount of trust most NFT holders are placing in the system."
Companies in the media space can achieve plenty of monetary gain from the NFT craze. There is also something to be learned. Perhaps the windfall a media company can receive has less to do with generating income by selling NFTs and more to do with adjusting to the behavior of those participating in the trade.
Jordan doesn't have predictions on what will happen. What he does know is that NFTs have shown consumers that the model social media networks, company websites, and mobile games have operated under for so long is not the only way consumers can access the content they are looking for online anymore.
"There's going to be a huge shift between the current attention economy, where creators are paid based on engagement (likes, follows, clicks, eyeballs) and those doing the actual engagement get nothing other than their data mined and sold, to a participation economy, where everyone is compensated and has a stake in whatever it is they're engaging with. If NFTs are based on crypto and part of a larger whole, and they have value assigned to them, and those NFTs can be bought, sold, and traded, the more compelling their use-cases are, the more functionality they provide and active the community, the more monetary incentives, policy, and governance can be created to compensate and incentivize participation."
Technology is a constantly evolving thing, so each generation's expectation of entertainment changes. Think about social media. The idea of being able to send a message to your favorite player after a game and the potential for them to respond directly to you was something that existed only in our dreams when we were teenagers. It makes sense then that the idea that a fan should get something more for their investment than just a newsletter or t-shirt is coming. It's an expectation sports media companies should be thinking about right now, so that they aren't the last ones into a flooded marketplace.
"Crypto/NFTs have opened up a whole new world of what it means to be a consumer of entertainment and culture, and, for the moment, the sky's the limit," Jordan tells me. "We are very early."
Barrett Sports Media's Next Big Thing Draft
"I asked 30 established stars in the sports media world to join me in determining who is next."
There was a time when draft night, no matter the sport, meant that we were gathering the sports media for a similar exercise here at Barrett Sports Media. Between the pandemic, a changing focus, and more work than we could have anticipated when this business was launched, that tradition fell unfortunately by the wayside.
Today though, I am bringing it back. I asked 30 established stars in the sports media world to join me in determining who is next. This is the Barrett Sports Media Next Big Thing Draft. Just like the NBA, we have an age limit. The difference is theirs is at the low end and ours is at the high end.
We have long discussed the 40s being the decade where most people in this business are established and make the bulk of their money. So, I set 40 as the top end.
Now, sure, there are plenty of names under 40 that are already established stars. They are fair game. They are already their networks' franchise players. They can be the same for the theoretical teams we are forming.
So, in order of their picks (which were drawn at random), here are the TV, radio, and digital stars that agreed to be a part of the draft.
Steve Levy (ESPN)
Paul Finebaum (ESPN/SEC Network)
Doug Gottlieb (FOX Sports)
Kirk Herbstriet (ESPN)
Gregg Giannotti (WFAN)
Tim Brando (FOX Sports)
Wes Durham (ACC Network)
Bomani Jones (ESPN/HBO)
Gary Parrish (CBS Sports)
Linda Cohn (ESPN)
Stugotz (Meadowlark Media)
Damon Bruce (95.7 The Game)
Chris Broussard (FOX Sports)
Freddie Coleman (ESPN Radio)
Ric Bucher (FOX Sports)
Petros Papadakis (FOX Sports)
Michael Eaves (ESPN)
Jason Smith (FOX Sports)
John Kincade (97.5 The Fanatic)
Rob Parker (FOX Sports)
Adnan Virk (DAZN/Meadowlark Media)
Damon Amendolara (CBS Sports Radio)
Danny Parkins (670 The Score)
Mike Florio (Pro Football Talk)
Chris Carlin (ESPN New York)
Carl Dukes (92.9 The Game)
Jason Fitz (ESPN)
Adam Schein (SiriusXM/CBS Sports)
Dave Dameshek (Extra Points)*
Arash Markazi (WWENXT)*
This took a lot of time and effort to put together, but we got it done. Here is how the draft went.
Here are a few observations from the 2021 Next Big Thing Draft.
THE FUTURE IS FEMALE – The first three picks were all women. Half of the top ten were women. Whether it is TV or podcasting, some of the brightest up and coming stars in our industry are women and that is a good thing.
BRAND LOYALTY – It probably shouldn't be a surprise, but look at how many people chose up-and-coming stars at their own networks. Is that about job security and being a company man? Maybe, but look at Paul Finebaum choosing Laura Rutledge or Kirk Herbstreit choosing Pat McAfee or even Stugotz choosing Billy Gill. These people get to see their choices face to face with some regularity. I think it speaks to being able to recognize talent when you see it.
DAMON BRUCE KNOWS THE GAME – Bruce asked me to call him so he could make his pick over the phone. He wanted it to be clear. It was a crime that Shams Charania and his 1.2 million social media followers were still on the board at number eleven. "I want everyone to know how much they f***ed things up," he told me.
A BIG IMPRESSION – I loved the story Jason Smith told me about why he took the versatile Morosi with the 18th pick. "When he comes on my show he likes to use Italian phrases (you know, him being Italian and all), so one time I challenged him that some time in the next week he had to do a media interview entirely in Italian and not explain why he was speaking Italian to the hosts. And he had to post it. Three days later he puts the interview on Twitter, and @'s me on it: It was a baseball interview he did with a TV station…wait for it…wait for it…in Italy. 3,000 miles and an early call time to win a dare. Well played, Jon-Paul."
THE FREE AGENT MARKET – These people all went undrafted: Jason Bennetti, Domonique Foxworth, Cassidy Hubbarth, Mina Kimes, Joel Klatt, Danny Parkins, PFT Commenter, Brady Quinn, Taylor Rooks, Marcus Spears, and Joy Taylor. Some network or digital platform could build a hell of a roster with this draft's leftovers. You could really see this playing out with the final picks. "I had 4 or 5 can't miss picks that are already off the board," Jason Fitz told me before he proceeded to waffle between three potential candidates for the 27th pick.
Olympic Basketball Is Just The Tip Of The Streaming Iceberg
"Most of you that paid for the game through Peacock are going to cancel the subscription once the Olympics are over, right?"
If you, like me, were searching for a live broadcast of last weekend's Team USA/France game, it was not easy to find. NBC decided that one of the more popular sports in the Olympics was only good enough for their new streaming platform Peacock. Yeah, you could have streamed it through the NBC Olympic app, but it was early Sunday morning, who wants to mess with that?
I wanted to see it on my television set without having to hunt for the app. Call me old fashioned. Also, you better call me a technology expert, because I have seen the future of sports and it's streaming, not beaming to your set. 
I know, it's been trending this way for a while and I'm not Nostradamus, but it really hit me last week. I have so many questions. How much is this going to cost, on top of what I'm already shelling out for cable? What does this mean for teams throughout all the major sports? Revenue? Lastly, what's going to become of the Regional Sports Network? Some of them are heavily invested in or even owned by the teams themselves. 
We all understand why NBC aired the basketball game on its new digital network. Money rules the day. Plus, they figured, if we can get people to pay the $4.99 upgrade just to watch this game, we can hook them in for the other features too. Or, maybe they thought, well this is the only sport we're putting on the premium service, let's see how it goes and perhaps we'll get some new subscribers this way. So, let's not kid ourselves into thinking this was some brilliant idea because they weren't sure how good the Men's Hoops Team would be, it's about cash. And also, let's be totally honest. Most of you that paid for the game through Peacock are going to cancel the subscription once the Olympics are over, right?
You could have watched the game through the Olympics App, simply by opening the app, then verifying your cable service and entering your user name and password for your service. There were a few hoops, no pun intended, to jump through, but this way, you aren't paying more than you already are for cable. It seems like a lot of things are set up this way, possibly to gain information on how many users are actually streaming through third party apps.
Even after all of that, NBC decided to re-air the game on the network hours after it was completed. Hello NBC, maybe you didn't get the memo that this is 2021 and there's this thing called Twitter and other things called smart phones. Everybody that wanted to know the result already knew the final score. I feel like this is the majority of those watching the Olympics. It's a waste of air-time. This is a story for perhaps another time. 
I'm not sure why we routinely stream movies and TV shows and don't think much of it at the time. Shelling out up to ten bucks a month for Netflix doesn't seem as painful to me for some reason. For most of my life, sports were on free, over the air television. Yeah, it was a bit jarring when my teams moved to cable but we adapted. I just had to point my remote control to a different station, and there was my team in living color. Until recently this was the case for most of us. Especially since most of the RSN's linked to professional teams are locked into long term contracts, there hasn't been a reason to move with the times. Those of the younger generations have been the ones to see the shift to streaming, through an RSN's app or cable app. 
Now some of these agreements are expiring which means, teams and leagues are starting to explore the world of streaming. Some will have more streaming as of next year for mega bucks. Executives have realized that some of their viewers feel alienated. This, after "cutting the cord" with cable, giving them few alternatives to watch their favorite team.
It's not a good time for RSN's, who are basically the middleman between the teams and cable companies. There are instances where the network is actually owned by the team, like the Yankees' YES and the Cubs' Marquee Sports Network. The only advantage the RSN's have now is they are where the fans go to see every local game. Changes to that thought process are in the works too which could leave the RSN out in the cold. 
With streaming becoming such a popular way to catch a game or an event, some executives were caught off guard as to how fast this was taking place. It was time to adapt or die. In an effort to gain new "viewers" online platforms with sports are much more critical and important. NBC is abandoning its NBC Sports Network by the end of the year. With the NHL moving on to ESPN and Turner, some of the other properties like NASCAR and EPL will likely head to Peacock. 
Major League Baseball has had success with MLB.tv, a way for fans that move away from their home area to view their hometown team. Inherent is the problem of blackouts, which in the not-too-distant future could change, creating a whole new ballgame for the league. Teams recently got the right to sell their own local streaming rights. Now they are still under the guidelines of honoring existing RSN streaming contracts. When those expire, they are free to move on.
The NFL is streaming too. Peacock will get exclusive national rights to stream six regular-season games, one per season, from 2023-2028. This is in addition to its ongoing streams of NBC's regular weekly NFL broadcasts. Peacock will also launch a virtual NFL channel highlighting classic games and content from NFL Films. Paramount+ will stream CBS games to local customers on both their ad-supported and ad-free tiers. Then there's Amazon Prime, which starts exclusive rights to Thursday Night Football next season.
The NHL's new contract with ESPN and Turner allows for streaming rights too. The agreement between Turner Sports and the National Hockey League includes live streaming and digital rights across WarnerMedia including HBO Max.
Streaming services don't require the use of an RSN. So, how will the RSN itself compete? Some have started to develop a "direct-to-consumer" model, which includes an app and streaming without a cable provider or the need for Hulu or YouTube TV. This would allow the cord cutter to continue to watch his/her favorite local team that's currently carried on the RSN without having to subscribe to cable. It's not clear yet how much this might cost.
In an article at Sportico.com from earlier this year, Sinclair President and CEO Chris Ripley addressed investors about the plan to go DTC. Ripley said the company is "currently developing a product to reach consumers on a direct basis, in an app, similar to the way consumers access over-the-top platforms." Sinclair hopes to roll out the app sometime in the first half of 2022. Ripley added, the service is meant to complement the existing linear TV properties rather than replace them outright.
Ok, well that's one way to keep yourself relevant in this ever-changing marketplace. Again, what will it cost? Nobody seems to know that information yet and it will be a huge determining factor in what consumers decide to do.
Here's the biggest hurdle I see for the DTC approach. Will each RSN be able to handle itself and stay competitive in the streaming space? Probably not. It likely depends on which teams that particular network is providing coverage of and maybe how long the season is as well.
What do I mean? Let's say for example you're an Arizona Diamondbacks fan (no offense Dbacks fans, I know it's been a tough year, but this furthers what I mean). The team has been on the losing end of the score more often than not. Fox Sports Arizona decides to offer you a streaming package so you can watch all 162 games. Are you really going to do that? Wouldn't you be more inclined this year to say, "nope, I'm sitting this one out". 
Unless they're going to offer fans a game-by-game package, it's going to be a hard sell for the season. Obviously, you have no idea at the beginning of the year how the team will perform, but that's when they'll want your money. It's a gamble for both you the viewer and the RSN, because the latter will come out the loser in this situation. 
Nobody has a crystal ball to predict exactly how this will play out or when this scenario will even be a reality. Right now, there are many ways you can still watch your favorite sports whether you have cable, an HD Antenna or you've cut the cord. Things will be changing eventually. How many RSN's will take the plunge into the arena of streaming on their own? That's the multi-billion-dollar question.
Five Who Get It, Five Who Don't
A weekly analysis of the best and worst in sports media from a multimedia content prince — thousands of columns, TV debates, radio shows, podcasts — who receives angry DMs from media burner accounts
THEY GET IT
"Ted Lasso," Apple TV+ — If cancel culture is alive and not well, there also is an antithetical wave of groupthink culture — a groundswell of social-media obsession driven more by a cool-kid-copycat craze than reality. But here's a "Rock Chalk, Jayhawk" shoutout anyway to Jason Sudeikis, the Kansas alumnus/fan who is riding a wildfire wave of 20 Emmy nominations and astounding popularity. Lasso, as you probably know, is an impossibly kind, upbeat, small-time U.S. football coach who relocates to England after a romantic breakup and coaches a professional soccer team — without a lick of experience. I'm liking the TV comedy more than loving it, so I'm assuming its success emanates from being the antithesis of dark, sinister pandemic programming. Yet this isn't just some fad from the millennial/Gen Z genre. When Lasso is asked by his boss, "What would you say to a drink?" in a post-game invitation, he responds, "Oh, the same thing I'd say to Diane Sawyer if she ever asked me out on a date: Yes, please." Sure enough, at age 75, the venerated ABC journalist responded with her first tweet in more than a year: "Dear Ted Lasso — I'm in. Your move." When Diane Sawyer is watching, "Lasso" obviously is doing something right — except, perhaps, in the view of Olivia Wilde, who left Sudeikis in real life for younger dude Harry Styles. I only know that from reading the New York Post, a habit for which God never will forgive me.
Vaccinated media people — The coronavirus will be a predominant blight on American life until we reach some semblance of herd immunity. And that won't happen when half the U.S. population isn't fully vaccinated. Sports media represent a miniscule sample size, but if employers aren't mandating double jabs, then sports leagues and teams are encouraged to intensify health protocols and ban anti-vax reporters. The NFL and college football are cracking down for the upcoming season, and expect all the rest to fall in line. In an industry with enough existential problems, no one should have to risk an intensive care visit because Joe Blowtorch from 106.9 The Sports Animal is an anti-vaxxer.
Malika Andrews, ESPN — Just as I respected Rachel Nichols because of her extensive sports journalism background, I view Andrews similarly. So if the network bosses insist on holding a professional grudge against Nichols because of her diversity-hire comments about since-departed Maria Taylor — a reminder: she was speaking from the privacy of her hotel room and was caught on tape by an ESPN remote camera, which still strikes me as a slam-dunk legal victory — why not award "NBA Countdown" hosting honors to Andrews? She has strong reporting chops that allow for a more authoritative presence on a show revolving around information and commentary. Cassidy Hubbarth is high on lists, too, but Andrews sparkled when interviewing Giannis Antetokounmpo and the champion Milwaukee Bucks during their trophy ceremony, prompting ESPN colleague Adam Schefter to text, "Very impressive to watch a 26-year-old interview the world-champion Milwaukee Bucks on national television, and handle it as smoothly and professionally as she has." I predict a bigger future for Andrews than Taylor. Might as well push the start button, or also risk losing her.
Thom Brennaman, dues payer — Enough with the snide jokes from the likes of ESPN's Sarah Spain, who never will have Brennaman's career and has her own professional issues. He is trying to rebound from his income-halting gay slur — and subsequent pause to call a Nick Castellanos home run, which prompts the memes — by going back to his broadcasting roots. He'll call Cincinnati high-school games on a website called Chatterbox Sports, whose president, Trace Fowler, explained: "We're excited to allow him another opportunity to put a headset on again. And the biggest thing that I hope people take away from this is that we are not downplaying what was said, what people feel from that. More importantly, in my opinion, I hope we don't live in a society where we're essentially going to try to, I don't want to use the word 'cancel,' but we're not going to end people's careers and think that's going to solve any kind of problem." As I've written, when Ozzie Guillen continues to work in a major-league studio with his history of slurs (such as "f—ing fag"), Brennaman certainly should get another shot in baseball. His father, legendary broadcaster Marty Brennaman, pointed out the double standard of Stephen A. Smith not being reprimanded by ESPN after insensitive comments about Shohei Ohtani, tweeting: "I only wish my son's employers had been as forgiving as yours." The Reds should rehire him. He has served his sentence.
Puckheads, everywhere — For the first time in eons, a traditional niche sport has legitimate momentum among the masses. That is especially true when juxtaposed against the hopeless old-man slog that is Major League Baseball, which drew just 509,000 viewers for a Cubs-Cardinals game — a longstanding rivalry — on ESPN. In the same evening, on ESPN2, the NHL expansion draft involving the Seattle Kraken drew 637,000 viewers. Don't try to explain it away as a national baseball broadcast that doesn't include regional network audiences from Chicago and St. Louis. The Kraken, in the middle of July, were bigger than the Cubs and Cardinals. Now, can Gary Bettman start acting like a real commissioner and continue to blast-market his sport as ESPN and Turner Sports take over coverage this fall?
"Hard Knocks," HBO — Who knew a TV show could be more imposing than Aaron Donald, more dangerous than Patrick Mahomes and more mind-consuming than Tom Brady? Such is the enduring mystique of the "Hard Knocks" jinx, which, myth or otherwise, has seen every featured team fall short of the Super Bowl. The Dallas Cowboys are the latest to take up the gauntlet — and why not? If 25 years have passed since Jerry Jones won a championship, at least he can do what he does best and hog camera time. Fox Sports Radio host Colin Cowherd describes the Cowboys' appearance as "a self-inflicted distraction," but they aren't challenging for a championship regardless. So I'd rather watch Dak Prescott and the embattled coach, Mike McCarthy, than the Broncos, Panthers, Giants and Cardinals — the other eligible NFL franchises. Honestly, if a team is that rattled by a reality series, it isn't worthy of a title anyway. All of which speaks well for the show's continuing interest level — and my decision to add a sixth entry to "They Get It."
THEY DON'T GET IT
NBC — The network that gave us Matt Lauer's desk button, the Harvey Weinstein whitewashing and a $7.7 billion dirty dance with the International Olympic Committee now shoves something called Peacock into our eyeballs. We knew the streaming platform would be introduced at the Tokyo Games; we didn't know it would hold us hostage as the lone vehicle to watch live coverage of two troubling U.S. stories: Simone Biles and the U.S. basketball Scream Team. As it is, NBC will be remembered as a callous co-conspirator if the Olympics cause a coronavirus superspread in Japan. But by forcing people to buy a Peacock subscription to see Biles in the mornings — or wait 13-plus hours to see her at night in prime time — well, let's just say Ronan Farrow should be summoned to investigate the network that didn't want his Weinstein reporting. When Biles stepped away from the gymnastics team event in perhaps the biggest story of the Games, it happened when America was eating breakfast or waking up. But NBC intentionally didn't air video of Biles, only showing still photos so viewers would be enticed to: (1) watch the prime-time show hours later; and (2) buy Peacock. Worse, the network reported Biles had a "physical injury" when she cited "mental health" for her exit. Those who have signed up for Peacock report issues ranging from streaming interruptions to a week-long wait for replays. Someone should call the Better Business Bureau when NBC charges money to watch the Scream Team lose to France. By the way, did anyone ask the iconic peafowl if it was OK to disparage his otherwise good name?
Pete Bevacqua, NBC Sports Group chairman — Continuing the wishful thinking of NBCUniversal chief executive Jeff Shell, who suggested Tokyo would be "the most profitable Olympics in the history of the company," Bevacqua seemingly tried to brainwash Americans into watching. "I think the world right now needs an Olympics more than ever," he said in a media session. "We're going into this with a tremendous amount of optimism, and we really feel that it's going to be something special." The early averages, ranging between 16.8 million and 19.8 million, project as some of the lowest ratings ever for a Summer Games — massive drops from the London and Rio de Janeiro Games and, according to Sports Business Journal, markedly below every NFL postseason game this year and even the most recent Macy's Thanksgiving Day parade. To be fair, NBC is dealing with daunting obstacles: a whopping time difference, no fans or energy at venues and fears that the Games will generate multiple virus outbreaks. But Shell and Bevacqua knew about these challenges long before the Opening Ceremony, reminding us that the b.s quotient for TV executives is uncommonly high.
Mike Tirico, NBC/IOC propagandist — If NBC could have created the face of its sports division in a laboratory, Tirico would have been the final product — safe, obedient, cheery and no controversial observations that upset IOC president Thomas Bach and the network's almighty business partners in the Olympic movement. I am straining not to mention how much I miss Bob Costas' astute world view when I say Tirico is manufactured mush. He lost me during the Opening Ceremony, a gloomy event where athletes waved at empty seats and often violated coronavirus protocols, which he and co-host Savannah Guthrie purposely overlooked. And he infuriated me when he brushed over the Scream Team's loss like it was a sluggish practice in Vegas, making excuses for Team USA's first Olympic defeat in 17 years and assuring that the NBA slackers would reach "the knockout round." When Tirico speaks, I mostly feel nothing. Would someone explain how he survived an in-house ESPN scandal to reach the pinnacle of sports broadcasting?
Andy Benoit, Los Angeles Rams — The objective of sports media, or so I thought, was to cover the sports industry — not be part of it. For years, as Benoit wrote for sites such as the New York Times and Sports Illustrated, little did anyone know he was gunning for an NFL gig. This creates a conflict of interest when he writes a glowing piece about Sean McVay when he was a Washington Redskins assistant … and McVay hires him years later, while entrenched as Rams head coach, as a special projects assistant. The DMZ crossover is happening much too often, which blurs the lines between journalism — or what is left of it — and public relations. When I attended Ohio University, there was an acclaimed communication school and an acclaimed sports administration school. The sports-ad guys loathed me, as they should have, because I was covering and scrutinizing sports, not hustling for a future on a pro franchise masthead. Benoit wanted it both ways and somehow got away with it, either because his website editors couldn't see through him or didn't know better.
Mike Milbury, former hockey analyst — Sometimes, you're better off just shutting up than exacerbating a bad situation. Milbury was fired last year by NBC after his most offensive comment of a caveman career, saying of life in the NHL's virus bubble, "It's the perfect place. Not even any woman here to distract you." In trying to explain himself to Boston Globe columnist Dan Shaughnessy, he sounded like a loon. "As a player and coach in the league, I've been on a lot of road trips and around a lot of guys that are young, fit, well-compensated, have celebrity status, and when they go on the road they play hard and they party hard. And a lot of their attention is on women, and I certainly don't mean that in a bad way," Milbury said. "Now I get it, everybody else has other ways to party, but that's my experience and I stand by it. It's biology, for (goodness) sake. So sometimes their lust for companionship was a distraction. So I didn't think there was anything wrong with the comment, but apparently it was to other people. And I got dismissed from my job. Excuse me, but I'm not going to be canceled. I refuse to be canceled. The only thing that's going to cancel me is the grim reaper, and I can see him in the distance, but not yet." Enjoy the cave, Mike. Not even any woman there to distract you.
MBC — America isn't the only country that dabbles in cultural and racial stereotypes. The South Korean network apologized for posting offensive images during its coverage of the Opening Ceremony. When the Italian team marched into the stadium, a piece of pizza appeared. When Norway entered, a slice of salmon emerged. Team Romania was greeted with a picture of Count Dracula. How would MBC like it if I mentioned my lingering stereotype of Seoul — a strong kimchi odor that stuck to my clothes? Never thought kimchi would command a sixth "They Don't Get It" mention.
Jourdan Rodrigue, The Athletic — We all have bad days, but how did her editors allow this to appear as her news-story lead about the torn Achilles tendon of Rams running back Cam Akers: "I'm not even going to sugarcoat it — this sucks." What, does the site's beat writer work for the Rams? Is she a paid member of the p.r. department? Is she taking her cues from Benoit? I've never seen a breaking news story start with the word "I'm." Nor have I seen a breaking news story use the word "sucks." Sucks for who, McVay and owner Stan Kroenke? It shouldn't suck for Rodrigue, who becomes our seventh entry in "They Don't Get It."