Mike Dempsey's Providing a Jaguars Oasis Year Round on 1010XL
"There's always topics to help pass the time. It's something that's been known for a while, yes, but it's the most exciting thing that's potentially happened to the Jacksonville Jaguars."
It's been a dream offseason for sports radio in Jacksonville. Sure, the Jaguars had a lousy 1-15 record last year, which gave the franchise its 11th losing season in 12 years, but a new quarterback and head coach has created a content bonanza for on-air hosts unlike anytime the city has experienced before.
The big sell for hosts such as Mike Dempsey, host of Jaguars Today on 1010 XL, is hope. The hope that the combo of Trevor Lawrence and Urban Meyer can turn the team from worst to first.
"There hasn't been a whole lot of hope the past 12 years. There's just been one winning season," said Dempsey. "Having an accomplished collegiate coach helps, but Trevor Lawrence is the big prize, even more so than Urban Meyer. Jags fans have been laser focused on Trevor Lawrence coming to Jacksonville. So yeah it's obviously been our #1  talking point. In terms of sports radio, it's the best one you could've hoped for. Trevor Lawrence alone would've been great, but having Urban Meyer along with him has created the perfect storm."
In every NFL market across the country, the biggest talking point leading up to next week's draft is 'what will each team do with their first round selection?'. Well, that's the conversation everywhere except Jacksonville, where it's a forgone conclusion that the team will select Lawrence 1st overall. With the suspense gone, you might think that could impact local interest since Jags fans already know the name that's going to be on the card next Thursday. But so far, that hasn't been the case. 
"Well, that's just about Trevor Lawrence, the Jags still have the 25th, 33rd, 45th and 65th picks in the draft," said Dempsey. "For instance, Houston doesn't pick until No. 67. The Jags have five picks ahead of them. There's a lot of intrigue about what they'll do with the 25th pick. I think it's a unique circumstance, this is just one of those times where you know Trevor Lawrence is good. There really aren't any articles out there suggesting they take someone else with the top pick. Nobody is playing around in the mock drafts."
"The excitement level that he brings makes it easy. We can talk about Trevor Lawrence every day and we do. It never seems to get old. You had the Sports Illustrated story come out last week, so everyone's trying to dig into psychological motivation, for how much he loves football and all this kind of stuff. There's always topics to help pass the time. It's something that's been known for a while, yes, but it's the most exciting thing that's potentially happened to the Jacksonville Jaguars."
What's fascinating is that interest with the Jags hasn't seen a major dip after 11 losing seasons in the past 12 years. It's arguably helped content and ratings. Fans always have strong ideas on how to better run the organization. Whether the team is winning or losing, the local sports station's airwaves are a perfect place to express that passion. If you lose that emotion, that's when you run into trouble. But amidst the misfortunes, passion remains high in Jacksonville with the lone pro team in town. Creating content off of a losing team has not been difficult. 
"I don't think it's that hard," said Dempsey about creating content around a losing team. "I can always look at ways to improve the team or what they could have done differently. I think sports radio is easier when a team is bad, rather than when they're good. It's more fun when they're good, don't get me wrong, because the whole city is on fire, but people react more when they are unhappy. When things are going great, the phone lines don't ring as much. Their reaction is to sit back and listen. People want to get on the phone and complain and tell you how they would fix things and I love that. As a sports radio host, you love that passion."
Jaguars Today is a two-hour show every weekday from 10 a.m to noon EST that focuses exclusively on the Jags and the rest of the NFL. Dempsey, along with Tony Smith, provide a daily escape for the Jaguars fan that's looking for smart, honest, and informed discussion on their team. But even though the NFL is a content giant, there are times when the biggest story in sports is outside of the shield. That can create a tricky situation. Does a show dedicated to football switch gears and address things that are happening in another league or sport, or continue serving what the audience expects?
"If it's a major story that everyone in the sports world is talking about, we can touch on it for a few minutes," Dempsey said. "It's not like we're going to get fired. We try not to stray, because we know the people that are coming to us feel like we are their NFL and Jaguars oasis, year round. You'd be surprised with how infrequently I feel like, man, I really wish I could get that in. You can always spin something that happens in other sports and make the equivalent to the NFL. As popular as the NFL is, it's not an issue for content."
I don't think there's a rule in sports radio where you can talk too much football. That's why a football-centric show like Jaguars Today will continue to have a strong and loyal audience. The fact that Jags fans are underrated in the NFL when it comes to rowdiness only adds to it. It's like a perfect ratings marriage, made even more special by a soon to be combo of a can't-miss QB and national title winning head coach. Hope is once again the sell. 
Dempsey loves what he does every day, regardless if Trevor Lawrence is the ultimate bust or the ultimate savior in Jacksonville. He's patrolled the airwaves during a 1-15 season, as well as when the Jags were minutes away from a trip to the Super Bowl. Dempsey is confident, that, regardless of the outcome, the passion will always be there with the fan base, including outside of football season.
"I don't know what the perception is around the league, but they're a rabid bunch and they love talking about their team," Dempsey said of Jacksonville football fans. "It just goes to show you the power of the NFL. Even a team that's 1-15 and has had as many losing seasons as they've had in the past dozen years, it can dampen the enthusiasm but it can't put it out. Jaguar fans are a passionate bunch. If nothing else comes across in this interview I hope that does. This is a much aligned fan base in terms of attendance and passion."
Domonique Foxworth Is ESPN's Most Interesting Talent
"Foxworth has that certain star it quality that can be hard to name. Even if you can't identify what it is, if you identify someone that has it, you have to do all you can to hold on to them as tight as you can."
There are a lot of companies in the sports media world where you can say that a podcast is the most entertaining product they offer. It is rare though that a breakthrough podcast can be subdivided by days of the week and one individual day's offering stands above not just the rest of the podcast, but everything else under the company's umbrella.
Enter The Right Time with Bomani Jones. The ESPN podcast enjoyed tremendous growth during the Covid-19 pandemic and as a result, the network asked Jones to expand his offerings from two days per week to three. That gave birth to the best thing ESPN does on any platform – Foxworth Fridays.
Of course Domonique Foxworth makes The Right Time better. He has had a habit of making everything he touches with the ESPN brand on it better since joining the company in 2016.
Rarely does any network find a talent that has the ability to hang in every conversation and be relatable to everyone on whatever set he is on. Foxworth has that certain star it quality that can be hard to name. Even if you can't identify what it is, if you identify someone that has it, you have to do all you can to hold on to them as tight as you can.
Domonique Foxworth has a unique background. He was an All-ACC defensive back at Maryland before being taken in the third round of the 2005 NFL Draft by the Denver Broncos. He then spent seven seasons in the NFL, playing in Denver, Atlanta, and Baltimore. He was the youngest player to become vice president of the NFL Players Association Executive Committee, and in 2012 became one of the youngest players to be elected president of the NFL Players Association.
When his playing days were done, Foxworth went to Harvard to get an MBA. Then he became COO of the NBA Players Association.
Everything he says comes from a place of knowledge and conviction. He also has a wicked sense of humor. That means Domonique Foxworth can make ESPN's talking head shows smarter and he can make its smart shows and prestige platforms more fun.
I always enjoy seeing Domonique show up on Get Up. That show is loaded with ex-NFL players. Foxworth keeps the proceedings from turning into an echo chamber though. He is the only one that is on the show regularly that can speak to what it is like to walk into camp not knowing if or when his name was going to be called to come to the coach's office and turn in his playbook. He is the only one that can talk with experience and intelligence about collective bargaining agreements and what the realities are when labor disputes happen.
As of this writing, these are the places you will see, hear or read Domonique Foxworth regularly on ESPN: The Undefeated, Get Up, The Right Time with Bomani Jones, SportsCenter, Around the Horn and Highly Questionable. He also shows up on other podcasts when needed.
That is a lot of work. ESPN doesn't seem to be in the habit of paying talented people more to do more these days. So if the network wants to see Foxworth's profile continue to grow, what more can they do with him?
My gut instinct is radio. On his Foxworth Friday appearances with Jones, he has proven to have a casual delivery and a quick wit. He is also a great storyteller. I am skeptical though that ESPN and Foxworth could find the right formula to get the dynamite product he delivers for just 40 minutes one day per week when the demand is two-to-three hours per day, five days per week.
Are you putting Bomani back on the radio with Foxworth and giving them the same producers to recreate the environment they already thrive in as much as possible? Even that is no guarantee burnout doesn't set in. Do you pair him with someone like Mike Golic Jr? I think they would make an interesting duo, but GoJo and Bo are two very different personalities. That could mean you get a very different version of Foxworth.
Maybe we have to consider that as ESPN and other linear TV networks value talking heads less and live play-by-play rights more, Foxworth will have to look elsewhere to fully blossom into a media star. Certainly there are more employment options than ever before for a guy like him.
I remain hopeful that a guy as talented as Domonique Foxworth finds a way to continue to thrive with a promotion machine like ESPN behind him. People with unique perspectives need to be on the biggest platforms available. It is not just good for their brand, it is good for sports media in general. It keeps the business from becoming a echo chamber of takes.
ESPN Deserves Praise For Handling Of Christian Eriksen Collapse
"Raw but professional. That is how I would describe what I saw."
We have seen crazy moments happen at sporting events. We have seen wilder, more inexplicable moments. It is hard to think of something more frightening than what happened on the pitch in Copenhagen on Saturday afternoon.
During the 43rd minute of Denmark's opening match of the Euro 2020 tournament, the national team's star midfielder Christian Eriksen collapsed on the field. It wasn't a contact injury. It wasn't one of soccer's theatrical ploys to get a penalty called. He just staggered forward and collapsed on the field. The referees were called over to check on Eriksen. They then called out the medical staff and for the next twenty plus minutes, we held our breaths.
You can search out the video of the collapse for yourself. It is strange at first glance. It is disturbing when you know what the next few minutes held.
The match was eventually suspended and that put ESPN in an inconvenient situation. The network had to fill more than an hour with studio programming it hadn't planned for and really couldn't look to any road map to follow. The end product wasn't perfect, but it was perfect for the moment, striking the right balance of human emotion and reaction to what Eriksen's predicament meant in both the present moment and moving forward for the tournament.
ESPN's coverage was divided into two teams. Sebastian Salazar lead the team of former Austrian defender Christian Fuchs and former Scottish midfielder Craig Burley at the desk. There was also a less formal set where host Kelly Cates was joined by English soccer legend Steve McManaman, American forward Taylor Twellman and referee Mark Clattenburg gathered in recliners to discuss the action. Both groups did an excellent job of not only reacting, but holding my attention. It was the desk crew, led bu Burley's utter disbelief at what was happening, that was the real standout though.
Craig Burley absolutely earned my respect as a broadcaster and analyst. He was the antithesis of the stereotype of a "Scottish soccer hooligan," giving detailed and emotional explanations of how the moment effected him. He said plainly that this was the most disturbing thing he had ever seen happen at the Euro tournament. He openly struggled with how to make sense of Christian Eriksen, laying motionless and receiving CPR and hits from defibrillator paddles while all his girlfriend could do was stand on the Danish sideline and watch.
Probably his most skilled and astute moment came when he was asked what UEFA, European soccer's governing body, should do about the match between Russia and Belgium that was supposed to start after the conclusion of Denmark vs. Finland. There wasn't an ounce of doubt in Burley's response. The only correct answer in his opinion was to cancel that match. After all, five players scheduled to take the pitch in that match were current or former teammates of Eriksen's in his club career.
"It's difficult around here," he said, making it clear that the thought of starting a second match was absolutely absurd. "Human beings are involved. People are not robots."
McManaman said something similar from his recliner. He also could not believe we were talking about trying to play another match today. Instead of speaking on the emotions of the players involved, "Maca" tried to give the viewers an idea of the difficulty this situation puts on managers and UEFA officials. He found the balance of human emotion and explanation of the strategy involved in trying to get a team ready for action in an emotional atmosphere like this one.
Raw but professional. That is how I would describe what I saw. Twellman, a rising star at ESPN beyond just the network's soccer coverage, came under fire from some fans for what they perceived as Twellman speculating about Eriksen's diagnosis. Twellman made it clear that he was telling the audience what he heard from a doctor watching the events unfold. In my mind, that isn't very different from any network turning to their medical correspondent or injury expert. The only difference is the information was being filtered through a third party.
He also caught heat for what some thought was criticizing the reaction of the paramedic staff on hand, taking nearly two minutes to begin administering CPR. That one is a little harder to defend, but my argument would be that we were all scared for Christian Eriksen and trying to make sense of what we had just witnessed. Taylor Twellman just had the misfortune of going through those emotions and reacting on live television. Can't he and ESPN be forgiven for a misstep in the moment?
Over at the desk, Sebastian Salazar did a masterful job of leading the conversation and making sure the viewers that were flipping over to ESPN after learning about what happened to Christian Eriksen had all of the most up to date information. He was the one that first revealed the photo of Eriksen sitting up, seemingly responsive as paramedics took him off the field. His state had initially been in question, because medical professionals and Eriksen's Danish teammates formed a barricade and used curtains to keep cameras from seeing everything that was going on.
Salazar was also the first to read the statement from UEFA that told fans Christian Eriksen was at the hospital. The Danish star had been stabilized. It was no longer the life or death situation that had us all on the edge of our seats.
"That is the best outcome we could have seen today," Burley said. He was talking about Eriksen's healthy. Surely, that deserves all of the focus and excitement here, but it is also fair to say that "the best outcome we could have seen today" is the only fair description for ESPN's effort in difficult and upsetting circumstances.
T-Bone Found His Groove And Has Been Going Ever Since
"I think, obviously, you have to have some level of talent to do what we do, but I think there are far more talented people than me that for whatever reason, life's circumstances prevented them from sticking around."
The hate mail was consistent. Sometimes intense.
It kept coming and coming…for six months, according to Jonathan "T-Bone" Smith, who had the unenviable task of replacing a popular sports host in Columbus, Ohio, named Scott Torgerson, after he was fired for a controversial tweet involving Desmond Howard in October 2012.
Fast forward to the soon-to-be summer of 2021; no more hate mail (at least on that subject), and it's eight and a half years of success (the ratings back it up) for "Common Man and T-Bone," the afternoon show that anchors the successful (the ratings back that up, too) 97.1 The Fan.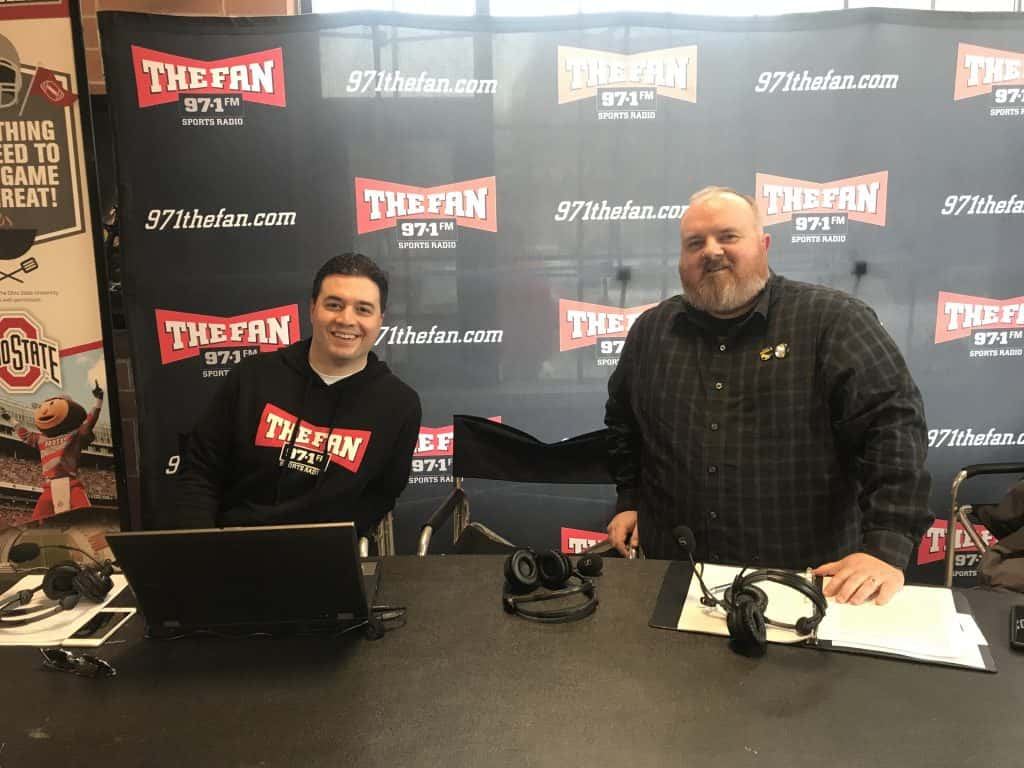 Barrett Sports Media scored an interview with "T-Bone," the "round mound" of Columbus sports radio. It soon became clear that the path to afternoon show stardom was one-third talent, one-third hard work, and one-third "good fortune" for T-Bone.
Jonathan "T-Bone" Smith is a Columbus kid, born-and-raised, who would play basketball outside, then come inside and turn on the radio to hear the Fabulous Sports Babe, Paul Harvey and Dan Patrick, among other radio stars.
"I had always been interested by the idea that you could talk in the microphone and have a bunch of people hear what you had to say," T-Bone said. He said by the age of 10, he knew he wanted to be on the radio, "some way, somehow."
In the seventh grade, he listened attentively as a twelfth-grader at his small Liberty Christian Academy school read the morning announcements. That twelfth-grader eventually got a job working at Columbus radio station WUFM 88.7, a Christian rock station. T-Bone followed in the same footsteps. T-Bone started reading the morning announcements as an eleventh-grader, and after high school, he knocked on WUFM's doors to volunteer on the street team. But the receptionist there had other ideas.
"She said, 'Do you want to be on air or do you want to do the street team?'" he remembered. "It's OK, we'll train you," she said, after the 19-year-old radio rookie said he wanted to be on-air but had no experience.
By December 2001, six months after donning the high school cap and gown, T-Bone was on the air. During his six years at the station, he did afternoons, nights, and had a stint as the promotions director, too. He had been attending Ohio State, but exited the school to focus on his on-air work full time at WUFM.
Feeling that the religious format was no longer a good fit, coupled with his desire to do more of a talk-based show, he left WUFM in 2008. With no college degree, T-Bone took a customer service job with BMW (yes, that BMW) Financial Services. He was on the phone, a lot, but he liked to talk, a lot, so…it worked out. Plus, it made him more money than what he was making at WUFM. Still, he yearned for that talk-show style program. So T-Bone started a podcast that focused on his love of soccer. His studio? A spare bedroom in his Columbus-area home.
Turns out, Ivan Lee of 1010 WINS in New York City heard his podcast, and offered to air it on a little-known streaming entity called Chat About It, which no longer exists.
Slowly, T-Bone's name was getting out there.
He swears he got his next radio job, as an afternoon show producer for Sports WONE-AM (980) in Dayton, Ohio, because he had that Big Apple reference on his resume. T-Bone would drive, each day, from Columbus to Dayton (60 miles) to produce and then later host a sports show. After a year of racking up thousands of frequent driver miles, he left Dayton for good in 2011. And he almost gave up his dream of having a long on-air career in radio for good.
"I told my wife, give me a year to get something better (in radio) and (if not), I'll get a degree, get a better job, give up on the radio thing," T-Bone told BSM.
Thankfully, the radio gods didn't make him wait that long. In September 2011, he heard that WBNS-FM, 97.1 The Fan in Columbus, was looking to hire an afternoon show producer for "Common Man and The Torg," Mike Ricordati and Scott Torgerson. T-Bone applied, and got the job. He told BSM that he could feel the chemistry between the three sports-crazed men, and that made it all the more difficult for T-Bone when, just five or six months into producing the afternoon show, T-Bone thought about applying to become the host of "The Buckeye Show," which aired after "Common Man and The Torg."
"I remember, clear as day," T-Bone said of his walk with Torgerson to get lunch at Chipotle in the spring of 2012, "I said to Torg, 'I'm thinking of applying to that because I would like to do on-air stuff, but I wouldn't do it unless you guys are cool with it because I came here to be your producer.'…He said, 'Ah, dude, you should definitely do it.' He was very supportive. Mike was very supportive. Torg even said, 'Hey, you may not get it, but at least it shows them that you're interested.'"
T-Bone ended up getting the position. He hosted The Buckeye Show from the summer of 2012 until December of that year, when Ricordati hinted to T-Bone that he wanted T-Bone to become the permanent co-host on the afternoon show, after Torgerson's dismissal from the station.
January to June of 2013 was a true test of resiliency for T-Bone. He was in the more prominent time slot, paired with the more established host (Ricordati), replacing the popular guy known by one syllable — "Torg."
"Scott (Torgerson) is a really interesting guy. I had a different kind of personality that I think took some getting used to for some people and that's totally understandable," T-Bone, who considers "Torg" a friend to this day, told BSM. "After six months or so, things settled down…and I was able to find a groove and we've been going ever since."
"Common Man and T-Bone" are a consistent top-three in the Men 25-54 demographic. The two fellers have an all-comers appeal — not too old, not too young…they can get serious about the Buckeyes and then laugh about Nick Castellanos' antics on the baseball field…the show isn't fast-paced and cutthroat like many shows in the Northeast, but never puts you to sleep, either. To steal a line from Adult Contemporary Radio, "Common Man and T-Bone" is that show that "everyone at work can agree on."
"We're going to pay more attention to the culture and the conversation around the games as opposed to the actual in-game everyday (nuts and bolts)," T-Bone told BSM.
And the conversation that's created by Ricordati and T-Bone gives the two a chance to show off their similar senses of humor, as T-Bone described it.
The Columbus market has a little bit of everybody. While the Buckeyes are the No. 1 draw, people come from all areas of Ohio and beyond to call Columbus home. T-Bone said after Ohio State, NFL talk is what interests most sports fans in Columbus. It doesn't have to be just about the Browns or Bengals, though Browns fans are more dominant in Columbus. T-Bone believes the Indians have more fans in Columbus than the Reds these days, though it wasn't like that in the late '80s and early '90s, according to T-Bone, when the Reds were busy going wire-to-wire and winning the 1990 World Series. Columbus sports fans also like to discuss what's happening with the Blue Jackets and Crew.
Sometimes, Jonathan "T-Bone" Smith walks into the 97.1 The Fan studio and may have to pinch himself. At age 38, he's living out his dream, hosting a sports radio show, on one of the highest-rated sports stations in the country, in his hometown.
"I think, obviously, you have to have some level of talent to do what we do," T-Bone told BSM, "but I think there are far more talented people than me that for whatever reason, life's circumstances prevented them from sticking around. Talent is very important, but I think availability is extremely important. An ability to shake off your bad days is really important because I've had a ton of them. Talent matters, but the ability to stick with it is what matters more."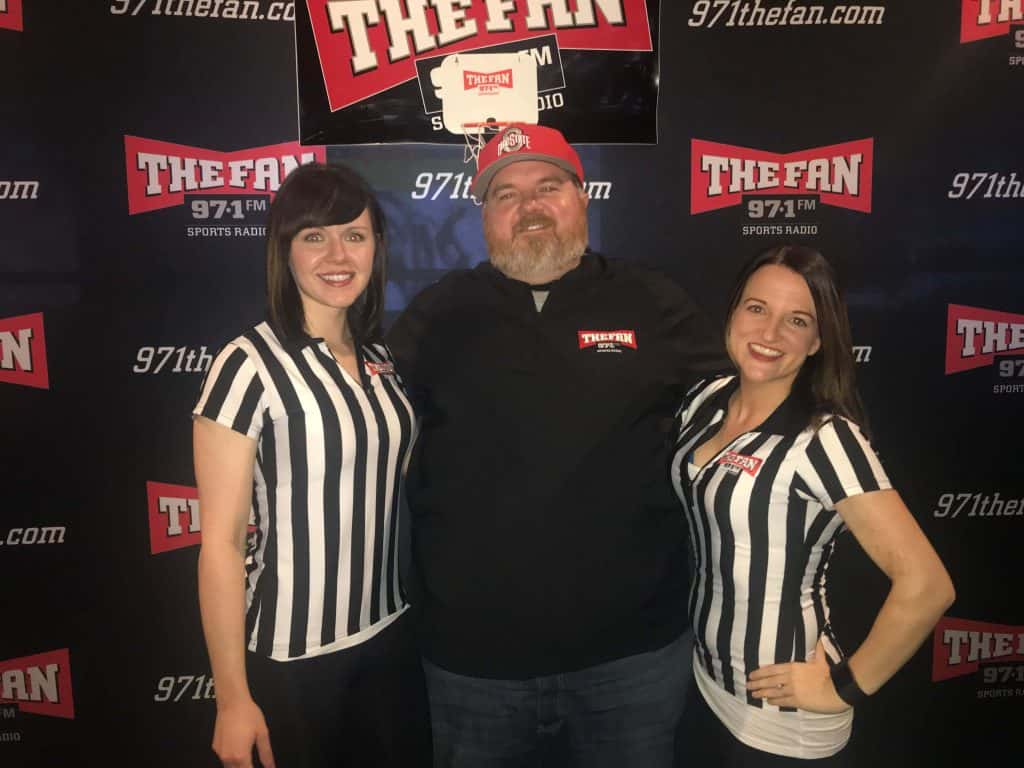 T-Bone added this note to aspiring on-air talents: "When an opportunity presents itself, if you've done the work, if you've prepared, if you have talent, then you can step in and hopefully hit a home run; or a single, if that's what they're asking for…just don't strike out."