Rodgers Hijacks The Draft And Douses A Dreamy Night
Dropping a poison pill on the NFL's annual showcase, the superstar QB publicly demands a trade and takes over a show that should have belonged to Trevor Lawrence, Trey Lance and the next class of stars.
Suddenly, almost suspiciously, the NFL Draft transformed into "Jeopardy!" With one strategic leak to ESPN, which not only was producing its own reality TV show but feeding it with ratings steroids, it no longer mattered as much that Trevor Lawrence doesn't live to play football.
Or whether the 49ers were intentionally sparking prop-bet fever, in a league that now embraces gambling, by playing hide-and-seek with the No. 3 pick. And why they'd better be right, with a quarterback lineage of Montana and Young, in taking a tearful Trey Lance, who has played one mid-level college game since 2019 and couldn't possibly have found that bow tie in North Dakota.
Or if Justin Fields was a victim of rival-agent sabotage as he slid to No. 11, where the Chicago Bears — whose all-time-best quarterback, Sid Luckman, played in a leather helmet — traded up so Fields can play in Soldier Field and lather a bitter fan base with more boom-or-bust hope. Or if the jewelry store that outfitted Mac Jones' girlfriend thought her beau was going way earlier than No. 15, to New England, where he instantly inherits Bill Belichick's wrath and becomes the Poor Dude Always Compared To Tom Brady.
"God's good," Jones said.
Is he sure?
All of which became infinitely less important Thursday night than a bigger game show.
The Category: Disgruntled Superstar Athletes.
The Question: Which NFL quarterback, hours before the Draft, went public with a trade demand and said he won't return to his current team?
The Answer: Who is Aaron Rodgers?
This was the wiliest man in the sport, hijacking the opening night of the draft and the rest of the weekend by injecting the drug that intoxicates fans and media — yet, ever so troublingly, also poisons American sports in the 21st century. That would be the get-me-out-of-here pill. Once and for all, after a year of dropping cryptic hints, Rodgers let it be known definitively that he wants out of Green Bay. He made the news public when the Packers refused on Draft eve to deal with the 49ers, the first team on his wish list. During his successful two-week run as guest host of his favorite game show, I wondered if his public stumping for Alex Trebek's gig was an indicator that he wouldn't return to the Packers.
Now they've heard Rodgers, loud and clear, to the point team president Mark Murphy, general manager Brian Gutekunst and head coach Matt LaFleur have made several trips West to hear his concerns. Obviously, their efforts didn't impress Rodgers, and if they are wise men, they will ship him soon to the suitor with the best offer. They prefer not to deal him to an NFC franchise, but also are on Rodgers' list are the Broncos and Raiders. And when Denver chose cornerback Patrick Surtain II, it opened the possibility of Rodgers finishing his career at high altitude as Peyton Manning did. Oh, and did we mention that his fiancee, actress Shailene Woodley, lives in nearby Boulder? The Raiders claim they don't have the money to pull off the deal, but they would if Derek Carr is sent to Green Bay.
Where he goes, who knows? If he doesn't like the deal, he could retire and host "Jeopardy!" What we do know is Rodgers, like the NBA power freaks who started this pre-agency madness, won't be completing his career with one team — just as Brett Favre, his predecessor, was shipped away. And much as these mega-stories excite America's sports fandom — and Vegas, which, of course, has established odds on his destination — it isn't healthy when a night designed for young men's dreams becomes a leverage device for a future Hall of Famer who never is happy.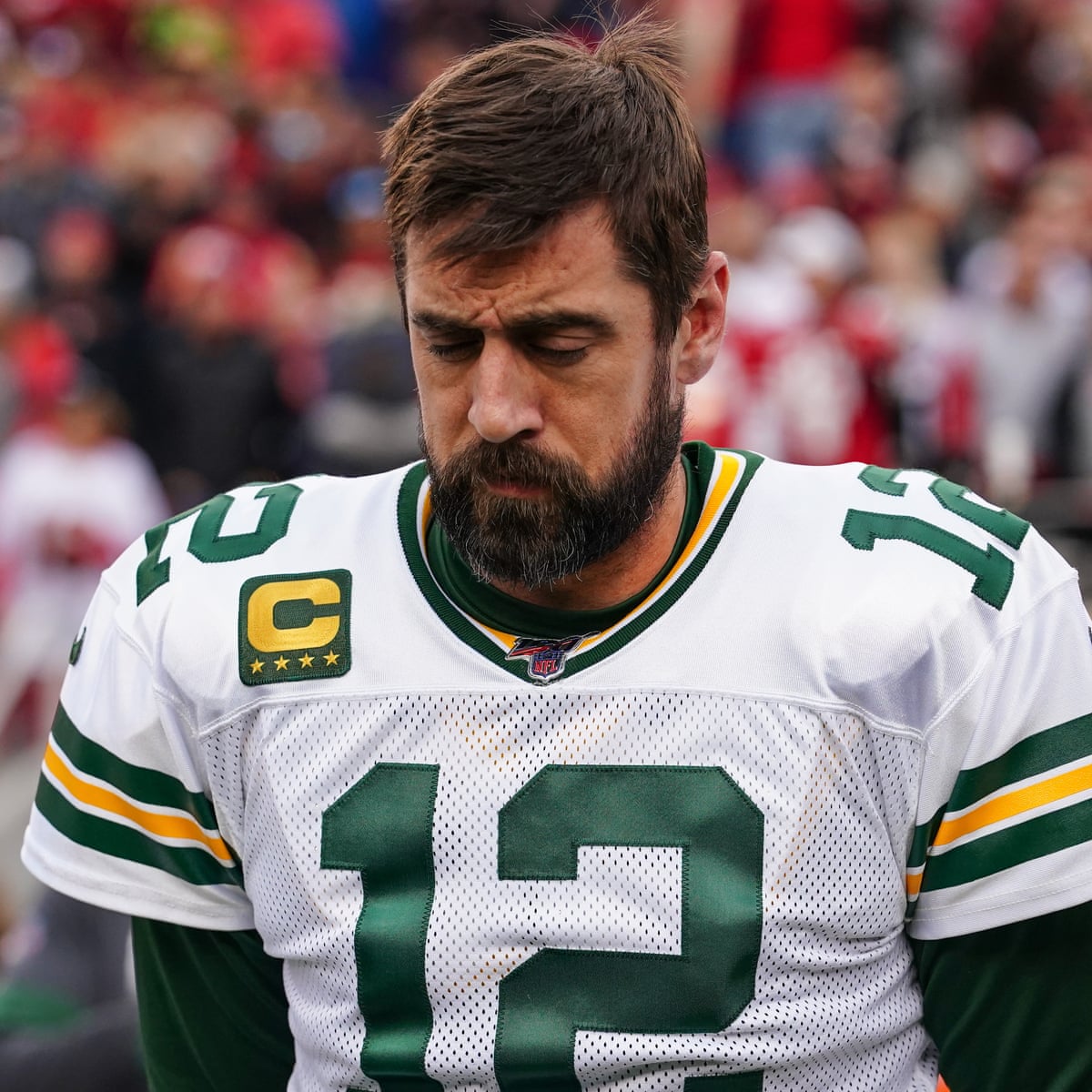 Dismiss anything the Packers say, such as Gutekunst's comment to ESPN that there's "zero chance" of a deal: "As we've stated since the season ended, we are committed to Aaron in 2021 and beyond. Aaron has been a vital part of our success and we look forward to competing for another championship with him leading our team." They don't have the power here. He does. At least the Seahawks put an end to reports they'll trade Russell Wilson, who apparently is content in Seattle for now. But with the prospect looming of a civil settlement between Deshaun Watson and the 22 women who've accused him of sexual misconduct, there's a chance some godforsaken team will take a gamble on him, baggage and all, adding more drama to an offseason that never ends.
The three networks that broadcast the Draft, with hosting styles ranging from Mike Greenberg's fanboyism on ESPN to RIch Eisen's professionalism on the NFL Network, did their best to focus on the picks. That is, once the league got around to starting the festivities. It was 8:25 p.m. Eastern time, in a distressed country that doesn't have patience to wait around for showtime, when Kings Of Leon — where have they been since "Sex On Fire" blew up? — finally stopped playing in the rain. This was long after Roger Goodell had implored the people of northeast Ohio, some actually wearing masks, to boo him louder than they already were.
"Come on. Come on, Cleveland!" the commissioner shouted. "I didn't come out of my basement for nothing! Come on!"
When the booing subsided, Mel Kiper Jr. uttered the most dreaded word in the Lawrence household: "Generational." Before taking his first snap for a Jaguars team that has gone 39-105 since 2012, he already is being compared with Manning, John Elway and Andrew Luck in the "can't miss" pantheon. I might agree if three of the eight quarterbacks drafted first overall since 2010 weren't named Jameis Winston, Sam Bradford, Jared Goff; and two of them, Baker Mayfield and Kyler Murray, aren't near the league elite. They are looking for a savior in Jacksonville, not only for the franchise but the city itself, and who's to say Urban Meyer, an NFL rookie himself, is the right mentor?
"I'm just pumped. The best is yet to come," Lawrence said. "I don't know what the point is if you don't expect to win every week. I'm going to bring the same mindset. … I'm super excited to be coming to Jacksonville."
Is he sure?
Zach Wilson looks like a boy-band member. He's from a small Utah town, Draper, and now he's off to Don Draper's city. "Is this the savior Jets fans have been searching for since Broadway Joe Namath?" Eisen said before popping one of the night's clever puns: "Zach's Fifth Avenue." His highlights at BYU are magical, with dazzling throws and Mahomes-like arm angles, but New York will devour him if he's another Sam Darnold or Daniel Jones. "I've heard from multiple sources how talented this team is, but maybe the pieces didn't align," Wilson said. "I'm just so excited to get in there and figure out what we can do to make it better."
Is he sure?
Then came Lance, who wore sunglasses at night. Depending on your view, he's either one of the great stories in Draft history — ignored by major college programs, unearthed from North Dakota State — or one of the riskiest reaches. First, what happened with the Rodgers talks? "We inquired and it was a quick end to the conversation. It wasn't happening," 49ers general manager John Lynch said. "We've been excited (about Lance) for a long, long time. So we went right back to where we've been. That's really excited about adding Trey Lance to the 49ers, and we're thrilled about that."
Niners coach Kyle Shanahan is viewed as a young genius, but he has left himself vulnerable after swinging and missing on a Rodgers deal, relinquishing a draft bundle to take Lance and angering incumbent Jimmy Garoppolo, who seethed when Shanahan sarcastically wouldn't guarantee him a roster spot. Shanahan says he regrets the remark and wants Garoppolo on the roster, but Lance, a dual-threat operator in the mold of Patrick Mahomes and Watson, is the franchise now. And with Fields in Chicago and Jones in New England, the chances of trading Garoppolo are slimmer.
"Now we made this move, so it's obvious what I hope and believe with this guy coming in," Shanahan said of Lance. "But it would be a very tough situation if Jimmy is not on our team. I want Jimmy to be here. I want this kid to be brought along. I want to see how he does. And if it turns into a competition, it turns into a competition. I would be excited about that if he showed he was ready for it and stuff. But we know where Jimmy is at."
A little loopy, Shanahan was so secretive about the Lance pick that he told few in the organization, including coaches and scouts. Only Lynch knew the truth when half the football world thought he was taking Jones. When he's picking No. 3, and Lawrence and Wilson are locks at Nos. 1 and 2, why play spy games? "We have been very high on Trey since the very beginning, since Day One. Yes, the person everyone else is speculating about, we liked him, too," said Shanahan, referring to Jones. "To go through this whole process where no one has known how John and I feel and felt this whole time, we do that because you don't want to sway people in this building. You want everyone to work their butts off and give you their honest info. That's why we don't share at all how we felt."
If that's not curious, consider where Lance has been hanging out lately: at the southern California home of Colin Cowherd, whose 20-year-old daughter, Liv, has an Instagram-related friendship with Lance. "I think it's the right pick," Cowherd said. "I think he's a bigger, stronger athlete than Mac Jones."
Said Lance: "It was awesome getting to know coach Shanahan a little bit. He's an awesome dude."
Is he sure?
Somewhere in his home state of Georgia, Fields wasn't pleased to slip out of the top 10. He and his family members actually departed their living room, leaving the TV shot with furniture and no humans. The pre-draft hatchet jobs had done damage, from a claim by ESPN's Dan Orlovsky that Fields had work-ethic issues to insensitive comments about his epileptic condition. By night's end, he seemed over the slight, though he's joining a franchise where QBs go to die — and where the future of general manager Ryan Pace and head coach Matt Nagy depends on his rapid development.
"Blessed," Fields tweeted about his new home.
Is he sure?
But by Friday, the talk shows will be all over Aaron Rodgers. Goodell can't be thrilled about it, but with the league never more robust after completion of a new collective bargaining agreement and $113 billion in fresh broadcast money, he played the role of too-big-to-care diplomat. "I think that's just where we are in the world," Goodell said. "Our players, I have so much respect for them. They do have strong views. I want to hear that. It's part of what we're embracing here."
He did make a fool of himself in an interview with Greenberg, saying he could do no COVID-related harm in resuming his traditional on-stage hugs with players. Last year, you'll recall, Goodell conducted the Draft out of his home — in a recliner the league brought to Cleveland, where a different fan sat on stage as his or her team made a pick. "I'm vaccinated. There's no concern for me or them," the commissioner said. Just last week, the Centers for Disease Control and Prevention said vaccinated people still have a small chance of contracting the coronavirus and spreading it to others.
But what does he care? Goodell will be remembered as the most successful commissioner, albeit polarizing, in U.S. history. As the rest of the sports world wobbles, the NFL is marketing 2021 as "THE BIGGEST SEASON EVER." The frenzy only heightens when one of the greatest players ever demands a trade. So much for the baseball season. So much for the NBA playoffs.
And so much for the NFL Draft.
Demetri Ravanos welcome Jeremy Evans and Tyler McComas to the show this week. Topics include emergency programming, the streaming future of ESPN, and why the holidays is a good time to think about your upward mobility.
Breaking News Turned A Quiet Sunday Into The Busiest Week Of My Career
"We've set records at the station and listenership isn't going down anytime soon. Plus, our social media following has boomed since Sunday morning."
It started off as a completely innocent Sunday, which, you married men know, meant an afternoon Target trip with my wife. Earlier in the day, I was texting with Demetri Ravanos about the grind of doing sports radio during football season. That also included talking about Oklahoma's loss in Bedlam to Oklahoma State. OU's loss the night before meant I wouldn't be doing a pre or post-game show on conference championship weekend. Football season was essentially coming to a close for me. 
And then it hit. First it was a text from Cody Stoots of ESPN 97.5 in Houston. I'm good friends with Cody and respect his knowledge of college football, so it surprised me when he texted, "Oh no. Bummer about Lincoln. Coaching searches are fun though!"
Wait, didn't Cody hear Lincoln Riley adamantly say he wasn't going to LSU just hours before? He's a smart guy. What's he talking about?
I checked Twitter on a hunch. That's when the madness officially started. I immediately knew it was true. We rushed out of Target. My crazy Sunday was just getting started. I cut an instant reaction video for my station's Twitter page, where we have a sponsored segment called Sooners in 60. It's a social media video that entails analysis and updates on everything OU. I uploaded it shortly after detailing my initial shock that Lincoln Riley was headed to USC. I couldn't believe it. It was a complete shock to everyone. 
As I kept my eyes on Twitter, I realized a reaction video wasn't enough. That's when Josh Helmer and I decided to record a 15-minute podcast on the breaking news. So via cell phone and in the front seat of the car, I gave my thoughts on the shocking development. But just as quickly as it uploaded, we realized we needed to do more. Our listeners deserved that. 
Management at the station came together and realized we needed to get on the air. Granted, the postgame show the night before didn't end until midnight, which meant Helmer and I would have to jump right back on the air, but this was too critical of a time to not be active. Especially since other stations in the market were rallying and getting people on the air. I had been looking forward to a calm Sunday, but I couldn't be on the sidelines for this. Helmer didn't want that either. We found a time that worked and decided we'd stay on the air until the bosses told us to stop.
At 5:30pm on Sunday evening, we hit the 94.7 The Ref and Sportstalk 1400 airwaves without a real plan. Sure, we'd take calls, but this was a show about natural reaction and how we felt in the moment. So as Helmer bumped us in with "California Love" we unleashed our anger towards Lincoln Riley's decision. 
It's an easy way to create compelling content in that moment. You're playing to the audience and they're deeply interested in the story. Helmer and I wanted to be real and genuine, which meant addressing the crazy rumors around Riley's departure, and slamming him for some of the things that were starting to emerge. We were given total freedom by management, trusted to react as strongly as we saw fit. So we did. And so did a ton of callers and even other co-hosts at the station that hopped on. It was the most exciting 90 minutes of radio I've ever been a part of.
We looked up and it was 7:00. We couldn't believe how quickly the time had gone by, but we had to shut it down, because the Cleveland Browns were playing the Baltimore Ravens on our airwaves in just 20 minutes. We're the Oklahoma flagship for the Browns so honoring our commitment to our partners was important. That being said, we could have continued the show all night. The live, raw reaction was incredible.
We signed off and received a text from our owner, thanking us for hopping on with short notice. After giving up a Sunday to help with coverage, that simple message was greatly appreciated. The day of work was over, but we knew an incredible week was coming our way.  It was about to become a dream content scenario for talk show hosts in a crazed college football market.
Monday morning came with great news from management. The emergency show on Sunday night received the highest streaming numbers in station history. They were tracked from our app. The first real coaching search at OU since 1998 was starting to show its benefits. 
So, as a station, we did what everyone else would do. We decided to capitalize. Recently, our station launched a merch store that has t-shirts, beanies, hoodies, etc.. Each have our logo on it, as well as special items that center around show hosts and OU game results. In all of the madness, former OU head coach Bob Stoops stepped in as the interim head coach for the upcoming bowl game. He's always been beloved by the fan base, but this was next level loyalty. And we decided to make a t-shirt about it.
'Bob's Got Our Back' is what the t-shirt reads with a visor at the bottom. I created it via the Canva app in my car in the station parking lot before our Monday morning meetings. As you can imagine, they've sold very quickly. 
Monday's day of radio was filled with anger towards Lincoln Riley, and excitement about who the next head coach will be. There was even a press conference that featured Stoops firing up the fans and ensuring everyone the program was going to be just fine. Sure, just two days before, an epic game between in-state schools broke out, but there was barely a mention of it. The bigger story had overtaken the actual game. It seemed like everyone in the state was listening to sports talk radio on Monday. I can't speak for the other two stations in the market, but our listenership was so high, we maxed out the number of online listeners we could have via our app. We scrambled to find a way to expand the number of people that could listen to our stream at the same time. Thank God we did. 
The past few days have been awesome. Sure, it's meant endless time on the phone and exchanging texts with various people to try and chase the story, but any sports radio host during a coaching search should absolutely love the attention. We've set records at the station and listenership isn't going down anytime soon. Plus, our social media following has boomed since Sunday morning.
The exciting part is that this story isn't just a two-day fling. Anger towards Riley hasn't stopped, nor will it, anytime soon, and the search for the next head coach has brought an incredible amount of interest. Madness happened on Sunday afternoon and it won't stop until a new head coach is hired.
Ok, now I have to go. I think Brent Venables or Matt Rhule is about to be named the next head coach at Oklahoma. And yes, we have a t-shirt ready to go if that happens. 
How Do You Break The Ice When A New Player Or Coach Comes To Town?
"How do you introduce yourself? What approach should you take? What's the first thing you should do?"
It's a season of change in many sports these days. College football coaches are changing teams. The NFL will surely have some coaching vacancies of its own soon enough. Don't forget it's also free agency time in baseball.
With all of that said, it's also a crazy time for broadcasters. We need to start figuring out who the new players and coaches are and how to get to know these people as soon as we can. It's as much about meeting the new folks as it is getting to know who they are in their jobs and as people. How do you go about this process?
Working in the industry as long as I have, it's almost a given that every few years, it's out with the old and in with the new. When you work in Chicago it seems to happen more often than that. Sometimes, from a broadcast perspective, the change is good. Other times it can be a little more difficult to deal with. I've been witness to both. But what matters at the beginning is you need to do your best to understand the change and adapt to the new way things may be done.
How do you introduce yourself? What approach should you take? What's the first thing you should do? Well, it's not that simple. Every case is quite different. Gathering information that will be useful to you is the best way to start the process. There are more than a few ways to accomplish this feat.
One of the first steps I would take when working in baseball was to contact fellow broadcasters that may have interacted with the new player or manager. The team announcing crews usually have the best insight into the nuances and personality of the person you are wanting to meet. They will have knowledge of how that player or manager likes to be approached. Is the player routine-oriented? Does he/she like to get the media business out of the way first, or do they want to wait until they've prepped for the game? That is the kind of critical information to have to develop a healthy respect for one another.
I also wanted to know from other broadcasters what their impressions of that player or coach were. Is this the kind of person you could joke around with or not? Was this a person that would open up to you, if they got to know and trust you? I would store this information in the back of my head, just so I was prepared. Even if a broadcaster told me to stay away from a particular guy, I would always try to find out for myself. I gave that new person the benefit of the doubt until they either proved the information about them was wrong or spot on.
Another method to introduce yourself to the new guy/girl was to make sure I was at the team's first media availability. Whether it be a fan fest or just an introductory press conference, it's important to have that person start recognizing your face and name.
I recall talking to one player that joined a team I worked for in particular at a fan convention. The informal setting of these events allows you to get some time with the new players and managers. In a casual conversation with this player, I wanted to find out when was the best time to approach him for pregame interviews. He told me that if he was seated at his locker facing away from the stall, feel free to approach. I'm so glad I was armed with that information, because I saw several fellow media members get turned away, when he wasn't ready. I always tried to respect those wishes. The season went smoothly and he was a great 'go to' guy when needed because of that relationship we forged.
If you've been in the business a long time, you probably know a few of this new player's former teammates. Many likely played for the team you broadcast and with the access you've had, introductions can be made or arranged. It's always a better 'in' or 'edge' in the beginning of a relationship to have that extra cache of being introduced by one of that player's peers. Most of these players respect one another and if you're deemed 'cool' or 'good' by one, others will give you that chance to at least prove them wrong.
Every once in a great while, a team will put on a 'meet and greet' for a new coach or manager. It's a way for those that regularly cover that particular team to get to know a new leader in a very informal manner. I recall one such time an NFL team put together a lunch for those that regularly covered the team to meet the new head coach. It was a completely off-the-record gathering, filled with stories and a lot of pizza too. The unfortunate thing was, the guy we met that day was only himself for about 3 months, then he became 'the coach' and the relationship changed. Still, it was a unique idea and approach to allow some of the media, he would be seeing on a daily basis to have a chance to relax and break bread.
Change is never easy to deal with, especially after establishing long relationships with previous players and coaches. But it is a fact of whatever game you're covering, things are going to change and you must have the ability to change along with it. If not, you could get left behind and out of the information loop.