I Attended Two Ballgames … And Felt What, Exactly?
Rather than suffer Ugly American guilt about sitting in stadiums as a pandemic crushes the world, maybe we should stay home and watch sports on TV, which is an easier experience anyway.
Because I am American, I am inherently selfish and arrogant. And because I'm inherently selfish and arrogant, I've sat in the stands for two Major League Baseball games in recent days, counterintuitive to the headlines. Should I care that India and South America continue to be crushed by the coronavirus, that the number of new cases worldwide is surging toward one million a day?
Should I care that Oregon is restoring restrictions, concerned that variants are causing outbreaks among violently ill young people? Should I care that herd immunity isn't happening in America, that vaccine resistance remains a crisis in rural areas and among Blacks and Latinos in urban areas? What about the millions who don't want second doses?
"What I can't do is bring back someone's life lost to this virus,'' Oregon Gov. Kate Brown said. "That's why, hard as this is, we must act immediately. This is truly a race between the variants and the vaccines.''
As a human being, yes, I should care deeply … and do care deeply. But as a sports aficionado in the U.S. — where Mike Greenberg shrieked like a carnival barker during the NFL Draft, Clay Travis denounces mask-wearers as "pathetic sheep'' and broadcast executives blindly push gambling to keep their kids in the best private schools — I'm supposed to convene gleefully among 9,207 at Angel Stadium and bask in so-called renewed normalcy, especially when Mike Trout and Shohei Ohtani drill home runs past my first-base seat.
A week later, I am supposed to gallop into Dodger Stadium and marvel at the new center-field plaza, including a "Blue Heaven on Earth'' welcome sign straight out of Disneyland. Then I'm supposed to chomp into a Dodger Dog no longer manufactured by Farmer John — a civic calamity in southern California — but still blessed with char marks from the grill, which is all that counts no matter who makes the sausage. When Clayton Kershaw shuts down the Reds, I am expected to stand with 15,051 others and spray saliva particles into the air, just across the parking lot from one of the nation's largest vaccination sites.
Because I am American and my arm has been jabbed twice, I am required to be thrilled by it all, shouting, "Sports is back!'' while engaged in group hugs with strangers. I should be dressed in my frilliest Gucci at the Kentucky Derby, with malcontent Aaron Rodgers and top-hatted Tom Brady and 45,000 others, watching Essential Quality finish fourth to Bob Baffert's Medina Sprint despite the human rights abuses of owner Sheikh Mohammed al Maktoum — who, per a judge's ruling in England, plotted the abduction of two of his adult daughters. I should be partying with Bernie Kosar and the Draft mobs in Cleveland, 100,000-plus strong. I should be preparing to join 135,000 race fans at the Indianapolis 500. I should be watching with the boys at the sports bar in Santa Monica as the Lakers attempt to repeat. I should be Sports Jay, as always.
Instead, I'm looking around at thousands of empty seats in both ballparks, wondering why I'm here amid faint cheers and disproportionately loud music.
I'm also wondering why it's business as usual when the fine print of my e-ticket suggests otherwise: "WARNING — ASSUMPTION OF RISK. COVID-19 IS AN EXTREMELY CONTAGIOUS DISEASE THAT CAN LEAD TO SEVERE ILLNESS AND DEATH. AN INHERENT RISK OF EXPOSURE TO COVID-19 EXISTS IN ANY PUBLIC PLACE REGARDLESS OF PRECAUTIONS THAT MAY BE TAKEN. THE HOLDER AGREES TO (1) ASSUME ALL RISKS ASSOCIATED WITH COVID-19 AND OTHER COMMUNICABLE DISEASES, AND (2) COMPLY WITH ALL RELATED HEALTH & SAFETY POLICIES OF THE DODGERS AND DODGER STADIUM.''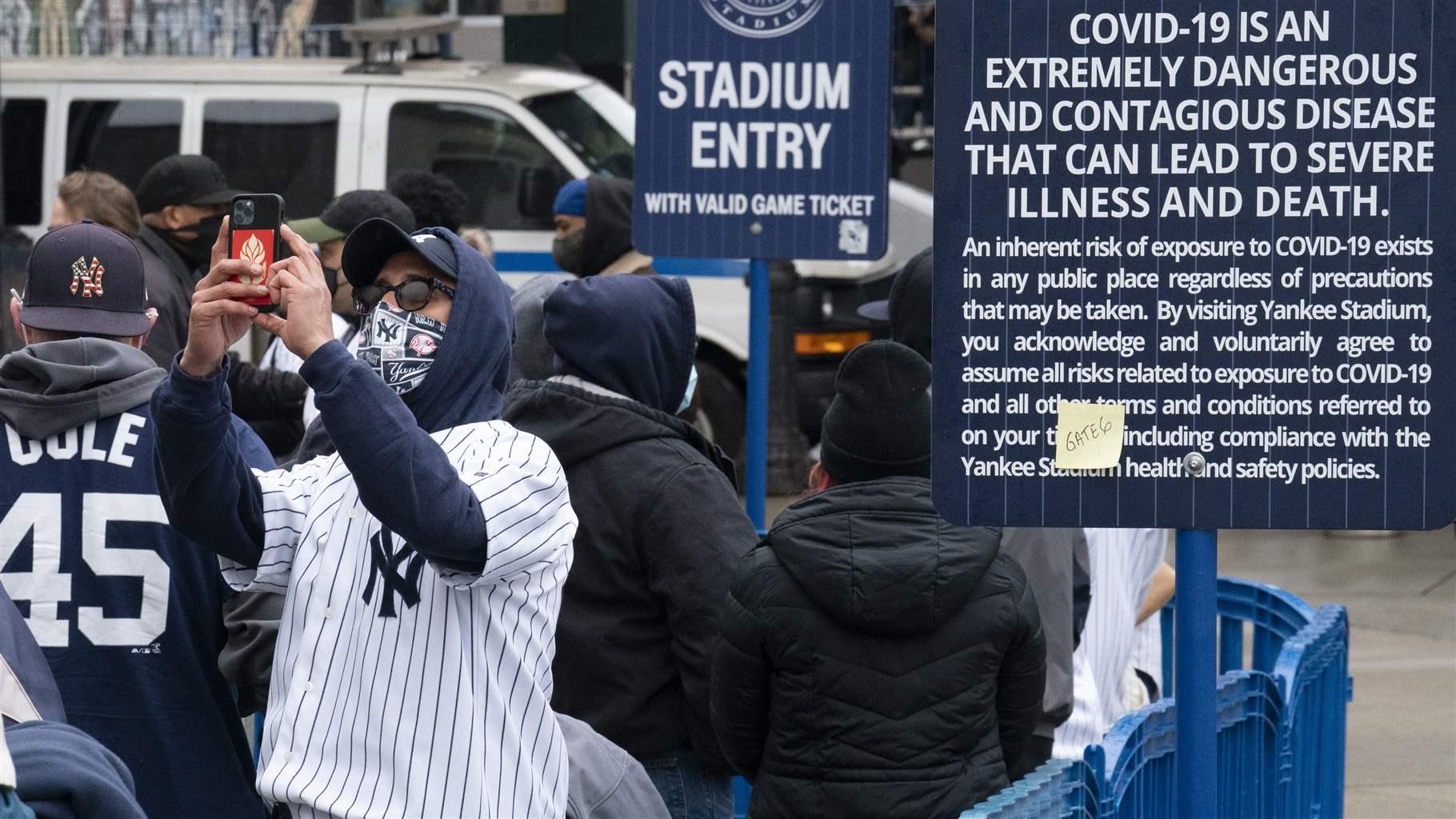 Meaning: If you get sick, or die, you can't sue the Dodgers or MLB. But, hey, have you checked out the new legends exhibit and Shake Shack stand?
It's not that I don't enjoy and savor sports. If anything, a pandemic whetted my appetite for the grist and inspired me to resume writing columns four times a week. The problem is this brainwashing syndrome. You know: Being told by the sports industry — leagues and media alike — that I'm a (pick one) coward, liberal, sheep or pussy if I think it's narrow-minded and insensitive to re-hurl ourselves into the swirl without feeling anxious about the planet. Such greedy demands not only lack perspective and savvy, they prioritize the ongoing sports money-grab and remind me of what I always pillory about the clamor surrounding our fun and games — the idiots who don't grasp the bigger world beyond ballparks, arenas, social media, ESPN, WFAN and DraftKings.
Now hear this: The pandemic is not over and might not be over for years. Yet King Sports acts as if it has won the Infectious Disease Super Bowl, carrying on under the guise of entertainment-as-healing when the sole, unabashed purpose is to drive revenues. The NFL, feeling heady after filling the pockets of team owners with $113 billion in new broadcast money, plans on opening all stadiums at full capacity in a few months. "All of us in the NFL want to see every one of our fans back,'' said commissioner Roger Goodell. The Atlanta Braves are untying all 41,084 seats at Truist Park this week, as MLB pushes for a summer of large crowds throughout both leagues — though who wants to watch a sport where batters hit a record-low .232 in April and teams averaged only 7.63 hits ? "I have great concern that our sport has turned into a lack of offense — and that the strikeout-homer-walk `Three True Outcomes' is not our best entertainment product," said Detroit manager AJ Hinch, who always could have his hitters electronically steal signs and bang on drums in the tunnel, as he did in Houston.
And on our college campuses, where COVID-19 remains a firestorm? LSU, possibly the most corrupt of football programs, says spectators won't need masks inside the stadium or beforehand in the all-important tailgate culture. "This,'' said athletic director Scott Woodward, "is another positive step for us as a campus and community.''
The coronavirus is just the flu, after all. Clay Travis said so. Geaux Tigers!
At least America is comforted by a progressive inoculation pace. Imagine living in Japan — where just 1.4 percent of the population is fully vaccinated in a health care emergency — and knowing the International Olympic Committee carries more political weight than the government with the Summer Games in full-go mode. Every poll favors cancellation, as the Japanese people worry that their health — and that of participating athletes, most not vaccinated — will be jeopardized as COVID-19 cases spike. But prime minister Yoshihide Suga has no interest in halting the Games when $25 billion is on the line, NBC is airing Olympics promos in heavy rotation and IOC president Thomas Bach is running the country.
"The IOC has the authority to decide, and the IOC has already decided to hold the Tokyo Olympics,'' Suga said.
To which Bach added, "Look at the Augusta Masters," trying to assuage the nervous masses by name-dropping their national hero, 2021 champion Hideki Matsuyama. Never mind that a major golf tournament involves fewer than 100 players in an outdoor, socially distanced event, while these Olympics would host 11,000 athletes from 200-plus countries in 42 venues. Bach prefers to ignore the dangers and lather the natives, praising the "great resilience and spirit of the Japanese people'' before adding, "(They) have demonstrated perseverance throughout their history, and it's only because of this ability of the Japanese people to overcome adversity that these Olympic Games under these very difficult circumstances are possible.'' He was appropriately pummeled on social media, having mixed World War II and last decade's tsunami with his desire to cash in.
Keep calling me a Chicken Little, as you have. But as Goodell hailed his 2020 season as a rousing success, a scientific journal known as The Lancet was publishing data that blamed pockets of virus outbreaks in NFL cities on large stadium throngs, even as the NFL insists it hosted 1.2 million fans safely last season. Funny how the league only releases upbeat findings when trying to propagandize us. As epidemiologists howled in mortified protest, the NFL marched on with its usual, three-day Draft extravaganza over the weekend, as if all is well in the world.
"We have to do this," said Jon Barker, who oversees the league's live event productions. "We need to get people out and back to live events and to experience things like this. The draft is one of those great events that can bring everybody together and do that."
As I watched my two ballgames and ate my hot dogs (there also is an Angel Dog), I realized what I'd learned the last 14 months: People don't have to be at the scene anymore. Great seats and all, I still couldn't enjoy a game in person the way I can at home, where admission and parking are free, a tidy bathroom is just down the hall, and I can eat and drink inexpensively without waiting in line. There is no reason to attend another football game when it's the ultimate TV sport. Baseball remains a convivial event in person, but any focus on the game itself is best achieved at home. The NBA is fun at home or in the lower bowl, the latter only for a king's ransom. From a few hundred feet away, would you have enjoyed the Masters or the Derby as much on site as you did in your personal viewing room?
For this shift inward, give the broadcast networks props. Challenged by a pandemic, they've succeeded in maximizing the at-home live experience, to the point fans will think twice about spending money and attending games. Having consumed sports on TV since last summer, I've been able to block out COVID considerations in the new calendar year. Only when I venture to ballparks, for the first time as a non-working spectator, do I feel guilty about the continuing global massacre.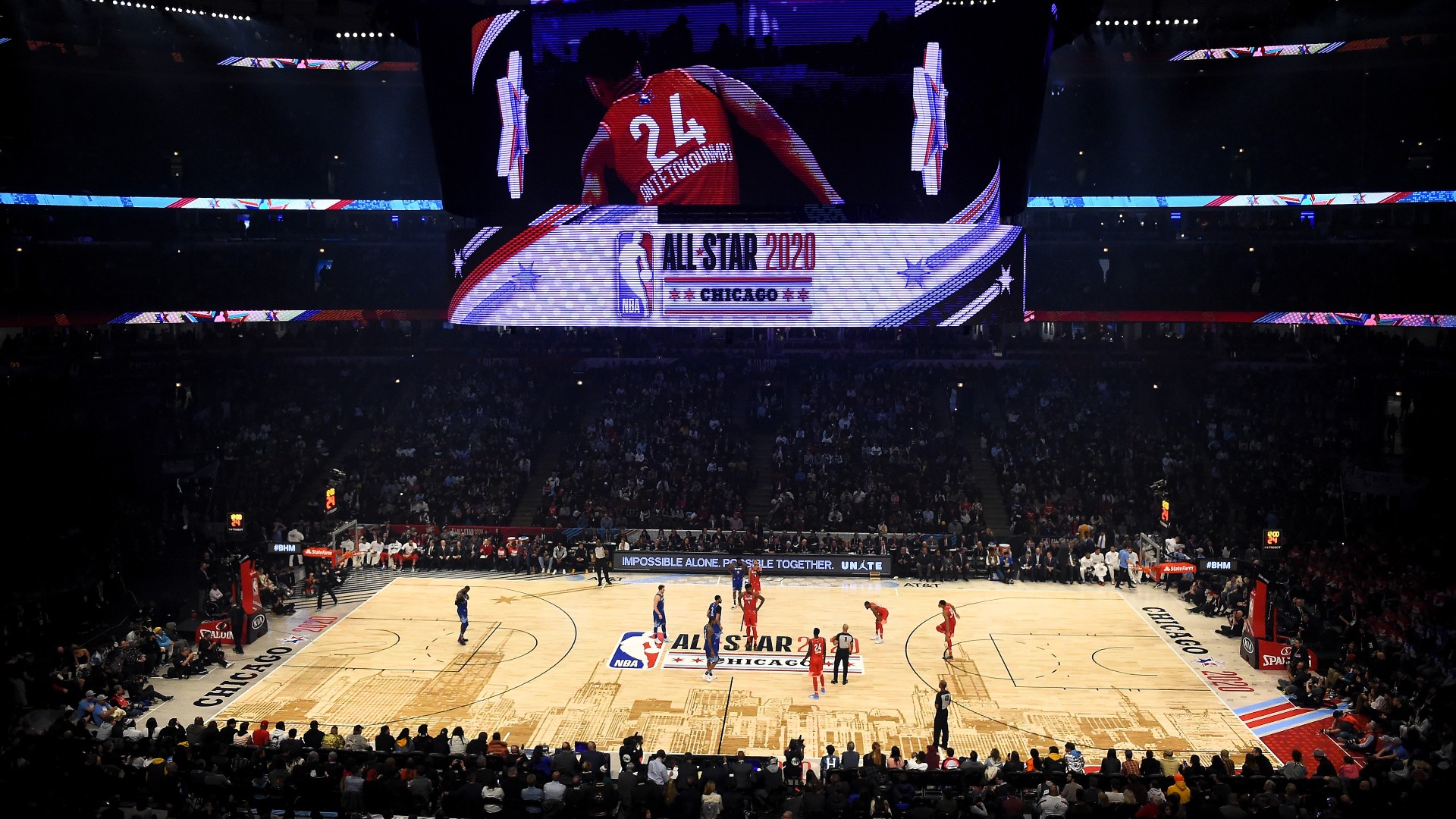 It sounds blasphemous, I know, but I'll ask again: Why go? If sports is best enjoyed on a big screen, and not among the masses in a confined setting, then why waste time, money and energy? Let the leagues figure out how to keep the turnstiles spinning and the Dodger Dogs devoured.
Just stay home.
Nike can use it as a new slogan.
Gary Bettman Wants You To Have More Access
"Both of these partnerships we have are outstanding examples of being extraordinarily fan-friendly."
In the wake of the NHL's latest national television contract, Commissioner Gary Bettman has solidified the league's broadcast future.  Recent contracts dictate that the league will be appearing on ESPN and TNT/TBS next season after its relationship with NBC concludes after 10 years.  Still, the key to both deals is streaming and Bettman explained how there is more work to be done.
"First and foremost whatever media package you're going to do, particularly on a national basis, you want to make sure you're getting the most exposure, the best possible production, the best possible promotion that you want to be able to give your fans as much access to the game as possible," Bettman said on Episode 299 of my Sports with Friends podcast.
The deal with Turner is for seven years worth a reported $225 million. ESPN's contract is also for seven years for more games than Turner and is reported to be more than $400 million.
The keys to these deals are the streaming apps. Both ESPN+ and HBO Max are key components to each deal that are making out-of-market games as well as exclusives available to subscribers.  Still, the controversial decision made by the Regional Sports Networks to require cable subscriptions to stream the local teams is impacting cord-cutters across the US.
"Media distribution and the platforms are going to continue to evolve," Bettman explained. "Frankly with new technology also represents improved camera coverage. The productions are better than they've ever been. You have HDTV, which didn't exist decades ago. We use more technology, whether it's player tracking or any of the other statistics that we use. With SAP and Amazon and Apple, the opportunities to get within the game, because there are more distribution platforms have never been greater."
My takeaway from Bettman's statements on the subject is that both he and the broadcast people in his office are well aware of the facts presented. While some fans are expecting a quick fix, these deals are complicated. Each team has its own contract with an RSN. Bettman can't legislate a new way to circumvent those contracts. Plus, he still believes in linear television.
"There is some cord-cutting going on, but linear television still predominates, and more people are watching on a big screen TV in a large room with a couple of other family members or friends," Bettman said. "Or when you go to a bar sports bar, you see what's on in the background."
Because I've known Bettman for over a decade, I take him at his word. We did discuss him coming back on the podcast for episode 399 (which would be in June 2023). I'd love to see progress made on the issue then.
"I think there is an evolution going on, but I think it's easy to over-generalize," Bettman said."
The deal with NBC was profitable in many ways over the 10 years. Originally, games were aired on the Outdoor Life Network (OLN), and now to NBC and NBC Sports Network, which be shutting down by the end of 2021.
The ESPN deal was signed in March. The Turner contract was made public in late April.
"Both of these partnerships we have are outstanding examples of being extraordinarily fan-friendly," the commissioner said. "Giving more content than ever before in more places than ever before. We couldn't be more excited to have the Walt Disney Company (ESPN) and Warner Media (Turner) working with us and the game. Our organization is excited and thrilled, and we know both of their organizations are thrilled as well. This is an exciting time for us."
Other highlights from the 45-minute conversation had to do with competitive balance.  Unlike the NBA, the NHL regularly has quality teams with records above .500 that don't make the playoffs.  
We talked about the impact that Covid-19 has had on the league. Bettman addressed the decision to create the "playoff bubble" in Toronto and Edmonton as opposed to an American city.
He also discussed the fact that the NHL and NHLPA extended their collective bargaining agreement by four years while negotiating the return to play in the summer of 2020. That's with former MLBPA head Donald Fehr at the helm. My memories of the canceled World Series made the NHL extension seemingly impossible.
Finally, Bettman addressed his legacy. He takes being the first commissioner in modern sports to be openly booed as a badge of honor, noting that nowadays all commissioners get booed.  "(NFL Commissioner) Roger Goodell got booed at the draft last week," Bettman said.
Still, he knows his legacy will always be connecting to canceling the 2004-2005 season.  Yet, the growth of the league is unprecedented, and he has been the architect of that.
Bettman sees no end to his tenure, or at least wouldn't admit it to me. Maybe we can address that in two years for episode 399.
Media Noise Podcast – Episode 27
Demetri Ravanos begins this week's episode by looking at Thursday Night Football moving to Amazon exclusively in 2022 and what it means for future business deals with the NFL. Russ Heltman drops by next to offer his thoughts on Rob Parker and Chris Broussard's heated discussion over Tim Tebow being the beneficiary of white privilege and his value to ESPN as a college football analyst. Seth Everett closes things out by weighing in on Gary Bettman's legacy and the NHL's recent deals with broadcast groups.
Podcast: Play in new window | Download
Subscribe: RSS
News & Sports Is A Perfect Marriage For Sales
"Plenty of sellers have a news talk/sports talk combo to sell especially if they are in AM-heavy clusters."
There are a lot of similarities in sports talk and news talk radio sales. And there are some differences, some of which are actually complementary and work to the sellers' advantage. I was fortunate to sell news and sports talk as a combo for years.
As Jason Barrett recently announced, the Barrett Sports Media and News Media web sites have merged. Plenty of sellers have a news talk/sports talk combo to sell especially if they are in AM-heavy clusters. One of my 2021 resolutions was to seek out the positive in most situations so let's look at the similarities the two formats offer to a salesperson.
Twins
Both are foreground formats. For the most part, spoken word radio listeners are seeking to focus on what is being said. They don't listen to podcasts or talk shows so they can free their mind up to think about other things. Plenty of music listeners have their minds completely elsewhere and don't even hear what the air person has to say. In fact, most music jocks are told to shut up and play the music. Great selling point for live liners, spots and why our commercials are worth more money.
We have very loyal customers. The best results for any advertiser comes from the heaviest users of a station- their "P1's". Most news/sports talk tsl comes from a much smaller % of the cume. Listeners to Sean Hannity, Jim Rome, Ben Shapiro, and Colin Cowherd stay put. Music listeners tend to chase the hottest song or diary responders to music stations will flip to the station with the contest to win concert tickets. Often this can lead to fewer spots needed in a schedule to achieve a better frequency.
We got the dough. Nothing sells luxury goods and services like a news/sports talk radio station. Look at any consumer index survey and these two formats will always score near the top. Make sure you load up on luxury car dealers, independent import car repair, jewelers, stockbrokers, realtors and home services companies.
Opposites
Sports formats can skew younger especially with stations that have guy talk driven hosts. Some sports stations have local play by play and that can cume in a younger audience. News talk radio is heavy 55+ and especially 65+. Younger buyers will carry a bias at times vs news radio and the age of the listener.
The news talk format is conservative and mostly anti-liberal/Democrat in general. Some national advertisers would not allow their commercials to fall into the Rush Limbaugh show for example. Sometimes, buyers will not place ads on a conservative station for personal reasons. In sports, at least traditionally, that doesn't happen as often. Historically sports have steered away from conservative or liberal positions on any politics. We have a chance to change that. See below.
Sports talk typically has 80/20 Male to Female audience. News talk skews much more female and can be a 60/40 split Male to Female. That opens the door to what a 45–64-year-old woman may be more interested in home services, jewelry and more!
A Happy Couple
A sports and news talk combo buy provides a great one stop shop for anything with a male skew. And, make sure you point out the earning power differences. We used to have fun with a graphic that pointed out with our combo you get customers and with the rock stations you got convicts. Get it? Customers or Convicts?
If you are selling to male store owner and he is over 40 years old there is a good chance he listens to one of your shows. Just ask him.
It may be time to start talking politics. If you have a conservative news talk station loaded with local news and political talk in the morning and Shapiro, Savage, and Hannity at other times, you got a conservative station. If you have a local show or two on the sports station, why not encourage them to speak up? Occasionally, the talent will not be conservative Republicans and certainly most athletes who speak out on political matters and command attention are not republican conservatives. Seems like a perfect balance for buyers who object to one lean over the other.