Networks Search For The Perfect Way To Bug Us
I'm not sure that there will ever be a perfect scorebug, one that pleases most if not all of the viewers. I don't think it's possible.
Imagine yourself tuning into an NFL game on a Sunday afternoon. You join the game midway into the second quarter and have no idea who is winning. I can remember those days pre-scorebug, when only once in a while was there a graphic showing the score, down and distance and time left in whatever quarter it was. Primitive right?
In some ways it was great, there was anticipation to see which team was winning. There wasn't a lot of graphical information shouting at me and I was reliant on the broadcaster to give me the details on the game. Innocent and pure, but proven impractical. 
Like it or not, the scorebug is a thing. So much so that debates rage on about what they show, where to show it and yeah, how they show it. What color the bug is, the font that is used how large the graphics are, all stir up feelings from sports fans. Sometimes the angst displayed on social media over the bug, is more than is directed at their team. It's pretty amazing to think about how routine it's become to know everything there is to know about a game whenever you tune in. 
The scorebug has been around since the early 1990's. Its origin has been traced back to televised soccer matches. David Hill, who was the head of Sky Sports in 1992, was dissatisfied over having to wait to see the score after dialing in a match in progress. The bug was introduced during Sky's coverage of the newly formed English Premier League. Hill resisted countless requests by his boss to remove the graphic and the concept caught on in Europe. ITV introduced a bug the next year and the BBC did the same toward the end of 1993 for its' football coverage.
The first use of the "always on" bug in the US was in 1994. ABC Sports and ESPN introduced the gadget to the American audience during the FIFA World Cup. Though the reasoning for it was not just to continuously show the score. It was used as a way to scroll through sponsor logos as a way to present the coverage without commercial interruption. 
The more traditional use of the scorebug came as Hill left Sky Sports for Fox after the latter's acquisition of the NFL. Hill branded the bug the "FoxBox" as part of its coverage in '94. Fox's inaugural box was very plain. White letters and numbers arranged at the top left of your tv screen.  It only had the time and quarter in one part and the teams and score in the other. Very basic, yet a novel idea since it really hadn't been done before. But the "FoxBox" was here to stay despite objections from some fans that were resisting change. The path was established and Fox began using it for its baseball coverage as well. Other networks would eventually follow suit, some were a little less willing to change than others.
There was an antiquated thought process in assuming that people would stay with a game longer, if they tuned in and didn't know the score. This was definitely old school thinking. Technology was changing. As the 2000's started to roll in, the internet, smart phones and tablets would take center stage, eliminating the "I wonder who's winning, I better stick around to find out" way of life. People already knew, so you may as well get with the program and make it easy to see. Everyone eventually got on board, with networks developing their own version of the "FoxBox" in the years to follow.  
Inherently there were issues. Some of the boxes were obtrusive, some were too small, some had too much information and some not enough. It seemed like networks, and eventually RSN's, were experimenting through trial-and-error. A few networks took the feedback from the audience and threw it in the garbage. Others seemed genuinely interested and would change even in the middle of a season. Here in Chicago, the Cubs television home, Marquee Sports Network, was being criticized for only showing who was pitching in their box. Fans wanted to know who was batting as well and they got their wish a few games into this season.  
Just think that this phenomenon is only 27 years old. The technology has grown exponentially and you can see the influence the video game age has had on the bug. Those gaming experiences have proven to be a good testing ground for different variations of the scorebug. Figuring out what works and what doesn't work and what can be taken from the games and incorporated into a broadcast is always evolving. Networks can use feedback from gamers and also just use the eye test to see what looks good and is feasible to work into a telecast.
With that said, the scorebug is still not a perfect thing. Some people love it and some are just simply "bugged" by the bug. I personally think it's a great addition to television, some are doing it right and some aren't. Fans seem to generally like the use of the bug, but there are many complaints. Networks have had to pivot many times already as this always changing technology provides new and inventive ways to present the product.
COMPLAINTS
Doing a quick social media search on the subject, there were several themes that popped up when it came to complaints by viewers. Placement of the bug, the font color of certain aspects, like the teams and information, and the size of the box.
I've often wondered where the perfect spot for the scorebug is. Across the top of the screen? The bottom? Tucked in a corner? Me, I'm for whatever doesn't inhibit my viewing of whatever game I'm watching. When the box is in the top left during a football game, it needs to be more horizontal than vertical. Why? If it's too "tall" you lose sight of the players at the top of your screen. Can't see the cornerback or safety because they get blocked out. The top left location is also a problem in basketball when it comes to seeing the basket and again, players at the top of the screen. In baseball this location is fine.
Executives and producers need to keep in mind what sport is being broadcast when placement of the bug is discussed. Camera operators need to be aware of the location and keep it in mind, especially when it comes to following the action. It's vital for fans viewing the game. 
I was amazed at how many people complained about the color of certain things within the bug. Most of the complaints had to do with the color of the background when it came to identifying teams. Fans want an exact match of the team's main color schemes so it's easier to know who is playing. Trying to figure out who's who has been an exasperating thing for some.
For example. Let's say Loyola-Maryland is playing Marshall. Both team's color schemes are green and black. Marshall is the home team and is wearing their white jerseys. Loyola-Maryland is donning its road greens. Now the scorebug shows a green background for Loyola and a black background for Marshall. Ok, the predominant colors from both teams are being featured and if you don't know which team is wearing white, you're left to wonder which team is which. How do you solve that problem if you are a network televising the game? Some, like the Big Ten Network will use a gray background for the home team to nearly match the team's jersey color.
Also, when it came to colors, ESPN learned quickly that a change to its bug for the College Football Championships was confusing to some. That's because the down-and-distance graphic was shown in a golden color which closely resembled that of the yellow used for penalties called on the field. They quickly made some changes. 
Size was an issue, mainly when it came to font size and the ease of being able to read the bug. Some RSN's have gone to the italics style for whatever reason, but that wasn't a source of complaining. Fox's more recent NFL bug has bigger names which is good. However, the team that has possession of the ball is shown by what looks like a "minus sign" so the score appears to be negative. Placement of "time outs" remains confuses some viewers, especially when the "slash marks" to indicate "TO's" are oddly placed. 
Clutter is a problem according to some. The new Bally's Sports bug has gotten panned in this area. Many have called it "screen pollution" on some social media accounts and Reddit. People have complained about wasted space to the left of the screen, too much going on with the count and MPH of a pitch and the "dots" being used to count the outs. Many have bemoaned the large, sports ticker with other scores from baseball taking up a huge amount of space to the right of the screen. So newer isn't always better. 
WHAT'S NEXT
With the popularity and legalization of gambling in most states it seems obvious that what is next is betting information. Point spreads, over/under, money lines and prop bets will probably be the next thing to appear. I would think that some of these gambling apps will work in a sponsorship of some sort and while the game is going on, give fans updated lines and props.
CONCLUSION
I'm not sure that there will ever be a perfect scorebug, one that pleases most if not all of the viewers. I don't think it's possible. With the RSN's operating these days, it's a cookie cutter approach. All Bally's Sports bugs are the same, just like the old Fox Sports and Roots bugs were all designed by the same folks and used on all telecasts. Uniformity is important to them because they want you to know which network you're watching, just by the bug. It's kind of boring and corporate feeling, but I get it. In a perfect world, each team's crew would be able to cater the bug toward the team, include things that are important to fans of that club. That's just not seemingly part of the plan.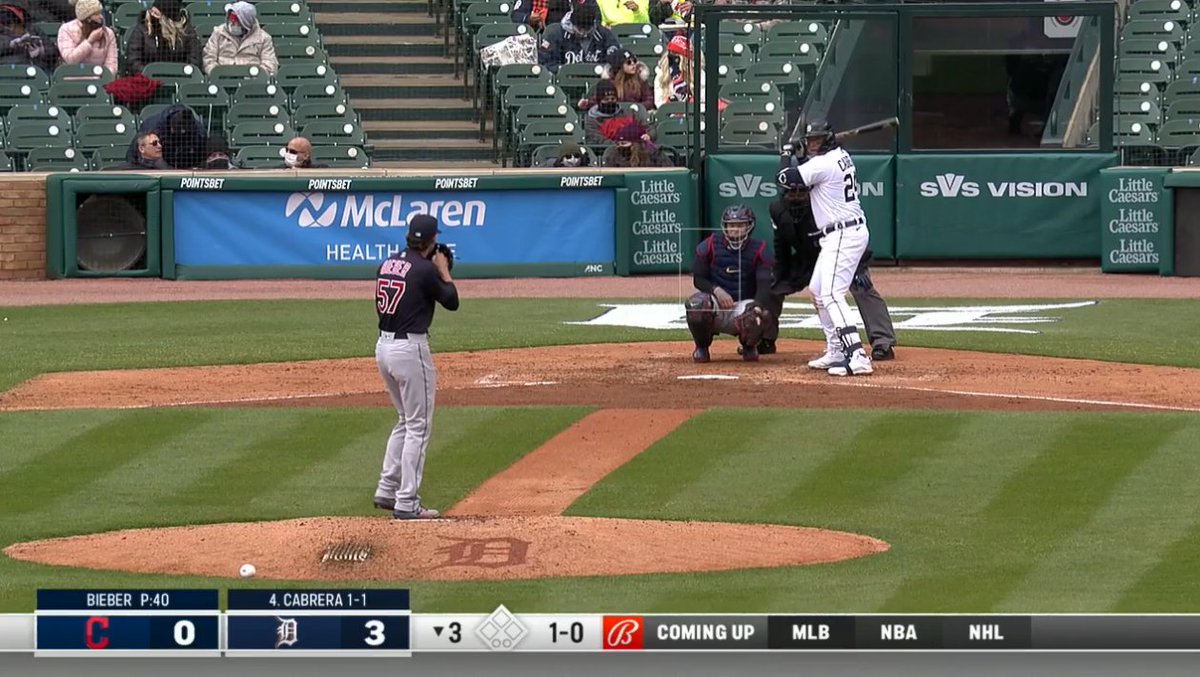 I'd much rather have the boring bug, than not have one at all. It's important to me, that if I tune into a game that's already in-progress, I know the score, the inning/quarter and how much time is left. I can't imagine how it was before. I don't want to go back to that period of time when the technology wouldn't allow for it. But, at the same time, realizing what is really important, the game itself, should be at the top of the list. Just because you have access to "bells and whistles" doesn't mean they are helping your production. Flashy is great sometimes, but don't get in the way of my enjoyment of the game.
Andy Masur is a columnist for BSM and works for WGN Radio as an anchor and play-by-play announcer. He also teaches broadcasting at the Illinois Media School. During his career he has called games for the Chicago Cubs, San Diego Padres and Chicago White Sox. He can be found on Twitter @Andy_Masur1 or you can reach him by email at Andy@Andy-Masur.com.
Why Do NFL Fans Want More Greg Olsen and Less Tony Romo?
Olsen creates the perception that he studies each team, breaking down film of offenses and defenses, in preparation for the telecast.
Five years ago, Tony Romo retired as an active NFL player, jumped into the CBS broadcast booth, and immediately became the darling of fans and media for the excitement he brought to his telecasts. Romo's enthusiasm for the game and understanding of modern offense allowed him to predict plays successfully, making him an instant sensation.
Greg Olsen will finish his second season as a full-time broadcaster on Feb. 12 from the NFL's biggest stage, calling Super Bowl LVI for Fox with play-by-play partner Kevin Burkhardt. Olsen hasn't drawn the must-see buzz that Romo did early in his TV career. No fan likely tuned into Fox's top NFL telecast, "America's Game of the Week," to listen to Olsen's analysis. His work doesn't draw nearly the same amount of acclaim.
But the shine has worn off Romo with viewers during the past couple of NFL seasons. Watching a game with Romo in the booth previously felt like sitting alongside a fellow fan, jubilant at fantastic plays or clever strategy, and disappointed at performances that fell short. His energy also elevated Jim Nantz as a play-by-play announcer, bringing him back to life after 13 seasons alongside Phil Simms.
Now, however, Romo's outbursts — noises in place of words, or outright yelling — seem like a crutch when coherent thoughts can't be articulated. Where there was once fascinating insight from the analyst position, the former Dallas Cowboys quarterback often resorts to clichés and platitudes that don't add to a fan's understanding of what's happening on the field.
Worst of all, Romo sometimes talks merely to talk, filling a quiet space when a broadcast needs to breathe or the images are saying enough on their own. That's especially awkward when paired with a veteran like Nantz, who's a master at letting the moment speak for itself rather than trying to punctuate it with unnecessary narration.
On Fox's telecast of the 49ers-Eagles NFC Championship Game, Olsen explained how play-calling changes when an offense intends to go for it on fourth down. He showed an awareness of the strategies that each coach employed to gain an advantage or neutralize what the opponent was doing well.
Early on, he highlighted San Francisco defensive end Joey Bosa holding back on his natural impulse to pursue the quarterback at all costs. Instead, he maintained a position that prevented Eagles quarterback Jalen Hurts from running to gain yardage when pass plays weren't available.
With analysis like this, Olsen creates the perception that he studies each team, breaking down the film of their respective offenses and defenses, in preparation for the telecast. He doesn't appear to be surprised by what he sees because that prep work — watching film, talking to coaches and players — informs him of the eventualities and possibilities that could arise during a game.
The hardcore football fan, those who repeatedly watch highlights and replays, loves that kind of analysis. Such attention to detail feels gratifying because it demonstrates that the person calling the broadcast is as serious about this stuff as the viewer who's waited all week for the big game.
Yet a more casual fan is also drawn in because of Olsen's amiable personality and ability to explain things simply and clearly. It's similar to what viewers enjoy about ESPN's "ManningCast" for Monday Night Football. Yes, there are jokes and funny moments. But Peyton and Eli Manning both explain strategy and preparation very well.
By comparison, Romo comes off like a broadcaster who's winging it, letting his personality and enthusiasm fill gaps created by a lack of preparation. That might be a completely unfair criticism. We don't know what kind of work Romo puts in leading up to a telecast. Maybe he watches as much film as Olsen. Perhaps he talks to everyone available to the broadcast crew in production meetings.
If so, however, that doesn't show itself on the CBS telecast. Romo's work on Sunday's Bengals-Chiefs AFC Championship Game telecast was an improvement over his call of the Bengals-Bills divisional playoff clash. During the previous week, Romo acted as if he didn't have to provide any insight because this was the match-up fans had anticipated all season and already knew everything about the two teams.
Perhaps in response to that criticism, Romo made a point of highlighting the importance of each team's defensive coordinator — Cincinnati's Lou Anarumo and Kansas City's Steve Spagnuolo, respectively — in disrupting the performance of quarterbacks Patrick Mahomes and Joe Burrow. But rather than demonstrate an actual strategy during a replay, he stated that each defense would come after the opposing QB and create pressure.
Ultimately, the difference between Romo and Olsen seems to be schtick versus knowledge. But it's also a product of how each analyst reached their position. Romo joined CBS's No. 1 NFL broadcast team without previously calling any games. (As BSM's Garrett Searight points out, that immediacy and recent connection to the game fueled what felt like fresh analysis.)
Meanwhile, Olsen called games during bye weeks while he was still an active player and was on Fox's No. 2 crew with Burkhardt before being elevated to top status following the departure of Joe Buck and Troy Aikman to ESPN. He's had to get better out of necessity. Even now, as Olsen establishes himself as his network's top analyst, he faces the possibility of being bumped from that position when Tom Brady retires and cashes in on the massive contract Fox offered him.
Compare that to Romo, who's the highest-paid NFL analyst on television. His $18 million annual salary set the bar other top broadcasters are trying to reach. And he has seven years remaining on the 10-year contract he signed with CBS. That is significant job security. Even if network executives (or Nantz) lean on Romo to improve his flaws, how much motivation is there when he's already been anointed a broadcasting king?
However, NFL fans and sports media are making it clear what they prefer from their football broadcasters. They want insight and substance. They want to learn something from the commentary, rather than just be told what they can see for themselves.
Olsen is providing that and is being rightly lauded as a broadcaster living up to his status. Romo is suffering a fall from acclaim and has become a weekly punching bag. If he and CBS want to change that, he'll have to bring more to the booth each week. In the meantime, Fox should consider appreciating what it already has, rather than welcome a glitzy name.
Ian Casselberry is a sports media columnist for BSM. He has previously written and edited for Awful Announcing, The Comeback, Sports Illustrated, Yahoo Sports, MLive, Bleacher Report, and SB Nation. You can find him on Twitter @iancass or reach him by email at iancass@gmail.com.
Chris Fowler Knows You Know He Isn't In Australia
"I applaud Fowler for not playing the game and allowing even a hint of the illusion he was in Australia. I think the viewer deserves to know."
I can tell you my exact whereabouts when 2015 became 2016 in the Central Time Zone. I was in a media shuttle outside of AT&T Stadium in Arlington, Texas awaiting my transport to the Omni Hotel in Dallas. It was kind of a sad scene, not just because Alabama had picked Michigan State's bones 36-0. Nope, it was sad when the clock struck midnight and a tired, cracking voice from the back of the bus said, "Happy New Year" with all the excitement of a man facing execution.
I, too, was tired. I had just spent a week doing shows in Dallas and was headed back to Birmingham for a pit stop before flying to Phoenix for what would be an epic Alabama v. Clemson National Championship Game. I am not complaining, mind you, but the thought of the end of the football season being near was very comforting. It's a bittersweet thought, I love college football, but I also love being home with my family.
ESPN's Chris Fowler was at Jerry World that night, as well. He had been on my show earlier in the week and we had joked with him about how good he had it; two College Football Playoff games then a flight halfway around the world for the Australian Open. I had bumped into him leaving the stadium that night and we laughed, again, at his good fortune.
As I sat on the bus for the saddest of New Year's celebrations, I reflected on the conversation with Fowler and thought about how overwhelming that travel seemed. I could never have imagined then that type of travel assignment would one day become a luxury rather than a necessity. 
There are numerous things COVID ended. Many of them were more important than announcing crews actually at the events, but that was one casualty. It has even continued to impact the top level crews like Fowler and John McEnroe who did their 2023 Australian Open work a world away in Bristol, Connecticut.
The fact that the majority of ESPN talent was actually stateside had already been painfully obvious to anyone watching. The studio show had made no effort to hide that fact but the actual match announcers were part of a little more of an attempt to appear they were Down Under. It was abundantly clear, though, that the match announcers were simply standing in front of images of the Melbourne stadiums superimposed behind them.
It was Chris Fowler who finally revealed the man behind the curtain when he removed the mystery and made it clear they were not in Australia. After Darren Cahill, who was actually on site, relayed the weather conditions to Fowler and McEnroe, Fowler commented that the Bristol weather was in the 30's. 
I applaud Fowler for not playing the game and allowing even a hint of the illusion he was in Australia. I think the viewer deserves to know. I also think most viewers have seen enough of the low-energy, disjointed remote announcing that they can spot it without being informed. Thankfully, Fowler and McEnroe are pros enough (and in the same room) that they can still do their job well from 10,000 miles away.
I just can't believe we are still playing this game in 2023. I think history will show that, in many cases, remote broadcasts were unnecessary in 2020 but that was a complete unknown at the time. One has to assume the desire to save on travel expenses is a large motivation in 2023. I can only imagine how much is saved by ESPN in airfare and lodging by keeping announcers in Bristol rather than sending them to Melbourne. Tennis is also one of the sports in which the difference isn't as noticeable.
The feedback I get from the fans in other sports, where remote announcers are far more noticeable, is that the network clearly doesn't value my team or me as a fan. While that may not be true, if that perception is held by a large enough group of fans, it becomes true. What the networks know is this: we are addicted to our teams. They can have bad announcers from their living rooms but what am I going to do about it? I get a limited number of times to watch my team each season. I'm not missing that chance because a network wants to squeeze dimes.
As most people have learned more about COVID, most unnecessary precautions have faded away. Remote announcers have been tougher to extinguish and may never go away entirely.
In the meantime, I'm rested now and I'll take that trip to Australia anytime someone is ready to send me.
Ryan Brown is a columnist for Barrett Sports Media, and a co-host of the popular sports audio/video show 'The Next Round' formerly known as JOX Roundtable, which previously aired on WJOX in Birmingham. You can find him on Twitter @RyanBrownLive and follow his show @NextRoundLive.
ESPN Ready To Go Back To The NHL All-Star Game
"What ESPN does [better] than anyone else is tell stories, and there will be hundreds of small stories told over those few days, and I think that's what it's all about."
The NHL is approaching a break leading up to the festivities at the All-Star Weekend taking place from FLA Live Arena in Sunrise, Florida: the home of the Florida Panthers. Saturday's 2023 NHL All-Star Game will be broadcast on ABC and simulcast on ESPN+ for the second consecutive year under the seven-year media rights deal which brought live game broadcasts back to The Walt Disney Company's platforms for the first time since 2005.
On hand to call the action and provide fans with exclusive access will be the NHL on ESPN lineup of experienced commentators, versatile journalists, and knowledgeable analysts, including the studio team of Steve Levy, Mark Messier, Chris Chelios, and P.K. Subban. The group is looking forward to making the trip to South Florida to catch up with former teammates and colleagues, as well as finding reprieve from the colder temperatures outside their regular Bristol studios.
"You just look at the graphics of the commercials out there with the surfboards and the beach and the warm weather and [see that] hockey can thrive anywhere," Messier expressed. "…It's a great time to pause and break and celebrate what's happened in the first 40 games of the season until everybody starts to buckle down for the stretch drive."
Messier signed on with the NHL on ESPN team before the 2021-2022 season as a studio analyst, utilizing his vast experience and championship pedigree to intuitively decipher the game of hockey and provide cogent reasoning about the action. He is a six-time Stanley Cup champion – five with the Edmonton Oilers and one with the New York Rangers – and is a member of the Hockey Hall of Fame.
Furthermore, Messier is third all-time in points and ninth in goals, and he was the captain of both of his championship teams – making him the only player in league history to garner that accolade. His presence on its hockey coverage gives ESPN added ethos and someone who remains a student of the game, closely following the league to craft informed opinions.
"Seeing the amount of talent in the game now and the emergence of these players is just incredible," Messier said. "Of course, it's what it's all about – just trying to get yourself. Once you've established yourself as an NHL player, the next step is to figure out how to win."
Chris Chelios joined Messier on the studio panel from the launch of the NHL on ESPN last season and is also a Hockey Hall of Fame member who played professionally for 26 years, retiring at the age of 48. He recognizes the changes in the game of hockey, especially since his 1983-84 rookie campaign, and tries to accentuate them while promulgating classic aspects of the sport demonstrated through its young talent.
"Just when you think you've seen everything, they come up with something else; some new move," Chelios said. "….There have been some unbelievable highlights and every night, especially working with ESPN, [we have been] able to see all that. We're in an entertainment business and these guys aren't letting anybody down. It's great; it's a great product."
Steve Levy has worked with ESPN since 1993 where he has broadcast countless different sports and hosted various types of studio programming. Whether it is calling football games, sitting behind the desk on SportsCenter, or making movie cameos, he is an anomaly within the industry in that he has had a long and storied career primarily with one company. Through his versatility, he can continue seamlessly assimilating into a wide foray of roles and, in the process, enhance the broadcast skills of his colleagues.
Last season, Levy, Messier, and Chelios broadcast coverage of NHL All-Star Weekend from T-Mobile Arena in Las Vegas. The trio was situated in a suite at "The Fortress". It contrasts the regular-season mindset of gathering two points per night; contrarily, this weekend is, in essence, a celebration of the game and its people.
"It's an opportunity to showcase besides their skills, I think their personalities," Levy said. "I really look forward to that."
Levy has worked with Messier and Chelios for the last year on ESPN's studio coverage and is now joined by P.K. Subban, who played in the NHL as recently as this past April as a member of the New Jersey Devils. A three-time All-Star selection and 2014 Olympic gold medalist, Subban inked a multi-year contract with ESPN this past November to regularly serve as a studio analyst and also work as a live game broadcast analyst for select regular season matchups.
Implementing a player who is closely removed from playing professional hockey brings fresh perspectives to the show, offering different perspectives, and appealing to a wider segment of viewers.
"We were sitting next to him on the set the other night and he's talking about Jack Hughes and it's like, 'Who's going to have a more educated opinion than a guy who was lockering next to him the last three seasons?,'" Levy said of Subban. "It's easy to forget he was in the league in April; he's fresh out of it."
Subban grew up watching Messier and Chelios in the NHL and now works alongside them, holding them in high regard. Aside from their play on the ice, Subban remembers Messier in Lay's commercials in the late-1990s and early-2000s advertising its products. Although he brings more contemporary perspectives by being removed from the league for less than a year, Subban embraces the traditional style of the game and delivers analysis based on multiple eras.
"I think keeping it fresh is also being able to educate some of these young players and the audience about guys like Mess and Chelios," Subban said. "I think that's also very important because we have a luxury [in] having these two on the broadcast…. It's just really cool for me this year. I'm super excited to do this for the first time; to sit next to these guys."
All three NHL on ESPN studio analysts participated in at least one aspect of the skills competition during their playing careers, with Messier winning the shooting accuracy challenge in both 1991 and 1996 and Subban winning the breakaway challenge in 2016. Watching the players compete from a new vantage point and evincing their ethereal abilities on the ice underscores what the weekend is genuinely about.
According to Levy, the 2023 All-Star Skills would be the event he would attend if he had to choose between it and the game. This sentiment has permeated itself in the linear television ratings, as the 2022 All-Star Game was the least-watched (1.15 million viewers; 0.6 share) since 2009, while the corresponding skills competition was the most-watched (1.09 million viewers; 0.6 share) since 2012.
It is important to note, however, that last year's all-star game aired just before the first night of the Beijing 2022 Winter Olympic Games, broadcast in the United States by NBC, USA, and CNBC. Despite last year's Olympic Games drawing the lowest U.S. ratings in the history of the international sporting event and cultural phenomenon, the first night still drew 13.2 million total viewers across the three networks, accounting for a 6.8 share.
The format of the NHL All-Star Game was changed starting in 2016 to contain four teams (one per division) playing three-on-three games split into 10-minute halves in a single-elimination tournament. The winning of the tournament's championship game splits a prize pool of $1 million, ostensibly incentivizing more realistic play as the allure of the windfall profit is aggrandized.
Nonetheless, the weekend is all about appealing to the fans and demonstrating the star power of the league through the depiction of vivid imagery, as well as chronicling stories to engross viewers in the product.
"You highlight fun and entertainment through the skills, and the three-on-three was a great concept because it's exciting to the fans," Messier said. "….I think the NHL, the NHLPA and ESPN and everybody involved has worked diligently to make this weekend really fun and to highlight the great talent we have on the ice and the great people we have off the ice."
"What ESPN does [better] than anyone else is tell stories, and there will be hundreds of small stories told over those few days, and I think that's what it's all about," Subban added. "For these players, a lot of times, they're buttoned into the game and focused on the ice. This is an opportunity for [the] fans to get to know the players in a fun way; get to know them through their skill set and what they're able to do on the ice."
The All-Star Skills will feature the return of events including the Breakaway Challenge, Fastest Skater, Accuracy Shooting, and Hardest Shot. In addition to these classics, there will be the debut of the Tendy Tandem where goalies will face off in a shootout, along with two new geo-focused events – the Splash Shot (pre-taped from Fort Lauderdale Beach Park); and the Pitch 'n Puck (from a par-4 golf hole).
"I know each market tries to do something specific to the local area," Levy said. "I do know ESPN has worked really hard with the NHL to try to enhance the best events and make them even better… and better for television."
The league continues to adapt and find new ways to engage fans with the launch of the 2023 NHL Fan Skills at Home, a social media-based competition urging fans to submit videos performing their hockey abilities focused in different areas. Various hockey content creators, including Pavel Barber and Kane Van Gate, will make the trip to Sunrise, Fla. to promote the contest and implore fans to participate.
Additionally, the NHL will host the All-Star Beach Festival at Fort Lauderdale Beach Park, a free fan fest-style event featuring appearances from NHL all-stars and alumni, a photo opportunity with the Stanley Cup, and interactive games for the whole family.
Surrounding it all on ABC, ESPN and ESPN+ will be a concentrated effort to emphasize the dispositions of regular all-star selections – such as Edmonton Oilers forward Connor McDavid; Washington Capitals forward Alexander Ovechkin; and Colorado Avalanche defenseman Cale Makar – while contextualizing what is going on through experience and astute foresight.
At the same time, the broadcast will aim to espouse awareness towards younger stars, many of whom are first-time selections such as 20-year-old Seattle Kraken forward Matty Beniers; 24-year-old New York Rangers defenseman Adam Fox; and 25-year-old Vegas Golden Knights goaltender Logan Thompson.
"Our job is to really highlight these players and make it a fun telecast," Messier said, "and really talk about the players as people and what great, incredible talent they possess."
"You have to be able to tell stories about the players," Subban said. "They're the product on the ice and there's no better way to tell stories about players than getting ESPN. They are the best at it, so it should make for a fun couple of days."
The NHL on ESPN studio team thoroughly enjoyed their time at last year's All-Star Weekend in Las Vegas, as it led them to become accustomed to working together and set them up to put on quality broadcasts through the Stanley Cup Playoffs. However, the Stanley Cup Finals are set to be broadcast by Turner Sports this year (as part of its seven-year media rights agreement) with its regular studio crew of Liam McHugh, Paul Bissonnette, Anson Carter, and Wayne Gretzky.
Messier and Gretzky, each serving as studio analysts on ESPN and TNT, respectively, starred in an NHL on FOX commercial together back when they were teammates on the New York Rangers in 1996.
This season, the NHL on ESPN studio crew has not worked together regularly because of the network's obligations to the NFL and NBA. The group will soon be on the air regularly though to break down the top plays, interview stars before they hit the ice and foster a congenial atmosphere for sports fans everywhere.
"I look forward to working with these three guys together," Levy said. "We haven't had a lot of run together [because] it's just the way the schedule works [during] the first half of the season."
"I'm looking forward to kicking this off," Chelios added. "It's like a playoff run [for us] now; this All-Star Game is the start of working and grinding and doing a couple of games a week and getting into a rhythm here."
The 2023 NHL All-Star Skills will be broadcast on Friday, Feb. 3 on ESPN beginning at 7 p.m. EST and is available to stream live on ESPN+. Then on Saturday, Feb. 4, the 2023 NHL All-Star Game, featuring teams representing the Atlantic, Metropolitan, Central, and Pacific divisions, commences at 3 p.m. EST on ABC and can be streamed live on ESPN+.
Derek Futterman is a features reporter for Barrett Sports Media. In addition, he serves as the production manager for the New York Islanders Radio Network and lead sports producer at NY2C. He has also worked on live game broadcasts for the Long Island Nets and New York Riptide. He previously interned for Paramount within Showtime Networks and wrote for The Long Island Herald. To get in touch, find him on Twitter @derekfutterman.