It's Time For ESPN To Tell Tim Tebow He Can't Have It All
It is time for ESPN to look the Heisman Trophy winner in the eye and say "What is going on here? Are you a broadcaster or are we still cosplaying as an athlete? It is a little hard to do both well."
I will admit that I am not a Tim Tebow fan. That comes from being a Bama fan. Tebow, Urban Meyer, and those Florida teams were the first dragons to be slayed in order for the Saban era to reach the level of dominance that was promised when the University first shelled out all that money to lure Nick Saban away from the Miami Dolphins.
I've never unabashedly hated Tim Tebow either. I never thought he was a good quarterback, but it was always clear that he was an exceptional athlete and locker room presence. I got why a coach would want the guy on his team and would invest a lot to help Tebow succeed.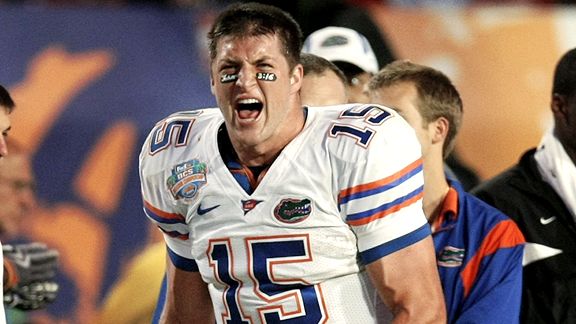 Now though, it is time for Tebow's newest team to hold his feet to the fire. It is time for ESPN to look the Heisman Trophy winner in the eye and say "What is going on here? Are you a broadcaster or are we still cosplaying as an athlete? It is a little hard to do both well."
First, the network made exceptions and worked around schedules so it was possible for Tebow to sign a minor league contract with the New York Mets. Now, after "retiring from baseball," the 33-year-old wants to go back to the NFL, only this time he plans to listen to scouts that said he should have converted to tight end more than a decade ago. And hey, wouldn't you know it! His old college coach just so happens to be the new coach of the Jacksonville Jaguars. What a happy coincidence!
Don't be surprised that Tim Tebow got a tryout with the team. You can be annoyed by it, like FOX Sports Radio's Rob Parker was. Just don't be surprised by it. Tim Tebow has a way of getting what he wants.
Remember, this is a guy that had an entire state change its laws to allow him to play football at a public high school even though he was homeschooled. He got signed to play professional baseball at age 29, after not having played the sport since he was 16. Tim Tebow has never really had to learn what disappointment feels like. Sure, his plan was to be an NFL quarterback, but that didn't work out and he keeps finding very comfortable ways to cushion that particular fall.
When Parker talked about this on FOX Sports Radio, he didn't mince words. He called Tebow "a FAILURE on the pro level" and "a loser". He said Tim Tebow even getting to try out for a tight end role at age 33 is "the ultimate "White Privilege."
I sent Parker an email to ask him why he thought the Mets didn't tell Tebow they weren't interested in having him as a baseball side show. Why did he think the Jaguars weren't willing to say that they weren't interested in developing a tight end that at best could give them maybe three seasons.
"It seems unfair that opportunities are always open for Tebow and not other athletes, especially when he's getting chances after being far removed from sports," Parker told me. "He hasn't played in NFL since 2012 and has never played tight end, but Jacksonville has a spot for him."
It also seems unfair that Tebow gets to jump from sports fairytale to sports fairytale while holding down a job most former college football players not on NFL rosters would be willing to devote their whole lives to.
ESPN made a major investment in Tebow after his NFL days were done. It made a lot of sense because it coincided with the launch of the SEC Network. Paul Finebaum was going to be the network's anchor, but Tim Tebow was going to be its face. And what better face could you find really? This is one of the league's biggest stars of the last decade and he was available.
The problem is Tim Tebow is as good of a broadcaster as he was an NFL quarterback. I get that the guy is a cult of personality. I just don't ever feel like I am learning anything when he is speaking. Whereas guys like Dan Orlovsky, Kirk Herbstriet, and Desmond Howard are great at telling me why plays are run or decisions are made, Tebow just sort of delivers platitudes. Is that really worth making concessions for?
Lauren Brooks, who co-hosts The Frangie Show and Helmets and Heels at Jacksonville's 1010 XL disagrees with me.
"I think Tebow is an excellent college football analyst," she told me. "He brings a tremendous amount of energy and you can tell he is very well-prepared. I always enjoy his work on TV."
Brooks is a Florida fan. I asked her if the constant flirtations with "getting back in the game" had ruined Tebow's reputation with a fan base that holds him up as something of a second mascot (third if you count Alberta Gator and fourth if you count Steve Spurrier).
She told me that it doesn't change her opinion of Tim Tebow at all, but the timing feels odd.
"I would have loved for Tebow to switch to TE when he was still on an active roster so we could see whether he would have a penchant for the position.  I wasn't surprised that he wanted to try his hand at baseball since he had played that before, but I was very surprised to hear he wants to play football again, especially that he'd be willing to play TE since he is involved in many philanthropic efforts and also works for SEC Nation."
Parker also isn't surprised and he isn't so sure that ESPN should be upset about Tebow being interested in playing again, even if it means that he isn't always available to them.
"Tebow bouncing from TV to the field isn't new. A lot of former athletes/executives go there and wait for a chance to get back in the game," he said.
That is true. Just look at coaches alone. In its history, ESPN has lost Mack Brown, Herm Edwards, Jon Gruden, Chip Kelly, Urban Meyer, and Bob Davie to the sidelines. That's a lot of guys and that is just what popped into my head.
I get that coaches that enter the media usually come into their first job with the idea that it is only temporary. TV or radio is a waiting room until the next "real" opportunity comes along. That never felt like what ESPN was selling with Tim Tebow.
Look, I think if Tim Tebow were operating with just his brain, he would devote himself to broadcasting. He has natural charisma. Remember when Clay Travis asked him if he was a virgin at SEC Media Days in 2009? The dude handled it better than anyone would have ever expected a 21 year old to. If he put in the time and took the coaching to heart, he could be an absolute super star.
Unfortunately, we don't always think with our heads. Most people, particularly those that are über-competitive, tend to let their hearts get in the way. In his heart, Tebow is still a football player and he wants another shot to suit up on Sundays.
"If the story had broken any other day/time, it would have been gigantic; however, it broke around 3 pm on Draft Day, a.k.a. Trevor Lawrence Day in Jacksonville," Brooks told me when I asked how Jacksonville reacted to the idea of Tim Tebow in black and teal. "Plus, right after the Tebow tryout news came out, the news broke that Aaron Rodgers doesn't want to play for the Packers anymore and swallowed up the story that the former Florida QB could possibly switch to TE at age 33.  Local sports radio is still discussing the story since additional comments have been made that lead many to believe that Tebow will at least be practicing with the Jaguars at training camp, especially since the Jaguars didn't draft a pass-catching TE in the Draft."
Tim Tebow has painted himself into an odd corner right now. He is 33, so while Florida fans and college football fans may want to see him make the Jags' roster, it feels like a long shot at best. He also treats TV like a part-time job, so if ESPN wants to play hardball, he is expendable.
In football years, 33 is ancient and Tebow is starting from zero in this new venture. In broadcasting years, 33 represents the sun just beginning to peak over the horizon. Tebow has shown that while he still has plenty of room to improve, he has the tools to do it. The choice should be obvious.
Demetri Ravanos welcome Jeremy Evans and Tyler McComas to the show this week. Topics include emergency programming, the streaming future of ESPN, and why the holidays is a good time to think about your upward mobility.
Breaking News Turned A Quiet Sunday Into The Busiest Week Of My Career
"We've set records at the station and listenership isn't going down anytime soon. Plus, our social media following has boomed since Sunday morning."
It started off as a completely innocent Sunday, which, you married men know, meant an afternoon Target trip with my wife. Earlier in the day, I was texting with Demetri Ravanos about the grind of doing sports radio during football season. That also included talking about Oklahoma's loss in Bedlam to Oklahoma State. OU's loss the night before meant I wouldn't be doing a pre or post-game show on conference championship weekend. Football season was essentially coming to a close for me. 
And then it hit. First it was a text from Cody Stoots of ESPN 97.5 in Houston. I'm good friends with Cody and respect his knowledge of college football, so it surprised me when he texted, "Oh no. Bummer about Lincoln. Coaching searches are fun though!"
Wait, didn't Cody hear Lincoln Riley adamantly say he wasn't going to LSU just hours before? He's a smart guy. What's he talking about?
I checked Twitter on a hunch. That's when the madness officially started. I immediately knew it was true. We rushed out of Target. My crazy Sunday was just getting started. I cut an instant reaction video for my station's Twitter page, where we have a sponsored segment called Sooners in 60. It's a social media video that entails analysis and updates on everything OU. I uploaded it shortly after detailing my initial shock that Lincoln Riley was headed to USC. I couldn't believe it. It was a complete shock to everyone. 
As I kept my eyes on Twitter, I realized a reaction video wasn't enough. That's when Josh Helmer and I decided to record a 15-minute podcast on the breaking news. So via cell phone and in the front seat of the car, I gave my thoughts on the shocking development. But just as quickly as it uploaded, we realized we needed to do more. Our listeners deserved that. 
Management at the station came together and realized we needed to get on the air. Granted, the postgame show the night before didn't end until midnight, which meant Helmer and I would have to jump right back on the air, but this was too critical of a time to not be active. Especially since other stations in the market were rallying and getting people on the air. I had been looking forward to a calm Sunday, but I couldn't be on the sidelines for this. Helmer didn't want that either. We found a time that worked and decided we'd stay on the air until the bosses told us to stop.
At 5:30pm on Sunday evening, we hit the 94.7 The Ref and Sportstalk 1400 airwaves without a real plan. Sure, we'd take calls, but this was a show about natural reaction and how we felt in the moment. So as Helmer bumped us in with "California Love" we unleashed our anger towards Lincoln Riley's decision. 
It's an easy way to create compelling content in that moment. You're playing to the audience and they're deeply interested in the story. Helmer and I wanted to be real and genuine, which meant addressing the crazy rumors around Riley's departure, and slamming him for some of the things that were starting to emerge. We were given total freedom by management, trusted to react as strongly as we saw fit. So we did. And so did a ton of callers and even other co-hosts at the station that hopped on. It was the most exciting 90 minutes of radio I've ever been a part of.
We looked up and it was 7:00. We couldn't believe how quickly the time had gone by, but we had to shut it down, because the Cleveland Browns were playing the Baltimore Ravens on our airwaves in just 20 minutes. We're the Oklahoma flagship for the Browns so honoring our commitment to our partners was important. That being said, we could have continued the show all night. The live, raw reaction was incredible.
We signed off and received a text from our owner, thanking us for hopping on with short notice. After giving up a Sunday to help with coverage, that simple message was greatly appreciated. The day of work was over, but we knew an incredible week was coming our way.  It was about to become a dream content scenario for talk show hosts in a crazed college football market.
Monday morning came with great news from management. The emergency show on Sunday night received the highest streaming numbers in station history. They were tracked from our app. The first real coaching search at OU since 1998 was starting to show its benefits. 
So, as a station, we did what everyone else would do. We decided to capitalize. Recently, our station launched a merch store that has t-shirts, beanies, hoodies, etc.. Each have our logo on it, as well as special items that center around show hosts and OU game results. In all of the madness, former OU head coach Bob Stoops stepped in as the interim head coach for the upcoming bowl game. He's always been beloved by the fan base, but this was next level loyalty. And we decided to make a t-shirt about it.
'Bob's Got Our Back' is what the t-shirt reads with a visor at the bottom. I created it via the Canva app in my car in the station parking lot before our Monday morning meetings. As you can imagine, they've sold very quickly. 
Monday's day of radio was filled with anger towards Lincoln Riley, and excitement about who the next head coach will be. There was even a press conference that featured Stoops firing up the fans and ensuring everyone the program was going to be just fine. Sure, just two days before, an epic game between in-state schools broke out, but there was barely a mention of it. The bigger story had overtaken the actual game. It seemed like everyone in the state was listening to sports talk radio on Monday. I can't speak for the other two stations in the market, but our listenership was so high, we maxed out the number of online listeners we could have via our app. We scrambled to find a way to expand the number of people that could listen to our stream at the same time. Thank God we did. 
The past few days have been awesome. Sure, it's meant endless time on the phone and exchanging texts with various people to try and chase the story, but any sports radio host during a coaching search should absolutely love the attention. We've set records at the station and listenership isn't going down anytime soon. Plus, our social media following has boomed since Sunday morning.
The exciting part is that this story isn't just a two-day fling. Anger towards Riley hasn't stopped, nor will it, anytime soon, and the search for the next head coach has brought an incredible amount of interest. Madness happened on Sunday afternoon and it won't stop until a new head coach is hired.
Ok, now I have to go. I think Brent Venables or Matt Rhule is about to be named the next head coach at Oklahoma. And yes, we have a t-shirt ready to go if that happens. 
How Do You Break The Ice When A New Player Or Coach Comes To Town?
"How do you introduce yourself? What approach should you take? What's the first thing you should do?"
It's a season of change in many sports these days. College football coaches are changing teams. The NFL will surely have some coaching vacancies of its own soon enough. Don't forget it's also free agency time in baseball.
With all of that said, it's also a crazy time for broadcasters. We need to start figuring out who the new players and coaches are and how to get to know these people as soon as we can. It's as much about meeting the new folks as it is getting to know who they are in their jobs and as people. How do you go about this process?
Working in the industry as long as I have, it's almost a given that every few years, it's out with the old and in with the new. When you work in Chicago it seems to happen more often than that. Sometimes, from a broadcast perspective, the change is good. Other times it can be a little more difficult to deal with. I've been witness to both. But what matters at the beginning is you need to do your best to understand the change and adapt to the new way things may be done.
How do you introduce yourself? What approach should you take? What's the first thing you should do? Well, it's not that simple. Every case is quite different. Gathering information that will be useful to you is the best way to start the process. There are more than a few ways to accomplish this feat.
One of the first steps I would take when working in baseball was to contact fellow broadcasters that may have interacted with the new player or manager. The team announcing crews usually have the best insight into the nuances and personality of the person you are wanting to meet. They will have knowledge of how that player or manager likes to be approached. Is the player routine-oriented? Does he/she like to get the media business out of the way first, or do they want to wait until they've prepped for the game? That is the kind of critical information to have to develop a healthy respect for one another.
I also wanted to know from other broadcasters what their impressions of that player or coach were. Is this the kind of person you could joke around with or not? Was this a person that would open up to you, if they got to know and trust you? I would store this information in the back of my head, just so I was prepared. Even if a broadcaster told me to stay away from a particular guy, I would always try to find out for myself. I gave that new person the benefit of the doubt until they either proved the information about them was wrong or spot on.
Another method to introduce yourself to the new guy/girl was to make sure I was at the team's first media availability. Whether it be a fan fest or just an introductory press conference, it's important to have that person start recognizing your face and name.
I recall talking to one player that joined a team I worked for in particular at a fan convention. The informal setting of these events allows you to get some time with the new players and managers. In a casual conversation with this player, I wanted to find out when was the best time to approach him for pregame interviews. He told me that if he was seated at his locker facing away from the stall, feel free to approach. I'm so glad I was armed with that information, because I saw several fellow media members get turned away, when he wasn't ready. I always tried to respect those wishes. The season went smoothly and he was a great 'go to' guy when needed because of that relationship we forged.
If you've been in the business a long time, you probably know a few of this new player's former teammates. Many likely played for the team you broadcast and with the access you've had, introductions can be made or arranged. It's always a better 'in' or 'edge' in the beginning of a relationship to have that extra cache of being introduced by one of that player's peers. Most of these players respect one another and if you're deemed 'cool' or 'good' by one, others will give you that chance to at least prove them wrong.
Every once in a great while, a team will put on a 'meet and greet' for a new coach or manager. It's a way for those that regularly cover that particular team to get to know a new leader in a very informal manner. I recall one such time an NFL team put together a lunch for those that regularly covered the team to meet the new head coach. It was a completely off-the-record gathering, filled with stories and a lot of pizza too. The unfortunate thing was, the guy we met that day was only himself for about 3 months, then he became 'the coach' and the relationship changed. Still, it was a unique idea and approach to allow some of the media, he would be seeing on a daily basis to have a chance to relax and break bread.
Change is never easy to deal with, especially after establishing long relationships with previous players and coaches. But it is a fact of whatever game you're covering, things are going to change and you must have the ability to change along with it. If not, you could get left behind and out of the information loop.