Brett Kane Is Here To Kick Back & Make People Laugh
"They are so much like my group of friends that I hang out with, where, really, it's all about busting each other's balls."
Butt dials are almost always a super embarrassing situation. Sometimes it means accidentally dialing an ex, other times it may mean texting absolute gibberish to a contact you've made. Regardless, it's super embarrassing. Oh and I may or may not have experience with one or both of those.
But there's at least one known instance where a pocket dial actually benefited someone. In fact, it actually helped create one of the best sports radio segments in Denver.
Brett Kane was hosting a show at 93.7 The Ticket, near his hometown in Nebraska. While listening to a podcast during a workout, he accidentally hit the speed button you can find at the bottom left hand corner on Apple Podcasts to make it to half-speed. He laughed hysterically, sure, but with that, also, sparked a brilliant idea for a new segment.
"I think I was listening to a Dan Le Batard Show podcast," said Kane. "Hearing Stugotz slowed down was the most hysterical thing in the world. I had to pause doing any sort of exercise, because I was dying laughing. I went to one of our podcasts at the time and said, what if I just did this to us? The same thing happened. Now it's become if you hear anything, and our producer Marty is so good at this, if you hear anything that could remotely sound like it's funny, mark it and try it and see if it will work. It really was an accident. But it's one of those things where I heard it and a lightbulb went off."
Drunk Takes has become one of the best segments on Moser, Lombardi and Kane. It works because it's both funny and unique content, but also because it fits perfectly with the theme of the show, which, simply, is three guys sitting around and busting each other's balls.
Kane isn't exactly new in Denver, he's been there for over two years since getting the gig with Altitude Sports Radio. But compared to his two co-hosts, Marc Moser and Vic Lombardi, he might as well be wearing a fanny pack and holding a camera around his neck like a tourist. However, finding chemistry with two longtime Denver personalities wasn't as difficult as the native Nebraskan initially thought it would be. 
"They are so much like my group of friends that I hang out with, where, really, it's all about busting each other's balls," said Kane. "That's honestly what it is. I got in here and it literally took me a week, maybe two, to figure out it was going to be very, very simple. Our sense of humor is the same and they just want to kick back and make people laugh. Everyone's got their different quirks and you have to find out what makes people tick, but for a starting point, I feel like I was ahead an entire lap when this whole thing started."
It makes their show super relatable. Three guys sitting around and talking sports while making fun of each other sounds like every guy's group of friends. If the goal in sports radio is to make it seem like you're having a conversation in a bar, Moser, Lombardi and Kane accomplish that on a daily basis with their style and humor.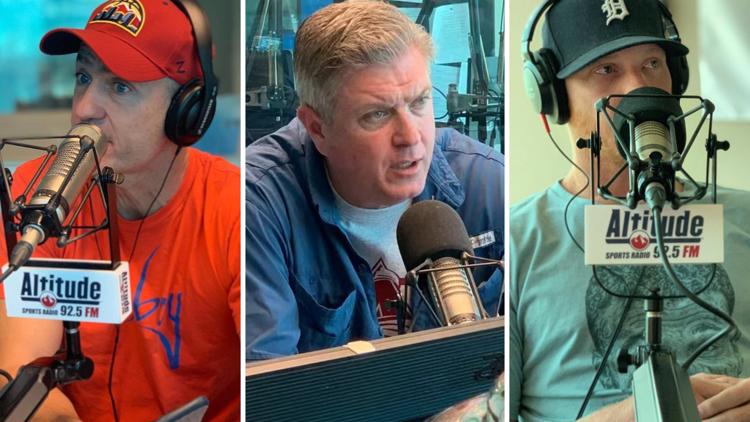 "It's funny because we usually get this from people who are new to the show, and if you listen to the show for a while you get it, but poor Moser," laughed Kane. "He probably gets it the worst out of anybody. We all get our turn on the hot seat, right, that's what we always say. At the end of it, we get people every once in a while saying something like, do you guys hate him? Why do you keep picking on him?
"It's almost like we have to explain to people the reason why we do this is because we genuinely like each other. You don't start crushing somebody you don't like to their face. That's not how it works."
One of the best things about getting hired at Altitude Sports Radio for Kane, was the timeline that it happened on. Dave Tepper, who's had success in multiple markets, was hired away from 1620 The Zone in Omaha to become the PD at Altitude. It was a huge help for Kane, seeing as his boss was also leaving Nebraska for a new market and near the same exact time as him. 
"It was almost like a buddy who you're on vacation with," Kane said. "Like, hey, have you checked the spot out yet? Have you visited here? It was a feeling that we were trying to figure this thing out together, because he was only here a few months before I was. You're trying to learn a new place, and I love it here, but I've lived in Nebraska for basically my entire life and it's different here.
"You're just trying to get a feel of what people want, especially coming from a market like I did in Nebraska, where it doesn't matter if it's in the middle of football season or in May, it's Husker football the whole time. You almost recalibrate because there's so much more here, as far as the sports landscape. Having someone else who had the same perspective as I did, and understood that you almost have to retrain your mind a little bit, was a massive help."
Altitude has a bit of a different approach to it's daily content than some of its competitors in town. Whereas some stations in town take the approach of always talking Broncos, Altitude likes the approach of including Rockies, Nuggets and Avalanche talk more than anyone else in the market.
Does Brett miss talking about college football? Sure, but instead of talking about one team for 12 months, there are enough teams and interest in his new city to spread the wealth around. 
"I think it's been good," said Kane. "You almost have to-retrain an audience to a certain extent. Like, no, this is allowed too. You can do this and be successful at it. And I think there's an appetite for it. The most important part, and I'm not going to force feed anything, there is an appetite for the stuff and it came across pretty clearly. We know the Broncos are king and that's never going to change, so when you have teams that are as successful as the Nuggets and Avs are, it would almost feel like you're ignoring that certain segment of people that want that in their daily lives. It's kind of our way of branching out and being and a bit different."
With Dave Tepper at PD and the entertaining list of hosts the station has collected, Altitude has made monumental strides. They've even expanded their content to TV and Twitch, where listeners can watch each host's every move from a television, iphone or computer screen. But just because you can watch, it doesn't mean Kane and his co-hosts are changing the way their radio show is done.
"If anything, what it does is give you an extra glimpse, like some of the faces Moser more will make or the body language these guys have, it's just adds another layer to it. So we can be the most successful Twitch show in the history of Twitch but if the radio staff isn't there, we're just placating to that audience. That's not how it works. We are a radio show and we make sure to say this even we went to television, this is a radio show on TV not a TV show on the radio. We always keep that perspective about it. The only thing that really matters now is don't pick your nose. That's kind of it."
Keep an eye on what Altitude does over the next couple of years. With strong leadership and talent in place, one would think the station's best days are ahead. Especially as Moser, Lombardi and Kane continue to put out content that's relatable to guy's all over the market. Brett Kane is also further proof that outside talent can come into a new market and not only have success, but quick success.
Bypassing the Media, Right to the People
O'Reilly says he wants to cut through the personality-driven hype and the leftist media hate to get to the facts.
There is a reason the term journalist commands such little respect these days. Normal Americans have caught on to the game and realize that, unless otherwise noted, the term simply implies radical liberal party activist.
Take just a few examples from this week, where Americans learned what they probably knew all along – that the media blatantly and purposefully lied about key developments during President Donald Trump's first term.
Remember when Trump touted the possible pandemic-fighting benefits of Hydroxychloroquine? They said he was an unstable nut. However, as reported this week, Trump was right. A study shows using the drug plus zinc increases survival of the virus by three times.
Remember when they said Trump cleared out Lafayette Park across from the White House, shooting "peaceful protesters" with rubber bullets and bombarding them with pepper spray, all so he could have a photo opp in front of church? Well, it turns out he didn't order the clearing of the protesters. The plan had been made days earlier, to build a fence to protect police officers.
And the worst part, the media knew the truth all along, yet declined to share it with the public.
How about the cringe-worthy moment from a recent White House press briefing, where a breathless reporter asked subserviently, "as we are covering the Biden White House, what are we getting wrong?"
And these are just a few of the purposeful media deceptions from this week alone, designed to influence and convert the citizenry, rather than inform it.
The good news for truth-seekers, however, is that the real story is soon coming right to the people. The people will soon hear directly from the source.
Veteran broadcaster Bill O'Reilly is launching an upcoming Trump History Tour, where he will interview the President during a series of fireside-talk themed events at the end of the year. O'Reilly joined Glenn Beck's radio program this week to explain the concept.
"The approach here of the president, sitting and talking and having someone like you, who can rope him in in a fun way, I think is going to be extraordinarily effective," Beck began.
"Here's how it all came about," O'Reilly said. "So I'm watching the inauguration of Joe Biden, and I'm taking notes. In the back of my mind, I'm going…I don't know what happened in the last four years inside the White House, I don't know anything. Because all the reportage was we hate Trump and want to destroy him, or we love Trump and want him to be emperor forever. The basic history arc was empty."
O'Reilly says he wants to cut through the personality-driven hype and the leftist media hate to get to the facts.
"How on earth did the United States get a vaccine to defeat a pandemic in seven months? That seems to be a miracle," he pointed out. "How did that happen…nuts and bolts. What did you do, Mr. President? Who did you speak to? How much money changed hands, and all that. Now these are essential, important questions for every American to know, particularly now when we've entered another era of chaos, absolute chaos is happening in Washington, D.C."
O'Reilly notes that it took some arm-twisting to get Trump to agree to the series of discussions.
"You're not going to be able to recover your political profile, if you don't put things on the record for history," O'Reilly recalls telling Trump about the importance of bypassing the liberal media. "You must tell the American people how you did what you did. And you cannot get a fair shake."
For his part, Beck wants to know how Trump consistently taps into the instincts of Americans, saying "he has the best gut I've ever seen."
Certainly, Mr. Trump has been known to embellish or hyperbolize at times, a tactic that many think is warranted, considering the culture of hatred pushed by Democrats and their media.
"This is not going to be a debate," O'Reilly noted. "I'm going to ask the questions. If he doesn't answer them I'll point it out to him and there will be seven thousand people looking at us. It's not going to be a rally, no MAGA hats on stage, we're not going to do any of that. It's all going to be history."
Ultimately, it came down to Trump agreeing with O'Reilly that citizens deserve the truth the extremist liberal media consistently hides from them.
"The clincher for President Trump was, I said the American people have been deprived, and they have been deprived on purpose, of information about their country which affects them directly. I was looking at him in the eye when I said this. I said that these people, even the people that voted against you, and don't like you, they have no blanking clue what you actually did, because the corporate media assembled to destroy you. And so anything that you did that was positive, including the vax, they were not going to report it accurately if it helped you. And it's the same thing going on now. If it hurts Joe Biden, they're going to black it out." 
Tickets for the upcoming Trump History Tour with Trump and O'Reilly are widely available starting today.
Big Tech Censorship Doesn't Worry Penn. News Talk Station
Following the death of talk pioneer Rush Limnbaugh, stations like News Talk 103.7 FM are doing a great job of finding unconventional ways to deliver the message of conservatism.
Freedom of speech is under attack. Radio stations all over the country are having to think twice about the content they post on social media for fear of being censored, throttled, or even banned from platforms like Twitter and Facebook.
In January, former President Donald Trump was banned from Facebook and Twitter after hundreds converged on the U.S. Capitol. Big Tech blamed him for the alleged insurrection despite conflicting accounts of what took place on that day.
The fallout from that event further divided a nation still reeling from a global pandemic and a contentious election. Conservative talk radio stations who spoke out in favor of Trump felt the wrath as general managers' report losing clients who felt compelled to separate themselves from the firestorm of controversy. Talent was caught in the crosshairs of the imminent threat posed by Big Tech who was silencing voices on the right.
The growing list of conservative voices who have complained about being censored on social media include Candace Owens, Dan Bongino, Mark Levin, Joe Pagliarulo, and former Pittsburgh talk show host Wendy Bell.
In Pennsylvania, where tensions were high following the election and subsequent riots at the Capitol, one conservative news/talk station is pushing on and using workarounds to overcome any attempt by Big Tech to censor its message.
News Talk 103.7 FM in Chambersburg is led by general manager Pat Ryan who was recently promoted to Vice President of Magnum Broadcasting. Ryan sat down with Barrett News Media recently for a one-on-one discussion about several subjects including how he manages people who view the world differently than he does.
As the landscape of talk radio shifts dramatically following the death of talk pioneer Rush Limnbaugh, stations like News Talk 103.7 FM are doing a great job of finding unconventional ways to deliver the message of conservatism.
Ryan Hedrick: Is interest in radio waning from a local market perspective?
Pat Ryan: It is on the way up. The local newspapers here were all absorbed by the USA Today monster and they are not producing local content. Our radio stations speak to local politicians, state senators, and business leaders. We love our platform here. We are not limited in anything, other than our imagination.
RH: Big Tech has banned conservative voices like former President Donald Trump and other advocates who have expressed conservative beliefs. How do you balance expressing your views/beliefs via social media without fear of not getting banned or suspended?
PR: I do not make any apologies. I think the radio station reflects the market very strongly. The first go around for Donald Trump where he had the highest per capita turnout was Fulton County, the same county where the station is licensed to. Franklin County is heavily Republican, Western Maryland, the values are much the same. In fact, I would say that in the Tri-State area, the values are much the same.
RH: Do you place a greater emphasis on what you post on social media or the content that you create and air on the radio?
PR: I would say the launch of our new website has given us an advantage on the methods and options that we have when it comes to creating and distributing content. Take for example a guest like Congressman John Joyce who represents a large majority of our listening audience. Joyce was one of the federal politicians who was ahead of the theory that the coronavirus leaked from the Wuhan lab. Once our radio interview with Joyce is complete,we recap the interview by writing an article that is published on our website. The article is not written from any other perspective other than the banter that we had with Joyce. Listeners and readers can come to their own conclusions as to what was said. After publishing the article on our website, to use social media to boost the story and get more eyeballs on it.
RH: As a general manager, how do you manage people that view the world differently?
PR: Our clients that do not necessarily align with us politically are wise because they want that conservative audience. They have a message to share, and they know that there is great value in sharing their message with everybody. In fact, we routinely share the message on the air that all people are welcomed to share their message with us. We especially want to hear if a particular group feels like they have been denied service. The radio station has an obligation to help those people out. We want to help our community out and do whatever we can for prospective clients.
RH: Are you guys monitoring the rise in censorship against conservatives by Big Tech? Does this trend concern you?
PR: I am not concerned about it. Luckily, the radio station's website is off the Amazon's fields. We have seen some of Big Tech's throttling but in this area, people know where to come for conservative content. They listen to us on the radio, they read the TriStateAlert, and they consume, engage, and share our social media links. Knock yourself out [Jeff] Bezos, and Jack [Dorsey], if you want to throttle us, go ahead, and knock yourself out.
RH: Given the rise in censorship today, how do we get back to a place where talent can feel comfortable rather than being always under a microscope?
PR: Just be yourself. Being real is a great quality and a great way to sidestep any controversy that may arise or get censored. Talent that shares life experiences and takes the listener inside of their reality is creating a scenario that is hard to censor and hard to argue with.
CNN Enjoys Ratings Lift Thanks To Documentaries
"The latest feature documentary from CNN Films, topped cable news on May 31 among total viewers and adults 25-54, according to Nielsen Media Research."
The premiere of "Dreamland: The Burning of Black Wall Street", the latest feature documentary from CNN Films, topped cable news on May 31 among total viewers and adults 25-54, according to Nielsen Media Research. On the night of Memorial Day, all three news networks had featured special programming.
From 9-11 p.m., CNN was the most watched with 1.413 million total viewers. Fox News averaged 1.272 million and MSNBC did 985,000. In the key demo adults 25-54, CNN averaged 314,000, which also easily bested FNC (155,000) and MSNBC (109,000).
The May 31st airing of "Dreamland" was also CNN's top single telecast in total viewers and adults 25-54 since President Biden's first official address to Congress on Apr. 28, based on Nielsen's live plus same day data.
The film was directed by Salima Koroma. LeBron James and Maverick Carter of The SpringHill Company, and Amy Entelis and Courtney Sexton of CNN Films all served as executive producers.
CNN's other recent documentary "The Story of Late Night" drew decent numbers this past spring. The six-part chronicle of the decades-long evolution of late night television aired in the 9 p.m. hour Sunday nights from May 2 thru June 6. From observing its live plus same day viewer track for its initial telecasts, the program lost steam as the weeks progressed:
May 2: 1.027 million
May 9: 1.125 million
May 16: 0.862 million
May 23: 0.865 million
May 30: 0.668 million
June 6: 0.587 million
Nonetheless, it added another 215,000 viewers to each episode when factoring live plus seven-day which encompasses DVR, on demand and streaming. In addition, the aforementioned data for "The Story of Late Night" does not include figures from the many rerun telecasts CNN has aired.
The direct time slot competition for the CNN documentary was Fox News' "The Next Revolution". The Steve Hilton-hosted hourlong program's track within those same Sunday hours were, as follows:
May 2: 1.159 million
May 9: 1.159 million
May 16: 1.359 million
May 23: 1.069 million
May 30: 0.950 million
June 6: 1.351 million
Fox News was the total viewers leader (in cable news) within the hour, but the program — a discussion of current events — adds only approximately 44,000 viewers (on average) within its 7-day period following initial airings.
Using the Live+7 metric, only the first two parts of the six-part "The Story of Late Night" were able to top "The Next Revolution": on May 2 (1.293 million vs. 1.19 million) and on May 9 (1.327 million vs. 1.202 million).
Here are the cable news averages for May 31-June 6, 2021 — cable's best mark for the week in total viewers based on total day was by Fox News Channel; the 16th consecutive week FNC has accomplished this achievement:
Total Day (May 31-June 6 @ 6 a.m.-5:59 a.m.)
Fox News Channel: 1.107 million viewers; 189,000 adults 25-54
MSNBC: 0.751 million viewers; 98,000 adults 25-54
CNN: 0.554 million viewers; 120,000 adults 25-54
Prime Time (May 31-June 5 @ 8-11 p.m.; June 6 @ 7-11 p.m.)
Fox News Channel: 1.974 million viewers; 296,000 adults 25-54
MSNBC: 1.261 million viewers; 158,000 adults 25-54
CNN: 0.779 million viewers; 168,000 adults 25-54
Top 10 most-watched cable news programs (and the top CNN program with their respective associated rank) in total viewers:
1. Tucker Carlson Tonight (FOXNC, Wed. 6/2/2021 8:00 PM, 60 min.) 2.983 million viewers
2. Tucker Carlson Tonight (FOXNC, Thu. 6/3/2021 8:00 PM, 60 min.) 2.903 million viewers
3. Hannity (FOXNC, Thu. 6/3/2021 9:00 PM, 60 min.) 2.599 million viewers
4. The Five (FOXNC, Thu. 6/3/2021 5:00 PM, 60 min.) 2.598 million viewers
5. Hannity (FOXNC, Wed. 6/2/2021 9:00 PM, 60 min.) 2.576 million viewers
6. Tucker Carlson Tonight (FOXNC, Tue. 6/1/2021 8:00 PM, 60 min.) 2.574 million viewers
7. The Five (FOXNC, Tue. 6/1/2021 5:00 PM, 60 min.) 2.486 million viewers
8. The Five (FOXNC, Wed. 6/2/2021 5:00 PM, 60 min.) 2.479 million viewers
9. Rachel Maddow Show (MSNBC, Thu. 6/3/2021 9:00 PM, 60 min.) 2.446 million viewers
10. Rachel Maddow Show (MSNBC, Wed. 6/2/2021 9:00 PM, 60 min.) 2.436 million viewers
48. CNN Films "Dreamland: Black Wall Street" (CNN, Mon. 5/31/2021 9:00 PM, 120 min.) 1.413 million viewers
Top 10 cable news programs (and the top MSNBC and CNN programs with their respective associated ranks) among adults 25-54:
1. Tucker Carlson Tonight (FOXNC, Thu. 6/3/2021 8:00 PM, 60 min.) 0.505 million adults 25-54
2. Tucker Carlson Tonight (FOXNC, Wed. 6/2/2021 8:00 PM, 60 min.) 0.488 million adults 25-54
3. Hannity (FOXNC, Wed. 6/2/2021 9:00 PM, 60 min.) 0.421 million adults 25-54
4. The Ingraham Angle (FOXNC, Wed. 6/2/2021 10:00 PM, 60 min.) 0.400 million adults 25-54
5. The Five (FOXNC, Thu. 6/3/2021 5:00 PM, 60 min.) 0.398 million adults 25-54
6. Tucker Carlson Tonight (FOXNC, Fri. 6/4/2021 8:00 PM, 60 min.) 0.391 million adults 25-54
7. Tucker Carlson Tonight (FOXNC, Tue. 6/1/2021 8:00 PM, 60 min.) 0.383 million adults 25-54
8. Hannity (FOXNC, Thu. 6/3/2021 9:00 PM, 60 min.) 0.380 million adults 25-54
9. The Five (FOXNC, Wed. 6/2/2021 5:00 PM, 60 min.) 0.375 million adults 25-54
10. The Five (FOXNC, Tue. 6/1/2021 5:00 PM, 60 min.) 0.369 million adults 25-54
15. Rachel Maddow Show (MSNBC, Wed. 6/2/2021 9:00 PM, 60 min.) 0.325 million adults 25-54
17. CNN Films "Dreamland: Black Wall Street" (CNN, Mon. 5/31/2021 9:00 PM, 120 min.) 0.314 million adults 25-54
Source: Live+Same Day data, Nielsen Media Research