Brett Kane Is Here To Kick Back & Make People Laugh
"They are so much like my group of friends that I hang out with, where, really, it's all about busting each other's balls."
Butt dials are almost always a super embarrassing situation. Sometimes it means accidentally dialing an ex, other times it may mean texting absolute gibberish to a contact you've made. Regardless, it's super embarrassing. Oh and I may or may not have experience with one or both of those.
But there's at least one known instance where a pocket dial actually benefited someone. In fact, it actually helped create one of the best sports radio segments in Denver.
Brett Kane was hosting a show at 93.7 The Ticket, near his hometown in Nebraska. While listening to a podcast during a workout, he accidentally hit the speed button you can find at the bottom left hand corner on Apple Podcasts to make it to half-speed. He laughed hysterically, sure, but with that, also, sparked a brilliant idea for a new segment.
"I think I was listening to a Dan Le Batard Show podcast," said Kane. "Hearing Stugotz slowed down was the most hysterical thing in the world. I had to pause doing any sort of exercise, because I was dying laughing. I went to one of our podcasts at the time and said, what if I just did this to us? The same thing happened. Now it's become if you hear anything, and our producer Marty is so good at this, if you hear anything that could remotely sound like it's funny, mark it and try it and see if it will work. It really was an accident. But it's one of those things where I heard it and a lightbulb went off."
Drunk Takes has become one of the best segments on Moser, Lombardi and Kane. It works because it's both funny and unique content, but also because it fits perfectly with the theme of the show, which, simply, is three guys sitting around and busting each other's balls.
Kane isn't exactly new in Denver, he's been there for over two years since getting the gig with Altitude Sports Radio. But compared to his two co-hosts, Marc Moser and Vic Lombardi, he might as well be wearing a fanny pack and holding a camera around his neck like a tourist. However, finding chemistry with two longtime Denver personalities wasn't as difficult as the native Nebraskan initially thought it would be. 
"They are so much like my group of friends that I hang out with, where, really, it's all about busting each other's balls," said Kane. "That's honestly what it is. I got in here and it literally took me a week, maybe two, to figure out it was going to be very, very simple. Our sense of humor is the same and they just want to kick back and make people laugh. Everyone's got their different quirks and you have to find out what makes people tick, but for a starting point, I feel like I was ahead an entire lap when this whole thing started."
It makes their show super relatable. Three guys sitting around and talking sports while making fun of each other sounds like every guy's group of friends. If the goal in sports radio is to make it seem like you're having a conversation in a bar, Moser, Lombardi and Kane accomplish that on a daily basis with their style and humor.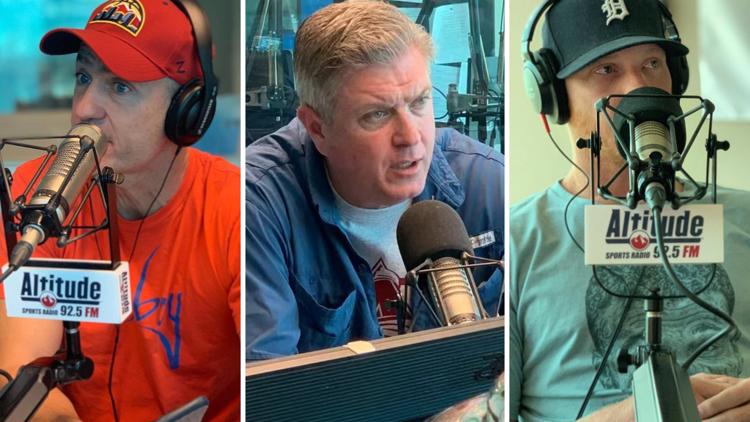 "It's funny because we usually get this from people who are new to the show, and if you listen to the show for a while you get it, but poor Moser," laughed Kane. "He probably gets it the worst out of anybody. We all get our turn on the hot seat, right, that's what we always say. At the end of it, we get people every once in a while saying something like, do you guys hate him? Why do you keep picking on him?
"It's almost like we have to explain to people the reason why we do this is because we genuinely like each other. You don't start crushing somebody you don't like to their face. That's not how it works."
One of the best things about getting hired at Altitude Sports Radio for Kane, was the timeline that it happened on. Dave Tepper, who's had success in multiple markets, was hired away from 1620 The Zone in Omaha to become the PD at Altitude. It was a huge help for Kane, seeing as his boss was also leaving Nebraska for a new market and near the same exact time as him. 
"It was almost like a buddy who you're on vacation with," Kane said. "Like, hey, have you checked the spot out yet? Have you visited here? It was a feeling that we were trying to figure this thing out together, because he was only here a few months before I was. You're trying to learn a new place, and I love it here, but I've lived in Nebraska for basically my entire life and it's different here.
"You're just trying to get a feel of what people want, especially coming from a market like I did in Nebraska, where it doesn't matter if it's in the middle of football season or in May, it's Husker football the whole time. You almost recalibrate because there's so much more here, as far as the sports landscape. Having someone else who had the same perspective as I did, and understood that you almost have to retrain your mind a little bit, was a massive help."
Altitude has a bit of a different approach to it's daily content than some of its competitors in town. Whereas some stations in town take the approach of always talking Broncos, Altitude likes the approach of including Rockies, Nuggets and Avalanche talk more than anyone else in the market.
Does Brett miss talking about college football? Sure, but instead of talking about one team for 12 months, there are enough teams and interest in his new city to spread the wealth around. 
"I think it's been good," said Kane. "You almost have to-retrain an audience to a certain extent. Like, no, this is allowed too. You can do this and be successful at it. And I think there's an appetite for it. The most important part, and I'm not going to force feed anything, there is an appetite for the stuff and it came across pretty clearly. We know the Broncos are king and that's never going to change, so when you have teams that are as successful as the Nuggets and Avs are, it would almost feel like you're ignoring that certain segment of people that want that in their daily lives. It's kind of our way of branching out and being and a bit different."
With Dave Tepper at PD and the entertaining list of hosts the station has collected, Altitude has made monumental strides. They've even expanded their content to TV and Twitch, where listeners can watch each host's every move from a television, iphone or computer screen. But just because you can watch, it doesn't mean Kane and his co-hosts are changing the way their radio show is done.
"If anything, what it does is give you an extra glimpse, like some of the faces Moser more will make or the body language these guys have, it's just adds another layer to it. So we can be the most successful Twitch show in the history of Twitch but if the radio staff isn't there, we're just placating to that audience. That's not how it works. We are a radio show and we make sure to say this even we went to television, this is a radio show on TV not a TV show on the radio. We always keep that perspective about it. The only thing that really matters now is don't pick your nose. That's kind of it."
Keep an eye on what Altitude does over the next couple of years. With strong leadership and talent in place, one would think the station's best days are ahead. Especially as Moser, Lombardi and Kane continue to put out content that's relatable to guy's all over the market. Brett Kane is also further proof that outside talent can come into a new market and not only have success, but quick success.
Tyler McComas is a columnist for BSM and a sports radio talk show host in Norman, OK where he hosts afternoon drive for SportsTalk 1400. You can find him on Twitter @Tyler_McComas or you can email him at TylerMcComas08@yahoo.com.
Market Still Finding 2023 Footing
After some rigorous data analysis, the thoughtful, numbers-based host was able to formulate some potential conclusions.
While it's hard to imagine 2023 being as painful for investors as 2022, experts still cannot say for certain we are destined for blue skies ahead. Many in the media are starting the year by sifting through the stock market tea leaves; trying to figure out what historical data can tell us about probabilities and expectations for the next twelve months.
Some think the United States is poised for a market rebound, while others remain quite bearish, feeling that negative policy implications have yet to be fully realized.
Peter Tuchman of Trademas Inc. joined Neil Cavuto on his Fox News program Friday, to offer his thoughts about where the American stock market might be headed in light of the newly-divided United States Congress.
"Markets have a sort of a gut of their own," Cavuto opened. "Today's a good example. We're up 300 points, ended up down 112 points. What's going on?"
"Markets don't like unknowns, and markets need confidence. The investing community needs confidence," Tuchman said. "And I think it's going to take a lot of work to rebuild that. And as we saw the other night with what went on in the House, it feels like people should get busy governing as opposed to all this posturing."
Six months ago, Tuchman didn't have a solid feel for the direction of the market. And just two trading weeks into the year, he still doesn't believe any real trend has been established.
"The market has yet to find its ground. It's yet to find its footing," Tuchman told Cavuto. "And still, even coming into 2023, the first week of trading we have not found our footing. We have come in on a couple of economic notes that were a little bit positive. We opened up with a little bit of irrational enthusiasm. By the end of the days we were trading down."
Meanwhile, some financial outlets, such as CNBC, have dug into the data showing what a market rise during the year's first week – such as what we experienced this year – potentially means for the rest of 2023. They published a story last week with the headline, "Simple 'first five days' stock market indicator is poised to send a good omen for 2023".
On an episode of his popular YouTube program late last week, James from Invest Answers dug into 73 years of stock market data, to test that theory and see if the first five days of yearly stock market performance are an indicator of what the market might do over the full year.
"Some analysts pay attention to this, the first five trading day performance, can it be an indicator of a good year or a bad year," James began last week, "I wanted to dig into all of that and get the answer for myself. Because some people think yes. Some people swear blind by it. Some people think it's a myth or an old wive's tale. Some people think it's a great omen."
After some rigorous data analysis, the thoughtful, numbers-based host was able to formulate some potential conclusions.
Based on James' analysis…
If the gains from the first five market days of the year are negative, the market rises 86 percent of the time over the full year, with an average gain of 6%.
If the first five days are positive, the market increases 92% of the time, with an average yearly gain of 16%.
Most importantly, in this year's scenario, where the first five days saw a jump of more than 1%, the market traditionally ends positive for the year 95 percent of the time. Those years see an average yearly gain of 18%.
"Is it a good omen, does it look bullish?" James asked. "Well, yes, based on history. But remember, there are factors like inflation, interest rates, geopolitical turmoil, supply chains, slowing economy. All that stuff is in play. But history also says that the market bounces bounces back before the market even realizes it's in a recession. That's an important thing to know."
On his Your World program, Cavuto wondered if the recent House speaker voting drama has added to the uncertainty facing markets.
"Historically, Wall Street definitely is a bit more friendly to a Republican administration," Tuchman said. "We're in new ground, there's no playbook, Neil. And I went over it with you the last time. There's no playbook for coming out of a pandemic. No playbook for what's gone on over the last two and a half years. Let's think about it. March 2020, the market sold off so radically. We had a rally of 20 percent in 2020. 28 percent in 2021, in the eyes of a global economic shutdown due to the Federal Reserve's posturing and whatnot.
"And now we're trying to unwind that position. In tech, and in possible recession, and inflation and supply chain issues. So, there's no way historically to make a judgment on what the future looks like in that realm, let alone what's going on in the dis-functionality of what's happening in Washington. I would like to disengage what's going on in Washington and try and rebuild the confidence in the market coming into 2023."
So while the data might indicate a strong year ahead, the fact is that many analysts still won't make that definitive call amidst such economic turmoil gripping the country.
Along with U.S. markets, they remain steadfast in their search for solid footing.
Rick Schultz is a former Sports Director for WFUV Radio at Fordham University. He has coached and mentored hundreds of Sports Broadcasting students at the Connecticut School of Broadcasting, Marist College and privately. His media career experiences include working for the Hudson Valley Renegades, Army Sports at West Point, The Norwich Navigators, 1340/1390 ESPN Radio in Poughkeepsie, NY, Time Warner Cable TV, Scorephone NY, Metro Networks, NBC Sports, ABC Sports, Cumulus Media, Pamal Broadcasting and WATR. He has also authored a number of books including "A Renegade Championship Summer" and "Untold Tales From The Bush Leagues". To get in touch, find him on Twitter @RickSchultzNY.
Does Radio Need A Video Star?
If there's revenue attached, the debate is over. If there isn't a deal on the table, and there aren't already orders to monetize a video stream, it's likely coming soon.
Last week numerous stories about using video with broadcasting or audio podcasting became a hot topic of discussion.
A Morning Consult poll found that 32% of Americans prefer podcasts with video, compared with 26% who like just audio better. Among podcast listeners, 46% said they favor them with video, compared with 42% who said they would rather listen without video. It's worth noting that these are podcast listeners, not radio listeners.
Video has become the latest trend in audio. Almost everybody is trying to do some form of video. Many shows already stream online. A few others simulcast on a television or cable channel. It seems nobody believes in pure audio anymore. It's a wonder everybody didn't go into television instead of radio.
Before everybody else starts adding webcams in the studio, it's worth weighing the reasons to move ahead versus slowing down.
The first person to realize they could use video of their show may have been Howard Stern. In June 1994, Stern started a daily half-hour show on E! network, featuring video highlights from his radio show. Stern added slick production values and faster pacing on the E! show.
Don Imus started simulcasting on cable during the same month. It's possible others that I'm not aware of started earlier.
Stern's E! show made sense. It answered the most common questions people asked about the show, in addition to what's he really like; the first questions people usually asked were: 1) Are the women really as good-looking as he says? 2) Do they really take their clothes off? The E! show answered those questions. In addition, it gave a backstage glimpse of the show.
The same month Stern's E! Show began, Imus began simulcasting his show on cable networks. I would have feared losing ratings. In fact, Imus' program director did!
I spoke to my long-time friend and colleague Mark Chernoff (Current Managing Director of Mark Chernoff Talent and on-air talent 107.1 The Boss on the NJ Shore, Former Senior VP WFAN and CBS Sports Radio, VP Sports Programming CBS Radio) about the impact simulcasting Imus' show had on WFAN. Chernoff may have the broadest range of experiences with simulcasting radio programs with video.
Imus began on CSPAN but shortly afterward moved to MSNBC. Chernoff told me: "When we started simulcasting Imus, I suggested we'd lose about 15% of our radio audience to TV, which we did." Chernoff added that there was a significant revenue contribution and that the company was content with the trade-off.
WFAN had a different experience simulcasting Mike and the Mad Dog on YES in 2002. "In this case, TV was helpful, and we increased listenership," said Chernoff. WFAN also benefited financially from this simulcast.
Imus was on in morning drive while Mike & the Mad Dog were on in the afternoon. Keep the era in mind, too. Before smartphones and high-speed streaming, it was not uncommon for people to have televisions in the bed or bathrooms and have the tv on instead of the radio as they got ready for their day. In the afternoon, fewer people would have had video access in that era.
Ratings measurement moved to Portable People Meter (PPM) by the time WFAN started streaming middays on its website. Chernoff reported streaming had no ratings or revenue impact – positive or negative – on middays. However, the company did provide an additional dedicated person to produce the video stream.
The early forays into video by pioneers such as Stern, Imus, and Mike & the Mad Dog are instructive.
There are good reasons to video stream shows. Revenue is a good reason.
If there's revenue attached, the debate is over. If there isn't a deal on the table, and there aren't already orders to monetize a video stream, it's likely coming soon.
Another good reason is if the video can answer questions about the show, as the E! show did for Howard Stern.
On the other hand, audio companies are going to throw a lot of money at video, based on the notion that it's what they "should" do because:
It's the latest trend. Being late on this trend is different from missing the Internet or Podcasting. Industries already revolve around video; television and film come to mind.
Podcast listeners like it (by a slight plurality).
Before turning on webcams, see what viewers will see. The studios at many stations I've worked at were better not seen. Considerations include; the set, lighting, wardrobe, visuals, and a plan.
Too many video streams of studios feature the fire extinguisher prominently in the shot or the air personalities milling about during terminally long breaks.
Before going live, watch the video with no audio. Is it interesting? Compelling? Does the video draw you in, or is it dull?
With program directors now spread so thin handling multiple stations, a dedicated person to oversee streaming should be a requirement for stations streaming shows.
Other considerations:
How could this help us, and how could it hurt us?
How does the video enhance the show?
Will personalities do their radio show or perform for the cameras?
What production values are you able to add to the video?
What happens during those seven- eight-minute breaks if it's a live radio show (vs. a podcast)? What will people streaming video see and hear? Does everybody on the show get along?
Do you have revenue attached? What do you expect will happen to the ratings?
WFAN earned significant revenue for two. Therefore, the company wasn't concerned when the ratings took a hit for the first one and were surprised when they helped the second one. They didn't see any impact on ratings or revenue the third time.
After all the budget cuts and workforce reductions over the past decade-plus, before audio companies invest in video, shouldn't we get: people, marketing, promotion, or research monies back first?
Most of us decided to get into radio (or podcasting) instead of television or film. There's a reason they said, "video killed the radio star."
Andy Bloom is president of Andy Bloom Communications. He specializes in media training and political communications. He has programmed legendary stations including WIP, WPHT and WYSP/Philadelphia, KLSX, Los Angeles and WCCO Minneapolis. He was Vice President Programming for Emmis International, Greater Media Inc. and Coleman Research. Andy also served as communications director for Rep. Michael R. Turner, R-Ohio. He can be reached by email at andy@andybloom.com or you can follow him on Twitter @AndyBloomCom.
Streaming Platforms Cannot Be Forgotten By News/Talk Program Directors
BNM's Pete Mundo writes that if you're a News/Talk program director, you run two radio stations and what comes through the streaming platforms.
If you're a News/Talk program director, you run two radio stations. Didn't you know that? Oh. Well, you do. 
I'm not just referring to our over-the-air broadcast but also what comes through our streaming platforms. Alexa, Google Home, apps, computers, etc., are all streaming platforms of our radio stations, which for most of us, are airing different commercial inventory than what is coming through the radio.
I understand none of us are unnecessarily looking to add to our plate, but our streaming platforms are the way we are getting more people to use our product. So neglecting, or forgetting about it, is a bad business decision, especially in the talk space.
Across all clusters, talk radio is far more likely to have high streaming use when it comes to total listening hours. Listeners are more loyal to our personalities and often can't get the AM dial in their office buildings during the day, or even if they can, they don't want to hear our voices through static, so they pull up the stream.
It's never been easier to listen to talk radio stations, thanks to our station apps and websites (although welcoming some sites to the 21st century would be a good idea). So, given the challenges many of us face on the AM band, why not push our audience to the stream and make sure the stream sounds just as good as the over-the-air product?
The tricky part in putting together a quality stream sound is trying to balance what ads are programmatic, which ones are sold locally, where is the unfilled inventory and what is filling that gap?
And unlike your over-the-air product, where you can go into a studio, see what's coming up, and move inventory around, that technology is not available in most cases. So yes, it's a guessing game.
But as the talk climate continues to change, the best thing we can do to build our brand and trust with the next generation of talk radio listeners is to find them and engage them where they are, which may not always be next to a physical radio. That will be on a stream. How do I know that? Because if they have a smartphone, they have (access to) the stream.
Of course, the over-the-air product remains the massive revenue generator for our stations, as in most cases, the streaming revenue is not close to comparable. But then, if we look years down the road, that will likely start to change.
To what degree? That's unknown. But double-digit growth on an annual basis should not be out of the question when it comes to stream listening. It should be a very achievable goal, especially in our format. So our listeners who are P1's, love the station and want to consume as much of the content as they can, can be on the AirPods in the gym, desk at work, or in their home office and listen to our radio stations.
Heck, with Alexa and Google Home, they don't even have to turn a dial! They just speak. So if they're there, let's keep them there.
There are simply too many media options today to lose our listeners due to sloppy streaming quality that makes us sound like a college radio station. Instead, listeners, who find us there should be rewarded with a listening experience that is just as high-quality as what they would get on the AM or FM band.
And if we play our cards right, it will be better, serving the industry incredibly well through a new generation of listeners.
Pete Mundo is the morning show host and program director for KCMO in Kansas City. Previously, he was a fill-in host nationally on FOX News Radio and CBS Sports Radio, while anchoring for WFAN, WCBS News Radio 880, and Bloomberg Radio. Pete was also the sports and news director for Omni Media Group at K-1O1/Z-92 in Woodward, Oklahoma. He's also the owner of the Big 12-focused digital media outlet Heartland College Sports. To interact, find him on Twitter @PeteMundo.