How To Goon Up Hockey In One Sickening Swoop
Rather than market Connor McDavid and what's great about the sport, the NHL enabled a week of violence, suggesting head-hunting is part of its future as commissioner Gary Bettman seeks eyeballs for his new TV partners.
Gary Bettman, meet Joe Rogan. If the NHL is degenerating into a death sport, the commissioner should hire the voice of the Octagon to narrate the goonery. Here in America, home of police shootings and Capitol rioting and whatever else in God's name awaits us, it was inevitable that hockey would turn repulsive when new broadcast deals were signed last month.
Violence sells, you see. Pressured to justify unprecedented riches — the $4.5 billion paid by ESPN and Turner Sports over the next seven seasons — Bettman and his henchmen have rebooted a sickening reality that has defined hockey in this country for decades: Only when the No. 4 sport makes us vomit do the masses pay attention. Diehard puckheads might care about Connor McDavid, Sidney Crosby, Auston Matthews and Victor Hedman, but the time-proven way to gain traction in the upper "SportsCenter" news cycle is to enable thug behavior.
Rather than ban the ice terrorist, Tom Wilson, for his crimes against New York Rangers humanity, Bettman and his farcically named Department of Player Safety — all caps, I swear — basically pardoned his Monday night acts with a $5,000 fine and no suspension. In letting him off lightly, even after he sucker-punched Pavel Buchnevich and body-slammed Artemi Panerin like a ragdoll, the league set up a Wednesday blood rematch between the Rangers and Wilson's Washington Capitals that all but endorsed rival gang warfare — and drew eyeballs across North America. Because Bettman and his so-called safety chief, former NHL brawler George Parros, refused to penalize Wilson severely, the Rangers felt compelled to punish him and his teammates with their fists.
If the NHL wished to incite a riot in Madison Square Garden, it succeeded wretchedly. The opening minutes featured six fights, including three at once immediately after the opening face-off and another 49 seconds later, when Rangers defenseman Chris Smith confronted Wilson. The teams combined for 72 penalty minutes before five game minutes had elapsed, and, predictably, Wilson accumulated 15 penalty minutes before leaving in the second period with an upper-body injury. This was some seriously demented retribution, all obeying a locker-room code that should have been retired in the last century but still exists because, you know, it promotes testosterone rage and spikes ratings. The explanations afterward were as warped as the scripted brawling.
"I definitely think we felt the need to take matters into our own hands a bit," Rangers center Ryan Strome said. "I thought it was a great response. And hats off to them for answering the bell. They knew our frustration. We solved it and played the rest of the game."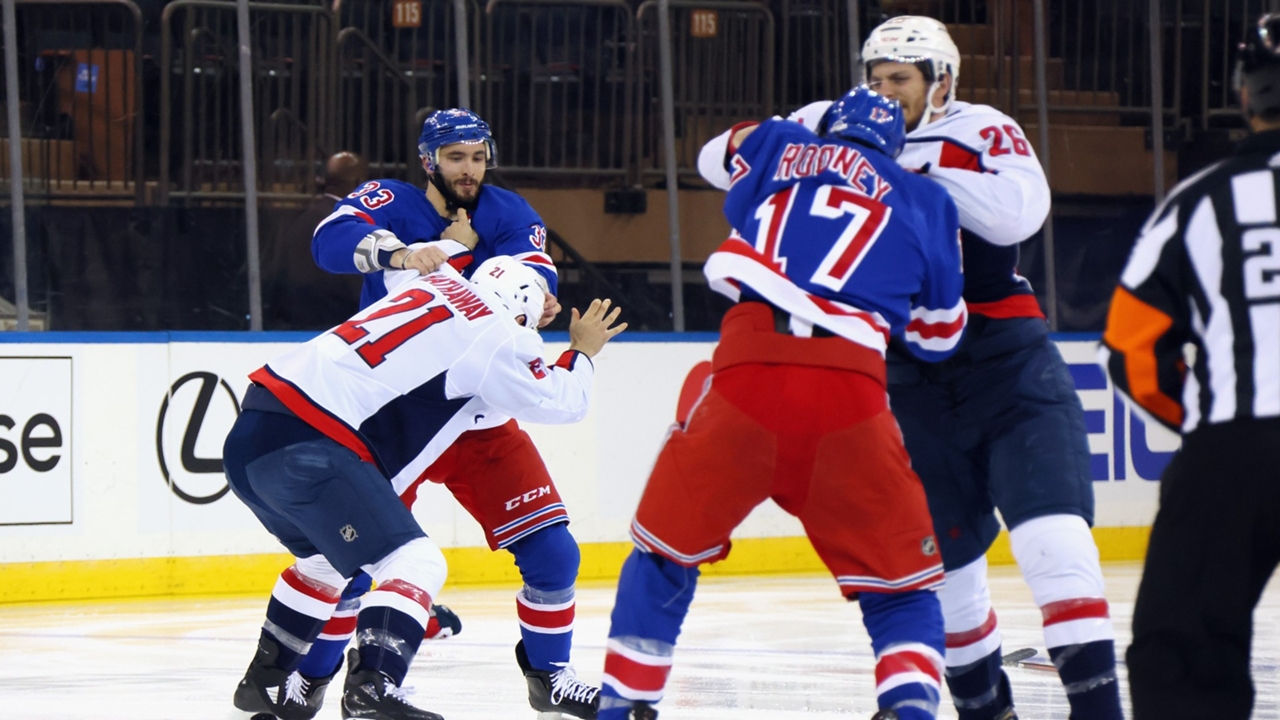 Said Smith, who proudly took on Wilson: "You guys watched what happened the game before. I thought that it should have been handled before this game, and it wasn't, so unfortunately it had to be on my shoulders, and I took it."
Close your eyes. Imagine Roman Gladiators in violent confrontations in the Colosseum, or modern lunatics being gorged by the bulls in Pamplona. Is this what the NHL has come to: another deep dive into the gutter?
Always considered inept and backward-thinking, Bettman now looks foolish and desperate. He only exacerbated matters Thursday when he pounded the Rangers with a $250,000 fine — $245,000 more than Wilson was punished for head-hunting — for daring to criticize the league and Parros in a wide-ranging statement. Suddenly, the NHL feels like a Communist dictatorship, caring much more about its bruised feelings than the safety of its players.
"Public comments of the nature issued by the Rangers that were personal in nature and demeaning of a League executive will not be tolerated," Bettman said in a statement. "While we don't expect our Clubs to agree with every decision rendered by the Department of Player Safety, the extent to which the Rangers expressed their disagreement was unacceptable. It is terribly unfair to question George Parros' professionalism and dedication to his role and the Department of Player Safety."
Again, all in capital letters.
What is the purpose of fighting-as-entertainment when players are injured, including one of the sport's better offensive weapons — and statesmen — in Panarin? The league's lack of action spun the Rangers into utter disarray, fueled by none other than owner James Dolan, who meddles in hockey now that the Knicks miraculously have been repaired by Leon Rose and Tom Thibodeau. In a statement reportedly ordered by Dolan, the Rangers called for the ouster of Parros and said they were disturbed Wilson wasn't suspended. After all, isn't he the maniac who has been suspended five times, including a 14-game ban in 2018 after he checked St. Louis' Oskar Sundqvist in the skull? Just a few weeks ago, Wilson was suspended seven games for a dirty hit that left Boston's Brando Carlo with a concussion.
This guy doesn't just hunt heads. He collects them and eats them for dinner. Yet, Wilson will be eligible to wreak more havoc — and injure more opponents — in the playoffs. Said the Dolan-inspired statement: "The New York Rangers are extremely disappointed Capitals forward Tom Wilson was not suspended for his horrifying act of violence at Madison Square Garden. Wilson is a repeat offender with a long history of these type of acts and we find it shocking that the NHL and their Department of Player Safety failed to take the appropriate action and suspend him indefinitely. Wilson's dangerous and reckless actions caused an injury to Artemi Panarin that will prevent him from playing again this season. … We view this as a dereliction of duty by NHL Head of Player Safety, George Parros, and believe he is unfit to continue in his current role."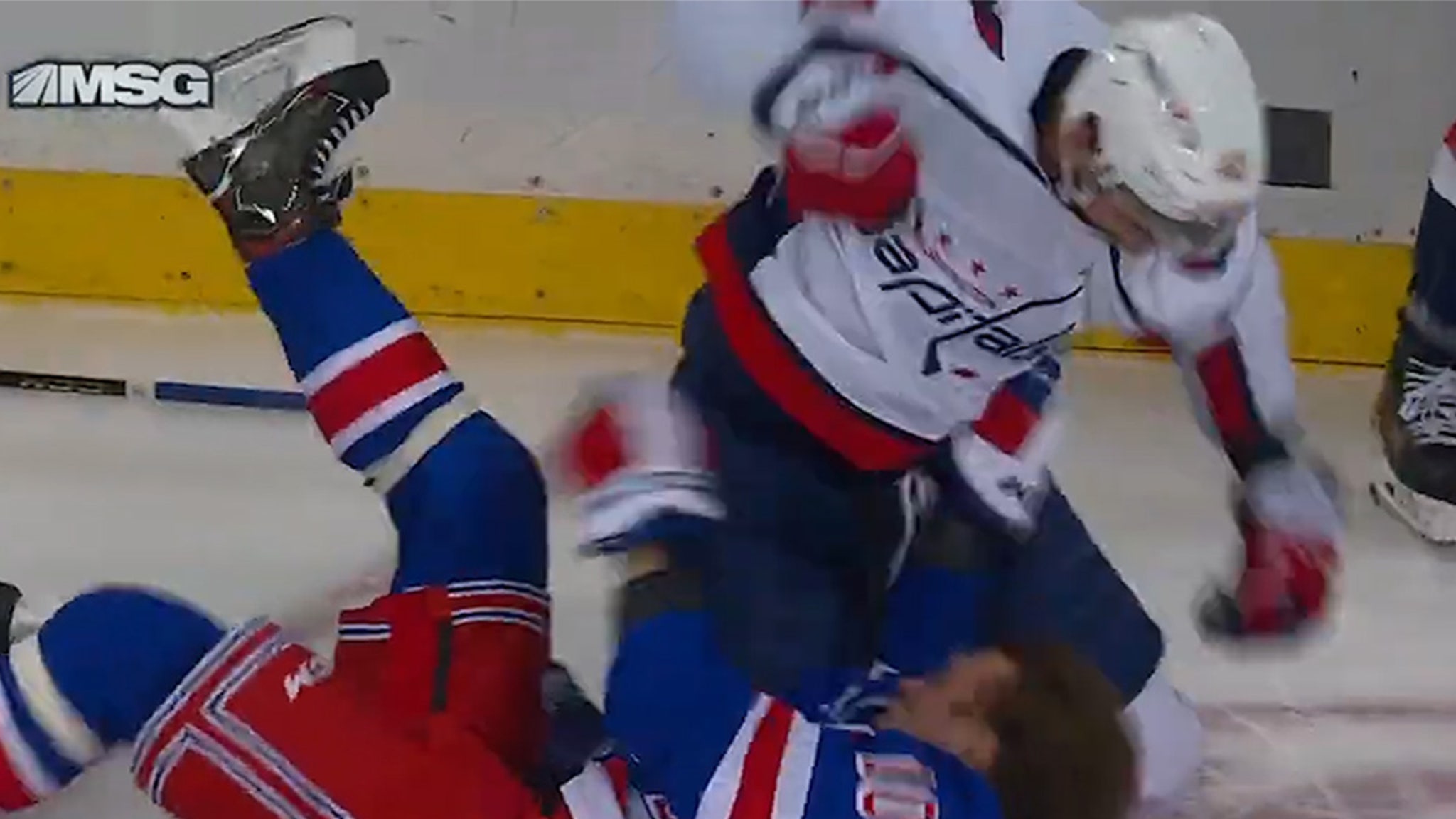 Naturally, the Capitals thought the episode was a lot of nothing. "Blown out of proportion," center Lars Eller said. "I don't think people see things clearly when it comes to Tom with things that he's involved in. There's already a biased opinion of him."
Can't imagine why.
Then Dolan turned on his own front office, firing team president John Davidson and general manager Jeff Gorton and replacing both with Chris Drury. The Rangers aren't going to the playoffs and didn't show much mettle in their fourth straight loss. Yet, somehow, lame-duck coach David Quinn was proud of his guys for standing up to the bully. "To me, when something like that happens, it certainly speaks volumes about how these guys want to play for each other and stick up for each other in difficult circumstances," he said. "We all saw what happened the other night. Nobody is happy about it. I couldn't be prouder of these guys."
The in-arena hockey experience is the most thrilling in sports, I believe. But Bettman and various networks haven't figured out how to transfer that fury and emotion to the broadcasts. Thus, the NHL is a fighting league again. In a year when McDavid, the Edmonton phenom, might reach 100 points in a COVID-19-shortened, 56-game season, Tom Wilson is the larger conversation piece. His criminal activity was exacerbated by the Capitals' social media site, which went low-brow in a since-deleted tweet — "atCapitals chooses: Violence" — beside a photo of Wilson and a cryptic comment that he lives "rent-free" in the minds of others as "the best goal scorer in the league."
I would like to like hockey. The culture won't let me. The Capitals won the rematch thanks to T.J. Oshie, who scored twice while grieving the death of his father only a day earlier. He was hugged after the victory by teammate Nicklas Backstrom, who said, "I saw he got emotional there at the end, which was understandable. I felt like he needed a hug. I told him, `You are the strongest person I know.' First of all, it's impressive that he actually played today, I think, and how he led the way. … We are a family. We are in this together. His loss is everyone's loss."
The Oshie story should have been the takeaway.
The punches knocked out that fond memory, too.
Being Wrong On-Air Isn't A Bad Thing
…if you feel yourself getting uncomfortable over the fact that you were wrong, stop to realize that's your pride talking. Your ego. And if people call you out for being wrong, it's actually a good sign.
In the press conference after the Warriors won their fourth NBA title in eight years, Steph Curry referenced a very specific gesture from a very specific episode of Get Up that aired in August 2021.
"Clearly remember some experts and talking heads putting up the big zero," Curry said, then holding up a hollowed fist to one eye, looking through it as if it were a telescope.
"How many championships we would have going forward because of everything we went through."
Yep, Kendrick Perkins and Domonique Foxworth each predicted the Warriors wouldn't win a single title over the course of the four-year extension Curry had just signed. The Warriors won the NBA title and guess what? Curry gets to gloat.
The funny part to me was the people who felt Perkins or Foxworth should be mad or embarrassed. Why? Because they were wrong?
That's part of the game. If you're a host or analyst who is never wrong in a prediction, it's more likely that you're excruciatingly boring than exceedingly smart. Being wrong is not necessarily fun, but it's not a bad thing in this business.
You shouldn't try to be wrong, but you shouldn't be afraid of it, either. And if you are wrong, own it. Hold your L as I've heard the kids say. Don't try to minimize it or explain it or try to point out how many other people are wrong, too. Do what Kendrick Perkins did on Get Up the day after the Warriors won the title.
"When they go on to win it, guess what?" He said, sitting next to Mike Greenberg. "You have to eat that."
Do not do what Perkins did later that morning on First Take.
Perkins: "I come on here and it's cool, right? Y'all can pull up Perk receipts and things to that nature. And then you give other people a pass like J-Will."
Jason Williams: "I don't get passes on this show."
Perkins: "You had to, you had a receipt, too, because me and you both picked the Memphis Grizzlies to beat the Golden State Warriors, but I'm OK with that. I'm OK with that. Go ahead Stephen A. I know you're about to have fun and do your thing. Go ahead."
Stephen A. Smith: "First of all, I'm going to get serious for a second with the both of you, especially you, Perk, and I want to tell you something right now. Let me throw myself on Front Street, we can sit up there and make fun of me. You know how many damn Finals predictions I got wrong? I don't give a damn. I mean, I got a whole bunch of them wrong. Ain't no reason to come on the air and defend yourself. Perk, listen man. You were wrong. And we making fun, and Steph Curry making fun of you. You laugh at that my brother. He got you today. That's all. He got you today."
It's absolutely great advice, and if you feel yourself getting uncomfortable over the fact that you were wrong, stop to realize that's your pride talking. Your ego. And if people call you out for being wrong, it's actually a good sign. It means they're not just listening, but holding on to what you say. You matter. Don't ruin that by getting defensive and testy.
WORTH EVERY PENNY
I did a double-take when I saw Chris Russo's list of the greatest QB-TE combinations ever on Wednesday and this was before I ever got to Tom Brady-to-Rob Gronkowski listed at No. 5. It was actually No. 4 that stopped me cold: Starr-Kramer.
My first thought: Jerry Kramer didn't play tight end.
My second thought: I must be unaware of this really good tight end from the Lombardi-era Packers.
After further review, I don't think that's necessarily true, either. Ron Kramer did play for the Lombardi-era Packers, and he was a good player. He caught 14 scoring passes in a three-year stretch where he really mattered, but he failed to catch a single touchdown pass in six of the 10 NFL seasons he played. He was named first-team All-Pro once and finished his career with 229 receptions.
Now this is not the only reason that this is an absolutely terrible list. It is the most egregious, however. Bart Starr and Kramer are not among the 25 top QB-TE combinations in NFL history let alone the top five. And if you're to believe Russo's list, eighty percent of the top tandems played in the NFL in the 30-year window from 1958 to 1987 with only one tandem from the past 30 years meriting inclusion when this is the era in which tight end production has steadily climbed.
Then I found out that Russo is making $10,000 per appearance on "First Take."
My first thought: You don't have to pay that much to get a 60-something white guy to grossly exaggerate how great stuff used to be.
My second thought: That might be the best $10,000 ESPN has ever spent.
Once a week, Russo comes on and draws a reaction out of a younger demographic by playing a good-natured version of Dana Carvey's Grumpy Old Man. Russo groans to JJ Redick about the lack of fundamental basketball skills in today's game or he proclaims the majesty of a tight end-quarterback pairing that was among the top five in its decade, but doesn't sniff the top five of all-time.
And guess what? It works. Redick rolls his eyes, asks Russo which game he's watching, and on Wednesday he got me to spend a good 25 minutes looking up statistics for some Packers tight end I'd never heard of. Not satisfied with that, I then moved on to determine Russo's biggest omission from the list, which I've concluded is Philip Rivers and Antonio Gates, who connected for 89 touchdowns over 15 seasons, which is only 73 more touchdowns than Kramer scored in his career. John Elway and Shannon Sharpe should be on there, too.
Money Isn't The Key Reason Why Sellers Sell Sports Radio
I started selling sports radio because I enjoyed working with clients who loved sports, our station, and wanted to reach fans with our commercials and promotions.
A radio salesperson's value being purely tied to money is overrated to me. Our managers all believe that our main motivation for selling radio is to make more money. They see no problem in asking us to sell more in various ways because it increases our paycheck. We are offered more money to sell digital, NTR, to sell another station in the cluster, weekend remotes, new direct business, or via the phone in 8 hours.
But is that why you sell sports radio?
In 2022, the Top 10 highest paying sales jobs are all in technology. Not a media company among them. You could argue that if it were all about making money, we should quit and work in tech. Famous bank robber Willie Sutton was asked why he robbed twenty banks over twenty years. He reportedly said," that's where the money is". Sutton is the classic example of a person who wanted what money could provide and was willing to do whatever it took to get it, BUT he also admitted he liked robbing banks and felt alive. So, Sutton didn't do it just for the money.
A salesperson's relationship with money and prestige is also at the center of the play Death of a Salesman. Willy Loman is an aging and failing salesman who decides he is worth more dead than alive and kills himself in an auto accident giving his family the death benefit from his life insurance policy. Loman wasn't working for the money. He wanted the prestige of what money could buy for himself and his family. 
Recently, I met a woman who spent twelve years selling radio from 1999-2011. I asked her why she left her senior sales job. She said she didn't like the changes in the industry. Consolidation was at its peak, and most salespeople were asked to do more with less help. She described her radio sales job as one with "golden handcuffs". The station paid her too much money to quit even though she hated the job. She finally quit. The job wasn't worth the money to her.
I started selling sports radio because I enjoyed working with clients who loved sports, our station, and wanted to reach fans with our commercials and promotions. I never wanted to sell anything else and specifically enjoyed selling programming centered around reaching fans of Boise State University football. That's it. Very similar to what Mark Glynn and his KJR staff experience when selling Kraken hockey and Huskies football.
I never thought selling sports radio was the best way to make money. I just enjoyed the way I could make money. I focused on the process and what I enjoyed about the position—the freedom to come and go and set my schedule for the most part. I concentrated on annual contracts and clients who wanted to run radio commercials over the air to get more traffic and build their brand.
Most of my clients were local direct and listened to the station. Some other sales initiatives had steep learning curves, were one-day events or contracted out shaky support staff. In other words, the money didn't motivate me enough. How I spent my time was more important.
So, if you are in management, maybe consider why your sales staff is working at the station. Because to me, they'd be robbing banks if it were all about making lots of money.
Media Noise: BSM Podcast Network Round Table
Demetri Ravanos welcomes the two newest members of the BSM Podcast Network to the show. Brady Farkas and Stephen Strom join for a roundtable discussion that includes the new media, Sage Steele and Roger Goodell telling Congress that Dave Portnoy isn't banned from NFL events.
Podcast: Play in new window | Download
Subscribe: RSS