How To Goon Up Hockey In One Sickening Swoop
Rather than market Connor McDavid and what's great about the sport, the NHL enabled a week of violence, suggesting head-hunting is part of its future as commissioner Gary Bettman seeks eyeballs for his new TV partners.
Gary Bettman, meet Joe Rogan. If the NHL is degenerating into a death sport, the commissioner should hire the voice of the Octagon to narrate the goonery. Here in America, home of police shootings and Capitol rioting and whatever else in God's name awaits us, it was inevitable that hockey would turn repulsive when new broadcast deals were signed last month.
Violence sells, you see. Pressured to justify unprecedented riches — the $4.5 billion paid by ESPN and Turner Sports over the next seven seasons — Bettman and his henchmen have rebooted a sickening reality that has defined hockey in this country for decades: Only when the No. 4 sport makes us vomit do the masses pay attention. Diehard puckheads might care about Connor McDavid, Sidney Crosby, Auston Matthews and Victor Hedman, but the time-proven way to gain traction in the upper "SportsCenter" news cycle is to enable thug behavior.
Rather than ban the ice terrorist, Tom Wilson, for his crimes against New York Rangers humanity, Bettman and his farcically named Department of Player Safety — all caps, I swear — basically pardoned his Monday night acts with a $5,000 fine and no suspension. In letting him off lightly, even after he sucker-punched Pavel Buchnevich and body-slammed Artemi Panerin like a ragdoll, the league set up a Wednesday blood rematch between the Rangers and Wilson's Washington Capitals that all but endorsed rival gang warfare — and drew eyeballs across North America. Because Bettman and his so-called safety chief, former NHL brawler George Parros, refused to penalize Wilson severely, the Rangers felt compelled to punish him and his teammates with their fists.
If the NHL wished to incite a riot in Madison Square Garden, it succeeded wretchedly. The opening minutes featured six fights, including three at once immediately after the opening face-off and another 49 seconds later, when Rangers defenseman Chris Smith confronted Wilson. The teams combined for 72 penalty minutes before five game minutes had elapsed, and, predictably, Wilson accumulated 15 penalty minutes before leaving in the second period with an upper-body injury. This was some seriously demented retribution, all obeying a locker-room code that should have been retired in the last century but still exists because, you know, it promotes testosterone rage and spikes ratings. The explanations afterward were as warped as the scripted brawling.
"I definitely think we felt the need to take matters into our own hands a bit," Rangers center Ryan Strome said. "I thought it was a great response. And hats off to them for answering the bell. They knew our frustration. We solved it and played the rest of the game."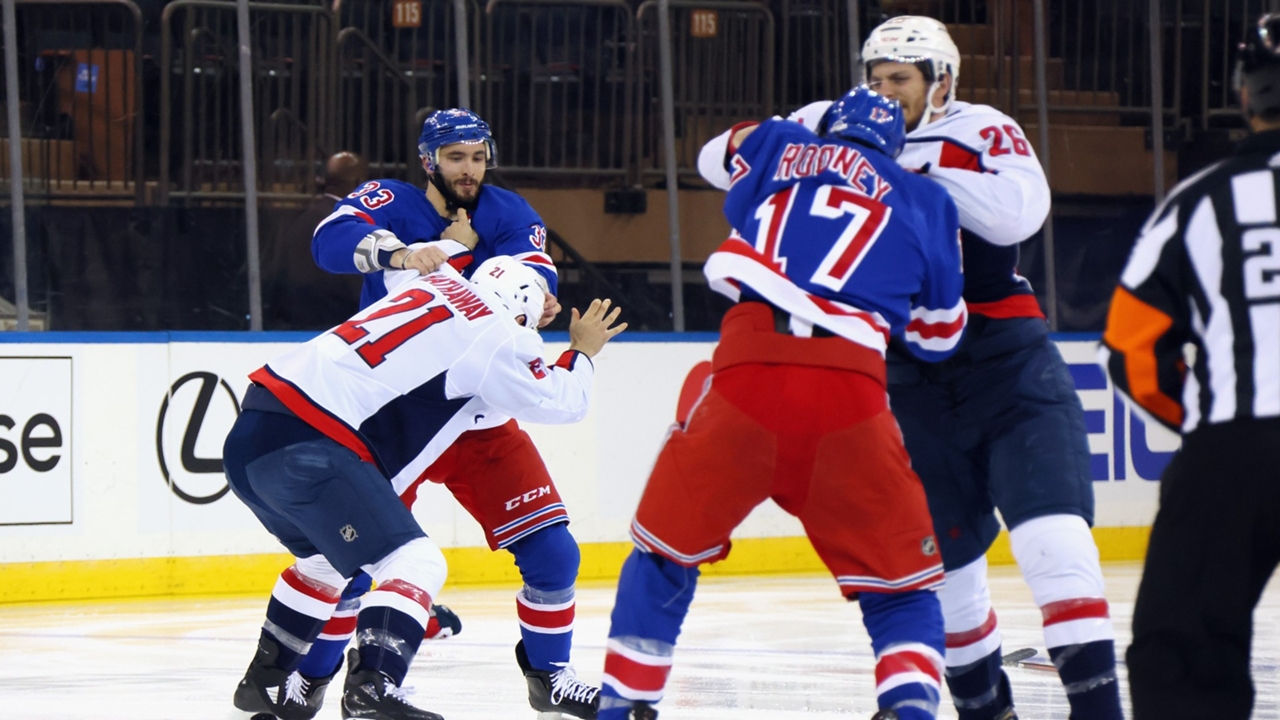 Said Smith, who proudly took on Wilson: "You guys watched what happened the game before. I thought that it should have been handled before this game, and it wasn't, so unfortunately it had to be on my shoulders, and I took it."
Close your eyes. Imagine Roman Gladiators in violent confrontations in the Colosseum, or modern lunatics being gorged by the bulls in Pamplona. Is this what the NHL has come to: another deep dive into the gutter?
Always considered inept and backward-thinking, Bettman now looks foolish and desperate. He only exacerbated matters Thursday when he pounded the Rangers with a $250,000 fine — $245,000 more than Wilson was punished for head-hunting — for daring to criticize the league and Parros in a wide-ranging statement. Suddenly, the NHL feels like a Communist dictatorship, caring much more about its bruised feelings than the safety of its players.
"Public comments of the nature issued by the Rangers that were personal in nature and demeaning of a League executive will not be tolerated," Bettman said in a statement. "While we don't expect our Clubs to agree with every decision rendered by the Department of Player Safety, the extent to which the Rangers expressed their disagreement was unacceptable. It is terribly unfair to question George Parros' professionalism and dedication to his role and the Department of Player Safety."
Again, all in capital letters.
What is the purpose of fighting-as-entertainment when players are injured, including one of the sport's better offensive weapons — and statesmen — in Panarin? The league's lack of action spun the Rangers into utter disarray, fueled by none other than owner James Dolan, who meddles in hockey now that the Knicks miraculously have been repaired by Leon Rose and Tom Thibodeau. In a statement reportedly ordered by Dolan, the Rangers called for the ouster of Parros and said they were disturbed Wilson wasn't suspended. After all, isn't he the maniac who has been suspended five times, including a 14-game ban in 2018 after he checked St. Louis' Oskar Sundqvist in the skull? Just a few weeks ago, Wilson was suspended seven games for a dirty hit that left Boston's Brando Carlo with a concussion.
This guy doesn't just hunt heads. He collects them and eats them for dinner. Yet, Wilson will be eligible to wreak more havoc — and injure more opponents — in the playoffs. Said the Dolan-inspired statement: "The New York Rangers are extremely disappointed Capitals forward Tom Wilson was not suspended for his horrifying act of violence at Madison Square Garden. Wilson is a repeat offender with a long history of these type of acts and we find it shocking that the NHL and their Department of Player Safety failed to take the appropriate action and suspend him indefinitely. Wilson's dangerous and reckless actions caused an injury to Artemi Panarin that will prevent him from playing again this season. … We view this as a dereliction of duty by NHL Head of Player Safety, George Parros, and believe he is unfit to continue in his current role."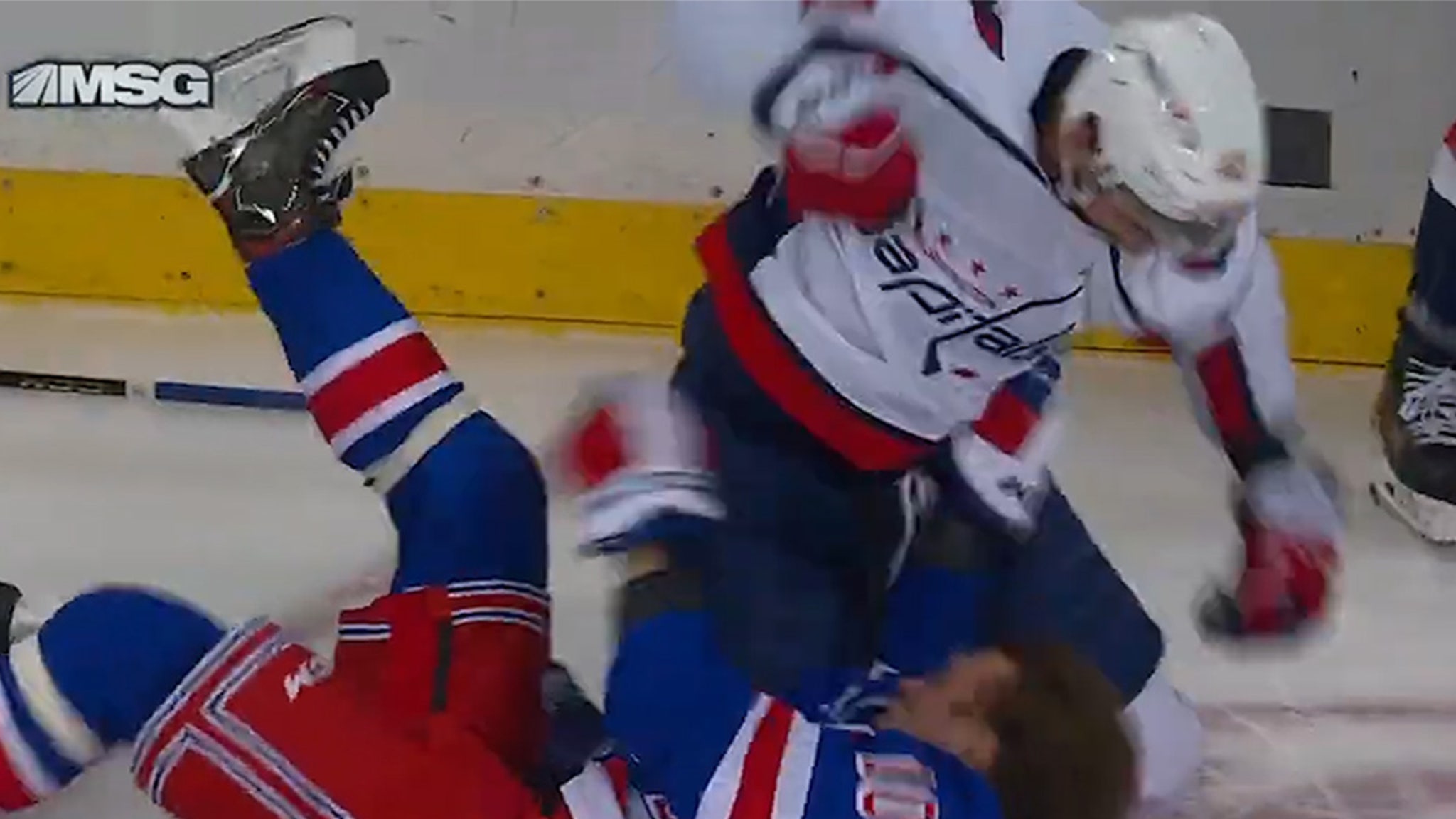 Naturally, the Capitals thought the episode was a lot of nothing. "Blown out of proportion," center Lars Eller said. "I don't think people see things clearly when it comes to Tom with things that he's involved in. There's already a biased opinion of him."
Can't imagine why.
Then Dolan turned on his own front office, firing team president John Davidson and general manager Jeff Gorton and replacing both with Chris Drury. The Rangers aren't going to the playoffs and didn't show much mettle in their fourth straight loss. Yet, somehow, lame-duck coach David Quinn was proud of his guys for standing up to the bully. "To me, when something like that happens, it certainly speaks volumes about how these guys want to play for each other and stick up for each other in difficult circumstances," he said. "We all saw what happened the other night. Nobody is happy about it. I couldn't be prouder of these guys."
The in-arena hockey experience is the most thrilling in sports, I believe. But Bettman and various networks haven't figured out how to transfer that fury and emotion to the broadcasts. Thus, the NHL is a fighting league again. In a year when McDavid, the Edmonton phenom, might reach 100 points in a COVID-19-shortened, 56-game season, Tom Wilson is the larger conversation piece. His criminal activity was exacerbated by the Capitals' social media site, which went low-brow in a since-deleted tweet — "atCapitals chooses: Violence" — beside a photo of Wilson and a cryptic comment that he lives "rent-free" in the minds of others as "the best goal scorer in the league."
I would like to like hockey. The culture won't let me. The Capitals won the rematch thanks to T.J. Oshie, who scored twice while grieving the death of his father only a day earlier. He was hugged after the victory by teammate Nicklas Backstrom, who said, "I saw he got emotional there at the end, which was understandable. I felt like he needed a hug. I told him, `You are the strongest person I know.' First of all, it's impressive that he actually played today, I think, and how he led the way. … We are a family. We are in this together. His loss is everyone's loss."
The Oshie story should have been the takeaway.
The punches knocked out that fond memory, too.
Keeping Premier League Games Shouldn't Be A Hard Call For NBC
"Beyond its massive global fanbase, the Premier League offers NBC/Peacock a unique modern 21st-century sport for the short attention span of fans."
NBC Sports is facing some tough, costly decisions that will define its sports brand for the rest of this decade.  A chance to connect with viewers in a changing climate and grow Peacock's audience as well.  However, making the right choice is paramount to not losing to apps like Paramount+ (pun intended).
NBC is currently in the business of negotiating to continue airing the Premier League as their current deal ends after this 2021-2022 season. NASCAR is contracted to NBC (and FOX) through the 2024 season.
NBC's tentpole sports are the NFL and the Olympics.
Negotiations for the EPL are expected to go down to the wire. Rather than re-up with NBC, the league is meeting with other networks to drive up the price. NBC has to then make a decision if the rights go north of $2 billion.
Should NBC spend that much on a sport that is not played in the United States? It's not my money, but that sport continues to grow in the US.
If NBC re-ups with the Premier League, will that leave any coins in the cupboard to re-up with NASCAR? Comcast CEO Brian Roberts hinted that there might be some penny pinching as the prices continue to soar. This may have been one of the reasons that NBC did not fight to keep the National Hockey League, whose rights will be with Disney and WarnerMedia through ESPN and TNT, respectively.
"These are really hard calls," Roberts said. "You don't always want to prevail, and sometimes you're right and sometimes you're wrong, but I think the sustainability of sports is a critical part of what our company does well."
Roberts was speaking virtually at the recent Goldman Sachs 30th Annual Communacopia Conference. He told the audience that between NBC and European network Sky, that Comcast has allocated approximately $20 billion towards these sports properties.
Comcast CFO Michael Cavanagh spoke virtually at the Bank of America Securities 2021 Media, Communications and Entertainment Conference and echoed that the company is in a good position to make some strong choices in the sports realm.
"The bar is really high for us to pursue outright acquisitions of any material size," Cavanagh added. "We got a great hand to play with what we have."
While the European investments involve a partnership with American rival Viacom, the US market seems to have apparent limits.
Last Saturday's NASCAR Cup Series at Bristol Motor Speedway was seen by around 2.19 million people. It was the most-watched motorsports event of the weekend. That same week eight different Premier League matches saw over 1 million viewers. More than half of those matches were on subscription-based Peacock. 
Beyond its massive global fanbase, the Premier League offers NBC/Peacock a unique modern 21st-century sport for the short attention span of fans. A game of typical soccer fan is used to a sport that is less than two hours long. The investment in a team is one or two games a week. 
My connection to the Premier League began before the pandemic. When I cut the cord in late 2017, I purchase Apple TV. Setting it up, it asks you to name your favorite teams. After clicking on the Syracuse Orange and the New Jersey Devils, I recalled that my wife has family based in London, England. They are season ticket holders for Arsenal, and that family redefined the word "die-hard" fans.
I've long been a believer that sports allegiances are best when handed down by family. I love hearing stories of people loving the New York Giants because their parents liked them, and they pass it down to their children.
I've successfully given my allegiance to the Devils to my young daughters.
By telling Apple TV that I liked Arsenal, I get alerts from three different apps when the "Gunners" are playing. The $4.99 is totally worth it to see Arsenal.
Whenever I told this story, I was amazed to see how many other American sports fans had a Premier League team. Students of mine at Seton Hall University rooted for Tottenham Hotspurs, while an old colleague cheers on Chelsea.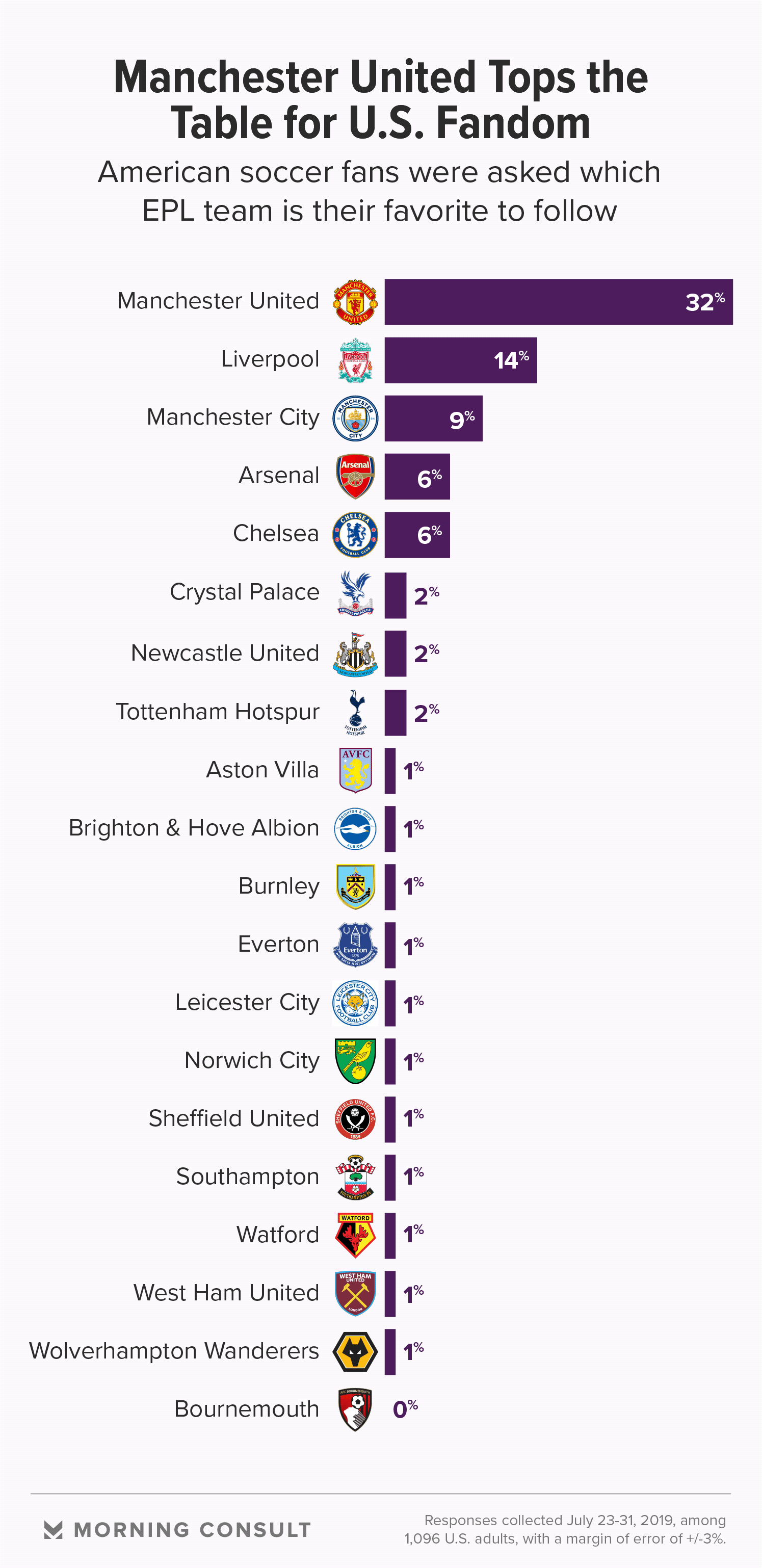 This is not meant to say that NBC should sign the EPL on my account. The key for any US-based soccer fan is that between Bundesliga, Serie A, and other leagues, there will be no shortage of soccer available on both linear television and streaming services.
Besides, Dani Rojas did say that "Football is life." NBC, originator of the Ted Lasso character, should make keeping its Premier League US connection a priority.
Today, Demetri is joined by Tyler McComas and Russ Heltman. Tyler pops on to talk about the big start to the college football season on TV. Russ talks about Barstool's upfront presentation and how the business community may not see any problems in working with the brand. Plus, Demetri is optimistic about FOX Sports Radio's new morning show.
Podcast: Play in new window | Download
Subscribe: RSS
6 Ad Categories Hotter Than Gambling For Sports Radio
"Using sports radio as a back page service for gambling will have a limited shelf life."
For years sports radio stations pushed sports gambling advertisers to early Saturday and Sunday morning. The 1-800 ads, shouting, and false claims were seedy, and some stations wouldn't even accept the business at 5 am on Sunday.
Now, with all but ten states ready to go all in on sports gambling, sports radio stations can't get enough of that green. Demetri Ravanos wrote about the money cannon that sports gambling has become for stations. Well, what if you are in one of those ten states where it isn't likely to ever be legal like California or Texas? Where is your pot of gold?
Or, let's face it, the more gambling ads you run, the more risk you take on that the ads will not all work as you cannibalize the audience and chase other listeners away who ARE NOT online gambling service users and never will be. So, what about you? Where is your pot of gold?
Well, let's go Digging for Gold.
The RAB produces the MRI-Simmons Gold Digger PROSPECTING REPORT for several radio formats. In it, they index sports radio listeners' habits against an average of 18+ Adult. The Gold Digger report looks at areas where the index is higher than the norm – meaning the sports radio audience is more likely to use the product or service than an average 18+ Adult who doesn't listen to sports radio. The report, generated in 2020, indicates that sports radio listeners are 106% more likely to have used an online gambling site in the last thirty days. That's impressive because the report only lists 32 activities or purchases a sports radio listener indexes higher than an average adult. I looked at those 32 higher indexes, and I think we can start looking for some gold.
Using sports radio as a back page service for gambling will have a limited shelf life. The gambling companies who commit significant money to get results will continue advertising and chase the others away. So, the future of sports radio needs to include other cash cows.
If it is evident to online sports gambling services that sports radio stations are a must-buy, who else should feel that way?  I looked at the Top 32 and eliminated the media companies. ESPN, MLB/NHL/NFL networks, and others aren't spending cash on sports radio stations they don't own in general. But Joseph A Bank clothing, Fidelity, and Hotwire should! Here's your PICK-6 list I pulled together that's hotter than sports gambling:
Sportscard collectors, Dapper Labs, Open Sea- read about Sports NFT $.
Online brokerage firms-Fidelity, Charles Schwab, Robinhood, Webull, TD Ameritrade
Golf courses, resorts, equipment, etc.- we play golf at home and vacation
Hotwire.com, Booking.com, TripAdvisor, Airbnb, Carnival Corporation, and Priceline.com- we've used Hotwire in the last year.
FedEx, UPS, U.S. Postal Service, Venmo, PayPal, Zelle-we wired or overnighted $
Jos. A. Bank, shein.com, macys.com, nordstroms.com- we went to Jos. A. Bank in last three months
The sports card/NFT market is 32% hotter than the sports betting market for sports radio listeners. Everything on the PICK-6 is at least 100% more likely to purchase than an average 18+ Adult who doesn't listen to sports radio. All listed are at or above indexing strength compared to sports betting. The individual companies I added are industry leaders. Bet on it! Email me for details.