The Audience Likes And Believes In Mike Bell
"I'm never going to be the sharpest knife in the drawer, I just think I communicate and connect with people in our city."
An old line from the movie Bull Durham sums up a lot of sports radio hosts these days; "I want to announce my presence with authority." Many hosts try to stand out by being the loudest, or the smartest, or the most daring. They start to resemble peacocks strutting around while trying to grab the audience's attention. A huge ingredient of enjoying sports radio success is being able to connect with the audience. Some hosts simply forget to ask themselves, am I someone people want to be around?
Mike Bell is an afternoon drive host on 92.9 The Game in Atlanta. He's also a master at connecting with people. Mike doesn't want to sit atop his press box perch while looking down upon the unwashed peasants in attendance. The native of Long Island, New York has had Falcons season tickets since 1998. He wants to slap high fives, yell at the top of his lungs, and have enough room to frolic around if Matt Ryan and company have it rolling. In essence, he is his audience.
Mike talks about his relationship on and off the air with tag team partner Carl Dukes. Although Nielsen has a gleam in its eye for Dukes & Bell, Mike mentions having bigger goals than reigning supreme in sports radio. Hey Man beer, being vulnerable on the air, a past mistake with Jessica Mendoza, and his side of a head-scratching radio beef are a few of the other subjects we dive into as well. Enjoy!
BN: When and why did you make your way to the Atlanta area?

MB: I was in Fort Myers, Florida. I was doing morning drive in a top 40 format. I was kind of on hold with my career because of my grandmother; I was taking care of my nana. My dad had passed away and I was kind of waiting for the other shoe to drop. I had her in assisted living. Her money ran out and I had her living with me. It was like a sitcom; a guy in his mid-20s with an 80-year-old lady in his house. [Laughs]
I think you'll get a kick out of this, it's very analog, in the old days obviously as the internet was just getting traction, you had Radio & Records. They had like the old blind box ad that said top 10 market seeks comedian with sports knowledge. I was recruited unbeknownst to me by 790 The Zone. I think they had something like 500 tapes and they narrowed it down to five finalists. I was the leader in the clubhouse. They liked me and they brought me in on a Friday. I did my morning show in Fort Myers and flew up and did the interview. I was on afternoon drive as a live audition back in 1998. And it stuck.
It was really like the last of the mom-and-pop stations. I remember we went to the Palm. Everybody was there. We were doing shots. I remember going out with my boss at the time till like five in the morning at a local bar. I finally turned to him and go hey, by the way did I get the job? [Laughs] And he's like oh yeah, we need you to give them two weeks notice as soon as you can. It was old school when Atlanta was like the Wild Wild West.

BN: Who were your favorite teams when you were growing up?

MB: Being a New Yorker, a big Mets fan. When I was a kid, the Yankees were winning back-to-back World Series and Shea Stadium was falling apart. It was another typical rainy night. If you were at Shea in the old days, you look out, you'd see the World's Fair, you could see over the Manhattan skyline. It's a rain delay and I asked my dad the existential question, why are we Mets fans? Let's go over by these Yankees fans. Catfish Hunter, Reggie Jackson, and the Mets are terrible.
My old man takes a drag off his Marlboro, and he's literally like, I'll tell you why buddy boy, anybody can root for the Yankees. It takes character to be a Mets fan. He said being a Yankee fan was like rooting for the IRS; it was like rooting for the sun to come up. He said yes, we're like the red-haired stepchildren in New York, but we're the real New York. We're the minorities. It was kind of fun. He said by the way if we ever win the World Series, it'll be ten times sweeter for us as it is for a Yankee fan. That kind of mindset always stuck with me about always sticking with your team or your underdog.

BN: How have your team preferences changed over the years with you being in Atlanta for so long?

MB: I lived in South Florida, so I had Dolphin tickets. I love going to live events. I love live music. I love live sports. So I've always tried to support the team wherever I lived. When I moved to Atlanta, I got season tickets for the Falcons. And I've had season tickets since 1998. Then it's kind of cool; you're invested.
It's funny when we talk to the players or we have a general manager on, it's like hey I'm paying for this. Carl too, he also has season tickets, so we don't sit in the press box. The idea is that we're invested. We're speaking for the fan. And not to get all high and mighty, but we put our money where our mouth is. We pay for the tickets. But I'm a big Falcons fan.
The Hawks obviously over the years I've gone to a lot of Hawks games. I loved the Thrashers when we had hockey. [Laughs] That ship has sailed. It's difficult when you do afternoons to go to Braves games because you miss the start, but we try to catch at least maybe 10 during the season on the weekends.

BN: What's the story about you wanting to work with Carl, but him not wanting to leave Houston initially?

MB: I wouldn't want to leave Houston if they were going to pay me more money either. [Laughs] I've known Carl — we traced it back to the Super Bowl in 2002, the one in New Orleans after 9/11. He was doing middays in Houston and I was doing morning drive in Atlanta. We were like the table across from each other. We just kind of hit it off. We were friends and we'd see each other at Final Fours and Super Bowls, boxing matches in Vegas. Then in 2010 or something like that, we hooked up in Vegas and I said man I'd love to get you to Atlanta. My partner at the time was David Pollack. He was about to head to ESPN full-time.
I had reached out to my management and they at least had a conversation, but I don't think they ever got close with the money. Then ironically when 92.9 The Game launches, my boss is like, who's this Carl Dukes working opposite you? I'm like that's the guy I wanted you to hire. We just got along. We always felt the dynamic of our personalities would be great. And our old agent, rest his soul, Norm Schrutt — Carl and I had the same agent — he used to joke around like, 'just 'cause you laugh at the same jokes, who knows if the show will be any good?' But we always knew it would be a hit if we had the opportunity.
BN: How did Hey Man beer originate?

MB: A couple of years ago, our former program director, Terry Foxx, came to us and said hey there's this local brewery. They've got some marketing people and they've reached out to us. They're interested in doing a beer with you guys. To be quite honest we didn't really think much of it at the time. But it's a great local brewery called Oconee, which is halfway to Augusta from Atlanta off I-20. It's a mom-and-pop brewery. If you're familiar with SweetWater, it kind of reminds you of the early days of SweetWater here in Atlanta.
We had a meeting, hit it off, then we agreed we'd come up with some different flavors, and do a taste test to see what we liked. Then we would start off on draft. We started off on draft and the next thing you know they want to put it in cans. I've been in radio since '87; it's arguably the best guerrilla marketing. It's better than billboards. The listeners will buy the beer. They'll take photos of them drinking the beer. They'll take pictures of them at the store buying the beer. It's a great way to connect and most importantly it's not a money grab. The product is really good. It's a great tasting beer so we did a blonde ale with 5% alcohol by volume. We've had it in restaurants and we've had it in bars all around Georgia.
Before COVID, we were going to do the watermelon lime. We did a small batch of that and we had it at a pregame party for the Braves. We're not a rights holder so we were at a distant parking lot, but we had our tailgate going. Everybody went bananas. We went through however many gallons of beer we had in like minutes. We knew it'd be a big hit. We just obviously couldn't launch it last year when COVID hit. It just dropped on April 1. It's been a huge hit.

BN: What are your thoughts on the All-Star Game moving out of Atlanta?

MB: That's a hot potato. In Carl and I, because you have an African-American host and you have a white guy, you can tackle some of these issues that maybe other shows might want to shy away from. It's a difficult discussion because the demographics here in our city, it's kind of like a blue center of a red donut when you're speaking to the audience, so you've got everything from folks out of the rural parts of our listening audience, to folks right in the heart of the city. The All-Star Game, it came so quickly. There was some talk that the players union was discussing it and then boom, the decision was made.
The problem is like everything else in 2021, people immediately look at the headline but they don't read the story. People went to their corner and started shouting about it. It's frustrating because the people who ultimately suffer are the folks who need it the most. The folks that are going to be selling the beer, the folks working at the hotels, working at the restaurants. While I understand the logic behind Major League Baseball doing it, I didn't think the execution made sense. Especially to pull it out of a city like Atlanta and take it to a city like Denver. Those demographics are completely different.

BN: When topics dip into politics, how do you guys like to handle it on the show?

MB: I think in this day and age people turn to sports as a release. It's my escape from the real world. It's my escape from everything else that I'm bombarded with. But there are some stories you just can't ignore. Carl and I have always made it a point to say we're not going to ignore it. When we had the social justice protests, we weren't going to not talk about that. We got very emotional talking about that.
We talked about Kaepernick. I said look, I grew up hand over my heart singing the national anthem. I think my phrase was my American journey is a lot different than other people. We use phrases like empathy and try to put yourself in another person's shoes and then have a discussion about it. Now of course there are people out there, the moment you talk about Kaepernick and you try to rationalize something like that, boom they're gone. They're not going to listen to that. I think the ratings reflect that when we do get into these issues, it doesn't hurt us. It's definitely something that is too big to ignore.

BN: Why do you think the 2 Live Stews aren't back on the air in Atlanta right now?

MB: I couldn't speak to that. I'm out of my depth. I know that they did a fantastic job when we were together at 790. But I can't speak to that. I know they had the same representation that I had back in the day with Norm, my old agent. But I don't know what's going on with those guys.

BN: What's something you've shared about yourself on the air or been vulnerable about over the years?

MB: That's a good question. It's kind of what you just talked about; we talk about sports and things that are lifestyle. We just talked about it last week with Mother's Day. I'm adopted and at times in my life it was difficult. We connected with my biological mom. We talked about that, not that there was a stigma to it, but how you go through your life's journey and eventually you get closure. That's probably the most intimate detail I've shared.

BN: How difficult was that for you to do?

MB: Once you get rolling it's pretty easy. It's conversations I've had with Carl in private so we just kind of extended it to on air.
BN: What do you think is the key to connecting with listeners?

MB: I'm never going to be the sharpest knife in the drawer, I just think I communicate and connect with people in our city. And being straight with them. When we talk about something, people know we're not manufacturing a topic. It's not you take this side and I'll take that side. Sometimes when Carl and I get into a real raging argument, it's almost like the kids are listening to mom and dad, like please guys, don't fight. We don't manufacture fake, phony arguments. It's all coming from the heart. It's legit.

BN: What was your reaction to what Mark Zinno had to say about you recently?
MB: [Laughs] You know what, I don't really know where he's coming from. If he felt that there was a text message back four years ago when we were talking about the show and I used a take of his — I would say this, it'd be the first time I've ever agreed with him. No good deed goes unpunished with Zinno. I tried to give him advice about the market when I first met him and he first came to the station. I tried to help him get representation. We look at the world through two different lenses. Honestly I have no idea what he was talking about, but apparently it was a red-letter day for him I guess.

BN: Any regrets about calling Jessica Mendoza "Tits McGhee"?
MB: Yeah, that was dumb. Again it's a changing landscape of pop culture and radio. Luckily my bosses allowed me to speak from the heart when I made my apology. But more importantly, learning about it. There's things you just can't do. Carl and I were having this discussion, I forget how it came up, not specifically about Jessica Mendoza but it was a politician or an athlete who got in trouble. We talked about it; there are things you cannot do in the workplace anymore. It's a lesson learned.

BN: Dan McNeil in Chicago got fired for tweeting something critical about Maria Taylor. Do you ever see stories like that and think you're lucky to still have your gig?

MB: It's definitely when you think of the timing of things. There's right and wrong in the world and what I did was clearly wrong. I was suspended for it and came back. If the audience likes you or believes in you, and they realize where you're coming from, and realize you made a mistake — on the flip side, there's also cancel culture. Would I have survived something like that today? I don't know.

BN: What's your favorite sports radio moment that you might flash back to from time to time?

MB: Wow, that's a great one. The Falcons going to the Super Bowl was surreal. It's kind of like it was the best of times, it was the worst of times. The week in Houston was so awesome. The funny part of it was nobody liked the Patriots. All the Texans fans we met, everywhere we went, people were pulling for Atlanta. We had a big pep rally. CeeLo played the thing. The place was off the chain. It was a perfect buildup just to have your heart broken.
That week we did a bus trip. One of our sponsors Wade Ford — we took a bus with all of our personalities. We drove down to Houston in this bus with a wrap of our logo. It was freaking great. The whole week, the best building up to a moment, you've got this big lead and then only to have the rug pulled out from under your feet. It was obviously heartbreaking. Matter of fact, it was so heartbreaking, I think the only time we've had a period where there was a dip in the ratings, were people literally so heartbroken that they didn't even want to talk about it in February that year.

BN: What has it been like to see anything related to 28-3 after that loss?

MB: There are so many angles to it. The Saints are our mortal enemy. I think it's the greatest rivalry in the NFL. I don't think people appreciate just how passionate the fan bases are. Two primarily African American fan bases in the South. The trash talking.
We had Saints fans flying banners over us "28-3 never forget". It's got so much more juice and so much more heat than something like what the Packers and Bears are supposed to be. Even when we're bad, it's the greatest rivalry. Just the fact that they've got the ring, and obviously the ring is the thing, it validates you. Unfortunately for Atlanta, we call it Atlanta-itis on the radio, where sometimes you feel like whether it's Georgia football or the Braves, you just have a sense of fatalism that something's not going to turn out, which I hate it. I don't think anything is interconnected, but it's just part of the psyche now.

BN: When you look to the future, do you have any goals or things in mind you'd like to experience over the next five to 10 years?

MB: Well I'm 52, so I probably missed my window to get syndicated. [Laughs] I'm very happy. I'm truly happy and just blessed. I hope that Carl and I can at least — I don't know if we can make it to retirement because we might get retired in this business. I would love to be number one overall in the city. That's big to us. The political world just keeps on churning, so that news cycle doesn't end. To be number one in the city for us would truly be my goal at this stage.
BN: Interesting. So you look at it not just as number one in sports radio, but you want to be number one in any radio format?

MB: Correct. That's just it. We're consistently, I don't know if you've ever seen a breakdown of our demographics, but we're always consistently top three, or top two. In 18-49 we've been consistently number one in a number of books over the last couple of years. There are heritage stations in town and we're still a relative newbie by radio standards, but we have the best station in town. We just have to keep plugging away.
Jimmy Pitaro Deserves Some Credit For Monday Night
"Pitaro and ESPN's executive team had to sign off on a broadcast in which Peyton and Eli were in separate remote locations, without a host to play traffic cop and guide continuity between plays. This all could have blown up in ESPN's face."
Over the last several months, Jimmy Pitaro and ESPN got raked over the coals after the New York Times story on Rachel Nichols and Maria Taylor and the subsequent fallout that was effectively a mushroom cloud and the talk of the industry. Ultimately, the buck stops with the leader, but fairness should dictate that leaders also receive accolades for great accomplishments. After just one episode, we can confidently say that landing Peyton and Eli Manning for Monday Night Football qualifies in that regard.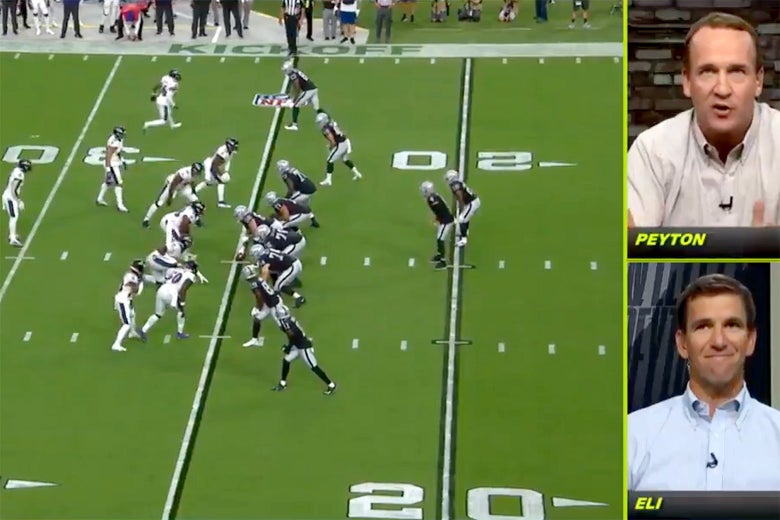 Every TV network executive would have walked from Alaska to Omaha to land Peyton Manning. Andrew Marchand has accurately referred to him as the "white whale of sports TV"; he was so sought after that CBS, who has arguably the best color commentator in all of sports in Tony Romo, tried to lure Manning to the booth before ultimately reaching a new deal with Romo. Any way you slice it, getting the Manning brothers for 10 episodes of Monday Night Football on ESPN2 was a major coup for Pitaro, ESPN, and Disney. 
Nonetheless, it was not without risk. Pitaro and ESPN's executive team had to sign off on a broadcast in which Peyton and Eli were in separate remote locations, without a host to play traffic cop and guide continuity between plays. This all could have blown up in ESPN's face. Imagine the chatter if the Manning broadcast was a dud, which it easily could have been given their format is unlike anything that has ever been tried before.
Instead, Peyton and Eli were a revelation. Peyton, with his combination of star-power, personality, and brain processing, is remarkably unique. During the fourth quarter of a close game between the Raiders and Ravens, he was somehow able to simultaneously interview Russell Wilson while immediately breaking down the film of all 22 players from key plays of a game he wasn't even there for. Eli didn't get as many words in, but when he did speak he had funny deadpan humor.
Full disclosure: I was traveling during the first half, which by many accounts was not as well executed as the second half, after they settled in.
There will undoubtedly be a number of attempts to replicate this announcing format, but it's unlikely that any of them will work as well as this one, because none of them will have Peyton Manning. Remember how excruciating it was when TNT tried to do Players Only broadcasts for the NBA? Kevin Clark, speaking on The Ringer's Press Box podcast with Bryan Curtis, called this a "Black Swan" event — it'll never happen again because Peyton is one of one. 
Anyways, back to Pitaro and ESPN: They've certainly taken their lumps and that's life when you lead an organization that is the bellwether of the industry, facing myriad challenges, some of which are structural (cord-cutting eating into hefty subscriber fees) and some of which are self-inflicted (if you've read this far you already know what many of those are and there's no need to re-hash).
However, it bears mentioning that in addition to making the content compromises — and opening up the checkbook for millions of dollars — to land Peyton Manning, Pitaro and ESPN have had a lot of big wins over the last several years. They locked up a monopoly on SEC football rights (in a deal so substantial the conference lured Oklahoma and Texas to join), expanded their NFL deal to get into the Super Bowl rotation, bought up all the UFC rights (which, more than anything else, has propelled the growth of ESPN+ to 15 million subscribers), and brought back the NHL. Sure, all of these wins probably came as a result of bidding the most money, but I'm old enough to remember when ESPN was supposed to be on a death spiral. Reports of ESPN's demise — at least in live rights; talk programming and journalism have not remained the priorities they once were — were premature. 
ESPN has been described as an ocean tanker, which turns very slowly. Jimmy Pitaro deserves some credit for his steering, in the macro, through some turbulent waters.
Did The Manningcast Work?
"The first show was great, but as is the case most of the time, there is room to grow."
Is it a variety show? Is it a podcast?  The first of 10 scheduled Manning MegaCasts, hosted by Peyton and Eli Manning, on ESPN2 proved it was a little bit all of the above. It was almost like Beavis and Butthead meets Statler and Waldorf. It was fun to watch the Manning brothers poke fun at each other and at the same time, criticize some of the action they saw on the field. 
The show debuted as an alternative to the regular Monday Night Football broadcast and was met with rave reviews. To me, there was some great, some not so great, and definitely some room to grow. 
I love the concept, providing an alternative for those that would rather be entertained than tune into a traditional broadcast. Now, as a play-by-play broadcaster, it makes me pause to think about what the future may hold. There will always be a spot for a traditional broadcast, especially with viewers that have a rooting interest in the game. I'm not sure that hardcore fans of the Ravens and Raiders were tuned in for more than a passing glance. Those folks want to see the game, not the fluff or interviews and the like, offered on the alternative broadcast. That fluff though is what will earn ESPN those fringe viewers that are curious and intrigued by what a "ManningCast" might have to offer them. 
Sitting down to watch the game, I wasn't really sure what to expect. I know that Peyton has a personality that in some cases is larger than life. I was pleasantly surprised to see what Eli brought to the table as well. The guys played off each other well, each taking a turn to take a shot at the other. I'll get into some of the best of those barbs a little later.
Peyton is comfortable in front of the camera and has no trouble talking. That was the issue I had early in the game. The elder Manning really dominated the conversation. There were no times in the first few minutes of the first quarter that I felt I could take a breath because so much was coming at me. They really didn't allow the game to breathe at all. The constant conversation while entertaining at times just kept on coming. Peyton was talking fast and once in a while he was talking over Eli.
It didn't help that the Manning's were in different studios. I wondered if there was a "delay" in their feeds and if that was the reason for talking over one another at times. The delay was quite evident when Seahawks quarterback Russell Wilson joined the brothers for the later stages of the game. Wilson seemingly couldn't get a word in, because Peyton and Eli were talking over him. 
Peyton has that quality to be able to teach the game in a way that it's understandable. Some of his commentary was a look behind the curtain at how he played and viewed the game. Knowing what to expect when coming to the line of scrimmage, understanding the coverages and realizing what teams are trying to do to disguise things. It was fascinating to hear the brothers go through play calls and how it is relayed from the coordinator to the quarterback and finally to the team. You aren't going to get that on a traditional game broadcast.
It was also impressive to hear the guys interview both former players, current players and Charles Barkley. It so often is the case that the current athletes are very guarded in what they say to a regular ole member of the media. That was not the case in the Manning Cast. From Travis Kelce not knowing who the Chiefs were playing next, to Russell Wilson calling out the NFL overtime rule.  Ray Lewis was a fascinating guest, providing some great stories and terrific insight into the game he once played at such a high level. Charles Barkley, well, he's Charles Barkley. In other words, he was as fantastic as you'd expect. 
The guests added to the broadcast and made me realize that if this Manningcast actually had a host, it wouldn't have worked as well. A broadcaster would have gotten in the way to me. Yeah, they could have used a professional at times. Maybe someone to get them into and out of the commercial breaks, because that was a little rough early in the game. But that's the only a host could have fit in. 
The first show was great, but as is the case most of the time, there is room to grow. I really think the Manning Cast would be so much better if the guys were actually in the same room. The dynamic between them, which was already great, would be that much better. Imagine them demonstrating plays on each other. Both putting on helmets and doing what they probably did as kids in their basement, roughing each other up.
Ok, so they're a little older now, but I seriously think having them in the same place would make things much smoother. With all the technology out there, eliminating that dreaded delay between the Manning's and their guests would improve the telecast as well.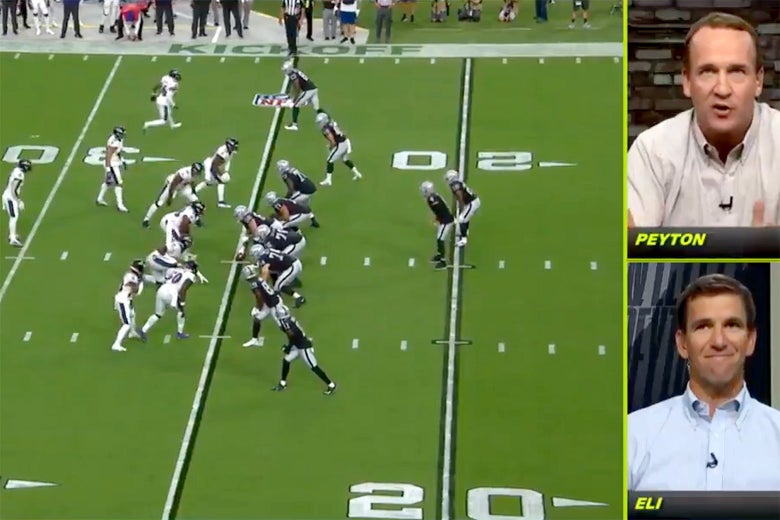 This alternative broadcast would be a great place to teach some casual fans all about the great game of football. Not sure why this came to my mind, but like the old days of the NHL, when "Peter Puck" an animated hockey puck would teach you the game. "Peter" was part of the NBC game of the week broadcast. An animated Peyton and Eli teaching those that need to know the finer points of the game, would be spectacular.
I can't wait to see how they improve from last week to this week and who the guests will be this time around. Hopefully, they iron out some of the small issues that plagued them in the first telecast and continue to improve. I realize that this show is unscripted and it's supposed to be a little looser than a normal show might be, but there are some slight fixes as I've pointed out that will make it even better.
With all the success the Manningcast had, I can't help but wonder how all of these accolades are being taken by the regular MNF booth. ESPN in effect has promoted and created competition for its own product. Perhaps the novelty will wear off? Maybe, but it almost seems like the Manning's are being groomed for a possible move to the main booth. I'm not sure what the feeling is amongst all the parties, but it's certainly a dynamic worth watching. 
Here are some of my favorite moments from Manningcast show number one, in no particular order:
Derek Carr with an overthrow on the Raiders first play from scrimmage, leading Peyton to say about the Raiders season, "Lookin' at ah 6-11, 6-11 right now."
Raiders' fans were loud during an offensive series leading to a bad snap and a few false start penalties, leading to this exchange: 
"They aren't used to it", said Eli Manning. Then Peyton responded, "Drink your beer, quiet down and let [Derek] Carr play quarterback." 
Peyton putting on a football helmet to demonstrate the calls at the line for the Ravens. The helmet was way too small. "Helmet doesn't fit", Peyton said. "Shocking that a helmet doesn't fit you", Eli commented. "They didn't have a XXL helmet for that forehead."  
With Charles Barkley as a guest, Peyton asked him what position Michael Jordan would play if he were in the NFL, "Tight End". Then Barkley was asked about Larry Bird playing a position, "there's no place for no slow 6'10" guys in the NFL", said Barkley.  
Eli: "Punter"
Charles: "that's about it…"
Also, with Barkley on the show…
Peyton: "Hey Charles, you ever get booed at home? Never happened to you, right?"
Barkley: "I played in Philadelphia, Pennsylvania. That was a regularity." "You were lucky, Peyton. Everybody liked you. Eli knows what it's like to get booed at home."
Eli: "He had that stadium trained. The fans would get fined if they talked when the Colts were on offense. If a guy was trying to order a beer, everyone would tell him to quiet down until the defense was on the field."
Eli's fire alarm goes off in the middle of the show.
Peyton: "Eli what'd you do?"
With Ray Lewis on the show, the trio recalled a game where the Giants played the Ravens in Eli's rookie season as the starting QB. The younger Manning leading the team to the line of scrimmage, calling out the defense…
Eli: "Hey #52 (Lewis) is the Mike (linebacker)"
Lewis: "No, I'm not the mike. He's the Mike!"
Eli: "Yeah Ray's right, the other guy's the Mike"
It was also revealed in that game in 2004, Eli had a quarterback rating of 0.0 and of course Peyton pointed out, "the same GPA Belushi had in 'Animal House.'"
Chiefs tight end Travis Kelce on the Manningcast
Kelce: "[Watching this game] I'm not trying to get too technical because I think we're playing the Chargers this week. Oh wait, maybe we're playing Baltimore. I don't even know — I'm getting lost in the season already."
Peyton about 5 minutes later: "Hey, Travis, just so you know, you do play the Ravens next week, so make sure you don't fly to Los Angeles to play the Chargers."
What Is The Next Advertising Money Cannon?
"In states where betting is legal, stations are having to squeeze live reads and segment sponsorships in wherever they can. Everyone is trying to make sure they aren't leaving money on the table."
If I could tell you that I know beyond a shadow of a doubt that I know there is another advertising revenue stream out there that can repeat what sportsbooks did for sports radio AND that I know exactly what it is, I could handpick my next employer and name my price.
A Supreme Court decision to make sports gambling a state issue and not a federal one completely changed the advertising landscape. In states where betting is legal, stations are having to squeeze live reads and segment sponsorships in wherever they can. Everyone is trying to make sure they aren't leaving money on the table.
"There is no question about the significant impact sports betting has had on revenue, both from the station side as well as for our on-air personalities who have become brand ambassadors," Dennis Gwiazdon, VP and Market Manager of Cromwell Broadcasting's Nashville cluster told me.
Stations in states that are yet to legalize gambling can see the boom and know it is coming eventually. What about states where gambling is already legal? What about states like Alabama or Utah, which are routinely viewed as two that could realistically never legalize sports betting? Is there a boom on the horizon for them?
I spoke with managers in three different markets. I wanted to know where they saw reason for optimism. The answers were interesting.
Earlier this month, John Ourand of Sports Business Journal took a look at the deal FOX signed with crypto.com. The site is the title sponsor of the network's College Football Extra. Ourand theorizes that could open the door for crypto companies eventually spending money on sports television the way sportsbooks do.
What is the outlook for radio? Jeff Tyler, iHeartMedia's area president in Wisconsin, is intrigued by the idea, but he isn't telling his sellers to go rushing out to make deals.
"There are a lot of variables around crypto," he told me via email. "So as a company we have a plan to work within this category but not put the company at risk or do anything that could negatively affect our listeners and partners."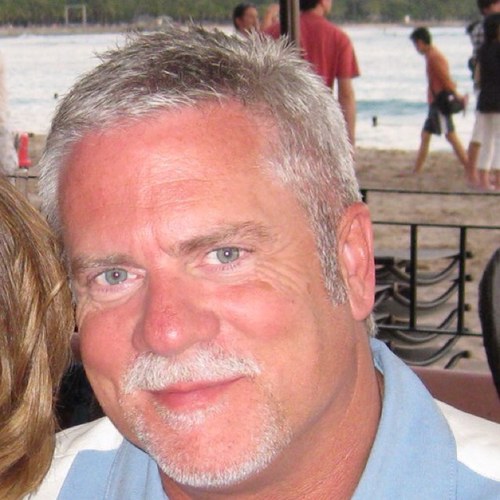 Ken Brady, the sales manager at 1010XL in Jacksonville, knows that cryptocurrency has a buzz around it right now. He is not sure what the appetite for it is in terms of an ad market or what the industry's appetite is for radio advertising.
"There is little chatter about cryptocurrency in our market or with partners," he says. "This is something we need to understand and explore better."
I asked all three men if there was a sector where they saw potential. Tyler had an interesting answer. He sees potential in eSports. He thinks teams and companies could benefit from connecting with stations with a dedicated listener base.
"Our brands could help them grow their fan base and activate them to attend more events in person and online."
Gwiazdon has his eye on another vice. Just like gambling came out of the shadows and now functions under government regulation, it is only a matter of time he thinks before marijuana does the same.
"What immediately comes to mind is the legalization of marijuana at the state and, eventually, federal level," he says. "There's so much money in that industry – as evidenced where it has already become legal – that it could easily equal or surpass what's happening with sports betting right now."
What is interesting is that amongst this trio, Gwiazdon is the only one that lives in a state where there is absolutely no legal marijuana. What he sees as a potential boom for Tennessee is already legal in both Wisconsin and Florida, albeit exclusively for medical purposes.
A lot of sellers have big plans for pot and cannabis products where they are legal. Very few of them know all the answers though. That is why the RAB has a marijuana FAQ section on its website and advertising agencies specializing in marijuana have sprung up.
For 1010XL, the boom never really materialized according to Ken Brady.
"We have had little success with this category, the players who have come in seem to be interested in demos outside our strengths or have been flakey with no real appetite for a solid campaign that will work."
Businesses built by someone following their passion for marijuana are flaky? Well, color me shocked!
Jeff Tyler told me iHeart is looking at this on a market by market basis. Wisconsin has made medical marijuana legal. Tyler can't have his sellers approaching businesses the way sellers in neighboring states like Illinois or Michigan, where it has fully been decriminalized can.
"Until it's fully legalized the advertiser revenue is very limited," he said. "We have a team that leads this vertical for iHeartMedia and have states like Colorado that already have fully legalized marijuana so we have a solid plan and guidelines to follow with these advertisers. CBD is a small category with some hit spots in some markets."
There may never be another category like sports betting. The money cannon that industry was ready to fire was unpresedented. You can't bank on it happening again.
I asked Dennis Gwiazdon if it was possible that the radio industry will have to play a very proactive role in creating the next boom. He told me that may be the best way to think about it. What he is sure of is that no idea can be dismissed as the industry looks to find another stream of revenue that has the potential of the sportsbooks.
"We definitely have to get smarter at how we generate revenue. Relying on the old, tried and true ways won't hold up forever. The good news is our business model is already undergoing a sea of change in terms of how we scale our radio/digital/entertainment assets for wider distribution and access. But some of us are further down the road than others. The audio industry is still the ultimate personal experience. How we continue to maximize – and monetize – our relationships with fans is the key to our survival."