Uncancellable: Pujols Deserves Last Shot With Needy Dodgers
Often cold and heartless, Major League Baseball must protect future Hall of Famers from late-career legacy damage — and a new opportunity with the World Series champions gives life to an aging slugger.
The bailout is shockingly proper, almost enough to restore our faith in the use-up, spit-out nature of a heartless industry. Albert Pujols has been rescued from cancel culture — and not just by any team, but the Los Angeles Dodgers, who offer him a chance not only to play in October but also flip a 31-mile-long middle finger at the team that cut him.
Some deals are inarguably raw in sports. Designating a first-ballot Hall of Famer for assignment, as if blaming him for a $240 million contract that led to zero playoff victories, was wrong of the Los Angeles Angels of Oblivion, or wherever they play these days. Though he sometimes looked every day of his 41 years, moved slower than Orange County traffic, swung like me at the local batting cage and wasn't close to hitting his weight (a 245-pound slugger with a .198 average), Pujols deserved more deference and a better fate. He gets his shot just up the I-5 freeway, where Dodger Blue has become Dodger Boo-Boo amid a bombardment of injuries, including the broken bone in Corey Seager's right hand.
Baseball owes parachute landings to its all-time legends as a way of protecting their legacies … and also to avoid looking like a cold, impersonal monolith. You expected Pujols' loyal friend, Pedro Martinez, to describe his release as "shameful." You expected David Ortiz, his boyhood chum from the Dominican Republic, to protest on an Instagram post: "I do not agree on the move that just happened. That was devastating for fans and player(s). I know this is a business, but I was expecting someone like you to walk away like you deserve. You have done so much for baseball that is hard to replace someone like you." But the injustice was driven home by the normally apolitical Mike Trout, the sport's greatest active player, who was jolted by the abrupt cruelty and said he STILL was learning lessons from Pujols every day.
"We were all surprised when it happened," Trout said. "You know, it hit me a little bit. It hit me a lot. Ever since I've been up here, he's been my guy. He mentored me throughout my career so far. Everything you can accomplish, on a baseball field, he's done. I can go up to him and talk about anything. If I was struggling at the plate, he knows the perfect time to come up and throw something out. He has that feel. I can't thank him enough. He was an unbelievable person and friend to me."
What Pujols deserved was one final chance away from Anaheim. It's a dead-end destination, where owner Arte Moreno can't figure out how to maximize Trout, two-way phenom Shohei Ohtani and charismatic manager Joe Maddon — but did employ a public-relations director accused of supplying opioids that killed the late Angels pitcher, Tyler Skaggs. The explanation, from first-year general manager Perry Minasian, was that Ohtani is the designated hitter on days he isn't pitching while emerging Jared Walsh is the regular first baseman, leaving Pujols without playing time. "He wants to play every day at first base,'' team president John Carpino said. Shouldn't all of this have been addressed in the offseason, when Pujols refused to declare 2021 as his final season even with his 10-year contract expiring? Why the communication lapse? Where was Moreno, who signed off on the onerous contract way back when? Since Pujols' release, the Angels typically have sunk in the standings. And now, they'll have to pay the rest of his $30 million salary.
This while the injury-plagued Dodgers, the show-biz franchise that long has reduced the Angels to a middling operation, pay him a prorated $420,000. That's it. We know where this narrative is going, right? The Dodgers, who've melded tradition with resources and technology to build the model U.S. sports organization, want to prove they can revive Pujols when the Angels could not and others rejected the challenge. Struggling themselves in a World Series hangover that includes a growing list of health and inefficiency setbacks, the champs will plant Pujols into the clubhouse as a mentor. If Trout was learning from him, what about Cody Bellinger, Gavin Lux, even Mookie Betts? Clayton Kershaw and Justin Turner are the longstanding leaders, with Dave Roberts as the seen-it-all manager, but sometimes a fresh, grandmaster voice is needed to sidle up to Trevor Bauer and say, "Bro, was that tweet really necessary?''
He won't morph into Pujols Prime, the three-time National League MVP who ranks fifth in career home runs (667) and 13th in hits (3,253). Hell, when asked if he could beat Pujols in a foot race, Roberts said, "As a player that I respect greatly, can I beat him in a foot race? I would say yes.'' The last three years, his slash line was abysmal, and his Wins Above Replacement was a cumulative negative-0.1. As his body and everyday skills broke down in his 30s, he was half the player in Anaheim that he was in St. Louis, where his offensive totals — .331/.426/.624 with 408 homers and 1,230 RBIs — were comparable to the most prolific decade of any slugger ever. But the changes in scenery and culture inevitably will trigger contributing sparks. Because, as Chase Utley and David Freese and other veterans have shown in their twilight, one final act in Chavez Ravine can be rejuvenating.
What's crazy is, Pujols is amenable to not being an everyday first baseman at Dodger Stadium. In trading up for a premier franchise, he's dialing down his expectations and demands. In talks last week, he was challenged by Dodgers baseball boss Andrew Friedman that he'd better produce to stay on the roster all season. Pujols took it as a threat, as he should have, because he cannot be a liability for a franchise bidding for a dynasty.
There's no DH most days. Where does he play? On a roster dependent on versatility, maybe he's occasionally at first base when Max Muncy slides to second, with Lux as the new shortstop while Seager misses at least a month. Maybe he's an imposing pinch-hitter in a lineup that needs a right-handed bat, igniting crowds in later innings. Maybe weeks pass without a contribution before he hits a game-winning homer. Whatever, the Dodgers needed bodies and glue. Albert Pujols, walking through that door, certainly has everyone's attention. That includes the national media, who have a compelling story line in what has been a snoozer of a season, with too many strikeouts, hitless lull periods, major injuries and ongoing COVID-19 cases even when players and coaches are fully vaccinated (see: nine members of the New York Yankees).
In the end, the Angels did him an unintended favor at an exorbitant price. Said Maddon, who denies a report that Pujols yelled at him and insulted his managing skills the day he was cut: "I would imagine being close to home would have some benefit there. I do wish him well. His family is right there, so it makes sense. If you get that opportunity closer to home, take it.'' And the Dodgers have nothing to lose beyond $420,000, or what they make in Dodger Dog sales in a homestand. There will be doubters, but only weeks ago, I read a columnist reflect on the demise of Pujols and San Francisco's Buster Posey, who signed a nine-year, $167 million deal in 2013. This year, Posey is hitting .382 with eight homers and a 1.151 OPS. So there is hope for Pujols, who didn't entirely lose his batting stroke at the gates of Disneyland.
The game's oldest active player has new life, which is no small development as Major League Baseball braces for another labor fight and the expiration of a collective bargaining agreement. The Pujols contract is exactly the kind of long-term, diminishing-returns commitment that owners want to avoid. As the New York Post's Joel Sherman researched, of the 23 players who've received mega-deals of at least $200 million, seven have been traded, two have been released and two (Alex Rodriguez and Robinson Cano) have served one-season suspensions for PED use. It's the most expensive roulette game in sports.
But what's a serious team to do — not pay Trout his $426.5 million in fear of his age-39 season? Or not pay Betts his $365 million extension in fear of his age-40 season? If you're the New York Mets and haven't won a World Series since 1986, you close your eyes and give Francisco Lindor his $341 million. If you're the Yankees and haven't won since 2009, you give Gerrit Cole his $324 million and hope he turns out like Max Scherzer, more than worth Washington's $210 million pact that expires this season. San Diego ownership angered its old-lord brethren by giving Fernando Tatis Jr., at 22, a 14-year deal for $330 million. The Padres were telling their fans, in a city with no other pro sports team, that they're committed to contending for the long term. Is that wrong? Isn't the objective still to win a championship?
If you want the optimum chance to stage a World Series parade, you invest in superstars when you have the opportunity. If you want to play the limited-payroll underdog role — and occasionally get lucky, like the Tampa Bay Rays last autumn — you paint yourself as a small-revenue underdog and hope fans keep caring. It's a system of haves and have-nots attached to a ticking bomb: the growing likelihood of a labor impasse before next season.
Short of the owners implementing a salary cap, which would lead to a strike that could cripple the game permanently, franchises must continue to gamble that elite players produce big numbers through most of a contract. How does it work out when teams opt not to take the plunge? The St. Louis Cardinals, who let the Angels outbid them in 2011 amid civic rebellion, haven't won a World Series without Pujols after winning two with him. Tell New Englanders, even with the Red Sox off to a surprisingly hot start, that life without Betts won't be a nightmare this decade.
Remember, the MLB financial system is a massive pie filled with the fruits of broadcast revenues. Every last crumb of the pie will be devoured; it's a matter of which owners and players snatch the largest pieces. Moreno could afford Pujols at the time. He obviously didn't go broke since then, having committed almost double the amount to Trout. The Angels gambled … and lost.
And now, as if karma is biting back, they face double-jeopardy. With Trout apparently headed for another playoff-less season in an ongoing baseball tragedy, Pujols could become a story in the fall … and might even retire as a champion. The lesson, in sports and business: Somehow, though the route might be circuitous, make your way to the best-performing and most-well-run organizations, the ones that know how to create happier endings for even a broken-down old man.
5 Goals: Rob 'World Wide Wob' Perez
"I've always had aspirations, hopefully with FanDuel in collaboration with another network, to apply NFL Red Zone to the NBA."
This month's subject of five goals is Rob Perez, better known to NBA Twitter as World Wide Wob. The content creator and producer for FanDuel shared with me five things he wants to accomplish or see happen.
1. I want to make FanDuel, my licensing partner in content creation, as happy as possible.
My goal is to drive people to their web site or app, and spread the reach of the brand. I'm sure there's a more formal word for that, but I want to organically integrate FanDuel into everything I do.
I don't want to just be a commercial — hey 20% off, or here's a free bet — because people are drowning in those across various forms of communication. All the content I do is naturally involved, and if someone's asking about who's favored it's a very seamless type of content integration in which I can include them and drive them to FanDuel if they'd like to put their money where their mouth is.
I would certainly love the opportunity to continue working with them — not just because they pay me to do so, but I do find value in working with a sportsbook of that size that is turning into a content company. Of course, they're always gonna be a sportsbook. It makes them the most money. But, giving you additional reasons to engage with that brand, if you have an itch to bet on something, is what my job is.
I want to continue to be the face of the NBA for them, having a very casual conversation about the game itself — whether that's off the court stuff, or all the coaching departures earlier this week. Integrating the FanDuel logo into all this feels much more real than a 30-second commercial between timeouts. I want you to enjoy the experience of the show, and gamble if you so choose.
2. NBA Red Zone.
I've always had aspirations, hopefully with FanDuel in collaboration with another network, to apply NFL Red Zone to the NBA. It would work best on Monday, Wednesday, Friday, and sometimes Sunday, when there are 8-9 concurrent games.
That's why I'm where I am today. I'm watching every single dribble of every single game. But, I would never expect any other normal human with responsibilities outside of NBA content creation to ever keep up with what's going on between the Kings and Pistons while there's seven other games on, one of which is nationally televised.
So, if the NBA ever decides to have a true commitment to their version of the Red Zone — they've tried versions of it on NBATV, but I've never seen one hopping between games every 15-20 seconds, hot switching any time there's a play stoppage — I'd love to do it.
You'd have a Scott Hanson type host who is as integrated with the league as it gets. I hope maybe one day I have the opportunity where what I do on my own personal timeline merges with true rights partnership from the NBA. Just based on the feedback I get on my Twitter page, there would be demand for it.
3. Do another NBA variety show.
In the past, I had a show called Buckets that I did with Cycle and ESPN. It had sketches, pre-produced talk segments, and interviews. Think of it like Jimmy Kimmel or Jimmy Fallon's shows, but applied to the NBA.
Inside the NBA is obviously the gold standard for an NBA talk show. But, those guys are going to retire at some point. What I do on Twitter Spaces, Twitch, and Periscope — I want the ability to blow that out with some more production resources.
Right now, I'm doing everything myself, from playing DJ to directing to taking calls to actually running the show and talking basketball and researching stats — I'm doing it all on the fly. While I'm certainly happy to do that, I know what we could create with a team around me because we've done it in the past. I would love to do a weekly variety show based around the NBA.
4. Some more work life balance.
My entire day for 11 months out of the year revolves around the NBA. It's my job and I'm happy to. I love following it. At some point, I feel like I'm gonna get burned out, and I don't want to ever get to the point where doing this feels like work.
It felt a little bit like work this year, and that might be because I'm on Year 8 doing this. [RG note: at this point, I mentioned how last offseason was so condensed after the bubble, and how the energy felt partially zapped out of sports with a lack of fans]. I'm gonna watch regardless because I'm a crazy person, but I think a lot of people would agree with you that the return to normalcy is helping with the engagement on a mainstream scale.
This offseason will be condensed again. We have the Olympics, which of course I'm going to watch because stars will be playing. Summer League is in August. There's free agency and the draft. There's barely going to be one month — September — where there probably won't be a whole lot of NBA news or events.
But then we're going back to the normal schedule from before the pandemic, which means Media Week will be the first week of October. There's one month off before it all starts again, and I'm hoping I don't get burned out by it.
Being on the East Coast, it's impossible to follow the NBA 24/7. I don't know how people with kids and families do it. Getting back to the West Coast is a personal goal of mine, which will happen this summer when I move back to Los Angeles. These hours will allow me to get back to a more normal life.
5. I want the Knicks to win a championship in my lifetime.
Just being a die hard Knicks fan and not seeing a title in my lifetime, that's a personal goal. I've put so much work into watching every effing game since I was eight years old with Patrick Ewing and John Starks in the NBA playoffs.
I was young, but I was old enough to know that I wanted to stay up for those games. I was emotionally invested. I would even get to the point where I was putting towels underneath the door so my parents couldn't see that the TV was on. They thought I was sleeping.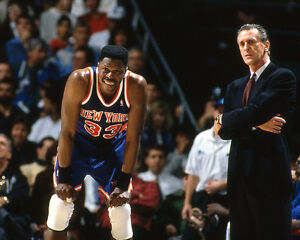 Of course I want my team to win a championship, and I don't want to die without seeing that mountaintop. I can't even imagine what it's like to be a Red Sox or Cubs fan and going all those years without seeing them win, then having it happen. I want to experience it once.
Whatever it takes to get there. I have too many gray hairs on my head, and every single one of them I can attribute to a single Knicks game from the past decade. Being a fan while trying to create objective NBA content will always be a challenge, but being a Knicks fan will always take precedent over a career because it means that much to me.
Forget the Email, Just Smile & Dial
"Don't confuse marketing with sales. We are not human advertisements or, even worse, spam."
Back in August of last year, the pandemic was still front and center, acting as a roadblock for business. Retailers were in business and at the stores, but what about the advertising buyers? Where were they?
Well, the ad-buying community, corporate employees, and most white-collar workers were still at home. So were most of us in radio sales. So, when it came to prospecting for new accounts, some of us gave up, most sent emails, and a few brave souls hit the phone. Earlier this year, I wrote about the sales trainer John Barrows and how he got to the top by cold calling 400 prospects a week! That's not cold emailing. That's cold CALLING. And to be exact, if Barrows was working a 10 hour day on the phones Monday through Friday, he would dial at least eight prospects an hour. 
Does that send a chill down your spine? Or does it make you want to run to your keyboard to avoid rejection and send some more cold emails? Back in August, when most of our ad buyers were at home, not near a business phone, Jeb Blount and Anthony Iannarino were recording a podcast about why you should hit the phone, not the email. Both sales consultants and authors thought we could improve our connect rate immensely by working the phones over email.
Both authors agreed that we need to have conversations with people about our stations, personalities, shows, and the sports world! We can hire an automated CRM service to send emails!
Now I am all for some well-crafted custom emails sent to targets that do not answer phones or listen to voice mails but not as the first activity in a sales sequence. Don't confuse marketing with sales. We are not human advertisements or, even worse, spam. Our job isn't to create awareness for buying sports radio packages; it is to make the sale!
We are consultants offering custom solutions to the unique challenges your clients have. And consider that if you pick up the phone and connect with the advertising buyer and get the appointment, you won't need an email!  
Both consultants agree that you don't need email to warm up a client when using the phone to get the appointment! I recently tested this theory myself and decided that with the pandemic subsiding in most metropolitan areas and more buyers going back to the office, I could start hitting the phones more. 
It worked. I got more appointments faster and wasted less time. I even got help. I had a business owner who I reached out to via email with a custom approach. I offered a few excellent ideas on how I could help him. Crickets. I let 2.5 weeks go by before I picked up the phone to dial the business and ask for him. They told me he was out on vacation and asked me if I had personal interaction with him. I explained no I was looking to connect with him on an advertising idea. The receptionist said you need to talk to Jane, the ad buyer. I was connected immediately.
I left a voice mail. The next day I received a return call indicating interest in my idea, and we set the appointment. Now, why didn't I try that in the first place!
If you want a custom phone pitch that I wrote out for myself, send me an email at jeffcaves54@gmail.com. Now it's time to smile and dial! 
It has been a busy week at BSM. Demetri Ravanos talks about Domonique Foxworth and the future of commentary on ESPN. Kate Constable stops by to discuss her column on Sarah Spain and the sometimes ugly realities of life as a woman in sports media. Finally, Brian Noe and Demetri discuss Le'veon Bell's Twitter rant and how depressingly relevant it is in the radio business.
Podcast: Play in new window | Download
Subscribe: RSS