An Unlikeable NBA — See: Kyrie — Still Has The Joy Of Steph
The league has lost some appeal, weighed down by activism and negative vibes from Kyrie Irving and the Nets, making MVP Steph Curry's playoff appearance vital for as long as possible — with LeBron looming.
Once considered cool, hot, dope and the most entertaining damned league on Earth, the NBA now is unlikeable. That is the operative word. Activism has backfired, chasing away viewers in a racially divided land. Load management is a bogus copout, used by stars to nurse alleged injuries, blow off games at their leisure and render the regular season meaningless.
And the biggest postseason story, the Brooklyn Nets? They are a contrived, reviled superteam with one cornerstone whose skills have been superseded by his dark social-media habits, another whose playoff failures are longer than a beard that should have been weed-whacked years ago — and a third who has announced he can't separate his full-time profession from Israeli airstrikes, though he's paid $164 million to care about the playoffs.
"I'm not going to lie to you guys. A lot of stuff is going on in this world, and basketball is just not the most important thing to me right now," Kyrie Irving said. "There's a lot of things going on overseas. All our people are still in bondage across the world, and there's a lot of dehumanization going on. So I apologize if I'm not going to be focused on y'all's questions. It's just too much going on in the world for me to just be talking about basketball.
"It's just sad to see this s— going on. It's not just in Palestine, not just in Israel. It's all over the world, and I feel it. I'm very compassionate to it — to all races, all cultures. And to see a lot of people being discriminated against based on their religion, color of their skin, what they believe in, it's just sad."
Billions of people on the planet, myself included, share his concerns about Israel-Palestine warfare. We're still expected to perform jobs and earn salaries with optimum dedication. In his undying quest to behave like he's intellectually floating above the league, Irving comes off as an entitled space cadet who needn't be laser-focused on his craft because there is violence in the Middle East. Never mind the fans who still devote money, time and energy to the league while still trying to climb out of a pandemic. Kyrie has shifted to his social-crusader mode again when, you know, America might like to enjoy an NBA postseason without the political echoes of the 2020 Disney Bubble. The sad part being, Irving is an exceptional talent, reaching the 50/40/90 club with those shooting percentages from the field, three-point line and free-throw line.
While Irving, Kevin Durant and James Harden try to avoid a crash that would delight the masses, LeBron James is cast in a rare role as underdog, which falls in line with his upcoming animated challenges in "Space Jam 2." Just days after deleting the tweet that sabotaged his recent activist triumphs — "YOU'RE NEXT #ACCOUNTABILITY," he regrettably wrote about Nicholas Reardon, the Ohio police officer who fired the shots that killed a knife-wielding Ma'Khia Bryant — James isn't a sentimental favorite, either, even on a weak ankle that he tweaked again Sunday night. He'll try to will the Los Angeles Lakers from the Western Conference's No. 7 hole in a play-in tournament that he already has slammed as beneath him, demanding that the concept architect be fired. The Lakers won't return to the Finals — think Utah or, heavens, the down-the-hallway Clippers — as they'd have to survive a road potentially involving the very real Phoenix Suns, the Clippers and the Jazz.
"Let the chips fall where they may," said James, hardly promising a repeat league title. "As simple as that. We're ready to go."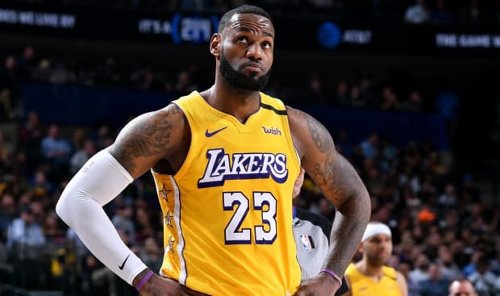 He says so even though the one superstar who happens to be likeable — actually, lovable — awaits on Wednesday night at Staples Center. Be careful what you wish for, King James. Stephen Curry still could save the NBA from itself, at least for a little while, beginning with a victory that might send the Lakers tumbling into the offseason.
Speaking for most, I suspect, wouldn't we enjoy watching Curry bring down James for the same reasons we enjoyed it three times in four years during the Finals? Three years have passed since they last met with consequences on the line, and, of all places, they meet again in a play-in game hatched in a Bubble during a pandemic. Curry was asked about their rivalry.
"You expect greatness," he said. "It brings out another level of intensity and excitement."
That's understating things. Thanks go to Warriors coach Steve Kerr, an ex-media guy, who said, "You're talking about two of the greatest players of all-time. Of course, four meetings in the Finals is going to create a rivalry."
What we've valued most through the pandemic are the showmen in sports. Curry has been a revelation, somehow more sensational than ever, taking advantage of the league's three-point binging and defensive lapses to lure eyeballs that otherwise are gazing elsewhere. If TV ratings have plummeted since 2019, Curry remains the NBA's lead attraction, having played in half the season's 10 most-watched games. He is a true underdog, overcoming his own injuries and the wretchedly bad luck of the Golden State Warriors — who've lost Klay Thompson for two seasons and rookie big man James Wiseman this year — to become an MVP candidate for a 39-33 team with the No. 8 seed.
Check that. He is the MVP, worthier than Nikola Jokic, the gifted, do-all centerpiece of the Denver Nuggets; and Joel Embiid, who has suffered his usual injuries while Philadelphia has soared to the Eastern Conference's top seed. Abandoning his trademark humility for just a moment, he agrees that he deserves the trophy. "Yeah, I do," said Curry, who has won the award twice. "But even if you don't win it, being in the conversation, top five — those type of acknowledgements show what you're about, no matter what the situation is year to year. That, in and of itself, is the reward, because we all know how hard it is to actually have everything go right in a season where you actually do win it."
He is, without debate, the greatest and most electrifying shooter ever. He scored at least 30 points in 11 straight games — 38 times all season — as the Warriors avoided elimination. He broke the league record for most threes in a month and made 337 total, with a record seven 10-three games. He inevitably will break Thompson's record for threes in a game (14). If Durant must draw social media traffic with homophobic, misogynistic rants, Curry still stirs phone-holders in uniform, enrapturing all demographics by routinely breaking down a defense, chucking a shot from anywhere inside halfcourt and strutting when it swishes. Or, during a late spree Sunday against Memphis, yelling and lifting his shirt to reveal modestly developed pecs as he celebrated his ninth three-pointer, his 11th game of at least 40 points — and his second career scoring title, making him the oldest to win it since Michael Jordan. Yes, the babyfaced assassin is 33 years old.
Oh, according to ESPN, he also joins Jordan and two large men, Kareem Abdul-Jabbar and Wilt Chamberlain, as the only players with multiple scoring titles, MVPs and championships. Come on, Curry isn't the MVP of his league? Every time he plays, he mutes every Irving screed, every Durant tweet and every LeBron social observation. When the Warriors were champions, Curry regularly lambasted President Trump. What's the point now in politicking and screeching? When he yelled Sunday, it came from a place of sports inspiration — channeling Baron Davis, who authored a miracle Warriors run in the "We Believe" postseason. Was it Curry's way of hinting at more magic ahead?
Certainly, James is impressed. "We're playing, in my opinion, the MVP of our league this year,'' he said. "I mean, just look at what he's done this year. I don't know anything else if you're looking for an MVP. If Steph is not on Golden State's team, what are we looking at? We get caught up in the records sometimes. We get caught up in the, `OK, who has the best record?' instead of just saying who had the best season that year. And Steph has had, in my opinion, the best season all year."
On a weekend when Jordan presented Kobe Bryant for induction at the Naismith Memorial Basketball Hall of Fame, in a ceremony that included Tim Duncan, Curry's name was lifted to the same all-time plateau by his biggest admirer. "He's reminding me of MJ in that you just get so used to the brilliance and the excellence, it sort of blends in with everything else," said Kerr, who helped turn loose the Curry monster starting in 2014-15. "It just becomes routine. It's insane to say that because what you're watching is otherworldly, and yet you sort of begin to expect it. That's probably the purest sign of greatness. … It's the same thing after every game. It's just utter amazement at this guy's skill level, heart, mind, focus. It's amazing to watch."
As a leader, Curry is compared by Kerr to Duncan, his former San Antonio teammate. "The combination of humility and humor, and then total confidence on the floor. It's such an amazing combination," Kerr said. "A lot of people who have the humor and the humility, usually guys like that are the ones who are at the end of the bench. So when you have a superstar that has that type of combination, it's so rare and incredibly powerful."
More simply, teammate Juan Toscano-Anderson said, "He's like the Picasso of our time." Noting that Memphis' Ja Morant had trolled Curry on social media last season, Toscano-Anderson took note of how Morant hit just 7 of 21 shots — and only 1 of 6 threes — while looking spooked in the Sunday loss. "If Mike Tyson has a problem with me, I am not going to bark up that tree," he said. "I wouldn't make him have any personal vendetta against me. If you want to get embarrassed in front of a million-plus people, then, hey, go for it."
Said Curry, acknowledging Morant's slight: "I see everything, so I love to have some fun with it."
Fun. Isn't fun so much … fun?
So, yes, at least there's the Joy Of Steph to counter all the NBA loathing. Problem is, the Warriors might not be around long. A loss to the Lakers would drop them to a single-elimination home game against the Memphis-San Antonio winner. Lose that, and wave goodbye. Win, and they're in a best-of-seven series against the top-seeded Jazz, the league's most complete team in the regular season. That might be more fun than anything else we see in these May-June-July playoffs, including the Finals.
"God is good," Curry said. "I've been blessed to be back healthy and able to just play night in, night out, at a high level. I'm going to keep doing that until I can't anymore. I don't know how long that will be."
Can it be forever?
With summer arriving after a year in isolation, people won't be immersed in the playoffs. They'll be outside, which suggests ratings for the NBA — and all sports, including a risk-filled Tokyo Olympics that shouldn't take place — will remain at rock-bottom levels. Curry can take a team and a league only so far.
So, the rest of the NBA might want to channel his joy. And, you know, leave bondage and dehumanization to the world leaders.
Being Wrong On-Air Isn't A Bad Thing
…if you feel yourself getting uncomfortable over the fact that you were wrong, stop to realize that's your pride talking. Your ego. And if people call you out for being wrong, it's actually a good sign.
In the press conference after the Warriors won their fourth NBA title in eight years, Steph Curry referenced a very specific gesture from a very specific episode of Get Up that aired in August 2021.
"Clearly remember some experts and talking heads putting up the big zero," Curry said, then holding up a hollowed fist to one eye, looking through it as if it were a telescope.
"How many championships we would have going forward because of everything we went through."
Yep, Kendrick Perkins and Domonique Foxworth each predicted the Warriors wouldn't win a single title over the course of the four-year extension Curry had just signed. The Warriors won the NBA title and guess what? Curry gets to gloat.
The funny part to me was the people who felt Perkins or Foxworth should be mad or embarrassed. Why? Because they were wrong?
That's part of the game. If you're a host or analyst who is never wrong in a prediction, it's more likely that you're excruciatingly boring than exceedingly smart. Being wrong is not necessarily fun, but it's not a bad thing in this business.
You shouldn't try to be wrong, but you shouldn't be afraid of it, either. And if you are wrong, own it. Hold your L as I've heard the kids say. Don't try to minimize it or explain it or try to point out how many other people are wrong, too. Do what Kendrick Perkins did on Get Up the day after the Warriors won the title.
"When they go on to win it, guess what?" He said, sitting next to Mike Greenberg. "You have to eat that."
Do not do what Perkins did later that morning on First Take.
Perkins: "I come on here and it's cool, right? Y'all can pull up Perk receipts and things to that nature. And then you give other people a pass like J-Will."
Jason Williams: "I don't get passes on this show."
Perkins: "You had to, you had a receipt, too, because me and you both picked the Memphis Grizzlies to beat the Golden State Warriors, but I'm OK with that. I'm OK with that. Go ahead Stephen A. I know you're about to have fun and do your thing. Go ahead."
Stephen A. Smith: "First of all, I'm going to get serious for a second with the both of you, especially you, Perk, and I want to tell you something right now. Let me throw myself on Front Street, we can sit up there and make fun of me. You know how many damn Finals predictions I got wrong? I don't give a damn. I mean, I got a whole bunch of them wrong. Ain't no reason to come on the air and defend yourself. Perk, listen man. You were wrong. And we making fun, and Steph Curry making fun of you. You laugh at that my brother. He got you today. That's all. He got you today."
It's absolutely great advice, and if you feel yourself getting uncomfortable over the fact that you were wrong, stop to realize that's your pride talking. Your ego. And if people call you out for being wrong, it's actually a good sign. It means they're not just listening, but holding on to what you say. You matter. Don't ruin that by getting defensive and testy.
WORTH EVERY PENNY
I did a double-take when I saw Chris Russo's list of the greatest QB-TE combinations ever on Wednesday and this was before I ever got to Tom Brady-to-Rob Gronkowski listed at No. 5. It was actually No. 4 that stopped me cold: Starr-Kramer.
My first thought: Jerry Kramer didn't play tight end.
My second thought: I must be unaware of this really good tight end from the Lombardi-era Packers.
After further review, I don't think that's necessarily true, either. Ron Kramer did play for the Lombardi-era Packers, and he was a good player. He caught 14 scoring passes in a three-year stretch where he really mattered, but he failed to catch a single touchdown pass in six of the 10 NFL seasons he played. He was named first-team All-Pro once and finished his career with 229 receptions.
Now this is not the only reason that this is an absolutely terrible list. It is the most egregious, however. Bart Starr and Kramer are not among the 25 top QB-TE combinations in NFL history let alone the top five. And if you're to believe Russo's list, eighty percent of the top tandems played in the NFL in the 30-year window from 1958 to 1987 with only one tandem from the past 30 years meriting inclusion when this is the era in which tight end production has steadily climbed.
Then I found out that Russo is making $10,000 per appearance on "First Take."
My first thought: You don't have to pay that much to get a 60-something white guy to grossly exaggerate how great stuff used to be.
My second thought: That might be the best $10,000 ESPN has ever spent.
Once a week, Russo comes on and draws a reaction out of a younger demographic by playing a good-natured version of Dana Carvey's Grumpy Old Man. Russo groans to JJ Redick about the lack of fundamental basketball skills in today's game or he proclaims the majesty of a tight end-quarterback pairing that was among the top five in its decade, but doesn't sniff the top five of all-time.
And guess what? It works. Redick rolls his eyes, asks Russo which game he's watching, and on Wednesday he got me to spend a good 25 minutes looking up statistics for some Packers tight end I'd never heard of. Not satisfied with that, I then moved on to determine Russo's biggest omission from the list, which I've concluded is Philip Rivers and Antonio Gates, who connected for 89 touchdowns over 15 seasons, which is only 73 more touchdowns than Kramer scored in his career. John Elway and Shannon Sharpe should be on there, too.
Money Isn't The Key Reason Why Sellers Sell Sports Radio
I started selling sports radio because I enjoyed working with clients who loved sports, our station, and wanted to reach fans with our commercials and promotions.
A radio salesperson's value being purely tied to money is overrated to me. Our managers all believe that our main motivation for selling radio is to make more money. They see no problem in asking us to sell more in various ways because it increases our paycheck. We are offered more money to sell digital, NTR, to sell another station in the cluster, weekend remotes, new direct business, or via the phone in 8 hours.
But is that why you sell sports radio?
In 2022, the Top 10 highest paying sales jobs are all in technology. Not a media company among them. You could argue that if it were all about making money, we should quit and work in tech. Famous bank robber Willie Sutton was asked why he robbed twenty banks over twenty years. He reportedly said," that's where the money is". Sutton is the classic example of a person who wanted what money could provide and was willing to do whatever it took to get it, BUT he also admitted he liked robbing banks and felt alive. So, Sutton didn't do it just for the money.
A salesperson's relationship with money and prestige is also at the center of the play Death of a Salesman. Willy Loman is an aging and failing salesman who decides he is worth more dead than alive and kills himself in an auto accident giving his family the death benefit from his life insurance policy. Loman wasn't working for the money. He wanted the prestige of what money could buy for himself and his family. 
Recently, I met a woman who spent twelve years selling radio from 1999-2011. I asked her why she left her senior sales job. She said she didn't like the changes in the industry. Consolidation was at its peak, and most salespeople were asked to do more with less help. She described her radio sales job as one with "golden handcuffs". The station paid her too much money to quit even though she hated the job. She finally quit. The job wasn't worth the money to her.
I started selling sports radio because I enjoyed working with clients who loved sports, our station, and wanted to reach fans with our commercials and promotions. I never wanted to sell anything else and specifically enjoyed selling programming centered around reaching fans of Boise State University football. That's it. Very similar to what Mark Glynn and his KJR staff experience when selling Kraken hockey and Huskies football.
I never thought selling sports radio was the best way to make money. I just enjoyed the way I could make money. I focused on the process and what I enjoyed about the position—the freedom to come and go and set my schedule for the most part. I concentrated on annual contracts and clients who wanted to run radio commercials over the air to get more traffic and build their brand.
Most of my clients were local direct and listened to the station. Some other sales initiatives had steep learning curves, were one-day events or contracted out shaky support staff. In other words, the money didn't motivate me enough. How I spent my time was more important.
So, if you are in management, maybe consider why your sales staff is working at the station. Because to me, they'd be robbing banks if it were all about making lots of money.
Media Noise: BSM Podcast Network Round Table
Demetri Ravanos welcomes the two newest members of the BSM Podcast Network to the show. Brady Farkas and Stephen Strom join for a roundtable discussion that includes the new media, Sage Steele and Roger Goodell telling Congress that Dave Portnoy isn't banned from NFL events.
Podcast: Play in new window | Download
Subscribe: RSS