9 Sports Movie Ideas From 8 Sports Radio Professionals
"Hollywood has always had a love of sports. Whether it is Oscar bait like Rocky and Chariots of Fire, feel good schmaltz like Rudy, or slapstick bafoonery like Caddy Shack and Slap Shot, competition just makes for a great plot device."
For the second consecutive summer, movie theaters will struggle. Sure, there is reason to celebrate in 2021. At least this summer most theaters, the ones that survived through the deepest throws of COVID anyway, get to be open. But studios are still wary of the public's desire to go out.
That means most big budget popcorn movies are going to be available on demand while also being in theaters. There isn't a big event movie that forces you to grab a date or round up the family and head to the theater.
Hollywood has always had a love of sports. Whether it is Oscar bait like Rocky and Chariots of Fire, feel good schmaltz like Rudy, or slapstick bafoonery like Caddy Shack and Slap Shot, competition just makes for a great plot device.
It makes sense to me to turn to the sports media industry to solve theater owners' problem. So, I asked hosts from across the country a simple question. What sports story do you want to see turned into a movie?
I also asked them to cast their leading man. Here's what they had to say.
STEVE CZABAN – 97.3 THE GAME, MILWAUKEE
"Deflategate! And Tommy Lee Jones has to be somewhere in it!"
LANCE TAYLOR – JOX 94.5, BIRMINGHAM
"Random AF but Bison Dele (Brian Williams). The Rock could pull it off. Fascinating and dark. Complete opposite of a Disney film."
PHIL MACKEY – SKOR NORTH, MINNEAPOLIS
"My answer is more of a look into the future — a story I'd LIKE to see play out… 
"I love me a Kevin Costner sports movie, and I feel like he needs to keep branching out into other sports to complete his sports movie portfolio. He's done baseball, football, golf, etc. How about Kevin Costner as the renegade new head coach of U.S. soccer, as they make a miraculous push deep into the World Cup for the first time ever (say, 2026)?
"He takes a program besieged in embarrassment and turns it all the way around in his Costner way — fighting with his bosses, fighting a rotten culture, a broken system… 
"They get beat in the finals. By Brazil. But they gain world respect for the first time. 
"Oh, and Jennifer Garner is still his capologist. If there is such a thing in soccer."
ALLEN SLIWA – ESPN LOS ANGELES
"The sports story turned into a movie for me would be Kobe's final game. I think that would be amazing story. I don't know of another finale for a career like that. Michal B Jordan would be the individual who can play his role."
JAY RECHER – 95.3 WDAE, TAMPA
"It's gotta be Tom Brady and this 2020-2021 Bucs season right? 
"From the decision to come to Tampa, to Gronk and AB coming to town, to the Super Bowl win & Lombardi toss at the boat parade, what an awesome story to tell! Matt Damon plays Brady. Take my money and give them the Oscars."
FRED FAOUR – 97.5 ESPN, HOUSTON
"Thought I would go a little off the beaten path….The 1993 Oilers, the team that played the year after the collapse in Buffalo. They had brought in Buddy Ryan as defensive coordinator, and the owner Bud Adams said it was Super Bowl or bust. They then promptly started the season 1-4. However, they reeled off 11 in a row to finish 12-4. Along the way, they had a defensive lineman (Jeff Alm) die in a car crash under suspicious circumstances, had openly gay players in the locker room long before it was acceptable, had an offensive lineman skip a game to be there for the birth of his first child (babygate), and of course the famous sideline fight between Kevin Gilbride and Ryan. They would lose their first playoff game at home to Joe Montana and the Chiefs 28-20, a team they had beat 30-0 in Week 2.
Michael B. Jordan as Warren Moon
J.K. Simmons as Jack Pardee
Kevin James as Buddy Ryan
Josh Brolin as Kevin Gilbride"
AARON GOLDHAMMER – ESPN CLEVELAND
"Now that the Browns are Super Bowl contenders, I'd embrace a comedy about the 1-31 seasons in 2016 and 2017. In a remarkable two year span, the Browns drafted countless busts and traded the rights to multiple franchise quarterbacks. They tanked for draft picks and wasted the final playing years of hall-of-fame lineman Joe Thomas. They unfurled a banner in the Dawgpound that said "GPODAWUND." Somehow, they also set the stage for where the team is today.
"Dennis Haysbert stars as Browns coach Hue Jackson in…No Win Situation. Definitely not suitable for children."
---
Seven interesting films for sure. And man, did we run the gamut? We heard everything from a murder mystery to prestige cinema to what could be one of the dumbest comedies ever written.
Personally, as a lover of film, I tend to gravitate more to Aaron Goldhammert's way of thinking. I love absurd comedies, and nowhere is their more absurdity than in the world of college sports. It is where the richest guy in the room and the dumbest guy in the room get to run the show and they are both the same guy!
So, let's go to the world of college football. I want to see a movie adaptation of the University of Tennessee's 2017 coaching search. This is the one that began with a verbal agreement with Greg Schiano and ended with six different coaches saying no and an athletic director getting fired before former Vols coach Phil Fulmer orchestrated a coup to make himself AD and Jeremy Pruitt became the head coach.
If you are not a college football fan, trust me. It was wild. Have you ever seen the movie The Death of Stalin? I have to imagine that is what it was like in Knoxville during that time.
Jeff Bridges plays Phil Fulmer. Kyle Chandler has experience playing a beloved football coach as Eric Taylor on Friday Night Lights. Let's see how he does playing a man that doesn't know what asparagus is. We'll cast him as Jeremy Pruitt.
You want a drama suggestion? It is a lot less fun, but fine. Let's go with the 2008 US Open. A virtual nobody, knocking on the door of 50 goes head-to-head with the greatest golfer to ever walk the planet, mere months before his downfall. Anthony Mackie plays Tiger Woods. Adam Sandler plays Rocco Mediate.
Boom! Hollywood, sports radio has solved your problems!
If you would like to turn any of these treatments into a movie, you can reach me at the email address and Twitter handle below. I will act as everyone's agent and take 20% off the backend.
Keeping Premier League Games Shouldn't Be A Hard Call For NBC
"Beyond its massive global fanbase, the Premier League offers NBC/Peacock a unique modern 21st-century sport for the short attention span of fans."
NBC Sports is facing some tough, costly decisions that will define its sports brand for the rest of this decade.  A chance to connect with viewers in a changing climate and grow Peacock's audience as well.  However, making the right choice is paramount to not losing to apps like Paramount+ (pun intended).
NBC is currently in the business of negotiating to continue airing the Premier League as their current deal ends after this 2021-2022 season. NASCAR is contracted to NBC (and FOX) through the 2024 season.
NBC's tentpole sports are the NFL and the Olympics.
Negotiations for the EPL are expected to go down to the wire. Rather than re-up with NBC, the league is meeting with other networks to drive up the price. NBC has to then make a decision if the rights go north of $2 billion.
Should NBC spend that much on a sport that is not played in the United States? It's not my money, but that sport continues to grow in the US.
If NBC re-ups with the Premier League, will that leave any coins in the cupboard to re-up with NASCAR? Comcast CEO Brian Roberts hinted that there might be some penny pinching as the prices continue to soar. This may have been one of the reasons that NBC did not fight to keep the National Hockey League, whose rights will be with Disney and WarnerMedia through ESPN and TNT, respectively.
"These are really hard calls," Roberts said. "You don't always want to prevail, and sometimes you're right and sometimes you're wrong, but I think the sustainability of sports is a critical part of what our company does well."
Roberts was speaking virtually at the recent Goldman Sachs 30th Annual Communacopia Conference. He told the audience that between NBC and European network Sky, that Comcast has allocated approximately $20 billion towards these sports properties.
Comcast CFO Michael Cavanagh spoke virtually at the Bank of America Securities 2021 Media, Communications and Entertainment Conference and echoed that the company is in a good position to make some strong choices in the sports realm.
"The bar is really high for us to pursue outright acquisitions of any material size," Cavanagh added. "We got a great hand to play with what we have."
While the European investments involve a partnership with American rival Viacom, the US market seems to have apparent limits.
Last Saturday's NASCAR Cup Series at Bristol Motor Speedway was seen by around 2.19 million people. It was the most-watched motorsports event of the weekend. That same week eight different Premier League matches saw over 1 million viewers. More than half of those matches were on subscription-based Peacock. 
Beyond its massive global fanbase, the Premier League offers NBC/Peacock a unique modern 21st-century sport for the short attention span of fans. A game of typical soccer fan is used to a sport that is less than two hours long. The investment in a team is one or two games a week. 
My connection to the Premier League began before the pandemic. When I cut the cord in late 2017, I purchase Apple TV. Setting it up, it asks you to name your favorite teams. After clicking on the Syracuse Orange and the New Jersey Devils, I recalled that my wife has family based in London, England. They are season ticket holders for Arsenal, and that family redefined the word "die-hard" fans.
I've long been a believer that sports allegiances are best when handed down by family. I love hearing stories of people loving the New York Giants because their parents liked them, and they pass it down to their children.
I've successfully given my allegiance to the Devils to my young daughters.
By telling Apple TV that I liked Arsenal, I get alerts from three different apps when the "Gunners" are playing. The $4.99 is totally worth it to see Arsenal.
Whenever I told this story, I was amazed to see how many other American sports fans had a Premier League team. Students of mine at Seton Hall University rooted for Tottenham Hotspurs, while an old colleague cheers on Chelsea.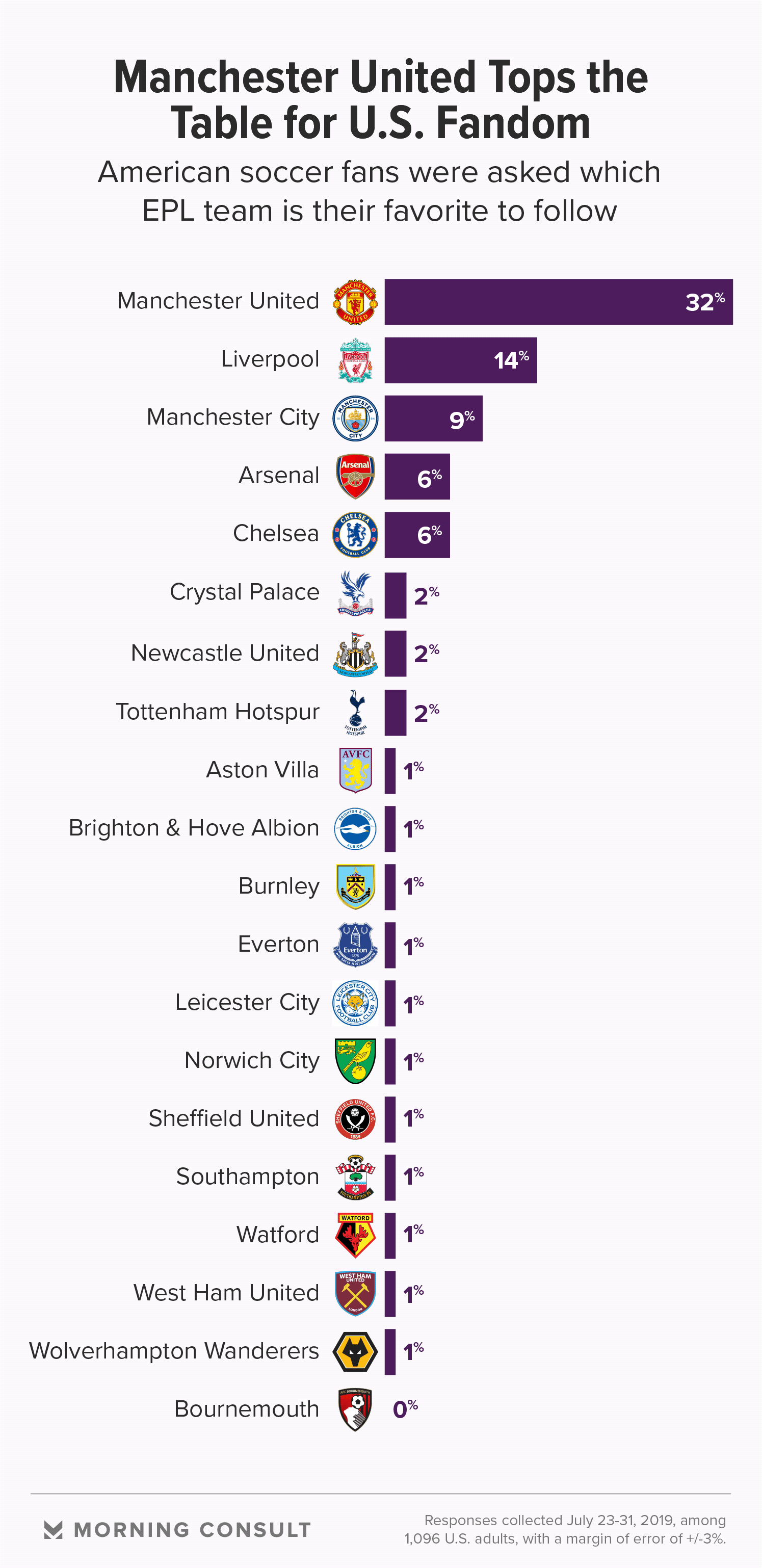 This is not meant to say that NBC should sign the EPL on my account. The key for any US-based soccer fan is that between Bundesliga, Serie A, and other leagues, there will be no shortage of soccer available on both linear television and streaming services.
Besides, Dani Rojas did say that "Football is life." NBC, originator of the Ted Lasso character, should make keeping its Premier League US connection a priority.
Today, Demetri is joined by Tyler McComas and Russ Heltman. Tyler pops on to talk about the big start to the college football season on TV. Russ talks about Barstool's upfront presentation and how the business community may not see any problems in working with the brand. Plus, Demetri is optimistic about FOX Sports Radio's new morning show.
Podcast: Play in new window | Download
Subscribe: RSS
6 Ad Categories Hotter Than Gambling For Sports Radio
"Using sports radio as a back page service for gambling will have a limited shelf life."
For years sports radio stations pushed sports gambling advertisers to early Saturday and Sunday morning. The 1-800 ads, shouting, and false claims were seedy, and some stations wouldn't even accept the business at 5 am on Sunday.
Now, with all but ten states ready to go all in on sports gambling, sports radio stations can't get enough of that green. Demetri Ravanos wrote about the money cannon that sports gambling has become for stations. Well, what if you are in one of those ten states where it isn't likely to ever be legal like California or Texas? Where is your pot of gold?
Or, let's face it, the more gambling ads you run, the more risk you take on that the ads will not all work as you cannibalize the audience and chase other listeners away who ARE NOT online gambling service users and never will be. So, what about you? Where is your pot of gold?
Well, let's go Digging for Gold.
The RAB produces the MRI-Simmons Gold Digger PROSPECTING REPORT for several radio formats. In it, they index sports radio listeners' habits against an average of 18+ Adult. The Gold Digger report looks at areas where the index is higher than the norm – meaning the sports radio audience is more likely to use the product or service than an average 18+ Adult who doesn't listen to sports radio. The report, generated in 2020, indicates that sports radio listeners are 106% more likely to have used an online gambling site in the last thirty days. That's impressive because the report only lists 32 activities or purchases a sports radio listener indexes higher than an average adult. I looked at those 32 higher indexes, and I think we can start looking for some gold.
Using sports radio as a back page service for gambling will have a limited shelf life. The gambling companies who commit significant money to get results will continue advertising and chase the others away. So, the future of sports radio needs to include other cash cows.
If it is evident to online sports gambling services that sports radio stations are a must-buy, who else should feel that way?  I looked at the Top 32 and eliminated the media companies. ESPN, MLB/NHL/NFL networks, and others aren't spending cash on sports radio stations they don't own in general. But Joseph A Bank clothing, Fidelity, and Hotwire should! Here's your PICK-6 list I pulled together that's hotter than sports gambling:
Sportscard collectors, Dapper Labs, Open Sea- read about Sports NFT $.
Online brokerage firms-Fidelity, Charles Schwab, Robinhood, Webull, TD Ameritrade
Golf courses, resorts, equipment, etc.- we play golf at home and vacation
Hotwire.com, Booking.com, TripAdvisor, Airbnb, Carnival Corporation, and Priceline.com- we've used Hotwire in the last year.
FedEx, UPS, U.S. Postal Service, Venmo, PayPal, Zelle-we wired or overnighted $
Jos. A. Bank, shein.com, macys.com, nordstroms.com- we went to Jos. A. Bank in last three months
The sports card/NFT market is 32% hotter than the sports betting market for sports radio listeners. Everything on the PICK-6 is at least 100% more likely to purchase than an average 18+ Adult who doesn't listen to sports radio. All listed are at or above indexing strength compared to sports betting. The individual companies I added are industry leaders. Bet on it! Email me for details.