AEW Moves Dynamite to TBS, Adds Friday Show For TNT
AEW is airing on TNT for the rest of 2021.
All Elite Wrestling isn't slowing down its pile drives anytime soon. The company is moving its "AEW: Dynamite" to TBS next January.  
"It's a pleasure to be able to help Tony Khan expand his wrestling fiefdom across our networks and bring more content to our fans that fits the thrill ride brand of TNT and good time of TBS," said Sam Linsky, Associate General Manager, SVP, Programming and Operations, TBS, TNT, and truTV. "It's Wednesday. You know what that means."
The company's presence on TNT isn't going anywhere for the time being. Debuting August 13 at 10 p.m. ET, "AEW: Rampage" is another hour of high-octane wrestling featuring the stars of AEW. TNT is also debuting four new professional wrestling specials annually as they grow AEW's audience before moving to TBS in 2022.
"As a lifelong wrestling aficionado who is privileged to present AEW to longtime and new fans alike, it means a lot to me – personally and professionally – to share the news that All Elite Wrestling will call TBS home beginning in 2022," said Tony Khan, CEO, GM and Head of Creative of AEW. "The history of wrestling in the United States cannot be told without acknowledging the contributions of TBS, which as WTBS years ago delivered wrestling to the Southeast and eventually to a massive national audience."
"TBS has the same passion for wrestling today," Khan continued. "But will offer AEW and our fans more prime time programming, content, and global opportunities that will establish TBS as the world's undisputed destination for wrestling."
With Dynamite on the move, speculation is running rampant about how this might be connected to Turner's new deal with the NHL. With Wednesday nights soon to be available, it is possible that becomes the night at the center of TNT's hockey coverage.
"AEW: Dynamite" has been climbing up the rating as wrestling's most-watched show. On May 5, The event was the number one show on cable among 18-to 49-year-old adults. Marking the first time the franchise captured that title. In April, the wrestling show notched its most-watched episode since the series launched in October 2019, with over 1.2 million viewers tuning in last month.
Vince McMahon: 'I Wish I Could Have Beaten Up Bob Costas'
"Apparently, Vince has an enemy in Bob Costas."
It shouldn't come as a surprise that WWE Chairman Vince McMahon's in-ring persona often is the same as it is in real life. Mr. McMahon can be brash, intimidating and command your attention. As a businessman, it's also no surprise that he's probably made a few enemies along the way, whether it be through business or in media.
Apparently, Vince has an enemy in Bob Costas. But that's not earth-shattering considering part of his job is making enemies.
McMahon's disdain for the former NBC broadcaster stems from a 2001 interview the two did on Costas's HBO show, where Costas appeared to do everything right to push Vince's buttons.
A transcript provided to the New York Post from a Jim Miller book called Tinderbox: HBO's Ruthless Pursuit of New Frontiers details just how Costas managed to get under McMahon's skin.
"Once we were doing the interview, he kept interrupting me and interrupting me, and bringing up topics that had nothing to do with what we were supposed to be talking about," McMahon said.
Vince McMahon referred to Costas as "pompous" and was even quoted as saying he'd have laid hands on Costas had he not been so small.
"I wish he wasn't 5-feet high and 140 pounds. If he was 6-5 and 295, he would deserve to get the shit beat out of him," McMahon said. "I could have really given them some great television."
The Post notes that the two were able to conduct a more civil interview a year later, but it seems like once you cross a boss like Vince McMahon, there's no way to get back in his good graces.
Canadian Sportscasting Icon Brian Williams to Retire
"TSN plans to honor the career and achievements of Williams prior to kickoff of the Grey Cup."
A Canadian broadcasting icon is set to call it a career following this year's Grey Cup on Dec. 12.
Brian Williams has spent the majority of his career between the nation's biggest broadcasting companies, CBC, CTV and TSN. The largest chunk of his career was spent from 1974-2006 with CBC.
Williams is a 2010 inductee into the Canadian Football Hall of Fame Football Reporters Wing and has covered some of the world's biggest sporting events including the Olympics and the FIFA World Cup.
"Over the course of the last 50 years, I've been fortunate to cover so many great athletes and amazing events, both at home and abroad. I'd like to express my sincere thanks to all," Brian Williams said in a statement.
TSN plans to honor the career and achievements of Williams prior to kickoff of the Grey Cup.
Beth Mowins To Become 1st Woman To Call NBA Game For ESPN
"The NBA is now the third major professional sports league where she has made history."
Beth Mowins has a habit of making history in the broadcast business. Her latest feat worth celebration will come on Friday when Mowins becomes the first woman in the history of ESPN to call play-by-play for a regular season NBA Game.
The network sent out a press release on Thursday announcing the assignment. She will work with Jeff Van Gundy as her analyst when the Philadelphia 76ers visit Atlanta to take on the Hawks. Cassidy Hubbrth will serve as sideline reporter.
ESPN tweeted out an image to show all that Beth Mowins has done. The NBA is now the third major professional sports league where she has made history.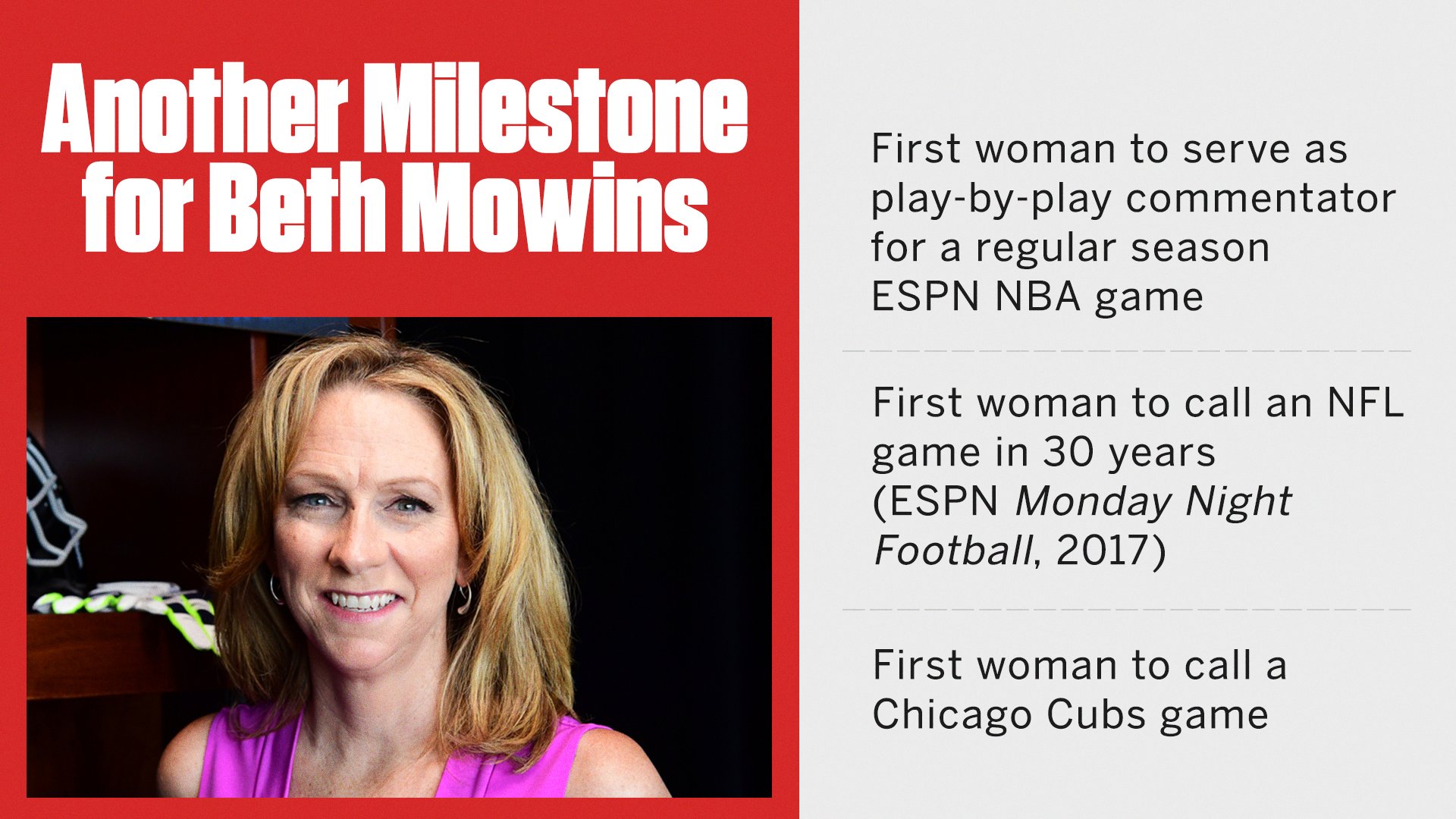 Mowins won't be the only woman calling the game that night. Kate Scott is in her first year as the play-by-play voice of the Philadelphia 76ers.