Meet The Market Managers: Brian Maloney, Capitol Broadcasting Raleigh
"I know a lot of people aren't using the R word anymore. You know, it's audio this or whatever, but we're in the sports content business, period. It's that simple."
The business model for sports radio in Raleigh, NC is an interesting one. One company, Capitol Broadcasting, owns all three of the market's sports brands. It also owns the local NBC and FOX affiliates. Combine that with the fact that the company owns the Durham Bulls and a major local sports site called WRALSportsFan.com, and it is obvious that the company is a juggernaut in the local sports scene.
I used to work for Capitol. So many different outlets meant you had a lot of exclusive audio and access to build content around. There was a lot of work involved, but there were plenty of perks too.
The man in charge of all of it is Brian Maloney. He is the focus of the latest Meet the Market Managers column.
In our conversation, Brian and I discuss why he still values play-by-play, his reasons for changing his expectations of a program director, and more. Plus, it ends with an invite to a tailgate party!
---
Demetri Ravanos: I want to go back to right before the pandemic set in, where 99.9 The Fan went through a major lineup change, splitting up the popular tandem of Adam Gold & Joe Ovies. They had been together over a decade, and you moved Adam to middays, which meant David Glenn would no longer be part of the station's schedule. Then, just as things were starting to get rolling, the pandemic hit. I'm wondering if you can take me through some of those early moments and what went through your mind as you're trying to navigate not only the new realities for the station, but across the cluster.
Brian Maloney: You really want me to relive this huh? Oh, my God, it was scary as hell. But I kept telling myself, "We're going to be so much better on the other side of this." And I think it's true.
College basketball rules in this market, and it all came crashing down for us around March 12th or 13th. We were right in the middle of the biggest month of the year for us in ratings and revenue, and then the bottom fell out literally in a matter of a day.
It was really scary for the first six or so weeks because nobody had ever experienced what we were going through. It was like driving down a country road at night with no lights on. You had no idea where it was going to go.
DR: Right. And you're doing all of that with two new shows, one in afternoon drive that includes a guy that hasn't done radio before.
BM: Yeah, that was crazy. In hindsight, we either couldn't have picked a worse time or maybe it was the best time to make changes. We brought in Joe Giglio from the News and Observer and I think he had been on for one week at that point. Here's a guy with no radio experience doing a sports talk show host's job from his bathroom, because it was the only quiet space in his house, with a new partner that couldn't even see. But, man, if you can do that, you can do anything.
We just got really creative. We got really good. And like I said, we are better off than we were 14 months ago.
DR: So that leads into my next question. In terms of both the sound of the two shows and ratings performance, how would you grade that first year and few months of this new lineup?
BM: It was really hard to get a handle on things the first four months because the world was just going nuts. We started to, in July, feel it coming together, and now we're seeing the performance in the ratings, streaming, and reactions on social media. The street buzz from clients is also good. It's really starting to gain momentum.
Joe Giglio and Joe Ovies released our Russell Wilson podcast last week. It's a six part series. We just released part four today, and we're coming in on fifteen thousand downloads in a week. So we're really happy about that. That's an example of a way that we got better, because we really had to stop and think. And that's something that those guys have been working on since back in the summertime when we were still in the throes of things.
DR: When you were dealing with the difficulties brought on by the pandemic, you guys started hosting these virtual town halls with local clients. I think you would open up at one point, correct me if I'm wrong, to just any business. If some of these clients had other friends that were business owners that wanted to be a part of those sessions, they were welcome as well, right?
BM: Yeah, we came out of the chute conducting online seminars, anything from H.R. people talking about how to handle employees going through challenges to attorneys talking about dealing with the business loans and such.
We just went after that right away. It was a way we could help. We were able to position ourselves as somebody there to help the community. As a matter of fact, that was branded as "Here to Help". I think we built up a lot of credibility when we did that, and it had nothing to do with sports. It was just all about helping businesses in this community.
DR: How did that idea come together so quickly that you were able to act on it right away?
BM: Fortunately, we work for a private company that has a bunch of talented people and we just sprung into action and turned it on quick. We got up and running and it just snowballed from there.
DR: Let's talk about working for a privately owned, local company. Capitol owns the entire sports radio landscape here in Raleigh. One of the things I look at all the time is certainly it does block out the ability for a competitor to come in and be strong. But is there value to all three of your sports brands? Certainly 99.9 The Fan is a property that any group in the market would want, but The Buzz is on an HD channel, albeit with translators. The Ticket is on an AM signal. How do you value those brands in 2021?
BM: Well, I think there's no doubt we've seen growth in digital listening, but terrestrial still makes up the majority of listening in the United States and in our market as well. So it's still important. You've got to have that real estate. But, you know, I no longer look at it as "The Ticket is on 620 AM. It's not just on 620 AM. It's still a brand of ours, and we distribute it. I mean, it is available in many places right now. We have our stations streaming under our TV stations' webcams of the beach, of the lake, and of downtown Raleigh. We just push it out everywhere.
DR: And with that association with WRAL, the local NBC affiliate, certainly there are advantages to The Fan being branded as part of WRAL's online sports empire. I wonder if there are any disadvantages of The Fan using that WRALSportsFan banner. The Buzz and The Ticket too for that matter. Do you see any disadvantages of radio brands not having their own distinct online location?
BM: No, I think it's actually a huge advantage. I think seven years ago, 10, 12 years ago, you might have said, "wow, man, they don't have their own identity". But if you look at where our industry has gone and where it's going, it's not just about radio. It's about radio, video, and articles online.
We're doing what we've always done, and that's the way of the world now. I mean, our radio stations are just a piece of the big machine and our on air talent write articles. They do videos. We video stream our shows. It's almost like the radio shows themselves are just a small piece of what we do. Our sports website generates millions of page views every year, millions. The overall website gets billions.
DR: And that's why I asked if there are disadvantages. Forget the website. Look at it from a mobile perspective. The WRALSportsFan app offers a user considerably more content than you might expect from an independently owned radio station's app.
BM: Yeah, it's 360. It's a very robust platform of sports content. I know a lot of people aren't using the R word anymore. You know, it's audio this or whatever, but we're in the sports content business, period. It's just that simple. I think people try to complicate it, but we are in the business of producing sports content, whether it's podcast, video, audio, on a radio station, Alexa or whatever.
DR: During the pandemic you made a change at PD. You and I talked about the job and you were very clear from the get go, you were rethinking what that position should be. You've had guys like Adam and Joe, who had been with you for over a decade and Alec Campbell, who has run their show for five years. Was that a big factor in being willing to experiment because you knew the sports side was full of people that had established successes, or did you simply feel it was time for the role of a program director to evolve and move building clocks and coaching talent to the backburner?
BM: Absolutely. Sammy Simpson is the brand manager for our cluster, which includes the mighty WRAL FM, Adult Contemporary, and then our sports stations.
You're absolutely right. Sammy views this, the whole operation as a unit, including sales. There are many times that Sammy comes up with ideas and ways to market ourselves to clients and solve their problems, all the way down to how are we going to market this new podcast that we're putting out. How are we going to brand anything we do?
So, yeah, I think the days of program directors fiddling with clocks and the less important stuff, that's done in my mind.
DR: Raleigh is still a market where the ratings come out and advertisers pay attention. It helps them in setting up their buys. Given that so much of this is now about producing content that's consumable on people's own schedules, are we reaching a point where part of the reason PDs will have to offer more than just fiddling with clocks and coaching talent is it's less about what that number is at the end of each quarter?
BM: I think for sports radio, it's never really been about the ratings. That's been one of the beauties and attractions of the sports format, is we all know how powerful it is, no matter what the ratings say, and now I think it's even more powerful. To give you an example, last week we did a countdown to the NHL playoffs promotion, where we took a 500 pound block of ice and froze a puck in it. We asked listeners to guess when they thought the puck would drop. They won tickets to the playoffs and a chance at money and everything.
So we had this block of ice set up with a webcam on it 24/7 that got hit in our newscasts on our TV station, and it was talked about on the air, it was watched on social media. We had over 7000 people tune in to watch ice melt last week, okay? When they watched ice melt, they also saw the client's logo, they heard the client mentioned on the air, and they saw the client on social media.
It just goes so far beyond the radio promo mention now. That's what we bring. I don't care if you're a music station or a talk station. That's what you should be doing right now.
DR: You guys have a history of doing some really cool podcasting projects. You mentioned the Russell Wilson podcast earlier. I've told clients to listen to Lauren Brownlow's NC State Stuff podcast from 2017 too. I think it's a great example of what radio stations should be doing in that realm. As successful as the creative side has been, looking at it from a business standpoint, do you feel like it's been successful in terms of getting ad reps and clients to see the value of putting their messages on those products?
BM: It's been a learning process. You really have to stop and think about what you're doing. So just to walk you through briefly, the latest thinking with this Russell Wilson podcast is that we see so many, what is it at now? 1.6 million podcasts out there today? You see so many people who are just sitting down in front of a microphone and think they're going to just talk sports. We tried that and it didn't really work. So we started to be thoughtful about what we're doing.
We know from the data that NC State and Russell Wilson move the needle. Credit Joe Giglio and Joe Ovies for coming up with that topic and for phoning in their contacts to get great content for that podcast. We knew that if we did something that went really deep and was really thoughtful about a topic we know moves the needle, maybe we can get something cranking here.
We got a sponsor involved. They were like "Oh, Russell Wilson? Big name! NC State? Big School! Yeah, sign me up!" So we were able to sell a title, exclusive sponsorship for it. And like I said in the first week, we're coming up on fifteen thousand downloads.
So take it a step further. We thought let's buy digital ads in Richmond, Wisconsin and Seattle. So now we've touched, our market, Raleigh/Durham, but we've also touched Richmond, Wisconsin and Seattle, where Russell's footprints or fingerprints are. So now we believe securing a sponsor for our next podcast effort will be easier, because we know we have a nice track record of success with the Russell Wilson podcast and also with other ones we've done in the past, too.
You really have to be thoughtful about what you're doing and strategic. It takes a lot of work. We do have an advantage of a great machine in Capitol broadcasting that can promote that podcast on the news and a massive website. But you've just got to be thoughtful about it. You can't just crack the mike and talk about the football game.
DR: I remember when I was working for you how much you emphasized the value of live play-by-play and how every other liner I read was about carrying this game or that race. I wonder as we fast forward five years, is that value the same? There is an ACC Network now that replays every game multiple times during the week. ESPN+ and other sports streaming services have games and events available on demand. During the pandemic, it became clear that matters to people. So where does that leave live play-by-play on the radio? Has the value been diminished at all?
BM: I think there's still a tremendous value there because not everybody can be in front of a screen to watch the game. Whether it's hopping in your car and headed to the Home Depot on a Saturday afternoon and you're catching the score or getting updated, I think there is – actually, it's not that I think I know there is real value in live play-by-play because again, we can look at our screen numbers when the game comes on and you will see a spike. Right when the puck drops or the ball is kicked, you will see a spike in listening. Now Nielsen may not show it, but don't get me started on that.
DR: Listen, I've done this series now for three months. You wouldn't be the first I've heard complain about it.
BM: We have a lot of work to do there.
DR: I worked on a story back when Keyshawn, JWill, and Zubin were getting ready to launch, taking the lay of the land from market managers who ran local ESPN stations to see how they felt about the new lineup. You told me that you were really optimistic about the show, pointing out Jay Williams' local connection from having won a title at Duke.
Things haven't gone the way they were initially designed, so adjusting could be necessary again. I don't think it's fair to ask "is it great" less than a year into a new show's life, but are you still optimistic about the show's future?
BM: I really am. I believe in that show. It's a new show that started in the middle of a messed up sports world and then some tragedies happened within the show, which were just horrible. But I believe that is a very entertaining show, and I can't wait till the fall. I think you're going to see, at least I believe for us, that's really going to explode.
I don't know that we can judge that show yet in such an unstable sports world that we've been in since it was launched. I think Keyshawn is one hell of an entertaining person to listen to. JWill's role is well-defined. I really am optimistic about it.
DR: I moved to Durham 15 years ago and read a statistic that said in the time that I've been here, 35 percent of the people that were here then are now gone. The Triangle is growing. We've got Apple coming in real soon. That's going to spark a whole new wave of population turnover. Does the nature of our market make national sports media, whether it is network radio or satellite radio a more formidable competitor here than it might be elsewhere?
BM: That's a really good question. We were just talking about this today because we were doing our planning session for the upcoming football season and one of the topics we kept going back to was that you have just a melting pot of fans here. Do we address the Steeler fans, the Lions fans, the Tampa fans? And so we're paying attention to it and trying to weave those teams into discussions and promotions. A few years ago, we found a unique way of addressing it by doing a thing called Transplant Tuesdays. We would, on any given Tuesday, focus on the city and the teams and the food and the beer from that city. If it was Pittsburgh, we would talk about the teams of Pittsburgh and it went over really well.
You have to address it. You have to acknowledge it. The other thing too is because of that influx of population into a market where there's three major universities, not everybody in town is an NC State, Duke or Carolina fan anymore. I mean, as a matter of fact, half of them have no emotional ties to those schools anymore.
DR: I'll give you an example of exactly what you are talking about. When I got here in 05, I was living in Durham. If I wanted to go watch a football game with other Alabama fans, my only option was 40 minutes away in Garner. Now I have my choice of three different fan groups.

BM: Yeah, like in our meeting today that we had, we were talking about throwing tailgate parties for teams that aren't even in the Triangle. In fact, Alabama was number one on the list. So I'll make sure we let you know when that is going to be.
DR: Please do!
BM: But you are right. It's really something, and I think that's probably true for any market in the Southeast right now. You have just such an influx of people coming from all over the country. You can't just ride the coattails of your traditional school and market. You've got to think broader.
5 Goals: Rob 'World Wide Wob' Perez
"I've always had aspirations, hopefully with FanDuel in collaboration with another network, to apply NFL Red Zone to the NBA."
This month's subject of five goals is Rob Perez, better known to NBA Twitter as World Wide Wob. The content creator and producer for FanDuel shared with me five things he wants to accomplish or see happen.
1. I want to make FanDuel, my licensing partner in content creation, as happy as possible.
My goal is to drive people to their web site or app, and spread the reach of the brand. I'm sure there's a more formal word for that, but I want to organically integrate FanDuel into everything I do.
I don't want to just be a commercial — hey 20% off, or here's a free bet — because people are drowning in those across various forms of communication. All the content I do is naturally involved, and if someone's asking about who's favored it's a very seamless type of content integration in which I can include them and drive them to FanDuel if they'd like to put their money where their mouth is.
I would certainly love the opportunity to continue working with them — not just because they pay me to do so, but I do find value in working with a sportsbook of that size that is turning into a content company. Of course, they're always gonna be a sportsbook. It makes them the most money. But, giving you additional reasons to engage with that brand, if you have an itch to bet on something, is what my job is.
I want to continue to be the face of the NBA for them, having a very casual conversation about the game itself — whether that's off the court stuff, or all the coaching departures earlier this week. Integrating the FanDuel logo into all this feels much more real than a 30-second commercial between timeouts. I want you to enjoy the experience of the show, and gamble if you so choose.
2. NBA Red Zone.
I've always had aspirations, hopefully with FanDuel in collaboration with another network, to apply NFL Red Zone to the NBA. It would work best on Monday, Wednesday, Friday, and sometimes Sunday, when there are 8-9 concurrent games.
That's why I'm where I am today. I'm watching every single dribble of every single game. But, I would never expect any other normal human with responsibilities outside of NBA content creation to ever keep up with what's going on between the Kings and Pistons while there's seven other games on, one of which is nationally televised.
So, if the NBA ever decides to have a true commitment to their version of the Red Zone — they've tried versions of it on NBATV, but I've never seen one hopping between games every 15-20 seconds, hot switching any time there's a play stoppage — I'd love to do it.
You'd have a Scott Hanson type host who is as integrated with the league as it gets. I hope maybe one day I have the opportunity where what I do on my own personal timeline merges with true rights partnership from the NBA. Just based on the feedback I get on my Twitter page, there would be demand for it.
3. Do another NBA variety show.
In the past, I had a show called Buckets that I did with Cycle and ESPN. It had sketches, pre-produced talk segments, and interviews. Think of it like Jimmy Kimmel or Jimmy Fallon's shows, but applied to the NBA.
Inside the NBA is obviously the gold standard for an NBA talk show. But, those guys are going to retire at some point. What I do on Twitter Spaces, Twitch, and Periscope — I want the ability to blow that out with some more production resources.
Right now, I'm doing everything myself, from playing DJ to directing to taking calls to actually running the show and talking basketball and researching stats — I'm doing it all on the fly. While I'm certainly happy to do that, I know what we could create with a team around me because we've done it in the past. I would love to do a weekly variety show based around the NBA.
4. Some more work life balance.
My entire day for 11 months out of the year revolves around the NBA. It's my job and I'm happy to. I love following it. At some point, I feel like I'm gonna get burned out, and I don't want to ever get to the point where doing this feels like work.
It felt a little bit like work this year, and that might be because I'm on Year 8 doing this. [RG note: at this point, I mentioned how last offseason was so condensed after the bubble, and how the energy felt partially zapped out of sports with a lack of fans]. I'm gonna watch regardless because I'm a crazy person, but I think a lot of people would agree with you that the return to normalcy is helping with the engagement on a mainstream scale.
This offseason will be condensed again. We have the Olympics, which of course I'm going to watch because stars will be playing. Summer League is in August. There's free agency and the draft. There's barely going to be one month — September — where there probably won't be a whole lot of NBA news or events.
But then we're going back to the normal schedule from before the pandemic, which means Media Week will be the first week of October. There's one month off before it all starts again, and I'm hoping I don't get burned out by it.
Being on the East Coast, it's impossible to follow the NBA 24/7. I don't know how people with kids and families do it. Getting back to the West Coast is a personal goal of mine, which will happen this summer when I move back to Los Angeles. These hours will allow me to get back to a more normal life.
5. I want the Knicks to win a championship in my lifetime.
Just being a die hard Knicks fan and not seeing a title in my lifetime, that's a personal goal. I've put so much work into watching every effing game since I was eight years old with Patrick Ewing and John Starks in the NBA playoffs.
I was young, but I was old enough to know that I wanted to stay up for those games. I was emotionally invested. I would even get to the point where I was putting towels underneath the door so my parents couldn't see that the TV was on. They thought I was sleeping.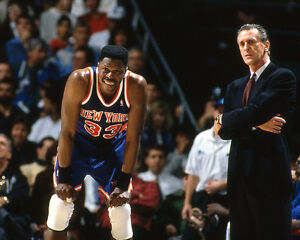 Of course I want my team to win a championship, and I don't want to die without seeing that mountaintop. I can't even imagine what it's like to be a Red Sox or Cubs fan and going all those years without seeing them win, then having it happen. I want to experience it once.
Whatever it takes to get there. I have too many gray hairs on my head, and every single one of them I can attribute to a single Knicks game from the past decade. Being a fan while trying to create objective NBA content will always be a challenge, but being a Knicks fan will always take precedent over a career because it means that much to me.
Forget the Email, Just Smile & Dial
"Don't confuse marketing with sales. We are not human advertisements or, even worse, spam."
Back in August of last year, the pandemic was still front and center, acting as a roadblock for business. Retailers were in business and at the stores, but what about the advertising buyers? Where were they?
Well, the ad-buying community, corporate employees, and most white-collar workers were still at home. So were most of us in radio sales. So, when it came to prospecting for new accounts, some of us gave up, most sent emails, and a few brave souls hit the phone. Earlier this year, I wrote about the sales trainer John Barrows and how he got to the top by cold calling 400 prospects a week! That's not cold emailing. That's cold CALLING. And to be exact, if Barrows was working a 10 hour day on the phones Monday through Friday, he would dial at least eight prospects an hour. 
Does that send a chill down your spine? Or does it make you want to run to your keyboard to avoid rejection and send some more cold emails? Back in August, when most of our ad buyers were at home, not near a business phone, Jeb Blount and Anthony Iannarino were recording a podcast about why you should hit the phone, not the email. Both sales consultants and authors thought we could improve our connect rate immensely by working the phones over email.
Both authors agreed that we need to have conversations with people about our stations, personalities, shows, and the sports world! We can hire an automated CRM service to send emails!
Now I am all for some well-crafted custom emails sent to targets that do not answer phones or listen to voice mails but not as the first activity in a sales sequence. Don't confuse marketing with sales. We are not human advertisements or, even worse, spam. Our job isn't to create awareness for buying sports radio packages; it is to make the sale!
We are consultants offering custom solutions to the unique challenges your clients have. And consider that if you pick up the phone and connect with the advertising buyer and get the appointment, you won't need an email!  
Both consultants agree that you don't need email to warm up a client when using the phone to get the appointment! I recently tested this theory myself and decided that with the pandemic subsiding in most metropolitan areas and more buyers going back to the office, I could start hitting the phones more. 
It worked. I got more appointments faster and wasted less time. I even got help. I had a business owner who I reached out to via email with a custom approach. I offered a few excellent ideas on how I could help him. Crickets. I let 2.5 weeks go by before I picked up the phone to dial the business and ask for him. They told me he was out on vacation and asked me if I had personal interaction with him. I explained no I was looking to connect with him on an advertising idea. The receptionist said you need to talk to Jane, the ad buyer. I was connected immediately.
I left a voice mail. The next day I received a return call indicating interest in my idea, and we set the appointment. Now, why didn't I try that in the first place!
If you want a custom phone pitch that I wrote out for myself, send me an email at jeffcaves54@gmail.com. Now it's time to smile and dial! 
It has been a busy week at BSM. Demetri Ravanos talks about Domonique Foxworth and the future of commentary on ESPN. Kate Constable stops by to discuss her column on Sarah Spain and the sometimes ugly realities of life as a woman in sports media. Finally, Brian Noe and Demetri discuss Le'veon Bell's Twitter rant and how depressingly relevant it is in the radio business.
Podcast: Play in new window | Download
Subscribe: RSS