An Unlikely Old Soul, Mickelson Teaches Us About Life
With a reshaped body and recalibrated mind, he became the oldest player to win a major while raising renewed hopes of a career Grand Slam — but not before surviving a scary, superspreading mob scene.
What, no vertical leap? Couldn't he have launched his famed spread-eagle jump, arms raised and mouth agape, and shouted to the golfing gods again? Now that he has blubber-blasted his Everyman core, stopped eating as much, developed beach biceps and escaped the mental cages of human aging, Phil Mickelson surely would have soared higher Sunday at 50 years, 11 months and seven days than he did 17 years earlier at Augusta National.
We'll have to settle for how he survived thousands of superspreading loons on the 18th fairway at Kiawah Island's Ocean Course, somehow emerging from the converging chaos with a thumbs-up signal that defines his newfound inner peace. If the security-challenged mob scene didn't rattle him, maybe we all should be adopting his wellness plan.
"Slightly unnerving, but exceptionally awesome," said Mickelson, now best known as the oldest player to win a major championship.
Improbable as it seems, he is the new-age guru of sports, one-upping even Tom Brady in the mastery of body and mind. All we can ask, as we absorb the magnitude of his PGA Championship triumph, is how many more majors he might have won if he'd taken such good care of himself. "I don't want to get all spiritual," said Mickelson … yet spiritual is the operative word here. I was at the Masters when Jack Nicklaus won a green jacket at 46. This was even more impressive, more inspirational, more telling about the power of purpose and self-discipline, even on the back nine of life.
"You know, something sort of strikes me: Fifty years old is older than 46," Nicklaus said in a congratulatory video. "Well done, my friend."
The transformation is astonishing, right down to the bad-ass sunglasses, the tanned visage, the coffee blend that he brews, the diets that led to his dramatic weight loss and the "Phireside With Phil" chats on social media with celebrities and fellow players. This is not the Phil Mickelson we watched for decades, winning assorted majors with his massive talent but always in the shadow of Tiger Woods and known as much for his second-place finishes and epic implosions than his glories. He told his wife, Amy, that he wanted more from the game at an age when other greats look to the seniors tour or the broadcast booth.
In a monumental moment for golf, sport and life itself, he forged a historic breakthrough that no one else saw coming. After securing his two-stroke win over Brooks Koepka and Louis Oosthuizen, he simply lifted both arms and saluted the fans who could have suffocated him. Koepka blasted the lack of security and suggested a fan or two tried to intentionally injured his surgically repaired knee, with CBS' Jim Nantz having to interrupt his fairy-tale call by saying, "They've lost control of the scene." Fortunately, the idiots didn't mar an all-time memory. Mickelson's victory reaction was age-appropriate, but it didn't lessen the rush that fell over his body.
"This is just an incredible feeling because I believed it was possible, but everything was saying it wasn't," he said, standing beside the Wanamaker Trophy. "I don't know to describe my feelings of excitement and fulfillment. I hope others find that inspiration. There's no reason you can't accomplish goals at an older age. It just takes more work."
That is especially true on a golf course, which doesn't involve contact that Brady must avoid on a football field and LeBron James couldn't avoid Sunday in a playoff game, tumbling over close friend Chris Paul in what Lakers coach Frank Vogel described as "dangerous" and "a dirty play." As Woods, watching from his Florida home down the Atlantic coast, hopes just to walk again as he recovers from devastating leg injuries in a horrific SUV accident, Mickelson now looks to swell his legacy. Imagine if he returns next month to the course of his youth, Torrey Pines near San Diego, and wins the U.S. Open — the one major that has eluded him.
Imagine a sixth major title at 50, a career Grand Slam at 51.
"It's very possible this is the last tournament I ever win, but it's also very possible I've had a breakthrough in some of my focus," he said, embracing the dream. "Maybe I go on a little bit of a run. There's no reason why I or anyone else can't do it at a later age. There's no reason the game of golf can't be a game for a lifetime. If you take care of your body with all the physiology that's out there, you can get your body to function right and play for a lifetime."
Is it me, or is this a self-help book tour waiting for an itinerary? "Working harder is the deal," he said. "I've had to work harder physically to be able to practice as long as I've wanted, and I've had to work a lot harder to maintain mental focus. My desire to play is the same as always. I've never been driven by an exterior thing, but I have been intrinsically driven by the competition and my love of the game. The belief I still could do it inspired me to work harder. I just didn't see why it couldn't be done."
If he remains a dozen shy of Nicklaus' majors total and can't counter the reality that Woods produced the greatest golf ever played, Mickelson can say this: No one has extended his triumphant prime for a longer period. He did so despite slipping to No. 115 in the world rankings, coming into the week as a 200-1 longshot and having no major victory since 2013 or top-10 major finish since 2016. Two weeks ago, he opened the Wells Fargo Championship with a 64, then shot 75, 76 and 76. Phil was Phading. More Phireside chats awaited.
He told himself to focus. It might have sounded trite and Anthony Robbins-like, but now that his body is fit — do we dare say chiseled? — Mickelson turned to meditation and breathing. Before shots all weekend, you saw him closing his eyes, visualizing and focusing, all but dropping a yoga mat into the tee box. The wind conditions were diabolical, yet while younger stars fell off the leaderboard as usual, the old man kept hitting fairways and greens and not sabotaging himself as we've seen in big moments. "There were no foul balls," Jason Day said. "Usually with Phil, you can get some pretty wild ones, but he kept it straight out in front of him."
Even when distracted by technology, Mickelson remained composed. When a drone disrupted him Saturday in a back bunker, he calmly told a CBS worker, "Can you radio to the TV guys to get the drone out of the flight of my shot?" Of course, he saved par.
By late Sunday, it was obvious Koepka's missing putter would prevent him from a challenge. Mickelson was sending a chilling message to golf's young bucks, just as Woods did when he returned from the dregs to win the Masters two years ago. Justin Thomas and Jordan Spieth are under 30. Rory McIlroy is 32. Dustin Johnson is 36. Why did they let the old man beat them and make a bigger headline than they've ever made? Bryson DeChambeau was supposed to revolutionize golf with carb-bloating and weight gain, but Mickelson is smarter about what to put in his body — and ripped the week's longest drive when he needed it most, 366 yards on the par-5 16th.
"I believed for a long time I could play at this level," Mickelson said. "I just wasn't executing the way I could. I've been able to stay more in the present and more focused. Physically, I've been striking it as well as ever, but I haven't been able to see that clear picture. It's just the ability to quiet my mind and get rid of the exterior noise."
And what does the New Phil miss most about the Old Phil?
"Food," he said, smiling. "I've got to eat a lot less and got to eat better. I've got to let my body recover. It's been a blessing. I feel much better, don't have inflammation and wake up feeling good. It's been a sacrifice worth making."
He couldn't stop praising his brother, Tim, the caddy who told him at No. 7, "If you're going to win this thing, you've got to make committed golf swings." He couldn't stop praising his coach, Andrew Getson, who fixed his swing over time. But this mostly was a victory for his wife, Amy. He was her rock when she had breast cancer, winning the 2010 Masters in her honor. When he hit his mid-life crisis, she has been his rock.
On the phone with her minutes after his grandest moment, he said, "I miss you. I love you very much. I'll see you tonight."
If this was the famous final scene of Phil Mickelson, it was, to quote him, exceptionally awesome. I suspect the curtain hasn't fallen yet in the theatre. He has more drama in store, maybe a vertical leap, as he heads to the gym and the salad line.
Keeping Premier League Games Shouldn't Be A Hard Call For NBC
"Beyond its massive global fanbase, the Premier League offers NBC/Peacock a unique modern 21st-century sport for the short attention span of fans."
NBC Sports is facing some tough, costly decisions that will define its sports brand for the rest of this decade.  A chance to connect with viewers in a changing climate and grow Peacock's audience as well.  However, making the right choice is paramount to not losing to apps like Paramount+ (pun intended).
NBC is currently in the business of negotiating to continue airing the Premier League as their current deal ends after this 2021-2022 season. NASCAR is contracted to NBC (and FOX) through the 2024 season.
NBC's tentpole sports are the NFL and the Olympics.
Negotiations for the EPL are expected to go down to the wire. Rather than re-up with NBC, the league is meeting with other networks to drive up the price. NBC has to then make a decision if the rights go north of $2 billion.
Should NBC spend that much on a sport that is not played in the United States? It's not my money, but that sport continues to grow in the US.
If NBC re-ups with the Premier League, will that leave any coins in the cupboard to re-up with NASCAR? Comcast CEO Brian Roberts hinted that there might be some penny pinching as the prices continue to soar. This may have been one of the reasons that NBC did not fight to keep the National Hockey League, whose rights will be with Disney and WarnerMedia through ESPN and TNT, respectively.
"These are really hard calls," Roberts said. "You don't always want to prevail, and sometimes you're right and sometimes you're wrong, but I think the sustainability of sports is a critical part of what our company does well."
Roberts was speaking virtually at the recent Goldman Sachs 30th Annual Communacopia Conference. He told the audience that between NBC and European network Sky, that Comcast has allocated approximately $20 billion towards these sports properties.
Comcast CFO Michael Cavanagh spoke virtually at the Bank of America Securities 2021 Media, Communications and Entertainment Conference and echoed that the company is in a good position to make some strong choices in the sports realm.
"The bar is really high for us to pursue outright acquisitions of any material size," Cavanagh added. "We got a great hand to play with what we have."
While the European investments involve a partnership with American rival Viacom, the US market seems to have apparent limits.
Last Saturday's NASCAR Cup Series at Bristol Motor Speedway was seen by around 2.19 million people. It was the most-watched motorsports event of the weekend. That same week eight different Premier League matches saw over 1 million viewers. More than half of those matches were on subscription-based Peacock. 
Beyond its massive global fanbase, the Premier League offers NBC/Peacock a unique modern 21st-century sport for the short attention span of fans. A game of typical soccer fan is used to a sport that is less than two hours long. The investment in a team is one or two games a week. 
My connection to the Premier League began before the pandemic. When I cut the cord in late 2017, I purchase Apple TV. Setting it up, it asks you to name your favorite teams. After clicking on the Syracuse Orange and the New Jersey Devils, I recalled that my wife has family based in London, England. They are season ticket holders for Arsenal, and that family redefined the word "die-hard" fans.
I've long been a believer that sports allegiances are best when handed down by family. I love hearing stories of people loving the New York Giants because their parents liked them, and they pass it down to their children.
I've successfully given my allegiance to the Devils to my young daughters.
By telling Apple TV that I liked Arsenal, I get alerts from three different apps when the "Gunners" are playing. The $4.99 is totally worth it to see Arsenal.
Whenever I told this story, I was amazed to see how many other American sports fans had a Premier League team. Students of mine at Seton Hall University rooted for Tottenham Hotspurs, while an old colleague cheers on Chelsea.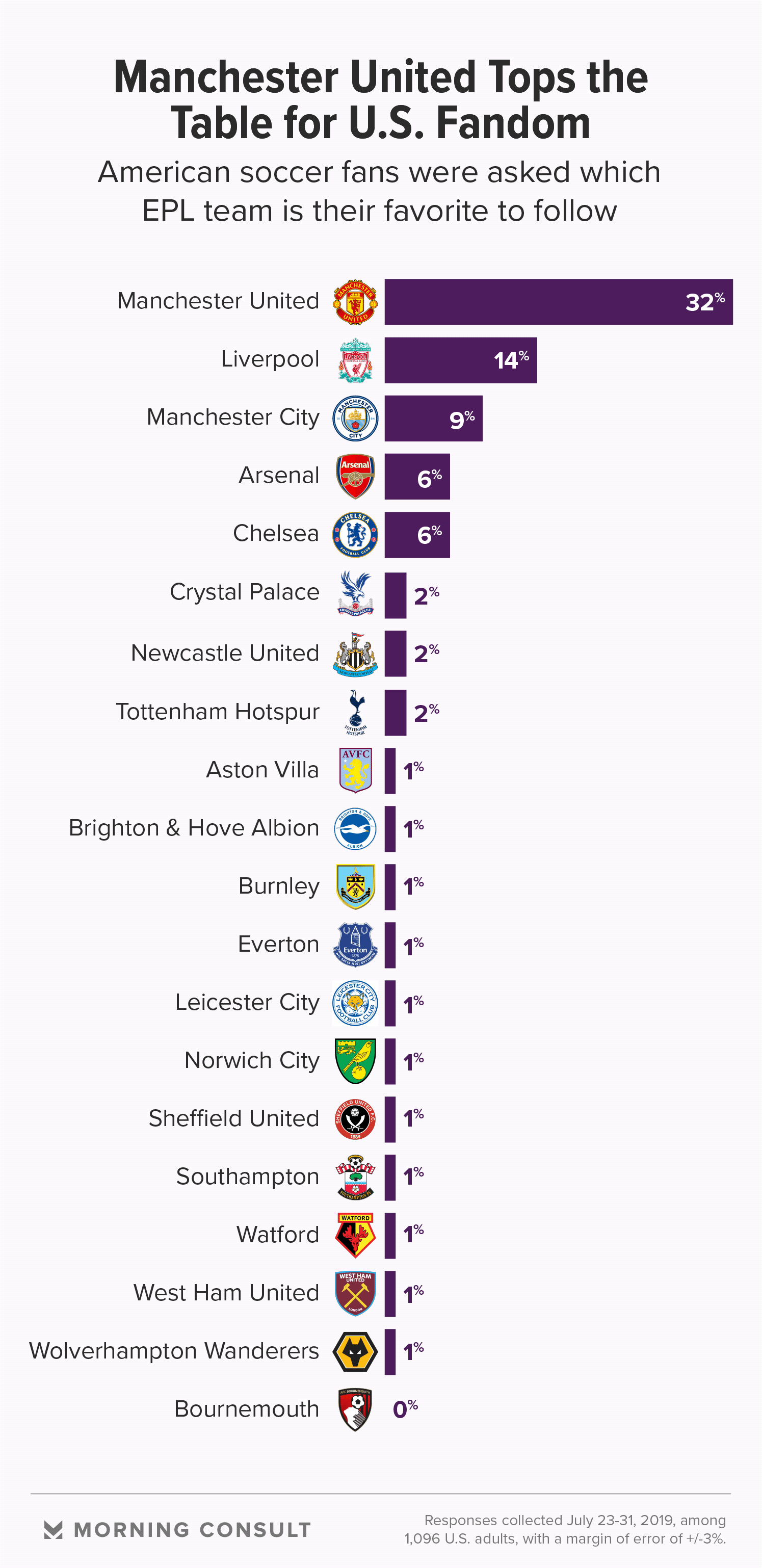 This is not meant to say that NBC should sign the EPL on my account. The key for any US-based soccer fan is that between Bundesliga, Serie A, and other leagues, there will be no shortage of soccer available on both linear television and streaming services.
Besides, Dani Rojas did say that "Football is life." NBC, originator of the Ted Lasso character, should make keeping its Premier League US connection a priority.
Today, Demetri is joined by Tyler McComas and Russ Heltman. Tyler pops on to talk about the big start to the college football season on TV. Russ talks about Barstool's upfront presentation and how the business community may not see any problems in working with the brand. Plus, Demetri is optimistic about FOX Sports Radio's new morning show.
Podcast: Play in new window | Download
Subscribe: RSS
6 Ad Categories Hotter Than Gambling For Sports Radio
"Using sports radio as a back page service for gambling will have a limited shelf life."
For years sports radio stations pushed sports gambling advertisers to early Saturday and Sunday morning. The 1-800 ads, shouting, and false claims were seedy, and some stations wouldn't even accept the business at 5 am on Sunday.
Now, with all but ten states ready to go all in on sports gambling, sports radio stations can't get enough of that green. Demetri Ravanos wrote about the money cannon that sports gambling has become for stations. Well, what if you are in one of those ten states where it isn't likely to ever be legal like California or Texas? Where is your pot of gold?
Or, let's face it, the more gambling ads you run, the more risk you take on that the ads will not all work as you cannibalize the audience and chase other listeners away who ARE NOT online gambling service users and never will be. So, what about you? Where is your pot of gold?
Well, let's go Digging for Gold.
The RAB produces the MRI-Simmons Gold Digger PROSPECTING REPORT for several radio formats. In it, they index sports radio listeners' habits against an average of 18+ Adult. The Gold Digger report looks at areas where the index is higher than the norm – meaning the sports radio audience is more likely to use the product or service than an average 18+ Adult who doesn't listen to sports radio. The report, generated in 2020, indicates that sports radio listeners are 106% more likely to have used an online gambling site in the last thirty days. That's impressive because the report only lists 32 activities or purchases a sports radio listener indexes higher than an average adult. I looked at those 32 higher indexes, and I think we can start looking for some gold.
Using sports radio as a back page service for gambling will have a limited shelf life. The gambling companies who commit significant money to get results will continue advertising and chase the others away. So, the future of sports radio needs to include other cash cows.
If it is evident to online sports gambling services that sports radio stations are a must-buy, who else should feel that way?  I looked at the Top 32 and eliminated the media companies. ESPN, MLB/NHL/NFL networks, and others aren't spending cash on sports radio stations they don't own in general. But Joseph A Bank clothing, Fidelity, and Hotwire should! Here's your PICK-6 list I pulled together that's hotter than sports gambling:
Sportscard collectors, Dapper Labs, Open Sea- read about Sports NFT $.
Online brokerage firms-Fidelity, Charles Schwab, Robinhood, Webull, TD Ameritrade
Golf courses, resorts, equipment, etc.- we play golf at home and vacation
Hotwire.com, Booking.com, TripAdvisor, Airbnb, Carnival Corporation, and Priceline.com- we've used Hotwire in the last year.
FedEx, UPS, U.S. Postal Service, Venmo, PayPal, Zelle-we wired or overnighted $
Jos. A. Bank, shein.com, macys.com, nordstroms.com- we went to Jos. A. Bank in last three months
The sports card/NFT market is 32% hotter than the sports betting market for sports radio listeners. Everything on the PICK-6 is at least 100% more likely to purchase than an average 18+ Adult who doesn't listen to sports radio. All listed are at or above indexing strength compared to sports betting. The individual companies I added are industry leaders. Bet on it! Email me for details.