Does Sports Radio Value Its Black Audience?
Listening to the radio is FREE. There is no reason why the sports radio format shouldn't have a higher Black listenership…and more Black hosts. Period.
Congratulations, sports radio! (not really)
You're so unique! You're in a lane by yourself! You just so happen to be one of the only mediums in life where the dominating topics involve African Americans, but its hosts and audience are dominated by Whites.
Seriously….how did this happen?
In urban radio, the format is dominated by Black hip-hop artists and Black on-air personalities like Funkmaster Flex of HOT 97 (New York City) and Big Boy of Real 92.3 (Los Angeles). And a majority of its listening audience is also Black. The same goes with urban adult contemporary radio.
Cable network VH1 got rid of all that "Behind the Music" stuff and went all "Love and Hip Hop," "Flavor of Love," "For the Love of Ray J," and "Basketball Wives," and not surprisingly, VH1's audience also went majority-Black.
Place Stephen A. Smith on ESPN's First Take, add rapper Wale to do the show intro, bring Black celebrities onto the show regularly, and whaddya know? The viewership of the two-hour daily First Take was at 53 percent Black, according to 2017 ESPN data, by far the largest Black viewership on ESPN during any part of the day.
One can understand The Golf Channel having a majority-White audience. Same with the NHL Network. But…from LeBron, to Zeke, to Deshaun Watson, to Kevin Durant, how in the world did the sports radio format, which endlessly discusses the actions of athletes that are mainly Black, sustain such a large percentage of White on-air hosts and listeners? African Americans are very engaged in radio; and surely we love sports, so what's the issue here? And don't you dare say, "Well, the NFL and NBA are majority-Black but the people who attend the games are majority-White…" That is an economic issue, a lesson in generational wealth, so we won't even go there in this column…
Listening to the radio is FREE. There is no reason why the sports radio format shouldn't have a higher Black listenership…and more Black hosts. Period.
I believe that the sports radio format, in general, cannot attract an increasingly Black audience because there are not enough sports radio program directors who "have been" Black. Notice I said, "have been." As in, sports radio PDs "have always" been White for decades, and just like hockey, NASCAR and golf (with the exception of Tiger Woods), if young African Americans never see people that look like them in certain positions, a lot of them will believe it's not a viable career choice. So, this goes back decades.
More African American PDs would eventually equal more Black on-air hosts. More Black PDs would eventually equal more Black producers, executive producers and assistant PDs. The way people snap photos at work with their phones today, word would spread visually on social media and word-of-mouth to other Black individuals that this is a career for you. But you don't see it, so you just move on to something else.
Terry Foxx is the program director at WFNZ in Charlotte. As outstanding as he is, shouldn't have to carry the mantle as the only Black sports radio PD in the nation's top 60 markets. He can't move these mountains by himself.
I'm not the only one giving an opinion here. Some people in the sports radio format also wanted to weigh in on this column's polarizing topic: "Does Sports Radio value its Black audience?" Below are the conversations I had with a few of them.
Emmett Golden, on-air host, ESPN Cleveland
Rob: Emmett, do you believe that in general, sports radio is specifically tailored for White men? Or do you think that the Black male audience is also thought about when making programming decisions on hosts, music selections, producer selections, etc?
Emmett: Generally speaking, I would say sports talk radio is tailored to White men because most of the people running radio stations are White men. I believe there are exceptions, but if you look at the lack of Black hosts, especially those that weren't former pro/college athletes, you can't help but feel like African Americans aren't top of mind when people are programming radio stations. Now, over the past year with all of the social unrest going on in our country, I do believe there is a shift happening. I think there is more thought put behind having a diverse line up now than there has ever been before.
Rob: Why do you believe there aren't more Black sports radio hosts on the air these days?
Emmett: There are a variety of reasons. One of them is that I don't think the decision-makers understand the spending power of the African American community. We know that "Cash Rules" and I believe that some people think that there's more disposable income available from the middle age White man, so let's hire middle age White men and they can sell to that same audience. Another reason is with the lack of minorities running radio stations there's a relationship issue. Most people are likely to hire someone they know or someone that gets a referral from a person they know. I understand that's just how things work but without the representation at the top, it's tough for minorities to get the, "Hey I know the perfect person for the job" type of opportunity.
Rob: Last, did you personally find any obstacles getting on air in your sports radio career because of your ethnicity? Or did it maybe help you get on air faster to increase diversity on the station?
Emmett: I feel like I was lucky. I got an opportunity to intern at ESPN Cleveland and after getting that opportunity I was able to show them my value. My ability to build relationships, my willingness to do ANYTHING that was asked of me, and my overall attitude is what separated me from others in my intern class. I got the opportunity and many minorities don't get the chance. Where I am in my career now being Black (I'm biracial, Black and White, but I know the world sees me as a Black man and I embrace that) could benefit me as more people look to add diversity. The responsibility is on me to open as many doors for young Black men and women so they can get the opportunity that they deserve. I was a part of Good Karma Brands' launch of 101.7 The Truth in Milwaukee and we need more stations/opportunities like those in the radio business.
Matt Fishman, Program Director, ESPN Cleveland
Rob: Overall, do you believe the sports radio format values its Black audience? For clarification, to those (usually) small percentage of Black listeners who are listening to a particular show, are those listeners valued in say, the show's music selection, topics, hosts?
Matt Fishman: The great thing about sports is that it creates a place of connection across different races, genders, ages, backgrounds, etc. Ensuring your team is made up of talent from diverse backgrounds allows for unique perspective on various topics and subjects, helps to avoid "blind spots" and reaches and relates to the audience.
Rob: Matt, can you explain, as a program director, how you believe having hosts such as Emmett Golden and Je'rod Cherry impacts, maybe, the diversity of ESPN Cleveland and, maybe, the relatability factor of those hosts to Cleveland's sizable African American audience?
Matt Fishman: Emmett and Je'rod are amazing. Their show The Next Level is very welcoming to fans of all backgrounds. When last summer's Black Lives Matter demonstrations were taking place in Cleveland and across the country, Emmett's perspective as a life-long Clevelander and an African American allowed him to talk about the injustices in a way that only he could.
Jimmy Powers, Brand Manager, 97.1 The Ticket, Detroit
Rob: Do you believe that in general, sports radio values the Black audience?
Jimmy: Absolutely. Radio as a whole, is a very competitive business and every listener in the DMA is important to the success of our radio stations. Sports radio is no different. Since we have a very niche audience because of the format, all of our listeners are extremely valuable."
Rob: What do you think can be done to increase, improve Black listenership in sports radio?
Jimmy: Creating content that is relevant and reflective to the listening audience is key. This means discussing major news stories that has an impact on the entire city; regardless if it's a big local story or a national story, it should resonate to all listener demographics and shouldn't be avoided. In addition, we need to continue to do our part to find more talent that reflects the market listeners as a whole."
Scott Shapiro, Vice President, Fox Sports Radio
Rob: Do you believe that in general, sports radio values the Black audience?
Scott: Every listener is important, no matter their demographic, race or identity. Representation plays a large role in showing the audience that they are valued. It's no secret that the industry as a whole can do better to have more voices from people of color. At FOX Sports Radio, it's important to us and a priority to continue growing and fostering diversity on the network. When looking across our seven-day-a-week lineup, we're proud to have eight Black hosts making up 30 hours of weekly airtime. And we're excited about our most recent launch, Up on Game, which airs Saturdays from 1-3pm ET, headlined by three former NFL players – LaVar Arrington, TJ Houshmandzadeh & Plaxico Burress.
Rob: Were there any reservations or concerns from yourself or anyone associated with FSR/Premiere about having two Black hosts (Rob Parker and Chris Broussard of The Odd Couple) host a daily three-hour program on a syndicated national network?
Scott: There were zero concerns or reservations. It was our idea to put Chris & Rob together, and they are a tremendous pairing that America loves! They host a wonderful show and we are extremely happy with it three years in as it continues to grow.
Rob: Last, how do you think sports radio could begin to cultivate more Black program directors?
Scott: It all starts from the bottom up. Bringing in more diverse voices in the hiring process is the place to start. That way a deeper pool of candidates learn the business from entry level to the managerial stages.
Matt Edgar, Program Director, 680 The Fan, Atlanta
Rob: Overall, do you believe the sports radio format values its Black audience? For clarification, to those (usually) small percentage of Black listeners who are listening to a particular show, are those listeners valued in say, the show's music selection, topics, hosts?
Matt Edgar: I don't think the Black audience was always valued but I truly believe they are now. Though I've mostly felt sports radio is color blind, more needed to be done to cater to the African American listener by way of hosts.
Rob: Matt, is Atlanta a market that has a higher than usual Black listenership to The Fan? Or would people be surprised to know that it's considerably smaller than the market's percentage of African Americans?
Matt Edgar: The ratings don't always show a higher than usual Black listenership for us and I honestly believe that's a Nielson issue. Whether it's the make-up of the crowd at one of our events, our callers, feedback, etc., I feel very strong about our African American listener representation.
Rob: You were the PD of the 2 Live Stews, when they were on the old 790 the Zone. Was the White audience, in general, a fan of the show? And what made it resonate so much with Black listeners?
Matt Edgar: The White audience was a fan of the show for the most part. It had an originality that sports radio hadn't heard much of yet…..two brothers, who disagreed & fought like brothers….they were African American, which was very unique to the sports radio landscape back then….they were pure fun!
I thank those in the sports radio realm who opted to respond with comments for this important topic. If you would like to give your opinion, feel free to email me at rtaylor@newpittsburghcourier.com, and if you're an African American in this world of sports radio who may have aspirations to become a PD or other commentary, let me know that as well.
Sports Radio leaders, take a look at the daytime programming on ESPN and Fox Sports 1. There's more African American hosts/contributors on these two national networks from sunup to sundown, you'd think they were broadcasting from the Barber Shop. Mike Greenberg is surrounded by Black contributors, First Take is, well, engrained in African American culture, then Sage Steele anchors Sportscenter, followed by Jalen Rose's platform, plenty of Black NBAers on The Jump, and you can't miss Bomani Jones and Dominique Foxworth on Highly Questionable.
On the competition (FS1), there's Brandon Marshall on First Things First, Shannon Sharpe on Undisputed, Joy Taylor on The Herd, and Marcellus Wiley and Emmanuel Acho on Speak For Yourself. It seems like the national TV sports conversation has a sizable percentage of African American hosts/contributors, unlike local sports radio.
Which brings me to national radio. As Scott Shapiro referenced earlier in this column, Chris Broussard and Rob Parker are making an impact in their daily Fox Sports Radio program as an African American tandem. Unfortunately, it's very seldom to find two Black hosts with their own local sports radio show.
And props go out to JR, of the JR Sport Brief Show on CBS Sports Radio, each weeknight from 10 p.m. to 2 a.m. ET. For those who thought he was just filling in during the pandemic…no no…he showed the audience that he was the real deal, as he's nearly a year and two months into the national program. I had a chance to speak with JR about this column's topic. He gave me that "look" that I could even see through the email, and he then referred me to a Tweet he posted on Aug. 26, 2020:
5 Goals: Rob 'World Wide Wob' Perez
"I've always had aspirations, hopefully with FanDuel in collaboration with another network, to apply NFL Red Zone to the NBA."
This month's subject of five goals is Rob Perez, better known to NBA Twitter as World Wide Wob. The content creator and producer for FanDuel shared with me five things he wants to accomplish or see happen.
1. I want to make FanDuel, my licensing partner in content creation, as happy as possible.
My goal is to drive people to their web site or app, and spread the reach of the brand. I'm sure there's a more formal word for that, but I want to organically integrate FanDuel into everything I do.
I don't want to just be a commercial — hey 20% off, or here's a free bet — because people are drowning in those across various forms of communication. All the content I do is naturally involved, and if someone's asking about who's favored it's a very seamless type of content integration in which I can include them and drive them to FanDuel if they'd like to put their money where their mouth is.
I would certainly love the opportunity to continue working with them — not just because they pay me to do so, but I do find value in working with a sportsbook of that size that is turning into a content company. Of course, they're always gonna be a sportsbook. It makes them the most money. But, giving you additional reasons to engage with that brand, if you have an itch to bet on something, is what my job is.
I want to continue to be the face of the NBA for them, having a very casual conversation about the game itself — whether that's off the court stuff, or all the coaching departures earlier this week. Integrating the FanDuel logo into all this feels much more real than a 30-second commercial between timeouts. I want you to enjoy the experience of the show, and gamble if you so choose.
2. NBA Red Zone.
I've always had aspirations, hopefully with FanDuel in collaboration with another network, to apply NFL Red Zone to the NBA. It would work best on Monday, Wednesday, Friday, and sometimes Sunday, when there are 8-9 concurrent games.
That's why I'm where I am today. I'm watching every single dribble of every single game. But, I would never expect any other normal human with responsibilities outside of NBA content creation to ever keep up with what's going on between the Kings and Pistons while there's seven other games on, one of which is nationally televised.
So, if the NBA ever decides to have a true commitment to their version of the Red Zone — they've tried versions of it on NBATV, but I've never seen one hopping between games every 15-20 seconds, hot switching any time there's a play stoppage — I'd love to do it.
You'd have a Scott Hanson type host who is as integrated with the league as it gets. I hope maybe one day I have the opportunity where what I do on my own personal timeline merges with true rights partnership from the NBA. Just based on the feedback I get on my Twitter page, there would be demand for it.
3. Do another NBA variety show.
In the past, I had a show called Buckets that I did with Cycle and ESPN. It had sketches, pre-produced talk segments, and interviews. Think of it like Jimmy Kimmel or Jimmy Fallon's shows, but applied to the NBA.
Inside the NBA is obviously the gold standard for an NBA talk show. But, those guys are going to retire at some point. What I do on Twitter Spaces, Twitch, and Periscope — I want the ability to blow that out with some more production resources.
Right now, I'm doing everything myself, from playing DJ to directing to taking calls to actually running the show and talking basketball and researching stats — I'm doing it all on the fly. While I'm certainly happy to do that, I know what we could create with a team around me because we've done it in the past. I would love to do a weekly variety show based around the NBA.
4. Some more work life balance.
My entire day for 11 months out of the year revolves around the NBA. It's my job and I'm happy to. I love following it. At some point, I feel like I'm gonna get burned out, and I don't want to ever get to the point where doing this feels like work.
It felt a little bit like work this year, and that might be because I'm on Year 8 doing this. [RG note: at this point, I mentioned how last offseason was so condensed after the bubble, and how the energy felt partially zapped out of sports with a lack of fans]. I'm gonna watch regardless because I'm a crazy person, but I think a lot of people would agree with you that the return to normalcy is helping with the engagement on a mainstream scale.
This offseason will be condensed again. We have the Olympics, which of course I'm going to watch because stars will be playing. Summer League is in August. There's free agency and the draft. There's barely going to be one month — September — where there probably won't be a whole lot of NBA news or events.
But then we're going back to the normal schedule from before the pandemic, which means Media Week will be the first week of October. There's one month off before it all starts again, and I'm hoping I don't get burned out by it.
Being on the East Coast, it's impossible to follow the NBA 24/7. I don't know how people with kids and families do it. Getting back to the West Coast is a personal goal of mine, which will happen this summer when I move back to Los Angeles. These hours will allow me to get back to a more normal life.
5. I want the Knicks to win a championship in my lifetime.
Just being a die hard Knicks fan and not seeing a title in my lifetime, that's a personal goal. I've put so much work into watching every effing game since I was eight years old with Patrick Ewing and John Starks in the NBA playoffs.
I was young, but I was old enough to know that I wanted to stay up for those games. I was emotionally invested. I would even get to the point where I was putting towels underneath the door so my parents couldn't see that the TV was on. They thought I was sleeping.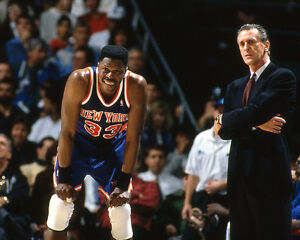 Of course I want my team to win a championship, and I don't want to die without seeing that mountaintop. I can't even imagine what it's like to be a Red Sox or Cubs fan and going all those years without seeing them win, then having it happen. I want to experience it once.
Whatever it takes to get there. I have too many gray hairs on my head, and every single one of them I can attribute to a single Knicks game from the past decade. Being a fan while trying to create objective NBA content will always be a challenge, but being a Knicks fan will always take precedent over a career because it means that much to me.
Forget the Email, Just Smile & Dial
"Don't confuse marketing with sales. We are not human advertisements or, even worse, spam."
Back in August of last year, the pandemic was still front and center, acting as a roadblock for business. Retailers were in business and at the stores, but what about the advertising buyers? Where were they?
Well, the ad-buying community, corporate employees, and most white-collar workers were still at home. So were most of us in radio sales. So, when it came to prospecting for new accounts, some of us gave up, most sent emails, and a few brave souls hit the phone. Earlier this year, I wrote about the sales trainer John Barrows and how he got to the top by cold calling 400 prospects a week! That's not cold emailing. That's cold CALLING. And to be exact, if Barrows was working a 10 hour day on the phones Monday through Friday, he would dial at least eight prospects an hour. 
Does that send a chill down your spine? Or does it make you want to run to your keyboard to avoid rejection and send some more cold emails? Back in August, when most of our ad buyers were at home, not near a business phone, Jeb Blount and Anthony Iannarino were recording a podcast about why you should hit the phone, not the email. Both sales consultants and authors thought we could improve our connect rate immensely by working the phones over email.
Both authors agreed that we need to have conversations with people about our stations, personalities, shows, and the sports world! We can hire an automated CRM service to send emails!
Now I am all for some well-crafted custom emails sent to targets that do not answer phones or listen to voice mails but not as the first activity in a sales sequence. Don't confuse marketing with sales. We are not human advertisements or, even worse, spam. Our job isn't to create awareness for buying sports radio packages; it is to make the sale!
We are consultants offering custom solutions to the unique challenges your clients have. And consider that if you pick up the phone and connect with the advertising buyer and get the appointment, you won't need an email!  
Both consultants agree that you don't need email to warm up a client when using the phone to get the appointment! I recently tested this theory myself and decided that with the pandemic subsiding in most metropolitan areas and more buyers going back to the office, I could start hitting the phones more. 
It worked. I got more appointments faster and wasted less time. I even got help. I had a business owner who I reached out to via email with a custom approach. I offered a few excellent ideas on how I could help him. Crickets. I let 2.5 weeks go by before I picked up the phone to dial the business and ask for him. They told me he was out on vacation and asked me if I had personal interaction with him. I explained no I was looking to connect with him on an advertising idea. The receptionist said you need to talk to Jane, the ad buyer. I was connected immediately.
I left a voice mail. The next day I received a return call indicating interest in my idea, and we set the appointment. Now, why didn't I try that in the first place!
If you want a custom phone pitch that I wrote out for myself, send me an email at jeffcaves54@gmail.com. Now it's time to smile and dial! 
It has been a busy week at BSM. Demetri Ravanos talks about Domonique Foxworth and the future of commentary on ESPN. Kate Constable stops by to discuss her column on Sarah Spain and the sometimes ugly realities of life as a woman in sports media. Finally, Brian Noe and Demetri discuss Le'veon Bell's Twitter rant and how depressingly relevant it is in the radio business.
Podcast: Play in new window | Download
Subscribe: RSS