Once The Heartbeat Of Newspapers, Chicago Is Death Row
After no well-heeled savior emerged to save the Tribune from a job-slashing hedge fund, the local news industry in America never has been closer to extinction. Wasn't it thriving not too long ago?
"SPORTS WITH AN ATTITUDE!" came the blast from the billboards. The slogan was etched in tattoo graffiti, part of a campaign to hype my arrival in Chicago, and I guess the ad agency wanted me to terrorize fans in the No. 3 market with perpetual vitriol. Every time I drove past my smiling, 31-year-old mug near Wrigley Field, Soldier Field and sites throughout the metropolis, I laughed … and cringed … and all but peed my pants.
What the hell was the Sun-Times doing to me? Setting me up to fail before I'd started? Ensuring that my body parts would be found in the lake? Was I hired just to fit some absurd campaign? And who decided I had an attitude, anyway? As it was, the cantankerous columnist Mike Royko was taking shots at me, and Chet Coppock was introducing me on his talk show by asking when I'd win a Pulitzer Prize. Before long, Mike Ditka was calling me "Dummy-otti," Michael Jordan was eyeing me like Craig Ehlo, and an alderman named Brian Doherty was grabbing the back of the neck at my post-work hangout, O'Callaghan's on Hubbard Street, and not letting go for about 20 seconds.
Wasn't this absolute madness?
Actually, looking back, this was the newspaper business at its best — never more vibrant, impactful or fun. Chicago was the heartbeat of print's dominance in America, and I was the new hired gun, slung like a Billy Goat cheeseburger onto a two-paper downtown griddle that instantly heated up. The hard-working tabloid, headquartered in a tugboat-shaped building on the river, was dropping a bomb on the Tribune, at the time a stuffy, nose-in-the-air broadsheet in a neo-Gothic tower where sports columnists liked playing with words. I preferred playing with minds, a game made easier by the Tribune's clumsy ownership of the Cubs. And the Tribsters didn't like being uncomfortable, from the top of the Tower to the sports department, where NBA reporter Sam Smith wrote a best-seller called "The Jordan Rules" and charged his bosses a price for excerpts he'd gathered on their dime — which got Smith in trouble when I was fed excerpts by his book publicist and rushed news items into the paper, at no charge to my employer, before the Trib could publish its purchased material.
Sports With An Attitude, baby.
If you'd said then that the Chicago newspaper business would be gutted in 2021 — barely breathing, lacking impact and doomed to continued irrelevance and eventual extinction — I'd have let the alderman keep choking me. But the situation is as real and gnarly as ink on fingers. Just as that city was the head of the industry snake in the 20th century, the demise of the Tribune and Sun-Times symbolizes the death of print — and local news — only three decades later.
Now owned by the evil hedge-fund vultures at Alden Global Capital, which acquired Tribune Publishing despite pleas from employees for deep-pocketed civic saviors to step in, the Tribune newsroom is braced for mass layoffs and a severing of whatever editorial quality remains. This is what Alden does, killing journalism to lift profits, and the Tribune, New York Daily News, Baltimore Sun and Orlando Sentinel are among nine new papers who've joined dozens of other dailies on death row. Many familiar bylines will be sacrificed at the Trib, replaced by young and inexpensive content providers, or robots if available. And much as I'd like to think my old paper will seize an opportunity, the Sun-Times has been hooked to intensive-care machines for much too long, without an editor-in-chief since September and unable to send even one staffer to Indianapolis — 3 1/2 hours away by car, with a $4.50 fast-food stop on the way — for an Illinois-Loyola showdown in the NCAA basketball tournament.
We could ask Sister Jean Schmidt, Loyola's 101-year-old sideline inspiration, to pray for Chicago's papers. But rosary beads are best used for causes that still have fighting chances.
"Alden ownership," wrote Tribune reporter and union leader Gregory Pratt, "would be a disaster for Chicago, democracy and society at large."
Tweeted veteran Tribune media writer Phil Rosenthal, boldly risking his job by adding Alden to the company's missteps: "Tribune's 1st self-inflicted wound was merger with L.A. Times parent in 2000. Deal added Chandler family reps to board. They agitated for a sale to unwind their trusts and get their money. Then came Sam Zell, bankruptcy, TV/real estate split from print, Michael Ferro & now Alden."
And this from Tribune humor columnist Rex Huppke, not in the joking mood: "This is terrible news for the Chicago Tribune and all our sister newspapers. It's also terrible news for the communities these papers cover and, I'd argue, for the country. … I can't be bothered with people who view newspapers as businesses to be squeezed for profit, or as disposable investments. None of us got into this to make money."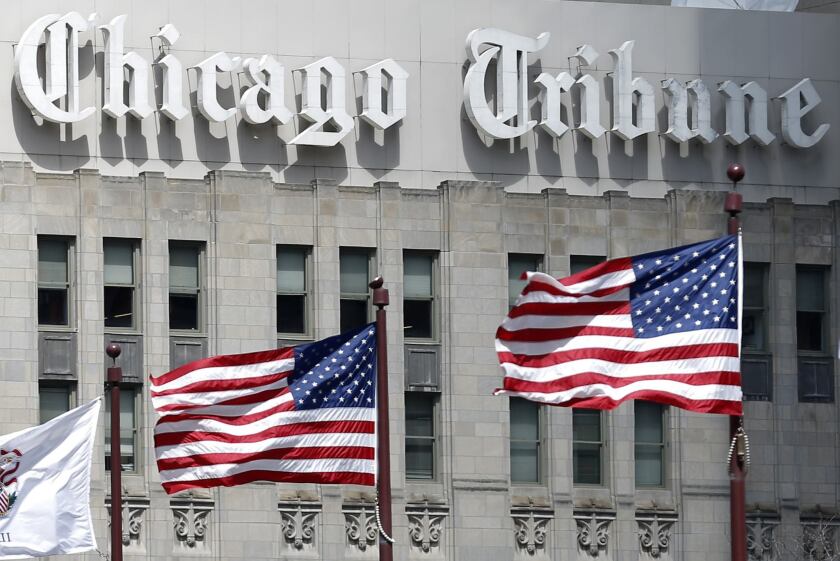 It's nothing short of an American tragedy, really. In a city of considerable wealth and corporate influence, not one heavy-hitter thought the Tribune was salvageable. Jeff Bezos energized the Washington Post. Patrick Soon-Shiong bailed out the Los Angeles Times. John Henry, the Red Sox owner, preserved the Boston Globe. Glen Taylor, the Minnesota Timberwolves owner, rescued the Star-Tribune in Minneapolis. But no one wanted the Chicago Tribune — not the Pritzkers, not the Wirtzes, not Ken Griffin and his $22 billion net worth, not Boeing or Walgreens, not Oprah Winfrey and her Chicago pedigree and not even White Sox/Bulls owner Jerry Reinsdorf, who already meddles in editorial operations without having to spend a penny. Soon-Shiong, a prominent Tribune shareholder, could have voted no and slowed Alden but chose to abstain. In its heyday, the Tribune was as prestigious as any U.S. newspaper. But while the New York Times and Wall Street Journal were prescient in recognizing the future of news — a digital transformation, followed by subscriptions — the Chicago dailies were asleep at the switch in the 2000s, thrust into turmoil by crooked, profit-skimming owners at both shops.
This is where I enter again, more than a decade into my 17-year run there. Frustrated by a primitive website, I repeatedly asked Sun-Times executives when they might embrace the technological advances of a new millennium to ensure long-term viability. "We're a print operation," came the reply, every time. They either couldn't see the future — free-falling circulation, vanishing print advertising — or didn't want to invest in it. More likely, the latter.
Knowing that I drove traffic in a voracious sports town and continued to view the Tribune the way Aaron Rodgers treats the Bears, the Sun-Times offered me yet another three-year extension in 2008. But though the financial numbers far exceeded my dreams in a labor of love, I was reluctant to sign. The bosses had jumped into bed with team owners I was trying to cover — I needed three showers a day, removing all the dirt — and the sports staff was a dissension-torn mess. I was sick of breaking up fights between writers, sick of in-house lies told about me to junk websites, sick of resentment about my daily role on ESPN's "Around The Horn" — sick of the sickness. I wanted the editors to take charge of their debacle, starting with a stronger commitment to digital.
I agreed to sign the extension with a caveat: We would have a competitive website presence at the Beijing Olympics, where our staff of two would try our damndest against the Tribune's legions. Next thing I knew, as if being pranked, our pieces from China weren't being posted for hours. Then things got dirty: Because of so-called deadlines that couldn't be stretched even a few minutes, I was asked by editors to write two fictional pieces — one with Michael Phelps winning, another with him losing — that were filed before his race for plug-in purposes. All the while, Dave Morgan and Yahoo! Sports had set up shop near us in the media center, showcasing the future of digital journalism — no fake stories, just a professional coverage plan executed with precision by several writers and editors over a couple of hours.
Eventually, I found myself on the Great Wall of China, having an epiphany. A year after dealing with heart pain on assignment, I was not about to let this god-awful operation kill me. We finished the three-week job. On the plane ride home, I crafted a polite, peaceful resignation letter to the publisher, who, of course, didn't inform an editor-in-chief who was caught by surprise when the Tribune found out. Reporter Jim Kirk, who wound up running the newsrooms of the Sun-Times and L.A. Times, was the first to tell Michael Cooke that I was opting out and handing back about a million bucks. Cooke asked Kirk if it was a joke.
In truth, it was the day the Sun-Times began to fade.
This wasn't considered good form, telling the competition that I refused to "go down with the ship." The editors urged the great Roger Ebert — I'd met him only once — to crucify me the next day and call me "a rat." But screw the Sun-Times. I'd devoted my life to the place, writing more pieces during those 17 years than any sports columnist on Earth, and the people on high had no interest in anything but extracting profits and cashing out. Sure enough, the paper was in deep trouble within a year. And since then, a frighteningly thin, hard-to-find product is published with a few dozen staffers from rented offices near a Goodwill donation store, kept from its funeral by periodic contributions via Blackhawks owner Rocky Wirtz and other locals. The Sun-Times finally got around to upgrading its site, then inexplicably attached it to a paywall. If few were reading the online content when it was free, who's going to pay for it?
Today, the two sports sections are run by amateurs who kowtow to owners such as Reinsdorf and, of course, Wirtz. Observes Chicago media critic Jim O'Donnell, among those who've remained independent in a market of sellouts in his seat at the suburban Daily Herald: "The entrenched sports power people are controlling the market and the message to a degree they could only have dreamed of as recently as 15 years ago."
Shortly after I entered the digital ranks as a national sports columnist, my journey slipped into the surreal. One of my writing heroes, Frank Deford, was interviewing me on a Wrigleyville rooftop for an HBO "Real Sports" segment. Topic: The demise of newspapers. When I pointed to a nearby Starbucks and said several people inside were reading news on laptop computers, Deford was incredulous, holding up a copy of the Sun-Times in protest as I dismissed the print paper as obsolete.
Frank passed away four years ago. "One of my favorite segments," Patrick Byrne, HBO's media relations director, told me in a note. "You were spot on."
On a recent podcast, a host asked me if it was "ironic" what has happened to the print industry since my declaration. I corrected him on his word usage. "I was RIGHT," I said, remembering how I was ripped by media people after the HBO show, as if I'd divulged the industry secret no one wanted to face.
I take no glee from my foresight. But I will realize, to my own dying day, that the Deford interview happened only a pop fly from where a "SPORTS WITH AN ATTITUDE" billboard once was perched.
Keeping Premier League Games Shouldn't Be A Hard Call For NBC
"Beyond its massive global fanbase, the Premier League offers NBC/Peacock a unique modern 21st-century sport for the short attention span of fans."
NBC Sports is facing some tough, costly decisions that will define its sports brand for the rest of this decade.  A chance to connect with viewers in a changing climate and grow Peacock's audience as well.  However, making the right choice is paramount to not losing to apps like Paramount+ (pun intended).
NBC is currently in the business of negotiating to continue airing the Premier League as their current deal ends after this 2021-2022 season. NASCAR is contracted to NBC (and FOX) through the 2024 season.
NBC's tentpole sports are the NFL and the Olympics.
Negotiations for the EPL are expected to go down to the wire. Rather than re-up with NBC, the league is meeting with other networks to drive up the price. NBC has to then make a decision if the rights go north of $2 billion.
Should NBC spend that much on a sport that is not played in the United States? It's not my money, but that sport continues to grow in the US.
If NBC re-ups with the Premier League, will that leave any coins in the cupboard to re-up with NASCAR? Comcast CEO Brian Roberts hinted that there might be some penny pinching as the prices continue to soar. This may have been one of the reasons that NBC did not fight to keep the National Hockey League, whose rights will be with Disney and WarnerMedia through ESPN and TNT, respectively.
"These are really hard calls," Roberts said. "You don't always want to prevail, and sometimes you're right and sometimes you're wrong, but I think the sustainability of sports is a critical part of what our company does well."
Roberts was speaking virtually at the recent Goldman Sachs 30th Annual Communacopia Conference. He told the audience that between NBC and European network Sky, that Comcast has allocated approximately $20 billion towards these sports properties.
Comcast CFO Michael Cavanagh spoke virtually at the Bank of America Securities 2021 Media, Communications and Entertainment Conference and echoed that the company is in a good position to make some strong choices in the sports realm.
"The bar is really high for us to pursue outright acquisitions of any material size," Cavanagh added. "We got a great hand to play with what we have."
While the European investments involve a partnership with American rival Viacom, the US market seems to have apparent limits.
Last Saturday's NASCAR Cup Series at Bristol Motor Speedway was seen by around 2.19 million people. It was the most-watched motorsports event of the weekend. That same week eight different Premier League matches saw over 1 million viewers. More than half of those matches were on subscription-based Peacock. 
Beyond its massive global fanbase, the Premier League offers NBC/Peacock a unique modern 21st-century sport for the short attention span of fans. A game of typical soccer fan is used to a sport that is less than two hours long. The investment in a team is one or two games a week. 
My connection to the Premier League began before the pandemic. When I cut the cord in late 2017, I purchase Apple TV. Setting it up, it asks you to name your favorite teams. After clicking on the Syracuse Orange and the New Jersey Devils, I recalled that my wife has family based in London, England. They are season ticket holders for Arsenal, and that family redefined the word "die-hard" fans.
I've long been a believer that sports allegiances are best when handed down by family. I love hearing stories of people loving the New York Giants because their parents liked them, and they pass it down to their children.
I've successfully given my allegiance to the Devils to my young daughters.
By telling Apple TV that I liked Arsenal, I get alerts from three different apps when the "Gunners" are playing. The $4.99 is totally worth it to see Arsenal.
Whenever I told this story, I was amazed to see how many other American sports fans had a Premier League team. Students of mine at Seton Hall University rooted for Tottenham Hotspurs, while an old colleague cheers on Chelsea.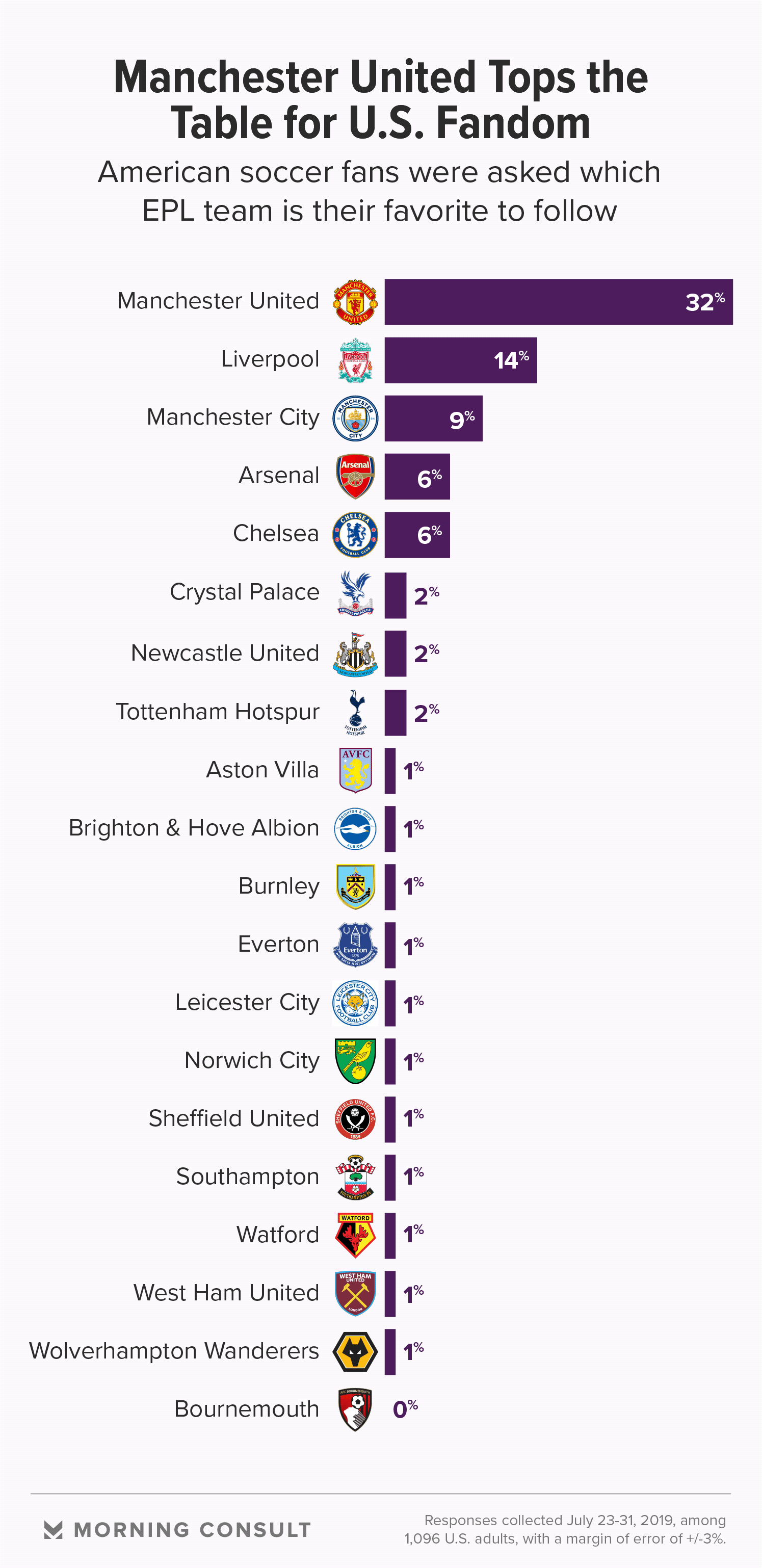 This is not meant to say that NBC should sign the EPL on my account. The key for any US-based soccer fan is that between Bundesliga, Serie A, and other leagues, there will be no shortage of soccer available on both linear television and streaming services.
Besides, Dani Rojas did say that "Football is life." NBC, originator of the Ted Lasso character, should make keeping its Premier League US connection a priority.
Today, Demetri is joined by Tyler McComas and Russ Heltman. Tyler pops on to talk about the big start to the college football season on TV. Russ talks about Barstool's upfront presentation and how the business community may not see any problems in working with the brand. Plus, Demetri is optimistic about FOX Sports Radio's new morning show.
Podcast: Play in new window | Download
Subscribe: RSS
6 Ad Categories Hotter Than Gambling For Sports Radio
"Using sports radio as a back page service for gambling will have a limited shelf life."
For years sports radio stations pushed sports gambling advertisers to early Saturday and Sunday morning. The 1-800 ads, shouting, and false claims were seedy, and some stations wouldn't even accept the business at 5 am on Sunday.
Now, with all but ten states ready to go all in on sports gambling, sports radio stations can't get enough of that green. Demetri Ravanos wrote about the money cannon that sports gambling has become for stations. Well, what if you are in one of those ten states where it isn't likely to ever be legal like California or Texas? Where is your pot of gold?
Or, let's face it, the more gambling ads you run, the more risk you take on that the ads will not all work as you cannibalize the audience and chase other listeners away who ARE NOT online gambling service users and never will be. So, what about you? Where is your pot of gold?
Well, let's go Digging for Gold.
The RAB produces the MRI-Simmons Gold Digger PROSPECTING REPORT for several radio formats. In it, they index sports radio listeners' habits against an average of 18+ Adult. The Gold Digger report looks at areas where the index is higher than the norm – meaning the sports radio audience is more likely to use the product or service than an average 18+ Adult who doesn't listen to sports radio. The report, generated in 2020, indicates that sports radio listeners are 106% more likely to have used an online gambling site in the last thirty days. That's impressive because the report only lists 32 activities or purchases a sports radio listener indexes higher than an average adult. I looked at those 32 higher indexes, and I think we can start looking for some gold.
Using sports radio as a back page service for gambling will have a limited shelf life. The gambling companies who commit significant money to get results will continue advertising and chase the others away. So, the future of sports radio needs to include other cash cows.
If it is evident to online sports gambling services that sports radio stations are a must-buy, who else should feel that way?  I looked at the Top 32 and eliminated the media companies. ESPN, MLB/NHL/NFL networks, and others aren't spending cash on sports radio stations they don't own in general. But Joseph A Bank clothing, Fidelity, and Hotwire should! Here's your PICK-6 list I pulled together that's hotter than sports gambling:
Sportscard collectors, Dapper Labs, Open Sea- read about Sports NFT $.
Online brokerage firms-Fidelity, Charles Schwab, Robinhood, Webull, TD Ameritrade
Golf courses, resorts, equipment, etc.- we play golf at home and vacation
Hotwire.com, Booking.com, TripAdvisor, Airbnb, Carnival Corporation, and Priceline.com- we've used Hotwire in the last year.
FedEx, UPS, U.S. Postal Service, Venmo, PayPal, Zelle-we wired or overnighted $
Jos. A. Bank, shein.com, macys.com, nordstroms.com- we went to Jos. A. Bank in last three months
The sports card/NFT market is 32% hotter than the sports betting market for sports radio listeners. Everything on the PICK-6 is at least 100% more likely to purchase than an average 18+ Adult who doesn't listen to sports radio. All listed are at or above indexing strength compared to sports betting. The individual companies I added are industry leaders. Bet on it! Email me for details.