Osaka is Undermining an Epic Career With Media Boycott
It's stunning when a young, popular, thriving athlete would rather quit than attend press conferences — and, to be clear, her French Open withdrawal isn't about "mental health'' as much as athlete empowerment.
We've seen Naomi Osaka bravely protest police brutality, wearing seven different face masks with the names of victims. We've watched her maintain composure on the court as her idol, Serena Williams, lost hers during a savage bullying of a U.S. Open umpire. We've marveled as she stared down Williams at the Australian Open and reduced her to competitive mush, destroying her chance of tying the career record for Grand Slam victories.
So we're supposed to believe that Osaka, poised to become the world's pre-eminent female athlete, suddenly quivers at the thought of reporters asking her questions after a match? To the point she has stunningly withdrawn from the French Open, one of tennis' four major events, rather than realize how she and her sport only prosper from worldwide media coverage — and how it has helped create a wealthy, privileged life for herself?
She at least should be truthful about her agenda, which has mushroomed into a referendum on athlete/media relations in the 21st century. Sensitive as we all should be about depression, I've followed Osaka enough to know her issue isn't primarily about "mental health" — her stated reason for refusing to speak to media in Paris, prompting officials to fine her $15,000 and threaten to disqualify her, which led her to quit Monday. No, this is more about control, the inevitable defiance from a new generation of athletes who see no reason to appear at organized press conferences when they can manage their own public narratives.
"I think now the best thing for the tournament, the other players and my well-being is that I withdraw so that everyone can get back to focusing on the tennis going on in Paris," Osaka wrote in a lengthy Twitter post. "I never wanted to be a distraction and I accept that my timing was not ideal and my message could have been clearer. More importantly I would never trivialize mental health or use the term lightly. The truth is that I have suffered long bouts of depression since the US Open in 2018 and I have had a really hard time coping with that."
I feel sad for her. But I'm just as baffled about why she's undermining an all-time career because she feels some tension at media gatherings. Osaka is far from the first athlete to protest media responsibilities out of fear, resentment, distrust or arrogance. But she is the first, in recent memory, to openly declare a media boycott before an important competition, then go home when she didn't get her way and the sport threatened her with severe sanctions.
"Anyone that knows me knows I'm introverted, and anyone that has seen me at the tournaments will notice that I'm often wearing headphones as that helps dull my social anxiety," she wrote. "Though the tennis press has always been kind to me (and I wanna apologize especially to all the cool journalists who I may have hurt), I am not a natural public speaker and get huge waves of anxiety before I speak to the world's media.
"I get really nervous and find it stressful to always try to engage and give you the best answers I can. So here in Paris I was already feeling vulnerable and anxious so I thought it was better to exercise self-care and skip the press conferences. I announced it preemptively because I do feel like the rules are quite outdated in parts and I wanted to highlight that. I wrote privately to the tournament apologizing and saying that I would be more than happy to speak with them after the tournament as the Slams are intense. I'm gonna take some time away from the court now, but when the time is right I really want to work with the Tour to discuss ways we can make things better for the players, press and fans."
Translation: They no longer need the media — and haven't for a long time in the social media age. The movement is athlete empowerment, here to stay as long as new revenue cascades into sports via media and gambling companies. The backlash has been building, with periodic media shutdowns from NBA star Kyrie Irving and others, and Osaka is daring to risk her career trajectory to challenge authority. Shouldn't a confidante talk to her, advise her otherwise? It makes no sense why someone who has been treated well and even warmly by the global media, as Williams deals with the barbs, would construct a wall that invites a war she cannot win. Just 23, Osaka has used media to her advantage early in her career, presenting a likable, socially aware image mixed with Gen-Z fun. Never has a young athlete been prouder than she was last September, when she celebrated her U.S. Open championship by laying on her back, her hair famously spread in a silhouette, and staring out at a world she already had conquered. When asked what message she was sending by wearing seven masks with seven names — from George Floyd to Breonna Taylor — during her seven matches, her answer was unforgettable.
"Well, `what was the message that you got' was more the question. I feel like the point is to make people start talking," she said before going inside a room at Arthur Ashe Stadium and answering more questions about her social justice causes.
She must not have been depressed that day. But on days when she is, why not appear at the press conference and say so? That way, she doesn't damage her career and shrink her platform. When tennis great Chris Evert says, "I feel like Naomi is starting to form an aura around her now of almost invincibility, something we've seen for 20 or 25 years with Serena" — why disrupt it with obstinacy? Without regular media visits, Osaka allows conduits to dry up across the planet and restricts the impact of her messages. It's her life, her career. But if she thinks she can rely exclusively on Twitter, Instagram and post-match stadium conversations — conducted with friendly interviewers and adoring fans — for the next dozen years, I can assure her the strategy will backfire. At some point, sooner than later, she'll need mainstream media to promote her career, to publicize her missions and, as the world's highest-earning female athlete, to name-drop her sponsors. And she'll want to abandon what surely will linger as a daily distraction, especially as snarling, offended commentators take shots.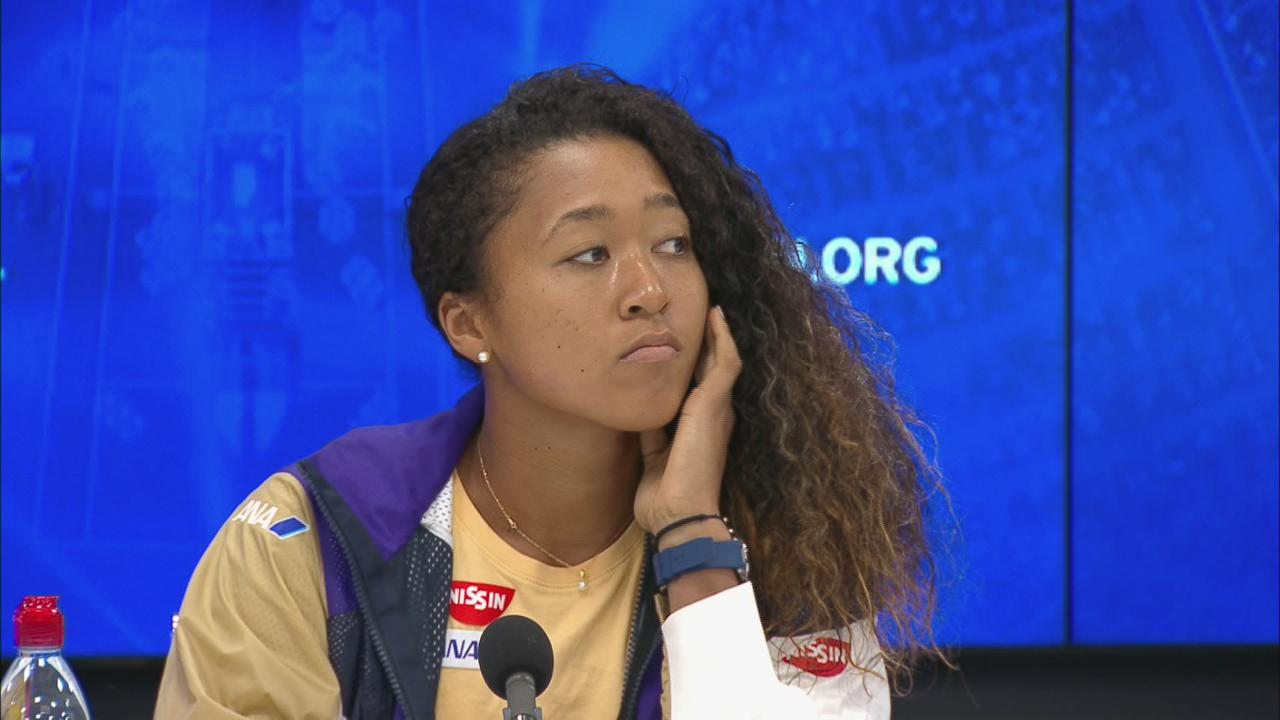 For now, she is adamant, explaining on her social platforms: "I've often felt that people have no regard for athletes' mental health and this rings very true whenever I see a press conference or partake in one. We're often sat there and asked questions that we've been asked multiple times before or asked questions that bring doubt into our minds and I'm just not going to subject myself to people that doubt me. I've watched many clips of athletes breaking down after a loss in the press room. I believe that whole situation is kicking a person while they're down and I don't understand the reasoning behind it.
"Me not doing press is nothing personal to the tournament and a couple journalists have interviewed me since I was young so I have a friendly relationship with most of them. However, if the organizations think they can just keep saying, `Do press or you're going to be fined,' and continue to ignore the mental health of the athletes that are the centerpiece of their cooperation then I just gotta laugh. Anyways, I hope that considerable amount that I get fined for this will go towards a mental health charity."
French Open officials showed as much empathy as Pepe Le Pew. With cross-referenced support from the other three Grand Slams — Wimbledon, the U.S. Open and the Australian Open — they underlined the fine print in their rulebooks and sounded warnings. You might ask, "Why default her?" Oh, because they enjoy having their tournaments covered by news agencies worldwide. And they believe players, even the best, should market the sport that has enabled their lifestyles. Of course, Osaka's attorneys would have a hoot poking at their rationale and championing freedom of speech, at least in America.
In a joint statement, the four Slams wrote: "As might be expected, repeat violations attract tougher sanctions including default from the tournament (Code of Conduct article III T.) and the trigger of a major offense investigation that could lead to more substantial fines and future Grand Slam suspensions (Code of Conduct article IV A.3.). We want to underline that rules are in place to ensure all players are treated exactly the same, no matter their stature, beliefs or achievement. As a sport nothing is more important than ensuring no player has an unfair advantage over another, which unfortunately is the case in this situation if one player refuses to dedicate time to participate in media commitments while the others all honor their commitments."
They make a good point about not allowing preferred treatment, not that Osaka wanted to hear it. "Anger is a lack of understanding, change makes people uncomfortable," she tweeted Sunday, hours before withdrawing. Would tennis officials actually have disqualified her and enforced future Grand Slam suspensions? Trust me when I say every major sports league and organization — and thousands of professional athletes — were monitoring closely.
Addressing questions, particularly minutes after a match, can be about as fun as a double fault. But the sessions, over time, can provide a penetrating window into one's persona. A connection is formed with fans — forget the media — who can pump athletes with adulation and money for a lifetime.
Rather than make decisions selfishly, Osaka could have sought advice from a pioneer who at first needed the media, then seized the attention and thrived. She might know Billie Jean King as the female star who beat the old man in "Battle of the Sexes," but King's image saturation in the '70s made it possible for Williams to achieve superstardom for two decades … and for Osaka to blow off news conferences as she ascends to the top.
Or, if she isn't into chats with OGs, why not visit with Rafael Nadal? He could have been smeared by the media in his career infancy, with his court theatrics and flamboyance, but he recognized how a combative entanglement with reporters made no sense. "I mean, we as sports people, we need to be ready to accept the questions and try to produce an answer, no?" said Nadal, who is chasing his mind-numbing 14th title on the French clay. "I understand her but in the other hand, for me, without the press, without the people who normally are traveling who are writing the news and achievements that we are having around the world, probably we will not be the athletes that we are today. We're not going to have the recognition that we have around the world, and we will not be popular, no?"
Oui.
Not long ago, Osaka said of her goals, "The biggest thing I want to achieve is — this is going to sound really odd — but hopefully I play long enough to play a girl that said that I was once her favorite player." This is NOT the way to go about it, as that fictional girl won't get to know her.
I don't want to think in sinister terms, but is it possible this is Osaka's way of running from the challenge of playing on clay — her career bugaboo? It didn't help when her sister, Mari, cited the clay factor as the reason for the boycott, writing on Reddit, "Naomi mentioned to me before the tournament that a family member had come up to her and remarked that she's bad at clay. At every press conference she's told she has a bad record on clay. When she lost in Rome (round one) she was not ok mentally. Her confidence was completely shattered and I think that everyone's remarks and opinions have gotten to her head and she herself believed that she was bad on clay. This isn't true and she knows that in order to do well and have a shot at winning Roland Garros she will have to believe that she can. That's the first step any athlete needs to do, believe in themselves. So her solution was to block everything out. No talking to people who is going to put doubt in her mind. She's protecting her mind hence why it's called mental health."
Before you knew it, Mari's post was deleted, followed by another that she had "f—ed up."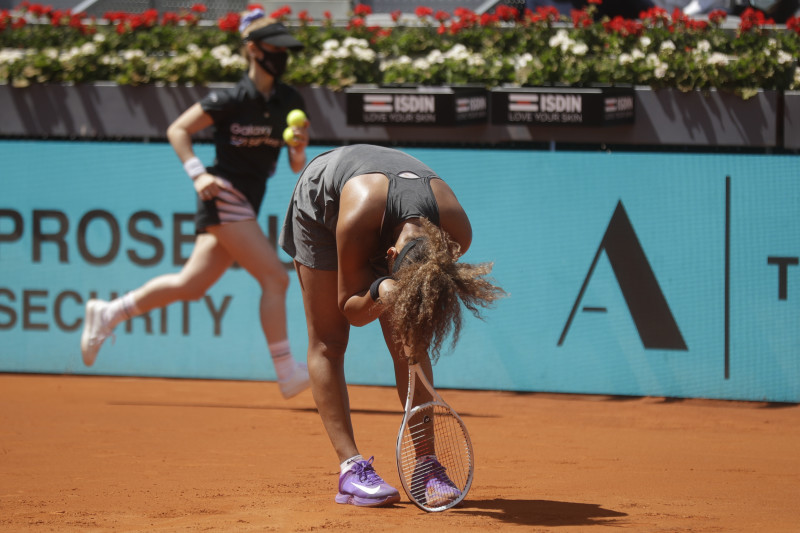 The anxiety in Camp Osaka is the talk of tennis. Already, the only player ahead of her in the world rankings, Ash Barty, senses a crack in the Naomi Curtain. "At times, the press conferences are hard, of course, but it's not something that bothers me," said the Australian. "I've never had problems answering questions or being completely honest with you guys. It's not something that's ever fazed me too much."
From Nadal and Barty to Roger Federer and even Serena Williams, the greats of tennis tend not to view themselves as larger than the game. No-Show Naomi apparently has other thoughts. So far, she's down big in the first set, losing to herself.
Is There A Right Answer To The Olympic PR Problem At NBC?
"NBC is in a no win situation right now."
Some businesses allow you to operate with a moral compass. You can look at people, companies, or situations and do some quick math on what the blowback would be if you are associated with them and steer clear. Sports media, particularly when it comes to live game rights, isn't one of those businesses.
NBC is in a no win situation right now. They have to get as many eyeballs as possible on the Beijing Olympics. The network is asking advertisers to spend upwards of $600,000 on a thirty second ad and have made promises about the size of the audience that will see those advertisers' messages.
At the same time, the network is the focus of public scrutiny for even being in China to begin with. That criticism will be amplified if there is no mention of the many human rights violations the Chinese government has been accused of for decades.
What do you do? You don't want to give people a reason not to watch. At the same time, you don't want to give critics ammunition to discredit you as a news organization.
This isn't just an NBC problem by the way. FOX faced similar scrutiny when it carried the 2018 World Cup, which was played in Russia. It will likely face a lot of the same scrutiny this fall when it carries the 2022 World Cup, which is being played in Qatar. That event in particular has been the subject of some truly horrific stories about the way the people building the new stadiums have been treated.
So what is the path forward? Fans always do some moral calculus when it comes to the ugly side of sports. How much are we willing to tolerate the exploitation of unpaid college athletes? At what point can we no longer tolerate the NFL looking the other way on head injuries?
International sports is a conundrum all its own because you are dealing with laws and customs that may not jive with our culture. Add truly deplorable organizations like FIFA and the International Olympic Committee to the mix and NBC, FOX, and other networks don't have time for moral calculus. They are checking any concept of right and wrong at the door.
NBC dropped $7.75 billion in 2014 on broadcast rights to every Olympics, both summer and winter, until 2032. The financial terms between FOX and FIFA remain a mystery, but the network will carry both the men's and women's World Cup through 2026. The price tag may be very similar to what NBC paid the IOC.
Organizations like FIFA and the IOC want that big pay day. That is why long-term deals are negotiated. Between contractual obligations and the need to turn a profit on a huge investment, networks' hands are tied.
Given all of the backlash, whether it is because the games are in China, skepticism over how necessary it is we do this in a pandemic (remember, NBC isn't even sending live broadcast teams to the games), or just a general sense of fatigue given this once-every-two-years event just happened eight months go, NBC might like the option to tag out of the 2022 games. And honestly, who could blame the network for feeling that way?
But NBC and the IOC have a deal. FIFA and FOX have a deal. These American networks are pinned in a corner by having to lock in a significant financial commitment to an organization that has no qualms about doing business with international bad actors.
Truthfully, I don't know what the right answer is for these networks. It is easy to say "Well, China is bad and Russia is bad and Qatar is bad, so don't do business with FIFA or the IOC as long as they keep going to those places."
Reality dictates that isn't going to be the path NBC, FOX, or any other network takes going forward. These multi-week sporting events provide a lot of inventory and bring with them the chance to rack up huge ad buys.
Events like the World Cup and the Olympics also are more than just sporting events to these networks. They are a chance to generate content for news divisions and a free commercial for their upcoming slate of shows. There is a reason networks see the billions of dollars of value in them that they do.
No one wants to take a PR black eye. Right now, for the most part, at least as far as the American public is concerned, those have been reserved for the governing bodies.
How long does that remain true?
NBC is a major partner of the Olympics that brings a lot of attention and revenue to the table. Forget objectionable host countries. What happens in 2028 when the Games are in LA and then suddenly NBC is the face of silencing Americans raising legitimate concerns about what hosting the Olympics can do to a city?
At some point, every company and private citizen has to do moral calculus. The scariest part for these networks is dealing with broadcast partners like the IOC and FIFA requires having to give an answer before all variables can be revealed to you.
Not every big score requires that kind of risk, but not many events offer what the Olympics and World Cup do. Any network that wants to do business with the IOC and FIFA has to decide if it is willing to swim in the swamp with gators. That usually comes with a few bites.
The moral calculus is pretty simple. How many bites can you take from a gator before the ad buys start to take a hit?
Don't Let Good Content Disappear, Never To Be Heard Again
There were so many times I'd be frustrated that a good piece of content would be allowed to simply vanish into thin air.
Good content comes out of the speaker daily from the many talented hosts that work in our industry. Unfortunately, the life span of this content is far too short. It happens and then disappears into the ether.
When something good happens on a show, you need to do more than turn it into a promo. You need to repurpose it.
If you work on the content side of the building, here are some key things I feel you should keep in mind to help give your material more staying power.
SOMETHING GOOD HAPPENS EVERY DAY, TELL PEOPLE ABOUT IT
When I was working as a content director, there were so many times I'd be frustrated that a good piece of content would be allowed to simply vanish into thin air, never to be heard or referenced ever again.
When a host or guest says something that stands out, blast it to EVERY social media channel that you're on. Do this consistently, not just on the days following a big story. Get everyone in the habit of believing and understanding that good content is put out there EVERY show and they need to keep their ears open for it.
Don't use audio clips; remember that social media is a VISUAL experience. If you're videocasting your shows (and you should), put the video up online. If you're not, create a cool-looking graphic with the quote (or quotes) of what was said. Create a template for every show, so it's "plug and play" for producers to upload before they leave for the day.
You'll be surprised how often you can go viral.
MAKE YOUR CONTENT SNACKABLE
People consume content in small portions. No one has the time or the attention span to listen to an entire show or even an entire segment. Yet we deliver content to them in a primarily longform way.
The solution? Make your content snackable.
Take a page out of what every professional sports league does. They realize that few people actually sit and watch an entire game. So they make a point to run well-produced highlight compilations and even condensed games, and upload them to all of their digital platforms.
Radio stations should do the same.
For on-demand consumption, don't just load your show audio hour-by-hour. Make sure you're uploading what you felt were the best parts of the program.
Take it a step further and do the same for ALL of your shows. Create a daily "greatest hits" compilation that consists of the best moments from each show, every day. This can not only be loaded onto apps and digital channels, but can also reside comfortably in the smart speaker space. Imagine a consumer coming home from work after a long day and simply saying "Alexa, play today's greatest hits from 101 The Fan!" They'd get a highlight real of all the good things that they missed.
Naturally, these can be sponsored, which is certainly another plus and always justifies the extra work that goes into making this happen.
OFFER IT AS MATERIAL FOR OTHER SHOWS
I've said this before, some of the best content that I've heard was hosts talking about what other hosts said on their shows.
It doesn't happen often enough, and the biggest reason continues to be one of the biggest stumbling blocks for virtually every industry: lack of communication.
Every show should have a written recap of what was discussed and when it was discussed, and that should be sent out to everyone who has a hand in content. (Hosts, producers, board ops, production staff, marketing, etc.)
Go the extra mile and have the actual audio of the good content sent out to the other shows so they don't have to hunt for it on their own. This was something, even during my days managing stations, I would do on the regular. If I heard something great on the morning show, I would find the audio and send a clip of it to the midday and afternoon shows. Even if they didn't use it, it would get hosts and producers in the habit of paying attention to what was said on our other programs.
If you have a sister spoken-word station in your cluster, get in the habit of sharing material with them when and where it fits.
Sometimes, the back-and-forth that can go on between shows ends up being legendary. It's an opportunity you don't want to waste.
Kenny Albert Expects Alternate Broadcasts To Grow
"That's the goal for any play-by-play broadcaster is to continue to work big events, playoff games, [and] championships."
Whether it be baseball, basketball, football, or hockey, one voice is a consistent presence behind the microphone, bringing fans all the action locally in the New York-Metropolitan area, domestically across the United States, and internationally all around the world.
Versatility is a coveted asset across many lines of work in today's media job marketplace and in the realm of play-by-play announcing, Kenny Albert seems to have set the standard.
Calling all four major sports on a near-regular basis for both regional and national sports television networks — including NBC Sports, Turner Sports, MSG Networks, and Fox Sports — Albert has seen firsthand the shift in the industry from the perspective of a broadcaster. But that's not all. He calls games on the radio as well, working in various capacities for the New York Rangers, the team with which he got his start in professional broadcasting alongside his father.
Albert was exposed to sports broadcasting from a young age by virtue of growing up in a family of sportscasters, with his father Marv and uncles Steve and Al building careers in the profession. Upon being gifted a toy tape recorder for his fifth or sixth birthday, Albert began to prepare for what quickly became his primary career aspiration; that is, to be a professional play-by-play announcer.
He remembers bringing his toy tape recorder to sports venues including Madison Square Garden and Shea Stadium once of age, and prepared for each game by looking over the rosters and keeping up-to-date with the latest statistics. His big break as a broadcaster later came as a sophomore at Paul D. Schreiber High School in Port Washington, New York by means of volunteering to fill an unaddressed vacancy.
"Cox Cable of Great Neck came to my school to film a girls basketball game," said Albert. "They had two cameras [and] a small production van, but no announcers. I volunteered and they clipped a microphone onto my shirt [and] I did the game."
By the end of high school, Albert had turned his volunteering into a job, working 75 to 100 games all over Long Island in sports such as lacrosse, hockey, basketball, baseball, football, and soccer, with his friends serving as color analysts. In college, Albert was a member of WNYU Radio at New York University and continued to call games on the radio. Yet he believes the experience he had in high school positioned him to be ahead of the pack in a profession with substantial levels of competition.
"I felt like I really had a three-year head start on anybody else at that time who wanted to do play-by-play," said Albert. "There weren't really any opportunities until college back then in the '80s. The three years at Cox Cable were just such an unbelievable experience to get three years of practice and reps under my belt."
After graduating college with a bachelor's degree in broadcast journalism, Albert became the radio voice of the Baltimore Skipjacks in the American Hockey League and quickly made his jump to the pros beginning in 1992 as the television play-by-play broadcaster for the National Hockey League's Washington Capitals.
From there, Albert continued to find and add new opportunities to call professional games in football, baseball, and basketball, both on the radio and on television – and he continues to call games in both mediums today. Being conscious of the audience and how it is consuming the game is central to understanding the differences in calling a sporting event for one medium as opposed to the other.
"On radio, obviously you have to be more descriptive [because] the listener can't see what's going on. The description is the key. Location on the ice, on the court, on the field, etc.," Albert explained. "You have to give the time and the score a lot more often on radio. On TV, it's up on the upper lefthand corner of the screen, which wasn't the case before I started working professionally. [Also,] you definitely don't have to talk as much [on TV]; you can leave more time for the color analyst to come in."
In broadcasting events across many professional sports, Albert has worked with over 225 color analysts, a figure he surmises might just be the record for a play-by-play announcer.
Whether it be Walt "Clyde" Frazier, Eddie Olczyk, Tim McCarver, or Jonathan Vilma, getting their perspectives on the game at hand is essential in creating and maintaining a seamless broadcast. Since the play-by-play announcer does not need to describe as much of the action occurring on visual broadcast mediums, he is able to afford his partner in the booth, whoever it may be, more time to talk in those instances.
Albert, in his opinion, says hockey is the least difficult sport for him to call, partly because he has been doing it for 32 years, but also due to its rhythmic style of play – especially on the radio.
"You're just into the flow really for the entire 60 minutes," he said. "People always ask me about the names and the pronunciations and the fact that the players change on the fly, but to me, it's almost like riding a bike because I've been doing it for so long."
Conversely, Albert believes baseball is the most difficult sport for him to call since the style of the broadcast is more conversational in nature and because he does not call baseball games on a regular basis. "If it's a game every week, or 10 [to] 15 games over the course of the season – which is what I've usually done – because there is so much downtime, [hopefully] you have a great color analyst that can fill in a lot of that time," he explained.
While Albert calls baseball the least out of the four major U.S. sports, one of his most memorable moments as a broadcaster was being behind the mic for José Bautista's iconic bat flip in Game 5 of the 2015 American League Division Series at Rogers Centre in Toronto with the background noise of 49,742 impassioned fans.
He also recently called the 2022 NHL Winter Classic from Target Field in Minneapolis – home of Major League Baseball's Minnesota Twins – at a game-time temperature of -5.7 degrees Celsius. Despite the frigid temperature, Albert's experience calling the game was "magical," especially since it was played at night with natural, aesthetic touches in a setting seemingly made for television, including eight frozen ponds formed in the outfield.
"We had [the window] open at the start because we wanted to feel the elements and experience what it was like for the fans and for the players," said Albert. "We did keep the window closed in the broadcast booth for a good portion of the game… We were still able to see the ice and see all the monitors in the booth the same as if the window were open. It was a fantastic experience."
Albert has called other big events as well, including the Stanley Cup Finals, the Winter Olympics, and NFL divisional playoff games. From the days practicing with his toy tape recorder and growing up around family members in the profession, he understood the importance of preparation and professionalism in trying to establish a career for himself in the booth.
"That's the goal for any play-by-play broadcaster is to continue to work big events, playoff games, [and] championships," said Albert. "There is a lot of travel and a lot of preparation involved, but it's just so much fun."
As the landscape of sports media continues to shift, in spite of its apparent acceleration due to the COVID-19 pandemic, the introduction of emerging technologies, new platforms for content dissemination, and modification of best practices to maximize cost-efficiency have resulted in a paradigmatic deviation from the norms that had been associated with travel and preparation.
Pertaining to travel, Albert and nearly every other play-by-play announcer in the country has experienced the process of calling games remotely to ensure the health and safety of themselves and network crew members. While the decision, which had been in consideration among sports networks prior to the pandemic to cut travel expenses, impacts the range of vision and subsequent understanding of action away from gameplay, Albert sees its implementation as a "new normal" towards which the industry will have to lessen its intransigence.
"To me, I feel like no matter the sport, I [can] probably see about 85 percent on the monitor of what I would [see] if I were at the arena," said Albert. "You don't get the emotions or the feel of being there, but it's probably not as bad as I expected when we started… It does save the wear and tear on the body a little bit for those of us who have been traveling for a long time. That's probably one positive that's come out of it."
Information overload is an offshoot of the development and expansion of the internet, directly affecting the preparation process for play-by-play broadcasters. When Albert started working for the NFL on Fox in 1994, he would receive a shipment of VHS tapes every Wednesday with the games of the teams they would be covering that week, and any news clippings or supplementary materials were received through fax. Following the advent of the internet, Albert received articles through email, began to tape games on television, and see action from all across the country with DirecTV NFL Sunday Ticket.
"It really wasn't that long ago, but thanks to technology, it's made the preparation on one hand a lot easier, [but] on the other hand there's so much information available [that] you could basically 24/7 try to find various nuggets and read that extra article in order to get ready for that week's or that night's game," said Albert.
The role of the traditional play-by-play announcer is also changing with the introduction of concurrent presentations during national games, such as the Monday Night Football "ManningCast," Statcast Edition of the MLB Home Run Derby, and the forthcoming Sunday Night Baseball with Kay-Rod. Though he hopes the role in which he has been employed for over three decades staves off extinction, Albert is cognizant of the ongoing evolution of the industry geared to satisfy consumer demand while minimizing the opportunity cost associated with such evolution in the process.
"I think with a telecast such as the ManningCast, it's a unique perspective hearing from two guys who were among the top quarterbacks of all time," said Albert. "Hopefully, the role of a play-by-play announcer on the traditional broadcast doesn't go away and is around for a long, long time. But I think with so many channels out there with people watching things on their phones and on computers and on [tablets], and all of the technology available now that wasn't [around] 10, 20, 30 years ago [that] there's definitely a place for the alternate broadcasts, for sure."
Whether they want to be a play-by-play announcer, analyst, sideline reporter, or talk show host, Albert's advice is the same for prospective broadcasters: Come prepared, be versatile in whatever you do, and find opportunities in places where they may seem sparse.
"When I was growing up, we had seven channels; there was no cable [and] no satellite," said Albert. "There are just so many opportunities out there these days. [While] I was at college at NYU, we had to fight for air time to broadcast the men's and women's basketball games because the radio station was the only outlet. These days if you're at school, you can go broadcast a lacrosse game or a soccer game and put it out there on the internet. It's just another way to get reps and get practice even if it's not through the traditional means of a campus radio station."
Albert has never genuinely "worked" a day in his life and he certainly hopes to keep it that way. Whether it has been on the radio or on television, rinkside or perched behind home plate, at the venue or in a studio, his ability to broadcast different types of sporting events professionally on multiple broadcast platforms both locally and nationally has afforded him various opportunities in sports media. He hopes he can continue to be the voice behind more memorable moments as his career progresses within a dynamic, growing industry.
"I never feel like I'm going to work," said Albert. "I hope I never lose that feeling."