Anatomy Of An Analyst: John McEnroe
Andy Masur looks at what makes John McEnroe one of the best broadcasters in tennis.
"You cannot be serious!" Who could forget that line, which is so synonymous with John McEnroe berating an on-court official? So synonymous that it became the title of his autobiography. The famous line was part of a memorable moment at Wimbledon in 1981. It was in his opening round match, when he approached chair umpire Edward James yelling, "You cannot be serious, man. YOU CANNOT BE SERIOUS! That ball was on the line, chalk flew up. It was clearly in. How could you possibly call that out!" McEnroe walked away saying, "You guys are the absolute pits of the world." The outburst cost him a point in that match. Some consider that the top Wimbledon moment of all-time. McEnroe doesn't agree, admitting later that he felt "terrible" about the incident.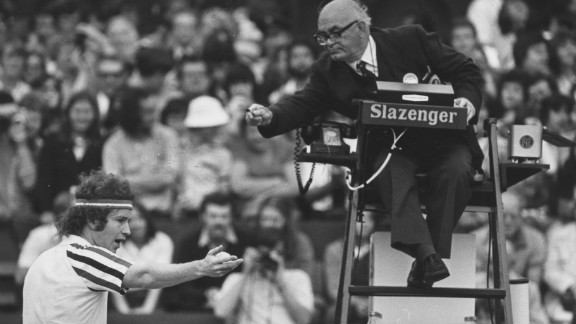 McEnroe never seemed to agree with umpires or linesmen, but it didn't stop him from becoming one of the best tennis players of his era. The late 70's and early 80's belonged to the headband wearing boisterous left-hander. McEnroe was truly one of the most colorful players during his professional career and he's parlayed that into a successful post-playing career as a television analyst.
TENNIS CREDENTIALS
McEnroe earned induction into the International Tennis Hall of Fame in 1999 based on his illustrious career on the court. He finished with 77 singles and 78 doubles titles. McEnroe won seven grand slam singles titles, four at the US Open and three at Wimbledon, and nine men's Grand Slam doubles titles. His singles match record of 82–3 in 1984 remains the best single season win rate of the Open Era. 
McEnroe became the top-ranked singles player in the world on March 3, 1980. He was the top-ranked player on 14 separate occasions between 1980 and 1985 and finished the year ranked No. 1 four straight years from 1981 through 1984. He spent a total of 170 weeks at the top of the rankings.
As an 18-year-old amateur in 1977, McEnroe won the mixed doubles at the French Open with Mary Carillo. He then made it through the qualifying rounds of Wimbledon, working his way into the field. McEnroe would lose to Jimmy Connors in four sets. At the time it was the best performance by a qualifier at a Grand Slam tournament.
He played collegiately at Stanford and in 1978, McEnroe won the NCAA Singles title and led the Cardinal to the NCAA team title. Later that year, he turned pro and made it to the semifinals of the US Open, losing to Jimmy Connors. McEnroe won 5 titles that year, including the Masters Grand Prix in which he beat legend Arthur Ashe in straight sets. The lefty would finish '78 as the fourth ranked player in the world.
NOT THE MOST POPULAR PLAYER
McEnroe didn't stand out for his popularity. He didn't really seem to care either. He played with a fire that burned, a competitiveness that was palpable but he was always arguing. Constantly putting down game officials for what he considered bad calls.
"I know I can see the ball better than the officials," he said early in his career. "I can 'feel' when a ball is out or not. What's so frustrating is to know you're right and not be able to do anything about it."
When he was just 20, he was nicknamed "Superbrat" by the British tabloids in 1979. "He is the most vain, ill-tempered, petulant loudmouth that the game of tennis has ever know," The Sun wrote.
BROADCASTING
McEnroe started his broadcasting career with NBC in 1992 as an analyst on the network's French Open coverage.  In June of '92 he made his debut as a commentator on NBC's Wimbledon telecasts. McEnroe has also spent time with CBS, USA, the BBC and now ESPN.
As we've seen it a million times, a person's unpopularity making them popular in the booth, because you never know what might be said. Controversy sometimes makes for great television. Someone willing to "tell it like it is" usually is a fan favorite. Enter McEnroe.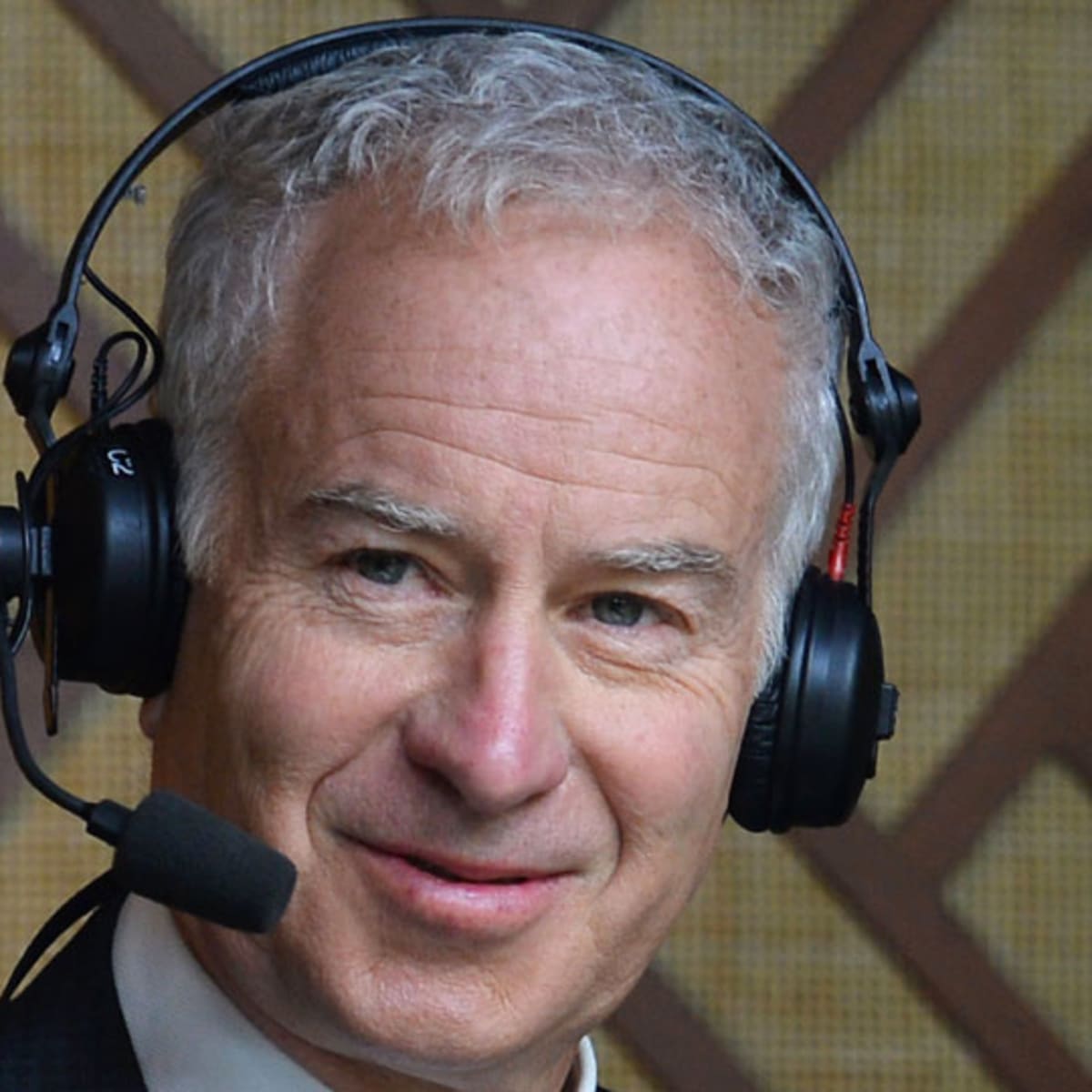 While the reputation for being the "bad boy" on the court, his on-air persona is a little bit different. The man knows the game of tennis and he's used the knowledge to gain a reputation for being good at what he does. The combination of insightfulness and some outspoken commentary is working for him. He's often making his point with the natural wit and cynicism he's been blessed with. I know this will come as a shock, but he's often willing to say what is on his mind. The only difference between McEnroe the broadcaster and the "Johnny Mac" of tennis fame, he's much calmer when delivering his commentary in the booth. That makes him a lot easier to listen to and view.
Many that were able to play the game, whatever sport it might be, at a high level, have a hard time accepting today's athletes. Some don't like the way the game is played now, because it isn't what it used to be. McEnroe is the exception to that rule. He has been known to appreciate and accept the way the game has changed since his era. It's a quality that isn't lost on viewers. Who really wants to hear that former great tell you that these athletes of today are "this or that" and not as good as they were when he played? It's kind of a tired way of commentating. It's lazy and not entertaining. Good on McEnroe for being "bigger" than that. 
According to an "Awful Announcing" article in 2012, McEnroe is one of the top analysts regardless of sport. It goes on to say, and I'm paraphrasing here, McEnroe gives the broadcast credibility and enhances the coverage of tennis greatly. 
WORKING WITH HIS BROTHER
McEnroe's brother Patrick was quite the tennis player himself, but was constantly overshadowed by big brother John. Patrick has carved out a nice niche for himself in tennis broadcasting and is so versatile, he's done commentary, hosting and play-by-play. The latter allowed him to be paired with John on many occasions.
The New York Times did a piece on the younger McEnroe in 2017 at the US Open in Flushing, NY.
The brothers were ecstatic to work together again on a broadcast. Patrick told the paper that the producers were initially worried about their similar Queens cadence. With Patrick doing the play-by-play and John doing the color commentary, their words often do the job of letting the viewer know who is talking.
The story looked at the two on opening night of the Open, they called a hard-fought match between Alexander Zverev and Darian King that stretched well past midnight. As the 2 a.m. hour approached, something shocking occurred. John seemed to agree with an umpire. Patrick wanted to make sure he heard his brother correctly. "I figured no one was watching," John shot back.
Pretty cool that they get to work together, listening back to a few of their matches, I'm struck by how at ease both the brothers are. They should be after growing up together, but sometimes that brotherly competitiveness can rear its head. Not in the case of the McEnroe brothers.
OTHER APPEARANCES 
John is obviously best known for his play, but he's recognized for other things as well. McEnroe has been an author and actor in various roles including appearances on 30 Rock, CSI NY, Curb Your Enthusiasm, Saturday Night Live, Anger Management, Jack & Jill, and Mr. Deeds to name a few. His memoir that I alluded to earlier, You Cannot Be Serious reached #1 on the New York Times nonfiction best-seller list in 2001, and was also ranked #1 on the London Times best-seller list.
CONCLUSION
McEnroe has done a nice job of using his past experiences as a dominant tennis player to move into an analyst role and explain the game to his audience. He offers personality and wit, things his fans are expecting of him, in a conversational and expert way. McEnroe could easily be that screaming and angry guy he was on the court, but he realizes that too much of that would turn an audience off. He is able to strike that delicate balance between the player he was and the broadcaster he is, which is not an easy thing to do. 
Anatomy of an Analyst: Jeff Van Gundy & Mark Jackson
The two men play off each other well, they seem to balance one another out. Calling each other out on things and eventually getting back to the game they're watching.
They're names are synonymous with the NBA and basketball in general. Now it's their voices that make you think of big games in the NBA on both ABC and ESPN. Mark Jackson and Jeff Van Gundy bring their knowledge of the game and personalities to the top announcing team alongside the new Hall of Famer, Mike Breen. The crew is getting ready to call the NBA Playoffs.
Each of the analysts grew up around basketball and were bitten with the bug early in life. Each played high school and college basketball. Jackson with a little more success than Van Gundy in the playing department, but they were each able to parlay their respective successes into coaching jobs and top broadcasting gigs. 
Van Gundy grew up in California but played his high school ball in New York. As a high-school point guard, Van Gundy was a two-time All Greater Rochester selection in 1979 and 1980, leading Brockport Central to the Class AA finals. He continued his basketball playing career at Nazareth College, where he earned All-American honors, while leading the Golden Flyers to an NCAA Division III Tournament berth in 1984. Van Gundy then attended Yale University, where he was a classmate with 2-time Academy Award winner Jodie Foster.
Jackson was born in Brooklyn, NY. He was regarded as one of the nation's elite point guard prospects while attending Bishop Loughlin Memorial High School in Brooklyn. Jackson gained a reputation as a street baller in New York and a college hoops star at St. John's University. While at St. John's, he played alongside Olympian and NBA All-Star Chris Mullin for two seasons. He credits Mullin with teaching him the importance of rigorous practice work in the gym. 
NBA CREDENTIALS
Both left their mark on the NBA. Van Gundy as a head coach with the Knicks and Rockets. In a career that spanned 11 years and 748 games, he went 430-318, making the playoffs 9 times, reaching the NBA Finals in 1998-99, losing to the Spurs 4 games to 1. After getting fired from the Houston job in 2007, he joined ESPN as a guest analyst and has been with the network ever since.
Jackson was drafted in the first round (#18 overall) by the Knicks in the 1987 NBA Draft. In a 17-year career he played for the Knicks (twice), Clippers, Pacers (twice), Nuggets, Raptors, Jazz and Rockets. Jackson was an All-Star in 1989, led the NBA in assists and assists per game in 1996-97. For his career Jackson averaged just under 10 points a game and 8 assists per contest. He spent 3 seasons as the head coach of the Golden State Warriors, going to the playoffs in all but his first year. After he was fired after the 2014 season, Jackson returned to ESPN/ABC to rejoin Breen and Van Gundy. 
BROADCASTING
I'm not usually a fan of the three-man booth. Sometimes too many cooks make for a bad broadcast. There are some exceptions along the way, and this group is one of them. The elements are all there, two well versed NBA analysts and a now Hall of Fame broadcaster. Just because all the ingredients are in place, it's got to fit together or the food is still spoiled and tastes horrible. There is a chemistry between the three, it's pretty much evident in every broadcast. There is a unique bond between the two analysts as well.
The banter and comradery between them go back to when all three were with the Knicks. Because of their familiarity, the disagreements at times could sound heated on the air. But what you have to understand is that friends can take these liberties with each other and know exactly where that line is, and never cross it.
"I think because Mark took me under his wing early on, taught me a lot about the NBA, this deep friendship developed, that we can be honest with each other, we can disagree without being disagreeable," Van Gundy told the Associated Press in 2019. "We're real fortunate that we can talk honestly and not feel inhibited that we may be hurting each other's feelings." Jackson knows that too, Jackson knows that too, and told the AP "The same thing I would say at dinner, I would say courtside." 
Personalities such as these need to be big and bold. Neither of the analysts went to school to broadcast, so it's been a work in progress for both. Van Gundy may be just 5 foot 9, but his presence is much larger. It's come to be that NBA fans realize it's a game of magnitude when he and Jackson join Breen on the call. Van Gundy has opinions and you will hear them during the game, that's for sure. Sometimes it's based on what he's seeing in front of him, and sometimes it has nothing to do with the game at all. Van Gundy is not a fan of the modern statistics that have taken over sports in general, which doesn't sit well with every fan. He also has a propensity to side with a coach when it comes to a margin call. But why wouldn't he?
Jackson is the guy that seems to egg Van Gundy on, encouraging him to continue whatever rant he may be on. Especially when it comes to things non-basketball related. But at the end of the day, Jackson brings a perspective to the proceedings. Having been a point-guard of note, there's things he sees, that others may not. His play-by-play guy, Breen verbalized it better. "He sees the game like very few others," Breen said to the Associated Press in 2019. "When he was a player, he had great court awareness. When he came back from coaching it gave him a different perspective and the ability to show what was going on with 10 players on the court."
The two men play off each other well, they seem to balance one another out. Calling each other out on things and eventually getting back to the game they're watching. They've been known to take things on a tangent or three during a game, which kind of leaves Breen to fend for himself. Having to try and bring the game back to the action, is not always easy. But that's the job of the play-by-play guy for better or for worse. Van Gundy is usually the one that needs a little more reeling in, but what's a guy to do?
"First off, I have no control to stop him," Breen said to the USA Today. "I will fully admit that there have been many times when I've lost complete control of the broadcast or telecast. He [Van Gundy] loves to have fun. He loves to entertain himself, he loves to entertain me and Mark and he loves to entertain the audience", said Breen. "So, he knows what he's doing. And he knows when it's time to concentrate on basketball. He has such a respect and love of the game that he knows when it's time. And when one team's up 35, that's not the time."
CONCLUSION
The duo of color commentators isn't everyone's cup of coffee. Some have compared them to Statler and Waldorf, the Muppets that sit in the balcony and offer up grumpy opinions and heckle the rest of the cast. There is some grumpiness in the analysis and on occasion there's a heckle or two. If you are a basketball fan, there is a way to look/listen beyond the extraneous observations and appreciate the information.
The broadcast does offer a nice balance. Jackson and Van Gundy "police" themselves if you will and Breen has an incredible way of actually bringing it back to the action. It works, in a unique way. Sometimes you have to be able to read between the lines. But, after all, in the television world it's all about entertainment, right? Whether you like them or not, you talk about them and tune in to watch. That's a win for the broadcast. 
Anatomy of a Broadcaster: Kenny Albert
"There really is no flash or catch phrase that Albert relies on. It's just solid broadcasting and a voice that can transcend multiple sports."
A voice for all seasons. Kenny Albert seems to appear on your television no matter what sport is going on at that time. Albert does baseball, football, basketball, hockey and the Olympics. As one of television sports' most versatile announcers it's not a wonder he's on all the time. Albert's work appears on several networks including TNT, FOX, and NBC. This week he'll start calling Stanley Cup Playoff games. 
Albert was bitten by the sports bug at a very young age. Being the son of Marv Albert, naturally his parents gave him a tape recorder for his 5th birthday, so he could practice his broadcasting. For his next birthday, Marv took Kenny along to a Rangers hockey game. One of the statisticians had to leave in the middle of the game, so Kenny got to do the stats for the rest of the game. At 14, he became the official statistician for the Rangers on the radio. At 16, he wrote content for the Rangers program. He was a prodigy of sorts.
While having a famous father may have opened up some doors along the way, talent has to win out to sustain at such a high level of broadcasting. Kenny Albert didn't start right away with a network. He paid some dues along the way. He covered high school sports for the Port Washington News as a youngster and did minor league hockey for the Baltimore Skipjacks in 1990. From there he'd start to break into the higher levels, starting with television play-by-play for the Washington Capitals in 1992. Albert would do hockey for ESPN and NHL Radio. He broke into football in 1994 when Fox took over coverage of the NFL and has been there ever since. Albert also added MLB on Fox, the Olympics and the full-time radio gig with the New York Rangers. 
As of just a couple of weeks ago, Albert, along with Eddie Olczyk have been named the lead announce team for Turner's coverage of the NHL. Albert was tabbed one of the lead voices of this year's NBC telecasts replacing the retired Doc Emrick.   
WHY IS HE SO GOOD?
Albert has been called by many, a "pro's pro". Quite a compliment if you ask me. Not too many announcers are just so solid at what they do that they earn that label. There really is no flash or catch phrase that Albert relies on. It's just solid broadcasting and a voice that can transcend multiple sports.
He never shies away from an assignment either. With his busy schedule you'd forgive him every once in a while, to say, "I think I'll pass on that one", but that's not his style. Take for example, and this is just one case, back in 2009 when he called four different sports in four nights, including two on the same day.
October 25: Play-by-play Vikings/Steelers NFL on Fox
October 25: Yankees' locker room celebration after clinching ALCS on Fox
October 26: Play-by-play Rangers hockey on radio
October 28: Play-by-play Knicks season opener MSG Network
That's a pretty impressive skill set to have, to be able to pivot quickly and be able to adequately prepare for each assignment. Not many have been asked to do this type of turnaround, and for good reason. It's not easy to do. Versatility has been his calling card and it's made him a successful broadcaster over the years. 
WORKING WITH KENNY ALBERT
According to some that count these things, Albert has worked with nearly 250 different broadcasters (as of 2016). The numbers add up when you consider he works all four of the major US sports. Add to the fact that he's done the Olympics and boxing among others and the number of people he's worked with begins to soar. 
As of a few years ago, it was estimated Albert has worked with 57 different broadcast partners in football alone. That included a game with both Tiki and Ronde Barber. Some of the famous names he's done games with include: Anthony Munoz, Joe Namath, Terry Bradshaw, Troy Aikman, Jimmy Johnson, Glenn Anderson, Eddie Olczyk, Bill Raftery, Paul Molitor and Sugar Ray Leonard. That's a who's who of famous athletes.
In a story done on Fox Sports Press Pass in 2016, Albert explained how it's possible to work with such a wide variety of analysts. The most important take from this article is Albert knows his job.
"The play-by-play man has many roles: the first is obvious — calling the play," Albert said. "Also weaving in anecdotes, statistics, historical information, rules explanations, stories from meetings with players and coaches, while also serving as somewhat of a conversation 'traffic cop.'"
"I have been fortunate in that I have gotten along with — and 'clicked' with — just about all of the partners I have worked with," Albert said. "You certainly develop a rhythm and flow with the partners you work with on a consistent basis; you learn each other's cadence and tendencies from years and years of working together."
Pretty impressive to be able to handle the 'celebrity' of some that he's worked with and not stray from what makes him a terrific broadcaster and deliver a great broadcast. Being able to set up the analyst and allow that person to be themselves and tell their stories is what fans want to hear. Albert is happy to allow all of that to happen.
DID YOU KNOW?
In November 2020, he scheduled an extra game, in between two NFL games. He called the Giants/Washington game one week. The following week he called Steelers/Bengals. Sandwiched in the middle a High School Football game. Northern Valley Demarest High School (Bergen County) vs. Dumont. Why? Albert's two daughters have attended Northern Valley and Albert struck up a friendship with the Athletic Director Greg Butler. Due to the pandemic only a limited number of fans were allowed at games, so they'd stream the games with no audio for students that couldn't attend.
Albert texted Butler, saying if there are any football games that fall on a Thursday, he'd be available. He was half serious and half joking, but the school took him up on it. So, while he was prepping for the Steelers/Bengals game he started to work on the high school board. He also attended a practice and spoke with both coaches. Albert wanted to be prepared. 
"The biggest thing is pronunciation," Albert told the New York Post. "I know a lot of the parents and the families are going to be watching and can't be at the games. You don't want to pronounce a kids' name incorrectly. It might be the only time on a YouTube livestream in their life. It is actually harder than preparing for an NFL game because you are not familiar with the names and numbers."
CONCLUSION
Albert is just a solid broadcaster. It's no frills, but he has the skills to make every sport he covers come to life. Versatile and professional are two words he's earned the right to use. Busy schedule or not, football or hockey, you know he's going to be ready to go.
Anatomy Of a Broadcaster: Matt Vasgersian
"Did I mention he was a busy guy?"
"Santa Maria!", when you hear it, you know you're tuned into an MLB game with Matt Vasgersian on the mic. More on the catchphrase in a moment. Vasgersian is one of those guys that you seemingly see everywhere. Why? Because he's pretty much everywhere. Turn on MLB Network, there he is. Tune into Sunday Night Baseball on ESPN, yep, he's there. Now, catch an Angels baseball game on TV and he'll be there too. 
Vasgersian has been around the baseball block since the early 90's. He spent six-seasons as a Minor League broadcaster before being hired for his first MLB gig. Vasgersian was only 29 when he became the play-by-play voice of the Milwaukee Brewers. He worked in that booth from 1997-2001. Matt then took his skills to San Diego, being named the TV voice of the Padres in 2002. He stayed in America's Finest City until 2008, leaving for the MLB Network after the season.
Along the way, the very busy Vasgersian held down several other positions in prominent broadcast locations. He joined Fox Sports in 2006, working NFL telecasts, MLB Game of the Week games and playoffs and some College Football BCS games. He joined ESPN in 2018 to take over the Sunday Night Baseball lead role, while continuing his role at MLB Network.
Did I mention he was a busy guy?
This year he took on more of a workload and became the new play-by-play man for the Los Angeles Angels' telecasts succeeding Victor Rojas. Vasgersian will work remotely and will do as many Angels games as his national schedule allows.
He told the Angels media via Zoom the reasoning for taking on this job. "I kind of missed getting my skin in the game with a team," Vasgersian said. "There's a fine line between a national presentation of a product, when you're doing a game for a fan base that knows more about their teams than you do, and doing a game as a team broadcaster where you are much more intimately informed as to what happened last night, and the night before and the personalities behind the game. I kind of missed that and kind of missed being involved with a team and rooting a little bit. The hope is that you appeal to the fan base as a friendly voice."
When will this guy sleep?
BEST KNOWN FOR
Vasgersian first burst onto the national scene doing play-by-play for the original version of the XFL back in 2001. The league was new and Vince McMahon was in charge and wanted things done a certain way. Vasgersian's time with the league was tenuous; during the first broadcast he said, "I feel uncomfortable" after a suggestive shot of the cheerleaders. McMahon didn't like that very much and immediately demoted Vasgersian from the top telecast. NBC wanted Vasgersian back on the first team broadcast and he returned about halfway through the season.
He made a good impression on the higher ups at NBC which ultimately led to five Olympic assignments. Vasgersian called baseball and softball from the 2004 Summer Games in Athens, ski jumping from the 2006 and 2010 Winter Games and freestyle skiing from the 2014 games in Sochi, Russia.
Now, about that catchphrase, "Santa Maria!". It's not a copy, it's an original. Oh, and it has nothing to do with one of the ships that sailed to find America in 1492. Vasgersian explained the origin to MLB.com in 2018. 
"Man, I wish there was a better story to this. [Laughing]. My family — and my sister, in particular, has one of her oldest friends — [from an] Italian family. My sister's friend's mother is a wonderfully animated Italian woman, who says "Santa Maria!" at a drop of a hat. For example, she goes to the grocery store and sees tomatoes are on sale. She will say, "Santa Maria, what a deal!" he explained. "I spent enough time around this wonderful lady for her to rub off on me a little bit. And I started saying "Santa Maria!" when there would be some kind of superlative moment on a baseball field. When I was in the Minors, you never want to sound gimmicky, but I try to keep it in my pocket for the right time. It's kind of a sanctioned way of saying "Holy Blank."
So, there you go, the explanation right from Vasgersian himself.
WHY IS HE SO GOOD?
Vasgersian has a way about him. Not too many broadcasters are able to showcase immense talent in describing action and adding personality, wit and a sense of humor in with it. He can do it. The style isn't for everyone, but to me in watching a baseball game, I want to be entertained, I want to laugh a little too. All of this of course shouldn't interfere with the game itself and for Vasgersian he makes that a priority.
He's been known to get excitable on a broadcast, but not to the point where it's out of bounds in a broadcast sense. Big plays happen and Vasgersian's voice goes to a different level. He's excited and you can sense it pretty easily. There's a "smile" in his vocal range during a big moment, key homer, or great defensive play. In some announcers it seems forced, that's not the case with Vasgersian at all. 
Vasgersian clearly enjoys what he does for a living. It's pretty obvious by the way he comes across in each broadcast. You could forgive a guy with as busy a schedule as his to sometimes sound less than interested, but that isn't the case for Vasgersian. The more games, the merrier to him.
Along those lines, it can't be easy to prep for so many games in a week. He does have the advantage of being very dialed into the baseball scene with his work on MLB Network. But still, its impressive the amount of information he's able to work into a game without a ton of time to prepare.
It seems that everyone he works with enjoys being on a broadcast with him. Vasgersian keeps an analyst on his/her toes. He seemingly is able to work with anyone they throw at him. He works with Alex Rodriguez and that isn't easy to do. Still, he's able to navigate Baseball Road when A-Rod continuously wants to take him down A-Rod Avenue.
DID YOU KNOW?
Vasgersian started his career as a child actor? I didn't know that and I worked with him for a couple of years in San Diego.  Vasgersian appeared in an episode of "The Streets of San Francisco" and the movie "The Candidate" starring Robert Redford. 
CONCLUSION
Vasgersian is a very talented guy, they just don't give out high profile jobs to anyone. His success has been earned because he's a hard-working person that constantly is honing his craft. His combination of pop culture, humor, sarcasm and wit are well balanced within his broadcasts, making them not only entertaining but informative. Isn't that what it's supposed to be all about anyway?