Luka Needs Help? Hey, Just Call Zion And Form a Superteam
The NBA's upward-mobility portal could have a new round of frustrated stars in due time, from Lillard to Doncic to Williamson, which isn't healthy for a league with two superteams contending for a 2021 title
Psst, I have an idea. It's evolutionary, revolutionary and extraordinary, and absolutely no one has thought of it before. Why not have Luka Doncic, who is frustrated and needs help, contact Damian Lillard, who is frustrated and needs help, and maybe they can Face Time with Zion Williamson, who is frustrated and needs help, and plant the collective seeds for — trumpets, bells, sirens, rappers — an eventual NBA SUPERTEAM?
My sarcasm is about to fade to resignation. What once was a trend — frustrated superstars forming their own powerhouses, beyond traditional league control and formatting — now becomes an imagination brainstorm every time an elite player loses before he'd prefer. As the Dallas Mavericks were blowing the final two games of their opening-round playoff series, Doncic was seen barking at coach Rick Carlisle, "Told you not to call a timeout when you don't need it!" And as the Trail Blazers failed to support Lillard, whose Game 5 masterpiece was aptly described by Kevin Durant as "a spriritual experience," a showman who clearly is tiring of small-market life launched a power play against team management.
"I don't know what a shakeup looks like or what changes will be made or could be made, but obviously, as is, it wasn't good enough," said Lillard, who demanded that Jason Kidd or Chauncey Billups be named coach when Terry Stotts was fired, with Kidd needing two nanoseconds to say no.
Instantly, the usual suspects phoned the Blazers, who almost certainly will be trading Lillard. Miami is front and center on the list, and with Jimmy Butler and Bam Adebayo rested after a short offseason last fall, Lillard's addition would anchor the Heat as a potential superteam. We are a few seasons away, of course, from any free-agency alignment between Luka, Dame, Zion and anyone else who enters the get-me-out-of-here portal. But trades are more than doable — Lillard has four years remaining on a $196 million supermax extension — and you know what's about to happen on NBA Twitter and throughout the most gossipy, social-media-driven league in sports.
Speculation! Manipulation! Fabrication!
The narrative, especially in Doncic's case, becomes how he leverages his future and where he ultimately goes. Because like Lillard and Williamson, who can't maximize their legacies in Portland and New Orleans, he plays in a city that isn't attractive to monster free agents. In producing some of the most staggering numbers ever in a playoff series — such as scoring or assisting on 77 points, most by a player in a Game 7 — Doncic also exposed Kristaps ($158 million) Porzingis and the Dallas supporting cast as lame. He's just 22 and only three years into his NBA journey, yet he knows the story of Michael Jordan, who toiled for seven years until enough pieces were assembled around him to win championships. For now, Doncic is making no demands.
"I think that's a question you should ask the guys that make this team, right?" he said Sunday. "I'm just a player here, you know"
But when asked if he could take solace in his numbers — he finished the series with 250 points, 72 assists and 55 rebounds, while nursing a cervical strain in the final three games — he said he "hates" losing and hasn't achieved anything in his view. "Nothing yet. Been to playoffs twice, lost both times," Doncic said. "You get paid to win. We didn't do it." For the better part of a decade, Lillard had been similarly patient and respectful of management. Finally, he snapped, knowing his glory clock is starting to tick.
Thus, with recent history and patterns as a compass, the gradual search is on for destinations that serve championship aspirations. And they're aware of the most golden paths to date: LeBron James took his talents to South Beach and won two championships with Dwyane Wade and Chris Bosh … Durant took his backpacks to Golden State and won two titles with Stephen Curry, Klay Thompson and Draymond Green … and James took his show-biz dreams from Cleveland, where he finally won a title for his people, to Hollywood, where he won a title with Anthony Davis. Superteam Fever was only starting.
Today, the favorites to meet in the NBA Finals next month are two contrived groupings formed by agents and egos, not drafts or in-house development. The Brooklyn Nets, the collaborative destination of Durant, Kyrie Irving and James Harden, are Eastern Conference favorites despite Harden's hamstring issues. And the Los Angeles Clippers, the chosen terminus of Kawhi Leonard and Paul George, finally shed a longstanding franchise curse to do the unthinkable: remain a championship contender in L.A. after the beloved Lakers have fallen in a postseason. Neither the Nets nor Clippers are the entrenched heirloom teams in their cities, yet based in New York and L.A., they provided upwardly mobile stars a landing place in a major market.
"Games aren't won with one or two players," Leonard protested after ousting Doncic and the Mavs. "You need a whole 16 or 17."
Funny how no one says that on the first of July, when free-agent madness grips the hoops universe, and the stars inherit most of the money.
None of which is healthy for the league. Leonard hoisting a trophy in Kobe Bryant's town is almost blasphemous. Same goes for Durant, who came to Gotham as a business mercenary, not unlike any Wall Street raider. Chances are, one of their superteams will host the parade. It's hard to imagine the Nets rolling across the Brooklyn Bridge. It's harder to imagine a Clippers' caravan on Figueroa Street, where the Lakers still haven't had the chance to celebrate their Bubble triumph, especially when you can pay face value — or less — at Staples Center to watch their upcoming series against top-seeded Utah.
But such is the modern NBA. Leonard won in San Antonio, wanted out, won in Toronto, wanted out, and finds himself in his native southern California, where he would have wanted out had the Clippers been eliminated. Durant couldn't win in Oklahoma City, wanted out, won in Golden State, wanted out, and will opt out again if the Brooklyn experiment fizzles.
Here I hoped Giannis Antetokounmpo would start a movement when he stayed in a small market, Milwaukee, and signed his $228 million supermax extension with the Bucks. I'm afraid it was an aberration. Hell, some even wonder if Curry, with unrestricted free agency looming after next season, would flee the Warriors for a better shot at championships in his twilight. Are we 100-percent certain he'll re-up? "There's no reason to think why that won't happen," coach Steve Kerr said.
But that's what they said about LeBron … and Durant … and Leonard … and all the rest. Besides, you can't spell a Lakers Future without L-U-K-A.
5 Goals: Rob 'World Wide Wob' Perez
"I've always had aspirations, hopefully with FanDuel in collaboration with another network, to apply NFL Red Zone to the NBA."
This month's subject of five goals is Rob Perez, better known to NBA Twitter as World Wide Wob. The content creator and producer for FanDuel shared with me five things he wants to accomplish or see happen.
1. I want to make FanDuel, my licensing partner in content creation, as happy as possible.
My goal is to drive people to their web site or app, and spread the reach of the brand. I'm sure there's a more formal word for that, but I want to organically integrate FanDuel into everything I do.
I don't want to just be a commercial — hey 20% off, or here's a free bet — because people are drowning in those across various forms of communication. All the content I do is naturally involved, and if someone's asking about who's favored it's a very seamless type of content integration in which I can include them and drive them to FanDuel if they'd like to put their money where their mouth is.
I would certainly love the opportunity to continue working with them — not just because they pay me to do so, but I do find value in working with a sportsbook of that size that is turning into a content company. Of course, they're always gonna be a sportsbook. It makes them the most money. But, giving you additional reasons to engage with that brand, if you have an itch to bet on something, is what my job is.
I want to continue to be the face of the NBA for them, having a very casual conversation about the game itself — whether that's off the court stuff, or all the coaching departures earlier this week. Integrating the FanDuel logo into all this feels much more real than a 30-second commercial between timeouts. I want you to enjoy the experience of the show, and gamble if you so choose.
2. NBA Red Zone.
I've always had aspirations, hopefully with FanDuel in collaboration with another network, to apply NFL Red Zone to the NBA. It would work best on Monday, Wednesday, Friday, and sometimes Sunday, when there are 8-9 concurrent games.
That's why I'm where I am today. I'm watching every single dribble of every single game. But, I would never expect any other normal human with responsibilities outside of NBA content creation to ever keep up with what's going on between the Kings and Pistons while there's seven other games on, one of which is nationally televised.
So, if the NBA ever decides to have a true commitment to their version of the Red Zone — they've tried versions of it on NBATV, but I've never seen one hopping between games every 15-20 seconds, hot switching any time there's a play stoppage — I'd love to do it.
You'd have a Scott Hanson type host who is as integrated with the league as it gets. I hope maybe one day I have the opportunity where what I do on my own personal timeline merges with true rights partnership from the NBA. Just based on the feedback I get on my Twitter page, there would be demand for it.
3. Do another NBA variety show.
In the past, I had a show called Buckets that I did with Cycle and ESPN. It had sketches, pre-produced talk segments, and interviews. Think of it like Jimmy Kimmel or Jimmy Fallon's shows, but applied to the NBA.
Inside the NBA is obviously the gold standard for an NBA talk show. But, those guys are going to retire at some point. What I do on Twitter Spaces, Twitch, and Periscope — I want the ability to blow that out with some more production resources.
Right now, I'm doing everything myself, from playing DJ to directing to taking calls to actually running the show and talking basketball and researching stats — I'm doing it all on the fly. While I'm certainly happy to do that, I know what we could create with a team around me because we've done it in the past. I would love to do a weekly variety show based around the NBA.
4. Some more work life balance.
My entire day for 11 months out of the year revolves around the NBA. It's my job and I'm happy to. I love following it. At some point, I feel like I'm gonna get burned out, and I don't want to ever get to the point where doing this feels like work.
It felt a little bit like work this year, and that might be because I'm on Year 8 doing this. [RG note: at this point, I mentioned how last offseason was so condensed after the bubble, and how the energy felt partially zapped out of sports with a lack of fans]. I'm gonna watch regardless because I'm a crazy person, but I think a lot of people would agree with you that the return to normalcy is helping with the engagement on a mainstream scale.
This offseason will be condensed again. We have the Olympics, which of course I'm going to watch because stars will be playing. Summer League is in August. There's free agency and the draft. There's barely going to be one month — September — where there probably won't be a whole lot of NBA news or events.
But then we're going back to the normal schedule from before the pandemic, which means Media Week will be the first week of October. There's one month off before it all starts again, and I'm hoping I don't get burned out by it.
Being on the East Coast, it's impossible to follow the NBA 24/7. I don't know how people with kids and families do it. Getting back to the West Coast is a personal goal of mine, which will happen this summer when I move back to Los Angeles. These hours will allow me to get back to a more normal life.
5. I want the Knicks to win a championship in my lifetime.
Just being a die hard Knicks fan and not seeing a title in my lifetime, that's a personal goal. I've put so much work into watching every effing game since I was eight years old with Patrick Ewing and John Starks in the NBA playoffs.
I was young, but I was old enough to know that I wanted to stay up for those games. I was emotionally invested. I would even get to the point where I was putting towels underneath the door so my parents couldn't see that the TV was on. They thought I was sleeping.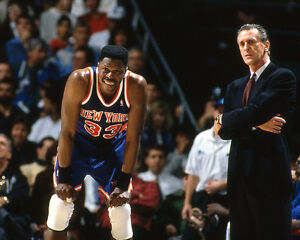 Of course I want my team to win a championship, and I don't want to die without seeing that mountaintop. I can't even imagine what it's like to be a Red Sox or Cubs fan and going all those years without seeing them win, then having it happen. I want to experience it once.
Whatever it takes to get there. I have too many gray hairs on my head, and every single one of them I can attribute to a single Knicks game from the past decade. Being a fan while trying to create objective NBA content will always be a challenge, but being a Knicks fan will always take precedent over a career because it means that much to me.
Forget the Email, Just Smile & Dial
"Don't confuse marketing with sales. We are not human advertisements or, even worse, spam."
Back in August of last year, the pandemic was still front and center, acting as a roadblock for business. Retailers were in business and at the stores, but what about the advertising buyers? Where were they?
Well, the ad-buying community, corporate employees, and most white-collar workers were still at home. So were most of us in radio sales. So, when it came to prospecting for new accounts, some of us gave up, most sent emails, and a few brave souls hit the phone. Earlier this year, I wrote about the sales trainer John Barrows and how he got to the top by cold calling 400 prospects a week! That's not cold emailing. That's cold CALLING. And to be exact, if Barrows was working a 10 hour day on the phones Monday through Friday, he would dial at least eight prospects an hour. 
Does that send a chill down your spine? Or does it make you want to run to your keyboard to avoid rejection and send some more cold emails? Back in August, when most of our ad buyers were at home, not near a business phone, Jeb Blount and Anthony Iannarino were recording a podcast about why you should hit the phone, not the email. Both sales consultants and authors thought we could improve our connect rate immensely by working the phones over email.
Both authors agreed that we need to have conversations with people about our stations, personalities, shows, and the sports world! We can hire an automated CRM service to send emails!
Now I am all for some well-crafted custom emails sent to targets that do not answer phones or listen to voice mails but not as the first activity in a sales sequence. Don't confuse marketing with sales. We are not human advertisements or, even worse, spam. Our job isn't to create awareness for buying sports radio packages; it is to make the sale!
We are consultants offering custom solutions to the unique challenges your clients have. And consider that if you pick up the phone and connect with the advertising buyer and get the appointment, you won't need an email!  
Both consultants agree that you don't need email to warm up a client when using the phone to get the appointment! I recently tested this theory myself and decided that with the pandemic subsiding in most metropolitan areas and more buyers going back to the office, I could start hitting the phones more. 
It worked. I got more appointments faster and wasted less time. I even got help. I had a business owner who I reached out to via email with a custom approach. I offered a few excellent ideas on how I could help him. Crickets. I let 2.5 weeks go by before I picked up the phone to dial the business and ask for him. They told me he was out on vacation and asked me if I had personal interaction with him. I explained no I was looking to connect with him on an advertising idea. The receptionist said you need to talk to Jane, the ad buyer. I was connected immediately.
I left a voice mail. The next day I received a return call indicating interest in my idea, and we set the appointment. Now, why didn't I try that in the first place!
If you want a custom phone pitch that I wrote out for myself, send me an email at jeffcaves54@gmail.com. Now it's time to smile and dial! 
It has been a busy week at BSM. Demetri Ravanos talks about Domonique Foxworth and the future of commentary on ESPN. Kate Constable stops by to discuss her column on Sarah Spain and the sometimes ugly realities of life as a woman in sports media. Finally, Brian Noe and Demetri discuss Le'veon Bell's Twitter rant and how depressingly relevant it is in the radio business.
Podcast: Play in new window | Download
Subscribe: RSS