Trump Supporters Call Dave Portnoy A Traitor For Meeting Twitter CEO
"Portnoy made it clear that their reactions did not matter to him."
Dave Portnoy has had mostly nice things to say about former President Donald Trump. That doesn't mean the Barstool founder is going to show blind fealty. If people know anything about Portnoy, it's that he wouldn't do that for anyone. Still, some of the former President's biggest fans lashed out at Portnoy after photos of him having dinner with Twitter CEO Jack Dorsey showed up online.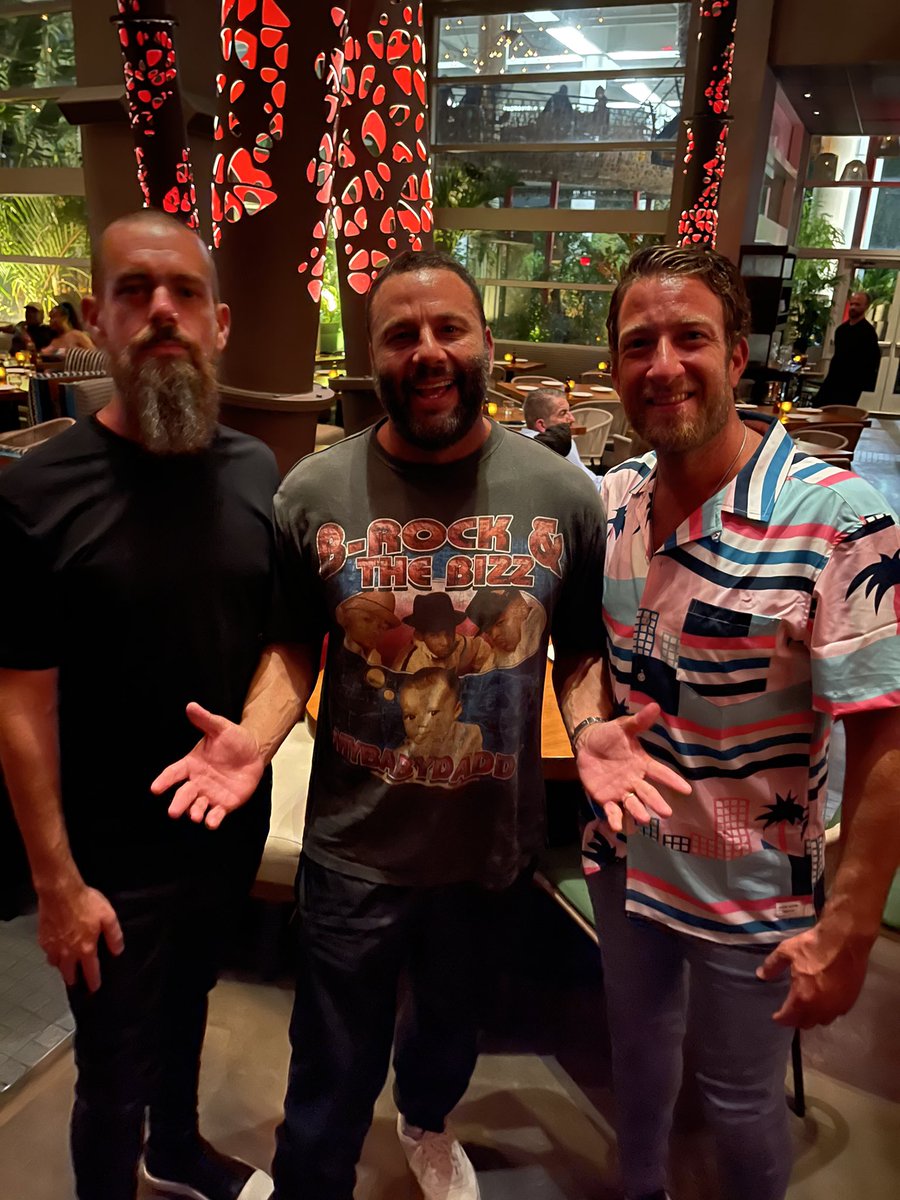 Portnoy addressed the photo on the latest episode of The Dave Portnoy Show with Eddie & Co. He said the dinner was all about their mutual interest in cryptocurrency, which Portnoy says Jack Dorsey is a big believer in. He said Dorsey "is as bullish on Bitcoin as anybody I've ever heard."
As for the response of Donald Trump supporters, Portnoy made it clear that their reactions did not matter to him. He wanted to have dinner with someone he respected and who is an advocate for cryptocurrency, which Portnoy is passionate about.
"People were big mad," Portnoy said of Trump supporters. "They're like 'you're a traitor,' people are always so f***ing political, I always say I'm not political, but people refuse to believe it. But they're mad, the Trump crowd, because he kicked Trump off Twitter."
That is a reference to the former President being de-platformed by Twitter and other social media companies in the wake of the January 6 insurrection at the US Capitol.
Stoolies may also be surprised by Portnoy's choice of dinner companions. It would have very little to do with Donald Trump though. Just five years ago, Portnoy stormed Twitter headquarters demanding a blue checkmark on his profile.
Howard Bryant Heading To Meadowlark Media
"Bryant's next major project is a biography of Ricky Henderson due out soon."
Another ESPN voice is choosing Miami over Bristol. Howard Bryant is the latest to join Dan Le Batard and John Skipper at Meadowlark Media. Bryant had been a versatile voice in Bristol, appearing on both TV and radio programs offering commentary.
Ian Casselberry of Awful Announcing speculates that "Bryant will focus largely on podcasts and documentaries" in his new role. Meadowlark says that he will "work on project development, including reporting, scriptwriting, and on-air narration."
It is hard to imagine that Howard Bryant won't continue to write. In fact, he is free to work on projects for multiple other employers, including ESPN.
Bryant is a three-time National Magazine Award nominee. He has written for Oakland Tribune, San Jose Mercury News, Bergen Record, Boston Herald, and The Washington Post. He is also one of the great baseball historians, having written five books about the sport. Bryant's next major project is a biography of Ricky Henderson due out soon.
Sinclair to Launch Streaming Sports Service
Two sources with knowledge of the plans told the Post that Sinclair is working with investment bank LionTree to raise more than $250 million for the venture.
Sinclair Broadcast Group has made a lot of changes in the last year and, according to the New York Post, more are coming.
Sinclair recently rebranded what were formally Fox Sports regional networks to Bally Sports. Now, the Post explains that the media company is raising money for a new streaming service that would stream St. Louis Cardinals and Dallas Mavericks games, and scores from other popular sports teams.
Two sources with knowledge of the plans told the Post that Sinclair is working with investment bank LionTree to raise more than $250 million for the venture.
Sinclair hopes to launch the streaming service at the beginning of the next MLB season and has told potential investors that it aims to charge $23 a month to fans who want to stream games in markets where it owns broadcasting rights.
The Post notes that "fans who live outside of Sinclair's 21 territories, where it owns broadcasting rights tied to 42 teams, would likely be out of luck."
"This is a major, major development," a director for a non-Sinclair broadcaster told The Post. "And if Sinclair is successful it will change the industry more quickly than I imagined."
Maven Purchases The Spun To Pair With Sports Illustrated
Maven has raised over $40 million in capital since they hired a new CEO last fall.
Maven is continuing its growth in the digital sports media space. The Sports Illustrated publisher has reached a deal to buy "The Spun," according to Forbes. The New Jersey-based sports news website is the latest addition to Maven's arsenal of online brands.
The plan is for "The Spun" to continue operating as normal while eventually being integrated into Sports Illustrated's online portfolio.
"They're a really dynamic, independent sports company, and they've grown mightily over the last seven years or so," Maven CEO Ross Levinsohn told Forbes. "A really smart, young, aggressive team, with really terrific leadership, and we couldn't be more excited. Their numbers are terrific, and it's a great complement to Sports Illustrated for us."
Levinsohn and Maven have spent the majority of their time raising $40 million in capital since he was installed as CEO last fall. Now they are ready to spend, with "The Spun" acting as their first target.
"We have some pretty big ambitions," Levinsohn said. "And this is sort of our first at-bat at growth since I took over the company about nine months ago."
"The Spun" is retaining their 11-employee team, along with a new role for co-founder Matt Lombardi as Vice President/General Manager of Growth for Sports at Maven. Lombardi started the site in 2012 and has grown it into a prominent home for the intersection of sports and social media.
"We really look for assets that can fit into and expand an existing vertical for us, or start a new one," Levinsohn said. "In 'The Spun' we saw something that would be additive and incremental to our sports vertical, which is anchored by the halo brand of Sports Illustrated. It's the most trusted brand name in sports, it's revered, it's got an incredible history, and its audience is amazingly loyal — with still north of 1.7 million paying print subscribers today."
Maven asserted themselves as a serious player in the industry when they acquired Sports Illustrated. Now they are carrying that momentum onto another step in the growth ladder.