Jay Williams Blasted For Inaccurate Boston Celtics Tweet
ESPN basketball analyst Jay Williams appears to make a gaffe on social media before claiming he was hacked.
When sports analysts made an error 25 years ago, they were able to just move on with the assumption that the only ridicule they received was privately in living rooms from sports historians. Now with the advent of social media and all the world's knowledge at one's fingertips, a simple mistake can turn into hellfire, especially on Twitter. ESPN basketball analyst Jay Williams learned that the hard way after tweeting, "the first head coach of color for the @celtics…& even more importantly…he is one talented individual who has paid his dues."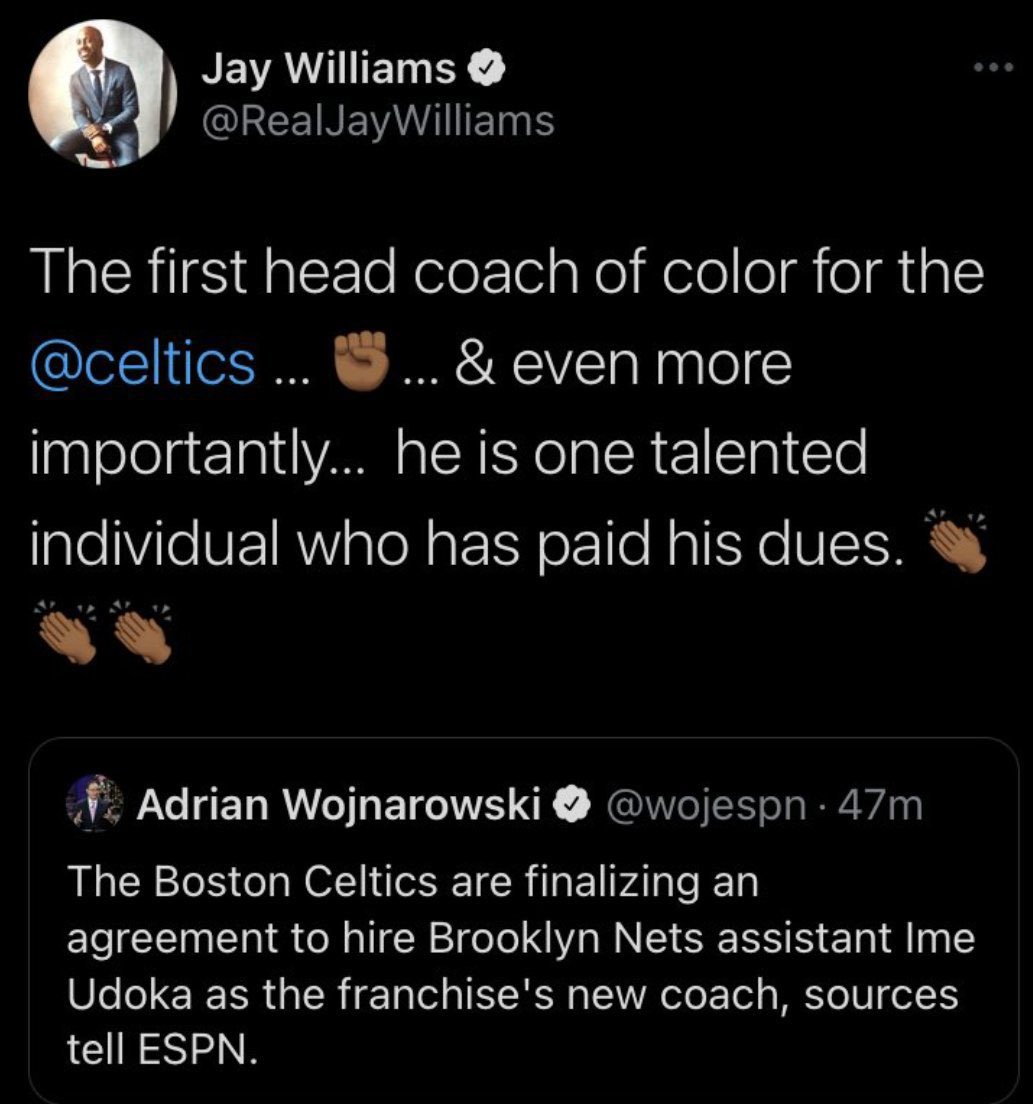 The since-deleted tweet was in response to the Boston Celtics hiring Brooklyn Nets assistant Ime Udoka to be their head coach. Seemingly very well-intentioned, the problem is it is wildly inaccurate. Udoka is not only the sixth head coach of color for the Celtics, but they were actually the first franchise to hire a non-white head coach when Bill Russell took the role over a half-century ago. Also, the coach before the recently-promoted Brad Stevens was Doc Rivers, who won an NBA title as the head coach for Boston. Jay Williams took the oft-seen route on Twitter when a tweet gets panned: claiming he was hacked.
Making a mistake when wishing someone congratulations is no big deal, and can get glossed over by a fast-moving news cycle. Taking the "hacked" approach, however, whether it is true or not, tends to come off as the blue checkmark who cried wolf. Other personalities had fun with Williams' tweet as the day went along.
Social media can be a cruel world, even when you are just trying to send a new coach some well-wishes…and even crueler when you consider all of the hackers out there just waiting to make NBA analysts on major cable television networks look like fools!
Michael Quirk is a news writer for Barrett Sports Media. Additionally, he is a co-host of the Spgahetti Junction Boys and a contributor to 5 Reasons Sports in Miami. His prior experiences include writing for 247Sports, Bleacher Report, FanSided, and The Key West Citizen. To connect, find him on Twitter @SJBMichael.
Kay Adams: Pat McAfee Has Built 'The Dream'
"it's interesting because he's built himself to such a place that he does not need anyone and that is the dream."
Many in sports media have respect for former NFL punter Pat McAfee for what he has accomplished in his media endeavors, and you can add FanDuel TV host Kay Adams to that list.
"I'm just blown away by the success and by the leverage he has," Adams said on the My Other Passion podcast. "It is uncanny, it is aspirational, and it is self-made, so it is a beautiful thing. I — of course — watch what he does. I don't want to be just like him but I do think he is so disruptive.
"He has such a chip on his shoulder. It drives him but I almost wish I could see it relieved a little bit. He's thriving, he's happy, and I think the thing that sticks out to me about him is that he's truly grateful. Truly is grateful for everything he has, his opportunities. He's worked his ass off for it."
Adams pointed to McAfee's recent spat with the NFL over use of the league's logos as an indicator of not only his success but his influence in the sports landscape.
"He is true to himself but he mostly leads with gratitude, which I think is the epitome of success. But he's out there show you what can be done. He's the first, but will he be the last to have that sort of platform? That sort of swing? What he does with the NFL the other week, I'm paying attention to that.
"Because I wanna see: is the NFL gonna bend the knee to Pat McAfee? Does the NFL care what he says? But it's interesting because he's built himself to such a place that he does not need anyone and that is the dream."
The NFL did eventually "bend the knee" and reversed course on limiting McAfee's use of league trademarks.
John Skipper: Bob Iger's Return Won't Effect ESPN
"If you're going to win the streaming wars, you're going to have to have sports."
There have been many questions about what Bob Iger's return to Disney will mean for ESPN, but former ESPN President John Skipper believes it won't change much.
Skipper pointed to Iger's relationships with powerbrokers in the sports world as a positive, and also believes that the "streaming wars" will be won by those who hold the rights to live sports.
"As a moat, to get the pay-TV fees and to get people to pay more money to subscribe," Skipper pointed to Sportico as the reason for ESPN to still have an agreement with the NBA for linear TV. He later added "If you're going to win the streaming wars, you're going to have to have sports."
Skipper also said the network used to invest in constant studio programming but said that's no longer a necessity.
"We did that type of programming because the economics were different at the time," Skipper said.
Warner Bros. Discovery Sports President Departs
"His enthusiasm and light-hearted demeanor are among his most endearing qualities, and they will be missed."
Lenny Daniels is leaving Warner Bros. Discovery after 27 years with the company.
Daniels is the President of the company's sports division in the United States, overseeing the contracts and strategic vision for the organization.
In a memo sent to staff obtained by Sports Business Journal, CEO Luis Silberwasser said "While this change will take place right away, Lenny has agreed to work with me to ensure a smooth transition." He also added "I have enjoyed working with Lenny during these past few months and I respect his decision. Lenny has never been one to place a spotlight on himself; he's always been quick to shine it on those around him. His enthusiasm and light-hearted demeanor are among his most endearing qualities, and they will be missed."
The departure by Daniels coincides with a round of layoffs by the company and also the beginning of long-term agreements with the NHL and MLB. The network is also about to embark on negotiations with the NBA for its next media rights deal, with Warner Bros. Discovery CEO and President David Zaslav recently saying "we don't have to have the NBA".