Five Goals: Kendrick Perkins
"I just want to make sure that whatever is there for me that I maximize it."
Kendrick Perkins, NBA champion, is an analyst for ESPN. He appears on HoopStreams, The Jump, SportsNation, First Take, and myriad other platforms for the network. I caught up with him in Milwaukee before Game 4 of the NBA Finals to find out about five goals he is still working to accomplish.
1. I want to accomplish more as an analyst than I did in my playing career.
I don't want to leave anything on the table. Whatever's supposed to come my way, I want to make sure I capitalize and maximize it.
When you look at my playing career, I never won awards. I never was an All-Star. I never won Defensive Player of the Year. I never won any of those things. When you talk about being an analyst, you want to get nominated for an Emmy. You want it to come naturally. So, I just want to maximize and make sure I put my all into it.
I was a role player throughout my whole 14-year NBA career. Now, in the analyst space, I want to be a superstar. I want to be a franchise player.
I just want to make sure that whatever is there for me that I maximize it. I want to touch every show, and I've pretty much done that besides NBA Countdown. I know you have to wait for your time, I know certain things happen. But, as far as things are right now, I just want to touch every show. As far as Countdown, I don't want to boot anyone or take their place, but if it's there and the opportunity presents itself I want to welcome it with open arms.
2. I want something of my own in media.
Not necessarily hosting a show, but even if I'm a co-host. I want to be part of something that is every day where you tune in and Perk is going to be on this particular show. I know I'm on a lot of shows, but I want that primary show where you turn on the TV at this time and Perk is there.
3. For my 9-year-old son to accomplish his dream of making the NBA.
I coach my son's team. They are nine years old and ranked number 1 in the country. My son has a dream of making it to the NBA and my goal is to get him to his goal. I have four kids but my 9-year-old is really into sports — especially basketball. As a family man, I want to be there.
There's times where I have to work Monday through Friday, I leave Friday night, I might catch a tournament in Dallas, might catch a tournament in Miami, just to be there and make sure I'm there to coach and support — and then fly back and be ready for work on Monday. It's a whole lot of travel.
4. My two oldest boys and me — we need to get in shape.
Abs need to be poking out. Things to that nature. No need to hire a trainer, because I know what to do and I know what to eat. So, it's all about me setting an example for them and myself and sticking to it.
5. I want to turn my Frenchie dog breeding from a 6 figure business to 7 figures.
I breed exotic French bulldogs. I have six of them. My brother-in-law and I breed them. It started off with my dog Diesel, who we bought for $18,000. Then we bought a girl that cost $20,000. They've had four litters of puppies — litters of five, six, or seven. We made close to $230,000 just off the little puppies.
Well, now the Frenchie game has changed, and they have Fluffy Frenchies. Now you want to graduate to Fluffy Frenchies, which are like the best Frenchies ever. They're just super exotic. They're different because of their hair. They look like stuffed animals. It's just the new thing around the world. There was one guy that made like $3 million in a month just off his dog's stud fee.
To sell the puppies, you just get caught up in the Frenchie game. There's all types of connections and things to that nature — around the world, from England to Spain and on and on, people are buying dogs. You're connected throughout the world. Once you get into the Frenchie business, people reach out all the time.
If a person from, like, Spain spends $100,000 on a Frenchie, you're not shipping that dog by yourself. It probably won't make it. Someone will probably steal it on the way or it will quote-unquote get lost in the airport. So I would just hire someone to fly wherever it is in the world and just drop that dog off at the doorstep.
5 Goals: Rob 'World Wide Wob' Perez
"I've always had aspirations, hopefully with FanDuel in collaboration with another network, to apply NFL Red Zone to the NBA."
This month's subject of five goals is Rob Perez, better known to NBA Twitter as World Wide Wob. The content creator and producer for FanDuel shared with me five things he wants to accomplish or see happen.
1. I want to make FanDuel, my licensing partner in content creation, as happy as possible.
My goal is to drive people to their web site or app, and spread the reach of the brand. I'm sure there's a more formal word for that, but I want to organically integrate FanDuel into everything I do.
I don't want to just be a commercial — hey 20% off, or here's a free bet — because people are drowning in those across various forms of communication. All the content I do is naturally involved, and if someone's asking about who's favored it's a very seamless type of content integration in which I can include them and drive them to FanDuel if they'd like to put their money where their mouth is.
I would certainly love the opportunity to continue working with them — not just because they pay me to do so, but I do find value in working with a sportsbook of that size that is turning into a content company. Of course, they're always gonna be a sportsbook. It makes them the most money. But, giving you additional reasons to engage with that brand, if you have an itch to bet on something, is what my job is.
I want to continue to be the face of the NBA for them, having a very casual conversation about the game itself — whether that's off the court stuff, or all the coaching departures earlier this week. Integrating the FanDuel logo into all this feels much more real than a 30-second commercial between timeouts. I want you to enjoy the experience of the show, and gamble if you so choose.
2. NBA Red Zone.
I've always had aspirations, hopefully with FanDuel in collaboration with another network, to apply NFL Red Zone to the NBA. It would work best on Monday, Wednesday, Friday, and sometimes Sunday, when there are 8-9 concurrent games.
That's why I'm where I am today. I'm watching every single dribble of every single game. But, I would never expect any other normal human with responsibilities outside of NBA content creation to ever keep up with what's going on between the Kings and Pistons while there's seven other games on, one of which is nationally televised.
So, if the NBA ever decides to have a true commitment to their version of the Red Zone — they've tried versions of it on NBATV, but I've never seen one hopping between games every 15-20 seconds, hot switching any time there's a play stoppage — I'd love to do it.
You'd have a Scott Hanson type host who is as integrated with the league as it gets. I hope maybe one day I have the opportunity where what I do on my own personal timeline merges with true rights partnership from the NBA. Just based on the feedback I get on my Twitter page, there would be demand for it.
3. Do another NBA variety show.
In the past, I had a show called Buckets that I did with Cycle and ESPN. It had sketches, pre-produced talk segments, and interviews. Think of it like Jimmy Kimmel or Jimmy Fallon's shows, but applied to the NBA.
Inside the NBA is obviously the gold standard for an NBA talk show. But, those guys are going to retire at some point. What I do on Twitter Spaces, Twitch, and Periscope — I want the ability to blow that out with some more production resources.
Right now, I'm doing everything myself, from playing DJ to directing to taking calls to actually running the show and talking basketball and researching stats — I'm doing it all on the fly. While I'm certainly happy to do that, I know what we could create with a team around me because we've done it in the past. I would love to do a weekly variety show based around the NBA.
4. Some more work life balance.
My entire day for 11 months out of the year revolves around the NBA. It's my job and I'm happy to. I love following it. At some point, I feel like I'm gonna get burned out, and I don't want to ever get to the point where doing this feels like work.
It felt a little bit like work this year, and that might be because I'm on Year 8 doing this. [RG note: at this point, I mentioned how last offseason was so condensed after the bubble, and how the energy felt partially zapped out of sports with a lack of fans]. I'm gonna watch regardless because I'm a crazy person, but I think a lot of people would agree with you that the return to normalcy is helping with the engagement on a mainstream scale.
This offseason will be condensed again. We have the Olympics, which of course I'm going to watch because stars will be playing. Summer League is in August. There's free agency and the draft. There's barely going to be one month — September — where there probably won't be a whole lot of NBA news or events.
But then we're going back to the normal schedule from before the pandemic, which means Media Week will be the first week of October. There's one month off before it all starts again, and I'm hoping I don't get burned out by it.
Being on the East Coast, it's impossible to follow the NBA 24/7. I don't know how people with kids and families do it. Getting back to the West Coast is a personal goal of mine, which will happen this summer when I move back to Los Angeles. These hours will allow me to get back to a more normal life.
5. I want the Knicks to win a championship in my lifetime.
Just being a die hard Knicks fan and not seeing a title in my lifetime, that's a personal goal. I've put so much work into watching every effing game since I was eight years old with Patrick Ewing and John Starks in the NBA playoffs.
I was young, but I was old enough to know that I wanted to stay up for those games. I was emotionally invested. I would even get to the point where I was putting towels underneath the door so my parents couldn't see that the TV was on. They thought I was sleeping.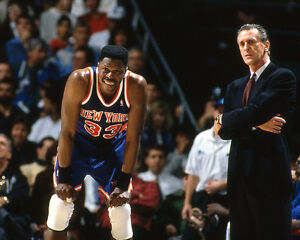 Of course I want my team to win a championship, and I don't want to die without seeing that mountaintop. I can't even imagine what it's like to be a Red Sox or Cubs fan and going all those years without seeing them win, then having it happen. I want to experience it once.
Whatever it takes to get there. I have too many gray hairs on my head, and every single one of them I can attribute to a single Knicks game from the past decade. Being a fan while trying to create objective NBA content will always be a challenge, but being a Knicks fan will always take precedent over a career because it means that much to me.
Five Goals: Jorge Sedano
"The pandemic has taught me that nothing is a given. Therefore, whether it's my personal life and I'm taking the kids to the beach or whether I'm covering a playoff game, I try my best now to really look around and observe every little detail."
This month's subject of five goals is Jorge Sedano, who co-hosts afternoon drive on 710 ESPN Radio in Los Angeles. He also contributes in myriad ways to ESPN's NBA coverage, including as a sideline reporter. Keep an eye out for him in the NBA Playoffs!
In his own words, here are five goals he seeks to accomplish:
1. Empower the Latino community
At this stage of my life, one of my priorities is to highlight the beauty and importance of the Latino/LatinX community in our business and our country. This is in no way to minimize the importance of diversity as a whole or the plight of other communities, but to show pride in the unique nature of the Latino/LatinoX experience. The community has faced challenges because it's not a monolith. Whether you're Mexican, Cuban, Dominican, Puerto Rican, Honduran, etc… you may have had different upbringings or experiences, but at its core the experience has many commonalities.
You had to navigate your way through two worlds. One world generally included honoring a different language and customs. The other included assimilation into this country we all love and desperately want to be a part of. By nature, many first-generation immigrants want their children to do what they did. Put their head down and work. Don't make waves. However, the nature of second and third generations is to make progress, to expand upon the footprint that those before us laid out. This is why it's of the utmost importance to me that the stories and voices of the Latino/LatinX community be heard — that this community that represents nearly a fifth of this country's population be represented in a more profound manner both in the entertainment space and across all the facets of our lives.
2. Provide guidance to up-and-comers.
I have been unbelievably fortunate in my career to have incredibly kind, talented and knowledgeable friends to lean on for advice. This business is full of pitfalls and isn't easy to navigate. Over the years, I've been quite active in paying it forward and feel that doing even more of it is necessary. It's really been an emphasis of mine throughout, because at a young age I saw that not everyone in this business is going to be willing to help you. As a matter of fact, in a lot of cases they'll push you aside in order to maintain their own stature.
Also, the landscape in media is changing by the moment. That makes it even more important to guide each other as best we can and focus on helping the people that are along for the ride with us — not to mention, lend a hand to those coming behind us. Remember, the people you will see on the way up are the same people you will see on the way down. Your relationships with those people will factor into how your career trajectory will go. Also, it doesn't hurt to just be a good person.
3. Maintain work/Life balance & mental health.
So this one is definitely a work in progress. We all get consumed by what we do for a living. It's not always the healthiest path. I'm sure plenty of companies offer this kind of support, but this is where working for a company like Disney is paramount. They really stress striking the proper balance between work and life. They provide tools for us to seek help if needed.
I'm going to try to make this as brief as possible to not bore you with the details. Plus, every single one of us has our own mental and emotional baggage. I'm going to try to explain mine in a way that hopefully let's anyone out there that needs to hear this — that they're not alone. It begins nearly 20 years ago. My father, who has since passed away, became very sick. While most people in their early 20's are trying to figure out who they are, I had to also become the parent to my parents in a lot of ways.
I turned down lucrative opportunities to take care of them and keep a watchful eye over them — something I would still do 100 out 100 times. Life has had its ways of rewarding me many times over, both personally and professionally. Fast forward to 2013 after years of flirting my dream job opportunity of working at ESPN comes about. With the blessing of my parents and consulting with my wife, I moved to Connecticut and subsequently Los Angeles years later in pursuit of my professional dreams.
It always weighed on me (still does) that I wasn't more present in their daily lives, particularly as my father's health deteriorated. Sure, I could hop on a plane a few times a year to see him, but it's not the same as hopping in my car to see him any time I wanted to. This is when my bouts with anxiety and depression really accelerated. I was somewhat familiar with the feelings of anxiety previously. I'll never forget the first time I had a panic attack. It was shortly after my dad's initial health battle.
I was at a restaurant in Miami, having dinner with some friends and my heart was racing so fast and there was this pressure in my chest so intense that I thought I was having a heart attack. I reasoned with myself and went to the restroom to catch my breath and pour some water on my face before returning to the table. I drank a couple of glasses of wine like they were water to calm me down. It worked, for the moment.
Years later, when I moved to LA, my father's health continued to deteriorate. My mother was also growing older and had her own sets of challenges to deal with as well. Those infrequent episodes of anxiety and depression became more common. In retrospect, it affected everything I did and all my relationships to an extent. My wife was dealing with the brunt of this — mostly, because I was too stubborn and felt that I could handle it.
This was life and I just had to deal with it. Stop being such a baby, I'd say to myself. Man up! Well, eventually I did, "Man Up!" This is where I sought out help. Disney has an EAP program for all its employees to seek guidance for mental health therapy. That's where I met the fifth most important woman in my life (behind mom, wife, daughter and sister), my therapist Vanessa Fierstadt.
Over the last five years she has been an important voice in my life to keep me grounded:
– Helping me understand myself and my emotions.
– How to release these feelings and tension in a more productive manner.
– Helping me find that proper work/life balance, including finding some daily time to check in with myself.
– Give myself the proper space and boundaries in all aspects of my life.
Again, it's definitely still a work in progress and those bouts with anxiety and depression don't go away simply because you seek help. However, life is about managing. The sessions I have with her allow me to manage and create those boundaries to allow me to try to be the best version of me. Seeking help is helping me to continue to try to reach that goal.
4. Live more in the moment.
This coincides some with the part where I discussed work/life balance and mental health. However, I think it deserves its own category. We all have unique experiences in our lives. We should do a better job of enjoying them as they're happening. The example I like to use is, whenever I'm about to go on the air on tv or radio I take a breath and I look around. I'm ridiculously blessed to do something for a living that I love — whether that's hosting a show or working a game.
I never used to just soak it in because I was so hyper focused on the job at hand. The pandemic has taught me that nothing is a given. Therefore, whether it's my personal life and I'm taking the kids to the beach or whether I'm covering a playoff game, I try my best now to really look around and observe every little detail. We live in a world where we like to document everything with our phones. The best camera in our possession to create memories is the one in our head.
5. Try something new.
Every year I try to begin a new journey of sorts. For example, during the pandemic I decided I was going to give myself a better understanding of finance, cryptocurrency and investing. I had basic knowledge. However, I wanted to be literate in a way that I could understand the nuances of it.
I read a lot, listened to a lot of podcasts and chatted with my friends in that industry to gain a better grasp of it. I grew up the son of Cuban exiles that worked multiple jobs when I was a kid. Eventually, I settled into a more "traditional" life. Nevertheless, there was mostly no understanding of how IRA's or 401k's work. I felt it was important, not just for me, but to eventually pass along that knowledge to my kids. My parents gave me plenty of unique gifts. This could be just one of the ones I could pass along to mine. Next year, I want to tackle a new language. If anyone has any suggestions — I'm game!
Sports Media Students Aren't Thinking About Radio Anymore
"The people who call this world their "normal" are revolutionizing sports media right before us old folks' very eyes and ears."
Just imagine… Jim Rome, while at UC Santa Barbara in the '80s, telling his instructors he wants to have his own podcast.
Or, in 2003, Colin Cowherd telling his thousands of Twitter followers to tweet @ESPNRadio that he should be the person to replace Tony Kornheiser.
Our world is so different these days. You can listen to the "radio" on your smartphone, don't need to wait until the 11 p.m. news to see all the highlights of the Yankees/Red Sox, and, somehow, someone who's "YouTube Famous" is giving you their hot sports opinion on the New England Patriots as soon as the game ends.
The people who call this world their "normal" are revolutionizing sports media right before us old folks' very eyes and ears.
Across the country, today's college students view "radio" as outdated — not extinct, because they are aware it exists. Outdated because, just like how you can still use a flip phone to make a call, flip phones are nowhere near cool. Radio, in its traditional form, is not cool to them. What is cool, however, are the many other parts emerging in this new world of sports media — podcasting, blogging (either in word or video form), and leading a sports team's social media accounts, in addition to the long-established talk show hosting and play-by-play.
"I have a student right now; I don't think the kid listens to radio. He literally gets everything off of YouTube or a podcast," said Josh Dover, midday show co-host on Altitude Sports Radio 92.5 in Denver, in an exclusive interview with Barrett Sports Media. Dover is also an instructor at the Colorado Media School. "The younger generation, people under 25, radio is something that they're aware of, but it's not where they're getting their information from."
Jeff Brown, faculty General Manager of CommRadio, a student-run online radio station at Penn State University, concurred: "They view it a lot different these days. Here at CommRadio, most of the students are involved in sports, and they see that if they do have a place in radio, it will probably be in sports or doing some sort of blog. I went from having no students doing blogs 10 years ago to most students having their own blogs these days. They're seeing that as a way of possibly making money or at least bridging them until they can get to a job that they want (in the industry)."
You can't blame today's young adults for not holding traditional radio in the glory that those who are 35, 40 and up think of it. Today's young adults literally grew up with Twitter, Facebook, YouTube and podcasts. Today's young adults grew up visiting the Pittsburgh Steelers' or Miami Dolphins' team websites daily, watching team-produced videos and other content. They grew up following their favorite athletes like LeBron James and Steph Curry on Twitter, believing that having your own online brand and voice is how the world works. Because of all this technology, opportunities for jobs are exploding all over the sports media landscape. And it has the attention of colleges and universities around the country.
Expect more and more institutions of higher learning to be adding a "sports media" major to its offerings. What most seasoned individuals know as "journalism" or "broadcast journalism" in their college days is becoming even more specialized, more focused on sports media because there are so many facets to it, rather than just being a reporter or on-air host.
Point Park University, a private institution in the heart of Downtown Pittsburgh, introduced "sports communication" as a major earlier this year. Point Park is known for its School of Communication, but Bernie Ankney, Ph.D., Dean of the School of Communication, told Barrett Sports Media the demand was there for the new major.
"They're just really, really popular with kids," he said about sports media, "because if you come to Point Park, you can be taking photos of Point Park athletics, you can be doing social media, podcasting, you can be shooting and editing video…so it's a very hands-on program. Also, being in Pittsburgh, one of the best sports markets in the country, just opens up all sorts of opportunities off-campus as well."
As soon as the major was introduced a few months ago, some students transferred into the major, Ankney said. And some incoming freshmen already have their eyes set on the major when they begin attending the university in the fall.
Ankney actually started a sports communication "minor" at his previous place of employment, Sanford University, in Birmingham. He said Point Park's sports media major is one of about 25 in the country that have emerged in recent years at universities. In 2015, Arizona State University began its bachelor's and master's degree programs in sports journalism, its first standalone degree programs for a specific beat, as reported in the Columbia Journalism Review. The Columbia Journalism Review also noted that the University of Georgia's Grady College began a certificate program in sports journalism a year earlier.
Indiana University is another school that's gotten in on the act, offering a "concentration in sports media" as part of its Bachelor of Arts in Media degree.
Penn State established its school of sports journalism in 2003, and it was named after heralded journalist and first USA Today editor John Curley in 2006. Brown told BSM the fastest growing department is social media. "Social media is really where the jobs are at," he said. Still, there are plenty of students who love the play-by-play career trajectory. "Steve Jones (Penn State football and men's basketball play-by-play announcer) has his own section; it's not even available to anybody until their junior year and they have to earn their way into there," Brown said.
"We send our students (pre-COVID) to every away football game, they do play-by-play of that, they do play-by-play of all the major sports here at Penn State and even the minor sports that can translate to radio," Brown added. "They get a full complement of any sport they may be interested in; I encourage them to learn the ones they don't because coming out now, if you can go to a smaller radio station and…do play-by-play of soccer, of volleyball, that helps them get jobs. That's what we want them to do, ultimately; find a position."
"Voice of the Orange," Matt Park, is seeing the "across-the-board" aspirations of students in sports media at Syracuse University. "We're fortunate to have a relatively large group of students with a wide array of backgrounds and interests," he told BSM in an exclusive interview. "There may be fewer students on the local TV (or 'SportsCenter') track, but still plenty want to do that." But now you can add production, podcasting and writing in various forms to the list in student interests, he said, along with play-by-play, reporting/anchoring and talk show hosting.
Over in Broncos country, Dover told BSM he's come across something that may surprise — or irk — some sports radio lifers.
"I'm 37 years old…for me, podcasts and radio are very different," the Altitude 92.5 host said. "I want to host a radio show; I think that they (today's college students) believe hosting a podcast is the same thing."
Podcasts' meteoric rise is well-documented, and the huge investments that traditional radio companies IheartMedia and Audacy have made in podcasting shows that podcasts are here to stay.
Dover teaches a seven-month sports emphasis program at the Colorado Media School, which encompasses talk radio, play-by-play, a debate-style TV show and a "SportsCenter"-style show. He said his students either want to be an on-air host or some sort of social media director for a sports team or other reputable entity.
Though podcasting is a growing medium, Dover stressed that radio is a medium that will never fully go away. He said it's important that today's college students understand certain radio principles that, when combined with great content and great "takes," can create a win-win for everyone — the host, the station, the industry as a whole.
Radio "is something I can turn on in my car. It's something my dad and uncle can turn on in their car," Dover told BSM. "If I send a link to my uncle of a podcast, I'm not sure he's going to find it or even want to try to find it….There's always going to be a button on my car that allows me to listen to the radio."