Why Did The Sports Media Fall In Love With Ted Lasso?
"A quick Twitter search turns up familiar names like Mina Kimes, Adam Schein, Mike Golic Jr and so many others singing the Apple TV+ show's praises."
It is hard to find someone that doesn't like Ted Lasso. Look at Twitter, and you might find people that wear never having seen the show as a badge of honor, but it is rare you find someone that says they watched the entire first season and hated it.
It is a nearly perfect show, balancing smart comedy with beautifully played emotional moments, both uplifting and devastating. This isn't at all what you expect when you read that Apple made a TV show out of a series of commercials starring Jason Sudeikis.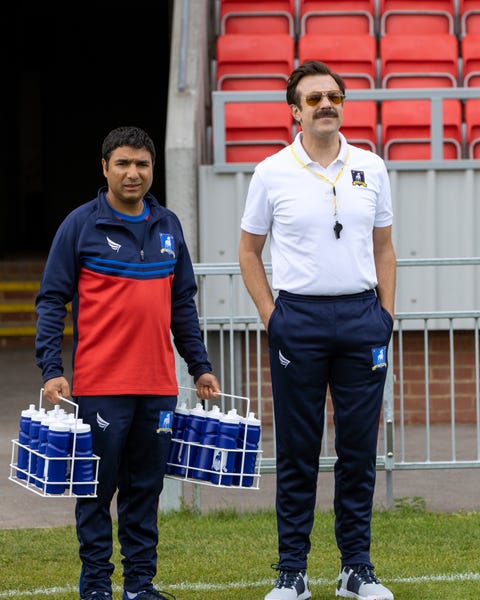 While most people that watched the show gave it high marks, one group that seemed to be particularly in love with Ted Lasso was the sports media. A quick Twitter search turns up familiar names like Mina Kimes, Adam Schein, Mike Golic Jr and so many others singing the Apple TV+ show's praises.
What is it about this show that connected with us? Sure, it is set in the sports world. But it can't be that simple, right?
For the uninitiated, Ted is a division II college football coach that is hired to coach a Premier League soccer team, by the team's new owner, the jilted ex-wife of the team's former owner. Her goal is to run the franchise into the ground, but Ted, full of relentless positivity, is determined to find his definition of success. It features diva superstar players, personnel fights with management, a coach trying to change a culture, and plenty of interaction with the media.
Could it be that simple? Is it about being able to see ourselves as part of this character's universe?
Mike DeCourcy, who covers college basketball for Sporting News and Big Ten Network, says that Ted Lasso, the character, is not like any coach most of us has covered. Part of the idea of the show is that the guy barely knows the rules of soccer. His plan is to succeed by building a team culture. Maybe those guys exist in the American sports landscape, but they would never be as honest about it as Ted is.
"I think those of us who've covered sports appreciate it because there is truth in Ted's philosophy, and there is good in the sports we write and talk about and essentially allow to consume our lives," DeCourcy told me. "We all know there are some involved who are not good people, or are up to no good, but there still is something essentially wonderful about the pursuit of excellence. At his core, that's what Ted is communicating."
Lauren Brooks covers the Jaguars for 1010XL in Jacksonville. She too is a Ted Lasso fan. I asked her if she could picture herself interacting with Lasso and other media members.
"Ted Lasso's first press conference was as cringe-worthy as a Michael Scott meeting in the Office, but over time, I came to appreciate Ted's unwavering honesty and vulnerability," she said." Often in sports, pressers contain cliches and we don't glean much insight from them, but Ted had a way of disarming the media, even crusty Trent Crimm, and providing worthwhile information."
The personal connection might help for some. For me personally, it was about just how good the writing was. When the show went for comedy, it delivered with moments like Ted answering his boss's question about whether or not he believed in ghosts with "Yes, but I think it's more important they believe in themselves." When the show went for the heartstrings, it tugged as hard as it could.
Evan Cohen, of SiriusXM's Mad Dog Sports Radio says the kindness and positivity of Ted Lasso was almost aspirational.
"We all can hope for kindness in ourselves, our teams and our fellow citizens but Ted Lasso gave us an ability to see, hear and copy it. It is tangible evidence that the belief in good can be strived for and realized…even if it is a scripted made for TV series."
That relentless positivity is obvious central to who Ted Lasso is as a character and what the show is as a narrative. Would we have accepted it free of any cynicism if Ted Lasso had debuted in any year other than 2020? How much did the political climate and the dark cloud that was Covid hanging over our heads for so long contribute to the fanbase's passion?
"I think the timing of it was huge. It came when we all needed joy and positivity," says Matt Jones, of Kentucky Sports Radio and ESPN Radio, before noting that he doesn't think that means there is no way the upcoming second season won't elicit similar emotions and responses. "Finding the balance between uplifting and not cheesy is hard and since this walked the line so well, if it does it again, I for one will be very excited."
Jason Martin of 104.5 the Zone in Nashville thinks that 2020 may have played a role, but the signs were there for a long time that a show like this would find a dedicated audience.
"We all needed to escape into something and for many, the idea of a truly likable lead, a decent person, on a show with zero politics, no time to preach any message other than decency and grace, that was going to resonate. But if you'll look, WandaVision, The Mandalorian, Loki, and certainly Ted Lasso are ALL examples of shows with characters to root for and universes that weren't designed to wreck your day."
For many, the appeal of Ted Lasso is, well, Ted Lasso. Steve Woods of 97.3 the Fan in San Diego points out his favorite scene is in the coach's first meeting with his new boss and his unflinching honesty about how bad the drink he is offered is.
"We all would've choked the tea down," Woods says. "All of us. He didn't."
Woods insists that in a profession where we cover so many people putting on an act for the cameras, Ted Lasso appeals to the sports media because the lead character is incapable of being anything other than himself at all times.
"Wouldn't all of us like to cover Ted Lasso? Someone who is genuine and takes the time to get to know you? Someone who understands the absurdity of it all, while also remaining kind."
This isn't the first show that has created a strong sense of community. Think about the crazy live Twitter conversations that go on during episodes of The Bachelor or the immediate reaction to the disappointing finale of Game of Thrones. What is interesting though is that we all found Ted Lasso on our own time.
Apple TV+ has less than a third of the subscribers as Disney+. There was no overwhelming promotional push for Ted Lasso. Jason Sudekis is well-known to Saturday Night Live fans, but he isn't the A-list star some other Apple TV+ shows had. Why did this break through? How did this show create a community with all of us discovering it at a different time?
Martin says it is about trusting friends' opinion. Ted Lasso found its community through being good and earning word of mouth advertising.
"It's such an easy recommendation from me to anyone, with the language and content caveat of course, because I haven't ever left a Ted Lasso episode and not felt a little bit of joy that wasn't as easy to spot prior to watching it," he says. "It's an infectious show, because hope and grace and kindness are so needed and we all quietly crave them in others toward us and crave others to feel about us the way we do about Ted. It's an inspirational show about flawed people, but not evil people, all trying to live… who collectively grow as human beings. Not to mention Sudeikis seems like a pretty great guy. His rise is starting to remind me of Keanu Reeves… of which we could use more of both."
I wondered if it is an echo chamber kind of thing. Certainly my Twitter bubble loves Ted Lasso. How does that translate in the real world though?
Woods told me that he and his partner Ben Higgins have brought the show up several times on their morning show and know that it isn't just a small echo chamber of people that love the show.
"We get great response when we talk about it every time. Jason Sudekis remains at the top of our bucket list interview sheet. I have seen plenty of edgelords tweeting how they didn't like it. I'm the most cynical human I know and I hate almost everything and I've watched it 4 times. I'll probably start my 5th go around tonight."
It's a good time to follow the exploits of AFC Richmond. The show scored an unfathomable 20 Emmy nominations earlier this month. That is more than any comedy in its first season in history. Every actor with significant screen time was nominated for one of the major acting awards, including Sudekis, who is a shew-in to win Best Lead Actor in a Comedy Series.
Season 2 is on the horizon as well. It drops this week. Fans are excited, but nervous.
Like I said earlier, Ted Lasso's is a dedicated fanbase. It would be devastating if season 2 isn't on par with the first.
DeCourcy has his predictions and hopes for what we see next. He told me that all he can do is trust that Ted Lasso's cast and crew are aware of the standard they set with the first season.
"I honestly can't be sure where the story goes next, but I trust the creators because they delivered so perfectly the first time around. One thing I feel pretty strongly about: Jamie Tartt (a pretty boy, superstar-in-the-making character) registered so powerfully with viewers that there has to be another chapter for him. When England lost the European Championship to Italy on penalties, you'd be amazed how many Tweets I got that said, 'Jamie Tartt should have taken one.'"
Martin has seen season 2 already and reviewed it for 104.5 The Zone's website. As he puts it, "there's a lot of story to pay off" this season and those payoffs are there. His thoughts on season 2 are overwhelmingly positive, but I asked him to avoid any specifics.
"In the first few episodes of the new season, a lot of things are addressed, one new character arrives with an important role, and the cold open is guaranteed to put a smile on your face, because you'll be laughing.
"Ted Lasso doesn't LOSE what made it special, even if there's a new degree of depth to some of the characters and their own realities."
That is good news. So many of us have very high hopes and will not be happy if they aren't met. What will be really interesting is the debate that comes next: Is a Ted Lasso recap good content on a Friday?
ESPN Can't Be ESPN Without Football
"You know the saying "scared money don't make money?" Well, ESPN knows that smart money can eliminate the need for scared money entirely."
I saw a Tweet on Monday, just after Texas and Oklahoma made their impending exit from the Big 12 official, that interested me. Athlon's Bryan Fischer asked how the recent investment in college football ESPN has made would affect its ability to lure more properties to the network.
Much has been made of the American television rights to the Premier League hitting the open market. ESPN, Amazon and DAZN have all expressed interest, while NBC has made it clear that it does not intend to let Britain's top soccer league go anywhere else. All of that points to a major bidding war on the horizon.
ESPN has invested a lot in soccer recently, particularly at ESPN+. The company has the American media rights to top leagues in 9 different countries, including Spain's La Liga and Germany's Bundesliga, which are both full of international stars. It also has MLS games and major national and club tournaments from Europe. Whenever that day gets here where soccer overtakes hockey and then baseball as America's third most popular sport, ESPN is in good position.
That is kind of the point here. ESPN does a lot of betting on the future. The major investment in college football is about cashing in right now. Younger American generations really like soccer and follow it in a variety of ways. The generation with money to spend right now loves football and they are going to consume it wherever they need to.
ESPN will pony up the money to expand the College Football Playoff. It will get behind Texas & Oklahoma moving to the SEC, where it is already heavily invested. It will open up the checkbook and tell the NFL "just name the amount" in order to get a Super Bowl.
You know the saying "scared money don't make money?" Well, ESPN knows that smart money can eliminate the need for scared money entirely.
History is on ESPN's side when you talk about taking risks. The network has bet big and seen it payoff. It rode college basketball to national relevance in a time when that sport was a blip on most people's radars. More recently, it got in on the World Series of Poker at the right time and pulled back when it needed to.
If ESPN views the Premier League as a necessity for its future, it isn't hard to imagine it will have any trouble finding the necessary money. But the network knows that football, both college and the NFL, are not leaving the top of the American sports hierarchy any time soon. The goal isn't just to have football. It is to have the very best football.
So, it does what it needs to in order to become a part of the Super Bowl rotation. It commits the resources to expanding the College Football Playoff. And right now, as the SEC is busy not just winning the college football arms race, but obliterating anyone in its path, ESPN is committing what it needs to to make its top college sports property a juggernaut.
Conservative pundits love to make a big deal of ESPN subscription numbers, pretending not to know that no one subscribes individually to cable channels. But look at the money being thrown around. Clearly Disney thinks the network is doing just fine and is worth investing in. For better or worse, it shapes most of the national sports conversation.
If Norby Williamson and Jimmy Pitaro think that conversation will include more Premier League talk in the future, they will find the money to spend. And when they find it, they will thank the SEC and the NFL for taking the network's money and turning it into more money.
Are Media Days Good For Content Or Just Good For Networking?
"There is an ego boost for hosts attending these events and holding court with colleagues from across the country, but how does that help the people that are coming to you to be entertained before having to clock into a job they hate?"
Last week, most major college football conferences put on an event. They gathered the coaches from every team and invited media members from across the country to attend. Media Days used to really matter in college football. In 2021, I found myself skimming a lot of stations broadcasting live from Birmingham or Charlotte or Indianapolis and wondering "who even cares about this awful content?".
Media Days are only slightly better than radio row at the Super Bowl. No one is trying to get you to put a long-retired kicker on the air for five minutes to talk about boner pills, but I am not sure a stream of coaches and players, who have spent the better part of the previous month practicing saying nothing, is that much better.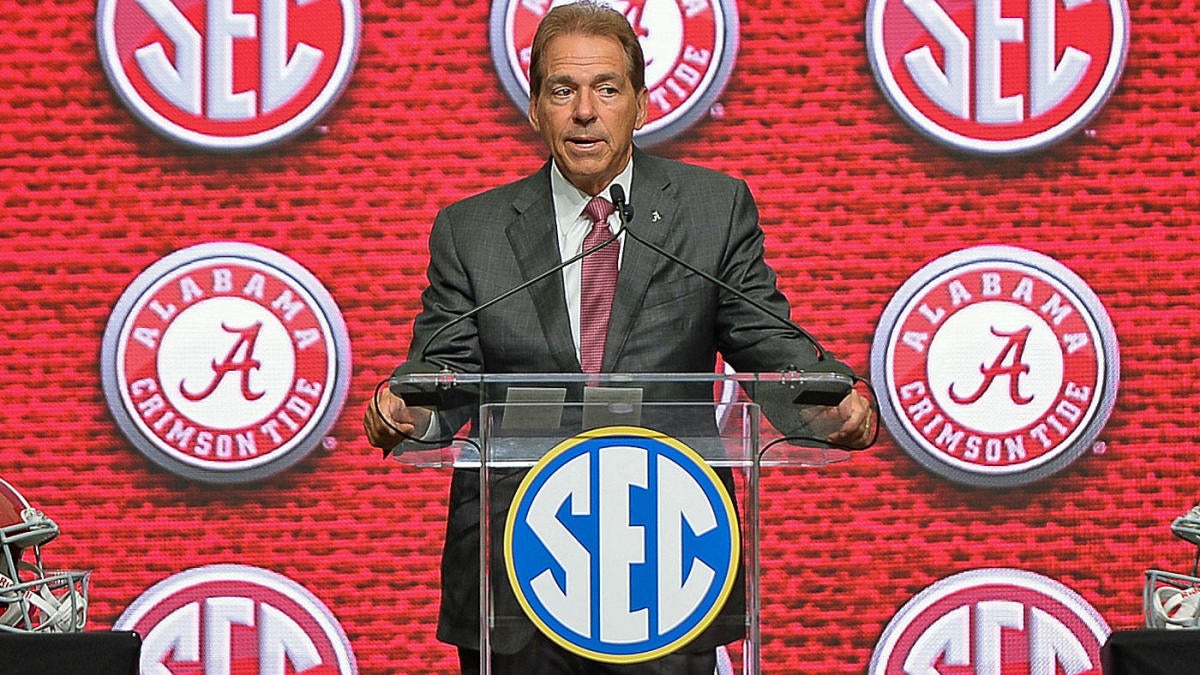 I get that there is value in these gatherings. This is usually the first chance to ask coaches the questions the media has been making content out of for the entire summer. It is a chance to reconnect with colleagues in other markets and compare some notes. They can be a lot of fun sometimes for the people in attendance. I am just not sure if the payoff is there for the listeners and so I am not sure that every station really can justify going.
There are plenty of stations to do these events right. 1010XL in Jacksonville sent two hosts to Birmingham for SEC Media Days. They were at their table all day. The hosts back in the studio in Florida would throw to them live whenever a coach worth putting on air was in the vicinity. There were no all day broadcasts and that meant no filler content. All that went on the air was the content that you had to be in Birmingham to get. 107.5 The Game in Columbia, SC did something very similar, with Heath Cline being the only host there and creating smaller, more impactful content for the whole station.
For some markets, these events matter a lot. Birmingham is the single most college football obsessed market in America. JOX 94.5 probably made the right decision by being in the Wynfrey Hotel hallways all day for all four days of the event. Of course, it helps that the station has a new morning show hosted by two ESPN employees with relationships with most if not all of the conference's coaches. Raleigh, where I live now, is the home radio market for three ACC teams. It makes sense 99.9 The Fan sent two shows to be in Charlotte for both days of the conference's media event.
Still though, there are plenty of questions hosts at those stations and at stations in similar markets have to ask themselves. Is there anything we can get by going there that we cannot get year round? Does our audience like the sport? Does it like the conference? Or is it maybe just passionate about the home team(s)? If the answer is the latter – and I genuinely think that is the case in Raleigh, why waste the money getting the same interviews you can get for free during the season? You know, that time when there is actually something happening worth talking about.
Look, I've been a host and a producer. I get the appeal of these events and I understand that being live and sitting down with names like Dabo and Saban make the station sound bigger. There is some value in attending these media days.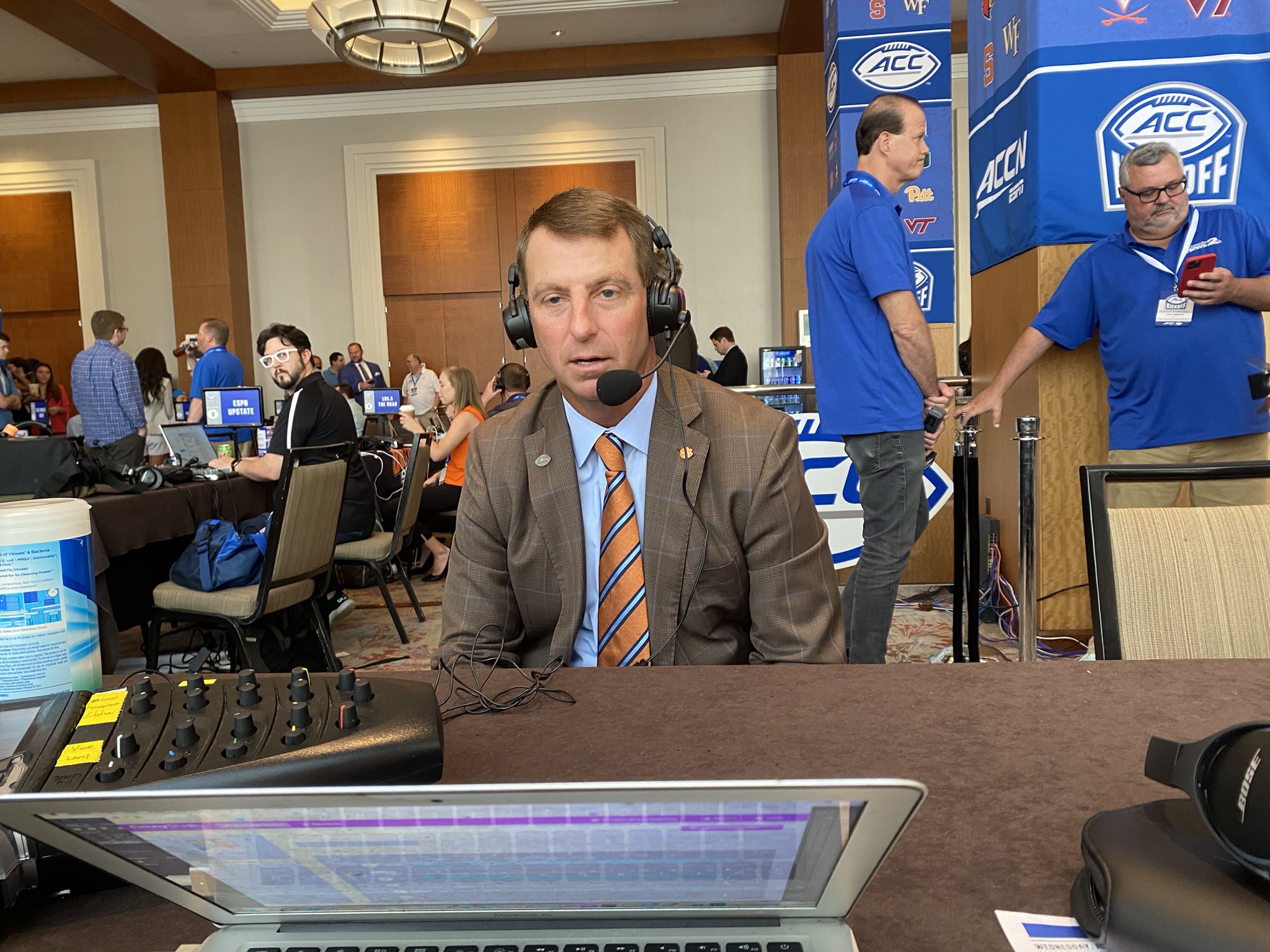 But value to us as broadcasters and value to the audience are different things. We talk about "outside the box thinking" and "thinking like a listener" constantly. This is one of those issues where the value to the audience is the only value that matters really.
Programmers need to approach events like these with a plan. The same can really be said for any radio row. Do you send staff to do three or four hour long live shows for multiple days? Do you send your morning show to broadcast live but stick around to record interviews later in the day so that you can decide what is relevant before airing it?
One part of the programmer's job description that isn't often named is "listener advocate." He or she has think outside the box while living inside of it. There is an ego boost for hosts attending these events and holding court with colleagues from across the country, but how does that help the people that are coming to you to be entertained before having to clock into a job they hate?
I can hear the pushback right now. "Demetri, do you know how much money we make from companies that want to sponsor our broadcasts from media days?"
I am sure the amount is high, but I am also positive that one broadcast or one week long events not the only reason they spend money with you. Also, I am not telling you that there is absolutely zero reason to attend these events. I am just asking you to evaluate how good the content that comes from them actually is.
There was actually an interesting story that broke in the middle of SEC Media Days, with news that Texas and Oklahoma are aggressively pursuing membership in the conference. But did that lead to any real news from the coaches in Birmingham? Not really. They all answered with platitudes and deferrals whenever they were asked about what a 16-team SEC would mean for the rest of college sports. I think most stations would have been just as well served to pull that audio off of ESPN.com.
College football is my favorite sport in the world. I love when we all get together, both at actual conventions and various radio rows that serve as pseudo-conventions. I understand and actually like media days. I just think it is important to consider whether or not there are enough people in your market that cannot live without hearing your hosts talk to Shane Beamer. If you are anywhere but Columbia, South Carolina, I am virtually positive the answer is no.
The Wins And Losses Of Gambling Twitter
"The great part of Gambling Twitter is that it's open to everyone and anybody can prove themselves."
Let's face it. Twitter has changed the way we do a lot of things. For some, it's replaced the daily newspapers. For others, it's a means of communicating with an audience. Regardless of the way you utilize Twitter, no one can deny its impact.
In the sports world in particular, Twitter can be an interesting space. It's a place where you can collectively live through an experience like watching a big game or reacting to news. It's also a place where opinions can be shared and "liked" and of course, disliked. So, what happens when an open social media platform collides with the booming business of legalized sports betting? Gambling Twitter.
Gambling Twitter is an interesting term. It can describe many things. You could be talking about #GamblingTwitter, where someone likely uses the Hashtag to promote their picks or attract an audience, or you could simply be referring to the community of people on Twitter, who talk about Gambling. I prefer the latter. And Gambling Twitter can be a great place.
James Alberino, who runs @SpreadInvestor says the communal aspect, as well as the opportunity it provides, is what makes Gambling Twitter special.
"The great part of Gambling Twitter is that it's open to everyone and anybody can prove themselves. If you're good and know how to market yourself (or work for a company that's good at marketing) you'll grow a following and network with some great people along the way. There's also nowhere better to be online during a game when you have a bet than on Twitter. The reactions and humor are some of the best live entertainment that you can get. There are a lot of smart people on here and when they work together, they help each other's careers/businesses. It's like one big virtual office where a lot of people in the industry can talk to one another whenever they want and collaborate on work."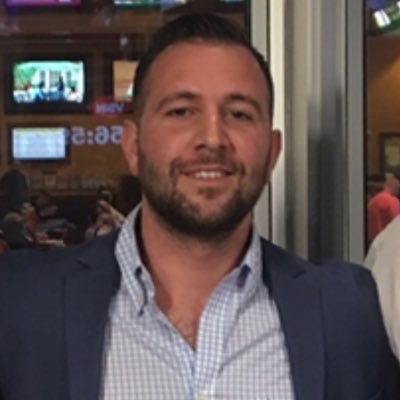 Using Gambling Twitter to help promote your career is something Pamela Maldonado (@pamelam35), Yahoo SportsBook Betting Analyst, feels strongly about from personal experience. 
"Twitter being beneficial is an understatement," she told me. "I started posting picks/analysis back in 2016 as a hobby when I was waist deep in the poker world. Looking back now, that was my resume and I was working on getting to where I am now unknowingly. I also have a background in social media marketing so I am very aware of the need to engage with users. I take the time to talk to everyone and respond to every DM. I love Twitter. It connects the world. It's given me a space to talk about the things that are important to me. 2020, that was the political climate, in 2021, it's Novak Djokovic and tennis."
But not every experience is positive.
Alberino says "It can be very cutthroat especially among guys who have been in the space for a long time. There is a lot of money in this industry and everyone in it is trying to get a piece of the pie in the form of either money or media attention. There are a lot of scammers who do not care about their followers other than the dollar signs and a ton of people have bad tastes in their mouths from it. They take that baggage with them a lot of times when they do business with other cappers. Then there are the casual gamblers in the audience who think they know more than they do about betting. The scamming and ignorance has been going on forever though, it's not just a Twitter thing. But Twitter gives these guys no barrier to entry and an open platform. A portion of broadcasters and pro bettors have figured out ways to work together but for the most part there's a divide between "touts" and people on the media side of the industry, for understandable reasons. Some handicappers act like complete jackasses. And some media people are very good with a mic but not as much at betting. So you have two worlds colliding and some people stepping out of bounds to either gain followers or make more money."
James is right. Everyone is trying to grab a piece of the pie. Each Sportsbook utilizes Twitter to promote itself. But are they doing it from a genuine place? How many times have you seen a Sportsbook account tweet out a winning long shot parlay? Countless times a day right? The reality of the matter is that these winning bets are extremely rare, however by tweeting and retweeting them, they hope to make the casual better feel as if they could be next. When, in reality, they just want customers to place these losing wagers so they can make money. That's their business model.
Another negative aspect is the feedback. Some would say, "if you can't take the heat, get out of the kitchen", and they're probably right. If you publicly make a bet, you're opening yourself to negative reaction when that bet loses. Does that always happen?
"I've been fortunate to not experience any type of negativity, but I think it's because of the way I present myself," Maldonado says. "I never just give picks. I give a thorough reason. I post my record, I answer questions, and I try my best to differentiate what is 'content' and what is an actual bet. How I do that: by posting, "I am playing." It's fair to say that I've been more right, than I have been wrong, so I believe that I've created a loyal following of those who trust me and stand by me, even during a downswing. Has there been a change over the years? I can't say for sure. I think I can count on one hand the number of people I have blocked and that's because I've been on Twitter for a very long time. It's a very short list of negative experiences, so far, and I think that mostly comes from me knowing my audience, knowing how to communicate, and knowing how to handle the bad days of betting – and that's by acknowledging them, not ignoring them."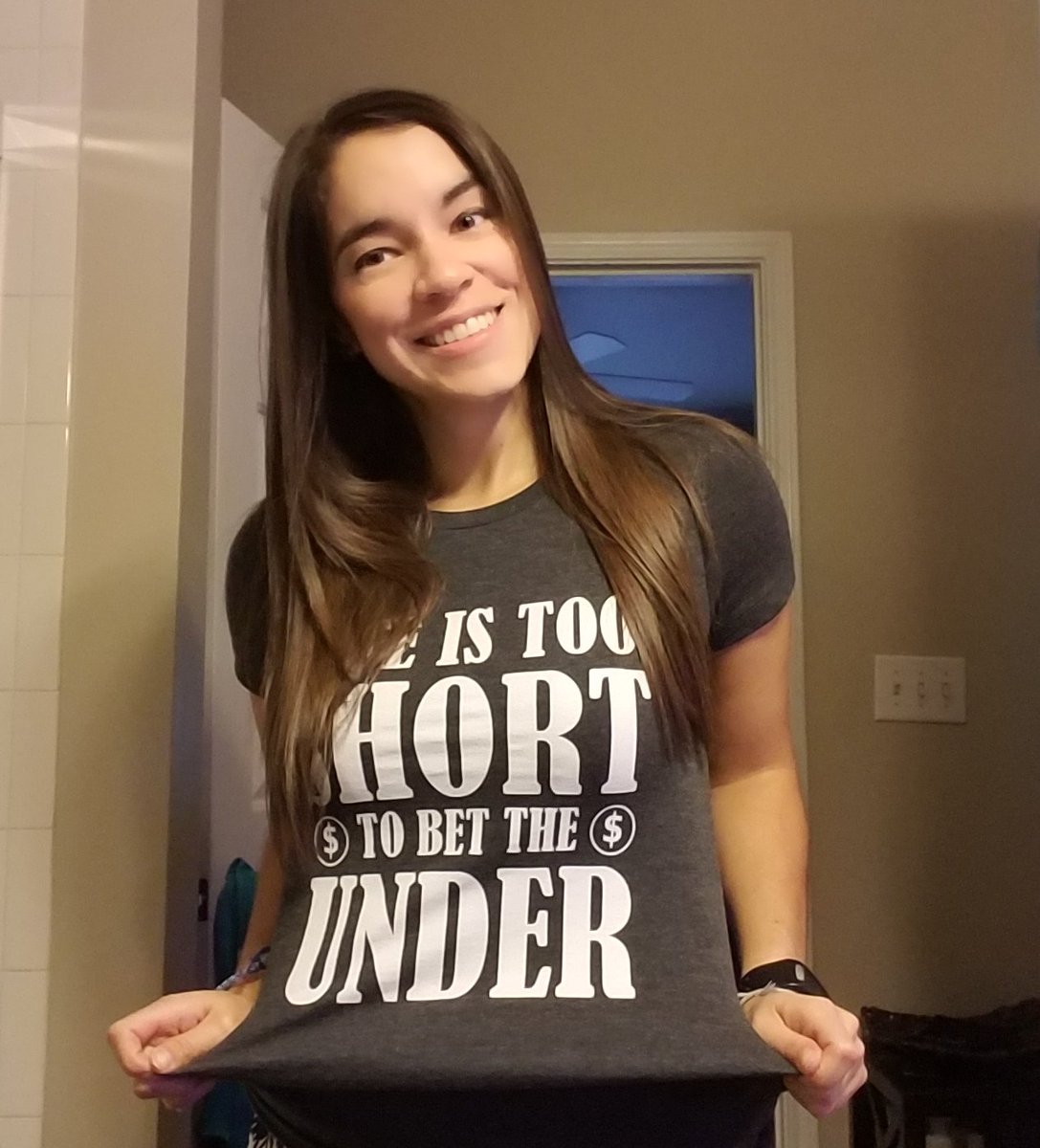 But what about being a woman in this space? Is the experience different because its largely a male dominated audience? Ariel Epstein of SportsGrid (@ArielEpstein) shared her experience. 
"Overall, it's positive. I love interacting with everyone through the wins and losses. It's a lot of fun to enjoy the wins and I have to say most of my followers are very understanding of the losses. I've always prided myself on giving out so many reasons to take my bet, that if it does lose, someone says 'wow I can't believe that lost.'
"There are always a few trolls who will say things like 'I remember when you always won,' or 'at least you're pretty.' I've been asked on dates via direct message many times before. I usually just don't answer. My motto is always to engage with the good people and ignore the bad. It gets less traction for the trolls on Twitter if I just don't respond.
"I've always known I'd have to have thick skin as a female to make it in this business. The gambling side of things adds a whole new element because now you're messing with people's money. On the lighter side, I have been asked by many men if they could buy me a drink or send me money via Venmo because I won them bets. I find those types of things hilarious because I don't know these people. I know it's coming from a good place though. I do decline by the way."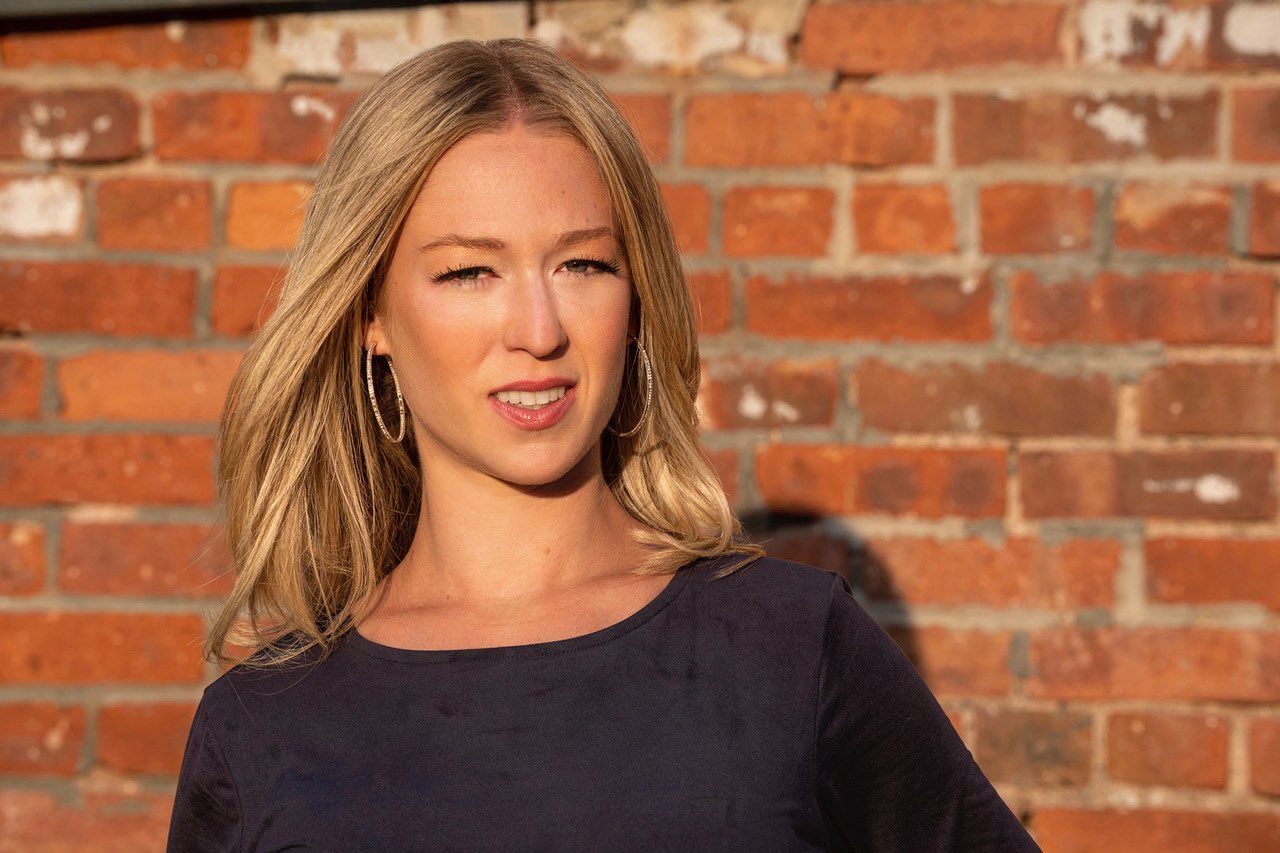 I think there's an interesting case study to be done on Gambling Twitter because there are so many different aspects of it. You can talk about the handicappers, the analysts, the Sportsbooks and the audience. Each play their own role in the community.
I for one, love being a part of Gambling Twitter. Yes, I've had to mute a few trolls, but there's nothing better than getting a tweet thanking you for the work you've done. I don't post plays on Twitter to brag or claim victory over anyone. I post to help provide education to a larger audience craving information. If I can help people win a few bucks, that's great. If it loses, then I take the heat. I understand the role I play. I walk a fine line because I am a member of the media, hosting several radio/tv shows, and a handicapper, because I pride myself on providing picks and analysis to the audience. Am I a social media guru? No. But I think there's a place for me on Gambling Twitter, and I think there's a place for you too.