Chris Wittyngham Is A Fancy Lad With A Variety Of Skills
"I was walking around Lake Tahoe at the American Century Championship and people were shouting 'fancy lad' at me. My co-workers at Inter Miami jeer me with 'fancy lad.' It's inescapable."
Chris Wittyngham has always known the thoroughfare he wanted to travel was in sports media. While playing Madden as a kid, he recalled he would often listen to the announcers and think, "this is something I can do." Like many in the field, he knew his destiny would not be providing the winning score, rather it would be painting the complexion of the score into the ears of his listeners.
Never lacking in eccentricity, Wittyngham has elicited Twitter reply firestorms for some of his revelations on The Dan Le Batard Show with Stugotz, of which he serves as a producer. For instance, rather than use the alarm on his phone or albeit-antiquated clock radio, "Witty" — as he is known on the show – uses the timer on his oven. He also drew shock and awe – and a slew of invitations – when he said if he is invited to a wedding, and if he is available to go, he will attend no matter what. Even his father was caught by surprise when his son told the crew he had never eaten a Snickers bar before, much to the chagrin of a football-playing Betty White, too, I'm certain.
Don't let unorthodox quirks take away from his bona fides, however. Witty attended the prestigious University of Miami where he earned a degree in broadcast journalism. While many fresh-out-of-school journalists cut their teeth in small towns, banana republics, or blog spots, Wittyngham began his career as a host with 790 The Ticket in his hometown of Miami. His ascent in journalism looks less like the parable of the ever-patient tortoise, and more like The Price is Right yodeler, often leading Le Batard to refer to him as a "prodigy."
Wittyngham has made a name for himself in sports radio, sure, but he doubles his workload in the soccer arena. He's called matches for DAZN, beIN Media Group and TUDN. He currently calls Inter Miami CF matches, drawing praise last weekend for his call with the legendary Ray Hudson.
A consummate fan of soccer around the world, Wittyngham said he got into the beautiful game by watching wrap-up shows from Europe. Despite Stugotz's myopic views on soccer taking hold in the U.S., Wittyngham is optimistic and offered his advice to Americans looking to brush up on the world's most popular sport.
"I watched The Premier League Review Show and they would wrap the games and storylines and I would watch that show to pick up the jargon and who the best players and managers were," he said. "MLS will grow and a lot of cities will have soccer teams. Go watch them, but if you're going to follow the global and international game, start in one place. For me, it was England and the Premier League."
His path in sports radio and soccer were seemingly clear, but it was a detour to the side that has further enhanced the young broadcaster's visibility. Wittyngham co-hosted the popular Chelsea Mike'd Up podcast with Mike Ryan, executive producer for The Le Batard Show. The two are close due to their doting passions for soccer and their lifelong home of South Florida. When Le Batard, Stugotz, and "The Shipping Container" famously pulled their pirate ship's anchor from ESPN, Ryan asked for Wittyngham's assistance.
The show was as or more popular than any sports radio show in the United States. Listeners have long-gravitated toward the show for its vulnerability, humor, honesty, and its role as a sort of "anti-sports sports radio show." Funding was not going to be a problem due to the loyal audience that would follow the crew no matter what but leaving the Worldwide Leader posed some logistical challenges by way of hosting platforms and getting the content to its ever-eager audience.
"It was announced they were going to leave, and around that time Mike reached out to me because of our experience with Chelsea," Wittyngham said. "I have experience with podcast hosting and how to get the platform up while sustaining the bandwidth. Mike knew I had that experience, so I did the research and found our hosting service. It's funny when you're in that role, how many areas of the business it affects."
Joining the show by way of his credibility and connections with members of the bustling enterprise at Meadowlark Media was easy. But what is it like to assimilate into the show whose listeners view the crew as part of not only their routine, but part of their extended family as well? After all, there is the "Stugotz Army," the "Cote Calvary" for Chris Cote, and "Guillermo Mafia" for Billy Gil, among others. How has it been finding his place among the established members of the Shipping Container to endear himself to an impassioned fanbase?
"My experience has been overwhelmingly positive," he said. "I find it enjoyable, interesting, intriguing that people enjoy the quirky things I bring up on the show. I have a healthy relationship with my Twitter replies to not take anything personally good or bad.
"It's been different in one way to have scrutiny but to have a group of people immensely passionate about the work you're doing. I was always careful that my role did not step on the show for what it is, a group singing from the same hymn sheet making music. Dan has been immensely encouraging, telling me 'don't feel like you're doing too much or doing too little,' making me feel comfortable. The way my intro was framed was helpful as well. They framed it around me being obnoxious and pompous of being a 'fancy lad.' From every standpoint, it's been fun for me. It's been incredibly fun."
The "fancy lad" moniker" stems from Wittyngham's proclivity to pull from his deep lexicon or to provide historical context for one of the topics de jour. Fans of the show from the ESPN days may remember the jingle that played each time Pablo Torre would say something bordering on the line of playfully pompous. The "Fancy Lad" soundbite that rings out, "Chris Wittyngham is a fancy lad," comes from the same tree, leading to shirts and memes galore. At times, he will even get a catcall or two with the nickname, but it does not bother Witty in the slightest.
"I was walking around Lake Tahoe at the American Century Championship and people were shouting 'fancy lad' at me. My co-workers at Inter Miami jeer me with 'fancy lad.' It's inescapable. It's such a total joy and delight that anything got slapped on me in terms of identity. It's with complete and utter bewilderment that I appreciate every second of it."
Calling soccer games and serving as a producer for one of the largest independent entities in sports media is two full-time jobs. Wittyngham is a self-proclaimed workaholic but was clear that he feels lucky because loves the work he does. He cited Rich Eisen and Dan Patrick as those who work full-time in radio, but also have the ability to work on other passions outside of their studios. Le Batard has also made sure Wittyngham never feels overworked.
"It's ultimately about my capacity and Dan made it clear to me that it's a fully open door for whether I want to wind it down or wind it up," he said. "He's been great to me, everyone at the show has been great to me, to make of this what I will."
That show famously has a variety of inside jokes with the show continuously playing the sound of disingenuous-handshake titan Papi Le Batard saying, "you don't get the show" for those who miss the joke. Wittyngham enjoys the free-flowing nature of the show that to be clear takes a mountain of prep, but also doesn't become a servant to A- and B-blocks.
Everything at the show and the company is not about comedy. Le Batard famously describes giving the audience cotton candy – the jokes – but that it also needs its medicine, which comes in the form of social commentary. Be it discussions about the political and human rights climate in Cuba, former President Donald Trump's impact on American psyches, or the Black Lives Matter movement, the show is never afraid to touch on what can be polarizing societal conversations.
"People who are any kind of socially conscious are going to want those kinds of viewpoints at some point," Wittyngham said. "I talk with people in radio all the time, and they say 'people don't care what I have to say (about politics).' I always encourage people to express what they want to express, and Dan is so brilliant at it. Billy is demure about it sometimes, but was incredible on Cuba. In this political climate, it's hard not to do it in a non-attacking way.
"I would be more than willing to present my viewpoint. I do understand why things are politicized. I think everything is politics because everything has the ability to affect a vote or be subject to a poll. I think you have your own thoughts as a human and can express them if you so wish."
The show has carved an interesting niche for itself in a world of "takes" and debates. While many shows revel in discussing Tom Brady's legacy, Lebron James' clutch gene, and who is the most impactful middle reliever left on the market that can change the complexion of the AL Central race, The Dan Le Batard Show with Stugotz leans more toward Le Batard's list of favorite colors, what foods are in Gil's desk, and what type of neighbor Urban Meyer resembles.
Despite the immense success of Le Batard and Co., Wittyngham acknowledged that a lot of the ratings success in today's sports media is still in the mainstream debate shows and that even he can appreciate a well-crafted radio monologue. So given his relationship with the show as a young fan turned seasoned employee, where does that leave the popular radio producer, soccer play-by-play man, and all-around fancy lad as his career in sports moves forward? In the detours, of course.
"I'm so honored that I'm even involved in any way, that I don't have a goal in the environment. When I arrived, I wanted to make things better and arrived with an initial task. To take a lift off someone's plate is a huge win. Within the show, I'm not particularly ambitious of 'I want to do this or that.' There are lots of opportunities within the show and company that will arise, and if I play a part in them, that's awesome. I started on the show as an intern and came back a decade later to work on it. It's incredibly odd and incredibly cool.
"Where do my ambitions lie within my play-by-play career? Soccer for me is the destination. Growing, getting better, improving, and maximizing the opportunities you're given. Doing good work and being a good coworker. It sounds trite but I want to grow in the industry, but I don't want to have 'X' job by 'X' time. I want to enjoy the path I'm on and the detours. You can find the joy in the detours and ultimately it's about doing the best work you possibly can."
Keeping Premier League Games Shouldn't Be A Hard Call For NBC
"Beyond its massive global fanbase, the Premier League offers NBC/Peacock a unique modern 21st-century sport for the short attention span of fans."
NBC Sports is facing some tough, costly decisions that will define its sports brand for the rest of this decade.  A chance to connect with viewers in a changing climate and grow Peacock's audience as well.  However, making the right choice is paramount to not losing to apps like Paramount+ (pun intended).
NBC is currently in the business of negotiating to continue airing the Premier League as their current deal ends after this 2021-2022 season. NASCAR is contracted to NBC (and FOX) through the 2024 season.
NBC's tentpole sports are the NFL and the Olympics.
Negotiations for the EPL are expected to go down to the wire. Rather than re-up with NBC, the league is meeting with other networks to drive up the price. NBC has to then make a decision if the rights go north of $2 billion.
Should NBC spend that much on a sport that is not played in the United States? It's not my money, but that sport continues to grow in the US.
If NBC re-ups with the Premier League, will that leave any coins in the cupboard to re-up with NASCAR? Comcast CEO Brian Roberts hinted that there might be some penny pinching as the prices continue to soar. This may have been one of the reasons that NBC did not fight to keep the National Hockey League, whose rights will be with Disney and WarnerMedia through ESPN and TNT, respectively.
"These are really hard calls," Roberts said. "You don't always want to prevail, and sometimes you're right and sometimes you're wrong, but I think the sustainability of sports is a critical part of what our company does well."
Roberts was speaking virtually at the recent Goldman Sachs 30th Annual Communacopia Conference. He told the audience that between NBC and European network Sky, that Comcast has allocated approximately $20 billion towards these sports properties.
Comcast CFO Michael Cavanagh spoke virtually at the Bank of America Securities 2021 Media, Communications and Entertainment Conference and echoed that the company is in a good position to make some strong choices in the sports realm.
"The bar is really high for us to pursue outright acquisitions of any material size," Cavanagh added. "We got a great hand to play with what we have."
While the European investments involve a partnership with American rival Viacom, the US market seems to have apparent limits.
Last Saturday's NASCAR Cup Series at Bristol Motor Speedway was seen by around 2.19 million people. It was the most-watched motorsports event of the weekend. That same week eight different Premier League matches saw over 1 million viewers. More than half of those matches were on subscription-based Peacock. 
Beyond its massive global fanbase, the Premier League offers NBC/Peacock a unique modern 21st-century sport for the short attention span of fans. A game of typical soccer fan is used to a sport that is less than two hours long. The investment in a team is one or two games a week. 
My connection to the Premier League began before the pandemic. When I cut the cord in late 2017, I purchase Apple TV. Setting it up, it asks you to name your favorite teams. After clicking on the Syracuse Orange and the New Jersey Devils, I recalled that my wife has family based in London, England. They are season ticket holders for Arsenal, and that family redefined the word "die-hard" fans.
I've long been a believer that sports allegiances are best when handed down by family. I love hearing stories of people loving the New York Giants because their parents liked them, and they pass it down to their children.
I've successfully given my allegiance to the Devils to my young daughters.
By telling Apple TV that I liked Arsenal, I get alerts from three different apps when the "Gunners" are playing. The $4.99 is totally worth it to see Arsenal.
Whenever I told this story, I was amazed to see how many other American sports fans had a Premier League team. Students of mine at Seton Hall University rooted for Tottenham Hotspurs, while an old colleague cheers on Chelsea.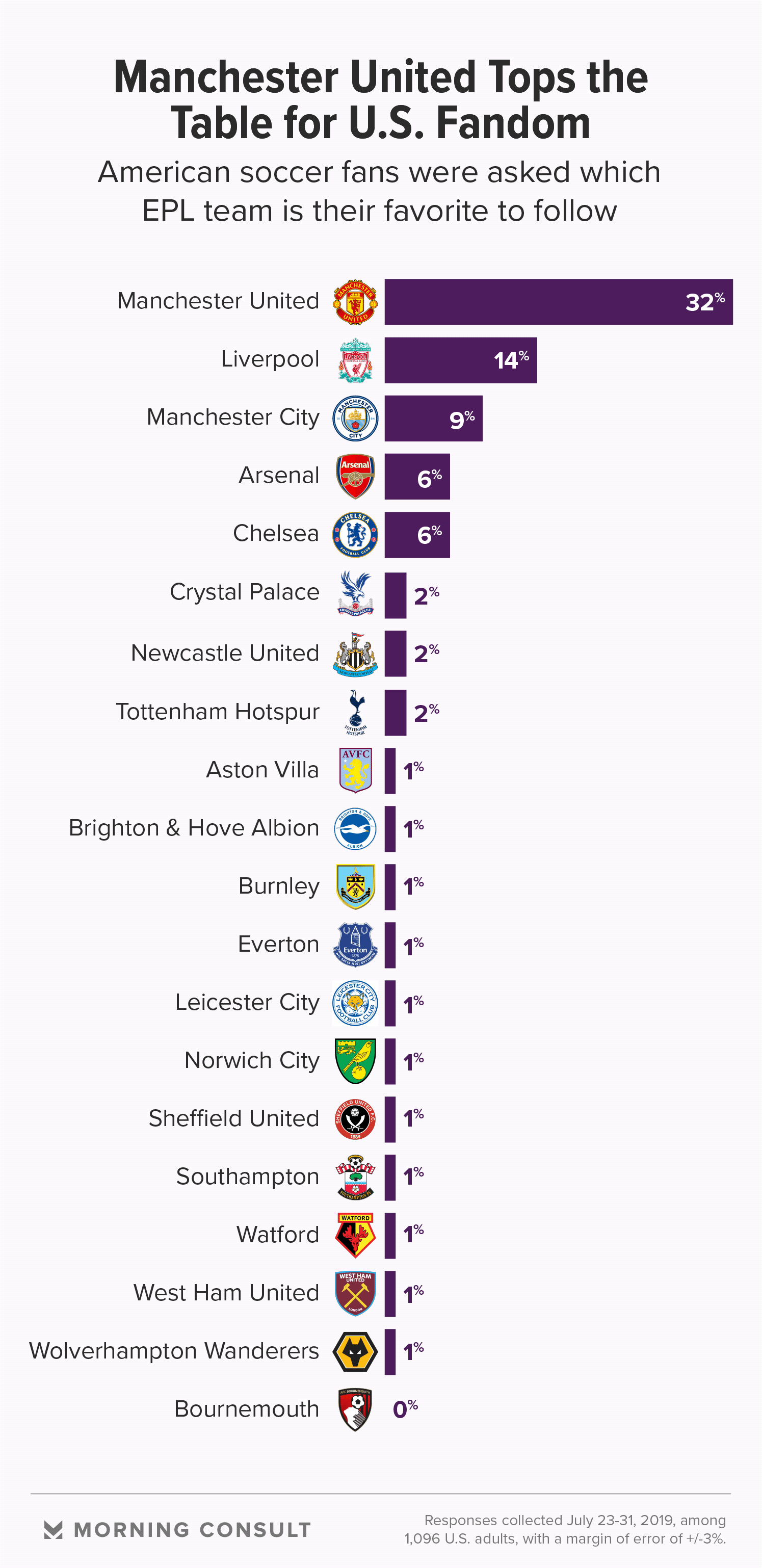 This is not meant to say that NBC should sign the EPL on my account. The key for any US-based soccer fan is that between Bundesliga, Serie A, and other leagues, there will be no shortage of soccer available on both linear television and streaming services.
Besides, Dani Rojas did say that "Football is life." NBC, originator of the Ted Lasso character, should make keeping its Premier League US connection a priority.
Today, Demetri is joined by Tyler McComas and Russ Heltman. Tyler pops on to talk about the big start to the college football season on TV. Russ talks about Barstool's upfront presentation and how the business community may not see any problems in working with the brand. Plus, Demetri is optimistic about FOX Sports Radio's new morning show.
Podcast: Play in new window | Download
Subscribe: RSS
6 Ad Categories Hotter Than Gambling For Sports Radio
"Using sports radio as a back page service for gambling will have a limited shelf life."
For years sports radio stations pushed sports gambling advertisers to early Saturday and Sunday morning. The 1-800 ads, shouting, and false claims were seedy, and some stations wouldn't even accept the business at 5 am on Sunday.
Now, with all but ten states ready to go all in on sports gambling, sports radio stations can't get enough of that green. Demetri Ravanos wrote about the money cannon that sports gambling has become for stations. Well, what if you are in one of those ten states where it isn't likely to ever be legal like California or Texas? Where is your pot of gold?
Or, let's face it, the more gambling ads you run, the more risk you take on that the ads will not all work as you cannibalize the audience and chase other listeners away who ARE NOT online gambling service users and never will be. So, what about you? Where is your pot of gold?
Well, let's go Digging for Gold.
The RAB produces the MRI-Simmons Gold Digger PROSPECTING REPORT for several radio formats. In it, they index sports radio listeners' habits against an average of 18+ Adult. The Gold Digger report looks at areas where the index is higher than the norm – meaning the sports radio audience is more likely to use the product or service than an average 18+ Adult who doesn't listen to sports radio. The report, generated in 2020, indicates that sports radio listeners are 106% more likely to have used an online gambling site in the last thirty days. That's impressive because the report only lists 32 activities or purchases a sports radio listener indexes higher than an average adult. I looked at those 32 higher indexes, and I think we can start looking for some gold.
Using sports radio as a back page service for gambling will have a limited shelf life. The gambling companies who commit significant money to get results will continue advertising and chase the others away. So, the future of sports radio needs to include other cash cows.
If it is evident to online sports gambling services that sports radio stations are a must-buy, who else should feel that way?  I looked at the Top 32 and eliminated the media companies. ESPN, MLB/NHL/NFL networks, and others aren't spending cash on sports radio stations they don't own in general. But Joseph A Bank clothing, Fidelity, and Hotwire should! Here's your PICK-6 list I pulled together that's hotter than sports gambling:
Sportscard collectors, Dapper Labs, Open Sea- read about Sports NFT $.
Online brokerage firms-Fidelity, Charles Schwab, Robinhood, Webull, TD Ameritrade
Golf courses, resorts, equipment, etc.- we play golf at home and vacation
Hotwire.com, Booking.com, TripAdvisor, Airbnb, Carnival Corporation, and Priceline.com- we've used Hotwire in the last year.
FedEx, UPS, U.S. Postal Service, Venmo, PayPal, Zelle-we wired or overnighted $
Jos. A. Bank, shein.com, macys.com, nordstroms.com- we went to Jos. A. Bank in last three months
The sports card/NFT market is 32% hotter than the sports betting market for sports radio listeners. Everything on the PICK-6 is at least 100% more likely to purchase than an average 18+ Adult who doesn't listen to sports radio. All listed are at or above indexing strength compared to sports betting. The individual companies I added are industry leaders. Bet on it! Email me for details.