John Middlekauff Isn't Screwing Around
"I think any time that I've ever had the opportunity to be around someone really successful, it was less about getting their words."
The 3 and Out with John Middlekauff podcast has been acquired by Colin Cowherd's network The Volume. Cowherd's programming approach is "same sports, different angles." I typically watch games while standing on my head, but I digress. This isn't about me; this interview is about the former NFL scout, turned terrestrial radio host, turned podcasting stud. If you want different angles, Middlekauff's got 'em thanks to his time in the league. It doesn't hurt that the Davis, California native is also smart, experienced, and unapologetically opinionated.
Some huge names have had a powerful impact on Middlekauff's career. You can't do much better than working with Andy Reid in football and Cowherd in broadcasting. In our chat below, the Cal Poly graduate makes an interesting point that the best advice he's received was never spoken. Middlekauff talks about how he gauges success in podcasting and the most challenging role of his career. There is also a nod to his Bay Area radio days with Guy Haberman and Jason Barrett as well as some rapid-fire NFL gems. Enjoy.
Brian Noe: What was it about Cowherd's network that convinced you it was the right place for your podcast?

John Middlekauff: I've been with Colin since the inception of this podcast on his other network. He's the best in the business. Any time that a guy like that believes in you and helps you start something and is behind you, I don't think you can ask for anything more. If Colin says let's do this, I'm doing it. It's not a complicated strategy. I just follow Colin's lead to wherever he's headed and I'll be right behind him
BN: What are the things in the podcasting space that appeal to you more than terrestrial radio?

JM: I've been doing it now for five years. I worked in terrestrial radio for about three. I would say the things that I like, one, you're coming for me. If you're listening to the show, you are seeking me out. A lot of radio shows — now the big ones, you're going for Colin — but most radio shows if you're on the station, you might just end up on a show. You may like the guy, you may not, but you're just stuck. Where in podcasting if you're listening — it's why a small percentage of podcasts are making a lot of money — people seek them.
The other thing is for me in radio, you're partners with teams because you have to be in the big markets. It can be dicey for me. I'm someone that does not hold back. I don't give a f*** what other people think. I'm not just trying to make things up but the team's get very sensitive in my experience.
Now I was dealing with the second-rate teams in the area. I can understand dealing with the Yankees, the Cowboys, the San Francisco Giants, the 49ers — I get there's a balance because they generate a lot of money for you. But the teams I was dealing with were struggling. They got so sensitive. Especially the football team was losing so much. It became very stressful. I'm paid to talk and be authentic. That's one thing in the podcast space I can truly say whatever I want. I enjoy it a lot personally.
BN: In radio, the report card is the ratings book. What's the metric in podcasting you look at to gauge success?

JM: Revenue. As long as we're making money and growing, I feel good about it. I always thought the ratings thing in radio, it's just made up. It's based on a couple of meters. I think it's a sham. You have no clue how many people are listening. Absolutely none. I live in a market with eight million people and it's based on like 10 meters? It's insane. If 1.5 million people listen to me in a given month, that's actual people listening.
One time we had Terrell Owens on when I was working for Jason Barrett in radio. He was still a really big deal. The 20-minute interview did like a 30 share. Our show was number one in the market that month. That was a really big deal for the station. We were all fired up. But the next month we're doing a sweet show, big guests, and we were maybe like fourth. You're just playing these games with these meters. I don't have to play any games with meters now. That's a major, major difference. There's no manipulation of it.


BN: Yeah, it matters but it's so goofy. It's like stoppage time in soccer where it's not precise. It's just ehh, we're kind of making stuff up as we go along. And you live and die by that. It's crazy.

JM: It's wild. It's like you can control it but you feel like you have no control over it. And then all of a sudden you're like oh a meter left, and now he doesn't listen to you anymore. So you just dropped like two points, but you're like I think our show is better than it was two months ago and now we're getting our ass kicked. What is going on? That's the difference in podcasting, again at the higher levels.
This is my business. This is not a passion project for me. This is what I do to pay the bills. There's no screwing around here. You have that mindset in radio; you approach it like a real job. It's very serious. I think it helps since leaving you just maintain that mindset and treat it the same even though the meter and the ratings do not exist. That's a major pressure relieved from your shoulders. You don't even have to think about it. You got to get people to listen. You got to keep growing. But to me it's easier to do that than it is to add an extra meter out there and you don't even know the human or what he even likes.

BN: The knock among industry folks is that podcasting is harder to monetize. What has been your experience as far as that goes?

JM: Yeah, no issues. It was hard at first I'd say three or four years ago. But in 2021, I've had a lot of success monetizing. The two podcasts I'm a part of definitely generate revenue. I know that. I'd say the other difference is, as a radio host you don't get to own the show. As a podcast you potentially get the ability to own your show or be a partner in your show and own the revenue coming in. That's just something that's a little different.
Now I would say one major difference is like you said the knock that a lot of podcasts can't make money. It's harder to generate; it is more of a hustle. But I'd say most businesses are a little bit of hustle at the ground floor. I argue that terrestrial radio is getting more and more segmented and splitting up. TV stations are cutting budgets. That's the one thing in the digital space where they're adding. A company like The Volume; they're going to try to grow where some of the old-school television shows or a terrestrial radio station, they're cutting. It's going to be hard for them to ever add again. They're probably not going to come back.

BN: When you think about your entire career — we're talking scouting, radio, podcasting — what do you think has been your biggest break?
JM: It's probably not one. There are so many influential people that changed my life. I'd say Pat Hill changed my life. Andy Reid changed my life. Once I transitioned into media I could just say I worked for Andy Reid and Howie Roseman. I would say without Guy Haberman I never would've gotten into radio. Who knows? Maybe I'd be selling insurance now. And then with Colin, he's changed my life. It's just individuals that believe in you, take a chance on you, and then once you're able to associate with them, they are high-level, well-respected people in their business. Andy is one of the best coaches. Colin's one of the best ever. Those two guys alone, it changed my life for sure.
I'd say there are always seminal moments. There's nothing like your parents. Without them none of this is possible. But then once you become an adult you meet different people that can take you on paths that you didn't know. If you asked me 10 years ago would I be sitting here talking to you, who knows? I get a lot of questions like where do you see yourself in five years? Well, I think that question was a lot easier to answer in like 1996. The world changes at rapid speed. I don't f***in' know what's going to be around. [Laughs] Who knows? I think in this profession it's borderline impossible to answer.

BN: What's some of the best advice you've gotten from the who's who of people you've worked with?

JM: I wouldn't say it's necessarily like individual advice. I would just be able to say watching their actions. The way they operated. The way they conducted themselves. Starting with Pat Hill and Andy just how friendly and nice, how much ownership they took in everything, and just the way they conducted themselves. Then when you meet all these other famous people that know them and how they revere those guys, it's just like well I can see why.
Being around Colin, I remember a couple of years ago at the Super Bowl, just the way he treats his staff. He's probably one of the more famous people I know. You see some of these stories about Hollywood people and you're like God; he's the complete opposite. He's incredible. He really is a unique, authentic individual. It was the way I was raised; treat people well, do the right thing. And if you're talented hopefully the cream will rise. That's really something I kind of think about more than any individual advice like get into the break fast or that type of stuff. [Laughs] I don't really think about that as much.

BN: It reminds me of Brett Favre and Aaron Rodgers. Favre didn't have to say hey, do this and look out for that. But being around a guy like that is helpful. Is that similar to your experience?

JM: I think any time that I've ever had the opportunity to be around someone really successful, it was less about getting their words. Because again as an individual it's hard to just take something someone's said, but if you can just emulate the things that they do and the way that they treat people if they do it the correct way, I think that is a game-changer in life.

BN: What has been the most challenging role and the most enjoyable role you've had throughout your career?

JM: I would say the challenging role was my first year when I got to the NFL. It was just hard. There were just a lot of things going on. You're fighting for your professional life. You're basically on a one-year $20,000 contract, just the lowest guy on the totem pole. You're doing all of these — looking back — trivial tasks, but at the time you feel like I got to pick this player up at the airport. I've got to get sandwiches for the coaches. You just feel pressure with everything you're doing even if it gets up to oh, they're letting me evaluate some players. That was just really, really intense. Just the pressure obviously going to Philadelphia, it was crazy. But it was good crazy. It was hard, there's no doubt about it.
I would say doing podcasts now. The impact and seeing people that enjoy it, it's definitely cool. Some of the sports media stuff can bore me. Just doing your go-to stuff. The clickbait.
I'm going to talk about what I want to talk about. I'm not going to talk about offensive linemen. I'm going to talk about the quarterbacks and the coaches. I've got a pretty good idea. I think like a fan. I'm not worried about the practice squad because that stuff kind of bored me when I was in the NFL, but you had to be really focused on it. So I just enjoy doing shows and having people like it.

BN: I'm just curious, man, if you break down your time scouting in the league year by year, what was that timeline for you?

JM: I was with Fresno State for two years. Then I was with the Eagles for three years. Andy got fired my third year. That's when Chip Kelly came in. At the draft I got let go. I was probably 28. I didn't know that many people in the league. So I didn't really know what to do. I tried to get on some other places and I didn't. It was like should I try to move somewhere? My third year I was able to work on the West Coast for the Eagles for college. I lived in San Francisco. I got to come back west. I was like I don't really want to move. I want to do my own thing. That's when Guy had just gotten hired by JB. I got lucky there. If he hadn't been there who knows? I don't know what I would have done.
I wasn't dead set. I think a lot of people — that's all they were going to do. Being in the NFL, I think that's the way it is with the NBA, with baseball, these guys are just driven. They're junkies. I don't like football that much. I want to go play golf. I have other interests in business and other stuff that I do. There are other things that I want to do and I enjoy watching other sports. You don't really have time for that sometimes depending on the time of the year. It's just football in this bubble. It's crazy.
I'm able to do it now on a much, much lower level than eat, breathe, sleep it 24/7, 365. There are so many players in the league. It takes a lot of time to master the league. And then even once you do, just to keep up and maintain it, it takes a lot of energy. It's always moving. All of these coaches. I think a lot of fans say I would love to do that. It sounds good in theory and then you find out you make probably way less than you would make doing your job and the hours are insane. Again it's the football 24/7, 365.

BN: With Guy in San Francisco, how did it come to be where you ended up on a show together?

JM: I think over the summer maybe in July or early August of 2013, he's hosting the night show and doing the A's postgame. He's like bro, come in. Just come in for 30 minutes, you're an NFL scout, we'll talk Raiders, Niners, and just around the league. I think I did it a couple of times and JB was a legit boss. I would imagine most bosses around the country ain't listening to some of the guests that come on the night show, but he was newer and putting the station together. It might have been the first time I went in, Guy hits me up a few days later and was like hey, my boss at the station just heard you and he's going to reach out. He wanted me to become a part of the station on just like a random contributor type thing. It really all started because Guy had me on for 30 minutes, JB listened, liked it, and it kind of went from there.

BN: I've got a couple of rapid-fire NFL questions. What's the storyline you're most fascinated by heading into the season?
JM: I'm biased but it's got to be the 49ers quarterback situation. Maybe just all the rookie quarterbacks. There are five guys drafted in the top 15. With five quarterbacks drafted that high, it's going to be fun to watch. I'm excited.

BN: Is there anything that's talked about a decent amount heading into the season that you don't find very interesting?
JM: That's a good question. The Deshaun Watson thing has started to bore me a little bit. Just suspend the guy, trade the guy; how long are we going to go on? It feels like it's not going away because who's going to trade for him right now. That story is getting exhausting. People just keep acting like he's tradable. He's not tradable until we get some clarity on the legal stuff. He's no longer just Deshaun Watson 2020. He's got some off-the-field issues that are kind of a big deal right now.

BN: Do you have a best bet for the season?

JM: I like Matt Stafford or Josh Allen to win MVP. I'd probably lean Josh Allen MVP. He might have a sweet season. He might just be unreal.

BN: What are you most bullish about in terms of a team exceeding expectations or being a disappointment?

JM: I think the Patriots are going to be good. Belichick's just coming off a bad season. You got Mac Jones. They got all of these guys back on defense. Last year's team sucked and they went 7-9. Jon Gruden, year four, I just think they're not going to be good. Six, seven wins for $10 million a year. I think that place has a chance to be a disaster.

BN: Who do you think is the best color analyst in the NFL right now?

JM: I enjoy Tony Romo. I just enjoy his energy. I know some people think he's cheesy or whatever but there are so many analysts that are awful. Let's face it; there are a lot of broadcasters that are just terrible. You just mute them. Just f***ing throw on some music. It's bad.
Most national broadcasts in 2021 — maybe it was different 15 years ago, it felt like it was good — it just doesn't feel like it's that good anymore. There are so many players, so many injuries, so many moving parts. That's a tough job for the analysts. I'm not saying it's easy. So even the guys that suck, it's hard. I wouldn't want to do it.
BN: By the way, I get a little bit of a Philip Rivers vibe from you. Just in terms of your energy and cadence.

JM: I appreciate that.

BN: You curse. Phil doesn't. Other than twang and cursing, I sense some Phil.


JM: No children yet.

BN: [Laughs] Maybe there are like nine on the way for you.
Keeping Premier League Games Shouldn't Be A Hard Call For NBC
"Beyond its massive global fanbase, the Premier League offers NBC/Peacock a unique modern 21st-century sport for the short attention span of fans."
NBC Sports is facing some tough, costly decisions that will define its sports brand for the rest of this decade.  A chance to connect with viewers in a changing climate and grow Peacock's audience as well.  However, making the right choice is paramount to not losing to apps like Paramount+ (pun intended).
NBC is currently in the business of negotiating to continue airing the Premier League as their current deal ends after this 2021-2022 season. NASCAR is contracted to NBC (and FOX) through the 2024 season.
NBC's tentpole sports are the NFL and the Olympics.
Negotiations for the EPL are expected to go down to the wire. Rather than re-up with NBC, the league is meeting with other networks to drive up the price. NBC has to then make a decision if the rights go north of $2 billion.
Should NBC spend that much on a sport that is not played in the United States? It's not my money, but that sport continues to grow in the US.
If NBC re-ups with the Premier League, will that leave any coins in the cupboard to re-up with NASCAR? Comcast CEO Brian Roberts hinted that there might be some penny pinching as the prices continue to soar. This may have been one of the reasons that NBC did not fight to keep the National Hockey League, whose rights will be with Disney and WarnerMedia through ESPN and TNT, respectively.
"These are really hard calls," Roberts said. "You don't always want to prevail, and sometimes you're right and sometimes you're wrong, but I think the sustainability of sports is a critical part of what our company does well."
Roberts was speaking virtually at the recent Goldman Sachs 30th Annual Communacopia Conference. He told the audience that between NBC and European network Sky, that Comcast has allocated approximately $20 billion towards these sports properties.
Comcast CFO Michael Cavanagh spoke virtually at the Bank of America Securities 2021 Media, Communications and Entertainment Conference and echoed that the company is in a good position to make some strong choices in the sports realm.
"The bar is really high for us to pursue outright acquisitions of any material size," Cavanagh added. "We got a great hand to play with what we have."
While the European investments involve a partnership with American rival Viacom, the US market seems to have apparent limits.
Last Saturday's NASCAR Cup Series at Bristol Motor Speedway was seen by around 2.19 million people. It was the most-watched motorsports event of the weekend. That same week eight different Premier League matches saw over 1 million viewers. More than half of those matches were on subscription-based Peacock. 
Beyond its massive global fanbase, the Premier League offers NBC/Peacock a unique modern 21st-century sport for the short attention span of fans. A game of typical soccer fan is used to a sport that is less than two hours long. The investment in a team is one or two games a week. 
My connection to the Premier League began before the pandemic. When I cut the cord in late 2017, I purchase Apple TV. Setting it up, it asks you to name your favorite teams. After clicking on the Syracuse Orange and the New Jersey Devils, I recalled that my wife has family based in London, England. They are season ticket holders for Arsenal, and that family redefined the word "die-hard" fans.
I've long been a believer that sports allegiances are best when handed down by family. I love hearing stories of people loving the New York Giants because their parents liked them, and they pass it down to their children.
I've successfully given my allegiance to the Devils to my young daughters.
By telling Apple TV that I liked Arsenal, I get alerts from three different apps when the "Gunners" are playing. The $4.99 is totally worth it to see Arsenal.
Whenever I told this story, I was amazed to see how many other American sports fans had a Premier League team. Students of mine at Seton Hall University rooted for Tottenham Hotspurs, while an old colleague cheers on Chelsea.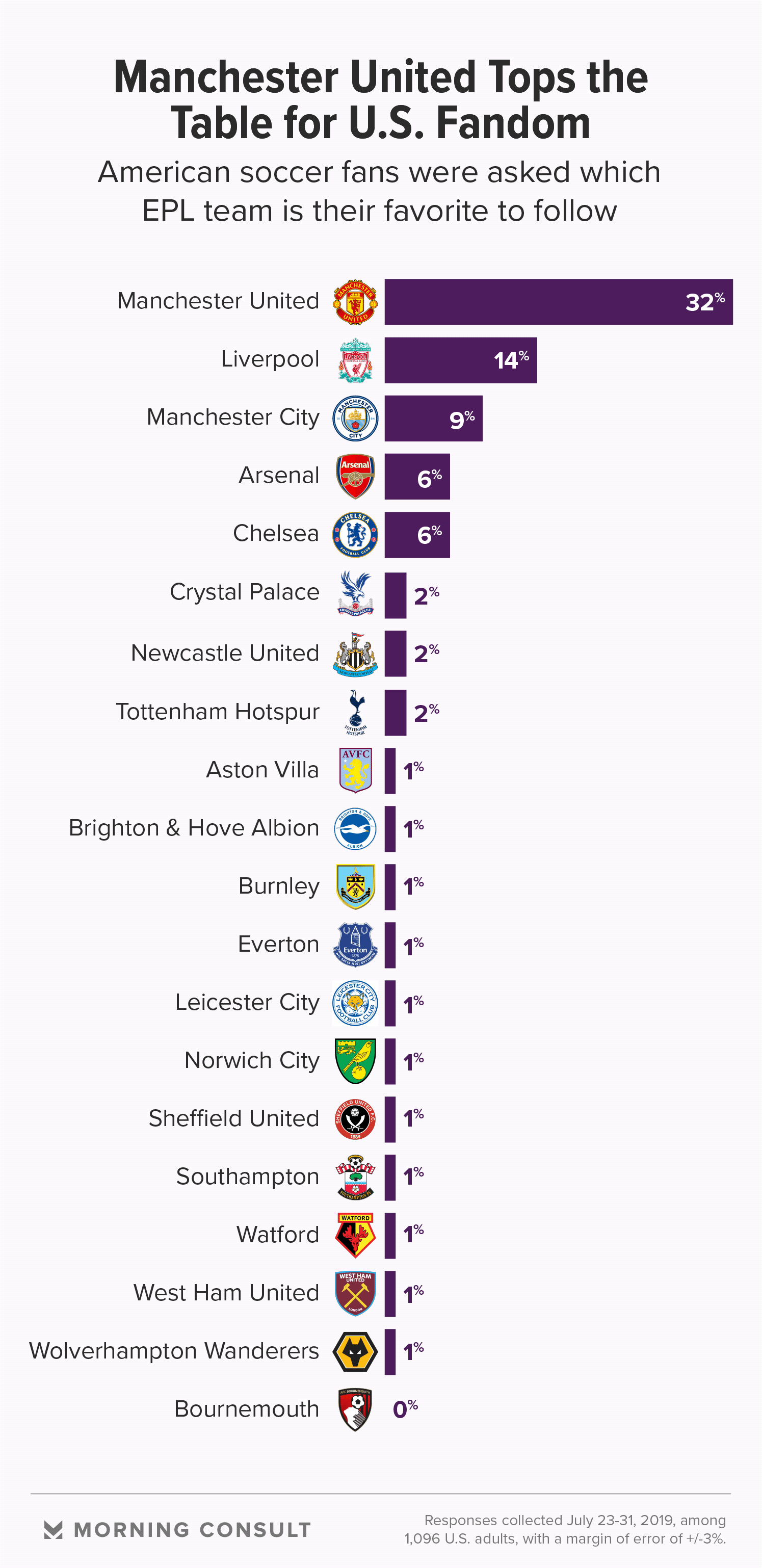 This is not meant to say that NBC should sign the EPL on my account. The key for any US-based soccer fan is that between Bundesliga, Serie A, and other leagues, there will be no shortage of soccer available on both linear television and streaming services.
Besides, Dani Rojas did say that "Football is life." NBC, originator of the Ted Lasso character, should make keeping its Premier League US connection a priority.
Today, Demetri is joined by Tyler McComas and Russ Heltman. Tyler pops on to talk about the big start to the college football season on TV. Russ talks about Barstool's upfront presentation and how the business community may not see any problems in working with the brand. Plus, Demetri is optimistic about FOX Sports Radio's new morning show.
Podcast: Play in new window | Download
Subscribe: RSS
6 Ad Categories Hotter Than Gambling For Sports Radio
"Using sports radio as a back page service for gambling will have a limited shelf life."
For years sports radio stations pushed sports gambling advertisers to early Saturday and Sunday morning. The 1-800 ads, shouting, and false claims were seedy, and some stations wouldn't even accept the business at 5 am on Sunday.
Now, with all but ten states ready to go all in on sports gambling, sports radio stations can't get enough of that green. Demetri Ravanos wrote about the money cannon that sports gambling has become for stations. Well, what if you are in one of those ten states where it isn't likely to ever be legal like California or Texas? Where is your pot of gold?
Or, let's face it, the more gambling ads you run, the more risk you take on that the ads will not all work as you cannibalize the audience and chase other listeners away who ARE NOT online gambling service users and never will be. So, what about you? Where is your pot of gold?
Well, let's go Digging for Gold.
The RAB produces the MRI-Simmons Gold Digger PROSPECTING REPORT for several radio formats. In it, they index sports radio listeners' habits against an average of 18+ Adult. The Gold Digger report looks at areas where the index is higher than the norm – meaning the sports radio audience is more likely to use the product or service than an average 18+ Adult who doesn't listen to sports radio. The report, generated in 2020, indicates that sports radio listeners are 106% more likely to have used an online gambling site in the last thirty days. That's impressive because the report only lists 32 activities or purchases a sports radio listener indexes higher than an average adult. I looked at those 32 higher indexes, and I think we can start looking for some gold.
Using sports radio as a back page service for gambling will have a limited shelf life. The gambling companies who commit significant money to get results will continue advertising and chase the others away. So, the future of sports radio needs to include other cash cows.
If it is evident to online sports gambling services that sports radio stations are a must-buy, who else should feel that way?  I looked at the Top 32 and eliminated the media companies. ESPN, MLB/NHL/NFL networks, and others aren't spending cash on sports radio stations they don't own in general. But Joseph A Bank clothing, Fidelity, and Hotwire should! Here's your PICK-6 list I pulled together that's hotter than sports gambling:
Sportscard collectors, Dapper Labs, Open Sea- read about Sports NFT $.
Online brokerage firms-Fidelity, Charles Schwab, Robinhood, Webull, TD Ameritrade
Golf courses, resorts, equipment, etc.- we play golf at home and vacation
Hotwire.com, Booking.com, TripAdvisor, Airbnb, Carnival Corporation, and Priceline.com- we've used Hotwire in the last year.
FedEx, UPS, U.S. Postal Service, Venmo, PayPal, Zelle-we wired or overnighted $
Jos. A. Bank, shein.com, macys.com, nordstroms.com- we went to Jos. A. Bank in last three months
The sports card/NFT market is 32% hotter than the sports betting market for sports radio listeners. Everything on the PICK-6 is at least 100% more likely to purchase than an average 18+ Adult who doesn't listen to sports radio. All listed are at or above indexing strength compared to sports betting. The individual companies I added are industry leaders. Bet on it! Email me for details.