Drew Brees's Hair Becomes Star Of NFL's Opening Night
"The newly minted NBC analyst was apparently the beneficiary of recent growth! His hairline moved forward by a considerable amount."
Forget Tom Brady and the Buccaneers. Drew Brees stole the show in the first NFL game of the season. More specifically, his hair stole the show.
When we last saw the future hall-of-famer suiting up for the Saints, he looked like this.
On Thursday night for his TV debut, he looked like this.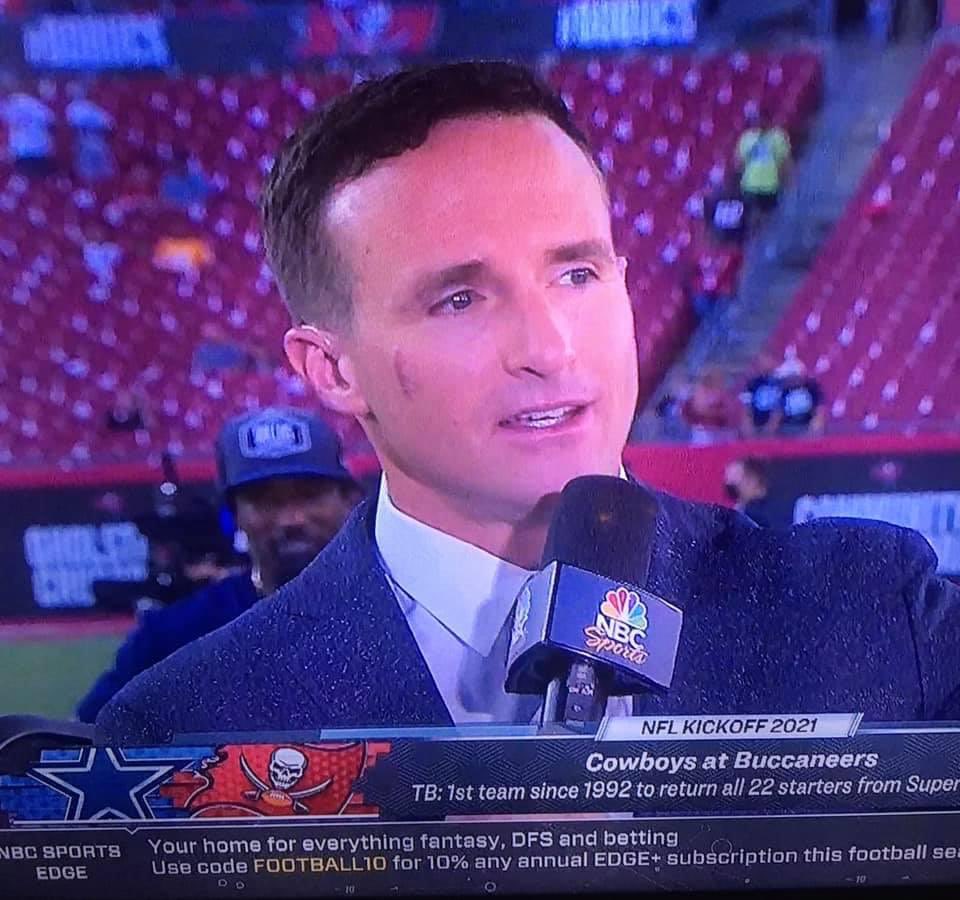 The newly minted NBC analyst was apparently the beneficiary of recent growth! His hairline moved forward by a considerable amount.
While he is receiving mostly positive reviews for his analysis of the game, Drew Brees was the subject of social media chatter relating to his hairline. It came in from fans and sports media colleagues alike.
The staff of the Dan Le Batard Show took it a step further. In their postgame show, Mike Ryan commented not just on the hair, but on the fresh tan Drew Brees was showing off as well remarking "what a glow up!".
Dan Patrick really should get some credit here. Even before Brees made his retirement official, Patrick noticed the revitalized hairline. That was all the evidence he needed that Drew Brees's playing days were over.
"That's the tip off," Patrick said in March on his FOX Sports Radio show. "Drew Brees is truly retiring because he now has a full head of hair. I don't know where he got it, but he has a full head of hair, he is ready for TV."
It will be fun to see how or if this conversation continues in the coming weeks. Between Football Night in America and Notre Dame games, Drew Brees will be on television plenty. Surely at some point, if the social chatter continues, he or one of his colleagues will have to address it.
Diamond Sports Group Makes Rights Payment to San Diego Padres
Earlier reports on the matter claimed that Bally Sports San Diego loses $20 million per season on the current deal with the Padres.
Diamond Sports Group has reportedly made its rights fee payment to the San Diego Padres, which averted triggering a clause in the contract that would revert the clubs television rights back to MLB.
Earlier this month, Diamond Sports Group — which operates the Bally Sports-branded regional sports networks — admitted it had not paid the Arizona Diamondbacks. Reports then surfaced that in bankruptcy proceedings, the company would look to get out of its contracts with the Padres, Cincinnati Reds, and Cleveland Guardians in addition to the Diamondbacks.
Earlier reports on the matter claimed that Bally Sports San Diego loses $20 million per season on the current deal with the Padres.
During a Wednesday appearance on 97.3 The Fan, the team's flagship radio home, Padres CEO Erik Greupner said he had been given assurances that payment would be given to the team before the grace period deadline eclipsed, which was at 11:59 PM tonight.
San Diego's Opening Day is tomorrow, and had the cable channel failed to make its payment, MLB has previously said it would step in to produce and distribute any games that had seen disruptions due to the downfall of either the Bally Sports or AT&T SportsNet regional sports networks.
Sports Business Journal reports Diamond Sports Group was motivated to make its rights fee payment to the Padres due to the team's likelihood of on-field success in 2023. With star players like Manny Machado, Fernando Tatis Jr., Juan Soto, Xander Bogaerts, and Yu Darvish, the team is expected to be a World Series contender.
Dan Orlovsky: Stephen A. Smith Allows Me to Be Me on First Take
"He's not focused on having this intense 'I've got to be right moment'. He just wants to have fun talking football and arguing about sports in general."
Dan Orlovsky has become a regular presence on ESPN whether it's calling football games as an analyst or talking about the game on NFL Live, Get Up, or First Take and he loves every job that he gets to do.
Orlovsky was a guest on the most recent episode of GOLF's SUBPAR with Colt Knost and Drew Stoltz. When he was asked what he likes doing the best out of all of the things he gets to do, he mentioned that it's a question he gets all the time and he dove into why he loves each of the roles he has.
"I love them all to be honest with you. We get asked that question all the time by executives: What's your end goal? What do you want to do more of? What do you want to do less of? I always say I love it all. If you get a good live game, it's nails. There's nothing that beats a good live game. Really in college football, if you get the right scene, right setting, and get a great game, it's tough to beat…If you get a good college football or NFL game, those are great.
"First Take is a blast because Stephen A. called me 2 years ago and was like I want to give you Thursdays. Thursday is going to be your day. I think the thing that gave me so much joy in doing Thursdays with Stephen A. is he's so 'Go be yourself'. He's not focused on having this intense 'I've got to be right moment'. He just wants to have fun talking football and arguing about sports in general. I love doing First Take.
 "I love doing Get Up because it kind of was where I got started and they've given me a lot of creative freedom. NFL Live is my favorite when it comes to I'm with people who I love. Those people are like family to me. That's where I am my most nerd is NFL Live. I love it all."
When Orlovsky was discussing more about working with Smith, he talked about how all Smith wants to do is talk sports and that conversations that extend into the commercial break never get personal even though some could view them as awkward.
"One of the first times I did First Take, we were in commercial break and I was sitting there talking to Stephen A. about whatever. All of a sudden when you are on set, someone yells 15 seconds till we are live. Stephen A says what's the topic?
Live TV comes on and he goes from this casual conversation to performance. I think that's empowering when you see him do that because that's part of that show. He takes a ton of pride in it, but it's not fake. It's just who he is in that moment. He's not overly sensitive. He's never going to get defensive about stuff. He just literally wants to chop it up and argue and disagree and have entertaining sports conversations. It could be viewed as awkward, but it's never personal."
When Orlovsky first became a part of the media, he told Knost and Stoltz he learned the power of making a list and that when coming up with a Top 5, it should be something that generates conversation.
"I learned early on in this business lists are supposed to be disagreed upon. If you make a list and everyone's like 'I kind of agree', it's boring. I am aware when I make lists of trying to make something that is going to generate conversation, generate disagreement. I'm not going to make a list that I don't think is accurate or don't think is something I stand by. I've had guys reach out to me and be like 'What the heck is this all about?'. I have had agents text me. They text me all the time saying 'What are you doing? You are driving value'.
"I am aware I am on ESPN a ton. I try to be very conscious of that as well. I have had guys and agents reach out a bunch, but I have to do my job the best I can."
Even though Orlovsky had a solid career as a backup in the NFL, he said that he is having more fun now because of the success that he is having.
"I am better at this than I was as a player. Once you settle into that role, it's really cool as a backup, but you don't have any competitive release though. You do all the work as everyone else, but you don't get to go out on Sundays and prove that work was worth it. I love doing this now because there's an aspect of taking immense pride in trying to find something that you can be really good at after you were really good at something…It's another opportunity to find a way to be really good at something and have that as a daily challenge."
Ricky Keeler is a reporter for BSM with a primary focus on sports media podcasts and national personalities. He is also an active podcaster with an interest in pursuing a career in sports media. You can find him on Twitter @Rickinator555 or reach him by email at RickJKeeler@gmail.com.
Sean McManus: LIV Golfers Won't Get Different Treatment During The Masters
"We're not gonna put our heads in the sand."
CBS Sports is preparing for coverage of its 68th consecutive year of The Masters, but the 2023 event could prove to be unlike any before it, and CBS Sports Chairman Sean McManus is cognizant of the situation.
After several former Masters champions departed the PGA Tour for the upstart LIV Golf, many pondered what that meant for the sport's major championships. The Masters decided to continue to allow the golfers who are now playing exclusively with the Saudi-backed league to compete for the green jacket. McManus shared that CBS will continue the showcase the golfers as it always has.
"We're not gonna cover up or hide anything," McManus said, as reported by Golf Digest. "As I've said so often, our job is to cover the golf tournament. We're not gonna show any different treatment for the golfers who have played on the LIV tour than we do the other golfers. And if there's a pertinent point or something that we need to, or we feel that we should bring up in our coverage on Saturday and Sunday, or on our other coverage throughout the week, you know, we're not gonna put our heads in the sand.
"Having said that, unless it really affects the story that's taking place on the golf course, we're not gonna go out of our way to cover it. I'm not sure there's anything that we could add to the story as it already exists. We'll cover it as, as is suitable."