Saturdays Are Better Than Sundays For Football Fans
"While the NFL will never be able to provide the overall volume college football does, it is insane the owners have not realized the benefits of providing access to more games in more windows than they currently do."
As a television product, college football has absolutely left the NFL in the dust.
I grew up in the South. I still live in the South. There is a good chance I would believe this even if it weren't true, so feel free to dismiss this opinion if it makes you feel better. But if you search your heart, you will know I am right.
Now, am I saying the football is better? No, of course not. By definition how can amateurs be better at anything than professionals? The advantages for college football all manifest themselves in the way we consume the sport as fans.
Granted, some of those are the result of things the NFL cannot change. There are 130 FBS college football teams compared to just 32 NFL teams. College football is everywhere on a Saturday, both in terms of linear TV and streaming platforms. That is the result of an inventory load the NFL just cannot match.
The NFL recently signed a slew of new TV contracts. While the league wasn't suddenly going to add 100 new franchises, there was an opportunity to try something new in terms of presentation. The owners chose not to though. While that is understandable considering that their product currently sits fat and happy atop the American sports pantheon, I couldn't help but wonder how the NFL doesn't see just how much better and more fan-friendly Saturdays are than Sundays.
This past Saturday, when games kicked off in the early window, I could pick between games on ABC, ACC Network, Big Ten Network, CBS Sports Network, ESPNU, ESPN2, FOX, FS1, and the SEC Network. With some digging in the 600s on DirecTV, I could find three regionally syndicated games on the various Bally Sports channels as well. On top of that, there were ten games streaming on ESPN+ at the time. That is 22 different games that I could pick between. That is more games than you get all day in the NFL schedule in just one broadcast window. My remote and my iPad definitely got a workout. By the time we got to primetime, the number of choices was closer to 35 games I could pick between.
While the NFL will never be able to provide the overall volume college football does, it is insane the owners have not realized the benefits of providing access to more games in more windows than they currently do. There is a strategy to their decision, albeit an outdated one. The idea is to limit what you can see for free to three or four games during the daytime hours. If you want the full smörgåsbord, you have to fork over the cost for NFL Sunday Ticket, which starts at nearly $300.
The regional exclusivity also seems like a remnant of a bygone era. College football used to do this too, but about a decade ago, Disney recognized there being value in rethinking the regional division in its 3:30 pm window on ABC. Now, instead of that being about which part of the country has access to which game it is about which part of the country has access to which game on which network. Everyone gets to see everything. It is just that depending on where you live, one will be on ABC and the other will be on ESPN2. Why? Because plenty of people in Florida still want to watch the Big Ten.
Between gambling and fantasy football, how has Roger Goodell not realized how much more fan loyalty nationwide access to the full slate of games would engender?
I had the opportunity to speak with Mark Leibovich three years ago. He turned unrestricted access to Roger Goodell, Tom Brady, and league owners into the book Big Game. It is really good. You should read it if you love football.
Mark's position on the future of the sport and of the NFL is that the people at the top still think about media like it is 1999. There are smart people on the level below them, but old man thinking still routinely wins out because the old men are the ones with the wallets. That is why the NFL still touts ratings that are more meaningless than ever before.
NFL Sunday Ticket will likely soon be gone from DirecTV. The hot rumor is that Amazon is the leader in the clubhouse to become the new home for the package. John Skipper of Meadowlark Media predicted just last month that we are going to soon see a Super Bowl go to pay-per-view.
What college football conferences get right that the NFL gets so wrong is that the college game rings money from broadcasters, not from fans. Sure, the NFL gets billions from its TV rights, but then goes and tries to squeeze every last cent out of gamblers, bars and restaurants. That is playing in a marketplace overwhelmingly populated by people that have to do some serious math about whether or not they can afford to watch as many of your games as they want. Even the ones that don't invest in Sunday Ticket themselves have to make lifestyle decisions about how much of their Sundays they can really afford to spend at Applebee's.
Doesn't it make more sense to focus commerce exclusively on television networks? They view football as an investment, not a product.
Imagine the price tag the league could put on a third package of daytime games. Do you realize how many bidders there would be if instead of breaking the Sunday afternoon packages up by conference, it broke those games into A, B, and C-tiers? And what about a second primetime game on Sundays? Keep Thursdays and Mondays exclusive, but just like on Saturday nights, we should be able to flip between games on Sundays. It is the last moment of work concerns being held at bay and football dominating our thoughts.
Follow this model and you have ten games on nationally every week. Bring back local broadcast rights for the other 4-6 games each week, make Sunday Ticket something more in-line with a streaming service and it is a virtual certainty more people will pay the price for it. Remember, the model for broadcasting success that follows how many people are watching is over. We now live in an age of "what can you sell for a premium price?". More NFL football on TV means more premium inventory.
NFL football is a commodity in the broadcast world. Just like diamonds or oil, restricting the supply means the people that control the monopoly can charge whatever they want. You can shake your fist and say that this is economically unjust and that is true, but the league controls the supply. What can fans do about it?
Nothing! And that is what the NFL needs to realize. If they keep restricting access to games in a way that drives prices for Sunday Ticket higher and higher and then put a $100 price tag on the Super Bowl, the only possibilities are people pay or they choose to go without or they find a way to watch a bootleg stream that nets no money for the league.
College football gives its fans more games than they can reasonably consume. The fans love it, and college football got here on accident! The FBS is a waring mass of city states, ten conferences trying to gain supremecy over the others when it isn't even clear if they are all playing the same game.
Roger Goodell is a smart guy. A lot of team owners are smart guys. Surely they can look at what happened to college football on accident and see the financial benefits that exist for the league by copying that model in a more startegic way.
Keeping Premier League Games Shouldn't Be A Hard Call For NBC
"Beyond its massive global fanbase, the Premier League offers NBC/Peacock a unique modern 21st-century sport for the short attention span of fans."
NBC Sports is facing some tough, costly decisions that will define its sports brand for the rest of this decade.  A chance to connect with viewers in a changing climate and grow Peacock's audience as well.  However, making the right choice is paramount to not losing to apps like Paramount+ (pun intended).
NBC is currently in the business of negotiating to continue airing the Premier League as their current deal ends after this 2021-2022 season. NASCAR is contracted to NBC (and FOX) through the 2024 season.
NBC's tentpole sports are the NFL and the Olympics.
Negotiations for the EPL are expected to go down to the wire. Rather than re-up with NBC, the league is meeting with other networks to drive up the price. NBC has to then make a decision if the rights go north of $2 billion.
Should NBC spend that much on a sport that is not played in the United States? It's not my money, but that sport continues to grow in the US.
If NBC re-ups with the Premier League, will that leave any coins in the cupboard to re-up with NASCAR? Comcast CEO Brian Roberts hinted that there might be some penny pinching as the prices continue to soar. This may have been one of the reasons that NBC did not fight to keep the National Hockey League, whose rights will be with Disney and WarnerMedia through ESPN and TNT, respectively.
"These are really hard calls," Roberts said. "You don't always want to prevail, and sometimes you're right and sometimes you're wrong, but I think the sustainability of sports is a critical part of what our company does well."
Roberts was speaking virtually at the recent Goldman Sachs 30th Annual Communacopia Conference. He told the audience that between NBC and European network Sky, that Comcast has allocated approximately $20 billion towards these sports properties.
Comcast CFO Michael Cavanagh spoke virtually at the Bank of America Securities 2021 Media, Communications and Entertainment Conference and echoed that the company is in a good position to make some strong choices in the sports realm.
"The bar is really high for us to pursue outright acquisitions of any material size," Cavanagh added. "We got a great hand to play with what we have."
While the European investments involve a partnership with American rival Viacom, the US market seems to have apparent limits.
Last Saturday's NASCAR Cup Series at Bristol Motor Speedway was seen by around 2.19 million people. It was the most-watched motorsports event of the weekend. That same week eight different Premier League matches saw over 1 million viewers. More than half of those matches were on subscription-based Peacock. 
Beyond its massive global fanbase, the Premier League offers NBC/Peacock a unique modern 21st-century sport for the short attention span of fans. A game of typical soccer fan is used to a sport that is less than two hours long. The investment in a team is one or two games a week. 
My connection to the Premier League began before the pandemic. When I cut the cord in late 2017, I purchase Apple TV. Setting it up, it asks you to name your favorite teams. After clicking on the Syracuse Orange and the New Jersey Devils, I recalled that my wife has family based in London, England. They are season ticket holders for Arsenal, and that family redefined the word "die-hard" fans.
I've long been a believer that sports allegiances are best when handed down by family. I love hearing stories of people loving the New York Giants because their parents liked them, and they pass it down to their children.
I've successfully given my allegiance to the Devils to my young daughters.
By telling Apple TV that I liked Arsenal, I get alerts from three different apps when the "Gunners" are playing. The $4.99 is totally worth it to see Arsenal.
Whenever I told this story, I was amazed to see how many other American sports fans had a Premier League team. Students of mine at Seton Hall University rooted for Tottenham Hotspurs, while an old colleague cheers on Chelsea.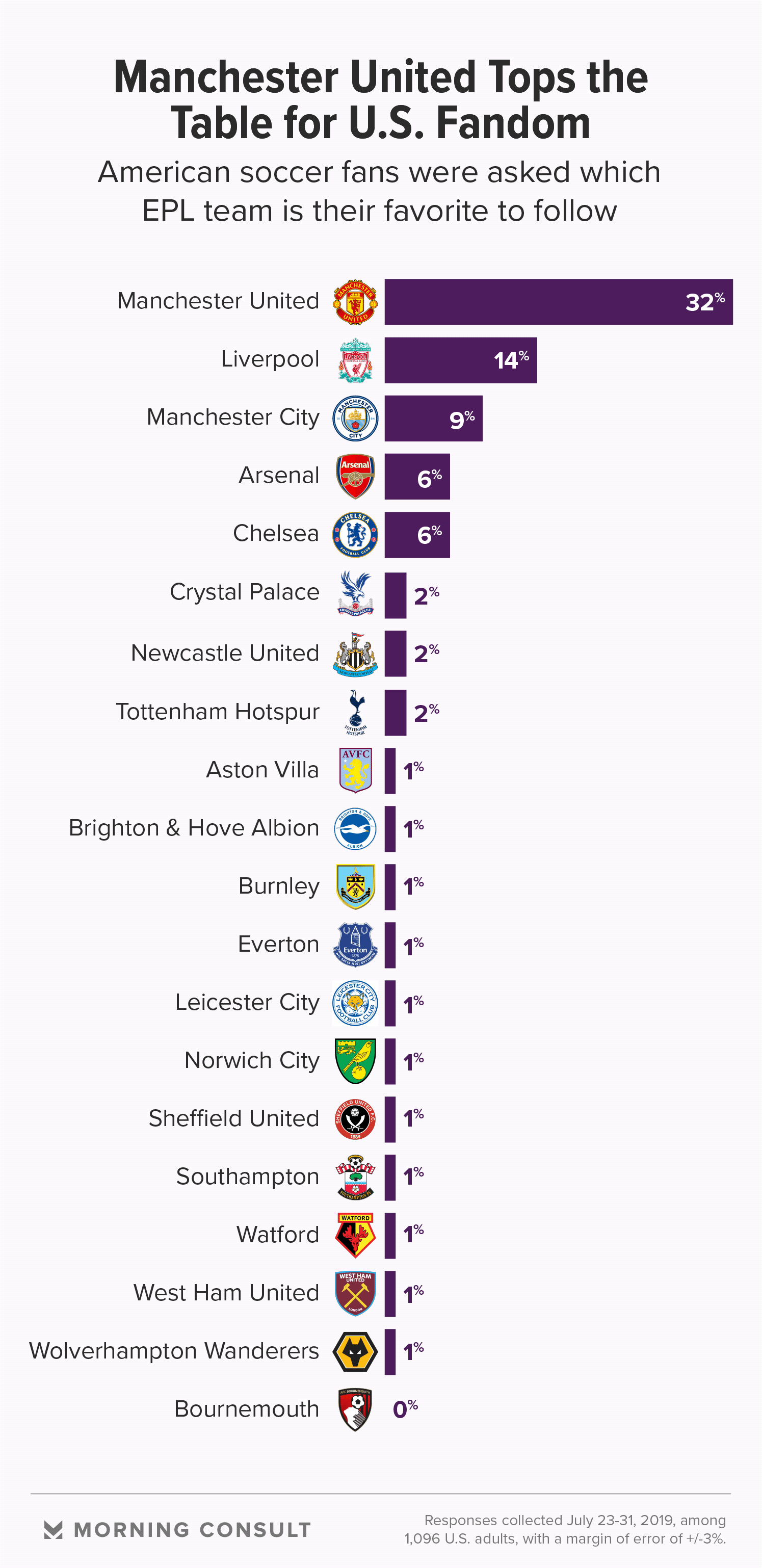 This is not meant to say that NBC should sign the EPL on my account. The key for any US-based soccer fan is that between Bundesliga, Serie A, and other leagues, there will be no shortage of soccer available on both linear television and streaming services.
Besides, Dani Rojas did say that "Football is life." NBC, originator of the Ted Lasso character, should make keeping its Premier League US connection a priority.
Today, Demetri is joined by Tyler McComas and Russ Heltman. Tyler pops on to talk about the big start to the college football season on TV. Russ talks about Barstool's upfront presentation and how the business community may not see any problems in working with the brand. Plus, Demetri is optimistic about FOX Sports Radio's new morning show.
Podcast: Play in new window | Download
Subscribe: RSS
6 Ad Categories Hotter Than Gambling For Sports Radio
"Using sports radio as a back page service for gambling will have a limited shelf life."
For years sports radio stations pushed sports gambling advertisers to early Saturday and Sunday morning. The 1-800 ads, shouting, and false claims were seedy, and some stations wouldn't even accept the business at 5 am on Sunday.
Now, with all but ten states ready to go all in on sports gambling, sports radio stations can't get enough of that green. Demetri Ravanos wrote about the money cannon that sports gambling has become for stations. Well, what if you are in one of those ten states where it isn't likely to ever be legal like California or Texas? Where is your pot of gold?
Or, let's face it, the more gambling ads you run, the more risk you take on that the ads will not all work as you cannibalize the audience and chase other listeners away who ARE NOT online gambling service users and never will be. So, what about you? Where is your pot of gold?
Well, let's go Digging for Gold.
The RAB produces the MRI-Simmons Gold Digger PROSPECTING REPORT for several radio formats. In it, they index sports radio listeners' habits against an average of 18+ Adult. The Gold Digger report looks at areas where the index is higher than the norm – meaning the sports radio audience is more likely to use the product or service than an average 18+ Adult who doesn't listen to sports radio. The report, generated in 2020, indicates that sports radio listeners are 106% more likely to have used an online gambling site in the last thirty days. That's impressive because the report only lists 32 activities or purchases a sports radio listener indexes higher than an average adult. I looked at those 32 higher indexes, and I think we can start looking for some gold.
Using sports radio as a back page service for gambling will have a limited shelf life. The gambling companies who commit significant money to get results will continue advertising and chase the others away. So, the future of sports radio needs to include other cash cows.
If it is evident to online sports gambling services that sports radio stations are a must-buy, who else should feel that way?  I looked at the Top 32 and eliminated the media companies. ESPN, MLB/NHL/NFL networks, and others aren't spending cash on sports radio stations they don't own in general. But Joseph A Bank clothing, Fidelity, and Hotwire should! Here's your PICK-6 list I pulled together that's hotter than sports gambling:
Sportscard collectors, Dapper Labs, Open Sea- read about Sports NFT $.
Online brokerage firms-Fidelity, Charles Schwab, Robinhood, Webull, TD Ameritrade
Golf courses, resorts, equipment, etc.- we play golf at home and vacation
Hotwire.com, Booking.com, TripAdvisor, Airbnb, Carnival Corporation, and Priceline.com- we've used Hotwire in the last year.
FedEx, UPS, U.S. Postal Service, Venmo, PayPal, Zelle-we wired or overnighted $
Jos. A. Bank, shein.com, macys.com, nordstroms.com- we went to Jos. A. Bank in last three months
The sports card/NFT market is 32% hotter than the sports betting market for sports radio listeners. Everything on the PICK-6 is at least 100% more likely to purchase than an average 18+ Adult who doesn't listen to sports radio. All listed are at or above indexing strength compared to sports betting. The individual companies I added are industry leaders. Bet on it! Email me for details.