Jon Gruden Put On A Clinic In How Not To Apologize
"In one short paragraph, I counted a single mention of Smith, while Gruden referred to himself 13 times."
It has been said that failure is the best teacher. I believe that not only can lessons be learned from our own failures, but the shortcomings of others can provide excellent examples of what not to do as well. Former Las Vegas Raiders head coach Jon Gruden has recently put on a clinic of what not to do. 
Gruden described NFL Players Association executive director DeMaurice Smith by using racist language in a July 2011 email. According to the Wall Street Journal in a story that broke last Friday, Gruden wrote, "Dumboriss Smith has lips the size of michellin (sic) tires."
 
As disgraceful as that message was, it was just the tip of the iceberg. By Monday evening, Gruden had resigned as head coach of the Raiders. The turn of events followed a New York Times report that uncovered numerous emails from Gruden over a seven-year period that were racist, anti-gay and misogynistic in nature.
 
Well, as Ron Burgendy once said, that escalated quickly.
There was speculation last weekend that Gruden might be fined or possibly suspended for the email about Smith. After many more unacceptable messages were uncovered, Gruden is now unemployed altogether.
 
Gruden's apology following the Raiders 20-9 loss to the Chicago Bears on Sunday was a red flag to me. See if you notice a pattern here:
"All I can say is that I'm not a racist. I can't tell you how sick I am. I apologize to D. Smith, but I feel good about who I am and what I've done my entire life. I apologize for the insensitive remarks. I had no racial intentions with those remarks at all. I'm not like that at all. I apologize, but I don't want to keep addressing it."

Jon Gruden

That apology had way more to do with Gruden than Smith. In one short paragraph, I counted a single mention of Smith, while Gruden referred to himself 13 times. "I'm not a racist." "I feel good about who I am." "I'm not like that at all."
Me, me, me.
 
Anybody who is truly sorry about screwing up is more concerned about who they offended, not their own reputation. That wasn't the case with Gruden. He was more focused on letting us know that he didn't have a racist bone in his body. Supposedly.
 
How would you feel if a person that harmed you was focused on themselves? If a driver runs a red light and smashes into your car, it's one thing for that person to say, "I'm so sorry. Are you okay?" It's quite another for the driver to say, "Ya know, I don't have a bad-driving bone in my body. I feel good about the driving I've done my entire life."
 
I'd be looking at that person sideways while searching for loose debris to hurl at him. 
This brings up an interesting question; do you accept an apology that isn't sincere from a person who clearly doesn't get it? Gruden said he isn't a racist, but he might be up for an Oscar for playing the role of a racist convincingly well. Whether you accept the apology in a similar instance is a personal choice. You'd at the very least hope the person apologizing is truly sorry though.

Gruden provided us all with a blueprint on how not to behave; especially for people in the sports radio industry that are also public figures. Here are three main points:

First off, don't be a rectum. That's pretty simple. Uplift people instead of condemning them. Look, I understand you might not sound like Mother Teresa when involved in a minor Twitter scrum with a troll. But you can't toss out insults that offend others who aren't even involved in the conversation.
It's a horrible idea to crack on a person's race, religion, gender, or sexual orientation. Gruden offended many more people than Smith while criticizing his lips, and many more people than former defensive lineman Michael Sam when he referred to gay football players as "queers."
 
Next, if you do make a major mistake, own it. There are so many atrocious apologies in the sports world and beyond. "This isn't a reflection of my behavior. This doesn't show my true character."
Yes, the hell it does. It also reveals a lack of character when you wrong someone else, yet still focus on yourself. It isn't about you. It's about who you disrespected. Just own the wrongdoing. "There's no excuse for what I said/did. It was dead wrong. I'm so sorry."

Lastly, behave as if you're on the record. This one is easy to forget. Gruden clearly forgot that his email diatribes could be uncovered. Urban Meyer forgot that basically getting a lap dance in HIS Columbus bar could be filmed. Donald Sterling forgot that spewing racism on phone calls might be recorded. Truly being off the record rarely exists for public figures.

This isn't to say poor Gruden, Meyer, and Sterling. I'm saying, hey bozos, don't give them anything to uncover.

When I was doing a sports talk show in Portland, something strange happened to me at a station event. I was standing around minding my own business when a girl intentionally banged into me from behind while her brother filmed it. They were upset that I said the defending champion Philadelphia Eagles were overrated and wouldn't make the playoffs. Yeah, seriously. They were trying to set me up.

If I would have said, "Watch where you're going, you bleepity bleep bleep," my employer might have watched the video and said, "You know what? Buh bye."

There will always be people with cell phones looking to expose you and newspaper writers searching for juicy stories. Don't give them what they want. If you simply behave, they have nothing to reveal.
Some people will say that Gruden should still be the Raiders head coach. They'll argue that he was sending private emails, and the standards were different back then, and blah blah blah. You can live in the should-be world, or you can live in the real world. It's your choice. In the real world, Gruden got exposed and is now unemployed. If you'd like to avoid the same outcome; be better than Gruden.
Are We On The Verge Of A Sports Radio Boom?
"The money won't create new stations on its own. Savvy marketers and sellers will have to recognize opportunities and act."
Tattoos are very much my midlife crisis. I had zero when I turned 39. By the time I turn 41, I will have at least 4. Currently, I am in the middle of getting a half-sleeve done on my right arm. It eventually will look like those old steamer trunks covered in stickers from the places my wife and I have traveled to. Since I can only handle the sensation of a tattoo for about two and a half hours before I have to tap out, we are doing one sticker design at a time. That means every couple of weeks, I sit down with my artist Neal and for two and a half hours we talk while he digs a needle into my skin.
Neal is awesome. He is a great talker and also great at getting a college football or Star Wars fact just wrong enough that I am compelled to correct him. This has to be on purpose because it occupies my mind and distracts me from the pain when he is working on areas where the skin is thinner and more sensitive.
This past Sunday, Neal told me that he had read my piece from last week about starting to bet on sports. Neal is also a big college football fan, but obviously not a media professional. He said that he had noticed more ads for sportsbooks during games, but it hadn't dawned on him that it was a brand new revenue stream for radio stations and TV networks and that it was eye-opening to learn about just how much some of these companies are spending on advertising.
He asked me a really good question. Even if the books have all of the money in the world to spend as irresponsibly as they want, at some point, networks run out of commercial time to sell, right? So what happens then?
That is when it hit me. I cannot speak for TV, but on radio, we are absolutely going to see new sports stations springing up soon. Anywhere gambling is legal is a potential market for sports radio expansion. Markets like Indianapolis and Phoenix, in states where wagering is legal and there is only one dominant sports brand seem particularly ripe for format flips. The same was true in Detroit and then Beasley turned on The Roar. The day mobile wagering becomes legal in North Carolina or Florida, you can bet someone will be ready to do the same in Charlotte and Tampa.
Not only can gambling money lead to more stations, but it could also lead to a more reliable and accurate way of measuring success. If the money is there, does the number matter? If advertisers, be they sportsbooks or sports bars, see the value of your product, it doesn't really matter how many people Nielsen says are listening. It matters that enough people are listening that clients see a payoff to their message being on your airwaves.
Dismiss this prediction if you want. I understand the reasons you might find it hard to believe. "If new stations were coming, don't you think they'd be here by now?" "If new stations are coming to take advantage of gambling money, it won't be traditional sports stations. It will be VSiN affiliates and small iHeart sticks branded "The Gambler" and small Audacy sticks carrying BetQL."
Maybe all of that is true. What I can say is true for sure is that anywhere there is demand, someone will show up to create supply. Which supply is more valuable to online sportsbooks: people already gambling or an audience full of potential new customers and players?
The money won't create new stations on its own. Savvy marketers and sellers will have to recognize opportunities and act. That will mean conversations with corporate leaders about the necessary investment to create quality local programming and why the payoff will be worth those costs.
Sports media has never been a hotter buy for advertisers. Sure, that is being led by one industry, but there is so much potential for piggybacking. I mentioned sports bars. Electronics would be another. Acknowledging reality, you have to admit that divorce attorneys likely would be in that group as well.
The environment for new sports stations to thrive doesn't need groundwork laid. It already exists in most states. All a company has to do now is develop its game plan and execute it successfully.
Gambling is the conduit here, not the framework. Sportsbooks want to spend money to advertise their services. That does not mean gambling is the only thing these stations have to talk about in order to get that cash.
Covid and the spread of legalized sports gambling coincided at the right time. There is money out there and there are talented programmers, producers, and hosts looking for work. Someone is going to see that and take advantage.
4 Sports Radio Hosts Answer 5 Questions About Facebook
"A significant part of sports radio's evolution involves broadcasting and disseminating its content to multiple platforms, one of which includes social media such as Facebook and Instagram."
Over the last week, Facebook has been dominating news headlines — for all the wrong reasons. A whistleblower, revealed in a 60 Minutes interview to be Frances Haugen, said the company's products "harm children, stoke division and weaken our democracy." One of the world's most valuable companies with a market cap of nearly $1 trillion, Facebook is the world's most heavily used social media platform, hosting 2.85 billion users who share photos, reconnect with old friends, shop for products and consume written and visual content. The company also owns Instagram, another popular social medium which has nearly 1.4 billion users of its own, and WhatsApp, the world's most heavily used instant messaging service.
Haugen, a former company employee who resigned this past April, copied internal research documents and provided her insight to several media outlets, including The Wall Street Journal, who published the information last week in a public impugnation of the ethical and moral standards of the company. As the former lead product manager in Facebook's civic misinformation department, Haugen testified in front of the U.S. Senate Committee on Commerce, Science and Transportation about the company's products that she considers to "deepen divides, destabilize democracies and make young girls and women feel bad about their bodies." Haugen's mission is to help reform social media, rendering them as net positives in mediated communication rather than allowing companies like Facebook to profit off of deception and dread.
A significant part of sports radio's evolution involves broadcasting and disseminating its content to multiple platforms, one of which includes social media such as Facebook and Instagram. With the recent negative headlines disquieting users and amplifying the conversation as it pertains to the regulation of social media, our own Demetri Ravanos suggested last week that it was time for sports media to leave Facebook. I put that theory to the test, asking several hosts across sports media how they utilize these channels of communication in the 21st-century, and how they see them continuing to be implemented in radio.
——-
How much access do you let listeners have to you on Facebook as opposed to other social media platforms?
Marc Hochman (Host, 560 WQAM/790 The Ticket Miami): "Zero. Facebook is reserved for friends and family. I have a queue of thousands of people over the last ten to fifteen years that have tried to be a Facebook friend. Twitter and Instagram are my two go-to platforms for my interaction with listeners. I try to be super active on both.."
Damon Amendolara (Host, CBS Sports Radio): "I certainly try to give them access in multiple ways. I do think there's a limit to access; I won't post everything that's personal to me. There needs to be some line where public figures have private lives. I try to be accessible as much as possible on as many different platforms as [I can so] my listeners get to know me. Ten years ago, we did a lot [on] Facebook. We found that the interaction there hasn't been what it once was. Twitter really took over as a go-to [platform,] and so did Instagram. We still use Facebook, but we use it less. Its usage has dropped [quite] precipitously over the last five years."
Maggie Gray (Host, WFAN): "It's really evolved for me. At the beginning, I was very closed off. When I first got hired at WFAN, the transition was so crazy, and I thought it would probably be best if I was not checking my mentions all the time. As I got more comfortable at WFAN, I started to ease it back a little bit, and started to really enjoy it. I've interacted with people a lot more."
Christian Arcand (Host, 98.5 The Sports Hub): "I'm not really on Facebook anymore, but I have an open Twitter and Instagram account. I used to be a lot more open with things before I was on the air. I think a lot of people come across that as they move up in the business — [I] never felt [it] to the point where I felt I had to delete a bunch of tweets."
In general, have hosts been helped or hurt more by having a social media presence?
Marc Hochman: "My personal experience is that it's helped because you get a deeper view into who the host is and what he or she is like outside of the show. I'm very careful about it. It hurts some [hosts] because people are very apt to be wildly unfiltered on Twitter and sometimes will go for a joke or a hot take. Besides [it] beyond falling flat, [it] can impact someone's career negatively if it's written poorly or not thought out. For me, social media has been great, but I'm sure there's a myriad of stories of social media even killing careers."
Damon Amendolara: "I think it can always help more than it hurts. Obviously, you have to hesitate on engaging in mean-spirited conversation, or when someone just wants to fight and argue. You have to put out there what is smart to put out there. We have seen so many people get in trouble with other stuff. Think through what you're saying and posting. You have to remember that your negative interactions are [usually] outweighed by positive or neutral ones, so I think, overall, giving listeners access, being able to publish your stuff and have more people consume it, and having people be able to see you in multiple lights is really important. I think a lot of people don't even listen to the show who are fans of my content; there's a percentage of my consumers that consume me only through social media."
Maggie Gray: ""I think it really comes down to the individual host. For all the flaws that social media has, I can't imagine doing this job without it, simply because it's where news is breaking [and] where you are trying to find a new audience. On the flip side, you're in a public space giving opinions, so with that you are naturally going to be drawing criticism just by virtue of what the job description is. It's about making sure you are weeding out and not paying too much attention to people who are either trolling you or arguing for arguments' sake."
Christian Arcand: "I think in some cases hosts have built their entire careers on social media — younger ones certainly — and some guys my age or older have used it to niche their brand and boost their message or content. I think there's also been some people who've had their careers ruined by it because I think we have all been in a bad mood one day and argued with people. You see that happen everyday on Twitter, and you hope that it's not you doing it. I think it's a double-edged sword in that way."
How does social media play a role in talent evaluation? Namely, does what people say or like in the past have an impact on their candidacy in a job search?
Marc Hochman: "If I were still hiring for the radio station, I absolutely would use social media as an indicator — not the be-all end-all in the decision — as to who I'm dealing with. When you are listening to someone's audition or reel, or having an interview with them, you're getting a brief and polished glimpse at a person. Social media gives you a more full-depth view of a person's proclivities and who a person is."
Damon Amendolara: "I certainly think so. I've certainly seen people get hired for certain jobs based only on their social media presence — networks, television stations, radio stations, etc. have simply looked at how many followers a person has and [sought to] leverage that into eyeballs for them. I'm sure it depends on every given scenario, but that's absolutely a factor in hires and some decision-making made across the industry. I don't think you can resent it; you simply have to accept it as part of the industry right now. You either get on that train or move aside. If you don't like that other people are benefiting [from] it, you have to be better [at it]."
Maggie Gray: "As someone who is in the public space and who is on social media a lot, I'm constantly thinking about it. I want to make sure that I'm coming across in a genuine, authentic way. I try to be as clear as I can, especially if I am tweeting jokes or trying to be funny. You have to make sure things are coming across in the way you mean it so it does not get misconstrued. As far as hiring practices, a program director or a manager would be better suited to answer that question. I noticed when I got hired at WFAN, people [online] had gone back through my social media and searched my entire feed. Nothing was bad or offensive — I would never do anything like that. The social media world went ahead and did the work to try to find something. I was surprised at first, but that's to be expected."
Christian Arcand: "I'm certainly nowhere near any hiring jobs right now, but I would imagine when someone's looking to hire a personality, they look to see if they have a social media following. I don't think anyone wants to hire anyone who puts stuff on social media that would embarrass them or the company. It's so common these days with everybody on some platform or another — you wouldn't be doing your job if you didn't go back and check it out."
How have the recent negative headlines about Facebook made you rethink your use of that platform and social media as a whole?
Marc Hochman: "I really use Facebook, again, just personally, and I use it for posting pictures of my family and, for me, it's like a video scrapbook. You have to remind yourself that Twitter and Instagram are not representative of real-life human-to-human interactions. I don't really give [either platform] too much credence because [they] become an echo-chamber, and oftentimes Twitter becomes mob mentality; very rarely does that kind of stuff rule in real life. I love it more for the interaction between listeners and hosts. The way that I use Twitter and Instagram is not just to promote the show on a daily basis; I use it to start conversations that are interesting to me. I like when conversations are heated about silly things. When social media isn't fun, [I ask] 'Why am I doing this?'"
Damon Amendolara: "For me, they're all individual. I took a long and hard look at Instagram before I got on there. I cultivated what I thought was a game plan to approach it, and, of course, that evolved as I went on; you see what works and what doesn't work. I did the same thing when I was originally on Snapchat; ultimately, I bailed on Snapchat because I did not think it was a benefit. Facebook, in 2006-2007, there's a value there. In 2008-2009, you kind of had to be there. Now I don't think you don't need to be there anymore; that's not where conversations are taking place. The headlines on Facebook did not change my view of it. You have to view and watch it on a regular basis. It's a tool. If you feel it's valuable, you use it. If you don't feel it's valuable, you don't use it. I don't think it should be some sort of grand change based on news. You should kind of be locked in on those realities every day you use these things."
Maggie Gray: "I don't do anything on Facebook. I have a personal Facebook, and I don't really use that at all. I use Twitter, a little bit of Instagram, but [Facebook] hasn't really played into [my] life."
Christian Arcand: "It honestly has made me think about it a lot. I don't really go on Facebook that much anymore because it's not that interesting to me. I was in college when Facebook came out, and it was really great. You could reconnect with all your old friends; you just type in a name and you find somebody from your past. I'm so far removed from the novelty of it that I don't really care — I could lose my Facebook tomorrow. Instagram I guess is an offshoot of Facebook, and The Wall Street Journal had that series about how it affects teens. I'm glad I didn't have that as a teenager; I think it's tough for kids today on social media. The people in charge of running these platforms are preying on them in many ways, and I think that's really messed up. I use my Instagram to post pictures of my wedding stuff; I'm an old Instagram guy. I think, all and all, there should be some changes. I do think they ought to. It's been tough on the younger generation, for sure."
What do you see as the future of the implementation of social media into radio?
Marc Hochman: "It just brings you closer to the air personalities and the radio station. I don't think there's much more to evolve; I think people get side-tracked all the time. 'I have to be more active on Twitter; I have to have a Twitch channel.' All of this stuff, to me, takes people's eyes off the prize, which is the radio show. I love to use it as a complimentary piece because I find it to be fun and a good way to grow the audience. If I was listening, things that are important for a radio show, I don't think social media would crack the top five."
Damon Amendolara: "Ultimately, sports media is communication. We are expressing ideas. We are communicating through a microphone — ideas, opinions, etc. Social media [are] simply that. These are modes of communication. It's never going to go away. They are intertwined forever. Broadcasting and opinion-making is social media. I think that people will ultimately get more sophisticated and more savvy and more smart in how they use it. In some ways, it is a relatively new thing people are dealing with. We have a lot of people in our industry who are older than the general users of social media, so they don't always know how to use it as well. In my estimation, you understand it, you learn about it, you utilize it and if you don't, you get out of the way. It's an extension of what we do in living — which is to express ideas on a platform."
Maggie Gray: "I think that people are using social media to get their work out there and to have it shared. It is much different than when I was first getting out of college and into broadcasting and there were so few ways to get in front of people. Social media has totally obliterated that barrier. I think it's excellent for finding new talent and new voices; the cliché about the democratization of information. I think it's excellent for people to get their voices and opinions out there, and try to cultivate a following. I think that's only going to increase as we get going. Maybe it shows that we need even [fewer] traditional mediums because you can get your stuff out through Twitter and Instagram, and amass a big following without going the traditional route in media."
Christian Arcand: "I think at some point it's going to be completely intertwined, and if we are talking [about] social media, that includes streaming platforms. There's so much money on Twitch right now. I saw this 'Dungeon and Dragons' series made $9 million on Twitch; it's unbelievable. Our show is broadcast on Twitch… [and] we share clips on social media all the time. Again, I haven't checked The Sports Hub Facebook account because I'm not on Facebook much. It's very intertwined and I don't see that separating anytime soon. Radio is a platform, and you are always looking to add to it. Eventually, TV, radio and social media [are] all just going to be one big thing. I don't know when it's going to happen, but it will."
What Can Radio Learn From The Lack Of Leadership In Jacksonville?
"I don't think it was hard to see that Urban Meyer was going to fail in the NFL, and instead of doing any sort of due diligence or homework on the guy's shortcomings, Kahn zeroed in on Meyer and winning headlines instead of football games."
Urban Meyer is a bad person. It's not just that he is a hypocrite. It is that he is a hypocrite that does not want do the job he was hired to. The Jacksonville Jaguars are undeniably suffering from a failure of leadership, but being fair to Urb, he is only half of the reason.
The other half is Shad Kahn. The Jaguars' owner doesn't seem to care about his football team. Shad Kahn is a weirdo. I like weirdos and want to root for him, so I wish this wasn't the case. And look, maybe he does care to a certain degree, but he certainly didn't put much effort into finding a coach to turn around the fortunes of a team that ended 2020 by losing 15 straight games. I don't think it was hard to see that Urban Meyer was going to fail in the NFL, and instead of doing any sort of due diligence or homework on the guy's shortcomings, Kahn zeroed in on Meyer and winning headlines instead of football games.
Watching Urban Meyer fart his way from one misstep of his own making to the next, I couldn't help but think about our industry. Like coaching, the media is also awash with egos. For every person looking for an answer, there is someone else looking for a problem that they can shout they know how solve. Sometimes, the right problem matches with the right solution. Other times, the problem is completely ignored in favor of getting handshakes and high fives.
How many of us know or maybe even have worked for a PD with a resume that you can instantly recognize did not result in a lot of knowledge? That long resume is filled with multiple stops in top 30 markets before the PD landed the job he or she is currently in and after knowing that person for a bit, it becomes clear that the past jobs are what is making them attractive for the next job. A hiring manager in say St. Louis can be underwhelmed by a candidate and still justify hiring that candidate to themselves because the resume lists stops at stations in Baltimore, Houston, Las Vegas, and Miami. They can then go to their manager and their staff and say "look at this guy!" and on paper, those people will be impressed.
The hiring manager gets the handshake from his/her boss. He or she gets the high fives from the airstaff. Best of all? The hiring manager didn't have waste too much time or work too hard to look like a genius!
It's a win in the moment. It's only a win for one person though. And if that new PD comes in and either doesn't know how to deal with his or her new staff or simply doesn't have the knowledge to garner the staff's respect, the win is short-lived and ultimately meaningless.
We see this happen on air too. A station either lets an older talent walk or lays them off. The station across the street senses an opportunity and swoops in. That talent goes from being out of a job to in the spotlight with a competitor. The PD gets to stick it to the competition. The market manager gets to tell the sales staff that they have a new voice with established market familiarity to take to clients. In the moment, everyone feels good.
But what if the PD and market manager were blinded by the potential for a short dopamine burst that they didn't consider why this talent was suddenly available. Are their ratings in free fall? Did they make everyone else in the building miserable? Do they want a paycheck that the station cannot justify?
These are all going to be problems sooner rather than later. All it took was a little bit of research and maybe one or two conversations to see that. Instead, the thrill of a short-term win has the potential to turn into shooting yourself in the foot and creating long-term problems.
Right now, off the top of my head, I can tell you that Urban Meyer looked the other way on a number of guys that were regularly in trouble with the law when he was at Florida, he hired Kevin Wilson to his staff at Ohio State even after multiple Indiana players accused the former Hoosiers coach of physically and verbally mistreating them, he did not intervene when his former assistant Zach Smith's wife came to him complaining that Smith was abusing her. Then when the allegations became public and Meyer was forced to address them at a press conference, he apologized to "Buckeye Nation" but not to Zach Smith's then-ex-wife.
Again, THAT IS OFF THE TOP OF MY HEAD!
If I knew all of that, chances are Shad Kahn knew at least some of it and the people he pays to help him make the best decisions for the Jaguars undoubtedly knew all of it. Maybe Shad Kahn overruled everyone raising objections. Maybe no one cared. The Jaguars have a long history of being very bad and this was a chance to get Jacksonville back on their side. Hell, the city is full of Florida fans that will tell you the Gators ain't been the same since Urban left.
When Urban Meyer hired Chris Doyle to be his assistant strength coach and no one said boo, despite the fact that Doyle was a pretty open and unapologetic racist to his players when he was at Iowa, that should have been the moment everyone in teal said "Oh shit. This isn't going to last very long." The moment Urban Meyer complained that he didn't like free agency because it's not like recruiting, someone in the Jaguars front office should have said "Oh shit. That is exactly what Nick Saban said when he was in Miami." The second news got out that Meyer refused to meet with his whole team after video leaked of a lady dancing on his crotch inside of his Columbus restaurant, everyone covering this team should have said "Oh shit. That sounds an awful lot like how Bobby Petrino treated his players on the way out of Atlanta."
It isn't hard to find warning signs. People can change, but it takes hard work and a desire to get and do better. If all of the warning signs are there that a potential hire is going to be a problem and you make the hire anyway, anything bad that happens is on the person that gave their stamp of approval.
Long ago, a very good college football reporter told me that Nick Saban was more respected amongst his peers than Meyer was because smart people in that profession recognize that Nick Saban doesn't care if you think he is an asshole whereas Urban Meyer was, at that point anyway, obsessed with his reputation. That was back at the beginning of the last decade when the two were going back and forth for SEC and national championships.
By the time Shad Kahn made Urban Meyer his head coach, Meyer had a very different reputation. The only people that believed the guy valued the leadership and accountability he has been peddaling as his brand for nearly a decade now are the ones that call it "THE Ohio State University." The rest of us knew he was full of shit.
If Shad Kahn didn't, Shad Kahn needs to call it a day, sell the team, divest himself of any other business interests and just enjoy being rich, because that guy shouldn't be running anything!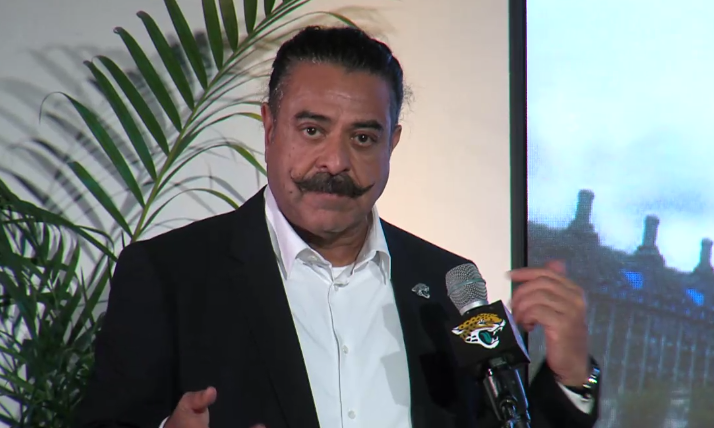 True leadership and accountability is necessary in football and in radio. Somebody has to be the one that gets others to buy into the vision and pull in the same direction. The day you cannot get a staff or a team to do that or you hire someone that cannot get a staff to do that, you are no longer fit to be a leader.