October Belongs To Joe Buck
"By my unofficial count, math was never a strong point for me, Joe Buck will call 17 different events in 24 days and visit 9 cities this month."
October should be renamed 'Bucktober,' as in veteran Fox broadcaster Joe Buck. He owns this month more than any other play-by-play announcer in America. Chances are pretty good that if you are watching a sporting event in the 10th month of the year, you'll hear Buck on the call. The travel and transitioning from one sport to another, sometimes in a day is not easy.
Here's a rough outline of what Buck will call in the next few weeks. He will have weeks where he'll call two football games in the same week, a Thursday night and a Sunday afternoon game. This is a grueling schedule for anyone.
10/07/21 – Seattle (Seahawks/Rams)
10/10/21 – Dallas (Cowboys/Giants)
10/14/21 – Philadelphia (Eagles/Buccaneers)
10/15/21 – Houston (Astros/Red Sox) Game 1 ALCS
10/16/21 – Houston (Astros/Red Sox) Game 2 ALCS
10/18/21 – Boston (Red Sox/Astros) Game 3 ALCS
10/19/21 – Boston (Red Sox/Astros) Game 4 ALCS
10/20/21 – Boston (Red Sox/Astros) Game 5 ALCS (if necessary)
10/21/21 – Cleveland (Browns/Broncos)
10/22/21 – Houston (Astros/Red Sox) Game 6 ALCS (if necessary)
10/23/21 – Houston (Astros/Red Sox) Game 7 ALCS (if necessary)
10/26, 27, 29, 30, 31/21 – World Series Games 1-5
10/31/21 – NFL Week 8 Assignment
By my unofficial count, math was never a strong point for me, Joe Buck will call 17 different events in 24 days and visit 9 cities this month. How do you pack for a trip, or trips like these? Sometimes you wake up and aren't sure what city you're even in after all of that flying.
It's happened to me on much shorter trips. 3 city trips in baseball done in 11 days had some going to the hotel room number they left in Cincinnati instead of the one they need in Pittsburgh. The road can do that to your brain at times. Again, that doesn't compare to what Buck is doing.
Protecting one's voice is paramount for play-by-play broadcasters. Your voice is your instrument and it must be cared for properly. A schedule like Buck's is going to put a ton of stress on his voice. How will he handle it? Buck recently spoke to InsideHook to answer that question.
"I try not to drink as much or at all during October because it feels like I'm flying every night," the 52-year-old Buck said. "I'm going pretty much nonstop so I've got to try to get as much sleep and rest as I can. Drinking and staying up late and the like is kind of out of the window. I have to be smart about it, especially the older I get."
Joe Buck says he inherited a gene from his late father, Jack. The soup gene as he calls it.
"I remember my dad always ordering soup, and I would say I'm a soup connoisseur at this point of my career. That warmth is comforting to me, especially in the month of October," he told InsideHook. "You can usually get back to whatever hotel you're staying in and they'll have soup left to scrape off the bottom of the pot they have down in the kitchen. If it's hot, I'll eat cream of anything. I'll take whatever the hell I can get. Even if involves a vegetable I don't like. I don't even care how it tastes. Sometimes you're just at the mercy of what they have."
The hectic schedule can sometimes cause him to be away from his broadcast partners for longer periods of time than he'd like. Troy Aikman and John Smoltz though make it easy on him. He told the Just Getting Started with Rich Eisen podcast last month, just how that works and how the guys treat him when he gets back.
"I know that if I've been gone from Troy and I walk in and I do a Thursday game and I've been doing Monday-Tuesday-Wednesday baseball, he's ready to go and he knows I'm ready to go. I can lean on him a little bit that week. Then, I come back to baseball, and either I'm tired leading into the game. If I'm trying to scramble and get ready, I can lean on John on the baseball side. That personal relationship that I have with both guys is what makes that month not only work, but fun."
Handling multiple sports in a short period of time can really cut into your prep time. This would cause some broadcasters a little anxiety. I include myself in this category. Prep is what we have to make us feel confident about the broadcast we're about to do. If I had to go into a game with less prep than I felt I needed, it could be a struggle to make that game sound good in my ears. So, Buck has a plan of attack to combat the fears of not being ready. He recently told Forbes about his routine.
He told the magazine that he carries an Excel sheet of his October schedule with him. He'll create sheets for his NFL broadcasts ahead of time with basic information on each team's players: name, number, height, weight, college, years in the NFL, and how they were acquired. According to Forbes, Joe Buck reads as much as he can and will constantly jot down relevant notes and tidbits as game day approaches.
Baseball presents some different issues. It's much more of an immediate sport and the need for lineups, which usually aren't ready until you get to the park, can hamper pre-arrival prep. Buck comes prepared with his scorebook filled out as best as he can, but with more games in a shorter time period, especially compared to football, "it's kind of a mad dash to first pitch for me." Buck told Forbes.
"I plan ahead on football, but baseball is a little bit more day to day, almost like cramming for a test in high school or college—and I was pretty good at doing that and then having the information just poof out of my head," Buck said. "I'm pretty good at compartmentalizing and that's how I go about tackling the month."
Love him or not, there are two things Buck always is: professional and prepared. It's illustrated in how he attacks this month. He knows that nobody feels sorry for him. In fact, there are a lot of us that would line up to do it if he wanted to let go of some responsibilities. The point is not to illustrate that Joe Buck is some kind of superhero of broadcasting. The point is to let fellow broadcasters and fans alike understand how unusual this situation is and how well Buck handles things.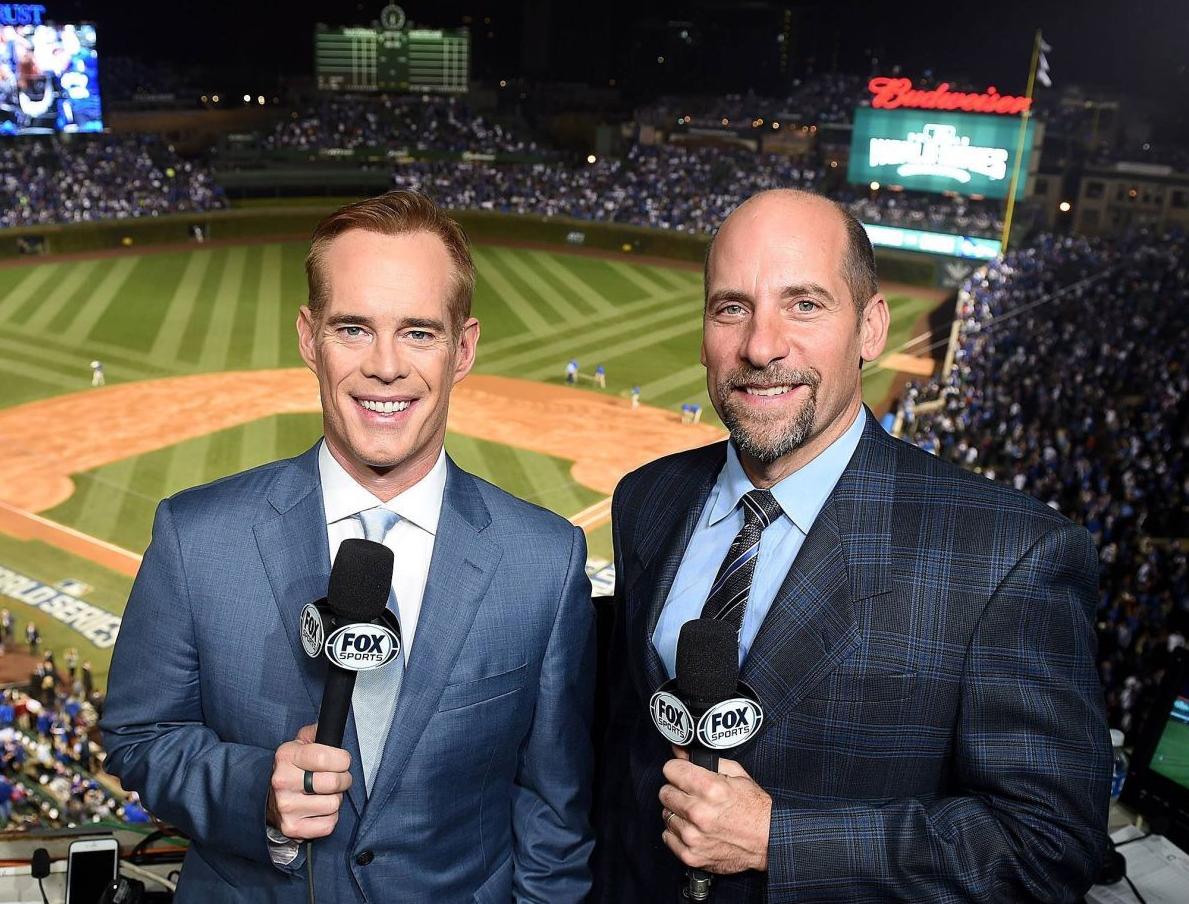 The challenge could be too enormous for some, but not for Buck. He's learned how to approach the schedule over the years and has a very practical outlook on October.
"It gets a little crazy, but it's just that one month that kind of defines my year."
Andy Masur is a columnist for BSM and works for WGN Radio as an anchor and play-by-play announcer. He also teaches broadcasting at the Illinois Media School. During his career he has called games for the Chicago Cubs, San Diego Padres and Chicago White Sox. He can be found on Twitter @Andy_Masur1 or you can reach him by email at [email protected].
Ian Eagle Showed Every Broadcaster the Value of Knowing Pop Culture
"Clearly it pays to be a Swiftie."
The internet was abuzz last Sunday when CBS NFL play-by-play guy Ian Eagle dropped a tremendous pop culture reference on air. During the Kansas City/Jacksonville game, Travis Kelce of the Chiefs caught a touchdown pass like he normally does. You've probably heard by now that Kelce and Taylor Swift have been linked romantically and Eagle took full advantage after calling the touchdown.
"Kelce finds a blank space for the score," Eagle said referencing the song "Blank Space" from Swift's 2014 album 1989.  
A timely reference in the sense that the possible relationship is fresh in people's minds and Swift has been top of mind recently with her ERAS Tour. It was a mention of something that many, many people would understand. Oh, and Kelce catches a lot of touchdown passes too.
"Clearly it pays to be a Swiftie." Eagle told me via email. "My phone blew up after the Kelce touchdown grab, and the last thing I wanted to be was the 'Anti-Hero.'" clearly Eagle can't help himself.
I asked Eagle if that was something he specifically prepared for that moment?
"After all of the Swift/Kelce gossip last week, I knew going into the Chiefs/Jaguars game antennas were up." Eagle said. "I don't plan on anything specific but I do come prepared if situations arise, and when Patrick Mahomes hit his TE in the endzone it felt like an opportunity to tag the call."
For those that watch Eagle on a regular basis, be it on a basketball or football telecast, this isn't something new.
"I've always tried to sprinkle in some pop culture references when appropriate and have learned to trust my instincts. Of course, you run the risk of alienating a segment of your audience if you go the esoteric route, but this felt like the right line and the right time." said Eagle.
Every play-by-play announcer tries them, to varying degrees of success. If it's a good reference, the internet will explode. Conversely if it is not, you guessed it, the internet will also explode. The professionals know when the time is right and clearly Eagle was spot on.
"When I heard from my sister (who is not a big sports fan) I realized it had crossed over into the mainstream, a reminder that you never really know what's going to resonate with viewers," he said. "At this particular moment you can't go wrong with Taylor Swift."
That is very true. So, when should you try it and when shouldn't you "go for it?" It's not a cut and dry case. I like it when I hear a really good reference,. There is always room in a broadcast for a little levity, but don't let the comedy overrun your broadcast. Pick and choose the moments carefully.
It's also different when you're broadcasting a game than it is during say, a television or radio sportscast. There is no script when it comes to play-by-play.
I've tried it in both roles. In 2015, I was doing television games for the University of Wisconsin-Milwaukee. Before the game the crew and I were talking about the movie, The Big Lebowski, a cult classic.
They dared me to work in as many lines of the movie as I could in the broadcast. I thought, "yeah, this is going to be easy." It really wasn't, I worked in 8 lines and to tell you the truth, I'm not sure how many landed. 
It's hard to really know. The crew laughing in your headset is not a true indication, because they were in on it. Viewer feedback was non-existent. Would I try that again? Probably not.
Every year for the last 4, on Oscar Sunday, I do an "Oscars themed" sportscast at 11am. I work in the titles of all the movies up for Best Picture into the framework of my sports. For example:
"The Madness of March continues today with more automatic bids going out with EVERYTHING EVERYWHERE ALL AT ONCE on the line to get to the NCAA Tournament."
"Cubs faced the Dodgers and beat them 5-2…the win helped Chicago sports fans avoid a TRIANGLE OF SADNESS after the Hawks and White Sox lost their games."
I do this ONCE a year and the feedback from listeners has been great. It's a nice challenge and change of pace for me. It entertains the audience as well. It's current references tied to an event that is watched by many, many people.
Eagle, in his CBS broadcast, didn't force the reference in there. He picked a spot, knew the relevance and went for it. That's another key. Make sure the reference fits the moment. Don't just go using pop culture just to use it. We've talked a lot about that in previous columns, regarding other things as well. Make sure the reference isn't coming at a critical time in the game.
Some broadcasters make pop culture part of their play-by-play calls. Randy Moller did it with the Florida Panthers several years ago. He spent 8 seasons with the Panthers and would yell out references to movies and television shows on some goal calls.
"Mommmmm! The meatloaf! Panthers with a power play goal they get a 1-0 lead!"
"Another shot by Moore! He shoots he scores! Time to make the donuts!"
Moller is now the team's television analyst, but he would delight fans with those radio calls. But Moller was also careful. He wouldn't fire off a Wedding Crashers line on every goal. No, the pop culture references were uttered after a goal when the Panthers were out of a game. Makes sense.
Don't overload a broadcast with the things not everyone in your audience will understand or appreciate. Don't overload the broadcast if it overshadows the game you're broadcasting.
I mentioned earlier about it being a little easier to work in movie lines, television show lines and song lyrics into a scripted sportscast on radio or television. Some local tv anchors have had 'theme' nights over the years. Where they try to work in references to a movie or a show, in the flow of that day's sports news. In scouring the internet, there was one example that I had forgotten about but is worth remembering.
In 2016, then Louisville sports anchor Adam Lefkoe (now of TNT) worked in 41 "Seinfeld" classic lines in a 5-minute sportscast. He used Twitter to crowd source the lines and he wove them in as easily as George double-dipped his chip. It worked. It was funny and made sense even within the framework of the cast. It was a bunch of 'mainstream' mentions. "Seinfeld" was one of the most popular sitcoms of all-time. Pretty much everybody, young, old and in between saw the show in first run or reruns. All of the references landed because it was familiar and known, not stuff buried in a 'cult classic' that only a handful of people would understand.
Comic references can be a great thing, but as I've pointed out, in the wrong hands, can flop in a big way. You have to know your audience. You have to make sure the reference is clear and known by a large amount of people, otherwise it's useless. Don't drop lines to amuse yourself or your crew, the game is not there for only your entertainment. Make sure the viewers will find it funny too. There is room in a sports broadcast for comedy. Just don't go overboard. Have a feel for the game and the situation. Understand your audience as well. If comedy is your thing, remember just like in stand-up, timing is everything.
Andy Masur is a columnist for BSM and works for WGN Radio as an anchor and play-by-play announcer. He also teaches broadcasting at the Illinois Media School. During his career he has called games for the Chicago Cubs, San Diego Padres and Chicago White Sox. He can be found on Twitter @Andy_Masur1 or you can reach him by email at [email protected].
Meet the Podcasters – Mike Golic, DraftKings
"I'm sixty years old, I've seen the change, but in all honesty, to me, you turn the microphone on and I'm just doing a show."
You won't find Mike Golic on the radio anymore. That may be a little hard to believe for some of us. He was one of the constants of ESPN Radio through so many different eras and iterations of the lineup.
He is still doing a morning show though. Gojo & Golic features himself and his son talking about life and sports. It airs live on DraftKings Network and is distributed digitally each morning. 
The new platform means Golic had to learn some new tricks. It also means that some of what he was doing all along worked well enough that someone wanted to pay him to keep doing it as the sports media industry changed.
The key to his success has been recognizing which mindset is the right one for each situation.
Demetri Ravanos: In the podcast world, we talk a lot about the power of niches, right? It's a crowded space. Everybody has a podcast, so you've got to find your way in. But you and your son are doing a big, broad show. So what efforts are you guys making to make sure you stand out in that crowded field?
Mike Golic: I don't know if we particularly sit there and say 'we need to do something to stand out.' Let's be honest. When I was on the radio years ago, there wasn't a lot going on in talk radio, and then as we went on, a lot more, different talk radio came out. Now, as you just mentioned, we've got podcasts and streaming and every which way you can you can get shows out there. The way I've always done it is I'm always just doing it like a show. The microphone hasn't changed in front of me. The show Mike and I did when we were at ESPN, it's and the way Mike does the show when he was doing it on his own and the way I do a show that hasn't changed. We're not reinventing the wheel.
I know when new shows come out, they say 'we're going to do this' or 'we're going to do that.' We're just doing the show. We're just doing the show that we've done and it's getting distributed in different ways now. To me, that's the only difference. It's not changing the way I do a show.
I was used to 23 years of 6-10 doing morning radio in Phoenix before I got to ESPN. Mic goes on at six and mic goes off at ten. Now, Mike and I are back. Our show is a podcast, but it's also live from 8 to 10 Eastern every morning on Samsung TV Plus and DraftKings' YouTube, DraftKings Network, and it's going to now start to be broader, I think, starting next week with more outlets. So we're back to doing it's kind of a live show, but obviously, it still gets turned into a podcast. 
DR: You know, you, you do bring up something though, that I wonder about because you were in radio for a long, long time, local before national. A lot of us that came from a more traditional media world, it took a while to see that podcasting or digital media was this viable space. Maybe it is less glamorous, but the ability to find an audience is just as strong. Do you remember the moment that you started to realize that like, "Hey, this digital thing isn't the future. It is right now"?
MG: Oh, yeah. Not only from the digital side but doing Mike and Mike all of a sudden getting into Twitter and getting instant feedback. You start talking about a topic on air and you get instant feedback on Twitter.
For me, I keep goofing around and saying it. You know, I'm sixty years old, I've seen the change, but in all honesty, to me, you turn the microphone on and I'm just doing a show. I'm not when I go on to do Gojo & Golic, when I go on God Bless Football with Stu and Billy and Mikey, and when I go on with Golic and Smetty for DraftKings, I'm just doing what I did since I started doing shows. It's just different time segments for me. Mike (Jr.) Is probably better to talk to about this than me. I and I'm probably not giving you great stuff of what you want, but I don't really view it differently. I still a mike goes on. I'm doing a show and then the show ends.
Probably one of the biggest differences for me is, I did a four-hour show. I think the average listener was like 22 minutes in the car or they were at home getting ready, watching on TV. Then they jumped in the car to listen on radio was 22 minutes. So we would have to repeat the headlines. Here, on streaming or podcasts, you don't really do that. You don't really repeat the lines and keep re-introducing the guests. So there are some technical differences in doing podcasts and the live streaming now as opposed to the radio show, but those are stuff you just kind of pick up quick.
DR: Do you think not having to re-set the headlines is the strength of digital content for the audience? Particularly with the NFL, there is such an appetite for content out there that there has to be things that the digital space can do that traditional media cannot. I wonder if it is that ability to say over the course of 2 hours, we aren't going to repeat ourselves. We're going to have a two-hour discussion of this one topic.
MG: That's probably the biggest thing out there. When you go from a headline where we talk about Aaron Rodgers getting hurt – we talked about it once off the top and we may have sprinkled it in there in a different way on some other parts of the show, but it's not completely resetting the whole Aaron Rodgers story at the top of an hour and then the top of the next hour, starting again with the whole Aaron Rodgers story. We don't do that. That is definitely a big difference of how people take this in. I always I still sit there and wonder, "Should we be hit the Aaron Rodgers injury again?" or whatever the big story is.
Our show is two one-hour podcasts. You know it's not a two-hour podcast. So it's all split up differently. Minds a lot smarter and more current than mine know the best ways of how to divvy up the conversation. That's why I do lean heavily on Mike (Jr.) as far as kind of the make up and way we run his show. That's something that has definitely changed over time.
Content is still content. We're going to talk about we're going to give our opinions, we're going to take people inside. We're going to talk about things going on. Now it's just how it gets dispersed has changed from my years in radio.
DR: Well, let's talk about that content, because you are working under the DraftKings heading and the goal of any show is to be a compelling personality that people want to come back to over and over again, right? But being attached to a sportsbook, how much of Gojo & Golic feels like just the two of you talking versus having to come in with an education on things that may move the line in a game one way or the other? Not hardcore betting talk, but at least you can't get that stuff wrong.
MG: Basically, how we've approached this because yeah, that was a thought process when I signed.  I told them, "Listen, I don't know the in-depth parts of gambling" and they said, "We don't care. We want to become a sports media outlet as well." They have vision and others who could talk.
I know how to talk lines. I can give my opinion on whether I think one team's going to beat another team by five and a half points or score over 50. I mean, that's that's been around forever. But anything more in-depth than that we're not expected to do that.                      
I think that's the biggest thing in getting that out with DraftKings is, yes, it's a sportsbook like FanDuel, but DraftKings is also trying to get in the sports media market as well and eventually have a 24-hour network that will have shows like Mike and I and more traditional gambling shows as well that will come from VSiN, where they're stationed in Vegas or from DraftKings in Boston. In all honesty, that's just about repetition and just letting people know that our show is out there every day and that every day, this is a sports show just like we did together at ESPN. That's what it is.
Way back in the day we just picked games, Greeny and I would simply answer who was going to win or lose. We didn't really do the line. It was almost like gambling, it was coded amongst the old-time play-by-play guys. "There's a reason to keep watching this game late in the fourth quarter" and everybody knew what they were talking about. Now it's all out in the open.             
It's kind of like NIL. You took the bag of money under the table and you put it on top of the table. The NFL finally learned how much money you can make in gambling. It's exploded becoming legal in state after state after state now. So that's one of the things Mike and I we're real happy with DraftKings is they want it to obviously be a big part of the market in that. But also they don't want to just be that. They want to be where sports fans are. Sports fans do gamble, but sports fans like sports talk and they like sports stories, so why not try and give them both? So that gave DraftKings the idea to say. "Just do a sports show! If every now and then you have a gambling segment, we'll get you a guest to talk about that, to dive in deep to it!." Just like, back in the day, you'd have to get a guest to dive into fantasy football to break it down. We definitely are not a gambling show. It's just going to be a matter of getting that out of the minds of people that just will just naturally think, "Oh, if it's DraftKings, it's got to be a gambling show."
DR: You were part of one of the shows, maybe the show that pioneered putting radio on television. Now we're in a world where, in the digital media space, having video is almost a necessity for a podcast to really reach its maximum audience. Are you, even this many years later, still surprised that people want to watch audio on TV or the Internet?
MG: Oh, without a doubt. We learned that when we started over on ESPN News and ESPN2. Greeny and I, a couple of years into the show, it was different. Now it's not different anymore. It's the norm. You have to do it. Nobody just wants audio. They want something to look at and then it becomes "what can you put with it? What graphics, what video, what pictures can you put with it to make it entertaining?"
The biggest thing we wanted to do, and I still think it kind of needed to be that way, when we were going from radio to TV, I personally had NFL Tonight, I was like, "Oh my God, You know, every studio, TV show at ESPN, you had to put on a tie." When they said, your radio show is going on TV. I'm like, "Oh God, do I got to put on a coat and tie?" And they were like, "No, this is a radio show on TV. So treat it like that."
I was happy about that. It's a little more loosey-goosey. It's not the traditional studio show where a host comes to you and you have 45 seconds to make your one-shot point to the camera. This is free flowing conversation that just had video around it.
That's the way I'll always look at it, that we are still telling stories, giving opinions. It's still a talk show, but with video around it, but don't turn it into a segmented type of a TV show where you talk then I talk. The best show is a conversation, even studio shows. Make it a conversation. Bring people into your conversation. That's never going to change.
DR: You guys had a great moment of that I thought. It might have been earlier this week where you and Junior were arguing about whether or not you had the right to claim a shirt he left at your house as your own. I thought that was a very relatable moment.
MG: And that's never going to change, you know? Like I said, I still treat it like radio.                  I have always, always said, especially in the morning, you're getting people that are that are on their way to work however they're digesting. It could be at work, could be at home getting ready to go to work. My thought has always been take them somewhere they can't go. The mind of an athlete on the field, of an athlete in the locker room, of an athlete in any sport, and make them laugh a little bit, make them smile a little bit, or talk about something that's relatable to them. You know, taking shirts or taking clothes or food or things like that. That has not changed since day one.
All my gigs have basically been in the morning since I started doing this. People are starting their day. Let them smile or laugh about something, Don't be blue. I never cross that R-rated line because I know people are driving their kids to work. That's still one of the greatest responses I got over the years. A guy would say, "Me and my dad or me and my mom were with you on the way to school. We didn't have to turn the station." That doesn't change. The idea of what you're going to do doesn't change. Entertain people, give them information, make them smile a little bit. It's just the way they're delivered may change a bit. 
DR: So I want to wrap up with you on a question about your podcasting history in general, because the Golic family has been really quick to embrace the format, even back at ESPN when you guys were doing your family show. I wonder how you look back at that because from the outside, it was a very interesting thing. Here were two guys, you and Junior, that I know from this network that I watch all the time talking about sports, but you found this weird way to cross podcasting with reality TV in a way that I don't know that I've seen anyone else do on a grand scale even since.
MG: That and the Sorry In Advance podcast, our family podcast, was all my wife's idea. We're a very close family anyway, but it was kind of a fun thing to do every couple of weeks to actually all be together just to talk about life. You get the stories of my daughter-in-law, Jenny, thinking rotating tires, is just putting the car on a jack and spinning the tires or, other stories that just kind of kind of make you laugh but are relatable. It's not talking down to anybody. We had fun doing that. It just got hard. My daughter is married. She's pregnant. Her husband, who used to play in the NFL, was in med school. Jake and Jenny are running two businesses and they now have a baby. It's just it's tough to get everybody together again. We ran into issues doing that.               
I would love to have some help from somebody on how to go about the business part of it, because this was truly from scratch, and doing it on our own. We started to get very little help toward the end of it. It would really be a lot of fun if we had backing in this and a little more professionalism around us because God knows we're not professional in helping and guiding us to this and because we'd like to keep doing it.
To learn more about Point-To-Point Marketing's Podcast and Broadcast Audience Development Marketing strategies, contact Tim Bronsil at [email protected] or 513-702-5072.
Demetri Ravanos is the Assistant Content Director for Barrett Sports Media. He hosts the Chewing Clock and Media Noise podcasts. He occasionally fills in on stations across the Carolinas. Previous stops include WAVH and WZEW in Mobile, AL, WBPT in Birmingham, AL and WBBB, WPTK and WDNC in Raleigh, NC. You can find him on Twitter @DemetriRavanos and reach him by email at [email protected].
Is ESPN New York Giving Up or Getting Stronger?
I go back to the same question: Is giving up your FM signal a waving-the-white-flag moment, or is it putting your resources elsewhere?
A massive sports radio story dropped on Tuesday. 98.7 ESPN New York is dropping the 98.7 next year.
It seems like curious timing, no? At a time when AM radio is fighting for its life, it's rare for a station to drop its FM signal instead of its AM.
On the surface, to be frank, it appears to be a cheapskate move. Good Karma Brands making a decision to pocket a reported $12.5 million every year to not have an FM signal sounds like half-assing a radio station in the nation's largest market.
But then, when you look at the decision through a different prism, I keep going back to the same question: Is giving up your FM signal a waving-the-white-flag moment, or is it putting your resources elsewhere?
If the 98.7 ESPN New York actually does put those resources elsewhere, then yes, it makes sense. If the move becomes something other than just a way to pocket a couple million bucks each year, then I'm all for it. Investing in more local talent, bigger on-air promotions, stronger play-by-play rights, or better video channels/equipment all make sense with newfound millions in the budget. But I'm skeptical that it isn't simply a cost-saving measure.
However, the reasoning put forth does make sense. The station claims more than half of its audience doesn't listen on the 98.7 FM signal. That, in and of itself, should be reason enough to at least examine what you're doing as a company.
I've long been a proponent that sports radio has long needed a digital revolution. I also strongly believe in recognizing that in today's media landscape, you need to put your content on as many distribution channels as possible. AM/FM Radio, websites, mobile apps, social media, Twitch/Rumble/YouTube/linear or cable television, are all must-have outlets in 2023. I just never imagined that FM radio would be the first one to go.
Obviously, Good Karma Brands believes it can make this work. The company operates stations in Los Angeles, Chicago, and Cleveland strictly on the AM band and digital platforms. And in an ever-increasing on-demand world, maybe making your content primarily available through digital channels is a smart bet.
I just can't help but wonder if it isn't a decision five years too early. There are still millions of listeners in the New York market that utilize FM radio. That number isn't likely to experience a steep decline in the coming years. But AM radio will, in my opinion.
The station is likely to lose or see significant alterations to its play-by-play rights with the New York Knicks and New York Rangers. Who knows what will happen to the rights of the New York Jets? One could imagine that if those franchises wanted to be on AM radio, they would go with one of the many other, more widely listened to, options in the market like 880 WCBS, 1010 WINS, 77 WABC, or 710 WOR.
Make no mistake about it, the move is a gamble. And it feels like a gamble with no middle ground. Either this move works wonders and Good Karma Brands ends up looking like radio visionaries, or they're making a decision that will ultimately lead to killing a strong brand. There's no in-between. Let's see how it plays out. I'll be watching. Closely.
Garrett Searight is the Editor of Barrett Sports Media and Barrett News Media. He previously was the Program Director and Afternoon Co-Host on 93.1 The Fan in Lima, OH. He is also a play-by-play announcer for TV and Radio broadcasts in Western Ohio. Reach him at [email protected].