Are Hosts Not Supposed To Offer Their Real Opinions Anymore?
"Are real views allowed, or is it just a bunch of sanitized opinions and neutered conversations that are permissible?"
Arizona State sideline reporter and studio host Jordan Simone announced on Twitter last Thursday that he was let go of his duties. I immediately wondered why. What did he say or do? Was it something totally inappropriate? Was it racist, sexist, or in really poor taste?
Simone said on a podcast that the ASU football coaching staff isn't getting the job done and that the players and fans deserve better.
The horror.
Just so we're on the same page, here are his exact words: "It ain't working. It was a good experiment, and you know what, no disrespect to any of those coaches as men and as people, because I've talked to a lot of them and I know a lot of them, they're good people and good human beings, but it just ain't working. The fans deserve better. These players deserve better. These players don't even realize they're being coached so poorly.
"Again, I'm a Sun Devil 'till the day I die. I love this university and I love this football program more than almost anything in my life. There's a certain amount of things I can count on one hand that I really would die for; Sun Devil football is up there. But it's bad right now. It's not what the fans deserve. It's not what we as alumni deserve, specifically football alumni. We talk about the '96 Rose Bowl team being there [when Arizona State lost to Washington State 34-21 on Oct. 30]; it was a disgrace and a disservice to all the players and an alumni that have come before them."
I immediately flashed back to the movie Wayne's World. "Fired? For that? Sh'yeah! Right!"
It's unbelievable that Simone was let go over this. I checked the podcast to make sure he didn't say he was the Antichrist and was going to eradicate all of humanity. Sure enough, that comment was never made. 
Listen to Mike Valenti's epic rant about Michigan State losing to Notre Dame in 2006. The guy's voice was giving out as he blasted the coaching staff and yelled about Sparty's "choke job." Valenti didn't lose his job; he was glorified for it. It's his signature moment.
Yes, Valenti was employed by 97.1 The Ticket and Simone was working for Arizona State's school radio network. There definitely is a big difference. I understand that Simone was expected to lean in favor of ASU, but to the point where he couldn't share an honest opinion that was reasonable?
Where is the line for hosts? If an ASU quarterback throws five interceptions in a game, are you allowed to say he should be replaced? If a play call is brutal, are you allowed to question the play caller? If clock management is horrible at the end of a game, are you allowed to criticize the coaching staff? Seriously, these are now legitimate questions.
What was Simone supposed to say? "I think this program is turning the corner. Call it a gut feeling"? That's what drives me crazy about these trigger-happy overreactions; are we in the opinion business or the fanboy business? Are real views allowed, or is it just a bunch of sanitized opinions and neutered conversations that are permissible? No truthful critiques, just blindly wave those team pom poms.
Thankfully it isn't like this everywhere, but that's confusing for hosts. There are different sets of rules depending on who you work for and where you work. Not all stations or cities operate the same way. Some hosts can hammer the home team while others can barely suggest the new uniforms aren't the greatest.
There isn't as much variation in sports. A touchdown is worth six points in Phoenix, Chicago, Boston and everywhere in between. Radio do's and don'ts vary much more.
Consider this: it was announced on Monday that Nebraska head coach Scott Frost will remain at the school under a restructured contract. The man is 15-27 overall, including an abysmal 10-23 record in Big Ten play. Envision a host that works for Nebraska's radio network saying, "Look, this isn't a personal shot at Frost. He's a good dude, but it just isn't working. The players and fans deserve better."
Would that host be fired immediately? Would it be an automatic dismissal? I can't say that it would be.
That's where it gets tricky for hosts. We're back to where is the line? The short answer; it depends. It depends if your employer accepts fair criticism or not. It depends on who complains to your employer. It depends if your employer has absolutely no backbone and buckles due to the slightest bit of backlash.
Simone said that he would die for Sun Devil football. Holy hell. Does that sound like a guy that would intentionally paint the program in an unfair light, or break the rules knowing he'd get fired? Based on what Simone said, it makes much more sense for the Sun Devil Radio Network to say, "Jordan, bro, you can't say these things about the coaching staff. If you say it again, it's going to cost you your job."
We all need to be reasonable. Hosts can't obliterate the school or team that signs their paychecks like it's a roast on Comedy Central. The criticism needs to be reasonable. But at the same time, the reaction to the host's criticism needs to be reasonable as well.
Both sides — Simone and ASU — were in business together. It can be argued that you shouldn't bite the hand that feeds you; you don't criticize the ASU coaching staff when ASU is paying you. Okay, but fair is fair. You don't kick one of your own — a former ASU defensive back — to the curb because of reasonable comments about an underperforming coaching staff. That isn't how you treat a member of your own family.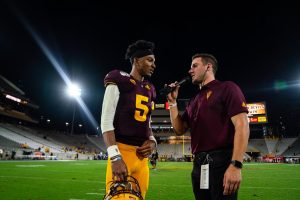 I just don't believe that Simone's comments were so bad that there was no way to recover; that they had reached the point of no return. The guy deserved better. This is top-shelf BS in my book.
The irony here is that Arizona State head coach Herm Edwards famously says, "Put your name on it." Simone put his name on it. He didn't fire up a Twitter burner account and make anonymous statements about the program. What's his reward for offering a reasonable critique of ASU's football program? He lost his gig. What a joke.
Meet The Market Managers: Debbie Kenyon, Audacy Detroit
"We've never been judged on Men 25-54. We've always been judged on adults, and we're top one, two, or three consistently for probably ten, 12 years, 14 years running."
A lot of people would kill to be Debbie Kenyon. There aren't a lot of stations in America that have a reliable performance that is as strong as 97.1 The Ticket's in Detroit.
Her team is formidable. From her brand manager to the talent to the support staff, everyone in Audacy's building in the Motor City are pushing in the same direction, and it pays off ratings book after ratings book.
This kind of success comes from really knowing what you're dealing with. It's about understanding both your product and your audience. Debbie Kenyon is from a media family. Both her father and brother lead stations – dad in television and Debbie in radio.
Add into that background the experience of being with CBS as it grew, changed names, changed owners and then changed names again, and she has more institutional knowledge to work with than most GMs in major markets.
In this conversation, presented by Point to Point Marketing, Debbie and I talk about relationships with play-by-play partners, managing through tragedy, why America has the wrong idea about her city and so much more.
Demetri Ravanos: As you look at all of the brands that you oversee, is there any particular adaptation or change with the times that you are particularly proud that you were able to help pull off?
Debbie Kenyon: I guess we can look back two years, not that that's a happy moment in everyone's life, but clearly, in a couple of days' time, to get two spoken word stations running remotely. We were able to keep everyone safe, not one COVID case. And technically, we sounded great during that entire two years.
We brought talent back much more quickly, but there were two months of literally a couple of people in the building and that was it. So from a technology standpoint, it's not me. It's my phenomenal engineers that gave us and our listeners some sense of peace during a very hard time.
I think from an innovation standpoint, on a more positive note, just some of the things that we've done with the sports teams and how we used to broadcast with phone lines. It was just somewhat antiquated compared to now. My engineering team is pretty cutting edge. The amount of cost reduction that we've been able to have over the past five or six years is great, and I think the sound quality is so much better and the likelihood of dropping out has really disappeared. 
DR: I want to talk about the history of the frequency of 97.1, because it has evolved in an interesting way. Think back to those free FM days. Howard Stern leaves CBS and the company starts putting this hot talk format on a lot of the stations that he used to be on. You guys were already doing the FM talk that wasn't politically centric even before the Free FM branding came about. I wonder how much of a model was CBS pointing to you guys to set the example for the rest of the country? 
DK: At that point, I was a DOS and might have been the GM too, but not of that station. It was such an expensive format. Unfortunately, it never really got a ton of rating traction. There were a lot of passionate listeners, but from a financial stability standpoint, it couldn't hold.           
The company looked at us to move to FM for sports. We were fortunate because it was driven 100%. by one of my favorite mentors, Dan Mason, to bring in the very best program director at the time, Tom Bigby.
We had kind of a rough launch for The Ticket. It was really just a hardcore X's and O's sports format. Sales really wasn't doing anything. I asked Dan for the opportunity to take the station over from a general manager standpoint. It gave me the opportunity to simultaneously hire Tom Bigby. That's when the real phenomenon of The Ticket was created. 
DR: So it's interesting to hear that. The Ticket does so well beyond just the target demo, right? This is a station that performs well with not just men, but all people in the market. I was wondering if that might have come from the hot talk base of the FM station, but it sounds like that wasn't really the case.
DK: Yeah, I think philosophically we're a little bit different than most sports stations. Tom started this and then you've probably talked to Jimmy Powers over the years, our current brand manager has been here for quite a while. Our theory has always been a little different. Even though sitting in Detroit, Michigan, we are one of the best sports markets obviously with Michigan, Michigan State and then all four professional teams, we've kind of built this brand on, of course we're talking sports all day long, but per show, we'll have one mass appeal topic per day. The only thing which we stay away from is politics. We've gone through the years and some will dabble too much and it's just a ratings killer.              
We've never been judged on Men 25-54. We've always been judged on adults, and we're top one, two, or three consistently for probably ten, 12 years, 14 years running. A nice long run. But you know, you can never get satisfied because when you're at the top, everyone's gunning for you. So we always have to think about new talent, new platforms, and how we communicate with our listeners.         
This is a phone-based interactive format. Well, phones have changed. We certainly still take phone calls, but each show now will have thousands and thousands of texts. People communicate through text or Twitch or Twitter or on any of our social accounts and then by phone too. So that's drastically changed over the past 14 years. 
DR: What is the formula that keeps you in the top three? I mean, it's got to be more than just topic selection. There has to be something about finding the right talent that you and Jimmy have done to make The Ticket the sort of institution that it became relatively quickly in Detroit.
DK: It's not just one talent. We just have great, great talent. Between the talent and I believe we're the only sports station in the country that has all four professional teams. I think the combination of that and I mean, Jimmy grew up as a programmer under Tom. So that same philosophy has carried through even to our newer and younger guys.
You know, we're never afraid to make a change. We've had top-five, winning shows in the past where we just felt like something might be getting a little bit stale, and we've made changes. I know on some of my other stations, I'd be thrilled if it's top five. Don't mess with it! But for this station, the bar is so high and we all hold each other, whether it's the talent on the air, a producer, the screeners, it's myself, it's my brand manager, it's my APD. We all have that same expectation of excellence. I know it sounds kind of silly, but it actually is true. 
DR: So let's talk about that expectation of excellence. You mentioned that you can never be satisfied, but you guys have the ratings that you do. You mentioned all four franchises, plus, correct me if I'm wrong. You've got the Wolverines as well, right?
DK: We do.
DR: So certainly you don't feel invincible, but you have to recognize it would be very tough for someone to come in and unseat you, at least in the sports format in the market.
DK: Sure. I mean, listen, you're always on guard, but, you know, sports is just an expensive format to run. There's no team or talent that is bigger than what the brand of The Ticket is. We've had competitors over the years that have tried to come in and it hasn't worked out.
I think we owe it to our listeners and the community to make sure that we are constantly pushing to make sure that we are the best, whether it's reviewing our social and making sure that we're cutting edge. We were five years ago. Are we still cutting edge today? I think there are some changes that we could do to help freshen things up. There are all these basics, but they're basics that over the years I think people have forgotten about.
Everyone kind of has to drink the Kool-Aid and they do. People love working at this radio station. It's fun. Like, come on, you can appear at events and you get to work a Tigers game. But it's just maintaining the same level of excitement. You know, no matter what the job or event is, we all want the same thing.
DR: Mike Valenti has not been shy about the fact that the Lions wanted him off the station back in 2015. When that happened, the station dropped the Lions. You said at the time that this was not about Mike individually. This was about not letting a partner censor what was happening on the station. Was that an easy decision to make? I mean, standing by your talent is one thing, but it certainly takes the next level of bravery and trust in your talent to do that at the expense of an NFL flagship deal.
DK: I never wanted to lose the Lions, but it just, at that time, made sense. What I'm very proud of is, that although it took me five years, I was so happy to get the team back because there's a lot of time invested in relationships.
It's challenging. If they're not having a good season, you know what the guys are doing on air. You know, to manage relationships through that is a big deal.
I have nothing but great things to say. For the most part, the group of people are much different than who I was dealing with back then. But they're a great, great partner and I'm so excited, as are all of our talent, to have them back. It's just the perfect scenario for us.
DR: So if it's different people that you're dealing with there, I am going to guess there was not some sort of big clearing of the air that had to be done to start negotiations to bring them back.
DK: We're really good at doing sports here, and I think the teams know that and appreciate it and respect it. Certainly, there can be frustrations at times with some things that are said on the air, but I think I think they all realize that there's so much value that 97.1 The Ticket brings by having their team on the air with us. I think it really outweighs a lot of things.
DR: I don't even know if you would call it a joke, an old talking point or whatever, but it's very easy for people that have never spent time in Detroit to make the joke about it being a dying city. I guess I wonder, what is it that people don't get about the market? Certainly, if it were dying, The Ticket couldn't have the kind of success that it does book after book.
DK: I think it was an NBC Dateline. There was some show that was on like eight years ago and it showed someone was up in a tree and they were eating like a raccoon or a possum. And it was like, "this is Detroit". I remember Chris Oliviero had called and he's like "I saw Detroit on the news!" And I'm like, really?                     
I just feel like we're a city where a lot of times the negative is portrayed in the media and there are so many great things here. The birth of auto sits in our marketplace and everything that we're doing with electric vehicles. You should see what our auto show, which has certainly suffered a loss in the last couple of years, but what they have planned for September of this year will make everyone in the city so proud.         
There are so many national events that we have here that we don't always get recognition for. The Grand Prix in 2023 is coming back and will be in downtown Detroit versus Belle Isle, where it is right now. We have national golf tournaments.
You know, if you go downtown, and I've been to quite a few Tigers games, the city is alive right now. You've got Ford Field, Comerica Park, and LCA all within walking distance. There are all these great entertainment venues and concert halls. We launched something called Music Town just three and a half, four years ago now. It's a downtown performance space. We wanted to be part of the revitalization.
DR: So I want to end by asking you a little bit about the loss of Jamie Samuelson. Certainly, that was a tough time for the station. The studio has since been renamed for him. There's been a lot of great charity work done in his name, and I wonder if there is ever enough that the station could do to honor not just what he meant to that station, but to Detroit sports fans, period.
DK: That was a tough time. I don't know if you realize this, but we had talent from a few stations around the same time frame that passed away. How do you manage through that?
You're right. His name is on the studio now and we have no intention of changing that. We do a lot of charity work. The Tigers have actually been great and have helped us raise quite a bit of money for him.
The next challenge from that was we had this top-rated show. Jamie worked almost the entire way through it, which didn't he didn't have to do. No one knew until the very end, our listeners didn't know. Even the majority of our staff did not know at that point.
When he did pass away, then it was trying to figure out what are we doing and what's that respectful time period that would be accepted by our staff, most importantly, and by the community and the listeners. We ended up going in a pretty different direction because we didn't just want to do the same show. That was Jamie's show. I think he'd be proud of what we've created with John Janssen and Stony.
I don't know if you know him, but he's just a great guy. John has obviously been a professional football player and it's just a different dynamic. So we weren't just trying to find Jamie's replacement.
DR: I hate to end here, but I don't know many GMs that can go into a situation like that with some similar experience. That is really hard to comprehend what it must be like to be you in those moments.
DK: Yeah, it's not fun. You have your own emotions, but it's not about your emotions. It's more about everyone else.
We really have had three significant losses in our market over about a three-year period. It's being supportive to your staff and then taking your time. With John, I mean, John was already someone that was in our talent bank essentially. Still, we needed to make sure that we gave it enough time. We needed our staff to grieve and, of course, his family. His family became part of this and I think we did it the right way.
The NFL Is Maximizing The Value of Everything It Produces
"What's important is that the NFL doesn't think, "Hey, this is great for us," and leave it at that. The league thinks, "How can we get even more value out it?"
You've got to hand it to the NFL; the league rings every last droplet of value out of its product. It was announced on Tuesday that the defending champion Los Angeles Rams will host the Denver Broncos on Christmas Day. The NFL has released the dates and times of nine games for the upcoming season so far. (Give it five minutes and two more games might be unveiled.) The gradual striptease is leading up to the full schedule release on Thursday, May 12.
Think about this for a second. Let's start with the fact that the full NFL schedule reveal is an event. It partially makes sense (because the NFL is so popular). At the same time, it makes no sense whatsoever (because it's a freakin' schedule release for crying out loud). What's important is that the NFL doesn't think, "Hey, this is great for us," and leave it at that. The league thinks, "How can we get even more value out it?"
That's winning thinking.
It reminds me of something sports radio veteran Rick Scott once told me. He said, "You know, Brian, you make a little tweak here, a little change there, and pretty soon you've got a great radio station." It works the same way with the NFL. The league certainly doesn't get everything right, but it doesn't leave any meat on the bone when it comes to maximizing value.
The NFL will offer five international games this season, including the first regular-season NFL game ever played in Germany. Not only has the league committed to playing more games in new places, but it also released the dates of those games prior to the full schedule reveal. That's a double dose of maximizing value.
2022 NFL International Games
Week 4
Oct. 2
Vikings-Saints
London
Tottenham Hotspur Stadium
Week 5
Oct. 9
Giants-Packers
London
Tottenham Hotspur Stadium
Week 8
Oct. 30
Broncos-Jaguars
London
Wembley Stadium
Week 10
Nov. 13
Seahawks-Buccaneers
Germany
Allianz Arena
Week 11
Nov. 21
49ers-Cardinals
Mexico City
Estadio Azteca
We also know that the Chiefs will host the Chargers on Sept. 15 to begin the new era of Thursday Night Football on Amazon Prime Video. In Week 2, there will be a Monday Night Football doubleheader featuring Titans-Bills followed by Vikings-Eagles on Sept. 19. No word on the date of that monstrous Jags-Lions tilt yet. We'll have to wait until Thursday.
What the NFL is doing with its gradual schedule release is actually work and life advice. It's a PSA on the importance of maximizing value. We should always look for creative ways to connect with people in our work and personal lives.
I sat down with the guys from The Mac Attack in Charlotte for a Q&A last week. Morning host Chris McClain told me something interesting about widening your reach as a host.
"You've got to have content out there all the time," McClain said. "We grew up in an era where you're doing a four-hour show. They call it your shift in radio. 'Hey, how did your shift go?' I've got to get out of that mindset. We've got to have stuff that is recycled throughout the day on social media. Anything extra you can do. We like doing a lot of videos that let people laugh at us a little bit. That's the one thing we've got to keep getting better at. You can be in people's lives and minds all the time. It doesn't just have to be that four hours."
Amen to that. Some hosts work really hard to deliver a good show. It blows my mind that a lot of that hard work can be completely wasted if a portion of the audience isn't listening in real time. If you cooked a great meal, but many people couldn't make it for dinner, how would they know if it was a good meal or not? They would have no idea.
That's how it works in radio. If some of the audience can't make it for the meal, you have to take the meal to them. Post stuff. Be where they are. Deliver your highlights to them. You can either throw away the uneaten meal you worked so hard on, or you can package it up and place it on the doorstep of your audience.
The gradual NFL schedule release also shows us the importance of staying in front of people. The league could unveil the entire schedule in one day and leave it at that. Instead, releasing it gradually keeps the league in the headlines. It's content that leads to discussions and staying on people's minds.
That's how digital should work for radio hosts. Like Mac in Charlotte said, it's important to get out of the radio shift mindset. We can't operate in four-hour radio chunks anymore. We have access to our audience 24 hours a day through digital. It would be crazy not to take advantage of that. The NFL definitely doesn't waste any opportunities to stay top of mind. Why should we?
Another thing the NFL does well; the league finds out what their audience likes and gives them more of it. The NFL is like, "Oh, you like this schedule release thing? Well, let's give you more of it spaced out over multiple days. Oh, you enjoy the NFL Draft? Let's spread that out over three days. Oh, you love Christmas Day football? Well, let's give you a tripleheader this year."
The Browns-Packers game on Christmas Day last year averaged 28.6 million viewers on FOX. Twenty freakin' eight point six million freakin' viewers. Good Lord. The Colts-Cardinals nightcap averaged 12.6 million viewers on NFL Network. That was the second-highest viewed game in network history. NBA commissioner Adam Silver just fainted.
The NBA has played games on Christmas Day since 1947. The NFL doesn't care. The NFL pulled a gangster move in 2021 and is doubling down this year. I'm sorry, tripling down. Roger Goodell and the team owners are kingpins that went to their rival's turf, started selling their own product and said deal with it. The takeaway for radio people is to find out what's working with the audience, and hammer it even further. Sell more of what your audience is buying.
The NFL's approach is a great lesson; don't let anything go to waste. That's a great philosophy in radio too. How can this segment be better? Where can we distribute the best parts of the show? How can I connect with my audience on social media? The NFL is constantly thinking that way. If the NFL hosted a radio show, it wouldn't just crack the mic during the show and call it a day. It would be hustling to promote and stay top of mind. The most popular league in the country sees the importance of staying in front of its audience and maximizing value. It's a pretty good idea for you to take the same approach.
On Sunday Night, Everyone Is Watching Karl Ravech
"What I like about my story over the years at ESPN from 1993 to the present is that it's constantly changing and evolving."
Karl Ravech injured his knee while playing soccer at Needham High School and needed to make a decision on what he wanted to pursue as a career. Always having an interest in both sports and writing, Ravech made the decision to attend Ithaca College as a communications major. Throughout his time in upstate New York, he worked hard to take the next step in his career by quickly immersing himself in the professional world, serving as the sports director at NewsCenter 7 in Ithaca, N.Y. and a freelance producer for WCVB-TV in Boston, Mass. – all while attending classes.
Upon his graduation, Ravech attended SUNY Binghamton to earn his master's degree in management and leadership. Just as he had done previously, Ravech worked in the professional world as he pursued this degree, now as a sports anchor and reporter at WBNG-TV in Binghamton, N.Y.. In 1990, Ravech earned his degree and relocated to Harrisburg, Pa. and was nominated for two local Sports Emmy awards for his reporting on baseball and golf.
Ravech was hired as an anchor by ESPN in May 1993 and has been a fixture at the network since, working in a variety of different on-air roles. He is now the primary play-by-play announcer for Sunday Night Baseball, occupying the seat behind the microphone for Major League Baseball's biggest matchups every week. Getting to this point in his career has been a journey that has required Ravech to consistently adapt and develop, and, in turn, has augmented his versatility.
"What I like about my story over the years at ESPN from 1993 to the present is that it's constantly changing and evolving," said Ravech. "I think the fact that it hasn't stayed stagnant is what's wonderful, and the Sunday Night Baseball booth is sort of the next iteration in [my] career."
Ravech began hosting the overnight edition of SportsCenter with Mike Tirico and Craig Kilborn upon his being hired, and became the primary host of Baseball Tonight and postseason baseball studio coverage starting in 1995. After recovering from a heart attack he suffered while playing pickup basketball with colleagues in 1998, Ravech hosted golf coverage for the network as Tiger Woods became the youngest golf pro to ever win a Grand Slam, and also continued his baseball duties.
Starting in 2006, Ravech began his immersion into the broadcast booth when he became a commentator for Little League World Series broadcasts. Each year, he makes the trip to Williamsport, Pa. to call the action on ESPN and ABC showcasing young, talented baseball players while also telling their stories off the field. Additionally, Ravech has served as the voice of the College World Series on ESPN since 2011, calling the championship action each year from the Charles Schwab Field at TD Ameritrade Park in Omaha, Neb.
The style of both of these broadcasts differ from calling a Major League game in that there is more time to delve into the backgrounds of each of the players and tell the unique stories they bring – especially for those participating in the Little League World Series.
"I'd love to be able to bring that same level of joy to a college game or a Major League game, but I think it's obvious that it's a little more serious," said Ravech. "You're talking about, in the professional ranks, people that are getting paid; and there's a lot of pressure on the college kids and their fan bases are very passionate."
Much like a performer, one of the roles of a broadcaster is understanding and catering to their audience; that is, to understand exactly why a person may be watching or listening to a game and what they seek to gain from it. When a broadcaster is able to pull back the curtain and see the game from the perspective of an audience member, it allows them to foster a deeper connection with the audience as a whole and modify the broadcast accordingly.
"The little league crowd that's on TV is very different than the one that you get for a College World Series game and certainly for a Major League Baseball game," explained Ravech. "They have baseball in common, but I don't think that the expectation when you watch the Little League World Series is to dive too deep into Xs and Os… It's really about why most people came to the game, which is to enjoy it and have fun with it."
Being aware of the viewing audience has been central to Ravech's early success as the new primary voice of Sunday Night Baseball, as it differs from the viewers he had previously been communicating with on Monday Night Baseball, a role he took on in 2016. Yes, calling games on Mondays and Wednesdays undoubtedly required ample preparation; however, Ravech's new gig has required a shift into how he applies his preparation to the broadcast.
"On Sunday night, [everyone is] watching, which means you have got to be as prepared by talking to the players and coaches as you possibly can be because the people who are consuming it know as much about the team as you do," said Ravech. "It's not as if we are preparing any differently, but you're certainly paying a great deal of attention to just the two teams."
Throughout his time at ESPN, Ravech had worked extensively with Eduardo Pérez: a former Major League player and experienced analyst. Whether it was in the booth at the College World Series or calling Korean Baseball Organization games remotely in the middle of the night during the onset of the COVID-19 pandemic, the duo has developed a synergy on the broadcast.
Pérez is able to extrapolate unique storylines during the game because of his profound ability to communicate with those around him.
"As we walk through the stadiums, he is talking to people who are doing everything in the building – whether they are operating an elevator; whether they are the general manager; whether they are a player; whether they are welcoming people into a clubhouse," Ravech said of Pérez. "He knows everyone, and those connections make him so valuable."
Someone Ravech has been familiar with over his years living in New England is former all-star pitcher and YES Network analyst David Cone, albeit from covering him as a player and watching him on television. Ravech called ESPN being able to land Cone this offseason "the last piece" to assembling the new booth, all while Cone is still slated to call 50 Yankees games on the YES Network this season. Prior to the 2022 campaign, Ravech and Cone had not worked together; yet just a few games into his new job, Ravech has been impressed with his colleague.
"He recognizes that in order to communicate properly we, collectively, have to understand what it is that we're talking about – so you're not just throwing terms out there that may sound good but you don't know what they are – and he's very aware of that," Ravech said of Cone. "He's the complete package when it comes to an analyst in 2022."
Along with being the voice of Sunday Night Baseball, the College World Series and the Little League World Series on ESPN, Ravech has also served as the voice of the SEC basketball tournament since 2017. Being on the call for high-stakes matchups, such as the Kentucky Wildcats against the Tennessee Volunteers, or on Sunday Night Baseball, the New York Yankees against the Boston Red Sox, is an exciting part of Ravech's job throughout the calendar year. But no matter the sport; no matter the league; no matter the game – there is a consistent aspect of Ravech's vernacular he is cognizant of every time he steps behind the microphone.
"I think my style, whether it's in the studio or in the booth, is to really engage with the analyst," said Ravech. "That part of it is, I think, a common trait through all of my broadcasts and I want to continue to do that."
Having the ability to engage in genuine conversation with his analyst comes in actively listening and molding the conversation to fit most optimally with what is being discussed, even if it means departing from what he had originally planned. In this sense, he sets his partners up for success during the broadcast, part of the reason why he has been adept in working with different personalities in varying atmospheres across different sports.
"If you listen, then your follow-up questions will not necessarily be ones that you have written down already," explained Ravech. "[Your analyst] has opened up this door, and you better be able to be willing to walk through it with them because they're trying to say something and you've got to get it out of them."
—
While Ravech, Cone and Pérez call Sunday Night Baseball games in the style of a traditional broadcast, there are several elements of the entire viewing presentation that demonstrate ESPN's willingness to adapt to changing media consumption trends. One of these elements includes the addition of the new KayRod Cast, which became the most viewed alternate broadcast during a Major League Baseball game during the season debut of Sunday Night Baseball. The broadcast, featuring New York Yankees play-by-play announcer and 98.7 ESPN New York host Michael Kay, along with all-star third baseman Álex Rodríguez, diverts from the traditional style of broadcast through longform conversation, special guests and commodifying the act of watching a live baseball game.
"Baseball to me is an ideal platform for things like the KayRod Cast," Ravech opined. "I think David, Eduardo and I spend a great deal of time focused on the game, but I think there are times where you can veer off and get into some entertaining conversations, and I certainly know that the guests that are on the KayRod Cast offer opportunities like that as well. Baseball lends itself to things like ESPN is doing right now, and I'm grateful to be in one of those booths."
One of the elements within the traditional Sunday Night Baseball broadcast that lends to the commodification of the sport is putting mics on players. It's a new element in Sunday Night Baseball this year. Fans have been given a firsthand perspective, essentially divulging the in-game mindset of a Major League player. Occasionally though, the action finds the interviewee mid-sentence during a game, as it did Francisco Lindor recently – and those are moments where all the broadcasters can do is watch and hope for the best.
"You're kind of holding your breath that he makes the play instead of his being, in some way, distracted by the conversation," said Ravech. "We're incredibly sensitive to that. We try to, for the most part, stay out of when they are at the plate; there's no talking to them. But in the field, they understand that this is an opportunity for them to share with the consumer at home a real on-the-field view that people would not otherwise get."
Appearing as the featured player on Sunday Night Baseball garners plenty of significance and gives players the opportunity to connect with their fans and the larger viewing public. Having the chance to share your perspectives on national television during a game has become a badge of honor, and players from each week's matchup have nominated a player for the next week's game to wear the microphone. So far, ESPN is batting 1.000 in that department, as everyone who has been nominated has appeared on the following week's broadcast.
"Joey Votto was very different than Ozzie Albies [who] was very different than Kike Hernandez and Francisco Lindor," explained Ravech. "The list is great, and every one of them has provided unique looks into the game and their positions and their communication styles and skills while they're on the field and in the dugout."
Occasionally, a player will opt to stay on the microphone for an extended period of time as Phillies outfielder and reigning National League Most Valuable Player award-winner Bryce Harper did a few weeks ago. Harper was the designated hitter for that night's game against the Milwaukee Brewers and stayed on the microphone for four innings of the contest.
"It was incredible," recalled Ravech. "We got a chance to talk to one of the biggest names in the game for four innings; he almost became a quasi-analyst with us. It was really neat, and I think the viewer benefits from it."
—
As Ravech's career continues, he seeks to improve in all areas of his work and try new things if the opportunities arise within ESPN's broadcast portfolio. While there is always the chance of opportunities presenting themselves at different media outlets, Ravech affirms that since the network continues to innovate and remains the leader in coverage, he wishes to continue working with them.
"I think [ESPN] is going to continue to evolve for sure," said Ravech, "and I feel very comfortable about the direction they're going to go in and continue to ride along with them."
Any additional career endeavors that Ravech desires to pursue will be because he had actively pursued them, and he is excited to discover what lies ahead in his career.
"I'm not one of those who looks at it and says, 'I want to call a World Series. I want to call a Final Four,'" said Ravech. "If that all happens, then there will be a reason. I'll have sought those out, as opposed to the way this has happened – which is you kind of just keep moving around and finding your lane like water does down the sidewalk. That's the beauty of it; it's organic – there's nothing linear about it."
Ravech has worked with a wide array of broadcasters throughout his career at ESPN, including Dan Patrick, Keith Olbermann, Stuart Scott and Chris Fowler, and has spoken to aspiring broadcasters on numerous occasions as well. One broadcaster he has had the opportunity to mentor firsthand is his son Sam, who has grown to become a play-by-play announcer on the SEC Network, ACC Network and ESPN, making his debut for the latter at 22 years of age.
Through mentoring his son and other young broadcasters, Ravech has learned that having authenticity in the on-air work that you do allows for one's true personality to shine through no matter the sport being played or medium on which the broadcast is being disseminated.
"I always encourage Sam to be himself. Don't try to be somebody else; don't use somebody else's voice; don't try to speak the way they do," said Ravech. "Be you, and hopefully over the course of a long time, people will come to respect you [and] your work."
Sometimes, getting opportunities in sports media comes in being uncomfortable; that is, broadcasting or talking about a sport with which you may be unfamiliar or having to relocate outside your home market to accept a job. By working to transform feelings of discomfort into those evoking contentment, sports media professionals can successfully learn to grapple with change, and be prepared for it the next time it happens.
ESPN saw potential in Karl Ravech in his early years at the network and has been open and receptive to giving him opportunities both inside and outside of baseball as time goes on. In order for Ravech to grow as a broadcaster though, he had to work to enhance his craft – but none of that would have been possible had it not been for Ravech being open to and embracing change.
"Be malleable. Be flexible," said Ravech. "That's what I would tell anyone, whether it's my son Sam who I'm incredibly proud of, or anybody getting into it. You just never know which way this career is going to go and the things it's going to expose you to. You just don't."