Plenty to get into this week as Demetri Ravanos is joined by Brian Noe and Ryan Maguire to talk about digital audio, fair criticism and gambling.
Podcast: Play in new window | Download
Subscribe: RSS
Ronnie Lane's Career Evolved Right Along With His Market
"I was going to apply for the Kentucky State Police Academy and a buddy of mine came to me and said, 'Hey, how would you like to make more money and not get shot at?'. I said, 'OK, I'm listening.'"
Before it was Champa Bay, it was the punchline to a joke.
Before Tom Brady, before Jon Gruden and before both the Lightning and the Rays, it was a one-sport town that was only identifiable by the orange creamsicle uniforms the Bucs used to wear during seemingly endless losing seasons. Coincidently, that's also the time Ronnie "Night Train" Lane arrived in the city.
Tampa looks a lot different today than it did when Lane arrived in the mid-80's. There's a passion for the local teams that didn't exist until recently. That's to be expected when the city just enjoyed three championships in a 10-month span, after the Lightning went back-to-back with the Stanley Cup and the Bucs took down the Chiefs in last year's Super Bowl. But when locals think about sports talk in the city, Lane is one of the first hosts that come to mind. He's seen the bad times, the good times and everything in between.
"The city was nothing like it looks like today," said Lane. "It was primarily all about the Buccaneers, because the Rays and Lightning weren't here yet."
Lane isn't a lifetime Floridian. He's from a small town in Tennessee near his alma mater of Murray State University. In fact, even though he's the co-host of Ronnie and TKras at 95.3 WDAE in morning drive, some locals would be surprised to hear his career in radio actually started on the music side. 
That's where the infamous nickname of "Night Train" came from. Mason Dixon, a Tampa staple for decades at Q105, decided that Lane needed a nickname. When Lane was on the air at stations in Evansville, Indiana and Henderson, Kentucky, he had a nickname that sounded similar to Ronnie "The Dean of Rock N Roll" Lane. He can't remember exactly what the nickname was, but "Night Train" stuck as soon as Dixon gave it to him. The thought behind the name was as simple as the fact Lane was doing the night shift at Q105 in Tampa. The nickname has stuck ever since.
"Q105 was a monster station that did 12-plus shares," Lane said. "That's where things really started to take off for me."
Lane stayed at the station through both an ownership and a format change. CBS bought the station and switched the format from Top 40 to country. A lot of transformation was about to take place in Lane's career.
"When CBS bought Q105, they already had a country station, so they asked if I wanted to stay in music or try something else," Lane said. "I said, well, I've always been a crazy sports fan, so I'd love to try sports."
Fortunately, the company had a very similar idea. The broadcast rights to the Tampa Bay Buccaneers were owned by the same company, so they made him a nighttime DJ and gave him a job on the weekends with the Buccaneers Radio Network. Since then, he's become synonymous with sports radio in Tampa, alongside his long-time co-host Tom Krasniqi.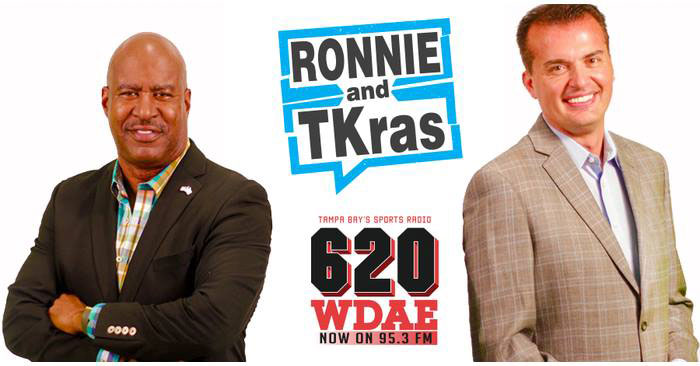 Today, he's living his best life. WDAE is seeing its best years as a station, the local interest is as high as it's ever been and the three local teams are all having success. Lane says it's, without a doubt, the best time he's ever had on sports radio.
"Oh it's at the top of the list and it's not close," Lane said. "When I was doing music radio, I rarely listened to sports talk radio. I think we had some stations and they had a hard time because none of the clubs were consistently good. It was mainly just people griping and bitching about how awful the teams were."
If you're looking for a city that's evolved as a sports town over the past decade, Tampa would be a strong contender. The doom and gloom that used to surround the sports fans in the city has been replaced with optimism and pride for the city, as well as the catchy nickname of Champa Bay.
"It's a completely different sports town and it's galvanized the community," Lane said. "There's a lot of support for the Lightning, tons of support for the Buccaneers and that's important.
When a city evolves as a sports town, that often means there's more attention placed on the sports talk radio stations. Lane says there's a mixture of feelings on if the listeners in Tampa have evolved over the years.
"Some would say they've evolved quite well and others would say, like my partner Tom Krasniqi, he's from the New York area, and he still thinks the fans here have a long way to go," Lane said. "He's probably correct in that assessment, as far as educating themselves about the particular sports. There are others that feel the fans are becoming more educated and more savvy when it comes to sports radio, because we're trying to educate them on our show and I think we do a good job on our show of giving people information but also being entertaining."
There's so much interest in the Bucs, both locally and nationally, that the team always seems to be in the headlines. That's great for Lane and his show on WDAE, seeing as the Bucs have been a constant stream of content that everyone is interested in. That was very evident when Antonio Brown walked off the field in the Bucs' Week 16 game at the New York Jets. It consumed all of the major networks and Lane's show was no different.
"Every moment of the show was Antonio Brown and how the Bucs were going to get through this, so much so to the point where some listeners were like, are you guys forgetting we also have a hockey and baseball team? But it was just because the football team has gotten so popular that everyone was fixated on how they were going to get past the Antonio Brown saga.
"We all gave our opinions because none of us on the show thought they should've signed Antonio Brown in the first place. We took a lot of heat from fans saying, 'well, do you not like the Bucs?'. How could someone even say that? Our company carries the Bucs games and the station supports the Bucs as much as we possibly can. We can't agree with everything they do."
Champa Bay is riding a sports heater that the city has never seen, and quite possibly, may never see again. Lane is enjoying the ride as much as he possibly can.
"I still run into people who are big sports fans that still remember me as a Top 40 DJ at Q105," laughed Lane. "I guess I credit my education at Murray State University and also the guy that really got me into radio, because I was thinking about going into law enforcement. I was going to apply for the Kentucky State Police Academy and a buddy of mine came to me and said, 'Hey, how would you like to make more money and not get shot at?'. I said, 'OK, I'm listening.'"
There's a lot to be proud of when Lane looks back at his career. He was successful in Top 40, he was successful in country music and now he's a huge success at sports radio. It takes a certain talent to thrive over multiple formats. Few have done it to the level of Lane.
"I'm proud of what I did on the music side, particularly with country," Lane said. "I'm just proud to be a communicator and someone that's a voice for the fans."
Sunday Night Baseball Is In The Right Hands With Karl Ravech
"In making the announcement of Ravech taking over, ESPN is saying that it trusts him to carry one of the network's flagship broadcasts."
Thank you, ESPN, for the revamp of the Sunday Night Baseball booth. The change excites me in a few ways. First, I'm a fan of whatever will get Alex Rodriguez off my television on Sunday nights. But truly that statement does a disservice to Karl Ravech. He was named the new play-by-play guy and is certainly not the lesser of the two evils. Ravech is a solid pro that's getting a great opportunity at the network he's served for almost 30 years. 
Ravech is the primary host of ESPN's MLB studio and pre-game show, Baseball Tonight and has been a regular part of the Monday Night Baseball team since the 2016 season. He has also been the voice of ESPN's Home Run Derby telecast since 2017. He even did play-by-play for the KBO coverage during the 2020 season, while Major League Baseball was shut down. 
In making the announcement of Ravech taking over, ESPN is saying that it trusts him to carry one of the network's flagship broadcasts. He's become the face of baseball at ESPN and was really the best choice to replace the outgoing Matt Vasgersian. Ravech has built up the name recognition and the association with the sport at ESPN. 
"Karl Ravech, who has been our 'Mr. Baseball' for three decades, will lead the booth with the command and credibility that he's displayed throughout his career." said Norby Williamson, ESPN executive VP and executive editor of production.
His style is much more laid back than others that have held the role of Sunday Night Baseball's main play-by-play guy. Listening to Karl Ravech call a game is nice because he isn't shouting at you, he's telling you what is going on. He also has the ability to make conversation about the game, which will be key in working with two former players in the same booth. 
Ravech is ready to get started. In a conference call with the media last week, he laid out why the combination of himself, Eduardo Perez and David Cone will work.
"Having watched Cone forever and now listening to him on a podcast, there's a conversational nature about him," said Ravech. "I basically have covered both of their careers, certainly Eddie's in its entirety and Cone for a long, long time, so I got to know them a little bit, but you get to know a different side of them broadcasting.
"To me baseball is a game that takes three hours to play, there's all sorts of opportunities to dive into topics that may not be related to the game, if it's 7-1 in the second inning, and these two guys are, in my mind, as good as any that I could have imagined sitting next to, to have that conversation, and whether it's about history, whether it's about the future, whether it's about analytics, sabermetrics, David Cone's pitching style, why Eduardo was a better hitter than he was a fielder, all these different subjects, these two guys are going to make it very, very easy and very compelling for the viewer to listen to."
Consider also, that Disney (the parent company of ESPN) and Major League Baseball reached an agreement on a seven-year rights deal. That made it very important for the sports network to get this selection right, and it did. 
That booth needed a fresh coat of paint. Vasgersian did his best to work with Alex Rodriguez, but the results were not always the best. Rodriguez seemed to drag Vasgersian down, along with the entire broadcast at times with some of the nonsense he would spew.
Hopefully Michael Kay will have a better go of it with A-Rod on the "Kay-Rod" Megacast planned for 8 games. I think Kay is a tremendous play-by-play guy. With his background as an accomplished sports talk host, he will be able to more easily reign in A-Rod and direct the flow of the broadcast better in that setting. 
Congrats to Karl Ravech and ESPN, for knocking this new booth out of the park. 
Radio Could Be The Backdoor To Sports Sponsorships
Not every business will have unlimited resources to be able to afford sponsorships directly with NFL, NBA, MLB or NHL teams themselves.
Sporting events have been entertainment for people since Roman times. Sports, especially in the USA, are closely linked to our society and American culture. As a business, sports are booming and growing at a rapid pace every year. 
Now, with the rise of online gambling and sportsbooks popping up in just about every state, sports sponsorships will continue to provide tremendous value for brands moving forward.  Don't miss out on your chance to affiliate your brand with some of the most passionate, dedicated and loyal consumers you will ever have a chance to earn business from.  Sports fans are also incredibly emotional and love supporting businesses that support the teams they love to cheer for; use that EMOTION to your advantage and help your business thrive!
Sports sponsorships will often include other key critical advantages that can help your business in many many ways: Access to team/station functions for networking, tickets to the game(s) for client and/or employee entertainment, ability to potentially use team logos and last but certainly not least, can often lead to a player or coach endorsement of your business.  
TOP 5 ADVANTAGES Sports Radio & Sports Sponsorships can offer:
#1 REACH & FREQUENCY – tags in daily/weekly promos
#2 Opportunity to grow the affiliation with a Player or Coach
#3 Little to NO duplication in the market for content and Sponsorships
#4 Endorsements/Brand Ambassadors for product/service
#5 Team Affiliation
Yes, many of these things are very hard to quantify or gage performance based on an ROI evaluation.  However, if done correctly, sports sponsorships can give your business a very unique and competitive edge over your competition in the marketplace because most are category-specific.  Find the right affiliation at the right price point for your budget and I promise you won't regret it.   
Not every business will have unlimited resources to be able to afford sponsorships directly with NFL, NBA, MLB or NHL teams themselves.  Sports radio partnerships with the team can often offer your business similar, if not more impactful, way to affiliate your company with a sports brand at a much better price point.  Take advantage of this unique opportunity, get creative and find something that works for you.  Trust me, if you don't your competition certainly will!