Anatomy Of An Analyst: Brian Griese
Griese is a pro in the booth. He can break down what a quarterback sees or what an offensive coordinator is trying to accomplish on any given play, or in certain situations.
Brian Griese is the answer to a pretty cool NFL trivia question. Griese and his father, Bob Griese, are the only father/son quarterback combination in NFL history to both win Super Bowl titles. The elder Griese, a Hall of Fame quarterback, won back-to-back titles with Miami in Super Bowls VII and VIII and later served as a top college football analyst for ABC Sports from 1987-2005.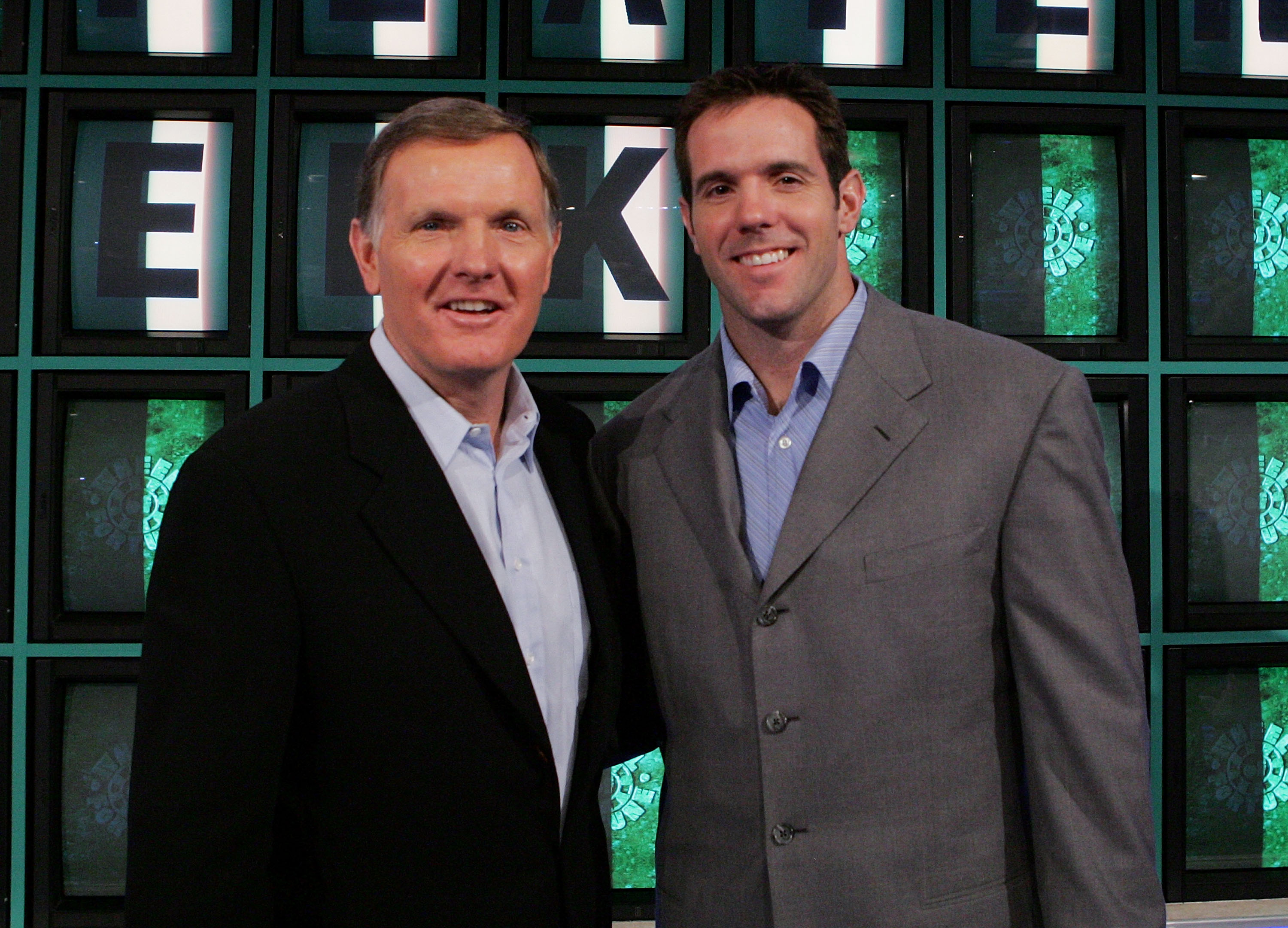 The younger Griese followed in his dad's footsteps one more time, in becoming a college football, and eventually NFL, color commentator. Brian was named to the ESPN Monday Night Football booth in 2020, in a three-man booth featuring Steve Levy on play-by-play and Louis Riddick as the other analyst. The crew was basically given last season as an audition. They passed and were brought back for the 2021 Monday night schedule. 
FOOTBALL CAREER
Griese played collegiately at Michigan from 1993-1997. He was a walk-on for the Wolverines after turning down scholarships at Purdue, where his dad played, and Kentucky.
He managed to piece together a pretty nice career for a non-scholarship player. In his career he went 17-5 as a starter.  Oh yeah, the Wolverines won all three games against Ohio State in which he was the QB. Griese was inducted into the Rose Bowl Hall of Fame in December of 2012. 
Griese led the Wolverines to the 1997 National Championship (as recognized by the Associated Press). After being selected in the third round by the Denver Broncos in the 1998 NFL Draft, he earned his Super Bowl ring with the Broncos in his rookie season, as John Elway led the Broncos to a victory in Super Bowl XXIII over the Falcons. Elway retired after the Super Bowl and Griese became the starting quarterback for the Broncos during the 1999 season. Griese made the Pro Bowl in 2000. After leaving the Broncos, Griese started games for the Dolphins, Bears and Buccaneers.
After his release in July of 2009, he decided to retire from the NFL.
ROAD TO ESPN MONDAY NIGHT FOOTBALL
Griese joined ESPN soon after his playing days were over in 2009. His rise to the MNF Booth was 11 years in the making. He was a leading analyst on college football for the network, calling big games on ABC and ESPN since his hiring. Griese teamed with Levy, field analyst Todd McShay and reporter Molly McGrath to call prominent games which included broadcasting New Year's Day Bowls on television and the College Football Playoff games on ESPN Radio.
Griese previously called ESPN's MNF doubleheader game in 2019 – with his current MNF booth mates Levy and Riddick, and 2018 with Beth Mowins. He also called Denver Broncos' preseason games on TV (2018-19 with Levy) and regular season games on the radio (2010-12). 
AS AN ANALYST
When Griese, Levy and Riddick took over the MNF booth, ESPN was looking to shake things up. Levy was a known commodity, handling many different roles at the network, including hockey. Riddick was more of a question mark from the start. He had the chops as a former player and front office guy, but he had never really served as a game analyst. Griese on the other hand, as I've denoted earlier, had plenty of game experience and the ability to break down a game. The risk though, was a three-man booth. These are never easy situations in any sport. 
"Obviously having three people in a booth versus two people in a booth is different," Griese told The Athletic last year before the groups' first season together. "It's different structurally. The amount of time that you have to talk and how you organize that is something that you have to work through. It's going to be a work in progress, but I think as time goes on, we'll develop our rhythm." he said.  
The roles have been carved out nicely. Griese is a pro in the booth. He can break down what a quarterback sees or what an offensive coordinator is trying to accomplish on any given play, or in certain situations. Having been not only a starter in the NFL, but a backup too, really helps him in my opinion. Sometimes as a starter you get very comfortable with what you're calling, because of the involvement play to play. As a backup, he had the ability to understand by listening to the offensive coordinator in 'game situations' and soaked up that knowledge. In turn now he's able to present that information from both sides if you will. Yet, both Griese and Riddick can explain things to the casual fan. He knows his audience is far less familiar with the nuts and bolts of a game plan than he is. 
I really feel like Riddick's development into a top-flight analyst, comes from Griese's understanding of the role. What do I mean by that? Last year, I felt like Riddick deferred a lot to Griese. In kind, I think the former QB nurtured Riddick, and allowed him to grow, because of how Griese handles his job. I've said it many times, there is a unique skill that only a few former athletes have mastered. That is simplifying the game of football down to its basic form and allowing everyone watching to understand the intricacies involved. All Griese had to do, was be himself and Riddick is doing the same. It really works, especially with an experienced 'traffic cop' in the booth. 
"Ultimately, I don't view our role as showing up every week and trying to show people how much football we know. That's not the point." Griese told the Athletic. "They will learn something new watching the show, and at the very minimum, they will know why the game was won or lost, whether that's a decision by a player or a coach. They will be engaged emotionally because that's always what the most interesting thing to me is when we watch a football game."
There have been occasions where Griese has been questioned for some of the comments he makes. Most recently in the Bears/Steelers Monday Night game on November 8th. Late in the game the Bears tied the score at 26. With 1:46 on the clock, going for one point seemed like it would be the obvious thing to do. The Steelers were called for encroachment and Griese asked whether Matt Nagy would go for two.
"If this is offsides on the defense, now you have options," Griese said. "Do you want to go for two here and potentially… (quick pause), well you're going to kick this field goal either way. It's a higher percentage to win the game."
There was that pause. He was likely hearing from his producer reminding him of the situation and that it only made sense to kick the extra-point.
Everyone makes a mistake from time to time, even people that played the game at the highest level. I don't hold that against Griese, considering, as a Bears' fan, that game had no flow thanks to all the penalties that were called in that game. Tony Corrente and his crew made far more mistakes that night than the broadcast team did.
I'm sure, if Griese is like many, as soon as that commercial break hit, he probably took off his headsets and looked at his partners and said something like, "What did I just say?". He also probably thanked the producer or whoever got in his ear for having his back. 
This situation certainly doesn't define Griese as a broadcaster or an analyst. I look at it as a blip on the radar and one that doesn't happen very often. 
CONCLUSION
As a whole, I enjoy Griese's work on ESPN and ABC. He's become a household voice in football and now is a mainstay on MNF. His less is more approach works, I think it helps the casual fan understand the game better. It's always nicer when the analyst doesn't talk down to you, he/she talks to you and helps the fan to see what they are talking about. The Griese name surely carries some cache, with name recognition as well.
Anatomy of an Analyst: Reggie Miller
"He is no doubt an opinionated person and hey that's fine when you're an analyst that played the game at a high level."
Reggie Miller played his entire 18-year NBA career with the Indiana Pacers. In that time, he became one of the most prolific three-point shooters in history. While his teams never won a championship, Miller is considered one of the best players in Pacers history. His number 31 has been retired by the organization. He was recognized as one of the greatest to play the game when he was inducted into the Naismith Memorial Basketball Hall of Fame in September of 2012.
Miller grew up in California. He was one of five siblings and was born into a very athletic family. His brother Darrell is a former Major League Baseball player (catcher for the then California Angels); his sister Tammy played volleyball at Cal State Fullerton; and his older sister Cheryl is also a Hall of Fame basketball player. Cheryl was a member of the 1984 U.S. gold-medal-winning Olympic basketball team and is also an analyst for Turner Sports.
One of the family anecdotes Reggie likes to recall was when Cheryl used to beat him in games of 1-on-1 prior to his professional career. According to Reggie, they quit playing when he could finally block Cheryl's shots. Miller says his unorthodox shooting style was developed to arc his shot over his sister's constant shot-blocking. His brother, Saul, Jr., became a musician and followed in his father's footsteps in military service.
ROAD TO TNT
In August of 2005, Miller announced his plans to join TNT as an NBA analyst and he's been with the network, more or less, ever since. I say more or less because Miller was tempted at an NBA comeback with the Celtics in 2007.
On August 8, 2007, Celtics GM Danny Ainge and head coach Doc Rivers discussed joining their revamped roster, included Kevin Garnett, Ray Allen, and team legend Paul Pierce, in a reserve role. He seriously thought about it but a few weeks later, on his 42nd birthday, Miller decided not to attempt the return. He told the Indianapolis Star, "Physically, I know I could have done it. But mentally, when you do something like this, you've either got to be all in or all out. And I've decided I'm all out."
At Turner, Miller has handled a variety of roles. Mainly he is a game analyst, working with some of the top play-by-play announcers in the game. He was regularly paired with Marv Albert before his retirement and also had many assignments working alongside Kevin Harlan.
Occasionally, Miller will pop up on the studio show Inside the NBA. His appearances there are not as numerous as they are courtside on the call of a game.
When Turner got involved in the NCAA Tournament broadcasting business, Miller was tabbed as an analyst. He called tournament games for the network from 2011-2019. He was scheduled to work the 2020 tournament, but it was canceled due to the COVID-19 pandemic. He did not work in 2021, thanks to the single-site situation, which resulted in streamlined broadcast crews.
FEUDS
Miller is a lightning rod for controversies, misspeaks, bad Tweets and feuds. He is no doubt an opinionated person and hey that's fine when you're an analyst that played the game at a high level. But along with those opinions come blowback and replies. 
Take for example his Tweet during last year's Eastern Conference Finals between the Nets and the Bucks after Brooklyn won Game 5. Kevin Durant had one of the greatest performances in NBA Playoff history scoring 49 points, grabbing 17 rebounds and dishing out 10 assists, in 48 minutes. The win gave the Nets a 3-2 lead in the series. For some reason, Miller decided to Tweet after the game. Proving the old adage, think before you hit send.
Nets guard Landry Shamet was even asked about the tweet after the game. He told the New York Daily News, "That would be insane. I don't know what universe you would even consider just giving a game away in the playoffs. That doesn't make sense to me." 
If you didn't know the game of basketball, you'd probably have a hard time believing that Miller actually played the game. His teams would never even think about 'throwing' a game to force a game 7. Do you really think the Pacers would lay down if they led the Bulls 3 games to 2 in a series under any circumstance? I don't think so. 
Miller has also had a running "feud" with Spike Lee, the director and Knicks superfan. It dates back to Game 5 of the 1994 Playoffs at Madison Square Garden. Miller willed his Pacers to a win by scoring 24 points in the 4th quarter. After every basket, he looked at Lee, who has courtside seats and trash-talked him. Miller gave Lee the choke sign several times as well. 
It didn't come as a surprise when the Hall of Famer took advantage of the opportunity to call Lee out again during a TNT telecast of the playoffs last season. In the dying minutes of Game 5 between the Knicks and the Atlanta Hawks, with the end result all but assured, Lee left his usual courtside seat and headed for the tunnel with just more than three minutes left. Miller, drew attention to Lee's exit.
"That's a fair-weather fan right there," Miller said as cameras showed Lee walking out. "If he wants to be the No. 1 supporter of the Knicks, you've got to stay there and take it like the guys on the floor."
AS AN ANALYST
Miller is not my cup of tea as an analyst. It's hard to put my finger on exactly why, but I have a few thoughts. It probably doesn't help his case in my mind that I grew up a major Bulls fan.
Putting that aside and the way he felt about my childhood team and the greatest to ever play the game, Michael Jordan, there is still something missing in his analysis. My feeling on that has nothing to do with his playing days. 
I don't always get the impression that Miller is fully prepared for a broadcast. I'm not exactly sure at times, where he's going with what he's saying. I can only imagine the stress this puts on his play-by-play partner. You never want to correct someone on the air or question the authenticity of the commentary, so it's probably difficult to deal with. 
Many fans react to hearing that Miller is going to be part of the coverage of their team in a less than favorable manner. Taking to Twitter to inject memes of Michael Scott from The Office putting his face into his hands, or Charles Barkley's famous 'Terrible' complete with the shaking of the head. 
Some former players, again some, feel like prep for these games isn't as important as being the person that played the game. I've written about this many times, that just because you played the game, doesn't necessarily mean you can make it translate to a broadcast.
Miller was a cocky player, that was able to back it up many times. He broadcasts almost like the way he played. It comes across sometimes as arrogant. As if to say, "I know more than you" without much substance to follow.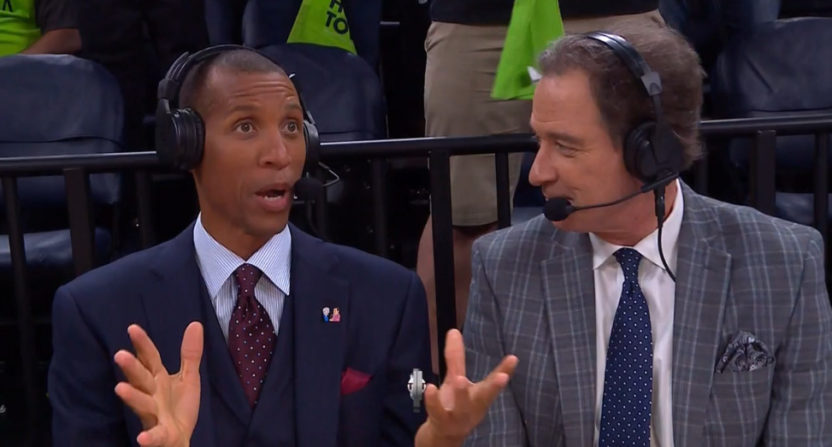 Yes, you are SUPPOSED to know more than me, you played the game, I didn't. Instead of talking down to the audience, explain things, teach us something, and make us understand what comes so naturally to you. The smugness I perceive is unappealing. 
CONCLUSION 
I do appreciate the fact that Miller is willing to say things that others may not be able to get away with. I like how candid he is at times, but there needs to be some substance behind it. Don't just tell me that you would be able to score 45 points a game under the new NBA rules, tell me why. Sometimes I get the impression a lot of what he's saying is for effect, to kind of say 'look at me, look what I can say'. It rings hollow with me and I really feel for the announcers he works with. 
Anatomy Of A Broadcaster: Beth Mowins
"Mowins has had the distinction of busting the glass ceiling for women sportscasters many times."
It's never easy being a pioneer. When you are among the first to ever do something, people will undoubtedly question you and wonder why things need to change. Fans get so used to the way a television or radio broadcast is done, that anything different really stands out. A new scorebug, graphics package, camera angle, and yes, broadcasters, spark an immediate reaction. Right or wrong, it's the way fans are conditioned. They want comfortable and familiar. Ok, but even those they are comfortable and familiar with were once new and different, correct?  
Beth Mowins is living that life as a pioneering broadcaster. Mowins was born in Syracuse, New York. She was a basketball, softball and soccer player at North Syracuse High School. Mowins was captain of the varsity basketball team for two seasons at Lafayette College in Easton, Pennsylvania. She was a three-time all-conference selection and 1,000-point scorer, and she is still the school's all-time assists leader with 715. 
After graduating from Lafayette, Mowins earned her master's degree in communications from Syracuse University's S.I. Newhouse School in 1990. In 2014, Mowins accepted the CoSIDA Jake Wade Award for outstanding media contributions covering collegiate athletics, joining previous honorees Robin Roberts and Christine Brennan. Then in 2015, Syracuse honored her with the Marty Glickman Award for leadership in sports media, joining the likes of Bob Costas, Marv Albert and Sean McDonough.
But like with many broadcasters, both men and women, the dream started early. She told MLB.com in March of 2021 that she would call play-by-play while playing sports with kids in her neighborhood. Then she saw Phyllis George working as a sportscaster for The NFL Today show on CBS. 
"That kind of lit the spark," Mowins said. "I just turned to my mom one day and said, 'Hey, can I do that?' And of course, my mom, in all of her greatness, said, 'Yes, you can.'"
Mowins gives her mom, who passed away in 2010, and her dad, a ton of recognition for making her the person and broadcaster she is today.
"I give her a lot of credit for allowing me to be bold and ambitious," Mowins told MLB.com. "And just being super supportive and encouraging me in all my endeavors. And then my dad was there for the pat on the back or the kick in the butt to get out the door and go get it and not wait for it to come to you."
CAREER 
Mowins's began her career in 1991 as news and sports director for WXHC-FM Radio in Homer, New York. She joined ESPN in 1994, covering college sports including basketball, football, softball, soccer and volleyball. She has been the network's lead voice on softball coverage, including the Women's College World Series. 
Beth Mowins began calling college football for ESPN in 2005. She currently works on both ESPN and ABC doing a variety of sports, including college football and basketball. Mowins also holds down several other jobs, including working part-time for the Marquee Network in Chicago, the network that broadcasts Cubs games, and on occasion she pops up on CBS, working NFL broadcasts. 
FIRSTS/RARE AIR
Mowins has had the distinction of busting the glass ceiling for women sportscasters many times. She's joined some rarified air, following some others in calling major American sports.
The firsts started in September of 2017, when she was tabbed to call ESPN's season-opening Monday Night Football doubleheader with Rex Ryan. She did the game and, in the process, became the first woman to call a nationally-televised NFL game. It also made her just the second female play-by-play announcer in NFL regular season history. Mowins joined Gayle Gardner (Sierens), who broadcast a game in 1987 for NBC Sports.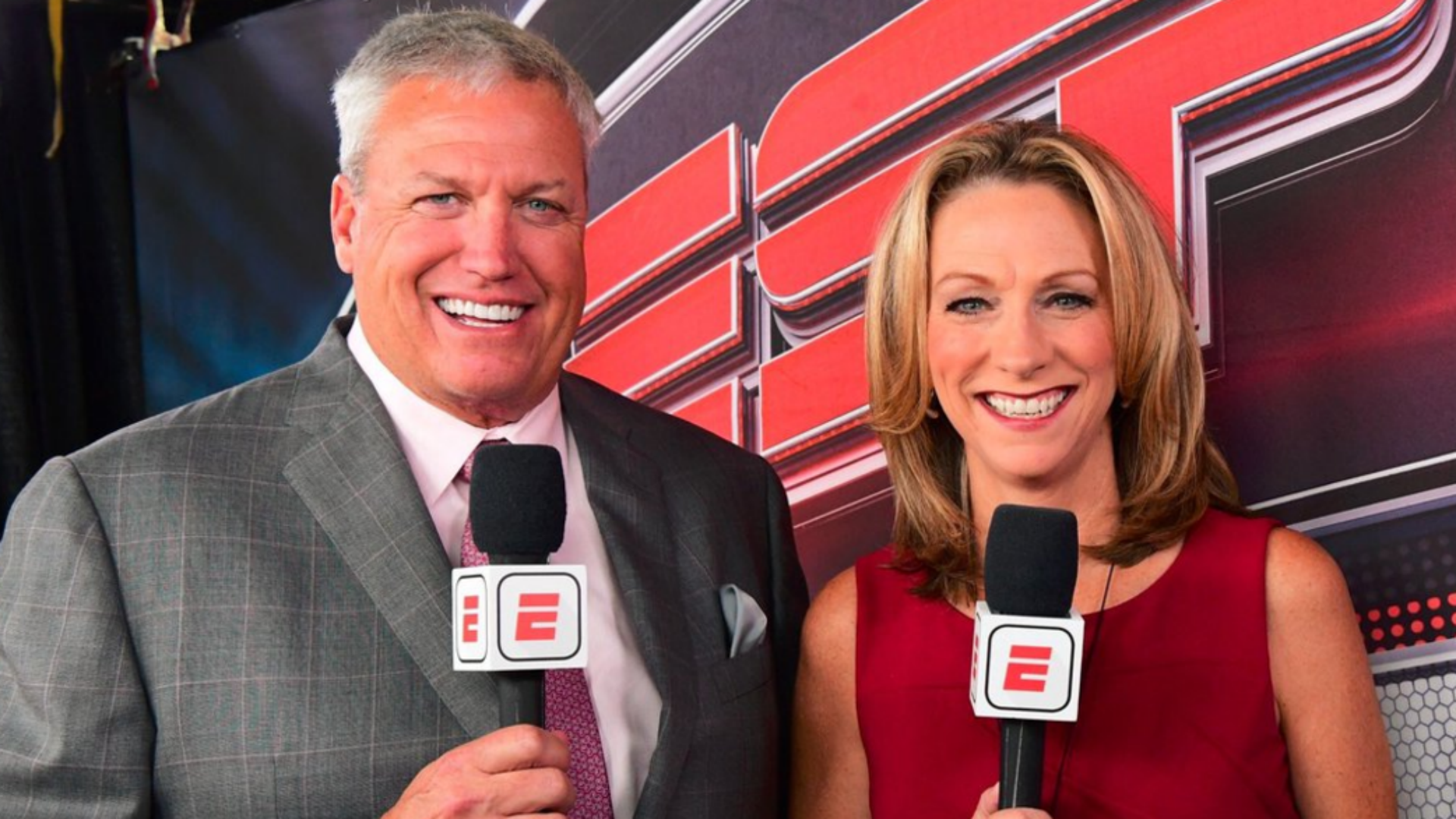 Also in 2017, Mowins became the first female play-by-play announcer to call NCAA Men's Basketball, the NBA and the NFL for CBS Sports. She became the first woman in the 58-year history of the network when she called a Cleveland Browns/Indianapolis Colts matchup with Jay Feely. 
The firsts didn't end for her in 2017. Mowins was named as a fill-in play-by-play announcer for Chicago Cubs games on Marquee Sports Network. On May 8, 2021, she became the first woman to call a regular season game for the team. 
With this assignment she joined a rare club. Gardner (Sierens) established it in 1993 when she called a Rockies-Reds game. Jenny Cavnar did play-by-play for a Padres-Rockies game in 2018.
Yankees radio announcer Suzyn Waldman did play-by-play for local TV games in the 1990s and has been a full-time radio color commentator since she joined John Sterling in 2005. Jessica Mendoza is also a part of the club, having done color commentary for Sunday Night Baseball on ESPN from 2015-19.
CHALLENGES
As I mentioned at the beginning of the column, it is never easy being among the first, or the first to do something. Some fans just aren't used to a woman being in the chair and calling a "man's" sport. Many won't even afford the female play-by-play announcer a chance to prove that she can handle it and call the game at a high level. Mowins can and has proven it time and time again.
Most of us that call games for a living have to have thick skin. We know that we are going to take some shots from listeners/viewers. We know that not everyone is going to like us or the job we do. Mowins and her female counterparts already realize they are going to take their fair share of criticisms, warranted or not.
I found an article written in the Buffalo News in September about Mowins. It was announced she would call a Bills/Texans game alongside Tiki Barber for CBS. Alan Pergament, the TV Critic for the paper printed some of the reactions he saw on Twitter, from some of his followers, about Mowins doing a Bills game. Now mind you, this is even BEFORE she called the game. 
"Oh my (expletive deleted) god. Do the networks really hate us that much?" replied one follower.
"For a team that's supposed to be a Super Bowl contender, we're sure not getting any respect from the networks," wrote one.
"God. Help us," wrote another.
"She's awful," wrote yet another.
There were some that stuck up for Mowins in the article.
"It might be unpopular, but I like Mowins," wrote one follower.
"She's good actually," wrote another.
"I see a lot of woman sports announcers hate here," wrote another. "She's good in everything she covers."
"She's good because she makes it about the GAME, not her," wrote another.
Pergament assessed the criticism in this way: clearly, Mowins is polarizing. It says as much or more about many viewers' acceptance of women announcers than her performance.
Mowins biggest detractor seems to be her voice. Some won't allow themselves to get past it.  To me, it's part of the overall equation, but it's not the only thing broadcasters should be judged upon. Does she know what she's talking about? Is she familiar with the players? Does she provide great descriptions? Is she someone that works well with her color commentator? The entirety of the broadcast is ultimately what Mowins and all other broadcasters should be judged on.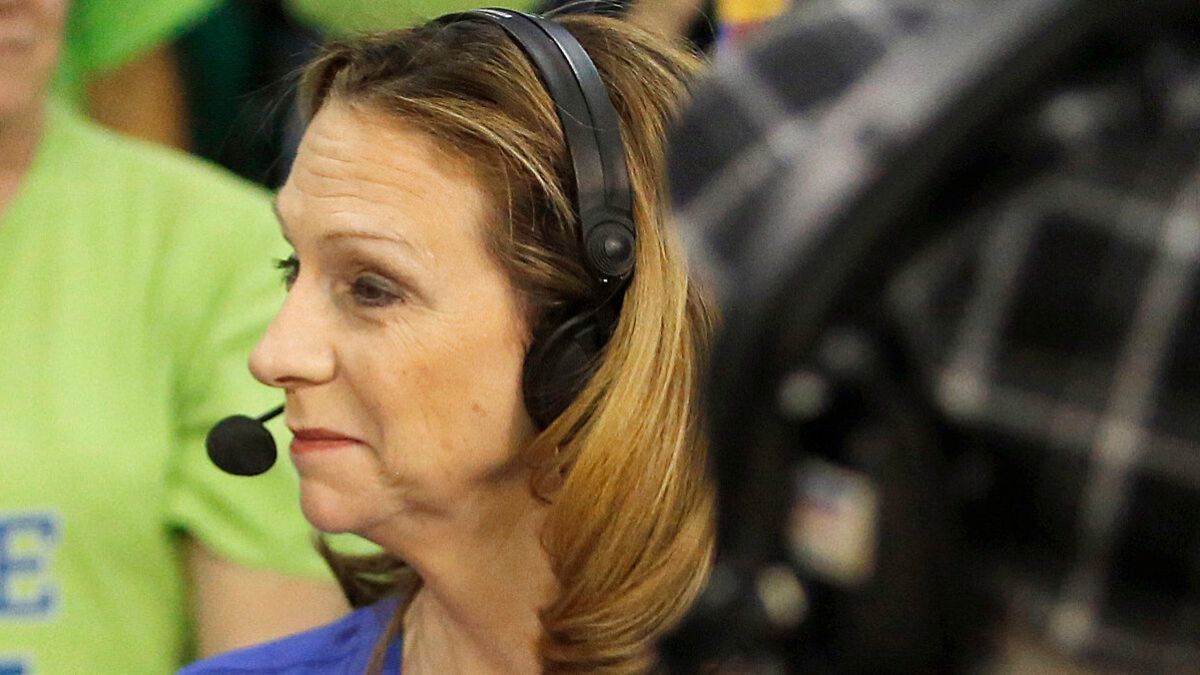 Unfortunately, it just proves that in the world of men's sports, female announcers have to work that much harder to be accepted.
WHY IS SHE GOOD?
I recently watched Mowins broadcast a College Football game on ESPN. She did the Syracuse/Wake Forest contest last weekend with Kirk Morrison. I could tell right away how much of a grasp she had on the telecast. She was very smooth in setting up the key players to watch on both sides.
I could immediately tell that she did her homework. She mentioned that Wake Forest's offense was much better overall than in years past. Mowins added that the Deacons were having issues in the red zone, cashing in on touchdowns. Sure enough, Wake Forest drove the ball to the Syracuse four-yard line but had to settle for a field goal. 
Her play-by-play was very steady, working in stories about the players and coaches involved in the game. Clearly, she had a good handle on what was happening in front of her and there really wasn't much to nit-pick in her ability to call the game. Mowins worked well with Morrison and they played off each other nicely during the broadcast.
During the baseball season, I got to watch Mowins quite a bit here in Chicago when she filled in on Cubs games. It took a little time to get used to another new voice in the booth, but she was able to assimilate herself nicely into the role. It's never easy as a fill-in voice of a baseball team. The constant nature of the sport lends itself to someone being there all the time, home games and road games.
What really makes her a good broadcaster in my eyes, is her versatility. Mowins has the ability to call multiple sports and to call them well. It's not an easy task to maneuver through baseball and football broadcasts within the same weekend. That ability can test many a broadcaster's skill and she handles it in a professional manner.
CONCLUSION
Mowins is a talented broadcaster. Not only has she created opportunities for herself in this male-dominated field, but she's opened doors for other women. There has been a surge in female voices across multiple sports in recent years and Mowins is partially responsible. While she fully acknowledges those that came before her, others are quick to mention her now in accepting full-time jobs in the industry.
Mowins paved the way for broadcasters like Lisa Byington, who was just hired as the television play-by-play voice for the Milwaukee Bucks. Also, there's Kate Scott, who will take over as the lead play-by-play announcer for the Philadelphia 76ers this season and Holly Rowe is becoming an analyst for the Jazz game night broadcast. More and more women are starting to work for men's professional teams these days. It's not quite the norm yet, but it's getting there, thanks to talented people like Beth Mowins.
Anatomy of An Analyst: Drew Brees
"His early work is being met with mixed reviews, but what can really be expected of a guy that just stepped off the football field?"
When you hear the name Drew Brees, you likely think of the guy that led the New Orleans Saints to the franchise's only Super Bowl title in 2009. The NFL was his way of life for 20 years, but Brees decided it was time to walk away after last season.
It's never easy for a guy as talented as Brees to realize that the time has come to retire from the sport he loves. Luckily for him, Brees had somewhere to go to keep that connection alive. Networks were reportedly climbing over one another to secure his services as an analyst. NBC won the bidding and now Brees calls the network home. 
At NBC, he serves as an analyst on Football Night in America and joins Mike Tirico in the booth on Notre Dame Football broadcasts. NBC also plans to use Brees during their Super Bowl coverage and during future Olympics. 
ROAD TO NBC SPORTS
Brees was born in Dallas to parents with athletic backgrounds. His dad played basketball at Texas A&M and his mom was a former all-state athlete in three sports while in high school. Brees didn't even play tackle football until high school, and his freshman year, he lettered in baseball, basketball and football.  It was said that he considered playing baseball in college, but after an ACL tear his junior year, most recruiters shied away from him. Brees overcame the injury and led his football team to a state championship with a 16-0 record. He was voted the Texas High School 5A Most Valuable Offensive Player in 1996. 
He received offers from only two schools, Purdue and Kentucky. He chose the Boilermakers. During his college career Brees set two NCAA Records, 13 Big Ten records and 19 Purdue marks. Even with all those accolades to his credit, he wasn't taken until the first pick of the second round of the 2001 NFL Draft by the San Diego Chargers. He slipped because of a perceived arm strength issue and his smaller than a pro quarterback stature (6'0").
After 5 seasons with the Chargers, they allowed him to leave via free agency. He joined the Saints in 2006 and led them to nine playoff runs, seven division titles (including four straight from 2017 to 2020), three NFC Championship Game appearances and the franchise's first ever Super Bowl title in Super Bowl XLIV.
In spite of all the doubters, Brees retired as the NFL leader in career pass completions, career completion percentage and regular season passing yards. He is also second in career touchdown passes. He also was the MVP of the Saints' Super Bowl XLIV victory. 
HOW IS HE DOING SO FAR?
Brees is a rookie again, and under the microscope in a high-profile job. His early work is being met with mixed reviews, but what can really be expected of a guy that just stepped off the football field? It's one thing to be a good subject for an interview, it's another to be the person on the other side of things and having to analyze and also interview. In his role on Football Night in America, he's criticizing former teams and teammates that he just played with last season. Imagine that. 
"The Carolina defense completely shut them down today. There was no run game, they got after Jameis Winston," Brees said. He then added: "These Carolina Panthers came ready to play." That's all he had to say, but in a few short sentences he'd said a lot about his former team.
Not a bad start by Brees, who may still be trying to find himself and his style in the early moments of his new endeavor. I'm sure he was thinking and his bosses probably were too, if he takes a glancing shot at his team, that leaves every other team in the league open to his words. I get that, you have to be careful, especially as Brees points out he still has relationships with many of his former teammates. He's still close to Sean Payton as well. Baby steps for an analyst, but important steps none the less.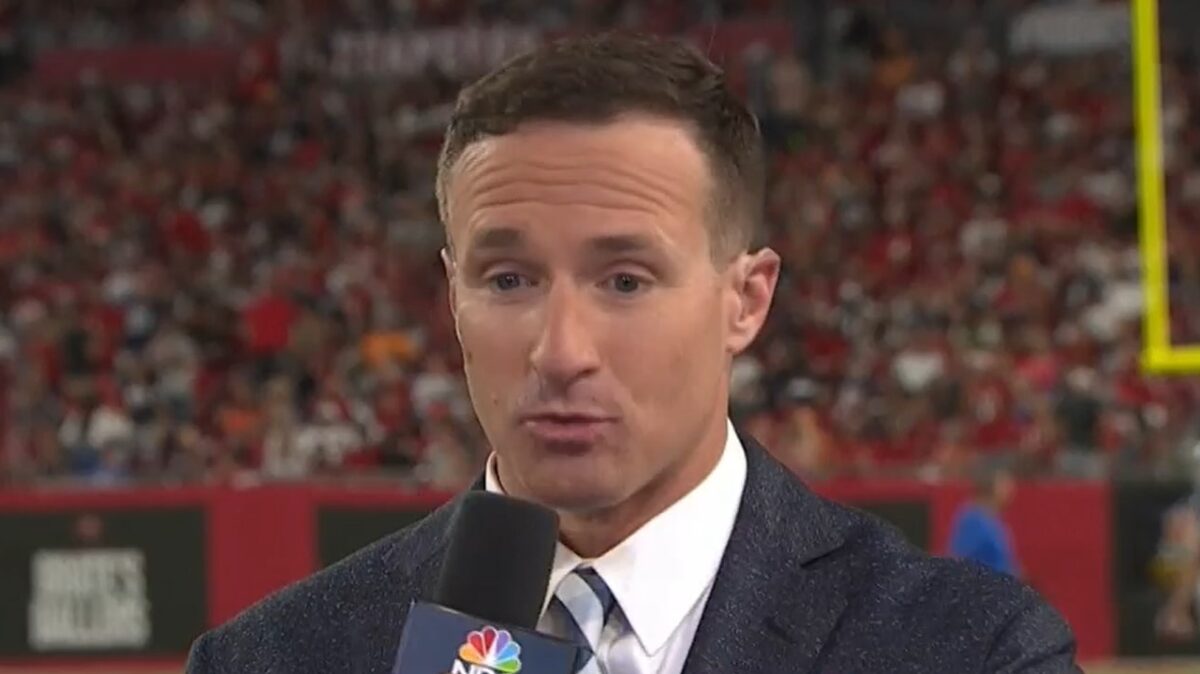 It's all part of a lot of firsts for Brees in his post football career and new media gig. Opening week of the NFL season, his Saints put a whooping on the Green Bay Packers. Brees was watching it from a television monitor. Then last week, he had to call a college football game, Notre Dame facing his alma mater of Purdue.
I went back to watch the NBC broadcast of the Irish and Boilermakers to get a better idea about Brees as a color commentator. There have been rumors that NBC would like to see him in this type of role going forward. I'll break down what I saw and heard as I watched the game. 
I felt like Brees was still finding his way through a broadcast. He didn't really have much to add as Mike Tirico set the stage for the game. Brees actually played in this rivalry so I would have thought the producer of the game would have liked him to speak to how intense it gets with the schools separated by less than 150 miles.
Tirico did a brilliant job early of asking Brees direct questions to bring him into the broadcast. There was some silence still in places where I'm used to hearing the analyst chime in. The early stages of the first quarter are fairly devoid of any commentary, Brees didn't bring much through that point. Some of his early analysis was fairly generic, he started to explain how a near interception by a Notre Dame player resulted because the "pass in the flat, from the opposite hash, may be a 5-yard pass, but it's in the air 35." I was all ears, but then he ended with "lucky that pass didn't get picked off."
Look, there is a timing, not just in the game, but with the broadcast itself. Television, as I've explained a lot, belongs to the color commentator. He should be the star. When you have a rookie in that spot, he/she may tend to defer to the announcer, when they really don't need to, or have to in these cases. 
Like any rookie quarterback, I thought Brees really improved as the game went on. Especially when it came to play calling and the work of the quarterbacks on both sides. After a Purdue sack, Brees said that "(ND QB) Coan needs to understand where the rush is coming from and feel it in order to make a play." He's been there and yes; he knows how to read a defense.
It's almost like a light switch went on in his head during the latter stages of the 1st Quarter and into the 2nd. He had some tremendous insight about Purdue being in third and short situations and knowing how many different play calls they could make in the situations Purdue faced.
In the 2nd quarter, Brees had some excellent commentary about Notre Dame's young quarterback Tyler Buchner. Brees, relayed what Brian Kelly told him during the week about what can be expected from Buchner.
Brees explained, "They are not trying to rush him along, they're not trying to give him more than he can handle, at this point. They want him to be able to play fast, play confident. Certainly, they see this kid's upside and his ability to throw the ball, even though a lot of that's happened outside the pocket thus far, both with the runs and RPO's," Brees said. "What I'm looking to see today is are they going to call some pocket passes with him, because if I'm Purdue's defense all I've seen from Tyler Buchner thus far is him making plays outside the pocket, I haven't seen him make a play from the pocket yet. Guys, keep this guy in the pocket…don't allow him outside the pocket, let's see if he can beat us from there."
This particular bit of verbiage showed me a couple of things. He can relay and pay attention to what a coach is telling him about a particular player. In other words, he was doing his homework on a player that many Notre Dame fans want to watch and see him develop. Brees didn't betray any type of confidence because as he continued, "what I'd like to see" turns it right back on his experience as a high-level quarterback. From this point of the game on, I was happy to see and hear more confidence in Brees. He jumped into the fray without Tirico having to "invite" him and his timing was so much better.
There were a few times it sounded like Brees was back in the huddle, explaining how time management for Notre Dame was critical and that Coan needed to tell his team that they had lots of time to get a completion and with two time outs toward the end of the half, they could even afford to run the ball. Experience was talking right there and that's what I want to hear from an analyst as a play-by-play guy. That gives our broadcast credibility. 
The most impressive thing about Brees in that game, by my count he only slipped up once and dropped a "we" when it came to Purdue. After a completion in the flat and some run after the catch he said, "we'll take that every time!" Not bad and understandable.
More and more reps, like he needed as a young quarterback will make Brees better as time goes along.
DID YOU KNOW?
Brees still gets a copy of the Saints game plan? During an appearance on The Dan Patrick Show, it was revealed that Brees stays in regular contact with both Jameis Winston and the Saints' backup and gadget play quarterback, Taysom Hill.
"Are you an unofficial assistant coach?" Dan Patrick asked.
"I will say this," Brees said laughing. "I did have the game plan for the (Packers) game in my hand prior to the start of the game." It came directly from the Saints according to Brees.
Brees got attention for a lot more than his work during week one. Apparently, his hair was the talk of the internet. Fans on social media were surprised to see Brees with a fuller head of hair, and noticed that his "hairline" has seemingly drastically improved in post-retirement life.
CONCLUSION
Brees has a future in the industry. Just like all those former players that came before him, repetition and learning the ways of the broadcasting world will serve him well. Brees has the background and credentials that make him a credible analyst, now he just needs to learn how to incorporate his thoughts within the structure of a broadcast. He'll figure out how to make statements that are powerful, meaningful and understandable. It all comes with time.