Anatomy Of An Analyst: Brian Griese
Griese is a pro in the booth. He can break down what a quarterback sees or what an offensive coordinator is trying to accomplish on any given play, or in certain situations.
Brian Griese is the answer to a pretty cool NFL trivia question. Griese and his father, Bob Griese, are the only father/son quarterback combination in NFL history to both win Super Bowl titles. The elder Griese, a Hall of Fame quarterback, won back-to-back titles with Miami in Super Bowls VII and VIII and later served as a top college football analyst for ABC Sports from 1987-2005.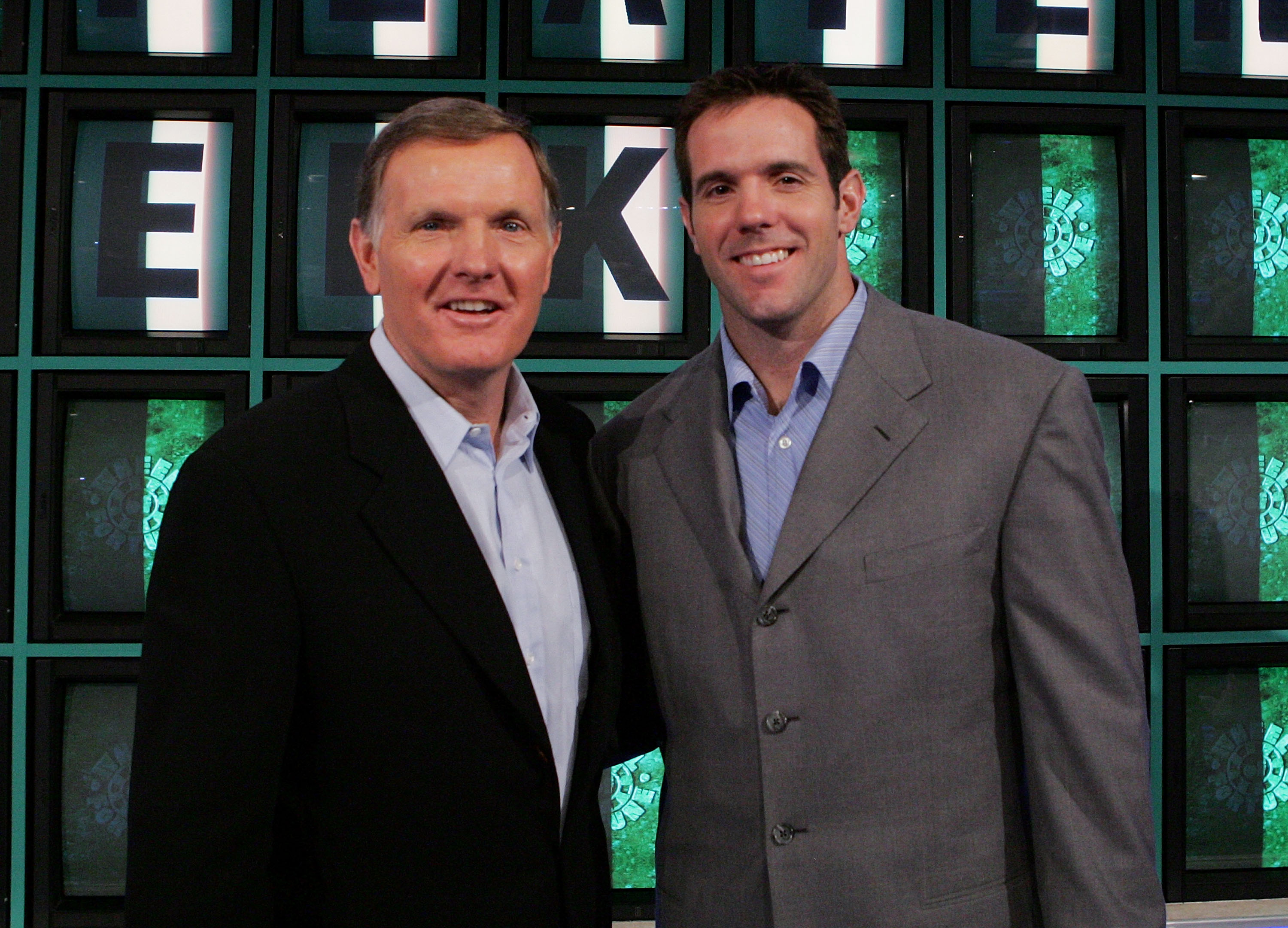 The younger Griese followed in his dad's footsteps one more time, in becoming a college football, and eventually NFL, color commentator. Brian was named to the ESPN Monday Night Football booth in 2020, in a three-man booth featuring Steve Levy on play-by-play and Louis Riddick as the other analyst. The crew was basically given last season as an audition. They passed and were brought back for the 2021 Monday night schedule. 
FOOTBALL CAREER
Griese played collegiately at Michigan from 1993-1997. He was a walk-on for the Wolverines after turning down scholarships at Purdue, where his dad played, and Kentucky.
He managed to piece together a pretty nice career for a non-scholarship player. In his career he went 17-5 as a starter.  Oh yeah, the Wolverines won all three games against Ohio State in which he was the QB. Griese was inducted into the Rose Bowl Hall of Fame in December of 2012. 
Griese led the Wolverines to the 1997 National Championship (as recognized by the Associated Press). After being selected in the third round by the Denver Broncos in the 1998 NFL Draft, he earned his Super Bowl ring with the Broncos in his rookie season, as John Elway led the Broncos to a victory in Super Bowl XXIII over the Falcons. Elway retired after the Super Bowl and Griese became the starting quarterback for the Broncos during the 1999 season. Griese made the Pro Bowl in 2000. After leaving the Broncos, Griese started games for the Dolphins, Bears and Buccaneers.
After his release in July of 2009, he decided to retire from the NFL.
ROAD TO ESPN MONDAY NIGHT FOOTBALL
Griese joined ESPN soon after his playing days were over in 2009. His rise to the MNF Booth was 11 years in the making. He was a leading analyst on college football for the network, calling big games on ABC and ESPN since his hiring. Griese teamed with Levy, field analyst Todd McShay and reporter Molly McGrath to call prominent games which included broadcasting New Year's Day Bowls on television and the College Football Playoff games on ESPN Radio.
Griese previously called ESPN's MNF doubleheader game in 2019 – with his current MNF booth mates Levy and Riddick, and 2018 with Beth Mowins. He also called Denver Broncos' preseason games on TV (2018-19 with Levy) and regular season games on the radio (2010-12). 
AS AN ANALYST
When Griese, Levy and Riddick took over the MNF booth, ESPN was looking to shake things up. Levy was a known commodity, handling many different roles at the network, including hockey. Riddick was more of a question mark from the start. He had the chops as a former player and front office guy, but he had never really served as a game analyst. Griese on the other hand, as I've denoted earlier, had plenty of game experience and the ability to break down a game. The risk though, was a three-man booth. These are never easy situations in any sport. 
"Obviously having three people in a booth versus two people in a booth is different," Griese told The Athletic last year before the groups' first season together. "It's different structurally. The amount of time that you have to talk and how you organize that is something that you have to work through. It's going to be a work in progress, but I think as time goes on, we'll develop our rhythm." he said.  
The roles have been carved out nicely. Griese is a pro in the booth. He can break down what a quarterback sees or what an offensive coordinator is trying to accomplish on any given play, or in certain situations. Having been not only a starter in the NFL, but a backup too, really helps him in my opinion. Sometimes as a starter you get very comfortable with what you're calling, because of the involvement play to play. As a backup, he had the ability to understand by listening to the offensive coordinator in 'game situations' and soaked up that knowledge. In turn now he's able to present that information from both sides if you will. Yet, both Griese and Riddick can explain things to the casual fan. He knows his audience is far less familiar with the nuts and bolts of a game plan than he is. 
I really feel like Riddick's development into a top-flight analyst, comes from Griese's understanding of the role. What do I mean by that? Last year, I felt like Riddick deferred a lot to Griese. In kind, I think the former QB nurtured Riddick, and allowed him to grow, because of how Griese handles his job. I've said it many times, there is a unique skill that only a few former athletes have mastered. That is simplifying the game of football down to its basic form and allowing everyone watching to understand the intricacies involved. All Griese had to do, was be himself and Riddick is doing the same. It really works, especially with an experienced 'traffic cop' in the booth. 
"Ultimately, I don't view our role as showing up every week and trying to show people how much football we know. That's not the point." Griese told the Athletic. "They will learn something new watching the show, and at the very minimum, they will know why the game was won or lost, whether that's a decision by a player or a coach. They will be engaged emotionally because that's always what the most interesting thing to me is when we watch a football game."
There have been occasions where Griese has been questioned for some of the comments he makes. Most recently in the Bears/Steelers Monday Night game on November 8th. Late in the game the Bears tied the score at 26. With 1:46 on the clock, going for one point seemed like it would be the obvious thing to do. The Steelers were called for encroachment and Griese asked whether Matt Nagy would go for two.
"If this is offsides on the defense, now you have options," Griese said. "Do you want to go for two here and potentially… (quick pause), well you're going to kick this field goal either way. It's a higher percentage to win the game."
There was that pause. He was likely hearing from his producer reminding him of the situation and that it only made sense to kick the extra-point.
Everyone makes a mistake from time to time, even people that played the game at the highest level. I don't hold that against Griese, considering, as a Bears' fan, that game had no flow thanks to all the penalties that were called in that game. Tony Corrente and his crew made far more mistakes that night than the broadcast team did.
I'm sure, if Griese is like many, as soon as that commercial break hit, he probably took off his headsets and looked at his partners and said something like, "What did I just say?". He also probably thanked the producer or whoever got in his ear for having his back. 
This situation certainly doesn't define Griese as a broadcaster or an analyst. I look at it as a blip on the radar and one that doesn't happen very often. 
CONCLUSION
As a whole, I enjoy Griese's work on ESPN and ABC. He's become a household voice in football and now is a mainstay on MNF. His less is more approach works, I think it helps the casual fan understand the game better. It's always nicer when the analyst doesn't talk down to you, he/she talks to you and helps the fan to see what they are talking about. The Griese name surely carries some cache, with name recognition as well.
Andy Masur is a columnist for BSM and works for WGN Radio as an anchor and play-by-play announcer. He also teaches broadcasting at the Illinois Media School. During his career he has called games for the Chicago Cubs, San Diego Padres and Chicago White Sox. He can be found on Twitter @Andy_Masur1 or you can reach him by email at [email protected].
Anatomy of a Broadcaster: JP Dellacamera
"Dellacamera strikes a nice balance between maintaining interest in a match during the slow periods and the right amount of excitement for each big occasion."
When you think of soccer on television in the United States, the one name that comes to mind is John Paul "JP" Dellacamera. It seems like if there's a big match, he's there calling it. As of this year, his portfolio contains, 7 Women's World Cups, including the one he's calling right now. Dellacamera has also called 10 Men's World Cups. That puts him in the lead spot on the Mount Rushmore of American soccer broadcasters.
Dellacamera is called upon to lend his voice to other major soccer events in the Fox portfolio. The She Believes Cup has been his domain for the last several years, Dellacamera was the lead broadcaster for the 2018 Concacaf Women's Championship and matches for the 2016 Copa America Centenario and UEFA Europa League. Dellacamera is the 2018 winner of the Colin Jose Media Award which honors journalists whose careers have made significant long-term contributions to soccer in the United States. That's who he is and what does in a nutshell.
Dellacamera grew up in the Boston area and counts Curt Gowdy as one of his early influences. Gowdy was a multisport announcer.
"He did baseball and football play-by-play. Don Earle was, at that time, the voice of the Boston Bruins. They were probably the first two early voices I heard that made me think seriously about a future in broadcasting." Dellacamera told the Sports Broadcasting Journal in 2020. "Back then, hopeful future broadcasters wanted to be the next Gowdy."
Dellacamera followed suit and became one of the more famous announcers that broadcast a multitude of sports. It's soccer though, that he's really best known for and does it at a very high level.
ROAD TO FOX SOCCER
Dellacamera began his legendary broadcasting career in 1978 calling North American Soccer League matches. In the 1980's he called play-by-play for the original Major Indoor Soccer League on ESPN and FNN-Score. He's been calling the sport for 30 plus years, working on ESPN television and radio during his time at that network. He also worked for a time with NBC on their soccer coverage, including the 2004 Summer Olympics and the 2008 Summer Games.
In 2010, Dellacamera went to work for Major League Soccer's expansion team in Philadelphia. He called Union matches through the end of their local TV contract after the 2022 season.
Dellacamera left ESPN in 2011 to join Fox Soccer as their lead MLS play-by-play commentator. However, in November of that year, the NBC Sports Network signed a deal with the league to broadcast all league matches starting in the 2012 season. So, in the meantime, Dellacamera called play-by-play for the New York Cosmos on ONE World Sports in 2013 when games didn't interfere with his Union broadcasts.
Fox re-gained rights in time for the 2015 MLS season and Dellacamera reunited with the network. It's crazy, but Dellacamera was so much a part of the sport, wherever soccer went, so did he.
Earlier in his career, Dellacamera was a hockey announcer. In the early 90's he worked with the Chicago Wolves for a couple of seasons as the franchise's first play-by-play guy. He moved to the NHL in 2003 with the Atlanta Thrashers (now the Winnipeg Jets) and was also part of ESPN's hockey coverage in the mid to late 2000's.
BIG CALLS
He famously called the 1999 FIFA Women's World Cup final between the United States and China. The match ended in a scoreless tie after regulation. It went to penalty kicks and each player's attempt built more and more drama. USA goalkeeper Briana Scurry was up to the task on third kick of the shootout. Dellacamera was up to it as well, saying simply, "The shot, save, SCURRY!" He let the crowd's frenzy tell the rest of the story.
Later in that match, the United States would win on the Brandi Chastain connected on her penalty kick, and again, Dellacamera was simple yet eloquent. "Goal!" once again the pictures took over the call as he laid out. The USWNT clinched the title in the Rose Bowl, with Chastain celebrating by taking off her jersey top and being mobbed by her teammates.
He famously called the "Shot Heard Round the World" in 1989 as Paul Caligiuri's goal helped the USMNT qualify for its first World Cup in 40 years. It took place in a qualification game between the US and Trinidad and Tobago. Caligiuri's goal was the only one of the game. It allowed Team USA to make it to the 1990 FIFA World Cup.
WHY IS HE SO GOOD
Not everyone can call soccer. I've tried it a few times and it's a challenging game to broadcast. The action is limited at times, but a seemingly meaningless moment can become huge in the blink of an eye. Dellacamera strikes a nice balance between maintaining interest in a match during the slow periods and the right amount of excitement for each big occasion.
His voice really fits the sport. It's hard to explain exactly what I mean. The best way I can describe it? His cadence matches the action, or lack of action on the pitch. Just like in baseball, you can't be up all the time on a called strike one in the 2nd inning of a scoreless game. Dellacamera has a way of drawing out his words, to give him the chance to rise or back off a developing play in the contest.
There's a steadying way about the way he calls a game. He's always in control, prepared and knowledgeable. The simplistic way in which he makes big calls, is masterful. I gave you a couple of examples earlier in the column, of Dellacamera's ability to rise to the biggest of occasions with only a few words. It's very impressive.
Much like in other sports, when you hear Dellacamera on the call, you know it's a big event and that you're in for an entertaining and informative broadcast. You don't get to call as many big events as he does, without being a consummate professional and good, very good at what you do.
DID YOU KNOW?
For six years he covered NBA and college basketball games for ESPN and other various networks. He has been the TV voice of the University of Kansas and Creighton University, in addition to calling games in the Atlantic 10 and the Missouri Valley Conference.
Dellacamera was one of the few hockey play-by-play broadcasters to use the word "goal" in his goal calls. Possibly due to his extensive work in soccer, Dellacamera will say "takes the shot, goal." Earlier in his career he did play-by-play for both the EHL Long Island Ducks and NAHL Long Island Cougars.
He is regarded by many as the original voice of U.S. Soccer with a broadcasting career spanning 40 years.
Andy Masur is a columnist for BSM and works for WGN Radio as an anchor and play-by-play announcer. He also teaches broadcasting at the Illinois Media School. During his career he has called games for the Chicago Cubs, San Diego Padres and Chicago White Sox. He can be found on Twitter @Andy_Masur1 or you can reach him by email at [email protected].
Anatomy of an Analyst: Eduardo Perez
There is one thing that clearly stands out to me when hearing Perez on air. He loves the game of baseball. The energy he has when doing a game is unparalleled.
Being the son of a Hall of Fame baseball player is pressure enough. Then there's the pressure of being part of a national broadcast of baseball every Sunday night. Eduardo Perez is the son of former Cincinnati Reds first baseman Tony Perez. Eduardo enjoyed a nice major league career playing for 6 different teams, including the Reds. Only a few players have been able to experience life as a baseball player, where his dad once starred. Perez has parlayed that experience into a second career as a baseball analyst on ESPN, now as the top analyst.
Perez was a player first. He was drafted in the first round by the Angels in 1991 after leading the Florida State University Seminoles to the College World Series that same season. Perez played his first major league game on July 27, 1993, as the Angels beat the A's 15–8. He was the starting third baseman. Perez went 2-for-3 with a walk and 3 runs batted in.
Perez spent 13 seasons in the Major Leagues, playing for the Los Angeles Angels of Anaheim, St. Louis Cardinals, Cincinnati Reds, Tampa Bay Rays, Cleveland Indians, and Seattle Mariners. His best season was in 1997 while with Cincinnati, reaching career highs in home runs (16), RBI (52), and games played (106). He also spent some time in the Nippon Professional Baseball League in Japan.
ROAD TO SUNDAY NIGHT BASEBALL
Perez joined ESPN's Baseball Tonight for the network's postseason coverage in 2006. He worked as an analyst for ESPN's signature show through the 2011 season. As a bi-lingual person, Perez also lent his talents to ESPN Deportes' "Béisbol Esta Noche" during that time.
In 2007, he provided commentary for the NCAA baseball regionals, the Triple-A All-Star Game, and the Little League World Series regionals. It was also later that year that he started a program in Puerto Rico. Just three months after the winter baseball league was canceled Perez announced the founding of the "Winter Training Program" for both professional and amateur players to return pro baseball to the island.
Baseball occupied most of Perez's time from there on. He didn't do much for ESPN, since he was managing in the Puerto Rican league, guiding Leones de Ponce in 2008 and 2009. Perez was named 2008 Manager of the Year for leading his team to the league title.
Perez got back involved in Major League Baseball, serving as a special assistant in the then Cleveland Indians front office. He went back to the field in 2011 when he was named the Marlins hitting coach under manager Ozzie Guillen. That lasted until after the 2012 season.
He managed the team representing Colombia in the World Baseball Classic Qualifying Round in 2013, finishing with a 1–2 record. Perez then served as the Astros bench coach during the 2013 season. For the following season, he was named as the team's first base coach, but resigned in early January to spend more time with his family. The following month he rejoined ESPN as a studio host and game analyst.
In 2022, Perez was named to ESPN's Sunday Night Baseball team. He serves as an analyst on the Major League Baseball game of the week alongside five-time World Series Champion David Cone and play-by-play man Karl Ravech. Perez paid his dues along the way, before being elevated to the main role at ESPN.
WHAT MAKES HIM SO GOOD
There's an easygoingness to Perez's style of analysis. He's not in your face or loading you up with a bunch of numbers. Perez instead likes to talk baseball and he has some pretty good knowledge to back it up. Credentials as a former player and as a kid growing up around the "Big Red Machine" teams in the 1970s.
Perez loves to talk about hitting and strategy, and how they work together. He shares with his audience his thoughts on what he thinks players at the plate should be doing in certain situations. He has definite opinions on that aspect of the game and isn't afraid to express those beliefs.
I know some question his voice. It is different, but it's not a deal breaker to me. I appreciate the information and he explains things in a very clear manner. I hear the information more than his voice because the nuggets really stand out to me. His unique vocal presence in a sense helps him, because, you definitely know when Perez is doing a game on ESPN.
There is one thing that clearly stands out to me when hearing Perez on air. He loves the game of baseball. The energy he has when doing a game is unparalleled. Baseball is a fun game and Perez lives up to the old adage "You can't beat fun at the ole ballpark." It's not surprising since he's said in the past that if it weren't for baseball, his dad would never have left Cuba and he may not be here.
"I'm having a blast. I really am. My wife says it's annoying," Perez told Forbes before last season. "It's like I tell the people in my circle, I don't know what I want to be when I grow up. I got a chance to play baseball for a living for a long time and even back then I was preparing for a broadcasting career. Aaron Boone and I were teammates in Cleveland (in 2006) and we'd sit in the dugout and call games."
The preparation is evident. He does his homework and is ready for each game he calls. The refreshing thing is that he and Cone both never opine about "the good old days" of the sport. Both are up on the analytics and the current players. Perez talks intelligently about today's players and the newer numbers and strategies.
Cone, a former Cy Young Award winner, thinks that aspect of their analysis is really important.
"You're going to see us genuinely get excited about today's game at a time when that's really needed, I think, on a national broadcast," Cone told the Cincinnati Enquirer last year.
Perez understands the dynamic of the three-man booth too. It's not easy to thrive in that setting for everyone. You very rarely hear Perez talking over Cone or Ravech. The former hitter and pitcher dynamic plays and usually spurs on some interesting conversation. ESPN has a great analyst pairing here, with the steadiness of Ravech leading the way.
Even better, his booth mates, enjoy working with him. Before last season Ravech told The Cincinnati Enquirer about life with Perez. "Science was not my strength, but if there's a compound that mixes with everything, Eddie is that compound," Ravech said. "You walk through airports, restaurants, getting into cars, Eduardo knows everybody, and they like him."
DID YOU KNOW
I already told you that Eduardo's dad is Hall of Famer Tony Perez. Did you know, his godfather is also a Hall of Famer? The great Orlando Cepeda.
Perez hit 79 career home runs and four of them came against Hall of Famer Randy Johnson. On April 19, 2005, Perez hit two home runs and knocked in three runs against Johnson in that game. He was 8-for-27 lifetime against "The Big Unit", with seven runs batted in and two doubles.
In 2006, Perez's last season, Johnson was ejected and suspended five games for a brushback pitch against Perez a half-inning after Johnson's teammate, Jorge Posada, had been hit by a pitch. Perez's four home runs against Johnson were the most against one pitcher in Perez's career. He hit three each off Al Leiter and Sterling Hitchcock.
Andy Masur is a columnist for BSM and works for WGN Radio as an anchor and play-by-play announcer. He also teaches broadcasting at the Illinois Media School. During his career he has called games for the Chicago Cubs, San Diego Padres and Chicago White Sox. He can be found on Twitter @Andy_Masur1 or you can reach him by email at [email protected].
Anatomy of a Broadcaster: Jim Ross
"There is something so down home and folksy about Jim Ross. Even if you aren't a fan of professional wrestling, it's hard not to be drawn to him."
The gruff voice is unmistakable. Add in the Southern drawl and the excitement of a kid getting a bike on their birthday and you've got Jim Ross. JR. Good Ol' JR. By whatever name you call him, you are talking about wrestling royalty, because he's thought of as the greatest wrestling announcer of all time. He currently calls All Elite Wrestling (AEW) and is also a senior advisor to the brand.
Ross was a mainstay in the WWF, now WWE, for many years. The height of his popularity was achieved between during the heyday of wrestling on television, from the mid 1990's through the middle of the 2010's.
He would leave the WWE in 2013, but returned in 2017, for a nearly two-year stint. He wasn't being used to what he felt were his best capabilities so he left again. On his way out the door for the final time, he was quoted as saying about Vince McMahon, "I still think I can do play-by-play even though others that may surround Vince think I can't."
He proved that he could still do it and is still doing it to this day.
ROAD TO AEW
After years of working various jobs in the professional wrestling industry, Ross became the primary play-by-play announcer for Mid-South Wrestling in the early 1980s. Ross first worked as a referee starting in 1974. It was a job he held until 1977 when he transitioned to the promotion's broadcast team.
In 1982 Ross went on to do commentary for the National Wrestling Alliance (NWA) and World Championship Wrestling. The first NWA World Heavyweight Championship match that he called featured Ric Flair and Ted DiBiase. He left that promotion in 1987.
Ross then joined World Championship Wrestling, which was eventually purchased by Ted Turner. He worked his way up to become the head of broadcasting. But he had a contentious relationship with WCW's newest commentator and eventual executive Eric Bischoff. Ross demanded he be released from his contract when Bischoff became the executive producer of the WCW.
In 1993 he joined the then WWF, making his on camera debut at WrestleMania IX at Caesar's Palace in Las Vegas. During his tenure with WWE, Ross was widely regarded as the voice of the company, particularly during the Attitude Era of the late 1990s and early 2000s. The relationship with the WWF/WWE was an up and down roller coaster ride. He was fired and rehired a number of times. He was fired by Vince McMahon, once after an episode of Bell's Palsy. He would come back when McMahon was indicted and then was fired when McMahon was reinstated.
Along the way to AEW, he was the lead announcer for New Japan Pro-Wrestling on AXS TV from 2015 to 2018, he did some occasional play-by-play for boxing and mixed martial arts.
Ross would make the jump to AEW for good in 2019. In June 2022, Ross switched from full-time commentary on Dynamite to full-time commentary on AEW Rampage. It was a commentary team rotation swap with Taz.
WHY IS HE SO GOOD
There is something so down home and folksy about Jim Ross. Even if you aren't a fan of professional wrestling, it's hard not to be drawn to him.
Ross, and this is not a slight on him at all, doesn't sound like a regular announcer. I think it works better for him that he doesn't. Buttoned up commentary may fly in football, basketball or even baseball. It doesn't in wrestling. There's an irreverence about the entertainment of wrestling, that deserves and demands an announcer that lives the action just like the fans. I'm not a big wrestling fan, but listening back to a few of his calls, I can see why he is considered a great ambassador for the sport.
The action that happens in the ring can be crazy, out of control and hilarious all at the same time. With all of that going on, having the ability to describe it with the 'attitude' it deserves isn't easy, but Ross makes it look like it is. I re-watched a couple of his WWE calls and it amazes me, how he calls the action. There was a wrestler going after the referee, and at the same time another guy was rushing the ring to finish the job. His head has to be constantly on a swivel. Even in the 'produced' world of pro wrestling, things can go off script, if you know what I mean. Ross is able to handle those audibles with ease and that southern charm.
He embraces the fact that he sounds different than pretty much every other announcer out there. That drawl separates him from the pack and he is immediately noticeable.
You know an announcer has made a difference, when he is respected so much by the stars of his particular sport. WWE Hall of Famer and Legend Stone Cold Steve Austin has praised Ross to Wrestlinginc.com in 2018. "Jim Ross, to me, with his range, with his storytelling, he paid his dues. I mean, he learned from the ground up. And his inflection and his ability to watch a match, tell a story, get the talent over with the credibility that he had, he was the shining diamond on top of everyone, so always a good experience with Jim."
Ross's unique style makes him lovable. It's like watching a wrestling match with your favorite uncle who is really into it. That uncle just keeps telling you what's going on, and you just love watching him have a good time. I think "he's like watching a match with a buddy at a bar" applies here.
CATCHPHRASES
I've written about announcers and their catchphrases before, but mainly when it comes to baseball. They can be endearing and really set a tone for what is happening in a game.
The same applies to Ross. He has a whole host of phrases that seem to fit him quite well. None ever feel like a reach. They are all applicable to certain times and events in a wrestling match. Here are just a few.
When talking about how tough a wrestler is, he busts out, "He's tougher than a $2 steak." If you've ever had a cheap steak somewhere, you know this is an excellent analogy.
If a match or a wrestler is less than entertaining or rough, he busts out the phrase, "Bowling-shoe ugly." You've worn bowling shoes before, so you know that's the truth.
When a wrestler flees from a fight, Ross busts out, "He is running like a scalded dog!"
Ross refers to matches with lots of contact and aggression as a "Slobberknocker." He explained that it's an old Southern football term. When players didn't wear facemasks and got hit so hard that their 'slobber' would fly. Makes sense.
Perhaps the favorite Ross-ism comes when he sees something he cannot believe. In his thickest Southern drawl, he will let loose with "BY GAWD!". It's on the tip of his tongue when he sees a feat of unimaginable brutality. He has also been known to use it when a wrestler's music comes on unexpectedly. Every wrestling fan has their own impression of JR breaking this one out.
DID YOU KNOW?
Ross has had two stints as an announcer in the NFL. He joined the Atlanta Falcons radio broadcast team in 1992. He left after one season, but had a second go-around with the Falcons in 1994.
Outside of wrestling, Ross is known for his barbecue sauce and beef jerky brand, 'J.R.'s Family BBQ.'
He also hosts his own weekly podcast Grilling JR. He's recorded over 200 episodes of the podcast.
Andy Masur is a columnist for BSM and works for WGN Radio as an anchor and play-by-play announcer. He also teaches broadcasting at the Illinois Media School. During his career he has called games for the Chicago Cubs, San Diego Padres and Chicago White Sox. He can be found on Twitter @Andy_Masur1 or you can reach him by email at [email protected].