It's Chaotic And Crazy Being Joe Rexrode
"I came to Tenneseee to be a columnist, but you cant write a column on every single thing, you have to pick your spots. With radio, this satisfies the need to comment on everything."
Every morning starts the same. At precisely 4:30 a.m. an alarm goes off and Joe Rexrode is up and at it. Within the next hour, he'll have made the 25-minute drive from his home to the ESPN 102.5 The Game studios in Nashville to host his morning show alongside Robby Stanley.
For the next four hours, Robby and Rexrode will offer a fun and light-hearted look at the local sports scene. It's not too serious and they rarely ever fight, in fact, they agree quite a bit, but it's a method that shows you don't have to scream at each other during every segment to be successful. 
"I think our show, even though sometimes we get goofy and stuff, I think it's a level-headed approach," Rexrode said. "I know some shows that aren't that, do very well, or some shows that have a lot of friction, that do very well, and you think, is that what it's supposed to be? But you can't be inauthentic."
The show is over at 10:00 a.m. but Rexrode's day is just beginning. From there, he's likely headed to a press conference with one of the various teams in the city. Then, he's spending the afternoon hours writing for his job at The Athletic. And if that doesn't keep him busy enough, he's also a husband with three kids at home. 
"It's chaotic and crazy but it's also like, you get so used to that, what would life be like if it wasn't like that," laughed Rexrode. "It takes a wife who is very flexible and incredibly understanding of my ridiculous schedule, because even just the travel schedule alone sometimes, there's been a lot of stuff I've missed and a lot of times she had to carry the load. I'm so grateful for her."
Yes, Rexrode wears a lot of hats. He's a morning drive radio host, a well-respected writer and a husband, as well as a dad of three. Sometimes, that requires early morning and late-night writing. Or even no sleep at all. 
"There have been days where I've pulled a couple of all-nighters when I was writing something big and it was my deadline day," Rexrode said.
Being in the sports media business can send you to various cities across the country you never thought you'd live in. Living in Nashville was probably never a thought for Rexrode during his 20 years of covering Michigan State athletics for the Detriot Free Press and the Lansing State Journal. As a student at MSU, his sights were set on being a journalist and the first two decades of his career were built on his exceptional talents as a writer. Sure, he did student radio in college and a few fill-in stints with local radio, but bylines in the daily newspaper are how Rexrode built his name. 
Meanwhile, Tim Staudt, known as the "Dean of Sports" was doing sports radio on The Game 730 AM in Lansing. He's hosted "Staudt on Sports" each weekday since 1993 and has been on the Michgan sports scene for over 40 years. Rexrode would frequently be a guest while covering the Spartans. Some days, Rexrode would even come in for an entire hour. 
"I had a lot of fun with that," said Rexrode.
Jack Ebling has an online show in Michigan but used to be on terrestrial radio. On Mondays, Rexrode would host the show with Ebling, as well as a TV show. He probably didn't know it at the time, but it was these experiences that were grooming him to be a full-time radio host. 
Fast forward a few years and Rexrode got his opportunity to be a columnist at The Tennessean in 2016, a goal he had set for himself for quite some time.  Almost immediately, he was doing fill-in work at ESPN 102.5 The Game. 
"They had this thing where you were not allowed to go talk on 104.5 because of some personal beef with Paul Kuharsky and some writers. I always thought that was weird. I did a lot of stuff only at 102.5 because of that rule."
After The Tennessean, Rexrode took an opportunity with The Athletic and stayed in the Nashville market. Meanwhile, The Game was looking for a new morning show, after Braden Gall and Derek Mason were let go by the station. On an interim basis, The Game put Rexrode and Stanley in morning drive. The process lasted weeks, but after an extensive search, the station removed the interim tag and made the show Robby and Rexrode the permanent moring drive show. The writer and dad of three was about to get a lot busier.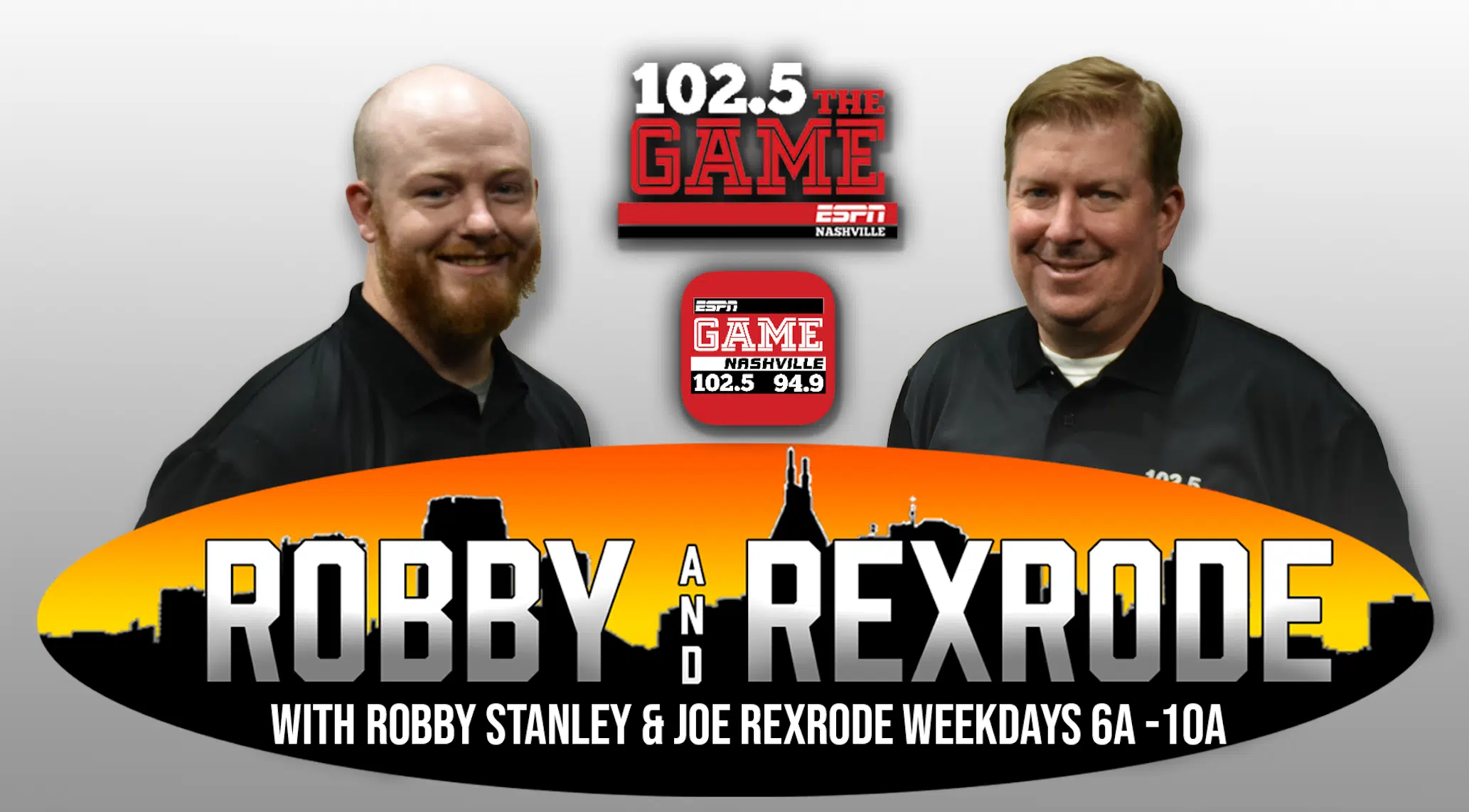 "At first, it was like, oh my God how do people do this every day?" laughed Rexrode. "Then you get into it and say, ok, it's not complete hell. But it's funny, you think about your grandparents and say, why do you get up at 5 a.m.? But as you get older it gets more appealing to go to bed early and wake up early. I actually started to like that, which, I never would have guessed.
"There were no expectations it was just like, hey, they needed something interim so there were no expectations or, oh, we have to prove ourselves, or anything like that. We were having fun and getting more comfortable with the job and we started to hit our stride. By the time September rolled around, we were told and hashed out everything. It was really exciting to think about it as a thing that could have some staying power. It's been a blast."
Radio has become something Rexrode really enjoys, but for more reasons than just the added exposure and the challenge of doing something relatively new. It's more about the personal connections and experiences it's given him. 
"I have enjoyed having a place to go and see people," said Rexrode. "Going through Covid probably even adds to that appreciation, when you come back and say, hey, we're not on Zoom anymore and we can do this in person. And then sit in a room and BS and laugh and stuff. That's the one thing that comes to mind is the camaraderie of being close to people. Also, being involved and being able to do things that are charitable. It's cool to have that and those opportunities. I came to Tennessee to be a columnist, but you cant write a column on every single thing, you have to pick your spots. With radio, this satisfies the need to comment on everything. When something happens I'm like, wow. I can't wait to talk about this tomorrow."
Rexrode admits it would be tough to suddenly not have the outlet to express all of his thoughts, especially on national storylines he would never find himself writing about. He'll also be quick to tell you how much he loves his current editor at The Athletic and program director at 102.5 The Game. Mitch Light, who's in the Nashville area as his editor, and Ryan Porth his PD, are two people he loves working with. In the case of Porth, it would seem as if dad jokes are at the center of the relationship. 
"I compare things to the writing world," said Rexrode. "Sports editors are kind of like PDs, where you've got writers or talent on the air and then you've got management and that can be a really tough spot. That is naturally going to be difficult because you have demands on both sides that sometimes conflict with each other. I think the people that are best at it are, one, people that are easygoing to a point, but also who really listen and know when to pick their spots. Sometimes you have to fight for your writers or your talent and sometimes you have to say, look, things have to be done this way.
"Everyone who has an appreciation for this should respect that and I think Porth is really good with dealing with people and he's a really easy guy to get along with. Also, he's hilarious and he thinks we're funny. He has dad jokes, we have dad jokes, it's like a big dad joke festival."
It's early wake-up calls, late-night writing, and dad-life in between, but he wouldn't have it any other way. 
"Here and there I've done the show from home and on commercial breaks you're running saying, ok, come on! Let's go! I have to get back to the show! Stop fighting! Eat your breakfast!" Rexrode laughed.  
Asking The Right Questions Helps Create Interesting Content
Asking questions that can get a subject to talk about their feelings is a much better way to get an interesting answer.
When ESPN's Mike Greenberg interviewed Paolo Banchero in the lead-up to the NBA lottery on Tuesday, he asked what I've concluded is the single most maddening question that can be asked of any athlete preparing for any draft.
"Why do you believe you should be No. 1 pick in the NBA Draft?" Greenberg said.
Before I point out exactly why I have such a visceral reaction to such a harmless question, I want to point out the positives because Greenberg's question avoids some of the most common pitfalls:
1) It is an actual question. That's not as automatic as you think given the number of poor souls who are handed a microphone and say to their subject, "Talk about (whatever issue they want a quote or a sound bite on)." This is the mark of an amateur, creating the opening for an uncooperative subject to slam the door by saying, "What do you want me to say?"
2) Greenberg's question can not be answered with a yes or a no. Questions that start with the word "Can you …" or "Did you …" may sound like they're tough questions for the subject, but they're actually fairly easy if the subject wants to offer an answer. Now, most interview subjects won't take that one-word exit, but some will in a touchy situation.
The problem with Greenberg's question has to do with the result. Why do we ask questions of the athletes we cover? Seriously. That's not rhetorical. What's the goal? It's to get interesting answers. At least that's the hope whether it's for a quote that will be included in a story, a sound bite to be replayed later or — like in this situation — during an interview that is airing live. The question should be engineered to elicit interesting content, and there was very little chance that the question Greenberg asked Banchero was going to produce anything close to that.
I know that because I have heard some version of this question asked hundreds of times. That's not an exaggeration. I attended the NFL scouting combine annually for a number of years, and if a player wasn't asked why he should be the first overall pick, he'd get asked why he should be a first-round pick or why he should be one of the first players chosen at his position. Never — in all that time — have I ever heard what would be considered an interesting or informative answer. In my experience, players tend to talk in incredibly general terms about their own abilities and then seek to compliment their peers in an effort to avoid coming off as cocky.
Here's how Banchero answered Greenberg's question: "Yeah, thank you all for having me, first off., I feel like I'm the number one pick in the draft because I'm the best overall player. I feel like I check all the boxes whether it's being a great teammate, being the star player or doing whatever the coach needs. I've been a winner my whole life. Won everywhere I've went, and when I get to the NBA, that's going to be the same goal for me. So just combining all those things, and knowing what I have to work on to be better is a formula for me."
There's nothing wrong with answer just as there was nothing wrong with the question. It's just that both are really, really forgettable. ESPN did put a clip on YouTube with the headline "Paolo Banchero: I'm the best overall player in the NBA Draft | NBA Countdown" but I think I'm the only who will remember it and that's only because I'm flapping my arms and squawking not because there was anything bad per se, but because there was nothing really good, either.
First of all, I'm not sure why it matters if Banchero thinks he should be the number one overall pick. He's not going to be making that decision. The team that holds the top draft pick — in this case Orlando — is. Here's a much better question: "How important is it for you to be the number one overall pick?" This would actually give an idea of the stakes for Banchero. What does this actually mean to him? Asking him why he should go number one is asking Banchero to tell us how others should see him. Asking Banchero how important it would be go number one is asking him to tell us about his feelings, something that's much more likely to produce an interesting answer.
The point here isn't to question Greenberg's overall competence because I don't. He's as versatile a host as there is in the game, and anyone else in the industry has something to learn from the way he teases ahead to content. What I want to point out not just how we fail to maximize opportunities to generate interesting content, but why. Interviews are a staple of the sports-media industry. We rely on these interviews as both primary content that will be consumed directly, and as the genesis for our own opinions and reaction yet for all that importance we spend very little time thinking about the kind of answer this question is likely to produce.
The Client Just Said YES, Now What?
We should spend as much time on what we will do after the client says YES.
One of the most significant moments in radio sales is when the client agrees to your proposal and says YES. But, when they do say YES, do you know what's next? We better have an answer!
We spend a lot of time getting ready for clients with research, spec spots (thank you, radio sales trainer Chris Lytle-go to 22:30), proposals, and meetings. All of our focus is on getting the client to say YES. We should spend as much time on what we will do after the client says YES. For example, getting newer sales reps to sell annual advertising contracts would be ideal for building a list. They would have less pressure, more job security, and could spend more time making the advertising work for their clients. But, since most newer reps don't know the business yet, they don't bite off more than they can chew and sell a package of the month.
When a client says yes to the weight loss promotion, it's pretty clear how to write the ads, what the promos will say, etc. BUT, if a newer sales rep starts selling annual contracts to a direct local client who needs a resource, how will that work? Let's make sure we paint the picture right upfront. More experienced reps know that they need to assume the client will say YES to the weight loss promo and have a plan accordingly.
They have the next steps to building copy and promos, a credit app or credit card payment form, and any other detail the client must provide. But, when we ask a direct local client for an annual advertising contract, watch out! You have just made a partnership. Why not lay out, upfront, what that will look like. And I understand not every local client needs the same level of service.
A car dealer has the factories pushing quarterly promotions, agencies producing ads, and in-house marketing directors pulling it all together sometimes. Other clients need your help in promotions, copywriting, or idea generation. Make a plan upfront with your client about when you will meet to discuss the next quarter's ad program. Include your station's promotions or inventory for football and basketball season, a summer NTR event, digital testimonials with on-air talent, etc., in your annual proposal. Go out as far as you can and show what you have to offer to the client and how you can execute it. This exercise is good for you and, once mastered, guides the client on how you will take care of them after the sale. It also opens your eyes to what it takes to have a successful client partnership inside and outside the station.
This week, Demetri is joined by Ian Casselberry and Ryan Brown. Demetri talks about the NBA Draft getting an ABC simulcast, Ian talks about Patrick Beverley's breakout week on TV, and Ryan reminds us that Tom Brady may be the star, but Kevin Burkhardt is the story we shouldn't forget.
Podcast: Play in new window | Download
Subscribe: RSS