Clay Travis & Buck Sexton Are Finding Their Rhythm and Enjoying Success
"Nobody can fill Rush's shoes, but Clay took one shoe, and I took the other."
Rush Limbaugh was diagnosed with advanced lung cancer in February 2020, but it wasn't until the broadcasting giant died a year later that Premiere Networks had to finally act on the immeasurable void in the industry and, specifically, its midday slot.
Rush's program continued on with "Best of" shows, but behind-the-scenes plans were taking hold for Limbaugh's successor.
In May, Premiere announced Clay Travis and Buck Sexton would join forces to co-host the 12p-3p ET slot. Their program debuted on Monday June 21st.
"Nobody can fill Rush's shoes," Sexton told BNM. "But Clay took one shoe, and I took the other."
"You're stepping into the role of a legend," added Travis during a separate interview with BNM. "Simultaneously, you can't be held hostage by the past."
Sexton was already entrenched in conservative media, filling in for Limbaugh many times during the last decade. Travis, though, was hosting morning drive on Fox Sports Radio, and growing his presence with OutKick, and FS1.
"It hasn't been that hard for me because so much of sports became political," Travis said. "There was a decent amount of political analysis over the past several years. The storylines [and] the issues have not changed."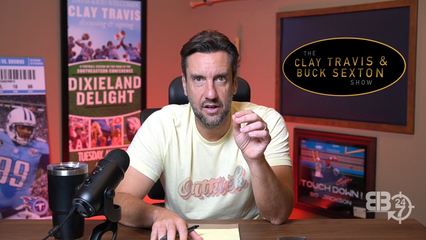 Having a built-in audience helped, but Clay and Buck exceeded their own expectations, tops in several markets including Houston, Phoenix, San Diego, Salt Lake City, Memphis and Sacramento (Limbaugh's former flagship KFBK).
"To be number one is pretty wild," Travis admitted. "We set a new podcast record [and] one of the two or three biggest in all of iHeart."
Although the hosts are bringing new blood to the show–Travis is 42, Sexton is 39–they have a strong work ethic and fresh approach to keeping the three-hour block entertaining and informative for listeners.
"I think it speaks to how important the issues that [Limbaugh] talked about were and how committed the audience is to Rush's world view," Travis said.
"In some level the pressure's off, at least in our minds, because Rush was so widely renowned, not just the most talented in the format, but someone who really built the format in many ways," Sexton added.
Despite being a Limbaugh relief host on numerous occasions, Sexton acknowledged he never met or spoke to Rush. The Limbaugh influence on Sexton came as millions of others listened to the radio titan.
No Training Wheels
While "Clay and Buck" may have their own take on the issues important to the majority of the audience, the Limbaugh lineage is present with his former staff staying behind to forge a future with Travis and Sexton.
"It's an incredible honor to his legacy," shared Travis.
It was Julie Talbott, president of Premiere Networks, who had the foresight to team Sexton and Travis on the 400+ stations.
"We had our own solo shows, so there were probably thousands of hours of us out there. Julie managed us and was both of our bosses," Travis said. "There were no training wheels here."
"Clay is a great talent, a true professional [and] a super smart guy," Sexton said of his co-host. "We're both sort of put in this position…We're both going to make it happen."
Both hosts are proud of the show's performance over the opening six months.
"I think we're doing one of the best radio shows that exists anywhere in the country," Travis said.
While it was direct ascent to the coveted show for Sexton, Travis had to switch formats to make it work. However, regardless of the format or topic, once you are consciously aware of what you are trying to be, "I think that filters into your own authenticity," said Travis.
The OutKick founder places Limbaugh and Howard Stern as the greatest of the generation, who "consistently educate and entertain their audience in a way that's better than almost anybody out there.
While Sexton and Travis may have come from different avenues, each enjoying success as solo performers, it's their connection as a team that's made the difference.
"It certainly takes a bit of a change of pace," said Sexton. "You have to get used to the rhythms of having a co-host."
Since Sexton and Travis have found their best way to format the lunchtime show, listeners will be without the dramatics. There's no fist-pounding or screaming for controversies.
"We're both providing different insights, but also a more conversational and relaxed feel," shared Sexton. "We really want everyone listening to the show to feel like they're the third person sitting at the table."
The tandem also has other projects keeping them busy. Travis remains heavily involved with OutKick, the brand he founded, which produces a mixture of sports, news, gambling, and pop culture content. Sexton meanwhile remains connected to television, hosting a daily one-hour show on The First, a conservative digital network.
"It's good to keep those TV skills sharp and have that opportunity to reach additional audiences beyond the radio show," Sexton said.
The duo has not shied away from topics that hit nerves and resonate with most, especially the pandemic and mask mandates. Sexton, a former CIA analyst who spent time as a consultant for CNN, was quick to criticize his former employer and its recent decision to fire Chris Cuomo.
"I do not believe CNN is running a journalistic enterprise. I think CNN is running a propaganda enterprise under the guise of journalism. That means that their ethics, such as they are, are highly dependent on situations that benefit them," explained Sexton. "So they're very ethically flexible, I think we could say. The fact that CNN didn't take action against Cuomo earlier on isn't surprising to me at all. Eventually, it just became too embarrassing for them."
Some have suggested, given the sexual harassment allegations that, in part, led to Cuomo's demise, the cable outlet should hire a woman for that prime-time hour.
"It's not that they need a woman in that time slot; their problem is: What is CNN?" Sexton contends. "Is this an objective news network? Jake Tapper presents himself as an objective journalist. To anyone who knows his work and certainly how he also operates behind the scenes—that's fraudulent. That's just dishonest."
Great Relationship
To make the most effective radio, the hosts drill down on the issues together to find the most pressing area for focus. Sexton's CIA background has provided great training for navigating the broadcasting business.
"Taking in a tremendous amount of information and figuring out what makes sense, what makes a difference, what matters, that in many ways is the quintessential prep skill for a radio host" said Sexton.
Travis on the other hand started practicing law, after graduating from Vanderbilt University. He then ventured into writing, and local radio before arriving on the national circuit.
Though they go out of their way to bring facts to the forefront and see many things in a similar light, Clay and Buck do share a few differences.
"We don't agree on everything," Sexton cautioned. "Clay is a converted Conservative. I'm a Conservative since I was probably 15 years old."
Whether they agree on taking calls or not is a different issue. The show hasn't done a lot of it, although they are in constant communication with the audience thru social media and make it a point to share messages on the show.
"We want Liberals to listen. We want Democrats to listen, people that disagree with us strongly, we'd rather they hear our version of why Conservatism is correct on a certain issue or why maybe we're a little ambivalent or some things than what they might get elsewhere," Sexton said.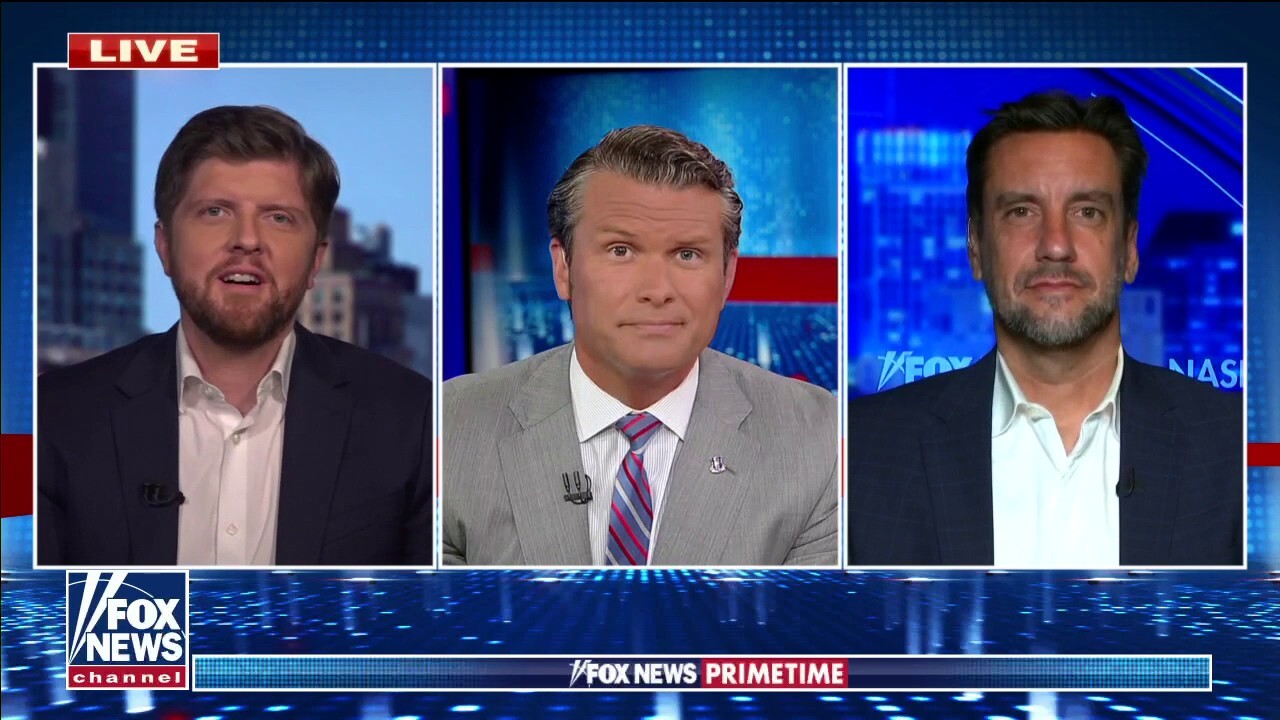 The show itself is put together remotely. Sexton is based in Manhattan, Travis is in Nashville. Though that could create challenges for some, both say it hasn't interfered with the on-air product.
"The technology is such that I don't think anybody out there listening can even tell," Travis added, although they are upfront with the audience about it. "Frankly, it's basically the same, to me, seamlessness, whether we're in the same studio [or not]. It doesn't really seem to impact the flow of the show."
"I think it actually adds to the show and creates a really interesting dynamic," Sexton said. "I can see Clay in real time very clearly. We're staring at each other's faces on pretty large screens."
Wherever they crack the mic, the duo in short order has built a good working relationship.
"I don't know exactly what the phrase would be, but we talk for three hours every day, and the vast majority of it is public," said Travis. "We're constantly texting and sharing stories, interacting, basically all day, so, we have a great relationship."
Sexton echoed a similar sentiment, pointing out that the two hosts share a strong work ethic.
"I will do the absolute maximum workload that I can to create the most successful shows and put out the best content I can," Sexton said. "Clay Travis is an absolute machine as well. I've found that [he's] one of the only people in the entire media industry that I've come across who puts in the hours, the effort and energy that I do."
Jerry Barmash has been a fixture in New York radio for decades with anchor stints on WABC Radio and Bloomberg News. Jerry was also heard on WINS, WCBS and Wall Street Journal Radio. As a media writer, Jerry's pieces were featured in Broadcasting & Cable, NY Daily News and Watercooler HQ. Jerry also hosts the interview podcast Here Now the News. He's on Twitter @JerryBarmash and can be reached at jerrybarmash1@gmail.com.
Christopher Gabriel Isn't Crazy About Politics, But Is Crazy About Making People Laugh
"We've been number one in  Fresno for the past 19 months, one of the top stations in the state. We must be doing something right. When we're not doing news, we're light-hearted."
Talk about conflicted youth. Christopher Gabriel grew up a couple of miles from Wrigley Field, even though his father was a devoted fan of the White Sox.
"My dad was a southside guy," Gabriel said. "I was a White Sox fan like him. My mom was the anomaly, a Cubs fan, but now she's a Philly fan. We had a divided household. I was in the first row in the upper deck for the last game at Comiskey. It was gut-wrenching saying good-bye to it."
Yup. Conflicted.
As a kid, Gabriel watched Dick Allen in the red stripe era Sox uniforms. "I saw Allen hit one so far up in left field, it hit the lip of the roof before flying over and out," Gabriel said. "That's the kind of power Allen had."
Gabriel was a basketball standout in high school, recruited by several schools including Tennessee. He had a lot of connections with the school. His uncle attended Tennessee, but he ultimately didn't think the academic program was right for him.
He said the film Hoosiers was emblematic of everything he was. "I think it mirrored everything I could have been if I'd stayed with basketball. I always knew I had the talent but admittedly didn't put in the necessary effort. I should have stayed there. At the same time, I never would have had the other amazing experiences in my life if I had stayed."
His father was a shrewd businessman. Living in the Chicago area, along with McDonald's founder Ray Kroc, his father recognized the promise of the Golden Arches early.
"It cost 100 thousand dollars in liquid cash to get into a McDonald's franchise back then," Gabriel said. "My father had 9 thousand, far short of the money he needed. He kept borrowing more and finally Ray Kroc put up the difference himself. When my dad was concerned about how he was going to be able to pay Kroc back, Kroc just told him to pay it back by giving back to the community."
Wow. Good deal for the Gabriel family.
Gabriel's radio career  has encompassed both sports talk and news talk, from Fargo to Fresno. He is the host of Fresno's Morning News on KMJ 580 AM/105.9 FM and has a ton of fun on his show. He's not crazy about politics, but he's passionate about his opinions.
"When I started on this show, I wanted to make people laugh on their morning commute," Gabriel explained. "It was my goal to keep people in their car to hear the end of a story. Deliver heart-wrenching stories. I think we do that. We're interesting, engaging, funny. We take the work seriously, but we don't take ourselves too seriously. It's a fine line."
Gabriel said there's no screaming on his show, no agenda, no attempt to make listeners lean a certain way. "We've been number one in Fresno for the past 19 months, one of the top stations in the state. We must be doing something right. When we're not doing news, we're light-hearted."
Gabriel did his homework before accepting the job.
The story goes like this; Gabriel had been working at another station. They canned him despite his being responsible for raising most of the revenue the show generated. He refused to play the game.
"It was the only job I ever got fired from in radio," Gabriel said. "The reason–I wasn't a cheerleader. I told them I'd rather be fired than become a cheerleader for anyone. I told them I wasn't the right fit. They eventually agreed."
KMJ program director Blake Taylor was familiar with Gabriels' work at the previous station.
"I don't know how he got my phone number, but the same day I was let go, he called me," Gabriel explained. "Blake told me he was a fan of my work and wanted me to do guest-hosting. After months of guest-hosting, he insisted one day he was going to hire me. Five years later an opening came along and I had two interviews. I turned it down twice. When they offered the job a third time it made me think perhaps they really wanted me."
If you're keeping score at home, it was basketball, theater, and then radio. Here's the theater part. In high school, he met Regina Gordon, who ran the theater department.
"She grabbed my arm in the hallway and asked me to audition," Gabriel said. "I was open-minded in school. I was never afraid to walk the line between all groups of kids. I didn't hang out with only one group. It wasn't like I only hung out with jocks or theater kids. I didn't give a damn about sitting at a popular table."
After Regina Gordon's interest in Gabriel's possible acting future, he was working at the college radio station. A temporary wall had been put up in between the radio studio and the theater office.
"Someone in the theater office would bang on the wall when they felt I got too loud on my show," Gabriel explained. "The banging would ruin my show. I got so pissed, I burst into the theater office and was raising hell," Gabriel said. "The girl who had banged on the wall was apparently impressed with my anger and said I'd be great for a part they were looking to fill."
A sign? Probably. It gets better. At USC, he studied under John Housman. Yes, the John Houseman.
"He told us stories about working with Orson Welles," Gabriel explained. "Mr. Houseman was one of the greatest people I've ever met, a classical theater guy. I was on campus reading my lines for Barefoot in the Park. It was hot as hell and he was dressed in a tweed jacket and bow tie, just like he would be in the film, The Paper Chase. He saw the script I was reading and seemed dismissive. He grabbed my script and said, 'commercial crap Mr. Gabriel.' I'll never forget, he walked 30 feet, turned and said, 'Don't ever forget. Commercial crap pays the bills."
During Gabriel's first year of theater studies he was starting to get it. Understand the craft, as thespians say. One day John Houseman took him aside and explained it to him this way:
"He said I was talented, but raw. He said I needed a lot of work but believed I could become a good actor and 'join him on the boards."
That's such a thespian thing to say, but also greatly encouraging. In order to do that, Gabriel would have to give up basketball. He did.
"I was going to be a walk-on at USC, and I realized the theater season was almost exactly the same duration as the basketball season. One of them had to go." Basketball bit the dust.
Gabriel takes time to talk to theater groups and tells them a simple truth–if they want to pursue acting, they have to be dedicated. Work as hard as they can. He tells them he's been in 105 plays in his career, but auditioned for more than a thousand.
He was a stellar athlete, but now his acting talent was gaining recognition. Mitch Albom went to see him in the play he penned, Tuesdays With Morrie in St. Paul, Minnesota. The stage play was adapted from Albom's hugely successful book of the same name.
"Mitch Albom came to see me in Tuesdays with Morrie in St. Paul," Gabriel said. "He liked the work and came backstage after the show. He said he'd like me to do another play he'd written. I thought he was bullshitting me, just being nice.When Mitch went back on the air on WJR in Detroit, someone told me he'd said he'd attended the best production of Tuesdays with Morrie he'd ever seen. That was our show."
The accolades just kept on coming.
Gabriel worked with a director in Minneapolis by the name of Don Stolz. He ran the Old Log Theater, the oldest continuously run theater west of the Mississippi.
"He was a WWII veteran and was a theater major at Northwestern," Gabriel said. "The guy who was running the Old Log once told him if he ever wanted to take over the theater, to send him a dollar. Stolz sent him a dollar and ran the theater for 50 years. He once told me, 'You know what my idea of success as an actor is? You get that paycheck every Thursday. You get paid for doing what you love to do. I've always seen that as a critical message."
Months later, Gabriel got a call from Albom. Turns out Albom was being sincere, and he wanted Gabriel to replace a guy in his play, Duck Hunter Shoots Angel.
"It's a play about a couple of knucklehead brothers in Alabama who go duck hunting and actually wind up shooting down an angel," Gabriel explained. "After a while, I told Mitch as much as I loved doing the show, I was burnt out. Mitch told me he thought I'd be good in radio, a good talk show host. He essentially pushed me into this business."
Another door opens for our hero.
Gabriel had what could be called an apprenticeship at KFAN with Doug Westerman. "They didn't need anyone on-air, but they were talking about starting a news-talk station," he said. "Doug told me they were going to need someone to screen calls," Gabriel recalled. Gabriel was apprehensive. "I thought I'd done too much in my career to start that low. Answering phones. I really didn't know any better though so I asked him if I could have the weekend to think about it. Doug Westerman is a big and burly guy with a quick trigger. "F***that,' Westerman screamed, 'I need an answer now.'"
Whether Gabriel was intimidated or recognized a good opportunity when he saw one is only known by Gabriel himself. That's where he started working with Pat Kessler, a TV political reporting legend in Minneapolis.
"Pat was like an older version of me," Gabriel said. "He was a real newshound. Pat was doing some speech on the air and I recognized it as the St. Crispin's Day speech from Henry V. He paused for a moment so I chimed in with several lines and quickly felt I'd made a huge mistake.
"At the commercial break I thought I'd just blown this new career, and was anticipating Pat yelling at me. Instead, he loved it. He told me to go crazy, to create characters for his show. I did liners for the show as Kim Jong-il. There wasn't a ceiling. He gave me the latitude to create. He allowed me to grow quickly. I couldn't have asked for a better pro to learn from. And Doug, he is simply the man who gave me this awesome career. I'm forever grateful to him."
Throughout his stage career, Gabriel has worked alongside some big names like Julie Harris and James Earl Jones. He said he was incredulous when he learned he'd be working with James Earl Jones.
"The first time I saw him I introduced myself and said, 'Hello Mr. Jones.' He said, 'Call me Jimmy.' I thought he had to be kidding. How the hell do you call James Earl Jones, 'Jimmy?'"
With actors like Julie Harris and James Earl Jones, Gabriel recognized how much they cared about and respected their work. For them, it wasn't about celebrity, it was about the craft, the work. They were so sure of themselves.
Gabriel is the father of two daughters. He was thrilled when one of their school principal's insisted the students practiced their interpersonal skills.
"He had the students shake hands, make eye contact with each other," he explained. "I saw it as an attempt to counter the phone culture. It forced the girls to communicate with aunts and uncles and be present. I'm grateful for his efforts."
While he concedes no child is perfect, including his own, there was one incident he felt should be brought to my attention. When one of his daughters was 15, she sent Gabriel a text message.
"It began, 'Hey Bruh.' I wrote back, 'Hey Bruh? Do you think this is your boyfriend?' I told her 'Here's the thing. As your grandpa would certainly tell you, if you want to make it to 16, don't ever text me 'Hey Bruh' again."
In yet another Forrest Gump-ian moment, Gabriel worked with Andrew Zimmern, the host of Bizarre Foods on The Travel Channel.
"A lot of people don't realize he was homeless and a drug addict," Gabriel said. "He turned his life around and became an award-winning chef. He was a food critic on television and is a good friend to this day. He always made me feel important."
Gabriel said when Zimmern visited a city, he didn't want to eat in the heart of the city on the main street. The popular restaurants. Instead, he wanted to eat at the restaurant on the street behind the street. The family-run joint with real recipes.
"It's kind of like how I approach sports," Gabriel said. "I don't care about batting averages, I look at the nuance and depth."
You know, the sport behind the sport.
Jim Cryns writes features for Barrett News Media. He has spent time in radio as a reporter for WTMJ, and has also served as an author and former writer for the Milwaukee Brewers. To touch base or pick up a copy of his book: On Story Parkway: Remembering Milwaukee County Stadium, available on Amazon, email jimcryns3_zhd@indeedemail.com.
Are Fast Food Sandwich Stories News or Free Advertising?
The majority of these stories that make air seem to involve chicken but even then, hiding behind the latest "sandwich wars" justification seems a bit thin.
Scarcely a week goes by where we don't have an opportunity to watch, read, or listen to a "news" story concerning the latest menu item introduced or returned by a chain restaurant or fast food outlet. Yes, "news" is in quotations because I question just how this type of information finds its way into a legitimate rundown.
I've always wondered about this and nobody has ever successfully explained, argued, or come close to justifying this practice is legitimate. It's advertising without the commercial spot break and I don't know why we continue to do it.
First, let's lay down the disclaimer that this is no criticism or finger pointing against any particular food, franchise, corporation, or drive-thru operation or employee. Additionally, no blame or negative evaluation is to be inferred against any news station, outlet, publication or staff member.
Frankly, you're (we're) all culpable and equally to blame.
I have sat in the control room and watched as a fast-food restaurant graphic popped up in between the anchor team or over the solo anchor's shoulder as the prompter rolled out copy I myself would fight not to write.
And yet there it is, Murrow and other award-winning journalists enthusiastically telling us about the new chicken sandwich this place is rolling out next month or the latest two-for-one offer at that place if you go and eat there on a Tuesday.
"It's their new olive burger…now with more olives!"
Actually, the majority of these stories that make air seem to involve chicken but even then, hiding behind the latest "sandwich wars" justification seems a bit thin.
So, again I ask why?
What makes this information suddenly become part of an article or news copy that costs a business nothing and not an ad campaign they should be paying for?
Seriously, we're at the point where the lines have been blurred by mayonnaise or special sauce or two kinds of lettuce or several kinds of cheese if we're really lucky.
I am on a soapbox here but not on either a pedestal nor an altitudinous mare. In other words, I myself have tasted the forbidden fruit. Often that fruit has come in the form of a free breakfast sandwich, flavored coffee, pizza or bacon double cheeseburger that found its way to the newsroom before suddenly becoming a topic discussed on the air.
Hey, I can't review it if I don't try it, right?
Well, yes and mostly no. I'm not advocating for it and unless I'm being compensated to extoll the wonder that is the addition of guacamole or coleslaw it's not getting into my headline set.
On radio, the talkers can do it all they want. They're about other stuff like fun and music and nobody is calling them out on credibility.
The newsroom is different.
When an individual does something good we go to cover it and a business, large or small should be afforded the same courtesy. So many fast-food chains and restaurant franchises do great things for charities and local people in-need and that is part of what we regularly like to showcase.
We get press releases, sometimes distributed as "news releases" from the food chains letting us know about the new offerings. "We've Added Wings!" This is not an ad copy, it's meant to get in our shows and someone, somewhere decided this is okay and not to be questioned.
I tend not to read those memos that say, "don't ask".
In a different direction, there are legitimate incidents, developments and news stories that often must go through a screening process because the business involved is a paying sponsor or advertiser for news programming.
I've had and seen accurate and justifiable copy stricken, "massaged" until unidentifiable or outright killed because somebody's commercial ran during the show or one of the dayparts.
No naiveté here, one understands the concern. However, if a pizza joint is facing a class action sexual harassment suit and good journalism has been practiced do we run from it because they've bought air time or worse yet have now added cilantro to the cheesy-bites?
Bill Zito has devoted most of his work efforts to broadcast news since 1999. He made the career switch after serving a dozen years as a police officer on both coasts. Splitting the time between Radio and TV, he's worked for ABC News and Fox News, News 12 New York , The Weather Channel and KIRO and KOMO in Seattle. He writes, edits and anchors for Audacy's WTIC-AM in Hartford and lives in New England. You can find him on Twitter @BillZitoNEWS.
ABC's "The Light We Carry" Special Draws 3.5 Million Total Viewers
Bestselling author and former First Lady of the United States Michelle Obama was the focus of ABC's Nov. 13 special "The Light We Carry."
With the 2022 midterm elections almost entirely in the rearview mirror (save for extended vote counts in selected areas and the Georgia U.S. Senate runoff), a few notable figures from elections of years past took the spotlight on November 13-15.
Bestselling author and former First Lady Michelle Obama was the focus of ABC's Nov. 13 special "The Light We Carry". Sharing the same title of her newest book release, Obama offered new life stories as well as coping strategies for surviving stress and uncertainty, especially since the early days of the COVID pandemic. "Good Morning America" anchor Robin Roberts interviewed Obama in Chicago and hosted a lunch with Michelle's mother and their close circle of friends.
For its original telecast, it drew 2.8 million total viewers on Nov. 13 from 10-11 p.m., according to Nielsen Media Research. The special ranked fourth in the hour, behind NBC's "Sunday Night Football: Chargers at 49ers", Paramount's "Yellowstone" season premiere and CBS' "NCIS: Los Angeles." Within the following seven days, it picked up an additional 710,000 viewers bringing the tally for ABC's "Michael Obama: The Light We Carry" to 3.5 million.
On the next night (Nov. 14), ABC televised "World News Tonight" anchor David Muir's exclusive interview with former Vice President Mike Pence. It was Pence's first sit-down interview since the Jan. 6, 2021 insurrection at the Capitol and the subsequent committee hearings that investigated the day. It delivered 3.93 million viewers, which nearly doubled its "Bachelor in Paradise" lead-in (2.27 million) and ranked third in the 10-11 p.m. hour (behind ESPN "Monday Night Football: Commanders-Eagles" and CBS' "NCIS: Hawai'i"). In Live plus seven-day viewers, the Pence interview added another 1.3 million to its audience figures, totaling 5.23 million overall.
Then, on Nov. 15, as expected, Donald Trump announced his run for the 2024 U.S. presidency. The three major cable news outlets plus two newer news channels all saw an uptick for that announcement within the 9 p.m. ET hour, although CNN and MSNBC only checked in on the event periodically.
Fox News Channel's "Hannity" drew the biggest crowd with 5.16 million viewers — the program's top mark since Trump spoke with Hannity on Aug. 26, 2021. CNN's "Anderson Cooper 360" was a distant runner-up at 2.43 million. "Alex Wagner Tonight" on MSNBC (1.83 million) was a decent third; its lead-out "Last Word with Lawrence O'Donnell" (1.99 million) built upon Wagner's show that evening.
Newsmax devoted two hours to Trump's announcement, from 9-11 p.m. ET, drawing 1.13 million total viewers — normally, the outlet averages about 1/8th that amount in prime time.
Upstart NewsNation posted 234,000 viewers. It was preceded by "Cuomo" (193,000) at 8 p.m. and succeeded by a post-analysis hosted by Chris Cuomo at 10 p.m. (122,000). The night helped propel NewsNation to another 100,000+ weekly viewer average in prime time, a mark that was in far distant reach for almost all of its two years in existence.
Cable news averages for November 14-20, 2022:
Total Day (Nov. 14-20 @ 6 a.m.-5:59 a.m.)
Fox News Channel: 1.567 million viewers; 216,000 adults 25-54
MSNBC: 0.818 million viewers; 94,000 adults 25-54
CNN: 0.625 million viewers; 131,000 adults 25-54
HLN: 0.156 million viewers; 40,000 adults 25-54
Newsmax: 0.135 million viewers; 16,000 adults 25-54
Fox Business Network: 0.123 million viewers; 14,000 adults 25-54
CNBC: 0.122 million viewers; 29,000 adults 25-54
The Weather Channel: 0.108 million viewers; 21,000 adults 25-54
Prime Time (Nov. 14-19 @ 8-11 p.m.; Nov. 20 @ 7-11 p.m.)
Fox News Channel: 2.399 million viewers; 319,000 adults 25-54
MSNBC: 1.312 million viewers; 144,000 adults 25-54
CNN: 0.877 million viewers; 205,000 adults 25-54
Newsmax: 0.277 million viewers; 43,000 adults 25-54
CNBC: 0.170 million viewers; 51,000 adults 25-54
HLN: 0.162 million viewers; 37,000 adults 25-54
The Weather Channel: 0.110 million viewers; 20,000 adults 25-54
NewsNation: 0.103 million viewers; 14,000 adults 25-54
Fox Business Network: 0.069 million viewers; 11,000 adults 25-54
Top 10 most-watched cable news programs (and the top programs of other outlets with their respective associated ranks) in total viewers:
1. Hannity (FOXNC, Tue. 11/15/2022 9:00 PM, 60 min.) 5.157 million viewers
2. The Five (FOXNC, Tue. 11/15/2022 5:00 PM, 60 min.) 3.869 million viewers
3. Tucker Carlson Tonight (FOXNC, Tue. 11/15/2022 8:00 PM, 60 min.) 3.662 million viewers
4. The Five (FOXNC, Thu. 11/17/2022 5:00 PM, 60 min.) 3.629 million viewers
5. Tucker Carlson Tonight (FOXNC, Thu. 11/17/2022 8:00 PM, 60 min.) 3.629 million viewers
6. The Five (FOXNC, Mon. 11/14/2022 5:00 PM, 60 min.) 3.560 million viewers
7. The Five (FOXNC, Wed. 11/16/2022 5:00 PM, 60 min.) 3.546 million viewers
8. The Ingraham Angle (FOXNC, Tue. 11/15/2022 10:00 PM, 60 min.) 3.531 million viewers
9. The Five (FOXNC, Fri. 11/18/2022 5:00 PM, 60 min.) 3.318 million viewers
10. Tucker Carlson Tonight (FOXNC, Wed. 11/16/2022 8:00 PM, 60 min.) 3.299 million viewers
23. Rachel Maddow Show (MSNBC, Mon. 11/14/2022 9:00 PM, 60 min.) 2.650 million viewers
28. Anderson Cooper 360 (CNN, Tue. 11/15/2022 9:00 PM, 60 min.) 2.430 million viewers
221. Real Time With Bill Maher "Episode 620" (HBO, Fri. 11/18/2022 10:00 PM, 57 min.) 0.834 million viewers
348. The Daily Show (CMDY, Thu. 11/17/2022 11:00 PM, 30 min.) 0.501 million viewers
395. Last Week Tonight (HBO, Sun. 11/20/2022 11:06 PM, 40 min.) 0.387 million viewers
399. Varney & Company (FBN, Wed. 11/16/2022 10:00 AM, 60 min.) 0.382 million viewers
444. Fast Money Halftime Report (CNBC, Tue. 11/15/2022 12:00 PM, 60 min.) 0.296 million viewers
453. Forensic Files "To The Viktor" (HLN, Thu. 11/17/2022 12:00 AM, 30 min.) 0.288 million viewers
500. Weekend Recharge (TWC, Sat. 11/19/2022 10:00 AM, 60 min.) 0.247 million viewers
526. Newsnation Special Report "Trump Potus 2024 Speech" (NWSN, Tue. 11/15/2022 9:00 PM, 69 min.) 0.234 million viewers
Top 10 cable news programs (and the top programs of other outlets with their respective associated ranks) among adults 25-54:
1. Hannity (FOXNC, Tue. 11/15/2022 9:00 PM, 60 min.) 0.929 million adults 25-54
2. Anderson Cooper 360 (CNN, Tue. 11/15/2022 9:00 PM, 60 min.) 0.656 million adults 25-54
3. The Ingraham Angle (FOXNC, Tue. 11/15/2022 10:00 PM, 60 min.) 0.637 million adults 25-54
4. Tucker Carlson Tonight (FOXNC, Tue. 11/15/2022 8:00 PM, 60 min.) 0.573 million adults 25-54
5. The Five (FOXNC, Tue. 11/15/2022 5:00 PM, 60 min.) 0.546 million adults 25-54
6. Tucker Carlson Tonight (FOXNC, Wed. 11/16/2022 8:00 PM, 60 min.) 0.506 million adults 25-54
7. The Five (FOXNC, Thu. 11/17/2022 5:00 PM, 60 min.) 0.501 million adults 25-54
8. Gutfeld! (FOXNC, Tue. 11/15/2022 11:00 PM, 60 min.) 0.481 million adults 25-54
9. The Five (FOXNC, Wed. 11/16/2022 5:00 PM, 60 min.) 0.479 million adults 25-54
10. Tucker Carlson Tonight (FOXNC, Thu. 11/17/2022 8:00 PM, 60 min.) 0.465 million adults 25-54
35. Rachel Maddow Show (MSNBC, Mon. 11/14/2022 9:00 PM, 60 min.) 0.298 million adults 25-54
147. The Daily Show (CMDY, Thu. 11/17/2022 11:00 PM, 30 min.) 0.172 million adults 25-54
158. Real Time With Bill Maher "Episode 620" (HBO, Fri. 11/18/2022 10:00 PM, 57 min.) 0.167 million adults 25-54
221. Last Week Tonight (HBO, Sun. 11/20/2022 11:06 PM, 40 min.) 0.128 million adults 25-54
261. Forensic Files "Kidnapping" (HLN, late Fri. 11/18/2022 4:00 AM, 30 min.) 0.113 million adults 25-54
386. Shark Tank "Shark Tank 1005" (CNBC, Tue. 11/15/2022 9:00 PM, 60 min.) 0.075 million adults 25-54
450. Weekend Recharge (TWC, Sat. 11/19/2022 11:00 AM, 60 min.) 0.063 million adults 25-54
570. American Built (FBN, Mon. 11/14/2022 11:30 PM, 30 min.) 0.048 million adults 25-54
644. Cuomo (NWSN, Wed. 11/16/2022 8:00 PM, 60 min.) 0.038 million adults 25-54
Source: Live+Same Day data, Nielsen Media Research
Douglas Pucci is a Bronx native and NYU graduate analyzing news television ratings for Barrett News Media. He did an internship at VH1's "Pop Up Video" in 1997. After college, Pucci went on to design, build and maintain websites for various non-profit organizations in his hometown of New York City. He has worked alongside media industry observer Marc Berman for over a decade reporting on all things television, first at Cross MediaWorks from 2011-15 then at Programming Insider since 2016. Pucci also contributed to the sports website Awful Announcing. Read more: https://programminginsider.com/author/douglas/