Clay Travis & Buck Sexton Are Finding Their Rhythm and Enjoying Success
"Nobody can fill Rush's shoes, but Clay took one shoe, and I took the other."
Rush Limbaugh was diagnosed with advanced lung cancer in February 2020, but it wasn't until the broadcasting giant died a year later that Premiere Networks had to finally act on the immeasurable void in the industry and, specifically, its midday slot.
Rush's program continued on with "Best of" shows, but behind-the-scenes plans were taking hold for Limbaugh's successor.
In May, Premiere announced Clay Travis and Buck Sexton would join forces to co-host the 12p-3p ET slot. Their program debuted on Monday June 21st.
"Nobody can fill Rush's shoes," Sexton told BNM. "But Clay took one shoe, and I took the other."
"You're stepping into the role of a legend," added Travis during a separate interview with BNM. "Simultaneously, you can't be held hostage by the past."
Sexton was already entrenched in conservative media, filling in for Limbaugh many times during the last decade. Travis, though, was hosting morning drive on Fox Sports Radio, and growing his presence with OutKick, and FS1.
"It hasn't been that hard for me because so much of sports became political," Travis said. "There was a decent amount of political analysis over the past several years. The storylines [and] the issues have not changed."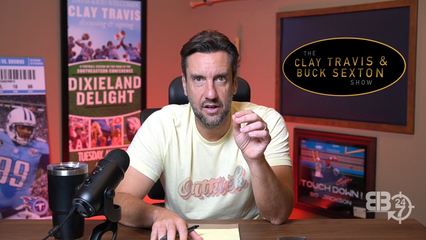 Having a built-in audience helped, but Clay and Buck exceeded their own expectations, tops in several markets including Houston, Phoenix, San Diego, Salt Lake City, Memphis and Sacramento (Limbaugh's former flagship KFBK).
"To be number one is pretty wild," Travis admitted. "We set a new podcast record [and] one of the two or three biggest in all of iHeart."
Although the hosts are bringing new blood to the show–Travis is 42, Sexton is 39–they have a strong work ethic and fresh approach to keeping the three-hour block entertaining and informative for listeners.
"I think it speaks to how important the issues that [Limbaugh] talked about were and how committed the audience is to Rush's world view," Travis said.
"In some level the pressure's off, at least in our minds, because Rush was so widely renowned, not just the most talented in the format, but someone who really built the format in many ways," Sexton added.
Despite being a Limbaugh relief host on numerous occasions, Sexton acknowledged he never met or spoke to Rush. The Limbaugh influence on Sexton came as millions of others listened to the radio titan.
No Training Wheels
While "Clay and Buck" may have their own take on the issues important to the majority of the audience, the Limbaugh lineage is present with his former staff staying behind to forge a future with Travis and Sexton.
"It's an incredible honor to his legacy," shared Travis.
It was Julie Talbott, president of Premiere Networks, who had the foresight to team Sexton and Travis on the 400+ stations.
"We had our own solo shows, so there were probably thousands of hours of us out there. Julie managed us and was both of our bosses," Travis said. "There were no training wheels here."
"Clay is a great talent, a true professional [and] a super smart guy," Sexton said of his co-host. "We're both sort of put in this position…We're both going to make it happen."
Both hosts are proud of the show's performance over the opening six months.
"I think we're doing one of the best radio shows that exists anywhere in the country," Travis said.
While it was direct ascent to the coveted show for Sexton, Travis had to switch formats to make it work. However, regardless of the format or topic, once you are consciously aware of what you are trying to be, "I think that filters into your own authenticity," said Travis.
The OutKick founder places Limbaugh and Howard Stern as the greatest of the generation, who "consistently educate and entertain their audience in a way that's better than almost anybody out there.
While Sexton and Travis may have come from different avenues, each enjoying success as solo performers, it's their connection as a team that's made the difference.
"It certainly takes a bit of a change of pace," said Sexton. "You have to get used to the rhythms of having a co-host."
Since Sexton and Travis have found their best way to format the lunchtime show, listeners will be without the dramatics. There's no fist-pounding or screaming for controversies.
"We're both providing different insights, but also a more conversational and relaxed feel," shared Sexton. "We really want everyone listening to the show to feel like they're the third person sitting at the table."
The tandem also has other projects keeping them busy. Travis remains heavily involved with OutKick, the brand he founded, which produces a mixture of sports, news, gambling, and pop culture content. Sexton meanwhile remains connected to television, hosting a daily one-hour show on The First, a conservative digital network.
"It's good to keep those TV skills sharp and have that opportunity to reach additional audiences beyond the radio show," Sexton said.
The duo has not shied away from topics that hit nerves and resonate with most, especially the pandemic and mask mandates. Sexton, a former CIA analyst who spent time as a consultant for CNN, was quick to criticize his former employer and its recent decision to fire Chris Cuomo.
"I do not believe CNN is running a journalistic enterprise. I think CNN is running a propaganda enterprise under the guise of journalism. That means that their ethics, such as they are, are highly dependent on situations that benefit them," explained Sexton. "So they're very ethically flexible, I think we could say. The fact that CNN didn't take action against Cuomo earlier on isn't surprising to me at all. Eventually, it just became too embarrassing for them."
Some have suggested, given the sexual harassment allegations that, in part, led to Cuomo's demise, the cable outlet should hire a woman for that prime-time hour.
"It's not that they need a woman in that time slot; their problem is: What is CNN?" Sexton contends. "Is this an objective news network? Jake Tapper presents himself as an objective journalist. To anyone who knows his work and certainly how he also operates behind the scenes—that's fraudulent. That's just dishonest."
Great Relationship
To make the most effective radio, the hosts drill down on the issues together to find the most pressing area for focus. Sexton's CIA background has provided great training for navigating the broadcasting business.
"Taking in a tremendous amount of information and figuring out what makes sense, what makes a difference, what matters, that in many ways is the quintessential prep skill for a radio host" said Sexton.
Travis on the other hand started practicing law, after graduating from Vanderbilt University. He then ventured into writing, and local radio before arriving on the national circuit.
Though they go out of their way to bring facts to the forefront and see many things in a similar light, Clay and Buck do share a few differences.
"We don't agree on everything," Sexton cautioned. "Clay is a converted Conservative. I'm a Conservative since I was probably 15 years old."
Whether they agree on taking calls or not is a different issue. The show hasn't done a lot of it, although they are in constant communication with the audience thru social media and make it a point to share messages on the show.
"We want Liberals to listen. We want Democrats to listen, people that disagree with us strongly, we'd rather they hear our version of why Conservatism is correct on a certain issue or why maybe we're a little ambivalent or some things than what they might get elsewhere," Sexton said.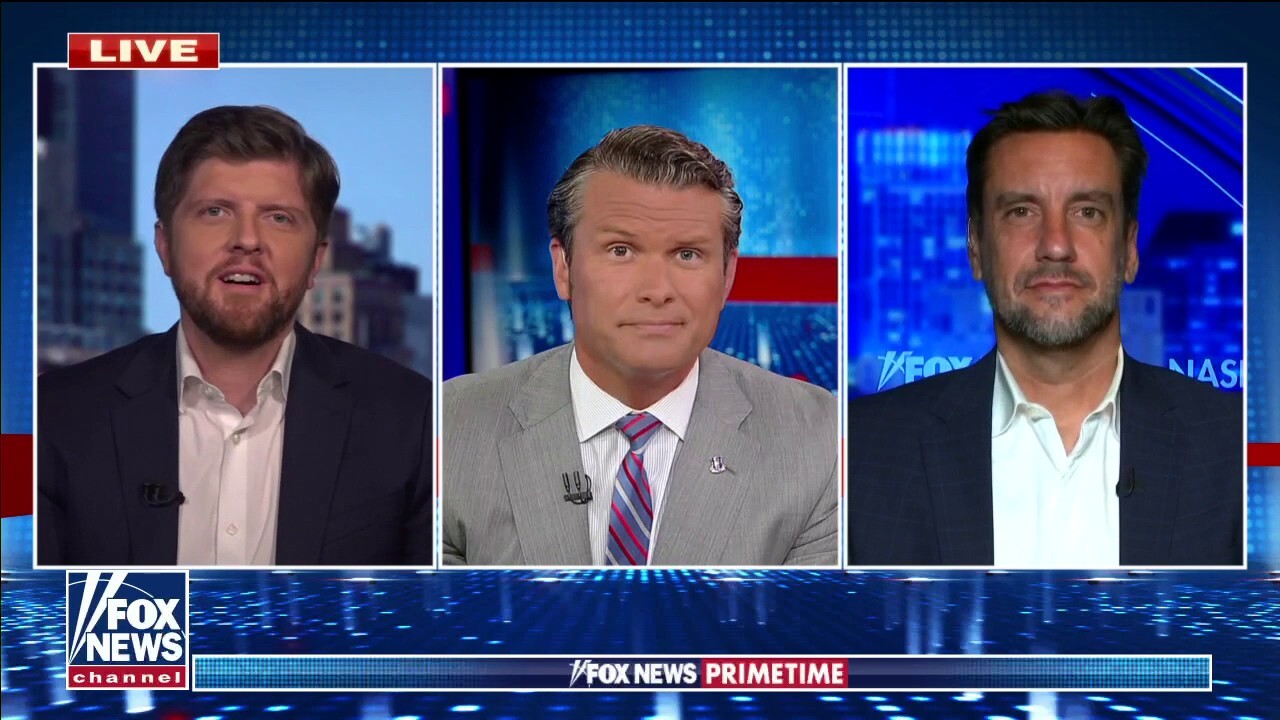 The show itself is put together remotely. Sexton is based in Manhattan, Travis is in Nashville. Though that could create challenges for some, both say it hasn't interfered with the on-air product.
"The technology is such that I don't think anybody out there listening can even tell," Travis added, although they are upfront with the audience about it. "Frankly, it's basically the same, to me, seamlessness, whether we're in the same studio [or not]. It doesn't really seem to impact the flow of the show."
"I think it actually adds to the show and creates a really interesting dynamic," Sexton said. "I can see Clay in real time very clearly. We're staring at each other's faces on pretty large screens."
Wherever they crack the mic, the duo in short order has built a good working relationship.
"I don't know exactly what the phrase would be, but we talk for three hours every day, and the vast majority of it is public," said Travis. "We're constantly texting and sharing stories, interacting, basically all day, so, we have a great relationship."
Sexton echoed a similar sentiment, pointing out that the two hosts share a strong work ethic.
"I will do the absolute maximum workload that I can to create the most successful shows and put out the best content I can," Sexton said. "Clay Travis is an absolute machine as well. I've found that [he's] one of the only people in the entire media industry that I've come across who puts in the hours, the effort and energy that I do."
WGN's John Williams Was Determined To Get Into Broadcasting at Any Level
Sending out tapes every six months was a part-time job for Williams and anyone else who wanted to venture out to a larger market.
WGN broadcaster John Williams knows two things for sure; Coffee's for closers, and someone out there has eaten the entire left side of a menu at a restaurant.
"There are movies that enable male bonding," Williams said. "In Glengarry Glen Ross, it's bonding in terror. In Diner, the bond is about growing up with friendships." (You can correlate each of the opening intentions with the movies above.)
Williams said he believes these types of bonding opportunities make us better as human beings. "My dad was in the Air Force, and we predictably moved around quite a bit," he said. "I always envied my friends who had a steady upbringing, who were able to feel the consistent ground under their feet. They'd known each other for years, shared inside jokes together."
A 10-year-old John Williams found himself in fourth grade in Honolulu. "Once again, I was an outsider. We lived in Taiwan before that. Most of the kids were Japanese or Hawaiian, and I was one of the 'haole,' or white kids. I never had to spell the word, I just was the word."
Williams was in second grade at the public school in Ewa Beach as one of two white kids in his class. "The racial difference wasn't a factor but the fact that I was an outsider was." He transferred to a Catholic School and, over the next three years, made friends and gained some confidence. Like most any of us, he just wanted to be accepted.
"I was a mild, meek kind of kid who never really got his bearing. I read a lot and was always curious enough. I asked the right questions. I've always been interested in everything. I wasn't a recreational reader then."
When he was young, Williams said comedians helped shape his thought processes. "I grew up with comics and their albums. We memorized the bits from George Carlin; later, it was Richard Pryor, Steve Martin. They were insane. Before his reprehensible behavior was realized, Bill Cosby influenced a lot of comics." Cosby taught a lot of us how to tell a story."
Throughout his childhood, Williams said he always thought he'd be a writer. "Becoming a broadcaster was so presumptuous to me. When you wrote, you didn't have a microphone in your face at a radio station. Who was I to think I could pull that off."
He kept busy writing short stories, poems, always typing away at something. "One year, I got a typewriter for my birthday. A Corona. I even had the click-out eraser cartridge, the whiteout. I still have a lot of that stuff around. But I always could find a sheet of paper, right?"
Hhmmm…a nerd and a hoarder.
He attended Joliet junior college and earned what he said was an 'associates degree in nothing,' leaving him unqualified to do anything. In defense of junior colleges, Williams also said he felt an associates degree can, in fact get you ready to do anything well. "It was excellent," he said. "It primed me to talk about anything."
"After that, I went to Southern University of Illinois in Carbondale. They had a good broadcasting school. I tried getting into Northwestern, but that didn't happen. I transferred to SIU as a junior. I couldn't partake in any real broadcasting classes until my senior year. Couldn't get in front of a microphone until then."
His ambition was to be able to get into broadcasting in any form, at any level. "During my senior year, I was so nervous. I couldn't hold a piece of paper without shaking," Williams said. "I'd have to put the paper down on the counter in front of the microphone so it wouldn't shake, and I could read the copy."
Sending out tapes every six months was a part-time job for Williams and anyone else who wanted to venture out to a larger market. "This was in the late 80s," Williams said. "I'd enjoyed a good career at WMBD in Peoria from 1982-1992 but looked for more. I was doing well in the mornings."
Demo tapes went to cities like Cincinnati, Des Moines, Minneapolis, and all the mid-major markets. All the ads read, No Phone Calls. In attempts to get around this roadblock, Williams felt he was kind of slick.
"I'd call and say, "Hey, I'm not calling about my tape; I just wanted to see if you got it." You never knew how that would play out. More tapes went to Orlando and Miami, Florida.
"I called and did my 'follow-up' and was put through to the program director at WIOD in Miami. I couldn't believe it. I got through. The voice on the other end asked, 'Are you John?' He knew my name! I answered a feeble 'yes.' 'John,' the program director continued, 'Apparently you can't read because the ad said, NO CALLS!'"
After swallowing a trough of pride, a big break was getting from Peoria, which was 188th in the market at the time, to Minneapolis, which was 15th. The salvation manifested in the form of WCCO. He worked there from 1993-1997. "To go from 188-15 was a leap in every sense of the word," Williams said.
Then, a really big break. After the usual barrage of outbound tapes, he got a call from WGN and was told he was on their short-list. He couldn't believe it. "To go from 15th market to number three was beyond my imagination. The place where Wally Phillips, Bob Collins worked was like hallowed ground."
Williams arrived at WGN Radio in September 1997 as a midday host.
Planning out a show can be like walking a tightrope. "I don't see the upside of talking too much about push-button and red meat topics. WGN is not a silo-broadcasting company. Other stations take a narrow approach and then preach to that choir. They are safe in that silo. But we're a big tent station. We want to accommodate as many people as we can. You can get your tough talk politics elsewhere. There's no point in running listeners off when they disagree with you. And frankly, those who would agree with you are exhausted with politics right now, so we don't really need to go there. At least not much."
How does Williams approach his day? He said he gets up in the morning, does his 'clicking' for news. "I go to NewsNation, Fox News, The New York Times. I buckle down. If I don't, my show suffers." He has a whiteboard in his office, and he breaks it all down, breaks it into half hours.
"I go for a mix on my show," Williams said. "I don't do all interviews. I don't want to do all open lines. I better have some breathing area, a chance to get the lay of the land." Williams says it's all about relatability, not an overdose of what Putin's strategies might be.
"I had a great interview recently. I spoke with Kyle Buchanan, who wrote Blood, Sweat & Chrome, The Wild and True Story of Mad Max: Fury Road. We talked about director George Miller and other things."
After 41 years in the business, Williams feels he's hit his stride. "I was miscast a couple of times," he said. "There were times I didn't feel I was doing well. I don't worry about my longevity too much now, but you do think about it. My motto was and is to stay in the game. Be versatile. You say you need someone to cover Chinese hockey? Where do I go to learn Mandarin?"
Everyone is Welcome at Keven Cohen's Table
"For the first eight months, The Point was hemorrhaging money," Cohen explained. "Bleeding would be too tame of a word."
Somebody had better step up and take the blame.
Ostensibly, both his mother and father are responsible for the odd spelling of Keven Cohen's first name—probably more his mother.
"I think she had too much of the epidural medicine," Keven Cohen jokes.
He likes the uniqueness but said it has caused its share of problems.
Cohen was born in Detroit, but the family moved to Florida just before his 13th birthday. He later studied broadcast journalism at the University of Florida in Gainesville.
Where a lot of kids wanted to be a ballplayer, Cohen wanted to be Ernie Harwell, the legendary broadcaster for the Detroit Tigers.
"In our neighborhood, we didn't ask when the Tigers played; we asked when Ernie was on." That's how revered the man was in Detroit. "To this day, I'm an obsessive Detroit fan. I like to say you can take Keven out of Detroit, but you can't take Detroit out of Keven."
Growing up, Cohen said he was inseparable from his older brother Marc. "We have been best friends since the day I was born," Cohen said. Cohen was able to convince his mother and brother to move to Columbia so they could be around each other.
His sister was the lone holdout, but Cohen does speak to her every day, as a rule. Marc was a teacher but hung that up for corned beef, opening his Groucho's Deli. His sister is a physical therapist. They're like peas and carrots…and more peas.
Cohen started out in radio at WRUF in Gainesville. He spent five years at that station.
"After graduating college, they created a position for me as assistant sports director," Cohen explained. "They were grooming me to take over for the sports director. The problem was that I realized that the sports director wasn't going anywhere soon."
In 1994, Cohen began searching for a new opportunity, but he still didn't want to go too far from Gainesville. He's truly a man dedicated to his family.
"My father died in a car accident when I was young, and I couldn't bear the thought of moving too far from my mother in Florida," Cohen said.
After enjoyable years at WRUF, Cohen began exploring new opportunities. He recalls landing his first dream job in Columbia, South Carolina. He knew he was as talented as the other 267 applicants for the sports job, but he had something else. Moxie.
"The guy that hired me in Columbia now does the radio play-by-play for the Atlanta Braves. Jim Powell," Cohen said.
Cohen knew the competition would be tough, but he had his sights set firmly on the job. Interestingly, when many young radio people send out tapes, they send them everywhere around the country. This wasn't the case for Cohen. Family is so important to him; he again didn't want to go too far from home. The only tape he sent out was to Columbia. The distance between cities was doable.
"I called Jim Powell and pleaded with him to give me fifteen minutes with him," Cohen said. "I told him I'd gladly drive the nearly six hours to Columbia, meet with him, then turn around and drive back to Gainesville. That's how serious I was about the job."
Powell was impressed with the young man's spirit, and they talked for more than an hour and a half. A week and a half later, Powell called Cohen. Powell told Cohen there were candidates for the job with better demo tapes, but he liked Cohen's tenacity and drive.
"I've got some good news and some bad news," Powell told Cohen. The bad news was the station wouldn't pay moving expenses. The good news was he had the job if he wanted it.
"When Jim Powell speaks to colleges and high school students, he still uses my tenacity as an example," Cohen said.
After 18 years in a community, Cohen had developed some deep roots and friendships.
He was at WVOC in Columbia from 1994 until 2012, a good run in any radio market. Then management decided to go in a different direction and fired Cohen. This happened ten years ago, but you can still hear the pain in the recollection.
"I was devastated," Cohen said. "I'd cut my chops on the radio there. I put in more than 18 years there. I was blindsided." At the time of his firing, Cohen was hosting pre-game shows for the South Carolina Gamecocks, and it was the middle of the season. An election was just a short time away. Management figured that would be the perfect time to give him the ax.
For the ace-kicker, hours before his firing, Cohen had lunch with one of the salesmen and returned with a $64,000 sales package from a local business. They still fired him.
Isn't that a fine how-do-you-do?
"My firing made the front page of The State newspaper," Cohen explained. "There were protestors outside the building, upset that I'd been fired. Personally, I never felt any bitterness toward Clear Channel—publicly or privately for the firing."
As they said in The Godfather, It was just business. Most people reading this are well aware of that sting. People in this business get stung so often that they don't even bother putting baking soda on wounds.
WVOC gave him the talk all fired people know too well. They put him on the sidelines with a non-compete clause.
"I told them to keep their severance package; I just wanted to work."
No dice. WVOC said that wasn't going to happen.
"I'm the kind of guy who turned the firing into motivation," Cohen said.
Cohen was offered a job in Jacksonville, Florida, but wanted to wait. He was promised a job by another station in Columbia when the non-compete expired.
"The call never came," Cohen said. "I was so discouraged as I'd turned down the Jacksonville job. There were no other talk stations in Columbia. I either had to leave Columbia or leave radio."
There were plenty of opportunities Cohen could have grabbed that required a briefcase. Banking or insurance companies would have begged to get him. He had earned a stellar reputation in the community, and many businesses felt he'd be good for their business if he worked for them.
Now it gets a little weird.
One night, Cohen couldn't sleep, so he went down to the basement. He was able to fall asleep and was visited in a dream by a friend who'd died from cancer.
"In the dream, Rick told me everything was going to be alright, and I should start my own radio station."
Thanks, Rick. Not like that's a tall order or anything.
"It hit me that starting my own radio station was something I could and should do," Cohen said. "I ran up to tell my wife about the dream and asked if she'd support me if I attempted to create my own station. She said if I let her go back to sleep, she'd support me."
What a gal.
"I'd never considered this before," Cohen said. "The only thing I'd ever done on radio was my show. I reached out to some people to get the ball rolling."
Cohen said four banks were no help. "They knew me well and loved me, but realized I'd never run a radio station before, or anything even close to that. I don't blame them."
The dream (the one with Rick) paid dividends. Cohen was fired from WVOC in November 2012 and started his radio station in October 2013, less than a year later.
"For the first eight months, The Point was hemorrhaging money," Cohen explained. "Bleeding would be too tame of a word."
He said advertisers were initially wary, and he understood that as well. But they started to come around.
"Things were very lean at first," Cohen said, "but when we hit the 10 ½ month mark, we broke even for the first time. Then, we started making money. Not a ton, but it was coming in."
The Point, 100.7. FM, 1470 AM, has become a player in the market. "The community has been so supportive," Cohen said.
The Point has evolved in its format. "I wanted an old-school talk radio station," Cohen said. "I always wanted it to be community-driven. I've never pressured my hosts or news people to lean a certain way, politically or otherwise. They are on their own, as long as it's ethical and moral."
Cohen doesn't like to micromanage. "I do all the traffic, schedule all the commercials, create all the sales. I've tried to create a family. We socialize together; I go out to lunch with hosts. They feel like they can talk with me about anything."
On his morning show, Cohen doesn't utilize a call screener; he just answers them as they come in. "There's no way of picking and choosing which so many hosts like to do. Everyone is welcome at our table," he said.
Which to me sounds a lot like, 'We'll leave the light on.'
Fox News Led the Coverage for Buffalo Mass Shooting
News began to be presented within the 4 PM ET hour, with extensive coverage arriving at 5 PM ET when officials spoke to the press. Fox News Channel led in total viewers.
The three major cable news networks focused on the city of Buffalo, NY, on Saturday, May 14, for its breaking news coverage of the mass shooting at the Tops supermarket. The gunman, who long spouted White supremacist views online, drove to the predominantly African-American area to commit his murderous act. Ten people, all of them Black, were killed.
News began to be presented within the 4 PM ET hour, with extensive coverage arriving at 5 PM ET when officials spoke to the press. Fox News Channel led in total viewers. The network's audience noticeably grew as each hour unfolded: 966,000 viewers from 4–5 PM, then 1.16 million from 5–6 PM, and 1.37 million from 6–7 PM, according to Nielsen Media Research.
CNN was runner-up, first averaging 850,000 viewers from 5–8 PM, then 826,000 from 8–10 PM; FNC's 8–10 PM combo of "One Nation" and "Unfiltered" drew 1.46 million viewers. However, in the key 25-54 demographic, CNN captured cable news' top spot for the first two hours of prime time, delivering 225,000, compared to FNC's 195,000.
From 5-10 p.m., MSNBC averaged 552,000 total viewers and 61,000 adults 25-54. They peaked at 5:50–6:16 PM with 634,000 viewers/93,000 adults 25-54 for the press conference featuring Byron Brown, the mayor of Buffalo, NY.
Cable news averages for May 9-15, 2022:
Total Day (May 9-15 @ 6 a.m.-5:59 a.m.)
Fox News Channel: 1.466 million viewers; 222,000 adults 25-54
MSNBC: 0.621 million viewers; 68,000 adults 25-54
CNN: 0.485 million viewers; 99,000 adults 25-54
HLN: 0.186 million viewers; 55,000 adults 25-54
CNBC: 0.136 million viewers; 32,000 adults 25-54
Newsmax: 0.119 million viewers; 14,000 adults 25-54
Fox Business Network: 0.110 million viewers; 11,000 adults 25-54
The Weather Channel: 0.105 million viewers; 20,000 adults 25-54
Prime Time (May 9-14 @ 8-11 p.m.; May 15 @ 7-11 p.m.)
Fox News Channel: 2.225 million viewers; 331,000 adults 25-54
MSNBC: 0.983 million viewers; 96,000 adults 25-54
CNN: 0.604 million viewers; 133,000 adults 25-54
HLN: 0.209 million viewers; 60,000 adults 25-54
CNBC: 0.172 million viewers; 47,000 adults 25-54
The Weather Channel: 0.154 million viewers; 24,000 adults 25-54
Newsmax: 0.147 million viewers; 16,000 adults 25-54
Fox Business Network: 0.068 million viewers; 6,000 adults 25-54
NewsNation: 0.057 million viewers; 11,000 adults 25-54
Top 10 most-watched cable news programs (and the top MSNBC and CNN programs with their respective associated ranks) in total viewers:
1. The Five (FOXNC, Tue. 5/10/2022 5:00 PM, 60 min.) 3.569 million viewers
2. The Five (FOXNC, Mon. 5/9/2022 5:00 PM, 60 min.) 3.409 million viewers
3. Tucker Carlson Tonight (FOXNC, Mon. 5/9/2022 8:00 PM, 60 min.) 3.313 million viewers
4. Tucker Carlson Tonight (FOXNC, Tue. 5/10/2022 8:00 PM, 60 min.) 3.227 million viewers
5. The Five (FOXNC, Wed. 5/11/2022 5:00 PM, 60 min.) 3.131 million viewers
6. The Five (FOXNC, Thu. 5/12/2022 5:00 PM, 60 min.) 3.102 million viewers
7. Tucker Carlson Tonight (FOXNC, Wed. 5/11/2022 8:00 PM, 60 min.) 3.034 million viewers
8. The Five (FOXNC, Fri. 5/13/2022 5:00 PM, 60 min.) 2.973 million viewers
9. Tucker Carlson Tonight (FOXNC, Thu. 5/12/2022 8:00 PM, 60 min.) 2.956 million viewers
10. Tucker Carlson Tonight (FOXNC, Fri. 5/13/2022 8:00 PM, 60 min.) 2.781 million viewers
27. Rachel Maddow Show (MSNBC, Mon. 5/9/2022 9:00 PM, 60 min.) 2.157 million viewers
152. CNN Special Report "Inside The Mind Of Vladimir Putin" (CNN, Sun. 5/15/2022 8:00 PM, 60 min.) 0.944 million viewers
181. Real Time With Bill Maher "Episode 600" (HBO, Fri. 5/13/2022 10:01 PM, 56 min.) 0.789 million viewers
315. Last Week Tonight (HBO, Sun. 5/15/2022 11:05 PM, 35 min.) 0.520 million viewers
393. Sex & Murder "The Two Matthews" (HLN, late Sun. 5/15/2022 12:00 AM, 60 min.) 0.357 million viewers
402. The Daily Show "May 12, 22 – Tribute To Gran" (CMDY, Thu. 5/12/2022 11:00 PM, 31 min.) 0.331 million viewers
Top 10 cable news programs (and the top CNN, MSNBC, and HLN programs with their respective associated ranks) among adults 25-54
1. Tucker Carlson Tonight (FOXNC, Mon. 5/9/2022 8:00 PM, 60 min.) 0.535 million adults 25-54
2. Tucker Carlson Tonight (FOXNC, Wed. 5/11/2022 8:00 PM, 60 min.) 0.490 million adults 25-54
3. The Five (FOXNC, Tue. 5/10/2022 5:00 PM, 60 min.) 0.475 million adults 25-54
4. Tucker Carlson Tonight (FOXNC, Tue. 5/10/2022 8:00 PM, 60 min.) 0.462 million adults 25-54
5. Tucker Carlson Tonight (FOXNC, Thu. 5/12/2022 8:00 PM, 60 min.) 0.452 million adults 25-54
6. The Five (FOXNC, Thu. 5/12/2022 5:00 PM, 60 min.) 0.443 million adults 25-54
7. Hannity (FOXNC, Thu. 5/12/2022 9:00 PM, 60 min.) 0.426 million adults 25-54
8. The Five (FOXNC, Mon. 5/9/2022 5:00 PM, 60 min.) 0.419 million adults 25-54
9. Hannity (FOXNC, Tue. 5/10/2022 9:00 PM, 60 min.) 0.418 million adults 25-54
10. The Ingraham Angle (FOXNC, Tue. 5/10/2022 10:00 PM, 60 min.) 0.413 million adults 25-54
38. Rachel Maddow Show (MSNBC, Mon. 5/9/2022 9:00 PM, 60 min.) 0.277 million adults 25-54
55. CNN Newsroom (CNN, Sat. 5/14/2022 9:00 PM, 60 min.) 0.236 million adults 25-54
101. Last Week Tonight (HBO, Sun. 5/15/2022 11:05 PM, 35 min.) 0.194 million adults 25-54
132. Real Time With Bill Maher "Episode 600" (HBO, Fri. 5/13/2022 10:01 PM, 56 min.) 0.155 million adults 25-54
147. The Daily Show "May 12, 22 – Tribute To Gran" (CMDY, Thu. 5/12/2022 11:00 PM, 31 min.) 0.149 million adults 25-54
200. Sex & Murder "The Two Matthews" (HLN, late Sun. 5/15/2022 12:00 AM, 60 min.) 0.120 million adults 25-54
Source: Live+Same Day data, Nielsen Media Research