Listeners Don't Care If You're Right
"It's fun to be right, but if you're really good at picking winners, you should spend more time at the Bellagio and less on the radio."
We used to be so much better about asking for someone in the industry, not regularly associated with the site, to share an opinion with our readers. It is something I am trying to do a better job with as we head towards 2022.
Today, Aaron Goldhammer of ESPN Cleveland has volunteered to share an observation with all of you. He used to fret over predictions gone wrong. Now, he could care less.
Somewhere along the way, a host that used to worry that his picks were spot on turned into the guy that would do anything for a laugh or to stay top of mind.
What changed? Why? He explains in this exclusive piece he wrote for BSM. Enjoy!
---
"With the 22nd pick in the 2014 NFL Draft, the Cleveland Browns select…"
Those words, from NFL commissioner Rodger Goodell, had a profound impact on the next few years of my career. I'd spent the previous nine months campaigning for the Browns to shed their perception as NFL Siberia, finally take a chance on a bona fide star, and draft Johnny Manziel. LeBron was long gone to Miami. All the SportsCenter producers had lost my phone number. Both Cleveland and I craved the spotlight. 
I realized the gaping hole in my logic sometime before Johnny donned a disguise and headed for Vegas while he was supposed to be preparing for the season finale. The Manziel Mafia disbanded. Fans wanted their pound of flesh: GM Ray Farmer, the homeless guy who legendarily told owner Jimmy Haslam to pull the trigger on the pick (true story), and that annoying radio host from Denver (me).
I was wrong.
Spectacularly.
At first, my bruised ego didn't want to admit that I went out on such a flimsy limb, but it became obvious and embarrassing. Farmer got fired. Did I deserve the same? Did I ruin my credibility? Would fans trust my quarterback acumen? What's more important: being right or being memorable?
As I was navigating Browns coverage in the post-Manziel era, I vividly remember a key conversation with my radio partner and mentor, Tony Rizzo.
"There's no giant scoreboard in the sky keeping track of your opinions," Rizz said. "You don't have to apologize for being yourself and saying what you think. Your takes are your takes."
It's fun to be right, but if you're really good at picking winners, you should spend more time at the Bellagio and less on the radio. Rizz made me realize that I never watched or listened to a show because the host made solid evaluations or accurate predictions. That's ridiculous.
I want to hear a host that can bare their soul as a fan. I'm interested in the perspective they share and the way they interact with the audience. The color and detail they deploy in a story captivates. It's about energy and passion and authenticity.
I used to feel ashamed of my frigid cold take from the 2014 draft. Now, I wear it as a badge of honor. Fans still remember something I talked about seven years ago. Alas, I'd make a terrible NFL GM. But my support of Manziel stuck in the mind. It was entertaining, evocative, memorable, and terribly wrong.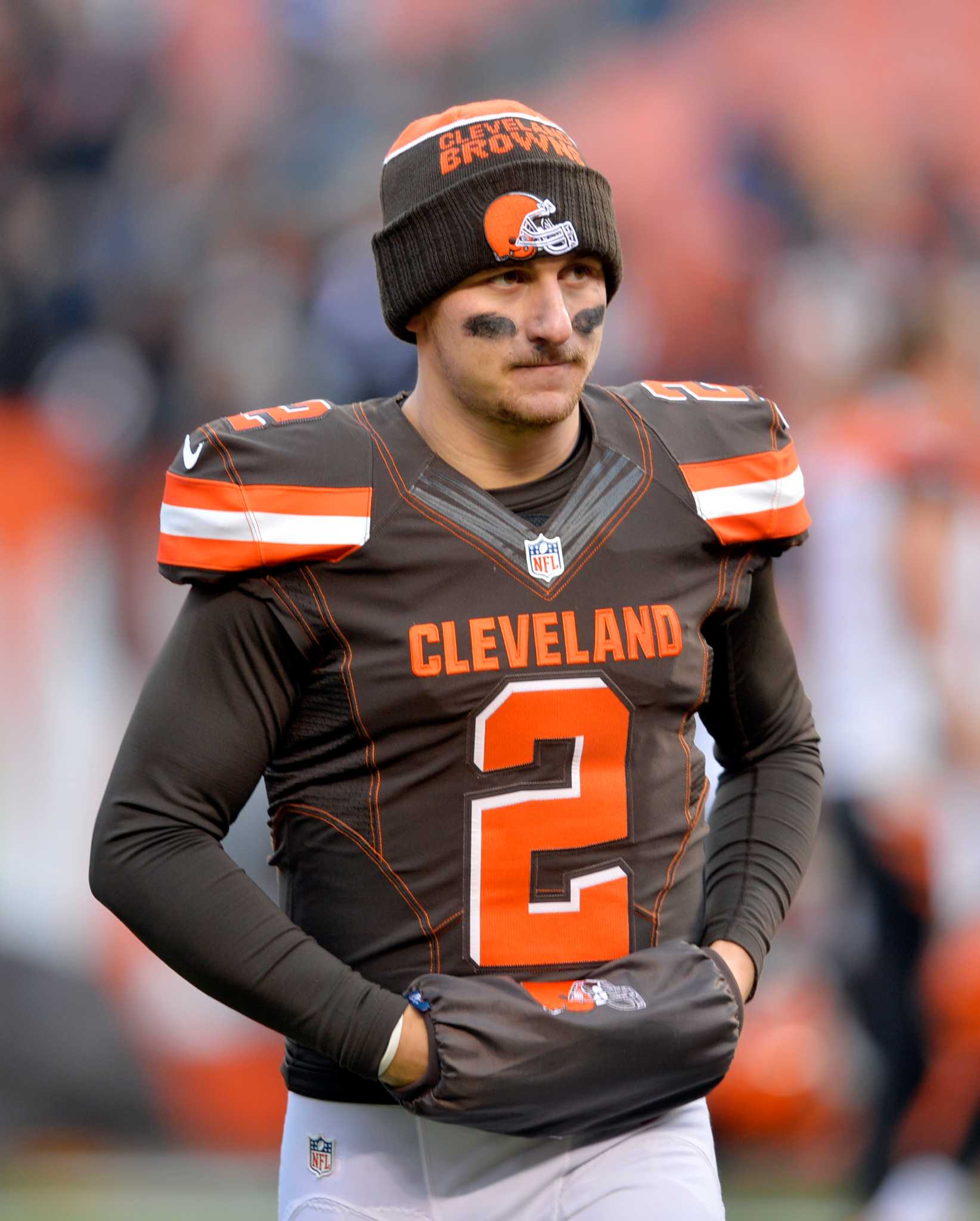 And that's okay.
Seven years later, I'm writing this piece in bed after an exhilarating day at work. The Browns won, keeping their playoff hopes alive against a division rival. Of course, I picked them to lose. Twitter let me have it. Tomorrow, Chris Oldach from our show will undoubtedly pull the sound and make fun of me. So be it. Chalk up another loss on that magic scoreboard in the sky. You know, the one no one pays attention to.
Chase McCabe Named Director of Operations & Sports Programming at Cromwell
"Our owner, Bud Walters, opened the door for me almost 12 years ago as an intern and I'm honored to continue to be a key member of the Nashville leadership team."
Congratulations are in order for Chase McCabe. He is adding a new title to his already full plate at Cromwell Media in Nashville. He has been promoted to Director of Operations & Sports Programming at the company.
"I'm very fortunate to have been to be able to grow into this opportunity under one roof," McCabe said in a press release. "Our owner, Bud Walters, opened the door for me almost 12 years ago as an intern and I'm honored to continue to be a key member of the Nashville leadership team. I am forever grateful, but none of this could have happened without the great group of people we have here at Cromwell Media."
McCabe has spent his whole career with 102.5 The Game and its sister station, now called 94.9 The Fan. He was named Program Director and Brand Manager of the stations in January of last year. He has maintained an on-air presence as well. He hosts Chase & Michelle weekdays at 9 AM on The Game.
In his new role, Chase McCabe becomes the number two man in Cromwell's Nashville building. Shawn Fort was recently named the cluster's general manager.
"Chase and I have developed a great working relationship in the two and half years since I've joined Cromwell Media," Fort said. "We share similar visions on how to create compelling sports programming all while driving revenue growth. I'm excited to have Chase as my right-hand man as we move forward together with this new chapter of leadership at Cromwell Media Nashville."
Mark Schlereth: People Outside of Denver Aren't Paying Attention to NBA Finals
"There was not one group of people – they're all in there together – that was paying attention to the NBA Finals."
The Denver Nuggets took to the National Basketball Association's largest stage on Thursday night as they defeated the Miami Heat for the organization's first-ever NBA Finals victory. Early reports reveal that the game had a 2.21 demographic rating between people ages 18-49, attracting a total of 7.62 million viewers on ABC. The figure is considerably lower than the audience for Game 1 between the Boston Celtics and Golden State Warriors last year – which averaged 11.9 million figures across ABC and ESPN2. Ratings for the alternate NBA in Stephen A's World broadcast Thursday night on ESPN2 have not yet been released by Nielsen Media Research.
Sports fans in the Denver market have felt as if the play of the Nuggets was largely being neglected by the national media throughout these playoffs. Now that the team is the last one standing in the Western Conference, there is no one else to focus on and their play is beginning to be realized by basketball fans throughout the country. It is a narrative that Denver Sports 104.3 The Fan's Mark Schlereth and Mike Evans felt was especially obvious by watching the press conferences after the game. The duo was able to deduce as such through the questions posed to Nuggets players and head coach Michael Malone by members of the media cohort.
"The national media – it's like, 'Oh, wow. We're just kind of becoming aware of how these guys play,' and they keep asking the Nuggets about their unselfishness and how everybody is willing to share the ball," Evans said. "Nikola Jokić [is] being asked about not taking a lot of shots, and they're all just kind of shrugging their shoulders like, 'Yeah, this is who we are. We've been doing this for a long time.'
Schlereth was curious to find out the ratings from the game last night because he watched the game from a sports bar in Chicago. He is away from Denver, Colo. to help his son's family move there for the summer and surmises there were about 50 people in the bar with him. What he noticed was that their interest was fixated elsewhere.
"I'm the only person that was watching the Nuggets," Schlereth said. "There was not one group of people – they're all in there together – that was paying attention to the NBA Finals."
"Their loss," Evans pithily replied.
Denver ranks 19th on Nielsen Media Research's metropolitan market size list, but the Nuggets have been a contending team for the last five seasons. Most media analysts expect diminished ratings for the NBA Finals this year because of the lack of a storied franchise, even with the Miami Heat as the team's opponent.
Nielsen Releases List of Markets Where Most People Use AM Radio
"In a recent survey, Nielsen Media Research found that AM radio still reaches over 82.3 million Americans on a monthly basis"
Amid concerns regarding the future of AM radio, Nielsen Media Research has unveiled a list of 141 markets where at least 20% of consumers regularly listen to programming on the medium. The list is reflective of the percentage of monthly total radio listening being funneled to AM as opposed to total radio listening as a whole. The top three markets are all in the Great Lakes region, and Westwood One has found large proportions of these listeners are derived from the upper Midwest. 
Buffalo-Niagara Falls leads the list with 56% of its audience tuning into AM radio in a month. It is a figure that makes sense based on the variety of AM stations, including leading news talk outlet WBEN and leading sports outlet WGR. The city of Chicago is ranked second, complete with 670 The Score, WGN and WLS. Nearby Milwaukee, Wis. ranks third on the list, another city with various AM stations such as WTMJ and WISN.
In a recent survey, Nielsen Media Research found that AM radio still reaches over 82.3 million Americans on a monthly basis – a measurement that equates to one-third of AM/FM radio listeners as a whole. Fifty-seven percent of the audience listens to stations in the news and/or talk format, utilizing the public service the outlets provide to learn of breaking news and other concerns.
There is a wide variety in market size represented throughout the list, but a trend of markets with undulating topographies tends to have larger shares of AM listeners because of the challenges the landscape presents to FM signals.
The full list compiled by Nielsen Media Research can be found below:
| Metro market rank | Market name | Percentage of radio audience that listens to AM radio |
| --- | --- | --- |
| 59 | Buffalo-Niagara Falls, NY | 56% |
| 3 | Chicago, IL [PPM] | 48% |
| 43 | Milwaukee-Racine, WI [PPM] | 48% |
| 245 | Sheboygan, WI | 45% |
| 253 | Grand Forks, ND-MN | 45% |
| 241 | Bismarck, ND | 44% |
| 39 | San Jose, CA [PPM] | 43% |
| 33 | Cincinnati, OH [PPM] | 42% |
| 11 | Seattle-Tacoma, WA [PPM] | 42% |
| 192 | Fargo-Moorhead, ND-MN | 41% |
| 187 | St. Cloud, MN | 41% |
| 160 | Lincoln, NE | 40% |
| 130 | Macon, GA | 40% |
| 196 | Danbury, CT | 39% |
| 75 | Omaha-Council Bluffs, NE-IA | 39% |
| 4 | San Francisco, CA [PPM] | 39% |
| 137 | Youngstown-Warren, OH | 38% |
| 244 | Sioux City, IA | 38% |
| 83 | Boise, ID | 38% |
| 25 | San Antonio, TX [PPM] | 38% |
| 7 | Atlanta, GA [PPM] | 38% |
| 60 | Rochester, NY | 37% |
| 186 | Columbus, GA | 36% |
| 65 | Dayton, OH | 36% |
| 176 | Wausau-Stevens Pt (Centrl WI), WI | 36% |
| 114 | Johnson City-Kingspt-Brstl, TN-VA | 36% |
| 62 | Tucson, AZ | 36% |
| 159 | Rockford, IL | 36% |
| 55 | Louisville, KY | 36% |
| 27 | Salt Lake City-Ogden-Provo [PPM] | 36% |
| 202 | Cedar Rapids, IA | 35% |
| 34 | Kansas City, KS-MO [PPM] | 35% |
| 70 | Albuquerque, NM | 35% |
| 88 | Spokane, WA | 35% |
| 16 | Puerto Rico | 35% |
| 67 | Albany-Schenectady-Troy, NY | 34% |
| 124 | Morristown, NJ | 34% |
| 204 | Duluth-Superior, MN-WI | 34% |
| 71 | Des Moines, IA | 34% |
| 53 | Richmond, VA | 33% |
| 145 | Eugene-Springfield, OR | 33% |
| 252 | Jackson, TN | 33% |
| 149 | Shreveport, LA | 33% |
| 52 | Monmouth-Ocean, NJ | 33% |
| 73 | Metro Fairfield County, CT | 33% |
| 231 | Waterloo-Cedar Falls, IA | 32% |
| 13 | Phoenix, AZ [PPM] | 32% |
| 12 | Miami-Ft Lauderdale-Hollywood [PPM] | 32% |
| 9 | Philadelphia, PA [PPM] | 32% |
| 96 | Reno, NV | 32% |
| 28 | Sacramento, CA [PPM] | 32% |
| 209 | Rochester, MN | 32% |
| 15 | Minneapolis-St. Paul, MN [PPM] | 31% |
| 178 | Anchorage, AK | 31% |
| 199 | Salina-Manhattan, KS | 31% |
| 2 | Los Angeles, CA [PPM] | 31% |
| 89 | Madison, WI | 31% |
| 5 | Dallas-Ft. Worth, TX [PPM] | 31% |
| 68 | Grand Rapids, MI | 31% |
| 223 | Eau Claire, WI | 30% |
| 74 | Allentown-Bethlehem, PA | 30% |
| 86 | Harrisburg-Lebanon-Carlisle, PA | 30% |
| 20 | Nassau-Suffolk (Long Island) [PPM] | 30% |
| 249 | Brunswick, GA | 30% |
| 139 | Appleton-Oshkosh, WI | 29% |
| 14 | Detroit, MI [PPM] | 29% |
| 239 | Harrisonburg, VA | 29% |
| 30 | Orlando, FL [PPM] | 29% |
| 10 | Boston, MA [PPM] | 29% |
| 189 | Bryan-College Station, TX | 29% |
| 106 | Lexington-Fayette, KY | 28% |
| 154 | Montgomery, AL | 28% |
| 136 | Reading, PA | 28% |
| 18 | Denver-Boulder, CO [PPM] | 28% |
| 188 | Kalamazoo, MI | 28% |
| 41 | Hudson Valley, NY | 28% |
| 17 | Tampa-St Petersburg-Clearwater [PPM] | 28% |
| 228 | Pueblo, CO | 27% |
| 230 | Monroe, LA | 27% |
| 116 | Ft. Wayne, IN | 27% |
| 35 | Cleveland, OH [PPM] | 27% |
| 22 | Portland, OR [PPM] | 27% |
| 183 | Green Bay, WI | 27% |
| 227 | Bloomington, IL | 26% |
| 190 | Waco, TX | 26% |
| 6 | Houston-Galveston, TX [PPM] | 26% |
| 193 | Binghamton, NY | 26% |
| 201 | Topeka, KS | 26% |
| 81 | Stockton, CA | 26% |
| 54 | Hartford-New Britain-Middletown [PPM] | 26% |
| 200 | Tuscaloosa, AL | 26% |
| 175 | Sioux Falls, SD | 25% |
| 100 | Syracuse, NY | 25% |
| 44 | Providence-Warwick-Pawtucket [PPM] | 25% |
| 195 | Manchester, NH | 25% |
| 180 | Lima-Van Wert, OH | 25% |
| 1 | New York, NY [PPM] | 25% |
| 119 | Corpus Christi, TX | 25% |
| 237 | Grand Island-Kearney-Hastngs, NE | 25% |
| 51 | Memphis, TN [PPM] | 25% |
| 142 | Canton, OH | 25% |
| 151 | Ann Arbor, MI | 24% |
| 90 | Columbia, SC | 24% |
| 208 | Las Cruces-Deming, NM | 24% |
| 178 | Traverse City-Petoskey, MI | 24% |
| 111 | York, PA | 24% |
| 87 | Colorado Springs, CO | 24% |
| 218 | Columbia, MO | 24% |
| 140 | Savannah, GA | 23% |
| 163 | Evansville, IN | 23% |
| 121 | Portsmouth-Dover-Rochester, NH | 23% |
| 247 | Williamsport, PA | 23% |
| 221 | Joplin, MO | 22% |
| 197 | Charleston, WV | 22% |
| 126 | New Haven, CT | 22% |
| 120 | Modesto, CA | 22% |
| 234 | Sussex, NJ | 22% |
| 69 | Sarasota-Bradenton, FL | 22% |
| 79 | Wilkes Barre-Scranton, PA | 22% |
| 29 | Austin, TX [PPM] | 22% |
| 24 | St. Louis, MO [PPM] | 22% |
| 23 | Baltimore, MD [PPM] | 22% |
| 127 | Jackson, MS | 22% |
| 77 | Baton Rouge, LA | 21% |
| 66 | Fresno, CA | 21% |
| 206 | Chico, CA | 21% |
| 104 | Huntsville, AL | 21% |
| 205 | Santa Barbara, CA | 21% |
| 166 | Poughkeepsie, NY | 21% |
| 157 | Peoria, IL | 21% |
| 224 | Muskegon, MI | 20% |
| 63 | Honolulu, HI | 20% |
| 50 | New Orleans, LA | 20% |
| 19 | San Diego, CA [PPM] | 20% |
| 236 | Parkersburg-Marietta, WV-OH | 20% |
| 32 | Las Vegas, NV [PPM] | 20% |
| 37 | Raleigh-Durham, NC [PPM] | 20% |
| 115 | Worcester, MA | 20% |
| 207 | Laurel-Hattiesburg, MS | 20% |
| 95 | Akron, OH | 20% |
| 117 | Lancaster, PA | 20% |
Source: Nielsen Nationwide Fall 2022 Metro, P12+, Monday – Sunday 12m-12m