Listeners Don't Care If You're Right
"It's fun to be right, but if you're really good at picking winners, you should spend more time at the Bellagio and less on the radio."
We used to be so much better about asking for someone in the industry, not regularly associated with the site, to share an opinion with our readers. It is something I am trying to do a better job with as we head towards 2022.
Today, Aaron Goldhammer of ESPN Cleveland has volunteered to share an observation with all of you. He used to fret over predictions gone wrong. Now, he could care less.
Somewhere along the way, a host that used to worry that his picks were spot on turned into the guy that would do anything for a laugh or to stay top of mind.
What changed? Why? He explains in this exclusive piece he wrote for BSM. Enjoy!
---
"With the 22nd pick in the 2014 NFL Draft, the Cleveland Browns select…"
Those words, from NFL commissioner Rodger Goodell, had a profound impact on the next few years of my career. I'd spent the previous nine months campaigning for the Browns to shed their perception as NFL Siberia, finally take a chance on a bona fide star, and draft Johnny Manziel. LeBron was long gone to Miami. All the SportsCenter producers had lost my phone number. Both Cleveland and I craved the spotlight. 
I realized the gaping hole in my logic sometime before Johnny donned a disguise and headed for Vegas while he was supposed to be preparing for the season finale. The Manziel Mafia disbanded. Fans wanted their pound of flesh: GM Ray Farmer, the homeless guy who legendarily told owner Jimmy Haslam to pull the trigger on the pick (true story), and that annoying radio host from Denver (me).
I was wrong.
Spectacularly.
At first, my bruised ego didn't want to admit that I went out on such a flimsy limb, but it became obvious and embarrassing. Farmer got fired. Did I deserve the same? Did I ruin my credibility? Would fans trust my quarterback acumen? What's more important: being right or being memorable?
As I was navigating Browns coverage in the post-Manziel era, I vividly remember a key conversation with my radio partner and mentor, Tony Rizzo.
"There's no giant scoreboard in the sky keeping track of your opinions," Rizz said. "You don't have to apologize for being yourself and saying what you think. Your takes are your takes."
It's fun to be right, but if you're really good at picking winners, you should spend more time at the Bellagio and less on the radio. Rizz made me realize that I never watched or listened to a show because the host made solid evaluations or accurate predictions. That's ridiculous.
I want to hear a host that can bare their soul as a fan. I'm interested in the perspective they share and the way they interact with the audience. The color and detail they deploy in a story captivates. It's about energy and passion and authenticity.
I used to feel ashamed of my frigid cold take from the 2014 draft. Now, I wear it as a badge of honor. Fans still remember something I talked about seven years ago. Alas, I'd make a terrible NFL GM. But my support of Manziel stuck in the mind. It was entertaining, evocative, memorable, and terribly wrong.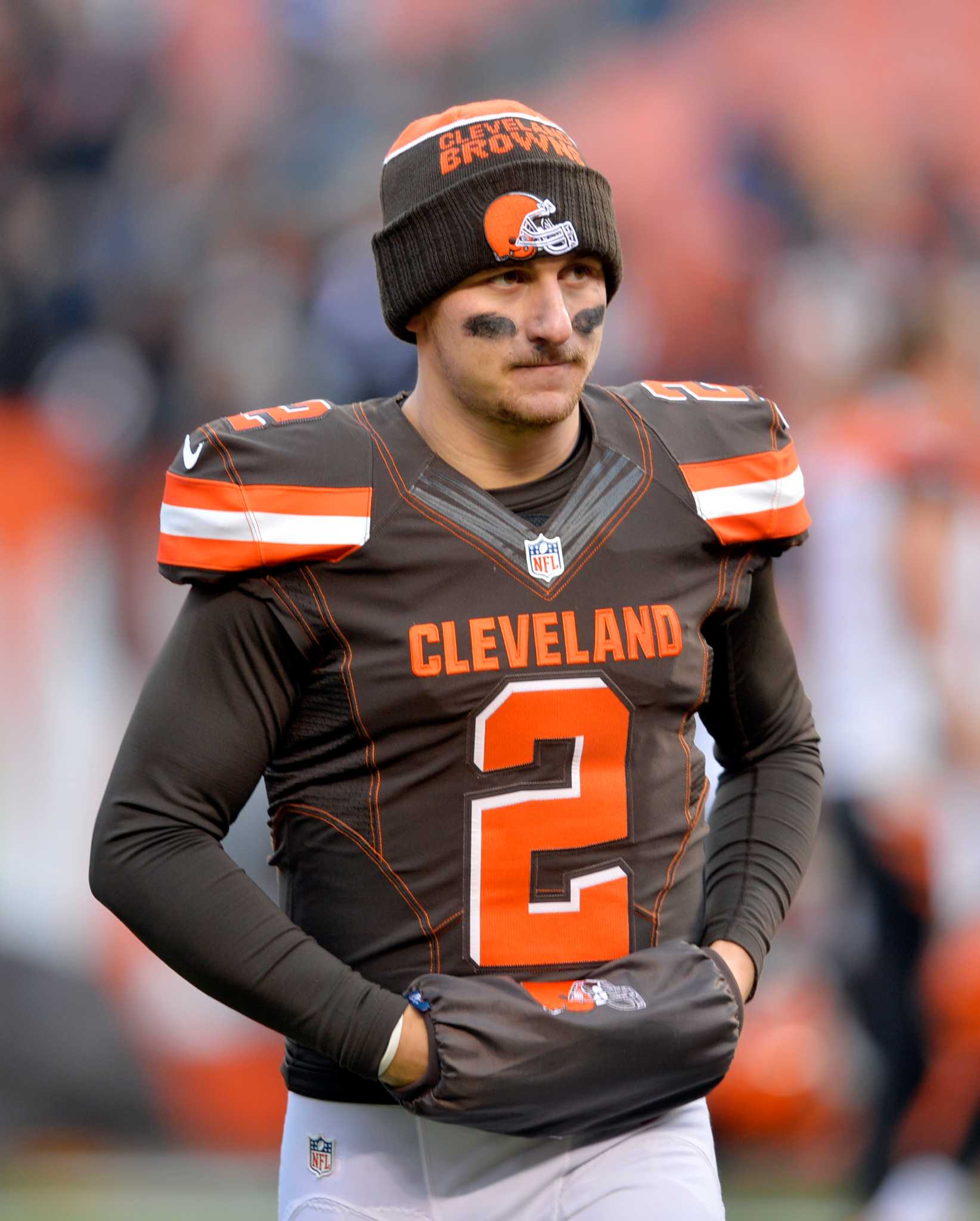 And that's okay.
Seven years later, I'm writing this piece in bed after an exhilarating day at work. The Browns won, keeping their playoff hopes alive against a division rival. Of course, I picked them to lose. Twitter let me have it. Tomorrow, Chris Oldach from our show will undoubtedly pull the sound and make fun of me. So be it. Chalk up another loss on that magic scoreboard in the sky. You know, the one no one pays attention to.
Dan Patrick: 'I Want Buccaneer Tom, Not Patriot Tom On Fox'
"'Buccaneer Tom' is 'Vacation Tom.' That guy's having a good time."
A lot of people have compared the deal FOX signed with Tom Brady to the one NBC signed with Drew Brees before the former Saints quarterback finished his playing days. FOX is set to pay Brady $375 million for his services. That means the network better be right about their faith in the quarterback.
Drew Brees faced a lot of criticism this year. Some have speculated that the reason he is not joining Mike Tirico in the Sunday Night Football booth this season is that he is too boring to be the network's league analyst.
Dan Patrick says he has a similar concern about Tom Brady. Landing the greatest quarterback of all time is a win for FOX, but we have seen two very different Tom Bradys in his career. If the wrong one shows up, Patrick says this investment could be a disaster for FOX.
"I worry sometimes that if we get 'Patriot Tom' instead of 'Buccaneer Tom,'" Dan Patrick said on his Wednesday show. "'Buccaneer Tom' is 'Vacation Tom.' That guy's having a good time. 'Two-Drink Tommy;' that I like. But if he does the Patriot Way, that's not going to be good."
As he has gotten older, Tom Brady has been more willing to show off his personality. Most famously, he cut loose at the boat parade celebrating the Tampa's Super Bowl title in 2021.
Dan Patrick wondered if Tom Brady would be aware of the standard for succes in broadcasting. Would he know that entertainment matters? He pointed out that Brady's social media accounts tend to be pretty funny, but they are likely either manned or at least aided by staff writers.
"Just because you can do it, doesn't mean you can tell us how to do it, and I think that is gonna be the interesting part," Patrick said.
Travis Rodgers: 'Celebrities At SoFi Stadium Make Rams A Better Primetime Fit For NFL'
"You go to a game and it's, 'Wow, there's LeBron; there's DiCaprio; there's this.' Damn, what more can you ask for from this franchise?"
Tuesday on 710 ESPN Radio Los Angeles, Travis and Sliwa discussed how the NFL is consistently able to fabricate non-game events into must-follow action, generating ratings and revenue during the nearly seven-month long offseason. The special promoting the release of the full 2022 season schedule is on Thusday night is a good example..
"I'm sure we're going to be 10 weeks into the NFL season [and say], 'Man, that team didn't turn out the way we thought it would,' [or] 'Oh, that team is better than we thought it's going to be,'" said show co-host Allen Sliwa. "That's what kind of makes this part of the year sort of exciting – that you start finding out what the matchups are."
Nonetheless, the NFL has been able to captivate fans through making a spectacle of offseason events. This includes the impending primetime television schedule release special by the league, rather than simply divulging the week-by-week matchups with minimal grandeur and melodrama.
"They're so good at turning things that aren't games into things," said show co-host Travis Rodgers. "The draft is a huge thing; the combine is a thing; the schedule release is a thing; free agency is a thing; training camps are a thing."
While the NFL schedule may not yet be fully released, some primetime matchups have been announced in advance, potentially to pique the interest of fans, media partners and the players themselves. It is safe to say that the defending Super Bowl Champion Los Angeles Rams will receive much of the primetime action across the NFL's remodeled slate of broadcasts during the 2022 season. In fact, it was recently announced that the Rams will be playing on Christmas Day against Russell Wilson and the Denver Broncos on a game simulcast on CBS and Paramount+, along with the inclusion of a special viewing presentation on Nickelodeon sure to include the network's signature slime.
Aside from the team's success on the field though, there exist other reasons why the current moment is an opportune time to schedule the Rams to play games in primetime.
"I'm telling you – the Rams are really good," said Rodgers. "They play in a place that's got great visuals. There's going to be celebrities in the stands. A brand new stadium. Everybody likes coming to L.A. This is the place you're going to have people come over and over."
It was not always guaranteed that the NFL would be willing to return to the City of Angels, and if the league would be welcomed back. Yet since the construction of the $5.5 billion-SoFi Stadium complete with NFL Network studios within new league headquarters combined with the early success of both the Rams and Los Angeles Chargers, the reincarnation of football in southern California has been largely prosperous thus far.
"It's almost like icing on the cake," said Sliwa. "The NFL is the NFL either way. But the brand the Rams have created over a short period of time, and… the visuals. You go to a game and it's, 'Wow, there's LeBron; there's DiCaprio; there's this.' Damn, what more can you ask for from this franchise?"
Tom Millikan Upped To APD of 97.1 The Ticket
"Listeners might not agree with my opinions or show content all of the time, but I genuinely try to produce shows that Detroit sports fans want every single day."
Congratulations are in order for Tom Millikan. The executive producer of The Morning Show with Stoney and Jansen has been promoted to assistant program director of 97.1 The Ticket in Detroit.
"Tom has done an outstanding job as an executive producer and has played a vital role in the success of the station," said Debbie Kenyon, Senior Vice President and Market Manager, Audacy Detroit. "He is very deserving of this promotion and we look forward to even greater success with Tom in his new role."
Millikan has been a steady presence in Detroit sports talk since 1998. He has been with The Ticket since 2012. In that time, he has served as an affiliate relations manager for coverage of the Detroit Tigers, Lions, Red Wings and Pistons. He has also been involved with Michigan Wolverines broadcasts on sister station WWJ AM.
"Throughout my twenty plus years in radio, I've been blessed with countless memories of championships and pure joy," said Millikan. "I'm living out a dream. I wanted to work in sports radio since the format exploded in the early 90s and I've been blessed by the tutelage of all of my co-workers and peers. I was born and raised in Detroit and Detroit sports are part of my DNA. Listeners might not agree with my opinions or show content all of the time, but I genuinely try to produce shows that Detroit sports fans want every single day."