Matt Mosley Is Excited About A New Lease On Life
"Wearing a helmet saved Mosley's life on October 2nd, 2020, but the damage was still done."
Eyewitnesses recall a bicycle furiously speeding around White Rock Lake in Dallas. Behind the handlebars was Matt Mosley, a local sports media star that had enjoyed multiple decades of success in the DFW Metroplex. Mosley was going around 20 mph when he realized he was in a bit of trouble. He made, what he thought at the time, was the smart decision of cutting off the bike trail into the meadow just to his right. He'd made this move before while dodging a child or a small animal during countless trips riding his bike around the lake.
He thought he would be approaching a grassy area that would allow for a smooth crash or even a place to help regain his balance. Instead, the horror of seeing an upcoming trench met Mosley. He had just a few moments to react. In an instance, his 10-year-old self took over. Mosley made the decision to try and jump the ditch. It was going to take an incredible maneuver to avoid almost certain disaster.
Just a few moments earlier, Mosley was marveling at the beautiful October afternoon he was enjoying. It was a picturesque day in North Texas, which meant a routine bike ride around the lake to get his juices flowing before his afternoon radio show at ESPN Central Texas. But the day was so beautiful it caused Mosley to lose track of time. When he looked at the time, he realized it was already past 2:00. His show began in less than an hour. He knew he had to book it home to make the opening of the show. So he peddled hard and fast.
A dry spell around White Rock Lake meant the grassy ditch felt more like hard dirt. Mosley can tell you that firsthand because as his front bicycle tire stuck, it threw him over the handlebars. Essentially, he supermanned, face first, into the opposite side of the ditch. It was a severe crash.
Wearing a helmet saved Mosley's life on October 2nd, 2020, but the damage was still done. Luckily, an ER doctor was also riding his bike and was the first person on the scene. Mosley was quickly transported to a nearby hospital.
"It felt like it was a miracle, because the first person on the scene happened to be an ER doctor riding his bike," said Mosley. "He took full control of the scene and got me stabilized."
Doctors spent an hour in surgery just picking out all the dirt that was on him after the hard crash. Mosley had lost half his lip and the cut on his face was so severe, you could see his jaw.
"It was blunt force," Mosley said.
The crash fractured his C2 and C7. It also broke his back. That night, a doctor basically put Mosley back together.
"Those OMFS folks are unbelievable," Mosley said.
Though Mosley was in incredible pain at the time of the accident, he couldn't stand the thought of his show starting without anyone knowing where he was. So he told the paramedic to call his producer, Stephen Simcox.
"It was almost show time and I felt weird about the fact he hadn't reached out," said Simcox. "I texted him and told him I sent him some notes and I got a text back from a Dallas paramedic. He said Matt was injured and wasn't going to be able to do the show. It was jarring."
The news then started to trickle down to others.
"I got a text from his wife Meredith telling me he had been involved in a serious bike accident, " said Ed Werder, Mosley's co-host on The Doomsday Podcast. "I immediately realized the severity of the whole thing, but as the situation evolved and more information became available, there were questions about how much he was going to recover and seemed like, ultimately, he was really fortunate an emergency doctor found him and was able to get him the necessary treatment almost immediately."
"As only Ed could, he was highly, highly concerned about me, but also, highly concerned about how we were going to do a podcast," laughed Mosley. "I think Ed thought I should do it from the hospital."
"I did the podcast by myself for a few weeks, because he was physically unable to do it," Werder said. "Finally we got him on for five minutes, and when I saw him sitting in his neck brace and awkwardly in his recliner, and could only speak for a short period of time, it was only then when I realized how seriously injured he was and that it could have been so much worse. It was kind of shocking when I saw him on the video for the first time."
"I was laughing, because I was like, I bet Ed doesn't want me to come back, because he had Sal Paolantonio filled in for me one week," laughed Mosley.
"Right after it happened, Ed Werder told me Mosley had been in a bike wreck," said Randy Galloway, former radio partner at KESN 103.3 ESPN in Dallas. "I'm going, oh, hell. I was keeping up with how things were going, but it was a really scary situation. No joking at all, he was lucky to be alive."
"When I first heard about it, my first concern was, thank God he's alive," said Baylor men's basketball coach Scott Drew. "The next question was, what does recovery look like? I knew it was going to be a daunting recovery and something that was going to require a great deal of toughness. He showed a lot of toughness and diligence in his recovery."
The outpouring of support Mosley received in the hospital was incredible. Colin Cowherd and The Volume sent flowers. Fox Sports Radio was incredibly supportive. It seemed like everyone he cared about in his life was sending their thoughts and prayers.
"So many people were unbelievable," Mosley said. 
But it was his wife Meredith that was the most supportive. An incredibly talented interior designer, she shut everything down for two months to take care of her husband. Along with his wife stepping aside from her job, Mosley's independent contract situation meant no money was coming into the household. The couple had to become extremely resourceful.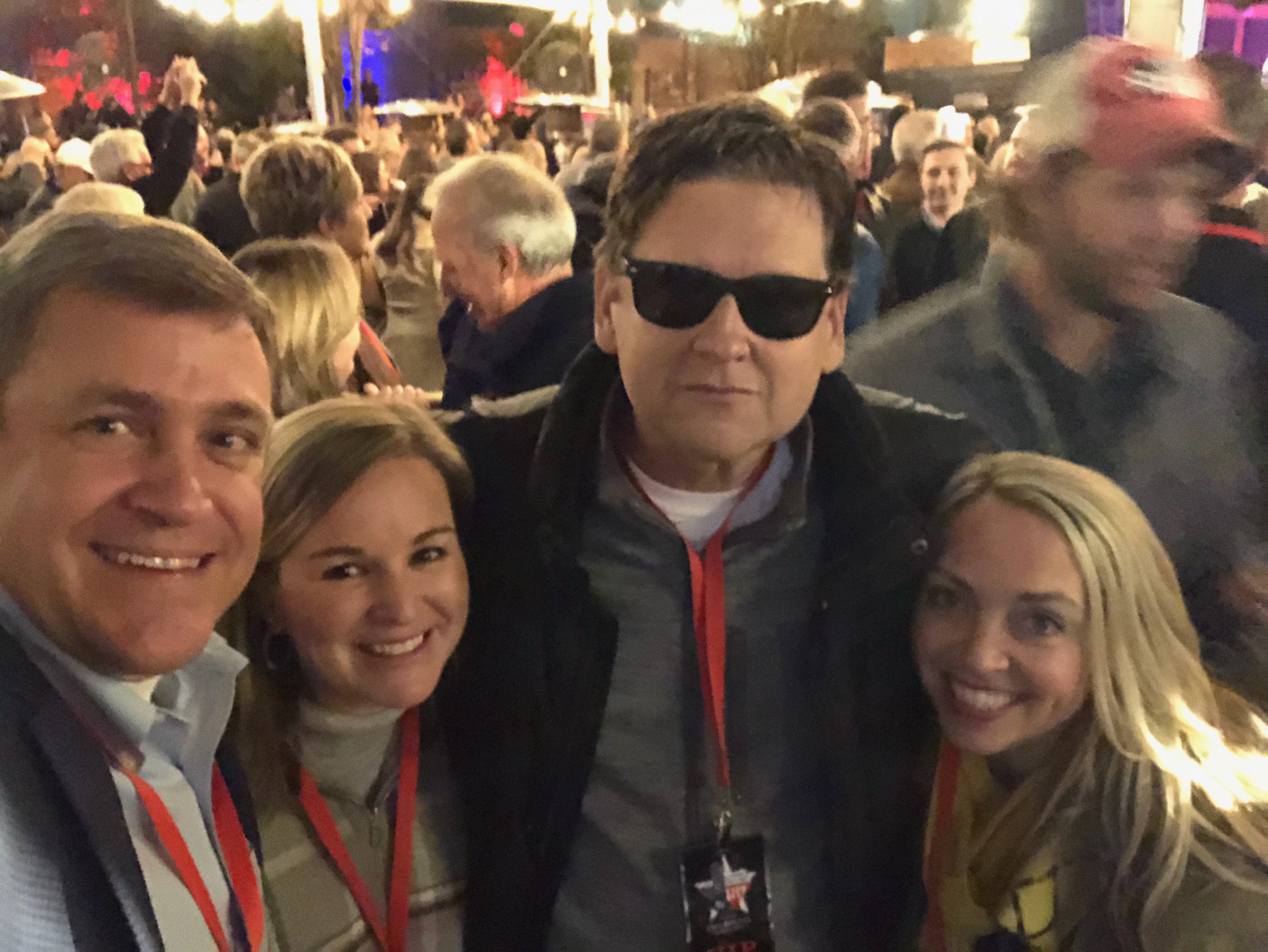 "She stopped working to take care of me," Mosley said. "She was at my every beck and call. She had to lay down the law early on when she heard me searching for pills in the middle of the night."
Mosley was also extremely thankful for his younger sister, Mandy Logsdon, who went out and bought two recliners for his recovery. That made podcasting with Werder much more manageable. It was a tough time, but his parents, daughter Parker, and in-laws, as well as others, were incredibly supportive. 
Mosley was in the hospital for a week and left with a neck brace. The doctors thought his injuries might heal on their own. Three weeks later he went in for a follow-up at UT Southwestern in Dallas.
"They said it was unstable and we elected to have surgery," Mosley said.
Call it fate, but Mosley met Dr. Carlos Bagley. He was a surgeon that played linebacker at Duke. He knew right away this was the guy he wanted to do his surgery.
"He was an unbelievable guy, that, from the minute I met him, I was like, yeah, that's who I want," said Mosley. "They had to fuse my C1 and C2. It was a scary surgery but he had done it quite a bit."
The recovery process was a journey, but in January of 2021, he was back on the air at ESPN Central Texas. Around four weeks after the accident, he was back on The Doomsday Podcast and soon was getting back to fill-in opportunities from Scott Shapiro on Fox Sports Radio.
It was a horrific accident, but with the support of so many, he had overcome the scariest situation of his life.
"Kudos to Kevin Jackson of FoxSports.com where I used to write," Mosley said. "Before the accident, he and I were talking about me coming back to be a Cowboys and NFL columnist. Around Christmas, he wanted to do a four-part Cowboys series. I was in bed and wrote the story on my phone, because writing at a coffee shop was too painful. It made me feel good and made me realize everything was going to be ok."
Today, Mosley is a full-go and back to his busy lifestyle. He hosts every weekday at ESPN Central Texas from 4-6 p.m. He's also involved with The Volume, a fill-in on Fox Sports Radio and of course, a co-host on The Doomsday Podcast.
"He's done everything as far as producing, sponsors and investors," said Werder. "He handles the entire business aspect of it. I think there have been times where he's had to pay out of pocket to keep us going."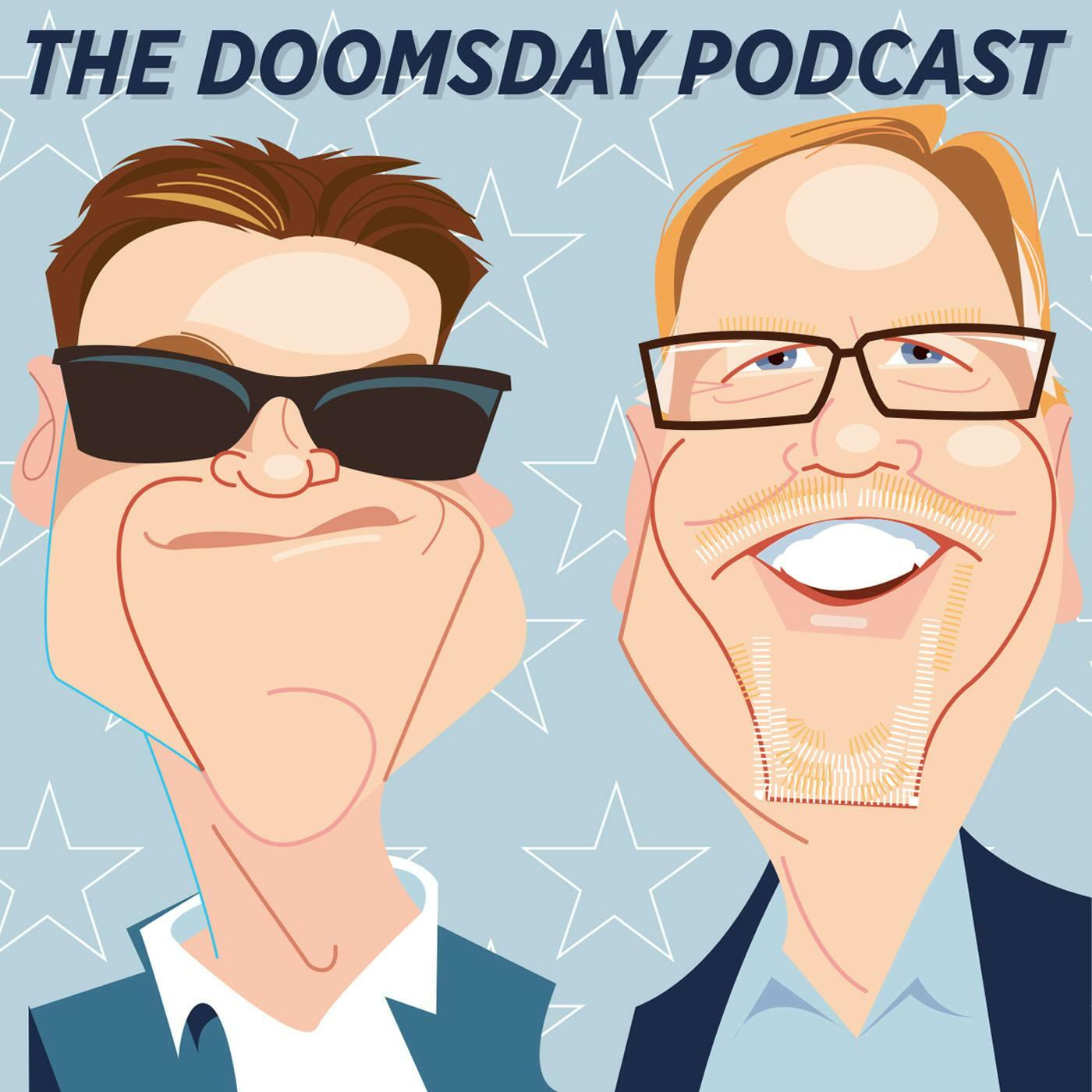 "Colin Cowherd has stuck with me through the peaks and valleys of my career," Mosley said. "Folks like him, Scott Van Pelt, Ryen Russillo and Doug Gottlieb gave me some unbelievable opportunities. But the guy who believed in me the most is a retired editor from the Dallas Morning News named Bob Yates. That is my guy."
"It's a great example of someone that persevered," said Drew. "It took a lot of courage to overcome and get through rehab, but I know he's excited about his new lease on life."
Tyler McComas is a columnist for BSM and a sports radio talk show host in Norman, OK where he hosts afternoon drive for SportsTalk 1400. You can find him on Twitter @Tyler_McComas or you can email him at TylerMcComas08@yahoo.com.
BSM's Black Friday SALE on BSM Summit Tickets is Underway!
Each year I'm asked if there are ways to save money on tickets to the 2023 BSM Summit. I always answer yes but not everyone takes advantage of it. For those interested in doing so, here's your shot.
For TODAY ONLY, individual tickets to the 2023 BSM Summit are reduced by $50.00. Two ticket and four ticket packages are also lowered at $50 per ticket. To secure your seat at a discounted price, just log on to BSMSummit.com. This sale ends tonight at 11:59pm ET.
If you're flying to Los Angeles for the event, be sure to reserve your hotel room. Our hotel partner this year is the USC Hotel. It's walking distance of our venue. Full details on hotel rooms can also be found via the conference website.
Jason Barrett is the owner and operator of Barrett Sports Media. Prior to launching BSM he served as a sports radio programmer, launching brands such as 95.7 The Game in San Francisco and 101 ESPN in St. Louis. He has also produced national shows for ESPN Radio including GameNight and the Dan Patrick Show. You can find him on Twitter @SportsRadioPD or reach him by email at JBarrett@sportsradiopd.com.
Media Noise: What Does The Return of Bob Iger Mean to ESPN?
Podcast: Play in new window | Download
Subscribe: RSS
Demetri Ravanos is the Assistant Content Director for Barrett Sports Media. He hosts the Chewing Clock and Media Noise podcasts. He occasionally fills in on stations across the Carolinas. Previous stops include WAVH and WZEW in Mobile, AL, WBPT in Birmingham, AL and WBBB, WPTK and WDNC in Raleigh, NC. You can find him on Twitter @DemetriRavanos and reach him by email at DemetriTheGreek@gmail.com.
Media Noise: What Is Realistic For FOX at the World Cup?
Podcast: Play in new window | Download
Subscribe: RSS
Demetri Ravanos is the Assistant Content Director for Barrett Sports Media. He hosts the Chewing Clock and Media Noise podcasts. He occasionally fills in on stations across the Carolinas. Previous stops include WAVH and WZEW in Mobile, AL, WBPT in Birmingham, AL and WBBB, WPTK and WDNC in Raleigh, NC. You can find him on Twitter @DemetriRavanos and reach him by email at DemetriTheGreek@gmail.com.