Notre Dame Has NBC, Why Can't Jackson State Have Barstool?
"Change is what keeps the Earth spinning. College football is not so precious that it has been spared from that. Change can sometimes be uncomfortable, but resisting it is a fool's errand."
Deion Sanders pulled off an absolute coup on Wednesday. On the early National Signing Day, Travis Hunter, a defensive back from Suwanee, Georgia, chose Jackson State University over Florida State, where he had been verbally committed for over a year.
The news sent shockwaves through the college football media. This kid was ranked #1 amongst all high school seniors on 247Sports, #2 on the ESPN300, and #1 on Rivals. If a kid with that pedigree flips from an earlier commitment, usually it is to go to a national power like Bama or Georgia. It isn't to go to an underfunded HBCU in Mississippi.
That is the changing world of college football and the power of celebrity. It's not just that Deion Sanders is an icon to these kids. It's that he has created Jackson State's own media machine through his relationship with Barstool Sports. It is a problem for some that cover the sport. To me, it is evolution. How is Barstool's relationship with Jackson State any different than NBC's with Notre Dame?
Set aside for a moment however you feel about Barstool as a brand. Just look at this objectively. It is a media company that is an offshoot of a bigger business throwing all of its weight behind a college football program that it values. NBC wants gold helmets. Barstool wants Coach Prime.
Travis Hunter will reportedly have a million dollar NIL deal with Barstool and parent company Penn National. NIL deals and reality shows may be different from what we are used to in terms of media support for college football, but it is where we are in 2021. Don't be mad at Barstool for doing all it can to boost the college football brand it has associated itself with. Question why Notre Dame hasn't demanded the same from NBC and parent company Comcast.
I don't fall into the "Dave Portnoy and Erika Nardini are business geniuses" camp. Their willingness to take risks isn't impressive, it is how a business should operate. It makes it all the more frustrating that companies with more money don't think the same way.
NBC is a perfect example. Everything about the network's coverage of Notre Dame is built on "hey weren't the 80s great?". It's generic and has been for a long time. NBC is selling gold helmets and Touchdown Jesus.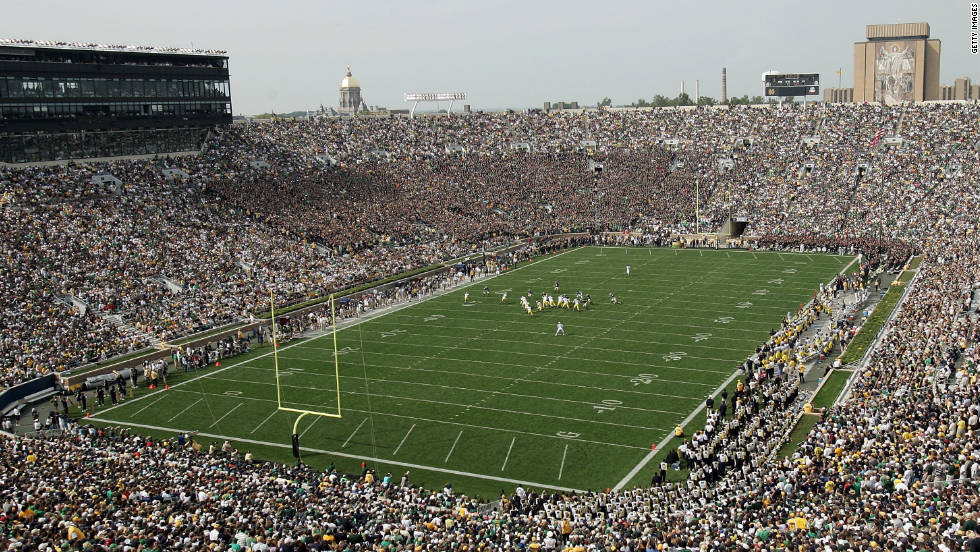 Barstool is selling stars. This relationship with Deion Sanders and Jackson State is different and new and the attitude is "if this doesn't work, no big deal. We'll just stop doing it." Old college football fans and the media members that feel like it is their job to get the NCAA's message out there are never going to like it. They're also never going to admit that it is the networks not adapting to the times that are the problem.
This summer, the NCAA did absolutely the bare minimum it could for players, allowing them to profit off their name, image, and likeness. That was a major seachange in college sports. Players and coaches were expected to adapt. Compliance departments had to learn what the new rules were. Why would we not expect that the other stakeholders in the sport would have to do the same?
Does this mean ESPN needs to come up with a way to take care of Alabama, Clemson, and the top teams in other conferences the network has deals with? Not exactly, but Disney is a big company. If it wants its investment in the SEC and ACC to be worth every penny it paid, I could see an ad campaign for a college student discount on Disney+ being built around a prized quarterback headed to Alabama or around a top-shelf point guard that is committed to Duke.
Now, do I like it? I mean, I'm not in love with the thought that it could be how the sport operates, but I also know that enticements for kids to attend a certain school is nothing new. Steven Godfrey's 2014 story "Meet the Bag Man" should be required reading for every college football fan.
Change is what keeps the Earth spinning. College football is not so precious that it has been spared from that. Change can sometimes be uncomfortable, but resisting it is a fool's errand.
You don't like the fact that Barstool has an intimate relationship with Deion Sanders and a financial interest in him and Jackson State succeeding? That is fine, but ask yourself is you discomfort that that kind of relationship exists or that it exists for a school like Jackson State?
We cheer when a local barbecue restaurant sponsors the entire Arkansas offensive line. We laugh when a local MMA gym offers NIL deals to every Miami Hurricane. They play on the biggest level. They are supposed to be treated like that.
Jackson State is supposed to be an afterthought. They are supposed to stay in their corner, in a lower tier, playing games that don't matter to most fans. It isn't about the racial makeup of the school's student population. It is about the way the college football media sets you up to follow the sport.
The NCAA and its member conferences want to sell coaches and helmets as the stars and that is it. That means USC matters. Ohio State matters. Michigan matters.
Jackson State doesn't matter. That means they have to do this a different way. The old ways left that school and others like it behind. Barstool's relationship with Deion Sanders gives his team resources. Resources give them the chance to turn National Signing Day on its ear and make headlines.
NBC could have done the same for Notre Dame and chose not to. If you're a Notre Dame fan, don't be mad at Barstool and Jackson State for changing the game. Be mad at NBC for refusing to play.
Demetri Ravanos is the Assistant Content Director for Barrett Sports Media. He hosts the Chewing Clock and Media Noise podcasts. He occasionally fills in on stations across the Carolinas. Previous stops include WAVH and WZEW in Mobile, AL, WBPT in Birmingham, AL and WBBB, WPTK and WDNC in Raleigh, NC. You can find him on Twitter @DemetriRavanos and reach him by email at DemetriTheGreek@gmail.com.
1010XL Jay Fund Radiothon Raises Nearly $250,000 For Pediatric Cancer Research
"In the 15 year history of the radiothon, the station has raised just under $1.6 billion for the Jay Fund."
Jacksonville's 1010XL used its airwaves to raise money for the Jay Fund for the fifteenth year earlier this week. The radiothon was a smashing success, raising $249,784 to fight pediatric cancer.
This year's total is a new record for the event. In the 15 year history of the radiothon, the station has raised just under $1.6 million for the Jay Fund.
"I'm truly amazed at the generosity of the 1010 XL listeners in times when a carton of eggs cost six dollars," said General Manager Steven Griffin, "and equally amazed how the hosts, producers, radio staff and volunteers come together with a singular focus to year-after-year produce these results in one broadcast day."
Former Jacksonville Jaguars and New York Giants coach Tom Coughlin started the Jay Fund in memory of Jay McGillis, who developed leukemia while playing for Coughlin at Boston College. The organization has helped over 5,000 families and given away over $16 million in grants in Northeast Florida and the New York/New Jersey Metropolitan Area.
Parkins & Spiegel Wonder If Trent Dilfer Will Still Appear On Their Show After Taking UAB Job
"I will just say that his status with the show and the station is uncertain."
Former ESPN NFL analyst Trent Dilfer has been hired as the new head coach at UAB. However, Danny Parkins and Matt Spiegel wondered if that meant Dilfer would no longer be making his weekly appearances on Parkins & Spiegel on 670 The Score.
"Our guy is no longer gonna do a radio show out of Chicago?" Parkins joked, referencing an incident last month where Dilfer failed to say "Parkins & Spiegel" during an appearance on The Herd with Colin Cowherd.
"I don't know that that's the case," Spiegel replied.
"We don't know that yet," producer Shane Riordan said. "We have only shared a couple of text message — Trent and I — this morning and I will just say that his status with the show and the station is uncertain."
Later in the show, Parkins and Spiegel jokingly wondered what jobs they could have on UAB's staff, with Parkins balking at being a sports information director. He did say he would welcome being the offensive player caller, but believed that job might fall under the purview of Dilfer.
Mike Milbury: Jack Edwards Is 'Awkward' and 'A Different Breed'
"Like him or love him, I'm not gonna judge him. As a guy that's been cancelled, I have no right anymore."
Boston Bruins television play-by-play announcer Jack Edwards has come under fire for recent comments he made about Tampa Bay Lightning forward Pat Maroon and his weight. In turn, Maroon donated money in Edwards' name to a mental health organization. On The Greg Hill Show Thursday, former NHL on NBC analyst Mike Milbury both slammed and defended Edwards.
"Jack Edwards. Who's Jack Edwards? He went through all of junior high school being picked on and bullied," Milbury said. "Now he's trying to get even. Wouldn't you want to smack that guy, Wiggy? Skinny, scrawny, mouthy son of a bitch."
"Jack is screaming at the TV all the time," he continued. "I gotta turn it down half the time."
When asked by Courtney Cox if it was appropriate for Edwards to make comments about Maroon's weight, noting that the comments were "awkward", Milbury said Edwards is a divisive presence.
"Jack is awkward. I think half of Boston hates him and half of Boston loves him. He certainly loves the Bruins and is passionate about it but he's a different breed of cat. Like him or love him, I'm not gonna judge him. As a guy that's been cancelled, I have no right anymore."
Milbury was "cancelled" after saying NHL players in the league's playoff "bubble" weren't being distracted by their wives and girlfriends being present. He was dropped by the NHL on NBC after the comments and has not resurfaced on a major network.
The comments and questions to Milbury came after Cox and co-host Jermaine Wiggins disagreed about whether Edwards' comments were warranted.
Wiggins said he "thought hockey players were supposed to be tough", adding "he's got a few extra LBs. It's a joke."
Cox countered by saying "it's not a joke. No one should be talking about it. Jack Edwards went on for like five minutes about it. It wasn't funny."
Hill said when Wiggins was in the NFL, nobody cared what television broadcasters said about them. Cox argued by saying "in your day, nobody talked to a therapist, either".