The Reasons For Five Reasons' Success In Miami
"The arrogance of traditional media, which has always been the case, has been really good for us. We're just building, building, building, and eventually as they regress the advertising money will start to come to us."
Ethan Skolnick knows what the Miami sports fan wants. Even better, he knows the most effective way to get it to them. To have that strong of a belief, takes a whole lot of experience and a vision that nobody else has. Luckily, he has both.
To truly understand why Skolnick feels so strongly about what the Miami sports fan wants, you have to know about both his present and his past.
For 20 years, Skolnick was one of the best sports media talents in South Florida. Whether it was stops at the Miami Herald, Palm Beach Post, Sun Sentinel or even 790 The Ticket where he replaced Dan Le Batard, he's always seemed to have a direct pulse on what content the sports fans in the city want to consume. Along with that experience, plus the tireless work of many others, Skolnick is brining Miami sports on demand in the form of podcasts, videos, news stories, etc. to the city like it's never seen before.
The Five Reasons Sports Network has taken Miami by storm.
The Climb
In 2018, Skolnick was out of sports media. After a successful career that saw him have, at one time, the highest rated radio show in South Florida behind Dan Le Batard, he was looking for his next venture. Then, Chris Wittyngham, a former host with Skolnick at 790 The Ticket, came with the idea to start a podcast. The duo started with one to try and get into the swing of things. It was a success. Soon enough, people were all over the idea of hearing the two back together talking sports. Then, things started to expand more once Skolnick took his new product to Twitter.
"I had built up over 75,000 followers at one point," said Skolnick. "I'm at like 72,000 now, but I always engaged with people, because I thought it was a big part of my job. Basically I just started using my Twitter account again, created a Five Reasons Sports account, then retweeted a bunch of stuff on that page from my personal account to accelerate the growth and build a following."
It worked. Shortly after, people who had built a social media following with the Dolphins and Heat started to reach out. But out of everyone that reached out, there was one in particular that stood out.
"Alfredo Arteaga, "said Skolnick. "He basically said that he and his two buddies, one of them living in England and one of them living in Tampa Bay, they had all this info about the Dolphins, it was incredible, but Alfredo came to me and said he and his two friends were thinking of starting a podcast and asked how I did it. I said I had a better idea, why don't we work together?"
With that conversation, Three Yards per Carry was born. It took off instantly. Today, it's one of the most successful podcasts in the Five Reasons Sports Network and considered as the possibly the best podcast when it comes to the Miami Dolphins.
"Those guys nailed 5 of the 7 draft picks a year ago," Skolnick said "They're just on top of everything and I don't touch them. They have this chemistry that's totally organic. It just works."
Soon after, others in the social media space reached out to get a better understanding how Skolnick and his new team were creating an in-demand product. The people asking, quickly became a part of the Five Reasons Sports Network. The growth was happening.
The Secret
Skolnick isn't shy about his vision of winning Miami in the next two years. That's not winning in just the podcast space, that's winning over every single newspaper and sports radio station in the city. He wants to be the destination for every sports fan in Miami. But what's his plan to get there?
Social media is a massive component with Five Reasons Sports Network. It's probably even fair to say it's the livelihood of the brand with how much emphasis is put on it.
"We generate anywhere between 5-10 million impressions a month off our Twitter account," Skolnick said. "Basically by posting polls throughout the day, retweeting everybody's episodes and posting other content."
The Five Reasons Sports Network Twitter account has a little over 12,000 followers. With that page, as well as the other podcaster's pages, Skolnick feels he's captured every South Florida sports fan who's on Twitter. The goal isn't just to bombard the internet with local sports content, it's to capture the audience in a way the other outlets in the city are failing to reach. That's by owning Twitter, Instagram, Facebook and every other social media platform that's out there.
"We want South Florida content that's quick-hitting and draws people in," said Skolnick. "That's what I want and I also think that's what people want these days. I know who we're competing with, because I worked at all of them and they haven't taken us seriously yet. We completely out-work them on Twitter and they don't engage, just post.
"I'm a little stunned they've watched us do this, because everyone knows about us here now. We're credentialed with all the teams. The arrogance of traditional media, which has always been the case, has been really good for us. We're just building, building, building, and eventually as they regress the advertising money will start to come to us. That's when things start to really happen."
The Podcasts
12 total podcasts can be found on the Five Reasons Sports Network. From covering the Heat with the Five on the Floor podcast to A Canes Thing that covers the Miami Hurricanes to even a few podcasts that focus more on culture, South Florida coverage is locked up with multiple podcasts. With Skolnick and other hosts having big connections in the sports world, you'll often hear riveting content as well as big name guests that both play and cover a respective sport.
Five Reasons will put its ability to pump podcasts on social media against anyone. But, more importantly, it will put its content against anyone else, too.
"The consumers want content on demand," said Skolnick. "They want content that's tailored to them, on their schedule and they want to be able to stop it and go back to it later. The biggest thing I always tell people about podcasting, literally, if you're in the car and you have your GPS on, the podcast will stop for you until the GPS is done talking. The radio doesn't do that.
"Honestly there's no reason to listen to radio over podcast anymore. I don't listen to radio anymore and most people who have switched over to us don't listen to radio anymore either. We studied the numbers on this. 40% of people leave when you go to a seven minute break. I won't have a break that's more than one minute on our podcast."
More than Just Podcasts
Videos, quick-hitting local stories, there's a lot you'll find outside of the 12 podcasts featured on Five Reasons Sports Network. For instance, during halftime of last Saturday's Miami vs. Florida game, two staff members posted a quick video on Twitter with instant thoughts of the first 30 minutes of action. That was met with 10,000 views and 50 retweets. All from a simple video that featured the quick, halftime thoughts of two fans.
Skolnick even brought in writers that have no podcast duties to write stories on the front page of the website that pertain to local teams. On the front page of fivereasonssports.com you'll see several local stories with headlines that pop and catch the reader. This isn't just about audio, the goal is to be the ultimate destination for south Florida sports fans.
"I brought in all these people and I'm not even paying them a salary," Skolnick said. "It's just people who want a platform. Now, I have more than 70 contributors total if you include the website folks. I'm not paying salary to anybody, it's all self-generated and it's all people believing in it. The people we have here are incredible."
Last night on Twitter, a video was put up on the company's official page that creatively highlighted the brand, along with all the podcasts the network has to offer. From the music, to the highlights, it truly had a professional look and feel to it. Most of the time, there's money and resources that go into making a video like that but Skolnick revealed it was made by a newly hired intern who did it for free. Though it's just one video, it's the tireless work of free help that's put the network in the situation it's in. 
Expansion
Though the goal is to win Miami, that doesn't mean the dream stops there. In fact, the end goal might be to win all of Florida. Initially, Skolnick wanted to be in Tampa Bay, Orlando, Tallahassee, Gainesville and Jacksonville by the fall. However, time ran out with so many things happening across the network.
That desire only grew deeper after Skolnick was recently approached by a member of the PR staff of the Atlanta Hawks. While he was inside the Hawks' locker room, the PR man came up to Skolnick and asked when Five Reasons was coming to Atlanta. The thought behind the question, is that the team could use more coverage and the ever-growing network based in south Florida might be just the thing to help.
But whereas several other podcasts networks have chosen to go national with several different podcasts in several different markets, Five Reasons believes in a localized product.
"I think we're the only localized podcast network in the country," said Skolnick. "There's a lot of national ones, but what I found with those, is that, and this is no disrespect to any of them, I'm friends with a lot of people who run them, but it's very difficult to understand what the local podcast needs."
Though expansion is in the cards for Five Reasons, don't expect a move to a market considerably bigger than Miami. Why? Skolnick is adamant about not going to Boston, Chicago, New York, Philadelphia or Los Angeles because it's too competitive and the other media outlets in those cities are still relatively healthy.
"To me, this only works from the ground up in places like South Florida, north central Florida or Atlanta," said Skolnick. "Places that don't have the healthiest or most competitive media operations."
Merchandise
If you're able to sell merchandise in the sports media world, it's a sure sign you have a pretty healthy audience. Almost always a profitable venture, Five Reasons Sports Network has ventured into selling merchandise such as shirts, hats, jackets and even socks on its website.
"It's really done well and that's an easy play for us," said Skolnick. "I'm very lucky, because a lot of the guys we have are really talented in doing other things. One of the producers of our podcasts, happens to be an extraordinarily good designer that works really fast. When something happens in sports or Miami sports, he literally sends me a T-shirt in the next hour."
Talk about a potential money making venture. With the cheap cost of making a T-shirt combined with a designer that's already on staff and puts out creations at a given notice, Five Reasons has found a source of revenue that most in its spot strive for. 
"Some of the stuff we do is for giveaways at watch parties to help with our name building," Skolnick said. "But when we have a player who's hot like Preston Williams for the Dolphins, who has taken off as an undrafted free agent, my guy will just send me a design in an hour and we get it up. We just react to trends. Some people may regret buying a shirt if he doesn't make the team but we're just trying to have fun with it and be current."
Monetizing
Ahh, the real question, right?
Everything might sound good up to this point, but how do you make money with it. Well, for starters, Five Reasons Sports Network is already off to a great start with the merchandise sales it has. No, that probably can't fund the entire network's ambitious plans, but it's a steady stream of revenue that can be used. But as for finding money for podcasts, there's many out there wondering how they can be profitable, even if the download rates are high.
"Well, this has been the hardest part right?" said Skolnick. "It always is, the monetizing. We've kind of gone about it a couple of different ways. I had an ad firm and it didn't really work out, they just weren't in position to sell us properly. We didn't have the numbers at that point to really make it worth their while and drop their other business.
But what I did, was I went to Twitter and found people with sales experience who are already engaging with us and I've been giving them commission to sell us, so they reach out to the companies for me."
Five Reasons' plan to sell has landed with good reception. Bigger companies such as AutoNation and BetDSI have signed on, as well as local car dealerships and several south Florida restaurants. Combine that with ads soon coming on the website and the network just might have a solid path to carving out a nice pay day. 
"Are we where we need to be, no, but that is the big push," Skolnick said. "But my point is that we're not just selling podcasts, we're selling content. That means video, tweets, podcasts, it means several things. There's a lot of different ways you can make money off this."
Final Word from Skolnick
Though Skolnick might be the face of the company, he strives to make it very clear it's not just about him. In fact, he says it's very little about him.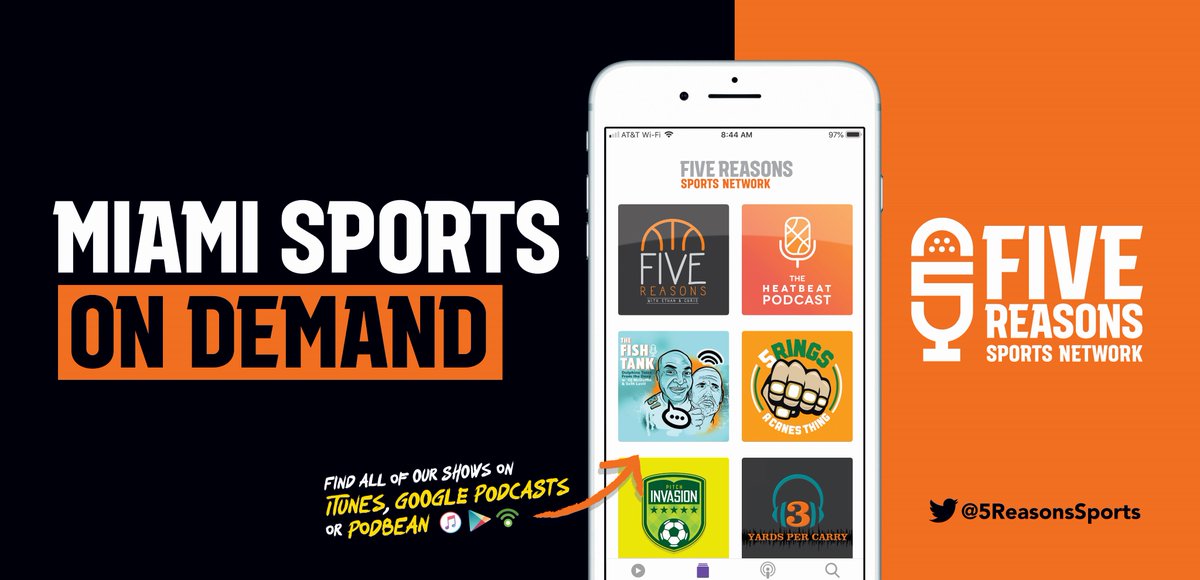 "There are so many people who are devoting a lot of their time, a lot of it for free, this is about having really talented contributors that should have been snapped up by other outlets. And we're so fortunate to have them. It amazes me the work they put in."
The journey is just beginning and nowhere near being completed, but thanks are still in order to the people who helped get the company off the ground.
"Chris Wittyngham is no longer with us," Skolnick said. "He was my original partner and he did incredible work to get us started he just decided to pursue soccer play-by-play full-time, which he's really good at. He's a really talented person. His role was really major."

Tyler McComas is a columnist for BSM and a sports radio talk show host in Norman, OK where he hosts afternoon drive for SportsTalk 1400. You can find him on Twitter @Tyler_McComas or you can email him at TylerMcComas08@yahoo.com.
Coaches & News Conferences Don't Have To Be So Boring
"It is a recent phenomenon that the public even sees a full news conference. Now that they do, though, they get to see how the sausage is made…and it's pretty boring."
I couldn't possibly count how many news conferences I have watched or attended in my career. It would be like counting each individual pine tree you pass while driving a two lane country road. Eventually, every tree and news conference looks the same. You would just end up losing count and interest.
Most news conferences contain ten times the recommended daily amount of cliches and safe answers. There's the occasional oasis in the desert of "one game at a time" answers that restores faith in the existence of a non-cookie cutter news conference. Often, those hopes are quickly reeled back in by the coach that would rather have his teeth pulled out one by one than show even an iota of personality in an answer.
I get that the purpose of a news conference is to get the answers to the pertinent questions facing a coach or his team at that given moment. The view inside a news conference that the general public is given is rare. It is like a live look-in at the accounting firm's weekly staff meeting (and, often just as exciting). 
It is a recent phenomenon that the public even sees a full news conference. Now that they do, though, they get to see how the sausage is made…and it's pretty boring. The fan of the team gets to see how the quote of their coach is edited down from the 90 second soliloquy to the 20 second "money quote". 
Here's the thing; there is no law mandating every question has to be the boring, run of the mill roster spot question. The reason they are is that most of these news conferences are a race against time by media members that cover the team on a daily basis to gather as much information as possible. It is a race against time because the head coach will not stand at the podium all day. He'd rather be anywhere else. 
It is in that environment that a member of the media risks raising the ire of their colleagues by asking a coach if they could be one movie character in all of history, who would they choose? Can you imagine Bill Belichick, unlikely as it may be, explaining why he'd choose to be Michale Corleone from The Godfather? Instead, he is mumbling a non-answer on any variety of positional battles in Patriots practice.
Last week in the news conferences leading up to Kentucky's NCAA Tournament game against Providence, Wildcats coach John Calipari was asked about not taking the North Carolina State job because of bad Raleigh, North Carolina pizza. The story, originally told by former Calipari assistant Josh Pastner, was relayed by WSJS's Josh Graham. The ensuing answer, far from a knee slapper, showed some personality from Calipari. He informed the reporter the pizza was from Mellow Mushroom and it was not why he passed on the Wolfpack.
Calipari is a guy not afraid to show a little personality, in fact, he is a very big personality. It is not uncommon to see a news conference clip from him that is beyond the normally mind numbing coach speak. This is the guy that had a press conference interrupted once by Temple coach John Chaney trying to fist fight him. It would be nice to randomly see that from other coaches across sports.
Imagine if we discovered most coaches were actually funny people who didn't mind not being robots 24/7? It would be like dropping a rock in your driveway only to have it break into pieces revealing gold dust on the inside. We could inadvertently stumble into a whole new realm of news conferences. I mean, the breakdown down of the two deep at the offensive guard spots might not get discussed in excruciating detail but, maybe, we find Andy Reid's go to burger patty seasoning.
What we may discover is that our audience actually likes that kind of thing. It doesn't mean Reid, or any other coach, never gets to tell us it is one week at a time and they've moved on from last week's game. There will be plenty of that kind of talk, it is in their DNA. We could only hope the fun stuff gets seasoned in.
It will take a member of the media that doesn't mind ruffling the feathers of some of the old school writers who wear mustard stained shirts and Sansabelt slacks. Those guys devour the coach speak of the week one two deep. They'll ostracize the media member who "doesn't take this seriously enough". Deep down inside, though, I think they'll give it a laugh, heck they may even use it in their content. When that day comes, you'll thank me for this idea. Then you can go right back to the battle for the back-up spot at the left corner.
Ryan Brown is a columnist for Barrett Sports Media, and a co-host of the popular sports audio/video show 'The Next Round' formerly known as JOX Roundtable, which previously aired on WJOX in Birmingham. You can find him on Twitter @RyanBrownLive and follow his show @NextRoundLive.
RSNs' Demise Could Make Baseball Even Less Competitive
How many fans would have to buy a $20/month package to equal $60 million/year in local TV revenue?
Baseball fans should consider being careful what they wish for regarding the seemingly inevitable demise of regional sports networks (RSNs).
Yes, Diamond Sports Group's recent filing for bankruptcy puts the television broadcast agreements that Bally Sports Networks have with 14 Major League Baseball teams in possible jeopardy. Many fans of those 14 clubs — which include the St. Louis Cardinals, Texas Rangers, Milwaukee Brewers, and Minnesota Twins — are hoping this development frees up local TV rights to be picked up by a streaming platform.
Currently, fans in those 14 markets who cut the cord with cable and satellite providers have been unable to watch their favorite teams locally because of Diamond's failure to work out carriage deals with popular streaming outlets like YouTube TV and Hulu + Live TV. And many of them aren't interested in subscribing to Bally Sports' own streaming package for $19.99 per month. Especially if they just want to watch baseball for six months and have no use for local NBA and NHL coverage. (A few of those markets don't have a local NBA or NHL team, either.)
Amid the bankruptcy proceedings, Diamond is attempting to get out of broadcast agreements with the Arizona Diamondbacks, Cincinnati Reds, San Diego Padres, and Cleveland Guardians. Those four clubs cost Diamond more in rights fees than they generate in cable contracts and ad revenues. MLB intends to pick up the broadcast packages for those teams and stream those games for free if that happens.
Fans of the other 10 teams tied to Bally Sports deals are hoping for a similar outcome. Though that would be highly unlikely, Diamond apparently is not close to an agreement with MLB that would help the company get out of bankruptcy, as it has with the NBA and NHL. Furthermore, Diamond is arguing that MLB has no interest in such a deal, preferring to take back streaming rights for those 14 teams.
Yet would that really be the best development for MLB in terms of competitive balance? Baseball has long struggled with a significant financial disparity between large-market teams and those in mid-sized or small markets. According to Spotrac, the New York Mets will have the highest payroll for the 2023 season at $355 million. At the very bottom of the league, the Oakland Athletics' payroll is a fraction (11 percent, to be exact) of the Mets' at $40 million.
But the gap between teams playing in large media markets (and thus getting significant revenue from local TV contracts) versus small market clubs is nearly as vast. The Los Angeles Dodgers reportedly earn $239 million per year from their local TV contract, while the Pittsburgh Pirates get $60 million.
The Pirates are also one of three MLB teams who have a TV deal with AT&T SportsNet. Warner Bros. Discovery recently announced its intentions to transfer ownership of those RSNs to their respective teams and leagues. If a deal can't be made, WBD will likely enter bankruptcy proceedings for the RSNs. So add the Pirates, Colorado Rockies, and Houston Astros to the team whose local broadcasts could be taken over by MLB.
But would the Pirates still get $60 million in local TV revenue under such an arrangement? Teams with local cable contracts were able to draw enormous fees by being part of a larger overall package in which even non-sports fans were paying fees for RSNs.
However, if these networks are no longer part of a cable bundle, can their broadcasts come anywhere close to matching those revenues from streaming packages? As The Ringer's Bryan Curtis asked on The Press Box podcast, how many Pirates fans would have to pay $20 a month (or more) to generate $60 million per year? Even if RSNs began to feature sports betting broadcasts, would that draw enough revenue to make up the shortfall?
The Pirates aren't competitive as it is, finishing last in the National League Central division in 2022 with a 62-100 record (31 games behind the first-place Cardinals). Pittsburgh also had the lowest payroll in the NL at $59 million. How does taking away $60 million — which essentially covers the Pirates' player payroll — improve any chance of contending?
MLB commissioner Rob Manfred told the Wall Street Journal, "I think we can get into a mode where we are better able to say to fans: You can watch baseball on whatever platform you want to watch it."
Manfred and MLB will also have to address the sport's restrictive local market blackout rules to make game broadcasts as accessible as the commissioner envisions. Many baseball fans and observers likely know that Iowa, for example, is blacked out from six teams (Cubs, Twins, Brewers, White Sox, Royals, and Cardinals) locally. An MLB.TV subscription isn't of much use in that region.
Reportedly, MLB is working on that very goal. But current TV contracts and local media rights deals create a ball of yarn that could take years to untangle. In the meantime, baseball's elite teams could separate themselves even further from those less fortunate — or without lucrative local TV rights deals.
Having local broadcasts liberated from RSNs sounds appealing to fans who ditched cable and currently can't watch their teams on streaming platforms. But losing those revenues could prevent their favorite teams from funding competitive — or even respectable — payrolls. Be careful what you wish for, baseball fans. The team you get to watch may not be nearly as good.
Ian Casselberry is a sports media columnist for BSM. He has previously written and edited for Awful Announcing, The Comeback, Sports Illustrated, Yahoo Sports, MLive, Bleacher Report, and SB Nation. You can find him on Twitter @iancass or reach him by email at iancass@gmail.com.
Disney Has One Logical Choice For The Future – Jimmy Pitaro
"If Bob Iger wants his next successor to come from the sports world, that is his guy. Hell, forget sports. Pitaro may be the best person available no matter how far and wide the search goes."
Bob Iger's latest tenure atop the Walt Disney Company fascinates me. The company begged him to come back to clean up the mess made by his handpicked successor, but it was made clear from the get-go that he has a very limited window to get this right and then go home. That is why, less than six months after Iger returned to Burbank, we are already hearing about who will be the next CEO of Disney.
There is reportedly a shortlist of candidates for the job and it is sports-heavy. Two of the four spots are occupied by NBA Commissioner Adam Silver and ESPN Chairman Jimmy Pitaro. I see the value both men could bring to the job, but I think there is a clear frontrunner and obvious choice.
Jimmy Pitaro is already inside the Disney walls. He has already learned to operate within the Disney hierarchy. He has had to answer investors' tough questions about budget and direction. If Bob Iger wants his next successor to come from the sports world, that is his guy. Hell, forget sports. Pitaro may be the best person available no matter how far and wide the search goes.
Adam Silver's tenure as NBA Commissioner is the target of all sorts of criticism, mostly from people that don't watch the NBA anyway. For all of the pissing and moaning about load management and player empowerment, people are still watching and the league is still as profitable as ever. By the metrics that matter to the people that matter (team owners), he is doing an excellent job.
On a recent episode of Meadowlark Media's Sports Business, John Skipper made it clear that he loves Silver and thinks he would make an excellent CEO for the Walt Disney Company, but that is a totally different world from the one Silver is currently thriving in.
"My advice would be to stay at the NBA," the Meadowlark Media boss said. "It's not a public company. You don't have to face shareholders. You do have to face 30 NBA owners, but you don't have activist shareholders. And I think Adam is a committed NBA commissioner. He's been for a long time."
The public posturing of Ron DeSantis will always get attention, but it doesn't always have to be taken seriously. The moment he threatened to dissolve the special district in Central Florida that Walt Disney World operates out of, legal scholars were quick to point out that the proposal would create a major burden on the state and its citizens that no politician wants to be responsible for.
DeSantis wanted his culture war. Disney wanted the problem to go away. The two sides quietly found a compromise that made it look like the governor didn't lose while Disney got to go on basically with business as usual. That is the kind of corporate policy war whoever takes over for Bob Iger will have to be ready to wage.
Disney needs a salvager in that chair, someone who knows how to diagnose the problems of business relationships and find fixes that hurt each side just enough that both can say the other really took it on the chin. Pitaro is that guy.
Look at ESPN's relationship with the NFL when he arrived versus where it is now. The company needs someone that makes stars and creators feel like this company is one that it can trust and one that they want to be in business with. Look at what Pitaro has done to bring the Manning Brothers, Pat McAfee, Joe Buck and Troy Aikman under the Disney umbrella while simultaneously finding ways to keep stars like Stephen A. Smith and Bomani Jones happy with non-exclusive deals that allow them to grow their profile with new opportunities outside of the company walls.
Most importantly, no segment of the Walt Disney Company and arguably, no network on basic cable, has had to answer as many questions about the future of distribution as often as ESPN. Jimmy Pitaro has been asked about a future where entertainment is driven solely by the needs of the audience so many times that he has undoubtedly thought about the ups and downs of the streaming landscape more than just about anyone else on Earth.
Bob Iger will be atop Disney through the end of the year and into 2024. This isn't a decision that is being made tomorrow. Even when it is made, Iger doesn't just get to write a name down on a piece of paper, slam down an "APPROVED" stamp and go home.
Everyone on that reported shortlist will be vetted by Iger, his confidants, members of the Disney board, and shareholders. Some may wince at the fact they have no idea how Jimmy Pitaro envisions running theme parks and a cruise line, but the reality is that no one checks all the boxes for any job as big as this one until they have been in it for a while.
When you know the perfect fit for a job doesn't exist, you go looking for the person that is the best fit. I think Bob Iger and Disney have already found him in Bristol, CT.
Demetri Ravanos is the Assistant Content Director for Barrett Sports Media. He hosts the Chewing Clock and Media Noise podcasts. He occasionally fills in on stations across the Carolinas. Previous stops include WAVH and WZEW in Mobile, AL, WBPT in Birmingham, AL and WBBB, WPTK and WDNC in Raleigh, NC. You can find him on Twitter @DemetriRavanos and reach him by email at DemetriTheGreek@gmail.com.