The New, Chilling Reality Of March Madness
Happy as we are to see brackets, the NCAA tournament hinges on positive COVID tests, which could force a team forfeiture with a single outbreak — making Gonzaga's historic quest particularly fraught.
Any other year, the magical brackets would rise above the cesspools of college sports, the recruiting sleaze of Arizona and Kansas, even the condo creepiness of Les Miles. Any other year, March Madness would whisk us to a safe place free from existential disruption, where every great game is topped by a greater game and the impossible always is negotiable.
But even the sublimity of America's most adored sports event isn't immune from continuing pandemic disorder. The NCAA tournament can't simply take two vaccine shots and be OK. A year after the cancellation of this basketball spectacle triggered a hellish year for American sports, 68 teams will warily convene next week within an Indiana bubble, in buildings allowing only one human body for every four seats, with the winners on April 5 owning a trophy and a Steak 'n Shake hangover.
And if you think the mightiest competition comes from a history-shaking Gonzaga powerhouse, Big Ten monsters Illinois and Michigan and solo acts Luka Garza and Cade Cunningham, even Dickie V would say no way, baby. The enemy continues to be COVID-19, capable of wiping out the Zags and their mountainous quest — to become the first unbeaten national champion since Bob Knight's Indiana Hoosiers of 45 years ago — with one slip of the mask. Or any other team. Think not? Ask Baylor, another championship contender, which was working on its own spotless season until nine players tested positive and forced a 21-day February quarantine.
"Even Superman has kryptonite. And I guess COVID protocols is ours,'' coach Scott Drew lamented after a loss at Kansas.
At least the Bears had an opportunity to pause as a group and self-isolate. In the tournament, a team without an ample number of healthy players forfeits the game and immediately goes home. I don't care how closely protocols are monitored. Brace for a number of forfeits, based on the reality that youthful, unvaccinated players on the road — in hotels for days and weeks at a time, with families and friends staying nearby — won't steer clear of the coronavirus. Thus, anyone eyeing a particular game as appointment viewing, or a gambler rushing to bet a hunch, must be prepared for a cancellation at any time.
The brackets are certain to be compromised. Still days before the selection committee gathers, as teams navigate conference tournament minefields, the printout already looks strange. Gone are the usual sites and dates within each region that bring anticipation and a sense of national community to the Madness. Instead of listing Denver, Minneapolis, Memphis and Brooklyn, and feeding into Indianapolis for the Final Four, we have Regions 1, 2, 3 and 4 — with first-round games in the home gyms of Purdue and Indiana, second-round and Sweet 16 games at Bankers Life Fieldhouse and Hinkle Fieldhouse and the Elite Eight and Final Four at Lucas Oil Stadium. It's quaint and charming, I admit, if you love All Things Indiana, but there's no nationwide pomp and circumstance. That's what the pandemic has done to college hoops, after a regular season when 10 percent of games were canceled and more than 20 percent weren't played on scheduled dates.
Interest will suffer. Ratings will wane. That's only natural, given the anxiety over vaccines and other COVID-related turbulence across the land. Plus, there is grime to wipe away, as the sport hasn't recovered from corruption scandals that resulted in too many dirty infraction cases to count. And those are just the programs that were caught. Arizona and Shifty Sean Miller had the sense to self-impose a postseason ban, but who outside of Lawrence wants to embrace Kansas, where the school blindly defends coach Bill Self when the FBI thinks he's a dirtball?
LSU? You can't navigate the campus without a Hazmat suit, with Will Wade openly defying the feds like a bankrobber on the lam. If Ed Orgeron and the football program quickly fell from grace after winning a national title, the affairs of his predecessor, Miles, were sickening. Back when he was king of Baton Rouge, Les the Mess allegedly was texting female students young enough to be his granddaughter and bringing them back to his condo, making promises he could help the career of one student while attempting to kiss her and woo her to a hotel. When LSU finally fired him, who hired him?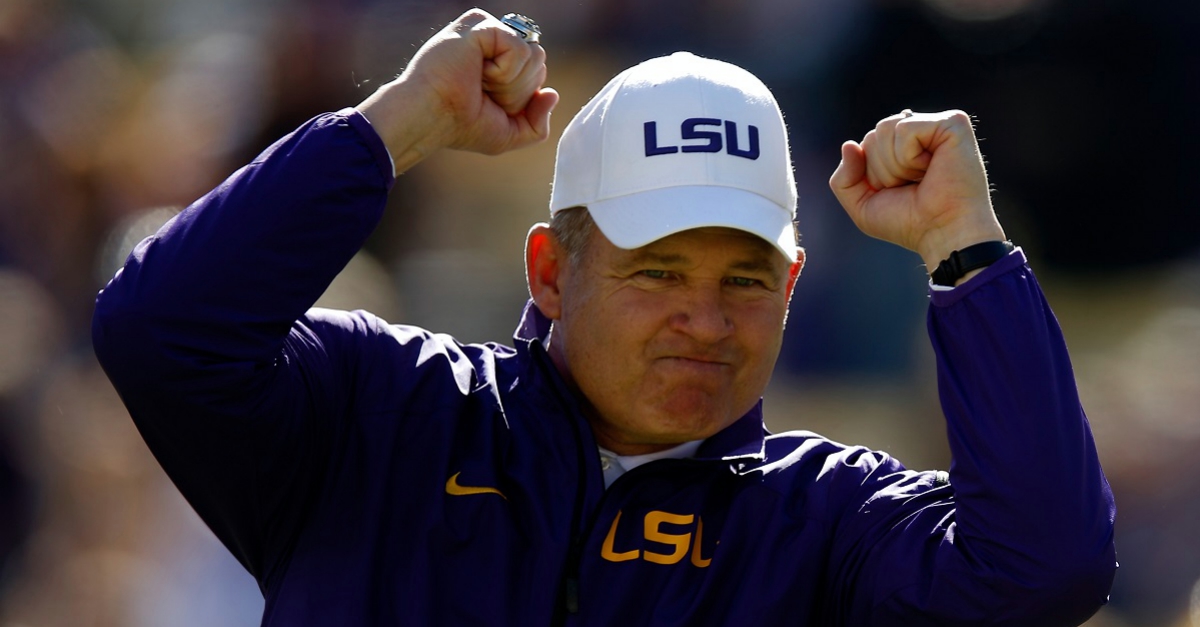 Kansas … which didn't properly vet Miles and finally came around to firing him Monday night. "I am extremely disappointed for our university, fans and everyone involved with our football program," said athletic director Jeff Long, who hired Miles. This while Self, bless his Rock Chalk Jayhawk heart, coaches Team Adidas Payoff in the tournament.
And how will America deal with the Creighton story? A team that easily can reach the Elite Eight is embroiled in racial strife after coach Greg McDermott uttered the word "plantation'' — twice — in a horrific speech to his players. In 2021, any authority figure who urges "everybody to stay on the plantation'' and that he "couldn't have anybody leave the plantation'' shouldn't be representing the school. Creighton suspended McDermott, but quickly reinstated him so he can coach in the tournament. Upset by the mixed messages, his players posted a video condemning his remarks.
Said Shareef Mitchell: "For slaves, life on a plantation was filled with mental, emotional, physical, psychological and sexual abuse. Viewed only as property and not human, slaves had no rights and no voice. They were branded like cattle, forced from their homeland and stripped of their culture, language and basic human rights. They worked 18 hours a day, six days a week. Any sign of wrongdoing such as lack of productivity, not following instructions or resistance would result in beatings or death."
Said Denzel Mahoney: "… And that is why what Coach Mac said hurt me and my teammates."
Will Creighton bond or break? Regretfully, it's a prominent story line.
Awaiting Selection Sunday, one big issue is whether bluebloods on one bubble will be invited into the big bubble. I can do without Duke, which isn't worthy, and where Mike Krzyzewski should consider retirement at 74 before the slog impacts his mammoth legacy. Michigan State, Louisville — I've seen plenty through the decades. Same with Syracuse, where Jim Boeheim is 76 and impressing no one with his crusty behavior, such as when he mocked a reporter "who never has played basketball and is 5-foot-2.''
Really now, this is a fine time for the ascent of Illinois, which always should have been a perennial Midwestern force and has reached that level under Brad Underwood, who has two imminent pros in Ayo Dosunmu and 7-footer Kofi Cockburn, who somehow found Champaign-Urbana from Jamaica. Behold the rise of Alabama, coached not by Nick Saban but Nate Oats, who lets his guys run and fire like the NBA gunners and wants to entertain with the ball like, well, Saban. Michigan is coached by Juwan Howard, who can name his next head position in the NBA. Give me Houston, Arkansas.
Give me Toledo, Colgate, Grand Canyon.
Assuming the NCAA allows Oklahoma State to play in the tournament — though I don't see why, given the Cowboys' role in the sneaker scams — we'll have a chance to examine Cunningham, the 6-8 point guard, before he goes No. 1 in the NBA draft. I like his perspective. "I'm not in the NBA yet,'' he said. "I'm not getting paid by any team. I'm an OSU Cowboy. That's what I'm worried about. I'm with my team every day trying to get better with them. I'm not going to be a foot out the door. I still want to win games. I still love being around my teammates now." He could be protecting an injured ankle by simply opting out of March, but that's now he he or his ankle roll. If Cunningham is the must-watch showman, the best player in America is Garza. If you haven't seen him play much at Iowa, join the crowd.
The central story is Gonzaga. No longer the mid-major interlopers from the Pacific Northwest, the Zags never will have a better title shot. They are that talented, that mesmerizing and that explosive, with four players who rank in the top five nationally at their positions and a combo guard, Jalen Suggs, who chose to play in Spokane when he could have signed anywhere — including Ohio State, which wanted him as a quarterback. You can buy Zags gear around the world. It's time to complete a full cycle that began with the program's first tournament victory in 1999, from underdogs to overlords. With a sweep of the West Coast Conference tournament, Gonzaga would be only the fifth team in the past 45 years to enter the big show without a loss.
"It's hard to be the front-runner and lead the mile all four laps,'' coach Mark Few said. "Everybody's gunning for you."
"All that pressure comes from the outside, not from anything inside the program with the players," said Suggs, the nation's best freshman outside of Cunningham. "We're just looking to go out every night and get a win on that night, not looking too far ahead."
College basketball is the sport that has suffered most dearly without fans. We'll miss that fury inside the stadiums and arenas of Indiana, where deep basketball traditions can't replace the collective heartbeats and roars. But we can't be worrying about atmosphere right now, or wondering how "One Shining Moment'' will sound.     
The mantra is much colder now.     
Mask up, or go home.
Grant Cohn's Trolling of Players is Unacceptable
After an altercation between Javon Kinlaw of the San Francisco 49ers and Grant Cohn, it became clear that Kinlaw was being trolled by a member of the media.
Grant Cohn is a media member who writes for the FanNation 49ers blog on SI.com. He also talks about the team on his YouTube channel, which has over 48,000 subscribers as of noon Thursday. His father, Lowell, was a longtime columnist in the Bay Area.
Javon Kinlaw is a defensive lineman, whom the San Francisco 49ers drafted in the first round despite concerns about the durability of his knee. He played four games last season, his second in the league.
The two were involved in two confrontations this week. The first one occurred off to the side of the 49ers' practice field. Kinlaw apparently cursed at Cohn and knocked his hat from atop his head. Later in the day, Kinlaw again swore at Cohn, this time after joining a live stream on Cohn's YouTube channel. (Side note: I have never felt so freaking old as I did while typing that previous sentence.)
OK. That's my attempt at an absolutely straightforward and objective summary of a situation that scares the hell out of me. Not because a player was mad at a member of the media. I've had it happen to me and I've seen it happen to others. It's my opinion that this has been happening for as long as human beings have scrutinized the athletic efforts of other human beings.
What scared me was that I was seeing some version of the future of sports media. A future in which media members behaved like YouTube trolls, acting purposely ridiculous or antagonistic to initiate conflicts that could be turned into more conflicts that would could be gleefully recounted as content for the audience. I thought that because that's pretty much what Cohn did:https://youtu.be/4Hf9sjBttFY
Cohn essentially bragged about the number of different things he said that may have prompted Kinlaw's reaction, and you know what? It worked. Kinlaw got mad. He confronted Cohn. Twice. TMZ published a story about it. So did SFGate.com.
This is troll behavior. You know, the online pests who say or do something intended to provoke a reaction, and once they get that reaction, they recount and scrutinize that reaction with an eye toward triggering another reaction. Lather, rinse repeat. Increasingly, entire online media ecosystems consist of nothing more than people who don't like each other talking about how much they don't like one another.
I'm not going to pretend this is entirely new in sports media. Sports columnists have been known to make reputations with their willingness to be critical of the home team. A huge part of Skip Bayless' brand is his unwavering insistence on highlighting Lebron James' perceived flaws. Stephen A. Smith has engaged in public feuds with players, namely Kevin Durant.
I do see a difference between this and what Cohn did, though. The reaction Bayless and Smith are primarily concerned with is from their audience, not their subjects. The subjects may get mad, but that's not the primary goal. At least I hope it's not.
What happens if that is the primary goal? What if someone is offering opinions not because it's what they really think, but because they want to provoke a response from the subject? Media careers have been built on less.
I don't know if that's the case with Cohn. I've never talked to him in my life, and even if I had, it's impossible to know someone's true intent. But in listening to everything he said AFTER the initial confrontation with Kinlaw, I'm not willing to assume that Cohn was operating in good faith. Here's how Cohn described the initial confrontation with Kinlaw, which occurred as practice was beginning.
"In the training room, I saw Javon Kinlaw, who is the king of the training room," Cohn said. "He's usually in the training room."
Cohn said the two locked eyes, but were separated by about 70 yards at the time. Kinlaw then walked across the field to where the reporters were gathered. He stood directly behind Cohn.
"So I turn, and I say, 'Wassup, Mook Dawg?' " Cohn said, referencing the nickname on Kinlaw's Instagram account. "And he doesn't say anything. And I say, 'Why are you looking at me like that, Javon?' "
"And then he said, 'What are you going to do about it you bitch-ass,' and then he said one more word that I can't say," Cohn said. "And then I turned to face him, and I said, 'Oh, it's like that?' And he said, 'Yeah, it's like that.' And then he knocked the hat off my head."
OK. Pause. In my experience, when your job is to publicly describe and critique the performance and attitudes of professional athletes, there will be times in which the athletes do not care for your description or your critique. Some of those who are displeased will make their objections known to you.
However, there are two things that are unusual here: First, the fact Kinlaw knocked the hat off Cohn's head, which is unacceptable. Second, Cohn then posted a video on YouTube to not only talk about what had happened, but state he had been so critical of Kinlaw for so long he wasn't sure what specifically sparked Kinlaw's anger.
"Javon, what are you upset about?" Cohn asked toward the end of his video. "Is it the fact that I said you have an 80-year-old knee? Is it the fact that I said that you're a terrible pass rusher and you're just a two-down player? Is it the fact that I said the Niners shouldn't have drafted you and should have taken Tristan Wirfs instead. Is it the fact that I said that you're unprofessional and immature.
"It escapes me, which of the hundred negative things I've said about Javon Kinlaw the last couple of years, moved him to approach me in such a way, but you know what, I applaud Javon Kinlaw for coming to speak to me directly, and I ask you, what do you think Javon Kinlaw is mad about."
Cohn was trolling Kinlaw. No other word for it.
That night, Cohn was conducting a live stream on YouTube, which Kinlaw joined, while apparently eating dinner, to make declarative statements about the size of Cohn's genitalia — among other things.
Neither one looked particularly impressive. Not Kinlaw, who was profane and combative with a member of the media, at one point making a not-so-subtle threat. Not Cohn, who asked Kinlaw, "Do you think I'm scared of you, Javon?" He also said, "I don't even know why you're mad, Javon."
I think Kinlaw would have been better off ignoring Cohn. If I was Kinlaw's employer, I would probably prefer he not log into video livestreams to make testicular comparisons. But honestly, I don't care about what Kinlaw did. At all. He's not on a team I root for. He didn't physically harm anyone. He used some bad words in public.
I am bothered not just by Cohn's actions, but by some of the reactions to them because of what I think this type of behavior will do to an industry I have worked in for 25 years. Credentialed media members who behave like Cohn did this week make it harder for other media members who are acting in good faith. Preserving access for people like him diminishes what that access will provide for those who aren't trying to use criticism to create conflict that will become content.
I think Cohn knew what he was doing. In his livestream, before Kinlaw joined, Cohn stated he was not scared because he knew — by virtue of his father's history in the business — that if Kinlaw had touched him he would potentially be entitled monetary compensation.
By now, it should be pretty apparent how problematic this whole thing is and yet on Thursday, a number of 49ers fans online were sticking up for Cohn as just doing his job. Dieter Kurtenbach, a Bay Area columnist, Tweeted: "Javon Kinlaw does not know that @GrantCohn was built for this." Built for what? Winning Internet fights? Kurtenbach also deleted a Tweet in which he called Kinlaw "soft."
Cohn's father, Lowell, is a former columnist at the San Francisco Chronicle and Santa Rosa Press-Democrat. He promoted the first video his son made on Tuesday:
Sorry, I don't find it funny because it's another step down a path in which media members seek reactions at the expense of information. Where they look to make fun of players instead of learning about them. They'll stop acting like journalists and start acting like the trolls who make their money by instigating a conflict, which they then film: "Jake Paul, reporting live from 49ers practice …"
If that's the case, thank God I'm about to age out of this business, entirely. I'm 47 years old and I can't believe there's anyone in our industry who thinks what Cohn did this week is acceptable.
A new episode of Media Noise is all about reaction. Demetri reacts to the ManningCast's big win at the Sports Emmys. Danny O'Neil reacts to people reacting to Colin Kaepernick's workout in Las Vegas and Andy Masur reacts to John Skipper's comments about Charles Barkley.
Podcast: Play in new window | Download
Subscribe: RSS
Bron Heussenstamm Blends Bleav Podcasts Advertising with SiriusXM
Bron Heussenstamm, the CEO of the Bleav Podcast Network says blending podcasting advertising with satellite radio's reach is a victory for both sides.
Last week, the Bleav (pronounced believe) Podcast Network announced a deal with SiriusXM to make all 32 NFL team-specific Bleav pods available on the SXM app. SXM can also air Bleav content on any of its sports channels. Each NFL Bleav show pairs a former player with a host to discuss team issues. Eric Davis, Lorenzo Neal, and Pac-Man Jones are amongst the former players Bleav has signed as talent.
I have hosted a Bleav podcast about Boise State football -the Kingdom of POD. I am usually provided 1-3 advertisers per episode by the network and get paid by the download. My subject matter is regional, so my take-home pay is usually under four figures. I have enjoyed the technical assistance and cross-promotion I receive and I enjoyed meeting Bleav CEO Bron Heussenstamm. Bron is Los Angeles-based, a USC graduate, and founded Bleav in 2018. We discussed the SXM deal, podcast advertising, and the future. 
Will the podcast advertisers be carried on the SXM distribution platform?
Yes, Bleav baked-in advertisements and hosts read ads are distributed across all platforms. This enables the host to do their show once through, making it as easy as possible for the hosts and consistent for the advertisers.
How is advertising on Bleav different?
We want to be more than a 'host read ad' or a 'digital insert' with our advertising partners. When companies work with Bleav shows and talent, those companies can receive our omnichannel of distribution points—podcast platforms, YouTube, socials, streamers, TV, radio, and more. This allows for consistent branding across all platforms: great talent presenting great companies to fans and consumers no matter where they consume content. 
What is the growth pattern for podcasts that you see? 
The industry trades have presented 400%-800% percent growth over the next ten years. Once the COVID fog lifted, we really saw these gains. Sports are always going to be at the forefront of culture. The increases in all sports sectors have certainly carried into the digital space. 
SXM has started with NFL shows but can also air more Bleav content – what does that look like?
We've started with our NFL network of 32 team shows hosted by a former player. We've kept the door open for our NCAAB, NCAAF, MLB, NHL, Basketball, and Soccer networks. We're happy for our hosts to be part of such a tremendous company and platform. SiriusXM can continue to amplify its voice and give fans the access and insight only a player can provide.
The Interactive Advertising Bureau-IAB- says podcast revenue grew 72% last year to $1.4B and is expected to grow to $2B this year and double to $4B by 2024. Have you seen similar growth? What is driving the industry now, and what will be the primary cause of growth by 2024?
There is a myriad of reasons for the growth. I'll lean into a couple.
At Bleav, we launch and maximize the digital arm of industry leaders. The technology upgrades to allow hosts to have a world-class show — simulcast in both audio and video – from their home has led to an explosion of content. With this, the level of content creators has risen. Having a YouTube, RSS feed, podcast, and more is now part of the brand, right alongside Twitter and Instagram.
If a company wants to advertise on Bleav in Chargers, we know exactly how many people heard Lorenzo Neal endorse their product. We can also safely assume they like the Chargers. The tracking of demo specifics for companies is huge. It's a fantastic medium to present products to the right fans and consumers.